---
October and November
---
1st October
Dimitris Lyacos (Greece)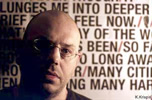 Dimitris Lyacos was born in Athens in 1966. His trilogy Poena Damni (Z213: Exit, Nyctivoe, The First Death) has been translated into English, Spanish, Italian and German and has been performed extensively across Europe and the USA. A sound and sculpture installation of Nyctivoe opened in London and toured Europe in 2004-2005. A contemporary dance performance based on the same book is currently showing in Greece. Lyacos' work has been the subject of lectures and research at various universities, including Amsterdam, Trieste and Oxford.

---
8th October
Sandeep Sinha (India)

Sandeep Sinha is a poet by occupation and an Agricultural Engineer by professional education. He has a homely house in his birthplace city of New Delhi, India though the entire universe is his home. He has been creating poetry since 1999, having started writing in trains while travelling. Now poetry is his hobby, his occupation and a means to earn a living. To bring poetry to the doorstep of the masses, He is presenting poetry (along with graphics) as posters and scrolls. Some of these have been displayed at the entrances of health and educational institutions.
Sandeep's poetry reading at Ó Bhéal is the first one overseas. He has previously read at readings organized by the Poetry Society of India and the Poetry Club of India in New Delhi. He is about to finish his first ever poetry book entitled, Autobiographies of Silent Creatures. A poetry exhibition was organized on the same topic in an art gallery in New Delhi in 2005.
---
15th October
Keith Armstrong (UK) & Paul Summers (UK)

Born in Heaton, Newcastle upon Tyne, where he has worked as a community development worker, poet, librarian and publisher, Keith Armstrong now resides in the seaside town of Whitley Bay, and is coordinator of the Northern Voices creative writing and community publishing project which specialises in recording the experiences of people in the North East of England.
His poetry has been extensively published in magazines and collections. He has performed his poetry on several occasions at the Edinburgh Fringe Festival and at many other festivals. In his youth, he travelled to Paris to seek out the grave of poet Charles Baudelaire and he has been
making cultural pilgrimages to many countries ever since. Though a regionalist inspired by the landscape of his birth and its folk and musical traditions, he is very much a European and his work is much influenced by writers such as Hoelderlin, Hesse, Brecht, Baudelaire, Prevert, Esenin, and Mayakovsky.

Paul Summers was born in Blyth, Northumberland in 1967. He now lives in North Shields where he works as a writer, artist and tutor. His work has appeared in print since the late Eighties and he has performed his work in Britain, Europe and Australia, including performances at Glastonbury, Edinburgh and Amsterdam's Crossing Borders Festivals. He was founding co-editor of the 'Leftfield' magazines Billy Liar and Liar Republic and a co-director of Liar Inc Ltd, responsible for facilitating countless creative projects across the North in educational and community contexts.
He has also written for TV, film and theatre and has collaborated many times with artists on mixed-media projects. He was awarded Northern Arts Writer's Awards in 1995 and 1998 and an Oppenheim/John Downes Award in 1998. The British Council supported his Australian Tour in 1998. In 2004/5, ACENE funded the development of 'Home (in 3 bits)', a spoken word/music collaboration with Dave Hull-Denholm, formerly of Lindisfarne. Paul has produced a number of poetry pamphlets and collections, his latest being Big Bella's Dirty Cafe (Dogeater Press, 2006).

---
22nd October
Mark O'Flynn (AUS)

Mark O Flynn is an Australian writer with broad experience in Australia and New Zealand. He has published two collections of poems with a third forthcoming in 2007. His second novel, Grassdogs, was published by Harper Collins in 2006. He has also had seven plays professionally produced in Australia. He lives in the Blue Mountains.
---
29th October
Mags Traenor & Steven Murray

Mags Treanor writes and rants in the West of Ireland. Her first collection, "Two Night Stand", was published by Maverick Press in 2007. Known for her performance pieces and writer's workshops, her short stories and prose reveal a more serious, if at times heartbreakingly hilarious side to her work. Currently Mags is completing her novel 'Girl Racer', and extracts from the book are posted on this site. Her work has also been anthologised by New Island Press, West47 online, the Harrington Press, Cuirt Annual and also broadcast on RTE Radio One.

Stephen Murray was born in Dublin in 1974. He was educated in Richmond , Surrey and was three times award winner in the WH Smith and Observer Young Writer of the Year Award. He moved back to Ireland in 1996 to his family's native Limerick and currently lives in Connemara, Co Galway where he works as a stonemason. In April 2005, he won the Cúirt International Festival of Literature Poetry Grand Slam for Love Noir and, as the Cúirt Slam Champion, travelled to perform in Chicago in autumn 2005.
---
5th November
Billy Ramsell


Billy Ramsell was born in Cork in 1977 and educated at the North Monastery and UCC. He began writing seriously in 2000, when he moved to Barcelona. In 2005 he was short-listed for a Hennessy award. In May 2007 his first collection, Complicated Pleasures, was published by the Dedalus Press. he lives in Cork where he co-runs an educational publishing company.
---
12th November
Anamaría Crowe Serrano


Anamaría Crowe Serrano is Irish and lives in Dublin with her family. She has worked as a freelance translator, reader for the blind, teacher of Spanish language and translation at Dublin City University and in Trinity College Dublin. For kicks she weaves in and out of English, Spanish and Italian and has published several translations of poetry including Valerio Magrelli's Instructions on How to Read a Newspaper, for whose translation she won 3rd prize with Riccardo Duranti at the BCLA/BCLT Translation Competition in 2002. She also writes poetry and short stories, having received awards from the Arts Council of Ireland for her work in this area. Some of her poems have appeared in Storie, Pagine, Rattapallax, the Red Pagoda Press series, Jacket, Default and Shearsman. Her most recent collection of poems, Paso Doble, written as a poetic dialogue with the Italian poet Annamaria Ferramosca, was published in 2006 by Empiria. In 2003, she published her first collection of short stories, Dall'altra parte (Leconte) and a one-act play, The Interpreter (Delta3 Edizioni). With Riccardo Duranti, she has written Behind the Tapestry, an historical novel on the life of Thomas Shelton, the first translator of Don Quijote. Anamaría's first collection of poetry, Femispheres, will be published early in 2008 by Shearsman.
---
19th November

The Poetry Chicks

Pamela Brown is a published poet and creative writing facilitator who has written comedy sketches for radio. She has had two plays produced; one was performed at the Edinburgh Fringe Festival 1993. Collaborating with photographer Jan Voster, her work has also been exhibited in Holland. Pamela helped establish The Poets' Corner, a wall in the Gasyard area of Derry displaying poems from local teenagers and primary school children. She received a commendation in Community Drama at the University of Ulster, Magee and has participated in workshops by Augusto Boal – Theatre of the Oppressed, and Barney Simon – The Market Theatre, Johannesburg. Pamela also practices Bio-energy, Reiki and Tai Chi.


Donegal-born Jenni Doherty has worked in bookshops, with local publishing houses and as an arts & book reviewer for the local press. In 2006 she directed a multi-creative discipline project called EVE… a Celebration of Creative Women, published with Guildhall Press, Derry and is about to publish another anthology, Wonderful World of Worders involving over 67 international writers. Co-author of local folklore book, That Land Beyond, she has also toured Australia with the Belfast Poets Tour Group in 2006 and was a finalist in the Queensland SLAM. She works in Waterside Library and as well as co-facilitates youth creative writing workshops and runs the monthly BBC RaW Poetry Place in Derry's Central Library and has been widely published.


Abby Oliveira has lived in the North of Ireland since 1994. She was the winner of the Belfast Poetry Performance Cup 2006 and Cúirt SLAM Finalist 2007. Literary Festival Facilitator for the Gasyard Féile 2005, Abby also has a strong background in the Performing Arts. She has facilitated poetry workshops in Toronto, Canada, and performs regularly with In Your Space theatre company. Abby has a BA (Hons) in Theatre Studies from the University of Ulster, Coleraine and she was awarded a First Class Honours Degree and the Dean's Prize, 2005. She also conducts art and craft workshops with groups of all ages and is a Bio-energy and Reiki practitioner.
---
26th November
Alan Garvey


Alan Garvey's work has been published in various magazines and included in the anthologies: The Backyards of Heaven, However Blow the Winds and The Echoing Years. He self-published three chapbooks: Dear Whoever, The Devil and the Deep Blue Sea and Play Dead. Recipient of Travel & Mobility grants from the Arts Council to read in the University of Toronto and at the March Hare Festival, Newfoundland, he lives in Carlow with his wife, Tara and son, Keir. His first full collection, Herself in Air (2006), is published by Lapwing Publications (Belfast). A second collection, Learning to Crawl, is forthcoming.
---