---
October and November
---
1st October
Mary-Jane Holmes
You can listen to Mary-Jane's reading here.

Mary-Jane Holmes is a seasoned nomad; her childhood was split between the Antrim hills of Northern Ireland and the Sussex Downs of England. She studied among other places, in Barcelona and has lived and worked in France, Spain and America as a translator, editor and teacher. Since 2009 she has held the post of chief editor of Fish Publishing, Ireland, an organisation committed to supporting emerging writers all over the world. Despite all the journeying, she considers Lunedale in the North Pennines, home. Her debut poetry collection, Heliotrope with Matches and Magnifying Glass (Pindrop press, 2018), explores many aspects of the wild landscape of this isolated region.

Mary-Jane has been published in such places as Modern Poetry in Translation, Myslexia, The Journal of Compressed Creative Arts, Prole, The Tishman Review, The Lonely Crowd and The Best Small Fictions Anthology 2016 and 2018. Mary-Jane is the winner of the 2017 Bridport Poetry Prize, the Martin Starkie Poetry Prize, the Bedford International Poetry Prize and the Dromineer Flash Fiction Prize. She is consulting editor at The Well Review poetry journal based in Cork, a guest poetry editor at V. Press and creative director at the Casa Ana writing retreat in Granada, Spain. She completed a Masters of Studies in Creative Writing from Kellogg College, Oxford, gaining distinction and is currently working on a translation of female-authored poetry of medieval Spain. Jane Draycott has said of Mary-Jane's work: "What we hear distinctly in these vivid geographies is a new voice in the poetics of landscape".
---
8th October
Ó Bhéal in association with the Heritage Council presents
Make a Connection (Event 5 of 6)
Emmanuel Jakpa and Ismael Ramos
For the European Year of Cultural Heritage (EYCH), Ó Bhéal presents a series of paired readings featuring established Irish or European poets with poets who have migrated to Ireland.

You can listen to Emmanuel's reading here.

Emmanuel Jakpa's poetry has been published in many poetry outlets, online and print, and also in Landing Places, and in the Edison Literary Review. Among his awards, is the highly sought after Yeats' Pierce Loughran Scholar Award from the Yeats Society. Oritsegbemi Emmanuel Jakpa was born in Warri, Nigeria, and currently lives in Ireland. He studied at the University of Lagos and the University of Iowa. He obtained an MFA from Waterford Institute of Technology.
You can listen to Ismael's reading here.

Ismael Ramos was born in Mazaricos, Galicia, in 1994. He is the author of two collections of poems: Os fillos da fame (2016), which won the Johan Carballeira prize, and Lumes (2017). His poems have appeared in A Bacana, Clarín, Dorna, Grial, Luzes, Oculta Lit, PlayGround and Tr3s Reinos, and have been translated into English, Portuguese, and Spanish. His pieces have also appeared in the anthologies No seu despregar, published by Apiario in 2016, and 13, antoloxía da poesía galega próxima, published by Chan da Pólvora / papeles mínimos in 2017.

#EuropeForCulture
#EYCH
---
14th October
in association with the IndieCork Festival of Independent Cinema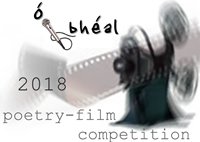 The competition shortlist of thirty one poetry-films will be screened in two parts at the Blacknight Festival Centre, in Dali on Carey's Lane, Cork. The films were chosen from 193 submissions from 33 countries, all completed in the last two years. Our 2018 judges, poet Anamaría Crowe Serrano and filmmaker Oonagh Kearney, will select one winner to receive IndieCork's award for best poetry film.

Screening 1 – Dali, Carey's Lane – 3pm, Sun 14th Oct

Screening 2 – Dali, Carey's Lane – 5pm, Sun 14th Oct

The 2018 Shortlist with synopses, stills and biographies is online here.
---
15th October
Julie O'Callaghan
You can listen to Julie's reading here.

Born in Chicago, Julie O'Callaghan has lived in Ireland since 1974. Her collections of poetry include Edible Anecdotes (Dolmen, 1983), a Poetry Book Society Recommendation, and What's What (Bloodaxe, 1991), a Poetry Book Society Choice. Her collection, No Can Do (Bloodaxe, 2000), was a Poetry Book Society Recommendation. Tell Me This is Normal – New and Selected Poems, (Bloodaxe) a Poetry Book Society Recommendation, was published in January 2008.

Her poems for older children have appeared in numerous anthologies in the U.K. (including the New Oxford Book of Children's Verse and New Faber Book of Children's Verse) and in three full-length collections, Taking My Pen for a Walk (Orchard, 1988), Two Barks (Bloodaxe Books, 1998) and The Book of Whispers (Faber & Faber, 2006). She is a member of the Irish academy of arts, Aosdána.

---
22nd October
Iggy McGovern
You can listen to Iggy's reading here.

Iggy McGovern is a poet and a Fellow Emeritus in the School of Physics at Trinity College Dublin; he has published three collections of poetry with Dedalus Press, The King of Suburbia (2005), Safe House (2010) and The Eyes of Isaac Newton (2017). A Mystic Dream of 4, a poetic biography of William Rowan Hamilton, 19th century Irish Mathematician & Poet, is published by Quaternia Press (2013). His awards include the Ireland Chair of Poetry Bursary, the Glen Dimplex New Writers Award for Poetry and the Hennessy Literary Award.

McGovern edited the anthology 20/12: Twenty Irish Poets Respond to Science in Twelve Lines, published in 2012 by Dedalus Press in association with Quaternia Press. He has given readings of his poetry at international venues across Europe, Australasia and the United States.

---
29th October
In association with The Cork Jazz Festival Ó Bhéal presents

Jazz-Poetry Night with
Sex W. Johnston and Darragh Hennessy
You can listen to Sex W and Darragh reading here.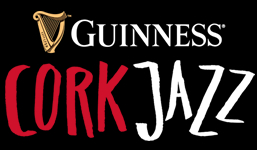 Ó Bhéal has hosted a jazz-poetry night since 2008 to coincide with the Cork Jazz Festival. It's one of the series' most popular events. The night begins with poetry films at 8.30pm, followed by the 9.30pm five word challenge. Poet Sex W. Johnston will be accompanied by pianist Darragh Hennessy, who will also play improv to the later open-mic session, so feel free to bring along your favourite poem and have it shallow fried in jazz!

Sex W. Johnston had his first poem adapted to music by legendary Stranglers frontman, Hugh Cornwell, with vocals by artist Barry Flanagan, in 1998. The track, Mantra of the Awoken Powers, first appeared in the cd & book boxed set We Love You, published simultaneously by Candy Records and Booth Clibborn Editions. The following year he again collaborated with Hugh Cornwell on a full cd project where he provided lyrics and vocals for their eponymous cd Sons of Shiva. The cd was originally available on the Internet under the independent label, HIS Records (HIS CD001, 1999). This version contained 9 tracks. The cd was then signed to Track Records, expanded to 10 tracks and released in September 2002 (Track Records, TRK1018CD, 2002).[10] It was launched that same year with a live gig at the Brighton Psychedelic Festival. He has also guested live on stage with The Frames.

Under the absurd pseudonym of John W. Sexton he is also the author of six poetry collections, the most recent being Futures Pass, which was published by Salmon Poetry in May 2018. In 2007 he was awarded a Patrick and Katherine Kavanagh Fellowship in Poetry.

Darragh Hennessy is a rising talent in the Dublin jazz scene. Graduating from Newpark Music Centre in 2013, he quickly began playing with some of the top players in the Dublin scene, such as John Moriarty, Gonzalo Del Val and Julien Colarossi. Although he started his career as a pianist, recently he has shown himself to be a capable organist as well, and can be heard regularly in many different organ trios based in Dublin.

Whether on organ or piano, a focus on clear musical ideas and honest, organic improvisation is something that Darragh tries to aim for in his music. This musical approach also extends to his writing, and he is currently working on a piano trio album of original material that should be released in 2019. Darragh can be heard every Sunday with the Charlie Moon Organ Trio at the Mission Bar in Dublin.
---
5th November
Ó Bhéal in association with the Heritage Council presents
Make a Connection (Event 6 of 6)
Zovi Zoni, Asad Mahmud, Mel White and Ilyana Kuhling
For the European Year of Cultural Heritage (EYCH), Ó Bhéal presents a series of paired readings featuring established Irish or European poets with poets who have migrated to Ireland.
You can listen to Zovi's reading here.

Zovi Zoni is a beautician who works voluntarily in the (Direct Provision-run) Kinsale Road Accommodation Centre. She is also a great support behind the thriving life of her husband Asad Mahmud. She wants to bring change for the betterment of Humanity in general and is a contributing writer (poetry and prose) to Here, There, In Between (Cork City Libraries, 2018). Zoya believes in the law of attraction and positive thinking and her writings and poems reflect that vividly.
You can listen to Asad's reading here.

Asad Mahmud is currently working as a Legal and IT executive. He has also contributed as an author to the Cork City Libraries publication, Here, There, In Between (2018). He is very vocal for the rights of asylum seekers and has led a very successful protest for asylum seekers in Ireland. He writes about asylum related issues on his blog asadmahmud.ml. He was an advocate at the high courts in Pakistan and has been involved in much public-interest litigation, including challenging the nomination papers of Mian Nawaz Sharif (three times prime minister of Pakistan), and the eligibility of then foreign minister Hina Rabbani Khar, due to the default of 10 million rupees in electricity bills. News related to Asad Mahmud and his articles published in Pakistan can be seen on asadmahmud.com.
You can listen to Mel's reading here.

Mel White is a page and performance poet who grew up in the UK, but has lived in Clare for many years. In 2017 she won the Eigse Michael Hartnett Poetry Slam and was shortlisted for Listowel Writers Week poetry competition. In 2016 she won the Cuirt Festival of Literature Poetry Slam and placed second in the W.B.Yeats' Tower Poetry Slam. She has performed her poetry at many events including Electric Picnic, Body and Soul, Lingo festival, K-Fest, Eigse Michael Hartnett, Cloughjordan Speakeatsy, Limerick Fringe Cabaret, Limerick Spring Festival of Politics and Ideas, Mountshannon Arts Festival, Tom Cat festival, Lunchtime Poetry at the Hunt Museum, and Stanzas. Her poems have recently been published by Crannóg, Boyne Berries, Silver Streams Journal, and Dodging the Rain.
You can listen to Ilyana's reading here.

Ilyana Kuhling is an Irish-Canadian poet and M.Sc student in the University of Limerick. In January 2018, Ilyana had two poems published in the Hennessy New Irish Writing segment of the Irish Times, and also has poems published in Silver Apples, The Ogham Stone and Dodging the Rain. In May, Ilyana's poem 'Fixed Vortex' was broadcast on RTÉ Radio 1's Sunday Miscellany. In addition to written publications, Ilyana has performed poetry at events in Ireland and abroad, including the Intervarsity Poetry Slam, Cúirt International Festival of Literature, and Electric Picnic.

#EuropeForCulture
#EYCH
---
12th November
Shara Lessley
You can listen to Shara's reading here.

Shara Lessley is the author of The Explosive Expert's Wife and Two-Headed Nightingale, and coeditor of The Poem's Country: Place & Poetic Practice, an anthology of essays. A former Wallace Stegner Fellow in Poetry at Stanford University, her awards include a National Endowment for the Arts fellowship, the Mary Wood Fellowship from Washington College, the Diane Middlebrook Poetry Fellowship from the Wisconsin Institute for Creative Writing, an Olive B. O'Connor Fellowship from Colgate University, and a "Discovery"/The Nation prize, among others.

Shara was the inaugural Anne Spencer Poet-in-Residence at Randolph College and currently serves as Assistant Poetry Editor for Acre Books. She lives in Oxford, England.
---
19th November
Knute Skinner
You can listen to Knute's reading here.
Photo By Sara Foust


Knute Skinner, born in America, has had a home in Clare since 1963. He has conducted poetry workshops and given many readings of his work in Ireland and in America. He is the author of seventeen books of verse including a collected edition, Fifty Years: Poems 1957-2007, which appeared from Salmon. A limited edition of his poems, translated into Italian by Roberto Nassi, appeared from Damocles Edition, Italy. A memoir, Help Me to a Getaway, was published by Salmon in 2010. Recent collections of poetry are Concerned Attentions, Salmon (2013), Against All Odds, Lapwing (2016), and most recently The Life That I Have, Salmon (2018).
Praise for The Life That I Have:

" … the lives captured so intensively in Skinner's poems never fail to glimpse and record the "fine print" of the soul. The flames confined behind the grate in his marvelous poem "The Fire" "would consume the world," yet the poet recognizes "it is I who must bring the world to the fire." Now nearing ninety, Knute Skinner for more than six decades has been doing just that to the fire of his imagination—vitally, consistently, indelibly." – Daniel Tobin
---
22nd-25th November
Ó Bhéal in association with The Kino presents
the 6th Ó Bhéal Winter Warmer Weekend Festival of Poetry
The programme will appear during early October.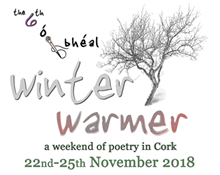 Ó Bhéal's sixth Winter Warmer festival weekend will feature twenty-three poets who will read and perform on the Saturday and Sunday of the festival in the all-newly refurbished, iconic arthouse cinema, The Kino on Washington Street, Cork city.
This year's festival will be four days instead of the usual two, thanks to a two-year partnership between Ó Bhéal and four European literary festivals based in Italy, Spain, Portugal and France. We'll welcome over two dozen representatives from this partnership, including organisers and artists participating in ECIC – European Community of Inclusive Cultures.
The festival launch will be held at Millenium Hall, Cork City Hall on Thursday evening the 22nd of November. The launch will include readings from contributors to a new anthology of poems and prose in multiple languages, from writers living in Cork not originally from Ireland: Creative Cork Intercultural City Voices.
This year's line-up includes Kit Fan, Mara Bergman, Iain Galbraith, Amarjit Chandan, Lucy English, Colette Bryce, Ailbhe Darcy, Pat Boran, Amy Key, Doireann Ní Ghríofa, Conal Creedon, Gerry Murphy, John Mee, Graham Allen, Simon Ó Faoláin, Alice McCullough, Celia Parra and Christopher Whyte.
Sunday the 25th of November will include a reading session of hurling & camogie poems and stories at the Kino, by a number of local and visiting poets and authors.
The festival also features poetry-films from the 6th Ó Bhéal Poetry-Film competition, poetry accompanied by music, other performance art forms and a closed-mic set for ten local poets.
We gratefully acknowledge our media partners the Evening Echo, along with festival sponsors The Long Valley Bar, The Arts Council, Foras na Gaeilge, Dunnes Stores, Forum Publications, The Kino, Colmcille, Arc Publications, Isaacs Hotel, Cork City Council, Poetry Ireland, UCC English Dept, The Natural Foods Bakery, The Quay Co-op and Paradiso.
All events are free, with a €5 suggested donation.

The complete festival programme is here.
---
26th November
Eleanor Hooker
Photo By George Hooker


Eleanor Hooker has published two collections of poetry with Dedalus Press, A Tug of Blue (2016) and The Shadow Owner's Companion (2012). She is completing her third collection and working on a novel. She holds an MPhil (Distinction) in Creative Writing from Trinity College Dublin, an MA (Hons) in Cultural History from the University of Northumbria and a BA (Hons 1st) from the Open University. Her poems appear in literary journals internationally, including: Poetry (Chicago), Poetry Ireland Review, PN Review, The Stinging Fly, Poem: International English Language Quarterly Punch Magazine (India), Kalligram (Hungary), Backstory Journal (Australia), Cherry Tree: A National Literary Journal @ Washington College, the Irish Times and Irish Examiner newspapers. In March 2017 she was was winner in the Poetry Society Members' Competition and longlisted in the Poetry Society's National Poetry Competition.
Her poetry has been included in various anthologies including The Stony Thursday Book 2018, Autonomy, 2018, The Deep Heart's Core: Irish Poets Revisit A Touchstone Poem (2017) and is included in the forthcoming Special Irish Issue of The North. Eleanor has read at international poetry festivals in Ireland, USA, India and Hungary. Eleanor began her career as a nurse and midwife. She is helm on Lough Derg RNLI Lifeboat. For more about Eleanor visit www.eleanorhooker.com
---