---
April and May
---
6th April
James Harpur
You can listen to James' reading here.

James Harpur is the poetry editor of Temenos and Southword. He has had four poetry collections published by Anvil Press: A Vision of Comets, The Monk's Dream, Oracle Bones and The Dark Age, winner of the 2009 Michael Hartnett Award. Anvil have also published Fortune's Prisoner, his translation of the poems of Boethius.
James won first prize in the British National Poetry Competition in 1995 and has received a number of other awards and bursaries, including from the Arts Council of Ireland, Cork Arts, Eric Gregory Trust, the Society of Authors, and the Hawthornden Foundation. His writing residencies include the Munster Literary Centre, Cork, and Exeter Cathedral in the UK. He lives near Clonakilty.
For more information see: www.jamesharpur.com
From 7pm to 8.30pm on the evening, James is offering a once-off poetry workshop entitled Poetic Riddles. For more information click here.
---
13th April
Ó Bheal's Second Anniversary
A celebration of 100 nights of poetry with the launches of
How the Light Gets in … and Five Words – Volume II
You can listen to poems read from How the Light Gets in … here.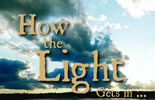 How the Light Gets in … is the fourth in a series of Irish & Canadian anthologies of poetry edited by poet John Ennis – the author of thirteen books of poetry and winner of numerous poetry awards including The Patrick Kavanagh Award and the Listowel Open. He is Head of School of Humanities at Waterford Institute of Technology and chair of the Centre for Newfoundland and Labrador Studies.
The latest volume, How the Light Gets in … is dedicated solely to Canadian verse and is illuminated by the works of established artists as well as by new talent from both sides of the Atlantic. This Cork launch will feature a number of poems in the anthology, read by poets John Ennis, Tom McCarthy, Patrick Cotter, Billy Ramsell, Leanne O'Sullivan and Paul Casey.
Ring the bells that still can ring.
Forget your perfect offering.
There is a crack in everything.
That's how the light gets in.
(from Anthem, Leonard Cohen)
"This monumental trek by John Ennis across the Canadian poetic landscape paints a fascinating picture of contemporary Canada. How the Light Gets in … radiates from its sixty-five poets over seven hundred pages, a dazzling candela intensity of literary strength and diversity of that great country."
– John Kelly, Professor Emeritus, University College, Dublin.

With the occasion of Ó Bhéal's second Anniversary comes the launch of Five Words – Volume II, the second collection of poems selected from poetry challenges, held before our weekly guests and open-mic sessions during the last year. Poets published in this volume who are present on the evening will read from their entries.
Also known as The McNamara Slam, after Dublin MC Gerry McNamara, it has become an inseparable part of the Monday Ó Bhéal poetry gatherings. Typically, the audience throw out five words between them, and a fifteen minute break is given for all who are interested in taking part. The poems have to include all five words, and that's the only rule – then the mic opens up and the fun begins.
---
20th April
Karen O'Connor
You can listen to Karen's reading here.

Born in Millstreet, Co. Cork, Karen O'Connor is a poet and short-story writer. Her work has appeared in many magazines including; Village, Agenda, The Shop, Southword, Podium, The Stinging Fly, Revival, The Sharp Review and many anthologies including; The Doghouse Book of Ballad Poems, The Mermaids Purse, The Heart of Kerry, Jumping The Bus Queue, Le Cercle De La Rotonde, l'Estracelle and Cúm.
O'Connor's poetry has been translated into French, Dutch and Irish. Her short story Dominion was a winner of The Nora Fahy Literary Award. Karen was short listed for the Fish International Poetry Prize and the Ware Poets Open Poetry Competition in 2006. She is winner of the End Of Festival SLAM at the West Cork Literary Festival in July 2006 and received 2nd prize in the Clogh Writers 10th Poetry Competition in the same year. Karen's first collection Fingerprints (On Canvas) was published by Doghouse in April 2005.
---
27th April
Rosemary Canavan
You can listen to Rosemary's reading here.

Rosemary Canavan was born in Scotland, brought up in Co. Antrim, and now lives in County Cork. She has published two collections of poetry, The Island, shortlisted for the Vincent Buckley Poetry Prize (University of Melbourne, Australia) and Trucker's Moll this year with Salmon Poetry in Galway. Other publications include children's books, translations of French short stories and anthologies.
Rosemary has been writer in residence in Kerry, and Poetry Editor of Southword, and has also worked on writing projects with asylum-seekers and prisoners.
---
4th May
Stephen James Smith and Dave Rock
You can listen to Stephen's reading here, and to Dave's here.

Stephen James Smith is a poet well know for his recitals, and has spoken at venues the length and breadth of the country as well as further afield. He is based in Tallaght, Dublin. To date he has been published in several magazines and his first book titled Pretending to be Happy? will be out later this year with Maverick Press. He won the Cúirt Poetry Grand Slam Final in April 2009.
Smith works with Youth Speaks, a poetry workshop for TY students, and travels around the country (he has fallen in love with the idea of being a traveling bard, rather naively), he works in this role along side Stephen Murray and Dave Lordan. He has been described as the Damien Dempsey of the 'poetry scene' by many of his contemporaries, and tends to write about real life issues. He was runner up in the All Ireland Poetry Slam final 2008, and took 3rd place at the Cuirt Literary Festival. His influences include Pat Ingoldsby and Christy Brown and he tends to find his inspiration from traditional sessions in the bars around Dublin.
You can contact Stephen …
email: mrstephenjamessmith@gmail.com
mobile: 0868730206
on MySpace: www.myspace.com/mrstephenjamessmith
on Facebook: http://en-gb.facebook.com/people/Stephen-James-Smith-Poet/1133269274
on YouTube: http://www.youtube.com/user/mrstephenjamessmith
on Bebo: http://www.bebo.com/StephenJamesSmith
on Reverbnation: http://www.reverbnation.com/stephenjamessmith
on Twitter: StephenJSPoet
on Skype: mrstephenjamessmith

Dave Rock is 24 and currently embarking on a four year Phd in Creative Community Empowerment as a Doctoral Research Fellow in NUIG. Since he was seven he has been writing prose, poetry, and plays. He won the GYT Bank of Ireland Theatre One Act Festival for Best New Playwright twice and the Special Moment's Award. He has acted in ten odd plays, written three and directed two.
Rock has been published in various places including Revival twice and THE SHOp. Guest reader at various events including an All-Ireland Showcase in the Black Box Belfast and at the Whitehouse, Limerick. He has been a featured performer at festivals like the Electric Picnic, Mantua, Dun Laoighaire. An organiser and Mc of Slams and nights around Galway, he has also exhibited photography, and has an upcoming exhibtion in the Galway City Museum. He has recently begun learning traditional and new forms of storytelling.

---
11th May
Anamaría Crowe Serrano
You can listen to Anamaría's reading here, and to her poem Ó Bhéal, here.

Anamaría Crowe Serrano is Irish and lives in Dublin with her family. She is currently a freelance translator and teacher of the Spanish language. She has published several translations of poetry including Valerio Magrelli's Instructions on How to Read a Newspaper (Chelsea Editions, 2008). Other work includes a collection of short stories, Dall'altra parte (Leconte, Rome, 2003), a one-act play, The Interpreter (Delta3 Edizioni, 2003), and a collection of poems, Paso Doble, (Empiria, Rome, 2006) written as a poetic dialogue with the Italian poet Annamaria Ferramosca. Her first full length collection of poetry, Femispheres, was published by Shearsman, UK, in March 2008.
From 7pm to 8.30pm on the evening, Anamaría is offering a once-off poetry workshop entitled Babel. For more information click here.
---
18th May
Thomas McCarthy
You can listen to Tom's reading here.

Thomas McCarthy, poet, novelist and essayist, was born in Cappoquin, Co. Waterford in 1954. He was educated at University College Cork, where he was influenced by Sean Lucy and John Montague. He was a Fellow of the International Writing Programme, University of Iowa, 1978/79 and Humphrey Professor of English at Macalester College, Minnesota, 1994/95. His awards include the Patrick Kavanagh Award in 1977, the Alice Hunt Bartlett Award, The Ireland Funds Annual Literary Award in 1984 and the O'Shaughnessy Prize for Poetry from the Irish-American Cultural Institute in 1991.
The main themes of his poetry are Southern Irish politics, family and history. McCarthy has published seven collections of poetry, one with Dolmen Press; The First Convention (1978) and six with Anvil Press; The Sorrow Garden (1981), The Non-Aligned Storyteller (1984), Seven Winters in Paris (1989), The Lost Province (1996), Mr Dineen's Careful Parade: New and Selected poems (1999), and Merchant Prince (2005). He has also written two novels; Without Power and Asya and Christine as well as a memoir, Gardens of Remembrance (New Island, 1998).
Former Editor of The Cork Review and Poetry Ireland Review, he made a major contribution as assistant director to Cork 2005 during the city's year as European Capital of Culture. He is married with two children and he works as a librarian in Cork City Libraries. He is a member of Aosdana.
'No other poet comes to mind, living or dead, who has succeeded in engaging the political as poetic subject matter as McCarthy manages in his poems about the Fianna Fail Party. There is a larger quality, or group of qualities, behind McCarthy's success in the realm of political poetry that extends to his other poetry. It has something to do with the restraint in voice and tone.. an unusual degree of compositional balance.'
– August Kleinzahler,
---
25th May
Janice Fitzpatrick Simmons
You can listen to Janice's reading here.

Janice Fitzpatrick Simmons has published four books of poems; Leaving America (Lapwing Press), Settler (Salmon Poetry), Starting at Purgatory (Salmon Poetry) and The Bowsprit (Lagan Press). St Micheal In Peril of The Sea is due out in May 2009 with Salmon Poetry. She has published in literary journals in Ireland, England and the USA and has appeared in anthologies including; A Rage For Order, Poetry of The Troubles, The Backyards of Heaven, The Blackbird's Nest, Poets of Queen's University; Irish American Poets since 1800, Salmon, A journey In Poetry. She has read at literary festivals in Europe, The USA and in New Zealand.
Janice (with her husband James Simmons) founded The Poets' House which offered the first creative writing MA in Ireland. She lives between Donegal and Waterford where she teaches.

---