August 4th, 2012 at 12:24 pm
Posted by pc in
Ópen-mic on Mondays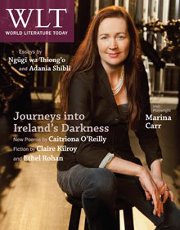 Ó Bhéal reviewed by visiting Travel Writer
18 July 2012
'An American fiction writer faces a crisis of self-doubt upon finding the poetry open mic of his literary-tourism dreams in Cork, Ireland' – World Literature Today
Visiting writer Eric Bosse, Professor in the Expository Writing Program at the University of Oklahoma, came to Ireland to teach travel writing to students for a semester at UCC.
'And, as I left the pub and raised my umbrella for the long walk to my apartment in the University College Cork dorms, I vowed to carry the spirit of Ó Bhéal home to Oklahoma'.
Enjoy the entire review at World Literature Today right here.