October 17th, 2015 at 7:00 pm
Posted by pc in
Uncategorized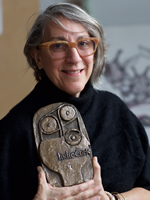 3rd Ó Bhéal Poetry-Film Competition Winner Announced
12th October 2015
Congratulations to
Cheryl Gross
, whose superb film
In the Circus of You
is the winner this year's poetry-film award at the
IndieCork
Festival of Independant Cinema & Music. Cheryl's film was in competition with thirty shortlisted entries from 13 countries, which you can read about
here
. Our thanks go to all the filmmakers for submitting, and what a delight to view such a range of world talent and excellent variety of work. Thanks are also due to Zata Banks from
PoetryFilm
for her marvellous archival work and richly imaginative presentation of avante-garde poetry-film experimentations.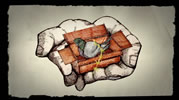 In The Circus Of You (6:07)
Poem: In the Circus of You by Nicelle Davis
Synopsis – a visceral spectacle of controlled excess; it dismantles the three rings we use to contain our most domestic horrors and shows us the way through vulnerability to release. Nicelle Davis's poetry mythologizes pain, makes grief, anger, disgust, and fear bearable by transforming them into finely wrought poems. These poems are filled with sharp edges, dissections, illusions, and images of flight; both in their language and in the ways they occupy the page. They are perfectly matched by the animation and drawings of Cheryl Gross, who translates Davis's poetry into an equally grotesque, equally eloquent visual language.
Director: Cheryl Gross (U.S.A.)
Born and raised in Brooklyn, New York, Cheryl Gross is an illustrator and motion graphic artist living and working in the New York area. She is a professor at Pratt Institute and Bloomfield College.
"I equate my work with creating and building an environment, transforming my inner thoughts into reality. Beginning with the physical process, I work in layers. I am involved in solving visual and verbal complexities such as design and narrative. My urban influence has indeed added an 'edge' to my work." Many have compared Cheryl's work to "Dr. Seuss on crack."
Judges Comments
:
"Too many poetry films apply great cinematography to bad poetry and sometimes great poetry is left down by less than fully committed visuals. Here is a poetry film where the aesthetic accomplishment and craftmanship of the cinematography and the poetry are equal. Gross's animation remains faithful to Davis's text while not compromising its own ambition. Gross has demonstrated great taste and discernment in investing her talent as a cinematographer in poems which demand your attention with captivating subject matter and their awareness of language as a musical medium."
– Patrick Cotter & Padraig Trehy
Submissions will open for the 4th Ó Bhéal Poetry-Film Competition from May 2016 at this link.