---
February and March
---
3rd February
New Creative Writing from UCC
You can listen to the full reading here.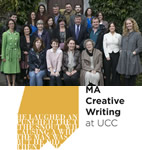 UCC has a long tradition of supporting and nurturing Munster Writers, and it's no surprise that the first year of the UCC MA in Creative Writing has already seen its students produce some innovative and exciting pieces of work. Michelle McAdoo, Louise Nolan, Niamh Prior, Kathleen O'Brien and Bridget Sprouls are five students who are showing huge promise in their own unique way. In other areas outside of poetry their colleagues in the MA are achieving equal distinction in their own writing. On 3rd February we will be privileged to hear some of the new poetry being written by these gifted writers.
---
10th February
Patrick Lodge
You can listen to Patrick's reading here.

Patrick Lodge was born in Wales, lives in Yorkshire and travels on an Irish passport thanks to his Co. Cork ancestors. He travels as much as he can and uses the dislocation produced by travel to reflect on his own displacements of growing up, illness, family life and relationships – his own search for an understanding of "home" that might be comfortably lived in. His prizewinning poems have been published in many countries including Ireland, the UK, the USA, Australia, New Zealand and Greece. Patrick's first collection An Anniversary Of Flight was published by Valley Press in 2013.
"the images in this impressive first collection sneak up suddenly on the reader, a sudden recognition of something familiar seen in a new way…Highly recommended." – John Murphy
"Patrick Lodge is a poet who is never trivial or merely fashionable. His work is distinguished by its plenitude, depth and truth to experience." – David Cooke
---
17th February
Brendan Cleary
You can listen to Brendan's reading here.
Brendan Cleary is from County Antrim originally. He is a celebrated performer of his work and has published many collections, Tears in the Burger Store (Sunk Island, 1985), White Bread and ITV (Wide Skirt, 1990), The Irish Card (Bloodaxe, 1993), Stranger in the House (Bloodaxe, 2001), Jackson (Pighog, 2004), Some Turbulant Weather (Tall Lighthouse, 2008) and Goin' Down Slow: selected poems 1985-2010 (Tall Lighthouse, 2010). In 2013 Pighog published Cleary's The Poet's Notebook as an exclusive series of updates on its Twitter profile, as well as his most recent full collection, Face.
And from Pighog:
Originally from Northern Ireland, Brendan Cleary is one of the UK's most instinctively gifted poets and a master of the art of teaching poetry. His early work deals with his childhood in a region where 'Despair, like rust, / is contagious', but life in an England of broken ideals and rampant class prejudice comes in for equally biting treatment in poems such as Newcastle is Benidorm and Rose. Honed by his experience as a live performer, his lyrics have a hard-hitting immediacy as he questions his place in the world around him and his affiliation to the culture and traditions of his country of birth. These are not poems for the fainthearted, but they provide insights into the human spirit simply not on offer in the work of less courageous artists. He launched his poetic career as editor of the punky DIY magazine The Echo Room and went on to publish extensively in journals, anthologies and in single-author collections.
---
24th February
plus an earlier Wordshop from 7pm
Máighréad Medbh
You can listen to Máighréad's performance here.

Máighréad Medbh was born in County Limerick. Since her first collection The Making of a Pagan in 1990, she has become widely known as a 'performance poet', although she mainly sees dramatic presentation as trying to live the moments of the poem as fully as possible. She now has six published poetry collections, a CD, and a non-fiction study of solitude. She likes to explore themes which led her to write a sequence on the famine, Tenant (Salmon Poetry, 2000) and a sequence inspired by astrology Twelve Beds for the Dreamer (Arlen House, 2010). Her work has appeared in many journals and anthologies, and has been translated into German and Galician. She has performed widely, in Europe and America as well as Ireland, and on the broadcast media.
Máighréad has written three novels and a fantasy sequence for children. Two of her novels are online as ebooks. She has also written for radio and she publishes a monthly blog/essay on her website. Her non-fiction work Savage Solitude (Dedalus Press, 2013), is the beginning of what she intends to be an exploration in mixed genres, with a linking of research, aphorism, prose and poetry.
Máighréad will also be holding a wordshop from 7.00pm to 8.30pm at Ó Bhéal entitled The End of the Line. For more details click here.
For more visit www.maighreadmedbh.ie.
---
3rd March
Brendan McCormack
You can listen to Brendan's reading here.

Brendan McCormack is a poet living and working in Dublin. He has had his work recently published online in the following publications: Street Cake Magazine, Primal Urge Magazine, Bone Orchard Journal, CounterPunch, Outburst Magazine and Rolling Thunder Quarterly. His work will also be featured in upcoming editions of the Poetry Bus Magazine and Poetic Diversity. His first collection of poems, Selling Heaven is available online now from Amazon.com. He has two more collections coming out in the USA in 2014 and is publishing a small collection in Dublin, Prelude, in February 2014.
---
10th March
Ó Bhéal in association with Foras na Gaeilge presents a bi-lingual evening with
Colette Ní Ghallchóir
You can listen to Colette's reading here.

Colette Ní Ghallchóir has published two books of poetry in Irish, Na Sióga i lag na hAltóra (Coiscéim, 2005) and Idir Dhá Ghleann (Coiscéim, 1999). She has been selected by Selina Guiness for inclusion in The New Irish Poets and by Nuala Ní Dhomhnaill for inclusion in The Field Day Anthology of Irish Womens Poetry.
She has been anthologised in the U,S by Thomas Rain Crowe in Writing The Wind and Gréagóir ó Dúill has selected her for Fearann Pinn. A book of her new and selected is due shortly from Arlen House. She has toured with Turas Na mBard in Scotland and with the Italian cultural Institute in Sicily. She has been published in all major literary journals in Ireland.
---
17th March
Christy O'Donnell
You can listen to Christy's reading here.

Christy O'Donnell's first collection From Gloves To Pen was published in 2013. He was born on the north side of Limerick. Ballynanty to be exact. There were 15 of them living in the first set of high flats (as they were known back then) on Shanabooley road. It was never easy growing up in the sixties or seventies but they managed it and for the most part turned out pretty much okay. As for his type of poetry?
Christy says: Well I have no idea when or where it came to me but I started and I keep on going. When I write as I do it doesn't take me long to get it on paper, I tend to write as if I hear a tune in my head and see what comes out. Hoping it has some humour attached. Someone once said to me just because it's easy for me does not mean it is easy to do what I do. I have learned this is true in most things in life. We all do things differently and poetry is my way of expressing life and how I live it. We all have a choice so I choose life with humour and I pray this little effort makes you smile at least one time, after all it's easier to smile then be miserable don't you think.
So here is some things that I recall from the early years in my life as well as other stuff that just came out of (my big head as a fellow poet likes to comment) those days.
Christy O Donnell's first poetry collection From Gloves to Pen is a well written narrative of one man's life growing up in a large family in Limerick, Ireland. His father gave him boxing gloves, but he found more solace using his pen. He approaches life's difficult times with humor and tenderness. Many of his poems tell stories that could have made him feel bitter, but he has an uncommon talent that turns the pain to laughter. He writes in a way that made me feel as if I know him and want to sit down and share a pint with him. I hope he continues to write wonderful poems. – Moriah LaChapell
If poetry is written for the ordinary person who lives in the real word then this will make you like it and love it for in every poem you will find a hint of honesty and truth. – Bertha McCullough
---
24th March
Jessica Traynor
You can listen to Jessica's reading here.

Jessica Traynor is a poet from Dublin. She was awarded the Ireland Chair of Poetry Bursary in 2014, was Hennessy New Writer of the Year in 2013 and was highly commended at the 2013 Patrick Kavanagh Award. She won the Listowel Single Poem Prize in 2011 and was featured in the 2009 Poetry Ireland Introduction Series. She works as Literary Reader at The Abbey Theatre and teaches poetry and playwriting courses at Big Smoke Writing Factory.
Poems are forthcoming or have been published in If Ever You Go (Dedalus Press), The Irish Times, New Planet Cabaret (New Island), Peloton (Templar Poetry), The Weary Blues, The SHOp, The Moth, Wordlegs, The Stinging Fly, New Irish Writing and Burning Bush II among others. She has a piece of short fiction in the first edition of Colony. Her first collection of poems Liffey Swim is forthcoming from Dedalus Press in 2014.
---
31st March
John Ennis
You can listen to John's reading here.

A contributor to the Harvard Anthology of Modern Irish Poetry (2010) and author of thirteen books of poetry, John Ennis has also published verse recently in Poetry Ireland Review, Stinging Fly, Riddle Fence, Outburst, The Burning Bush, New Hibernia Review, The Clifden Anthology, Boyne Berries and Catechism: Poems for Pussy Riot. Postponing Ásbyrgi ( poems in response to Sìgur Rós) was published by Three Spires Press in March 2013 and launched throughout Newfoundland at The March Hare Festival.
Ennis' verse is scheduled to appear in new editions of The Burning Bush, The Pickled Body, Outburst and Poetry Ireland Review (Easter 2014). His work is profiled in The Hidden World of Poetry: Unravelling Celtic Mythology in Contemporary Irish Poetry (Adam Wyeth, Salmon 2013) and in En sus propias palabras/In their own words: Interviews with Irish Contemporary Writers (María Sofía Eliggi, Universidad Nacional de La Pampa 2011). Retired from Education, Ennis is an activist and has been green-starred for his contribution to Amnesty International.
---