December 15th, 2022 at 3:08 pm
Posted by pc in
Uncategorized
10th Ó Bhéal Poetry-Film Competition Winner Announced
27th November 2022
We are delighted to announce that Jelle Meys from Belgium, with his beautiful film La luna asoma (The moon appears) is Ó Bhéal's 10th poetry-film competition winner, as announced at the 10th Winter Warmer Poetry Festival awards ceremony.
Jelle's film was chosen from 173 submissions received from 100 filmmakers in 33 countries. The 2022 shortlist represents 17 countries: Australia, Belgium, Canada, England, Germany, Ireland, Isle of Man, Northern Ireland, Philippines, Portugal, South Africa, The Netherlands, Ukraine, UK, USA, Wales and Zimbabwe. You can view the complete shortlist and screenings here. We're very grateful to all the poets and filmmakers who submitted this year.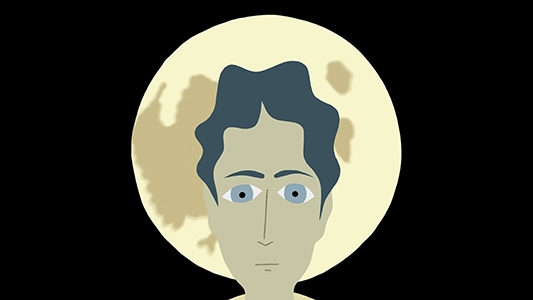 La luna asoma
(The moon appears)
(6:10)
Poem: La luna asoma (The moon appears)
by Federico García Lorca
Synopsis – An animated interpretation of the mysterious poem 'La luna asoma' by the Spanish poet Federico García Lorca.

Director: Jelle Meys (Belgium)
Jelle Meys (°1986) is a freelance illustrator and graphic designer, as well as a visual arts teacher, working and living in Sint-Niklaas, Belgium. He got his degree of 'Master in visual arts: graphic design and illustration' in 2009 at School of arts Ghent, in 2010 he also got his teacher's degree there. In 2017 he started taking the film and animation course at the art academy in his home town Sint-Niklaas. Since finishing his work on 'La luna asoma', he started working on a new ambitious animation project under the work title of 'Sally', a comical story about a man and his unique relationship with a cactus.


"Having tried my hand at animation myself, I know the work the work that goes into something like this.The guitar music and soundscape, like the perfectly timed crunch of an apple being bitten, weld it together. The film moves and grows as if a secret is unfolding before us. Its made all the more amazing when you read the credits and realise how few people Jelle needed help from in completing the project. It's a worthy winner."
– Colm Scully
"A gorgeous film. Image, music, voice and poem, gloriously wed."
– Paul Casey
Submissions will open for the 11th Ó Bhéal Poetry-Film Competition from May 2023, at this link.
No comments yet.
RSS feed for comments on this post. TrackBack URI
Sorry, the comment form is closed at this time.