January 18th, 2018 at 5:33 pm
Posted by pc in
Uncategorized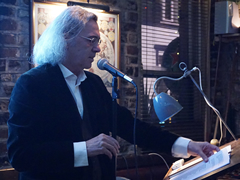 Fernando Beltrán on Video
11th December 2017
From our end-of-year event with Fernando Beltrán, we have all 14 of his poems on video with translations by Niall Binns and Keith Payne. All videography and hours of expertly-set subtitling by Lovisa Cosgrave.
All 14 videos are on our End of Year 2017 with Fernando Beltrán playlist.

(or via the Ó Bhéal Youtube channel).