December 14th, 2022 at 10:55 am
Posted by pc in
Uncategorized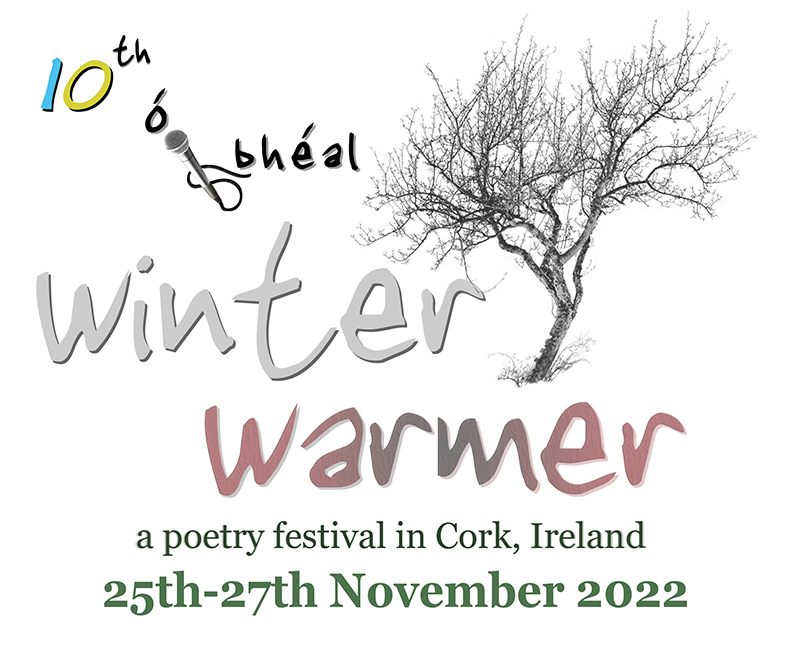 Winter Warmer Videos 2022
25th-27th November
Ó Bhéal's 10th Winter Warmer (and 2nd hybrid) festival presented over 30 poets from seven countries. Most of the featured guests appeared in-person at Nano Nagle Place, while others appeared virtually.
For the second time the festival hosted two poetry workshops, along with song from the brilliant Fiona Kelleher, a reading and round table discussion centered on relationships between Human & Non-Human Life in Port Cities Poetry, and a Closed-Mic set for poets who have featured in Ó Bhéal's regular open-mic sessions during 2022.
The shortlist and prize-giving for Ó Bhéal's International Poetry-Film Competition were also screened, as was an additional, special selection of poetry-films made in Ireland.
This year's Winter Warmer also hosted the 2022 All-Ireland Poetry Slam Championship Final, featuring 12 poets (three from each province) who competed over three rounds. Our congratulations to the new All-Ireland Slam Champion Leon Dunne, as well as to runners up Helen Hastings and Jim Crickard.
A downloadable pdf programme is HERE. The festival poster is HERE.
With special thanks to our Sponsors
The Arts Council of Ireland, Cork City Council, Foras na Gaeilge,
Poetry and Politics II @ University of Vigo, Dunnes Stores, Forum
Publications, Colmcille, Arc Publications, Cork City Libraries, Poetry Ireland,
Paradiso, The Long Valley and the UCC School of English and Digital Humanities.

No comments yet.
RSS feed for comments on this post. TrackBack URI
Sorry, the comment form is closed at this time.