---
October and November
---
7th October
Munster Poetry Slam
and Munster heat of the 2019 All-Ireland Slam Championship
(final to be held in Dublin during November)
From 9.00pm sharp: Poets will compete over two rounds.
Three judges score for Content, Performance, Audience Reaction and Timing.
followed with a performance by
Emmet Kirwan
You can listen to part of Emmet's performance here.

Emmet Kirwan is an Irish poet, actor, playwright and screenwriter. He is known for writing and starring in RTÉ2's cult comedy series Sarah & Steve and for writing and starring in the 2015 play (and 2018 movie version of) Dublin Oldschool. In 2012 he performed Just Saying, a monologue written and directed by Dave Tynan, which to date has received over 500,000 views on YouTube.
Emmet is a graduate of the Samuel Beckett Centre at Trinity College Dublin. He won the Stewart Parker Trust New Playwright Bursary 2014 for his first play Dublin Oldschool, which premiered as part of the Show In A Bag programme in 2014. He wrote and performed four spoken word pieces as part of THISISPOPBABY's 2016 production for Tiger Dublin Fringe RIOT. The short film Heartbreak, based on a monologue from riot, went viral following its release in 2017.
---
13th October
@ the IndieCork Festival of Independent Cinema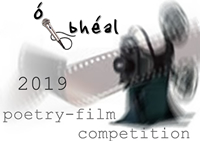 The competition shortlist of thirty-one poetry-films will be screened in two parts at the Blacknight Festival Centre, in Dali Carey's Lane, Cork city. The films were chosen from 198 submissions by 118 filmmakers in 33 countries, completed in the last two years. Ó Bhéal's 2019 judges, poet Stanley Notte and poet-filmmaker Colm Scully, will select one overall winner to receive the IndieCork festival award for best poetry film.

Screening 1 – Dali, Carey's Lane, Cork – 4pm, Sun 13th Oct

Screening 2 – Dali, Carey's Lane, Cork – 5:30pm, Sun 13th Oct

The 2019 Shortlist with Screening times, stills and biographies is here.



---
14th October
Clare McCotter
You can listen to Clare's reading here.

Clare McCotter's haiku, tanka and haibun have been published in many parts of the world. She won The British Haiku Award 2017, The British Tanka Award 2013 and The HIS Dóchas Ireland Haiku Award 2011 and 2010. Her work has been included in the prestigious Norton anthology – Haiku in English: The First Hundred Years. Her longer poems have appeared in over thirty journals including Abridged, Crannóg, Cyphers, Envoi, The Honest Ulsterman, Iota, The Interpreter's House and The Stinging Fly.
Awarded a Ph.D from the University of Ulster, McCotter has also published numerous peer-reviewed articles on Belfast born Beatrice Grimshaw's travel writing and fiction. Clare was one of three writers featured in Measuring New Writers 1 (Dedalus Press). Black Horse Running, her first collection of haiku, tanka and haibun, was published in 2012 by Alba Publishing. Revenant (Salmon Poetry, 2019) is her first collection of longer poems. She has worked as a lecturer, a teacher of English, a psychiatric nurse and a full-time carer. She lives in Kilrea, County Derry.


---
21st October
Christodoulos Makris
You can listen to Christodoulos's reading here.

Christodoulos Makris is "one of Ireland's leading contemporary explorers of experimental poetics" (The RTÉ Poetry Programme). He has published three books of poetry, most recently this is no longer entertainment (Manchester: Dostoyevsky Wannabe, 2019), as well as several pamphlets, artists' books and other poetry objects. His second book The Architecture of Chance (Dublin: Wurm Press, 2015) was a poetry book of the year for RTÉ Arena and 3:AM Magazine.
One of Poetry Ireland's 'Rising Generation' poets, Makris has presented his work widely across media and borders, and received awards, commissions and residencies from several institutions including the Irish Museum of Modern Art (IMMA), StAnza Festival (Scotland), European Poetry Festival, Culture Ireland, and Maynooth University. He is the poetry editor at gorse journal and associated imprint Gorse Editions. "In work that is at times radically experimental, and always alert to the capacity of language to remake the world, Christodoulos Makris seeks ways to break open the lyric space of the poem to alter the ways in which language operates in the public realm" (Lucy Collins – Irish University Review).


---
28th October
Ó Bhéal in association with Foras na Gaeilge presents
Alan Titley
You can listen to Alan's reading here.
Grianghrafadóir: Máire Uí Mhaicín



Alan Titley's Rabhadh Dánta (a pun on 'selected poems' and 'warning! poems') was published by Coiscéim in 2013, and his verse novel An Bhean Feasa on the life and times of Goody Glover, the Irish witch hanged in Boston in 1688, followed in 2014. He translated Máirtín Ó Cadhain's Cré na Cille (Yale University Press) in 2015 and his partly verse-play An Filleadh was produced on the main stage of the Abbey for Easter Monday 1916.
In the meantime Alan was been working on, writing, and publishing other stuff.

---
4th November
Maurice Devitt
You can listen to Maurice's reading here.

Maurice Devitt, after thirty years plying his trade in the world of Insurance & Banking, decided he wanted to be a poet, so he retired. Now eight years and 200 poems later he has recently published his debut collection, Growing Up in Colour, with Doire Press. During those eight years he also completed the MA in Poetry Studies at Mater Dei, won the Trocaire/Poetry Ireland Competition and was placed or shortlisted in many other competitions including The Patrick Kavanagh Award, The Interpreter's House, Bangor Literary Festival, Over the Edge New Writer of the Year Competition, The Listowel Collection Competition and Cuirt New Writing Award.
Selected for Poetry Ireland Introductions in 2016, his poems have appeared in a significant number of journals, both in Ireland and internationally. He was a featured poet at the Poets in Transylvania Festival in 2015 and a guest speaker at the John Berryman Centenary Conference in both Dublin and Minneapolis. His poems have been nominated for Pushcart, Forward and Best of the Net prizes and his Pushcart-nominated poem, The Lion Tamer Dreams of Office Work, was the title poem of an anthology published by Hibernian Writers in 2015. He is the curator of the Irish Centre for Poetry Studies site.
---
11th November
Miriam Gamble
You can listen to Miriam's reading here.

Originally from Belfast, Miriam Gamble now lives in Scotland and lectures in Creative Writing at the University of Edinburgh. Her poetry collections are The Squirrels Are Dead (2010), which won a Somerset Maugham Award, Pirate Music (2014) and What Planet (2019), all published by Bloodaxe. She has been a mentor on the Ledbury Emerging Critics Programme and a judge on the Seamus Heaney Centre Prize and the Saltire Poetry Book of the Year Award.
Miriam also writes essays – most recently, a reflective piece on the relationship between poetry and conversation, online here: www.ayearofconversation.com/conversations/poetry-and-conversation
---
18th November
Grace Wilentz and Siobhán Daffy
You can listen back to Grace and Siobhan here.

Grace Wilentz has lived in Ireland for fifteen years. Her work has been published widely in Ireland, Britain and the US, including in Poetry Ireland Review, Magma, the Harvard Advocate and The Irish Times. Her debut pamphlet, Holding Distance, will be launched by the Green Bottle Press at the Poetry Society in London in October 2019. She is also the editor of We Claim: a handbook for the revolutionary young migrant woman, published by Ponc Press in 2017.

Siobhán Daffy lives in the Glenasmole Valley, Dublin. Her poems appear in many places including The SHOp Magazine, About Place Journal, Southword, The Stony Thursday Book, Orbis and Headstuff. She enjoys performing poetry, accompanying herself on percussion and African harp. She has performed at Poetry Ireland, Electric Picnic, Body & Soul Festival and on RTE Radio 1, A living Word. She released Horse's Hooves CD in 2016, a collaboration of music and spoken word with six musicians. She runs immersive Poetry Bath experiences @poetrybath. She is currently working on YA and children's fiction. For more about Siobhan visit www.siobhandaffy.bandcamp.com
---
22nd-24th November
Ó Bhéal in association with The Kino presents
the 7th Ó Bhéal Winter Warmer Weekend Festival of Poetry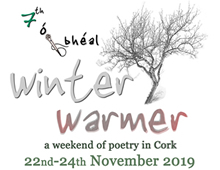 At Ó Bhéal's seventh Winter Warmer festival weekend twenty-three poets from seven countries will feature on Friday 22nd and Saturday 23rd in the ever-iconic and evolving arthouse cinema and music venue The Kino (Washington Street). There will also be a closed-mic set for ten local poets.
This year's line-up includes Liz Berry, Aifric MacAodha, Trevor Joyce, Yolanda Castaño, Gabriel Rosenstock, Zsuzsa Emese Csobánka, Ciara Ní É, Amanda Bell, Anne Frater and Danielle McLaughlin.


On the Friday evening local trio Dourga will blend music, song and spoken word. The Saturday afternoon will feature international poetry-films curated and presented by multi-award winning Australian filmmaker Marie Craven, plus a selection from Ó Bhéal's Poetry-Film competition. Marie will also lead a poetry-film workshop and discussion on the Friday afternoon.
Events on Sunday 24th take place at Ó Bhéal's home in The Hayloft Bar (Winthrop St), with an exciting Many Tongues of Cork event presented by Joanna Dukkupati, featuring writers from numerous Immigrant communities in Cork.
We gratefully acknowledge our 2019 Sponsors and Partners The Kino, The Long Valley Bar, The Arts Council, Foras na Gaeilge, Dunnes Stores, Forum Publications, Colmcille, Arc Publications, Isaacs Hotel, Cork City Council, Poetry Ireland, UCC English Dept, The Natural Foods Bakery and Paradiso.
All events are free, with a €5 suggested donation.
---
25th November
Ellen Dillon
You can listen to Ellen's reading here.

Ellen Dillon's book Sonnets to Malkmus was recently published by Sad Press and her pamphlet Heave is available from Smithereens Press. Her bilingual poem 'dollop' is forthcoming as part of hardPressed poetry's Dual Poet Readers series. Some of her poems have appeared in Adjacent Pineapple, Amberflora, Banshee, CUMULUS, Datableed, MOTE, Para•text, Smithereens Literary Magazine, Stinging Fly and Zarf.
Ellen is a secondary school French and English teacher in Co. Limerick, and has just completed a PhD on abstraction in contemporary poetry at the School of English in DCU.
---