November 12th, 2014 at 9:24 pm
Posted by pc in
Poetry Events and News
2nd Ó Bhéal Poetry-Film Competition Winner Announced
19th October 2014
Our congratulations go to
Marleen van der Werf
whose beautiful film
Wadland
, a breathtaking portrayal of sea-life found in tidal areas, is this year's poetry-film competition winner at the
IndieCork
Festival of Independant Cinema. Marleen's film was under strong competition from the other thirty shortlisted entries, which you can see
here
. This year the films were screened in the main Firkin Crane theatre on Shandon where the huge screen and cultural location made it the perfect venue. Thanks also to the participating filmmakers and poets who travelled from afar for the screenings: Svitlana Reinish (Ukraine), Silvie Wolff (Netherlands) and Kevin Barrington (Dublin). We're already looking forward to next year!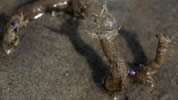 Wadland (9:19)
Poem: Wadland by Marleen van der Werf
Synopsis – Wadland is a poetic wildlife documentary about the life in the sand of a tidal plain, and the search for a lost childhood memory.
Director: Marleen van der Werf (Netherlands)
After finishing her Masters in Biology and Philosophy at the University of Amsterdam, Marleen van der Werf specialized in filming nature.
www.marleenvanderwerf.com
Judges Comments
"A sensitive and poignant study of an ecosystem by a filmmaker whose knowledge and appreciation of the subject matter shines in each finely crafted shot." – Stephen O'Riordan
"Wadland invites us into a liminal landscape, to experience that intimate place where sea meets sand, where the strength and fragility of living is inhabited and washed away in tidal cycles. The imagery, beautifully captured is poetic in it's own right, while the poem is heart felt and intelligent. Wadland is a true marriage of poetry and film." – Rosie O'Regan
"Wadland comes pretty close to being a perfect poetry film." – Rab Urqhart

"Exploring the metaphor of tidal-land sea-life as symbolic of our own lives, is both frightening and enlightening, and this delicate subject matter has been treated beautifully here. The balance between poem, image and music in Wadland is terrific and absolutely captivating. It does the best of what both poetry and film can do – it takes you somewhere new, within yourself." – Paul Casey
Submissions will be open for the 3rd Ó Bhéal Poetry-Film Competition from May 2015.