March 8th, 2009 at 6:40 pm
Posted by pc in
Poetry Events and News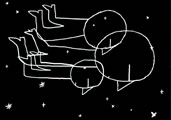 Zebra Poetry-Film Festival Highlights
1 – 2 April 2009 @ The Triskel Arts Centre
For poets and filmmakers alike, these were two events not to be missed. Zebra is a high-profile event held in Berlin, combining the two art forms of poetry and film in every way imaginable.
Still from The Dead
We first made the link with Berlin when Pat Cotter from the Munster Literature Centre initiated a four-poet expedition to Zebra in October 2008. After introductions and five days of poetry-films, the organisers agreed to showcase the festival in two Cork events organised by Ó Bhéal, which were then made possible with help from the Goethe Institute and the Triskel Arts Centre. The events here sparked much debate about how to realise poetry films, which are budget-flexible artworks that can be made very simply or with much complexity. They can be thirty seconds long or thirty minutes. Recent poetry films seem to be weighted on the side of visual effect and we have started working on a few local projects that will give more weight to the poetry end, with perhaps more innovative and simple camerawork. Animation overlaying is a lot easier now with the range of software out there, and we don't have to create Matrix-level images to make a good poetry film.
The Zebra festival attracts entries from many parts of the world, and there tends to be a lot of integrated animation. Although Ireland has not quite yet advanced in the field of animation, as poets we now have a whole generation of young film-makers to collaborate with, and they in turn have inherited a wealth of fine local poets to choose from (as well as worldwide). Films can be made of classic pieces or poems can be written for a film concept. The combinations of possibilities offered by these two art forms seem inexhaustible. From over 700 entries about 140 made it to the festival screen, so filmmakers can benefit from this exposure and double their submissions into short film festivals.
Details of the Zebra Poetry Film Festival can be found on the Literaturewerkstatt website, here.