---
December and January
---
1st December
Martín Veiga
You can listen to Martín's reading here.

Martín Veiga is a poet from Galicia. He has published four award-winning poetry collections in the Galician language entitled Tempo van de porcelana (Casa de Cultura, Noia, 1990), As últimas ruínas (Espiral Maior, 1994), Ollos de ámbar (Sociedade de Cultura Valle-Inclán, 2005) and Fundaxes (Espiral Maior, 2006). He has been living in Cork since 1999 and works as a lecturer in the department of Spanish, Portuguese and Latin American Studies at UCC, where he also directs the Irish Centre for Galician Studies.
---
8th December
Bonny Cassidy
You can listen to Bonny's reading here.
Bonny will also hold a wordshop
Still life with smokestack – reading and writing the built environment
from 7.00pm to 8.30pm at Ó Bhéal. For more details click here.

Bonny Cassidy's most recent collection is Final Theory (Giramondo, 2014). Her work has been anthologised in Jacket2, Young Poets: An Australian Anthology (John Leonard Press) and Best Australian Poems (Black Inc). She teaches creative writing at RMIT University in Melbourne, and is reviews editor for Cordite Poetry Journal. Bonny is travelling through Ireland this December, as a recipient of the annual Australian Poetry Tour of Ireland.

---
15th December
Liz Lochhead
You can listen to Liz's reading here.
And to Liz's earlier interview for RTE 1's Poetry Programme here.
Photo By Norman McBeath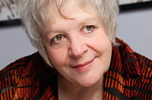 Liz Lochhead lives in Glasgow where she became poet laureate in 2005. She was later appointed as The Scots Makar in 2011 (the national poet of Scotland). Commenting on the role, Liz said the following: "The point of the Makar role is to fight the corner for poetry … I want to do that in a down-to-earth way, because to a lot of us, Scots poetry is a right, something as natural as a song and a dance."
Lochhead was born in Motherwell (south east of Glasgow) and studied at the Glasgow School of Art, where she wrote her first poem The Visit, in 1965. In the early 1970's she joined Philip Hobsbaum's writers' group, and shortly thereafter published her first collection Memo For Spring (Reprographia, 1972), which won the Scottish Arts Council Book Award and was an immediate success in what was a largely male-dominated poetry scene. She then lectured in the fine arts for 8 years before becoming a professional writer. She has since published many collections including Dreaming Frankenstein and Collected Poems 1967–1984 (Polygon, 1984) and Bagpipe Muzak (Penguin, 1991). The Colour of Black and White: Poems 1984-2003 was published by Polygon in 2003. Her latest collection of selected poems is A Choosing (Polygon Books, 2011). She has received a number of prizes both for her poetry and her work for theatre and television.
Also regarded as one of Scotland's most popular dramatists, Lochhead's plays include Blood and Ice (1982), Mary Queen of Scots Got Her Head Chopped Off (1987), an adaptation of Bram Stoker's Dracula (1989), Cuba (1997), Perfect Days (2000) and Good Things (2004). Her adaptation of Moliere's Tartuffe (1985) into Scots Gallic was met with considerable acclaim and her adaptation of Euripides' Medea for Theatre Babel won the 2000 Saltire Society Scottish Book of the Year Award. Her plays are often performed at the Edinburgh Festival and at the leading Scottish theatres. True Confessions and New Clichés (Polygon, 1987) is a selection of the best of Lochhead's raps, songs, sketches and monologues from her plays and revues. She has also written for radio and in 2001 wrote the screenplay version of Latin for a Dark Room, which was shown by the BBC.
'when somebody asks me what I do I usually say writer. The most precious thing to me is to be a poet. If I were a playwright, I'd like to be a poet in the theatre.' – Liz Lochhead
'her work is that of one woman speaking to many, and one person speaking for many'. – Anne Varty
'An inspirational presence in British poetry – funny, feisty, female, full of feeling' – Carol Ann Duffy
Biography compiled from various sources incl. The Scottish Poetry Library. For a more complete version and to read some of Liz's poems visit her page at the Scottish Poetry Library.
---
12th January
Helen Burke
You can listen to Helen's reading here.

Helen Burke has been writing and performing poetry for 40 years. She is also a playwright/designer/and visual artist. Her collections include The Ruby Slipers (Valley Press, 2011), Zuzu's Petals (P.M. Press), And God Said Let There Be Chocolate (Krazy Phil's Press) and Tales Of The Green Field (Krazy Phil's Press). She has 2 cds, Here's Looking At You, Kid and The Gift. Her latest collection is Here's Looking at You, Kid (Valley Press, 2014).
She is now widely anthologised and has won many national Poetry Prizes – Manchester, Norwich, Devon and Dorset, Suffolk, Southport Comedy and also many first prizes for Poetry in Performance. Her work is published and distributed by Origami Poems on Rhode Island (see www.origamipoems.com). She has read in Paris several times and the Loire Valley, also Rome at Keats Shelley House. A children's book, Green Field will shortly be translated into French. She is a regular presenter for East Leeds FM Radio in the U.K. and has featured many American poets on the show. Her poems are currently being set to music by an Israeli composer. The American poet Thomas Lux has spoken very kindly about her work in The Ruby Slipers. Her poems are described as fun, accessible, humane , quirky and entertaining. All her poems are edible – and do not damage your health.

---
19th January
Ó Bhéal in association with Foras na Gaeilge
presents a bi-lingual evening with
Art Ó Maolfabhail
You can listen to Art's reading here.

Art Ó Maolfabhail was born in Limerick City in 1932, later moved to Roscrea, County Tipperary, and then to Dublin where he has lived ever since. His mother, who could recite from memory a great store of classical English poetry, was the elder daughter of a member of the Royal Irish Constabulary. His father was one of the earliest members of An Garda Síochána. Both men were natives of County Derry.
He received secondary schooling in Dublin from the Irish Christian Brothers in Coláiste Mhuire and graduated from University College Dublin. After working for some years for An Comhchaidreamh, a university graduates association which at the time published the monthly magazine Comhar and organised Gael-Linn, he joined the Ordnance Survey of Ireland and remained there until he retired in 1997.
He has published three collections of poems: Aistí Dána (Preas Dhún Dealgan, 1964), Úlla Beaga (Sáirséal – Ó Marcaigh, 1984), Nóiníní (Coiscéim, 2013).
---
26th January
Arthur Broomfield
You can listen to Arthur's reading here.

Dr. Arthur Broomfield is a poet and Beckett scholar. His chapbook The Poetry Reading at Semple Stadium (Lapwing) was published in 2011. His poetry has been published in most literary journals in Ireland and in Orbis and Envoi in the U.K. His study on the works of Samuel Beckett The Empty Too: language and philosophy in the works of Samuel Beckett (Cambridge Scholars Publishing, 2014) is available from the publishers and from Amazon.co.uk. Arthur Broomfield lives in County Laois.
---