---
October and November
---
3rd October
Shirley McClure
You can listen to Shirley's reading here.

Winner of Cork Literary Review's Manuscript Competition 2009 and runner-up in the Patrick Kavanagh Poetry Award 2009, Shirley McClure's début collection of poetry Who's Counting? (Bradshaw Books) was launched by Poetry Ireland in September 2010.
Born in Waterford in 1962, McClure attended Newtown School & Trinity College Dublin, where she studied English Literature and Spanish. She undertook a Master's degree in Latin-American Studies at Liverpool University and went on to do a variety of jobs including volunteering in a mens' hostel in Liverpool; teaching English as a foreign language; tutoring in literacy and creative writing; project work in Focus Point (now Focus ireland) which included drama, literacy and counselling; and teaching English to Vietnamese refugees in Dublin. Since 1992 she has been a natural health practitioner and teacher. She practices shiatsu and aromatherapy (see www.shirleymcclure.com) and works with a number of community and holistic organisations, teaching and facilitating groups. She also teaches creative writing. – from thepoetryvein.com
Bloodaxe poet Katie Donovan says of Shirley McClure's work, 'Quirky and wise, studded with razor-sharp double entendres and droll fantasies, these poems introduce a refreshing new voice in Irish poetry'.
McClure took part in the prestigious Poetry Ireland's Introductions series (2009). She is part of the performance poetry ensemble Catch The Moon which appeared at the Cork Spring Literary Festival, Durrow Arts Festival and the Flat Lake Festival 2011. She read at the 2010 Electric Picnic.
Shirley's website is at: www.thepoetryvein.com
---
10th October
Tom Conaty
You can listen to Tom's reading here.

Tom Conaty was born in 1957 in Ballyhaise, Co. Cavan. He served as a member of the Board with Poetry Ireland and a regular contributor to poetry programmes on RTE. His poetry has been published widely and broadcast on National Radio. He has been involved in many innovative Arts Projects in Education. His first collection of Poetry Exaltation of Starlings was published in 2010 (Doghouse Books). He now lives in Dublin.
"'An Exaltation of Starlings', Tom Conaty's first collection of poetry binds together earth and water, darkness and light, joy and bewilderment. It is a delightful regeneration of the natural forces in all of us. His poetry has a touch of early Irish Writing that is never far from prayer." – Noel Monahan
For further commentary and discussion on the collection see RTE poetry program, August 2010 (with Pat Boran).
---
17th October
Ó Bhéal in association with Foras na Gaeilge presents
Seán Hutton
You can listen to Seán's reading here.

Born in Dublin in 1940, and resident in England since 1966, Seán Hutton has worked as a teacher, lecturer and administrator. He has published five collections of poetry in Irish: Go Cathair na Traoi (1980), Gairdín mo Sheanuncail (1983), Seachrán Ruairí (1986), Na Grása (1993), Sceach sa Bhearna (2011). His poems have been published in the following publications: An Droichead, An Guth, Aquarius, Broadsheet, Chapman, Comhar, Eddie's Own Aquarius, Feasta, Innti, Light Years, Malairt, The Irish Club News agus Poetry Ireland Review. He provided Irish versions for Catullus Gaelach (2010), edited by Pádraig Breandán Ó Laighin. His most recent publication is Parables of franciscan complexity: Notes on aspects of Pearse Hutchinson's poetry (Cyphers 71, 2011).
Seán Hutton: Rugadh é i mBaile Átha Cliath i 1940; é lonnaithe i Sasana ó 1966 amach, agus tréimhsí caite aige mar mhúinteoir, léachtóir agus fheidhmeannach. Bailiúcháin filíochta: Go Cathair na Traoi (1980), Gairdín mo Sheanuncail (1983), Seachrán Ruairí (1986), Na Grása (1993), Sceach sa Bhearna (2011). Dánta leis foilsithe thar na blianta i An Droichead, An Guth, Aquarius, Broadsheet, Chapman, Comhar, Eddie's Own Aquarius, Feasta, Innti, Light Years, Malairt, The Irish Club News agus Poetry Ireland Review . Chuir sé leaganacha Gaeilge ar fáil do Catulls Gaelach (2010), curtha in eagar ag Pádraig Breandan Ó Laighin agus sé an foilseachán is deireanaí uaidh ná Parables of franciscan complexity: Notes on aspects of Pearse Hutchinson's poetry (Cyphers 71, 2011).
---
24th October
In anticipation of The Cork Jazz Festival Ó Bhéal presents

Jazz-Poetry Night
with improvisations to a double round of open-mic poems by the
The K.F.C. Trio
You can listen to Round 1 here.
And to Round 2 is here.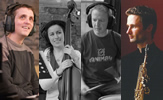 A Double Open-Mic session for poets to read and recite their verse to the sounds of The K.F.C. Trio, which was formed in the summer of 2011. The members, Stephen Kelly (drums), Deirdre Frost (bass) and Phillip Collins (Piano/Keyboards) are the rhythm section for the jazz group Crossbones (www.crossbonesjazz.com), and come together as a trio to explore new musical ideas, through their own compositions and arrangements of jazz and popular music. The trio's influences range from Brad Mehldau to Radiohead.
The members of the trio are some of Ireland's busiest musicians.

Stephen is a percussionist with the RTE Concert Orchestra & teaches percussion at the Cork School of Music,

Deirdre has played 100's of musical productions including I Keano and The Full Monty, she has recorded albums with Ger Wolfe and is the bassist for girl band She's Electric (www.sheselectric.ie).

Phillip lectures in WIT and has recently moved to Cork as he is one of the most in-demand pianists in the region.

The K.F.C. trio will be joined by saxophonist Ken Marshall.

Ken is a stalwart of the music scene in Cork. He is a multi-talented saxophonist, conductor, producer and arranger. The trio are looking forward to collaborating with him!
So bring along your favourite poems and let The K.F.C. Trio show you what a sprinkling of, no, what a basting of jazz can do for them!
---
31st October
Salmon Poetry's 30th Anniversary
You can listen to the entire reading here.

To celebrate Salmon Poetry's 30th Anniversary as part of their trans-Atlantic tour of readings, no less than ten Salmon poets hailing from Ireland and the U.S. will read from their work.


Philip Fried is a New York-based poet and editor of The Manhattan Review. His poems have been widely published in journals and have appeared in many anthologies, including Salmon: A Journey in Poetry Poetry, Poems 1981 – 2007 and Poetry After 9-11: An Anthology of New York Poets. In addition to being a poet, Fried is the founding editor of The Manhattan Review, an international poetry journal that critics have called 'excellent' and 'lively'. He collaborated with his wife, the fine-art photographer Lynn Saville, on a volume combining her nocturnal photographs with poetry from around the world: Acquainted with the Night (Rizzoli, 1997). His most recent collection, Early/Late: New & Selected Poems, was published by Salmon earlier this year.


Kevin Simmonds is a San Francisco-based writer, musician and filmmaker originally from New Orleans. His writing appears in journals such as Asia Literary Review, Callaloo, jubilat, Kyoto Journal and Poetry. His edited works include Collective Brightness: LGBTIQ Poets on Faith, Religion & Spirituality and Ota Benga Under My Mother's Roof. His music and performances have been featured on BBC Radio 3, PBS and Japan's NHK Television and at London's Royal Festival Hall, Japan's Nakano Sun Plaza and the National Black Theatre Festival. feti(sh)ame, his genre-defying short film, based entirely on his poetry, has screened internationally and been hailed by Los Angeles film critic Ernest Hardy as "an elegantly profane meditation on desire". Mad for Meat – his debut collection, has just appeared from Salmon.


John Fitzgerald is a dual US/Irish citizen and a poet and attorney for the disabled. His most recent collection of poetry The Mind was published by Salmon Poetry in February this year. His other books of poetry are Spring Water (Turning Point, 2005) and Telling Time by the Shadows (Turning Point, 2008). Other work includes The Charter of Effects, the non fiction The People of The Net and the novel Primate. He lives in California.


Bertha Rogers' poems appear in journals and anthologies and in the collections Even the Hemlock: Poems, Illuminations, and Reliquaries (poetry and visual art, Six Swans Artists Editions, NY, 2005); The Fourth Beast (chapbook, Snark Publishing, IL, 2004); A House of Corners (Three Conditions Press, Baltimore, MD, 2000); Sleeper, You Wake (Mellen Press, NY, 1991), and Heart Turned Back (Salmon, 2010). Her translation of Beowulf, the Anglo-Saxon epic poem, was published in 2000 (Birch Brook Press, NY); and her translation of the Anglo-Saxon riddle-poems from the Exeter Book, Uncommon Creatures, Singing Things will be published in 2010. In 2006, Rogers received an A. E. Ventures Foundation Grant for excellence in writing and visual arts and for contributions to the field. In 2003 she received a Ludwig Vogelstein grant. In 1992, she founded Bright Hill Press, Inc. with her husband, Ernest M. Fishman. Her website is bertharogers.com. She lives in Upstate New York.


Hélène Cardona is a poet and actor and a citizen of the U.S., France & Spain. She attended Hamilton College, New York, where she also taught French and Spanish, and the Sorbonne, Paris, where she wrote her thesis on Henry James for her Master's in American Literature. She writes and translates in English, French and Spanish and is also fluent in German, Italian and Greek. She is the author of the bilingual poetry collections Dreaming My Animal Selves (forthcoming Salmon Poetry), Life in Suspension (forthcoming Tupelo Press), and The Astonished Universe (Red Hen Press, 2006). She worked as a translator/interpreter for the Canadian Embassy and the French Chamber of Commerce and taught at the Ecole Bilingue (Paris) and LMU (Los Angeles). Born in Paris and raised all over Europe, she has lived in Geneva, Cambridge, London, Llandudno, Monte-Carlo, Bremen, Paris, Tarragona, Madrid, New York City. She now lives in Santa Monica, California.

Afric McGlinchey spent her childhood and early adult years between Ireland and various countries in Africa. She has also lived in Spain, London and Paris. She returned to Ireland for good in 1999. A freelance book reviewer, editor and workshop facilitator, Afric's poetry has appeared in a number of journals in Ireland and abroad, including Southword, Poetry Ireland Review, the SHOp, Revival, Tear in the Fence, Scottish Poetry Review and Acumen. She lives in Kinsale, Co. Cork. Her debut collection will appear from Salmon next year.


Adam Wyeth was born in Sussex in 1978, and has lived in Co. Cork for ten years. He was a prize winner of The Fish International Poetry Competition, 2009; and a runner-up of The Arvon International Poetry Competition, 2006. His poems have appeared in several anthologies including, The Best of Irish Poetry 2010, Dogs Singing: A Tribute Anthology (2010), Landing Places (2010), Something Beginning with P (2004), and The Arvon 25th Anniversary Anthology (2006). His work has appeared in numerous literary journals, including The Stinging Fly, The SHOp, Southword, Poetry London and Magma. He was a featured poet in Agenda, 2008 and 2010, and selected for the Poetry Ireland Introductions Series, 2007. He has made two films on poetry, A Life in the Day of Desmond O'Grady, first screened at The Cork Film Festival, 2004; and a full length feature, Soundeye: Cork International Poetry Festival, 2005. Wyeth is a member of the Poetry Ireland Writers in Schools Scheme and runs an ongoing online Creative Writing workshop: www.creativewritingink.ie. He is also a freelance journalist with a regular column at The Southern Star and is a book reviewer at The Irish Times. His debut collection, Silent Music, was published by Salmon earlier this year.


William Wall is the author of three collections of poetry, four novels and a volume of short fiction. He has won numerous prizes including the Patrick Kavanagh Award and the Listowel Writers' Week prize and been nominated for many more, including the Man Booker Prize. He is a full-time writer and lives in Cork. More details from his website www.williamwall.eu. His latest collection of poetry Ghost Estate, was published by Salmon this year.


John Walsh was born in Derry in 1950. After sixteen years teaching English in Germany, in 1989 he returned to live in Connemara. His first poetry collection Johnny tell Them was published by Guildhall Press (Derry) in October 2006. In 2007 he received a Publication Award from Galway County Council to publish his second collection Love's Enterprise Zone (Doire Press, Connemara). In 2010 Salmon Poetry published his latest collection Chopping Wood with T.S. Eliot. His poems have been published in Ireland, the UK and Austria and the USA. He has read and performed his poems at events in Ireland, the UK, Germany, Sweden and the USA. He is organizer and MC of the successful performance poetry event North Beach Poetry Nights in the Crane Bar, Galway, Ireland's leading monthly performance poetry event. In March 2010 John won the Spring Festival Poetry Slam at the Munster Literary Festival in Cork. He recently received a Publication Award from Galway County Council for his debut short story collection Border Lines, which will be published in spring 2012.


Jessie Lendennie was born in Arkansas, USA. After years of travel, she settled in Ireland in 1981. Her new collection of poetry, Walking Here has just appeared from Salmon. Her previous book of poetry is Daughter, a book-length prose poem (1988); reprinted as Daughter and Other Poems in 2001. She also complied and edited: Salmon: A Journey in Poetry, 1981-2007; Poetry: Reading it, Writing It, Publishing It (2009) and Dogs Singing: A Tribute Anthology (2010). She is co-founder (1981) and Managing Director of Salmon Poetry. Her poems, essays and articles have been widely published and she has given numerous readings, lectures and writing courses in Ireland and abroad, including at Yale University; Rutgers University; The Irish Embassy, Washington D.C; The University of Alaska, Fairbanks and Anchorage; MIT, Boston; The Loft, Minneapolis, MN; Café Theatre, Copenhagen, Denmark; the University of Arkansas, Fayetteville; The Irish American Cultural Centre, Chicago and The Bowery Poetry Club, New York City. She is currently working on a memoir To Dance Beneath the Diamond Sky.

---
7th November
On the occasion of The Cork Film Festival Ó Bhéal presents
Poetry-Film Night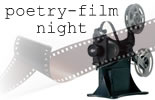 Poetry Films have become popularised as a genre in their own right over the recent decade by the International Zebra Poetry-Film festival in Berlin, a biennial festival dedicated to the form which attracts nearly one thousand poetry-film entries – films that must interpret or be based on a poem.
In place of our usual guest poet, we will be screening an hour-long selection of poetry-films from both abroad and locally. The Five-Word challenge and open-mic will continue as usual.
---
14th November
Stephen Murray
You can listen to Stephen's reading here.

Stephen Murray's debut poetry collection House of Bees, was published by Salmon Poetry in April 2011. The collection focuses on his experiences growing up in Erin Pizzey's historical, first ever refuge for battered wives, marking the establishment of Women's Aid; as well as his experiences in a children's home later on. The collection has been described by The Examiner as 'an astonishingly powerful debut', and by Olaf Tyarensen in Hot Press Magazine as 'Dirty, demented, damaged and devilish'.
A regular performer of his work on the international circuit, he has performed at some of the world's most iconic poetry and spoken word venues, as well as on RTE and the BBC. He recently completed a 5,000 mile book/cycling tour of the USA to promote his collection. He is director of Inspireland, running poetry and creative workshops for Transition Year students in Ireland and running the Youth Speaks Schools Poetry Slam as part of the Cuirt International Festival of Literature.
---
21st November
Tina Pisco and Anja Bakker
You can listen to Tina's reading here.
Tina Pisco was born in Spain and was raised in three languages (Spanish, French, English) in a number of European countries before moving to Ireland in 1992. Since moving she has published two best-selling novels: Only a Paper Moon and Catch the Magpie (Poolbeg) as well as a collection of her newspaper columns A West Cork Life. She was awarded an Artist's Tax Exemption in 1998, and is in Poetry Ireland's Writer-in-Schools Directory. She has been Writer-in-Residence at Tigh Fili, Cork since June 2009, and has since published her first collection of poetry She Be (Bradshaw Books, 2010) which was launched in Dublin at the IWC, by poet Jean O'Brien and in Cork at the city library by Aidan Stanley.
In 2010 she was awarded a EACEA grant to translate the Andalusian poet Manuel Arana's collection, Adolecencias Dos: Poemas Hormonados (SIM Libros 2008), which will be published by Bradshaw Books in October 2011.
Tina has been involved in performance poetry for many years. She has performed on her own, with the poetry ensemble Catch the Moon as well as with Gifted Eccentric a collaboration with Harpist Anja Bakker in which she performs her poetry to music


Anja Bakker (B-Mus) is recorder player, harper, singer and conductor who lives in West Cork. She studied Recorder with Elizabeth Jones, and Laoise O'Brien in the Cork School of Music.
Anja has won many a competition in the Feis Matthew and the Feis Ceol; she also won the chamber music competition in CIT with the early music trio in CSM and has been a soloist with the East Cork Choral Society. Anja conducted the 'Famine Commemoration Concert' in Skibbereen (2009) and played in the National Concert Hall September (2010). She programmed and played an celebrated fundraiser for Amnesty INternational 50th Birthday of the Charter of Human Rights.
Since she returned from her 2.400 km Camino (2010) on foot with her harp Sean, she's been touring with the Poetry Co-op Catch the Moon and performs with Tina Pisco as the duo 'Gifted Eccentrics'
---
28th November
Ó Bhéal in association with Poetry Ireland presents
Kerry Hardie
You can listen to Kerry's reading here.

Kerry Hardie has published five full collections of poetry, the most recent being Only This Room (The Gallery Press, 2009). Her Selected Poems were published by the Gallery Press [Ireland] and Bloodaxe [UK] in March 2011. She has also published two novels and is still trying to finish a third. She has won many prizes, including the Lawrence O'Shaughnessy Award for Poetry, University of St Thomas, Minnesota; the Michael Hartnett Award; and the Patrick and Katherine Kavanagh Award for Poetry.

---