---
April and May
---
6th April
Jim Maguire
You can listen to Jim's reading here.

Jim Maguire's work has been published widely in journals in Ireland and the UK. For many years he lived in Korea, the setting for his collection of short stories Quiet People (Lapwing). A past winner of the Strokestown International Poetry Prize, his first book of poems Music Field was shortlisted for the 2014 Shine/Strong Award. He works an adult education tutor in his hometown of Wexford, where he lives with his family.

---
13th April
Ó Bhéal's 8th Anniversary
(400+ nights of Poetry)
celebrates Five Words Volume VIII and an open-mic for Only Other Poets' Poetry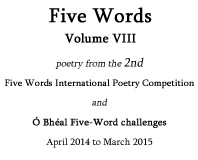 Ó Bhéal's 8th Anniversary event celebrates the launch of Five Words Volume VIII – with readings by contributors, shortlistees – and the winner of our 2nd Five Words International Poetry competition, Derek Sellen. A number of the short-listed poets will be reading on the night, including both commended entrants, Adannaya Igwe and Afric McGlinchey, as will contributors to the last fifty Five-Word Challenges held at Ó Bhéal. As per every year, the open-mic is for poems written by any poet other than yourself, so bring a couple of your favourites!
Our congratulations to
Derek Sellen
winner of the 2nd Five Words International Poetry Competition
You can listen to Derek's reading here.
And to some of the shortlisted poets here.
Derek Sellen lives in Canterbury and writes poetry, plays and short stories as well as EFL materials for foreign students. His poems have been widely published in magazines, newspapers and anthologies and he has published a collection The Arch and its Shadow. He has written poems on topics as diverse as Spanish painters, Korean musicians and Indian cave-paintings. His work has won prizes and been shortlisted in various national and international competitions, including Poetry on the Lake, Rhyme International and Cinnamon Press Competitions. In 2014 he won the Hungry Hill Poets Meet Politics prize and as a result came to know the wonderful landscape of the Beara Peninsula and some members of the West Cork writing community.
---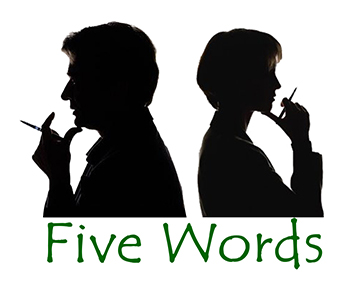 The 3rd Five Words International Poetry Competition will commence on Tuesday April 14th 2015 (at midday GMT), and will run for 41 weeks until the last week of January 2016. The judges this year are Marie Coveney and Colm Scully. Watch this space …
---
20th April
John Pinschmidt
You can listen to John's reading here.

John Pinschmidt was born in Denver, Colorado, in 1947, and received a BA in English and Drama from the University of California, Berkeley in 1969. He taught high school English and Drama for 35 years, all but one for the U. S. Department of Defense Overseas Schools in England and Germany. His Irish connection is his wife Teasie, of Herbertstown, Co. Limerick. They met the summer of 1968 while hitchhiking across Europe, and were married in California in July, 1969. They have two married children in the States, and five grandchildren. Retired to Herbertstown in 2005, they have since restored Teasie's family farmhouse.
John has been writing poetry for over 40 years, but only pursued publication seriously after he finished second in the 2009 Cuisle Limerick City International Poetry Festival Slam. This led to poems in the Revival Literary Journal, Stony Thursday, Boyne Berries and other publications, including Revival's six emerging-poets' collection Sextet in 2010, edited by Edward O'Dwyer. In February 2014, his first collection Maiden Voyage was launched in Limerick by Revival Press.
"There's an ever-present sense of these poems as punctuation marks in the unfolding of the poet's life — as man, as American, as Irish, as husband, as father, as friend, as poet, as teacher. He writes with a conscientious sense of taking stock. Even the framing poems' titles — 'Looking for a Better Past' and 'Before we Disappear' — are emblematic of Pinschmidt's desire to remember well those moments that have brought him to where he is: in time, place, circumstance, and company."
– Ed O'Dwyer.
---
27th April
Gabriel FitzMaurice
You can listen to Gabriel's reading here.

Gabriel Fitzmaurice's The Lonesome Road: Collected And New Poems, 1984–2014 has recently been published by Liberties Press. He was born in 1952 in the village of Moyvane, Co. Kerry where he still lives. For over thirty years he taught in the local primary school from which he retired as principal in 2007. He is author of more than fifty books, including collections of poetry in English and Irish as well as several collections of verse for children. Some of his collections in English include Rainsong (Dublin, Beaver Row Press, 1984), The Space Between: New and Selected Poems 1984-92 (Gallimh, Cló Iar-Chonnachta Teo, 1993), The Wrenboy's Carnival: Poems 1980-2000 (Dublin, Merlin Publishing, 2000) and The Boghole Boys with an introduction by Bernard O'Donoghue (Cork, Mercier Press, 2005). Poems of Faith and Doubt appeared from Salmon Poetry in 2011.
He has translated extensively from the Irish and has edited a number of anthologies of poetry in English and Irish. He has published two volumes of essays and collections of songs and ballads. Poems of his have been set to music and recorded by Brian Kennedy and by RTÉ Cór an nÓg with the RTÉ National Symphony Orchestra. He frequently broadcasts on radio and television on education and the arts. He has been described as "the best contemporary, traditional, popular poet in English" in Booklist (U.S), "a wonderful poet" in the Guardian, "one of Ireland's leading poets" in Books Ireland, "Ireland's favourite poet for children" in Best Books! and "the Irish A.A. Milne" by Declan Kiberd in the Sunday Tribune.
---
4th May
Ó Bhéal in association with Foras na Gaeilge presents
Áine Uí Fhoghlú
You can listen to Áine's reading here.

Áine Uí Fhoghlú comes from the Gaeltacht area of An Rinn in County Waterford. A Poet and prose writer, her poetry collections are Aistear Aonair (Coiscéim, 1999), An Liú sa Chuan (Coiscéim, 2007) and Ar an Imeall (Coiscéim, 2011). Fiction for adult learners of Irish include Crúba na Cinniúna (2009) and Uisce faoi Thalamh (2011); teenage fiction Pincí sa Ghaeltacht (2012) and adult fiction Éalú (2013). She works as a secondary school teacher and edited the first two editions of the new Irish language magazine for young writers Comhar Óg (2012/13). Áine teaches creative writing to her own Transition Year students. Has won many literary awards for both prose and poetry including the Michael Hartnett Poetry Prize in 2008.
---
11th May
Rachel Warriner
You can listen to Rachel's reading here.

Rachel Warriner is a poet based in Cork City. Her works include the three-part simultaneous poem Primary (Default, 2009), the psychogeographic photo/text work Detritus (Dusie/Default, 2010), the poems of the high-speed anti-IMF protest Eleven Days (RunAmok, 2011) and her book length examination of amateur operatics Fine Lament (Critical Documents 2012).
Her work has appeared in Cleaves, Dusie, Hi Zero, Poetry Salzburg Review, International Egg, Poultry Review and Default. She is also involved in organising the annual SoundEye Poetry Festival and has been involved in small presses DEFAULT and RunAmok.
---
18th May
Vivienne McKechnie
You can listen to Vivienne's reading here.

Vivienne McKechnie (nee Darling) was born in Dublin and now lives in Limerick. She is a graduate of Trinity College Dublin, has taught English in Dublin, Limerick and Kenya and is currently teaching Creative Writing in the Limerick College of Further Education. She was guest poet in The White House, Limerick and has given poetry readings at the Cuisle International Poetry Festival, in the Hunt Museum, in the Banner Bookshop, Ennistymon and in Flannery's with poet Michael Coady. Her poetry has been broadcast on Lyric FM.
Vivienne has lectured on Yeats to the Mid-Western English Teacher's Association and Jennifer Johnston in the University of Limerick. She has given a course on the Short Story and on the Modern Novel in the University of Limerick. She was involved in the Writers in Schools scheme while teaching, inviting writers to Limerick and Dublin. She is a member of the Kate O'Brien Weekend/Limerick Literary Festival and the Limerick City of Culture committee. Vivienne was editor of Dream of a City, An Anthology of Contemporary Poetry from Limerick City of Culture 2014. Her début poetry collection A Butterfly's Wing was published by Arlen House in November 2013.
---
25th May
Noel Monahan
You can listen to Noel's reading here.

Noel Monahan was born in Granard, Co. Longford. He has won numerous awards for his poetry and writing. His awards include: The SeaCat National Poetry Award, organised by Poetry Ireland, The RTE P.J. O'Connor Award for drama, The ASTI Achievements Award, The Hiberno-English Poetry Award and The Irish Writers' Union Poetry Award. He has read his work on Sunday Miscellany, RTE 1, on a number of occasions. His poetry was prescribed text for Leaving Certificate English, 2011 & 2012.
Where The Wind Sleeps is Noel Monahan's sixth collection of poetry, published in 2014 by Salmon Poetry. HIs previous collections, also from Salmon are Opposite Walls (1991), Snowfire (1995), Curse of The Birds (2000), The Funeral Game (2004) and Curve Of The Moon (2010). A number of his poems have been translated into: Italian, Russian, French and Romanian. His most recent plays include The Children of Lir, performed by Livin Dred Theatre and Lovely Husbands, a play for young people, based on the work of Henry James. For twenty three years he has worked with Heather Brett as co editor of Windows Publications. A seventh collection, Celui Qui Porte Un Veau, a selection of French translations of Noel Monahan's work was published by Alidades in 2014. Noel Monahan holds an M.A. in Creative Writing.
---