---
February and March
---
4th February
New Creative Writing from UCC
You can listen to the guest readings here.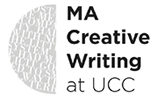 Poets and short fiction writers engaged in the UCC Creative Writing MA programmes will read from their new work. Presented by Matthew Geden, readers include Christine Kannapel, Mairead Willis, Beau Williams, Niamh Twomey, Hailey Hughes and Molly Twomey.



Christine Kannapel received her Bachelor of Arts from the University of Utah, where she studied English and French. Currently, Christine is pursuing a Masters of Arts in Creative Writing at University College Cork. Christine's creative work has appeared in: Metaphor, The Canticle, The Daily Utah Chronicle, Rubor, Peculiar, and the University of Utah's Undergraduate Research Journal. She lives in Salt lake City, Utah USA.

Mairead Willis is a writer from Portland, Oregon. After studying neuroscience, she made an unexpected pivot to pursuing an MA in Creative Writing at UCC, which she is enjoying immensely. You can read about Mairead's sojourn to Cork on the UCC website.



Beau Williams is a performance poet, writer, organizer & facilitator from the United States. He is currently based in Galway, Ireland. Beau's work may be found in his own collections RUMHAM (2016, Red Bench Press) and Nail Gun and a Love Letter (2018, Swimming With Elephants). In January of 2017, Beau was the Artist in Residence at Burren College of Art in Ballyvaughan, Ireland. He is also the Head Organizer of the Glasshouse Poetry Open Mic in Galway.

Since winning the Hotpress 'Write Here Write Now' young writers competition in 2016, Niamh Twomey has had her poetry published in journals and anthologies such as UCC's Quarryman, Flight Writing, Tales From The Forrest, Opportunity Publishing's Along the Way, Poethead, and more.



Originally from Parkersburg, WV, Hailey Hughes is an essayist and budding poet. She earned her BA in Creative Writing in 2017 from Marshall University in Huntington, WV. Hailey is a proud 2018-2019 US Student Fulbright grantee to Ireland, and a student in the Creative Writing MA Programme at University College Cork. She is continually amazed and humbled by the immense talent of the vibrant literary community in County Cork.

Molly Twomey grew up in Lismore, County Waterford, before studying in NUI Galway and UCC. She has been published in The Irish Times, The Examiner, Headstuff, The Mighty, The Quarryman, and has poetry upcoming in Educate.ie's 'Verse O.L. 2021'. She was shortlisted for a Hennessy Award and for Over the Edge's New Writer of the Year. In 2018, she won the New Voices Category in The Decade of Centenaries International Poetry Competition, and a memorial award for English Literature in UCC.
Molly runs monthly newsletters, creates content for websites, established her own Hatha Yoga business and volunteers as a National Panel Member for SpunOut.ie (Ireland's Youth Information Site).
---
11th February
John Fitzgerald
You can listen to John's reading here.
John Fitzgerald's first book of poetry, First Cut, was published in 2017 by Southword, in their New Irish Voices Series. The Salvage Press will publish Darklight, a fine press edition of ten poems with etchings by Dorothy Cross, in 2019. His work appears regularly in journals and newspapers. He was awarded the Patrick Kavanagh Poetry Prize for 2014 and his poetry was shortlisted for the Hennessy New Irish Writing Award in 2015.
He is a recipient of a Key West Literary Bursary and has led creative writing workshops in Spain and Greece. John lives with his family on a farm in Lissarda, County Cork. He works at University College Cork, Ireland, as University Librarian.


---
18th February
Karen O'Connor
You can listen to Karen's reading here.

Karen O'Connor is a winner of The Listowel Writers' Week Single Poem Prize, The Allingham Poetry Award, The Jonathan Swift Creative Writing Award for Poetry and the Nora Fahy Literary Awards for Short Story. She is a poet and short story writer and her work has appeared in many magazines and anthologies. Karen's first poetry collection FINGERPRINTS (On Canvas) was published by Doghouse Books in 2005. Her second book, Between The Lines (Doghouse, 2011), was featured on RTE Radio 1 Arts Programme, Arena.
For more about Karen, visit www.karenoconnor.co.uk
---
25th February
Ó Bhéal in association with the World Poetry Movement presents
Aoife Reilly
You can listen to Aoife's reading here.

Aoife Reilly lives in Co. Galway, Ireland and has had her work published in magazines including The Lake, Message in a Bottle, Poethead, Crannóg, Boyne Berries, North West Words, Antiphon, Skylight 47, ROPES, The Ogham Stone, The Galway Review, A New Ulster, Spontaneity.org and Tales from the Forest. She has recently published a first collection, Lilac and Gooseberries, (Lapwing Press). Aoife completed an artist in residency programme focusing on writing and music at Officina Stamperia del Notaio in Sicily in July 2018.
---
4th March
George Mario Angel Quintero
You can listen to George's reading here.

The son of Colombian parents, George Mario Angel Quintero was born in 1964 in San Francisco, California, where he spent his first thirty years. He studied literature at the University of California, and was a Wallace Stegner Fellow at Stanford University. Under the name George Angel, he has published poetry, fiction, and essays in English and a book of short fiction, The Fifth Season, won the 1995 Fiction Collective 2 Nilon Award. A new and selected poems, On the Voice, was published in 2016.
Since 1995, he has lived in Medellin, Colombia, authoring six books of poetry, and three books of theater plays all in Spanish under the name Mario Angel Quintero. He continues to write and publish in both English and Spanish. He is a visual artist and the director and playwright of the theatre company Parpado Teatro, as well as a founding member of several musical groups. He is regularly invited to share his poetry at international poetry festivals like Struga Poetry Evenings (Macedonia), Ledbury Poetry Festival (England), and the Stockholm International Poetry Festival (Sweden).


---
11th March
Pete Mullineaux and Moya Roddy
You can listen to Pete's reading here.

Pete Mullineaux lives in Galway and has published four collections: Zen Traffic Lights (Lapwing, 2005), A Father's Day (Salmon, 2008), Session (Salmon, 2011) and How to Bake a Planet (Salmon, 2016). He's been interviewed on RTE's Arena and is published widely in Ireland, UK, Europe and as far afield as India and Japan. His poetry is described as 'sensitive and profound', 'gorgeous and resonant' and 'grimly funny', while stylistic comparisons have been made with Roger McGough, John Clare, Pete Seeger and John Cooper Clarke.

"A gem" – (PI Review)

You can listen to Moya's reading here.

Out of the Ordinary (Salmon, 2018) is Galway-based writer Moya Roddy's debut collection of poetry, which has been shortlisted for the Shine Strong award. She was shortlisted in 2017 for the Hennessy Award and her poems have been published widely including the Irish Times Saturday Poem slot, Stony Thursday, Crannog and Boyne Berries. A collection of short stories Other People was long-listed for the Frank O'Connor Award and her novel The Long Way Home was described in the Irish Times as "simply brilliant".
Moya's work has been broadcast on Channel 4, RTE Television and Radio and she's been commissioned by the British Film Institute and Scottish Television among others.
"Stunning and memorable poems" – Rita Ann Higgins

"A poetic voice that is authentic and truth-filled" – Mary O'Donnell
---
18th March
Ó Bhéal in association with Women Scream 2019 presents
Raina J. León
You can listen to Raina's reading here.

Raina J. León, member of the Carolina African American Writers Collective, has been published in numerous journals as a writer of poetry, fiction and nonfiction. She is the author of three collections of poetry, Canticle of Idols (Wordtech Communications, 2008), Boogeyman Dawn (Salmon, 2013), sombra: (dis)locate (Salmon, 2016) and the chapbook, profeta without refuge (2016).
She has received fellowships and residencies with Macondo, Cave Canem, CantoMundo, Montana Artists Refuge, the Macdowell Colony, Kimmel Harding Nelson Center for the Arts, Vermont Studio Center, the Tyrone Guthrie Center in Annamaghkerrig, Ireland and Ragdale. She also is a founding editor of The Acentos Review, an online quarterly, international journal devoted to the promotion and publication of Latinx arts. She is an associate professor of education at Saint Mary's College of California.

---
25th March
Ó Bhéal in association with Foras na Gaeilge presents
Marcus Mac Conghail
You can listen to Marcus's reading here.

Marcus Mac Conghail is a Dublin-based poet, writer and musician. His collection of poetry Ceol Baile, was published by Cois Céim in 2014 and he was awarded the Michael Hartnett Prize in 2015.
"It's been four years since I said a few poems at Ó Bhéal and I am very happy to be invited back! I have spent the intervening period indolently, but indolence has its virtues. Topics to be covered by the pieces said or sung by me in March will include (or not include at all): Mental Collapse, Partial Recuperation, Referendum 1, Referendum 2, How I finally embraced the West Brit in me, How I've given up / taken up social media, and Gardening."
"Tá an-áthas orm gur tugadh cuireadh go Corcaigh dom chun dánta a rá ag Ó Bhéal. An uair dheiridh dom ann thugas cuairt ar shiopa leabhar Liam Ruiséal is cheannaíos beart leabhar. Ach cloisim go bhfuil an siopa san dúnta anois – mór an trua – Cá gceannód leabhar i gCorcaigh anois?"

---
---