February 16th, 2008 at 10:30 am
Posted by pc in
Poetry Events and News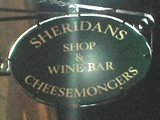 The Over the Edge Poetry Book Showcase
8 February 2008
A lively crowd of Galwegian (and beyond) poetry enthusiasts ventured out last Friday to Sheridan's Wine Bar, to enjoy readings by eight of Galway's most active contemporary poets. They represented over ten from the area who brought out collections in 2007.
Kevin Higgins, who organises the ongoing Over the Edge reading series compèred a cheerful, refreshing event and at the halfway mark Mayor Tom Costello came out in full regalia to declare well-deserved words of praise for the ongoing success in the Galway poetry scene. The audience were in great spirits (partially thanks to the world of cheesy odours wafting up the stairs), and filled this very elegant venue comfortably.
With fine poetry from Elaine Feeney, Jarlath Fahy, Moya Cannon, Mags Treanor, Knute Skinner, Sheila Phelan, John Walsh and Neil McCarthy, no-one was left athirst, and as Kevin says, 'a little from a lot' is far more delectable than the contrary.
This is an annual event well worth the journey. Long may it last.
For videos of the readings, click here.
---