---
October and November
---
6th October
Susan Musgrave
You can listen to Susan's reading here.

Susan Musgrave has published close to 30 books. She has been nominated and won awards for writing in five different categories: poetry, fiction, non-fiction, children's books, and for her work as an editor. Her most recent poetry collection is Origami Dove (McClelland & Stewart, 2011). Last year she won the Lush Triumphant Award for a series of poems entitled "The Goodness of this World" about her daughter's heroin addiction.
She is married to Stephen Reid, a retired member of The Stopwatch Gang, profiled in Mobs Cheanada from Abú Media, written and directed by Dathaí Keane, winner of an Irish Film and Television Award in 2012. (Due to this association, she is included in a book entitled Montreal's Irish Mafia, a fact she mentions every time she needs clout.) She has lived near Cleggan, in County Galway but now owns and manages a guest house, Copper Beech House, on Haida Gwaii (a remote archipelago west of Canada, south of Alaska, in the North Pacific Ocean) and teaches poetry at the University of British Columbia's Optional Residency MFA Program in Creative Writing. Haida Gwaii: Foraging and Feasting at the Edge of the World will be published in the spring of 2015 by Whitecap.
---
13th October
Jean Kavanagh and Dan Moran
You can listen to Jean's reading here.

Jean Kavanagh is an Irish poet living in Oslo, Norway. She studied Irish Folklore and English Literature in UCD, Dublin. She has been shortlisted twice, in 2010 and 2011, for Galway's Over The Edge New Writer of the Year, and in 2012 was shortlisted for the Patrick Kavanagh Poetry Award. Her work has been published in journals, showcase anthologies for the Galway Arts Centre, and in Dogs Singing: A Tribute Anthology (Salmon Poetry, 2011). Other Places, her début collection, was published by Salmon in 2013.
You can listen to Dan's reading here.

Dan Moran was born in New York City in 1957, and is the author of six volumes of poetry, the most recent of which, A Shed for Wood was published by Salmon Poetry in 2013. His work has been nominated for a Pushcart Prize on ten occasions. He was profiled on New York Public Television's Setting the Stage, and on The Poet and The Poem from The Library of Congress hosted by Grace Cavalieri. In 2005 he was appointed Poet Laureate by The Legislature of Suffolk County, New York, the birthplace of Walt Whitman.
His work has been translated into German, Spanish, Romanian, Chinese and Italian. He has been listed in Who's Who in America since 2000. He is a member of PEN American and has been ordained a Celebrant by The American Humanist Association. He edited The Light of City and Sea, An Anthology of Suffolk County Poetry 2006 (Street Press). His collected papers are being archived by The Frank Melville Library at Stony Brook University in New York.

---
18th-19th October
in association with the IndieCork Festival of Independent Cinema
The 2nd Ó Bhéal International Poetry-Film Competition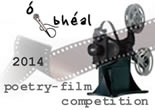 The competition shortlist of thirty films is now online to view, along with synopses and stills, at www.obheal.ie/poetryfilm. These will be screened at the Smurfit Theatre (Firkin Crane) on Shandon, in two parts. They have been chosen from over eighty submissions of poetry-films completed in the last two years, hailing from Ireland, England, Canada, USA, Ukraine, Netherlands, Belgium, Sweden, Lebanon, Isle of Man and Macedonia/Croatia. The Ó Bhéal judges will select one overall winner, who will receive the IndieCork festival award for best poetry film, at the awards ceremony.
The competition programme is here
.
---
20th October
In anticipation of The Cork Jazz Festival Ó Bhéal presents

Jazz-Poetry Night with
Patrick Cotter and The Mo O'Connor Trio
Patrick's performance, with overture by the Mo O'Connor Trio is here.
with more from the Mo O'Connor trio here.

Patrick Cotter is a Corkman. He has published a verse novella The Misogynist's Blue Nightmare (Raven Arts Press, 1990) and two full collections, most recently Making Music (2009). In 2013 he received the Keats-Shelley Prize for Poetry. No One Knows, a bi-lingual selection, was published in Macedonia this year and another bilingual selection is due for publication in China in 2015.
"The best of Cotter's writing is solid poetry, intensely imagist, and speaks deeply and sincerely to real and universal human concerns." – World Literature Today

"All the more refreshing, then, to find a poet working within the "village" of contemporary poets but in a voice all his own; one which is unfashionable in the best sense." – Fiona Sampson, The Irish Times
"Cotter is an adroit and knowing artist" – Thomas McCarthy, Poetry Ireland Review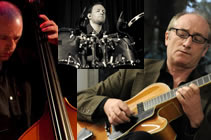 The Mo O'Connor Trio is made up of Mo O'Connor (guitar), Pat Barrett (bass) and Niall Dennehy (drums/percussion). Mo has played all over the world, most recently in Brazil. He lived in the USA for 15 years where he worked as a full time musician. Mo is also a member of the Cork Gypsy jazz group Perfidia and is in demand as a session musician. He along with Pat are members of Tuxedo Junction big band and have played various ensembles over the years including Rouge the band of jazz singer Anita Williams which also included Niall. Pat Barrett has a degree from Leeds University in jazz performance. He is a noted arranger for big bands and other jazz groups. Niall Dennehy's band The Art Crimes, a band featuring burlesque dancers, is gaining attention locally and nationally. Mo is no stranger to the poetry scene (he is as he says himself a 'sometimes poet') he accompanied New York poet Patricia Smith in Lismore Castle at a writers abroad conference and has accompanied at Ó Bhéal.
The trio will also play improv to the later open-mic poetry session.
---
27th October
Angela T Carr
You can listen to Angela's reading here.

Angela T Carr is a writer and poet based in Dublin. Highly Commended for the Patrick Kavanagh Award, she won the Cork Literary Review Poetry Manuscript Competition 2013 and earlier this year was selected for the Poetry Ireland Introductions series. Her debut collection How to Lose Your Home & Save Your Life, is published by Bradshaw Books in November.
---
3rd November
Ó Bhéal in association with Foras na Gaeilge presents
Rita Kelly
You can listen to Rita's reading here.

Rita Kelly was born in Galway in 1953. Her formative years were spent on the flat plains of East Galway, though she lived for a time with the Chavasse family in Ross House, Oughterard – the home of Violet Martin of the Somerville & Ross duo. In 1972 she married the bilingual writer and poet, Eoghan Ó Tuairisc/Eugene Watters (1919-1982). While she has lived most of her adult life on the River Barrow in South Kildare, she also lived in New York for 5 years, in the early 90's. She was in the US because Yale University had placed some of her work on their courses. Now for the first time ever she lives in Munster, in Tramore, Waterford & she is delighted to be in the Déise as she was enthralled by it when she first spend time sa Rinn in 1975.
Rita writes in Irish & English, poetry, fiction, drama and criticism. Among the publications which follow are six volumes of poetry: Terms of Biology (Schools & Colleges, Dublin 1974); Dialann sa Díseart [le hEoghan Ó Tuairisc] (Coiscéim, 1981); An Bealach Éadóigh (Coiscéim, 1984); The Whispering Arch & Other Stories (Arlen House, 1986); Farewell/Beir Beannacht (Attic Press, 1990); Travelling West (Arlen House, 2000); Kelly reads Bewick (Arlen House, 2001); The Pig is Unclean (excerpt) Limited edition, (California, 2006); Turas go bun na Spéire (Selected Poems) (Cló-Iarchonachta, 2009) and Further Thoughts in a Garden (Salmon Poetry, 2013).
Her work has been translated into Italian, German, Dutch & French and has earned various awards, most recently the prestigious Patrick & Kathleen Kavanagh Memorial Award. Her first literary award 1976, which is very special to her, was judged and granted by John B Keane. She edited many journals and anthologies in Irish & English. Her work has appeared in many journals and anthologies including Southword. She has been Writer-in-Residence for Counties Cavan & Laois. She has given creative writing Workshops for 30 years to various groups of writers throughout Ireland, and abroad, to students, to prisoners. She holds an MA in Creative Writing.
"Rita Kelly is a love-poet of great lyric power and beauty, but her range is much wider than that. Her startling capacity to transmute brutal experience into universal significance could hardly be better exemplified." – Máire Mhac an tSaoi (Poetry Ireland, 1991)

---
10th November
Mary Turley-McGrath
You can listen to Mary's reading here.

Mary Turley-McGrath grew up in Mount Talbot on the Galway/Roscommon border and now lives in Letterkenny. She holds an M Phil. in Creative Writing from Trinity College Dublin. She has published two collections of poetry, New Grass under Snow (Summer Palace Press, 2003) and Forget the Lake (Arlen House, 2014). Winner of the Poetry Ireland /Trocaire Competition 2014: she was also shortlisted in the Listowel Single Poem Competition and the Cúirt Short Story Competition this year. Her poems have appeared in The Roscommon Anthology 2013, The Forward Anthology 2011, Poetry Ireland Review, The SHOp, and Revival.
---
17th November
Jane Clarke
You can listen to Jane's reading here.

Wicklow poet Jane Clarke is widely published in poetry journals in Ireland and the UK. Twice shortlisted for the Hennessy New Irish Writing Literary Award, she has won numerous prizes, including the 2014 Listowel Writers' Week Poetry Collection and the 2014 Trocaire & Poetry Ireland Competition. Her debut collection will be published by Bloodaxe Books in June 2015. For more visit www.janeclarkepoetry.ie.
---
21st-22nd November
Ó Bhéal in association with Sample Studios presents
the 2nd Ó Bhéal Winter Warmer Weekend Festival of Poetry
The full programme is available at this link.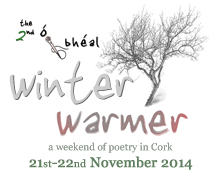 We're pleased to announce Ó Bhéal's second Winter Warmer festival weekend. At least twenty poets will read and perform over two days in the amphitheatre at Sample Studios, Sullivan's Quay, Cork.
Poets confirmed to read include Paula Meehan, Louis De Paor, Mary O'Donnell, Thomas McCarthy, Wioletta Greg, James Harpur, Ailbhe Ní Ghearbhuigh, Colm Scully, Astrid Alben, Fergal Gaynor, Eleanor Hooker, Simon O Faoláin, Eimear Ryan, David Toms, Maighread Medbh, Eugene O'Connell, Sarah Clancy, Christodoulos Makris, TemperMental MissElayneous and Alan Jude Moore.
Comedy group Snatch will present improv comedy poetry sketches. There will also be a selection of new poetry films screened and a closed-mic for ten local poets.
---
24th November
Pat Galvin
You can listen to Pat's reading here.

Pat Galvin lives in Stradbally, Co.Waterford, and was born in Carrick-Beg, Carrick on Suir. Writing poetry since his teens, he was shortlisted twice for the Hennessy Tribune Award and was winner of the Cecil Day Lewis Award. He has poems published in Poetry Ireland, The Shop, Revival, The Irish Press, Southword, Praire Poetry, QLRS, Orbis, The Stinging Fly, Ligature (Missouri), Parameter and others. His début collection Where the Music Comes From was published by Doghouse in 2010. Recently he has poems in the Stinging Fly, Revival, Ten Years in the Doghouse Anthology and one accepted by The Shop.
---