---
June and July
---
6th June
Robyn Rowland and Lynn Saoirse
You can listen to Robyn and Lynn's performance here.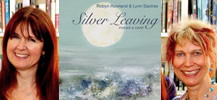 Following the true bardic tradition of harp and spoken word, this is a collaboration between two fine artists, where the harp is not background music. Rather, here is a partnership of lyric with music; an often haunting recording, full of deep emotion. Longing and love, history and hope, weave their magic into and out of a strongly present landscape.

Robyn Rowland AO, has published twelve books, nine of them poetry. Her work has been awarded a number of prizes, including the Catalpa Poetry Prize and overall Writers Prize from the Australian-Irish Heritage Association, and the Jean Stone Poetry Prize. Silence & its tongues (2006) was shortlisted for the 2007 ACT Judith Wright Poetry Prize. Third generation Irish-Australian, Robyn has been reading and teaching in Ireland for 28 years, where she lives part-time in Connemara. She has read her poetry in Portugal, Ireland, the UK, the USA, Greece, Austria, Bosnia, Serbia, Turkey and Italy, where, along with Canada and Japan, she has also been published. Her poetry has been featured often on Australian national radio programs PoeticA and The Spirit of Things. Robyn is known for her moving readings, available on her CDs, Off the tongue and Silver Leaving – Poems & Harp.
Robyn's collection Seasons of doubt & burning. New & Selected Poems covering almost 40 years of publishing, was launched in September 2010. Robyn, an Honorary Fellow in the School of Culture and Communication, University of Melbourne, was Deputy Chair of the Board, Australian Poetry Centre (2007-2008); and Professor of Social Inquiry and Women's Studies at Deakin University (1981-1996), retiring in 1996 with breast cancer and burnout. She was made an Officer in the Order of Australia for her contribution to higher education and women's health in 1996.

Lynn Saoirse is an award-winning Irish harpist living in Connemara, in the west of Ireland. She has performed widely throughout Europe and the USA, as well as in the Caribbean, Nepal, Argentina and Egypt . She has many recordings to her credit and and her harp arrangements of both traditional and contemporary Irish music are very highly regarded. You can find out more from Lynn's website at www.lynnsaoirse.com
'There is an exquisite delicacy all through her playing' – Derek Bell, The Chieftains.
'Lynn Saoirse's harp-playing has soul and feeling – and is a joy to listen to,' – Irish Music Magazine.
'(She) plays the Irish harp to perfection … and is a dab hand at composition herself' – Rambles.
---
13th June
Jennifer Militello
You can listen to Jennifer's reading here.

Jennifer Militello is an American poet whose husband is from Cork. Her first collection Flinch of Song won the Tupelo Press First Book Award, and her second collection Body Thesaurus was named a finalist for the Alice Fay di Castagnola Award by Marilyn Hacker and is forthcoming from Tupelo Press. She is also author of the chapbook Anchor Chain, Open Sail.
A Ruskin Art Club Poetry Award recipient and five-time Pushcart Prize nominee, Militello has been published widely in such journals as The Kenyon Review, The New Republic, The North American Review, The Paris Review, Ploughshares, and The Virginia Quarterly Review, and anthologized in Best New Poets 2008. Her work has been awarded grants and fellowships from the New Hampshire State Council on the Arts, the Barbara Deming Memorial Fund, Writers at Work, and the Millay Colony for the Arts.
Find out more from Jennifer's website – www.jennifermilitello.com
---
20th June
Ó Bhéal in association with Foras na Gaeilge presents
for the first time in Cork
MC Mupéad agus Jimmy the Hideous Penguin
You can listen to their performance here.

MC Mupéad, also known as Pádraig 'Muipéad' Ó Conghaile, hails from Connemara and is well known for of his rap as Gaeilge. Himself and Jimmy 'the hideous' Penguin have been traveling around Ireland performing live music together since 2005. They performed their debut show at a fundraiser for a day long culture festival that took place in Galway called the yó festival, only later to join forces with mc's Sebi c and Chance alongside djs Deviant and John Lillis (mynameisjohn). The newly formed collective toured around the country for a couple of years under the group name The Foot and they performed at many events including Mantua arts festival and the S.A.I. art and music festival.
When the members of The Foot parted ways Mupéad and Penguin decided to stick together and are still doing shows ever since, around Galway, Dublin, and Belfast and even at Cabaret Craiceáilte in Ghaoth Dobhair, County Donegal. But most will remember them from playing at the Dún Laoghaire Festival of World Cultures in '07 and '08 together with acts Liam Ó Maonlaí, Rónán Ó Snodaigh, Bréag, íntinn, Kila and many more.
Some demo tracks are available on myspace and a full length recording will be available soon featuring some very talented special guests.

Jimmy the Hideous Penguin is a young man from Galway with a serious scratch addiction. And shower as he might, he just can't get rid of it. One of the people behind Galway's Community Skratch Games (an annual week long celebration of scratch music and culture), a member of the infamous scratch ensemble Vince Mack Mahon and also a Dj / Producer in his own right, Jimmy has dedicated the best part of the last decade to advancing the possiblities of the turntable as a musical instrument.
Lots of people are Djs and producers these days, but for Jimmy Dj-ing IS production and vice-versa – Conor O Dwyer, Subtle Audio Records.
[he] makes music that varies between sultry bass heavy electronica, progressive scratch and slow burning ambient tracks richly orchestrated with organic instrumentation. Yep this guy is a jack of all trades. – Brendan McGuirk, analogue magazine.
More info on Jimmy at www.nozlrecordings.com
---
27th June
Luca Artioli, Andrea Garbin, Fabio Barcellandi
and (their translator) Dave Lordan
You can listen to their reading here.

Luca Artioli was born in Mantova in 1976, where he still lives. He was the creator and co-founder of the La confraternita dell'uva, a group of writers from Mantova, Modena and Como. He is currently a member of the Movement from the Underground, a literary group for the union of the arts, based in Montichiari (BS). His publications are Fragili Apparenze (Apparent fragilities), (Poems –
TCM Editions, Mantova, 2005) and Suture (Sutures), (Poems – Ed. Fara, 2011).
Luca's website is at www.lucaartioli.it


Andrea Garbin lives and works in the province of Mantova. He has published the poetry publications Il senso della musa (The sense of the Muse), (Aletti, 2007) and Latex (Fara, 2009) as well as some short-stories in the anthologies Per natale non esco (For Christmas I don't go out), (TranseuropaLibri, 2008) and Il rumore degli occhi (The noise of the eyes), (Edizioni
Creativa, 2009).

Fabio Barcellandi was born in Brescia in 1968. He is part of the group of poets and artists that quickens the literary meetings at the coffee bar Galeter in Montichiari, where he has performed on numerous occasions, from his tentative beginnings to the latest missives. He is from under the earth. What they say of him is that he walks hand in hand with death, whistling. He has published two collections of poems, Parole alate (Winged words), (Cicorivolta editions, 2007) and Nero, l'inchiostro (Black Ink), (Montag editions, 2008).

Dave Lordan's latest collection is Invitation to a Sacrifice (Salmon Poetry, 2010) which was called by The Irish Times 'an act of cultural resistance, as brilliant on the page as it must surely be in performance'. Eigse Riada theatre company produced his first play Jo Bangles at the Mill Theatre, Dundrum in 2010. Forthcoming are Assassin for Higher from Wurm Press in Nov 2011 and his first collection of short stories Out of My Head due out from Salmon Publishing in Summer 2012.
He can be contacted at dlordan@hotmail.com.
---
4th July
Bicycles with Umbrellas
You can listen to the readings here.
Bicycles with Umbrellas is an anthology of new writing by Galway writers. Six of the poets featured in the publication will be reading at Ó Bhéal.

Brid Buckley is a poetry and fiction writer from Cork. She moved to Galway in 2009 to do the MA in Writing in NUIG. Before this she studied English and Psychology, and subsequently Film in UCC. She has read and emceed the Ó Bhéal poetry nights in the Long Valley in Cork. She is published in the 2008 Five Word Challenge anthology, as well as Measured Words. A guest speaker at Over the Edge in Galway City Library, she has also read her work at Tuam and Ballyferriter's Art Festivals as well as at the Whitehouse Limerick. In 2010 she co-wrote and produced the Smedia nominated radio drama College Road as part of the Mighty Student collective. She can be contacted by phone on 0861079157 or by email at brid.buckley@gmail.com.

Colm Byrne's plays have been performed Off-Broadway, Los Angeles, Edinburgh, Vienna and Galway. The New York Times said his work offers 'Wisdom in its comments on the world' and Citysearch called him 'a master of dialogue.' He was a writer in residence for the LA Writer's Centre and is a recipient of the Bay Area Critics Outer Circle award. Recent Irish stagings include Galway Theatre Festival, the Flatlake Literary and Arts Festival and the Electric Picninc. This is his first adventure with short stories. hollywoodsign@gmail.com

David Doherty is a fiction writer whose main areas of interest are black humour and satire. His work has been published in ROPES, Wordlegs and Cheerreader. A native of Cork, David is currently working on his first novel. Contact him at odoherty.david@gmail.com

Twenty years ago Davnet Heery first began writing poetry in workshops with Anne Kennedy. Bit by bit poems from three series: Connemara Views, Poems For My Daughter and Father Poems appeared in the Writing in The West pages of the Connacht Tribune then edited by Eva Burke. Some poems also appeared in small magazines in Co. Clare and Co. Galway. These magazines have since disappeared. For a decade nothing was heard of her. Sightings were reported of her wandering the boglands of lower Connemara muttering to herself. She has been heard too along the shores of Chois Fharraige singing plaintive songs to the seals, who seem to respond. There are rumours that she now thinks she's an umbrella, and this could well be her in this anthology's cover image, hovering over the High Nellie!
Trevor Conway, from Sligo, writes poetry, fiction, songs and scripts. Currently he is recording an album of his songs with Athenry singer Sandra Coffey. His work has appeared in magazines and anthologies across Ireland, Austria, the UK, the US and Mexico, where his poems will be translated into Spanish. His first collection of poems will be published by Salmon Poetry in 2012. He offers freelance editing and other services for aspiring writers at www.trevorconway.weebly.com

Jimi Mc Donnell is a native of Tuam, Co.Galway. He cites his family, Tom Murphy and footballer Ja Fallon as pivotal influences. From 2007 to 2011, Jimi was the music correspondent for the Connacht Tribune. He has read his work at Listowel Writers' Week, the Over The Edge Series in Galway and Tuam Arts Festival. In 2010 Jimi was awarded an Individual Artists' Bursary from Galway County Council, part of which he used to fund a week at the Tyrone Guthrie Centre in Annaghmakerrig, Co. Monagahan. One of Jimi's proudest moments was having his poem A to Z selected by Upstart, a Dublin-based collective which hung artistic work alongside political posters during the 2011 General Election campaign. You can keep up with Jimi's writing on jimihair.blogspot.com or email him at jimihair@gmail.com
---
11th July
Ailbhe Darcy
You can listen to Ailbhe's reading here.

Ailbhe Darcy launches her first full collection of poems Imaginary Menagerie this summer with Bloodaxe Books. In 2009 she published a chapbook-length collection with tall-lighthouse called A Fictional Dress, and poems of hers have also appeared in two Bloodaxe anthologies: Voice Recognition: 21 Poets for the 21st Century (ed. James Byrne and Clare Pollard) and Identity Parade: New British and Irish Poets (ed. Roddy Lumsden.) She has published work in magazines in Ireland, Britain and the US. This year she completed an MFA in Creative Writing at the University of Notre Dame in Indiana, and she continues to work towards a PhD at the university. She co-edits Moloch, an online journal for new art and writing.
"Ailbhe Darcy's work has a precision and purpose rare in one so young. Her poems turn up without a word out of place… she is a poet consumed by what the world around her is doing; it is this quality above all others which numbers her among the most promising new Irish poets." – Kevin Higgins
"Here is a new writer for whom it is worth putting a kink in the usual niceties of the space-time continuum." – David Wheatley
Ailbhe will also be holding a workshop entitled Riddles and Secrets from 7.00pm to 8.30pm at Ó Bhéal. For more details click here.
---
18th July
Paul Maddern
You can listen to Paul's reading here.

Paul Maddern was born in Bermuda of Irish and Cornish stock. After time in San Francisco and London he moved to Co. Down in 2000. In 2006 he was included in Poetry Ireland's Introductions series of readings and in 2009 he won the Templar Poetry Pamphlet Competition, resulting in the publication Kelpdings. His debut collection The Beachcomber's Report, also from Templar, was nominated for the 2011 Eithne and Rupert Strong Award for Best First Collection. He is currently completing a PhD at the Seamus Heaney Centre, Queen's University Belfast, for which he has established an online archive of poets reading in public.
---
25th July
Ó Bhéal in association with Foras na Gaeilge presents

Pádraig Breandán Ó Laighin

You can listen to Pádraig's reading here.

Pádraig Breandán Ó Laighin is a poet who writes in Irish. He is also an academic, and has lived in Dublin since his return to Ireland in 1996 after a long period as a professor of sociology in Montréal. His first collection of poetry was published in 1990. His new collection Ní Iontas go bhFuil an Spideog ag Gearán (2011), traverses worlds of meaning and longing, of plants recoiling from the jaded mantra of 'going forward', and of remembrances dissolving into brightness. The collection also includes new Irish versions of French, Latin, and Ancient Greek poems. He collected, edited, and contributed to Catullus Gaelach (2010), a translation by leading contemporary poets of the complete works of Catullus – mostly to Irish, but including also translations to Scots Gaelic, Cape Breton Gaelic, and Manx. His introduction to that volume celebrates the continuity of a tradition which at its outset made Irish the first of the European vernacular languages to have translations of classical narrative literature.
He is perhaps better known as a central figure in the social movement which led to the designation of Irish as an official and a working language of the European Union. A collection of his writings and critical evaluations which played an important role during that campaign is due to be published in a single volume later this year. In Canada he had chaired a council of organizations which sought and won the recognition of Grosse-Île as a national historic site commemorating the thousands of Irish people who died in quarantine there, particularly during the Great Famine. One of his poems commemorates events at that island, and asserts the transformative power of action.
Is i nGaeilge a scríobhann Pádraig Breandán Ó Laighin a chuid filíochta. Chaith sé na blianta fada i Montréal mar ollamh le socheolaíocht. Tá cónaí air i mBaile Átha Cliath ó d'fhill sé ar Éirinn sa bhliain 1996, agus tá sé ag plé fós le socheolaíocht acadúil. Foilsíodh a chéad chnuasach filíochta sa bhliain 1990. Ina chnuasach nua, Ní Iontas go bhFuil an Spideog ag Gearán (2011), tugann sé camchuairt ar léirmhíniú is ar thnúthán, ar phlandaí á gciapadh ag reitric a gheallann dul chun cinn, agus ar chuimhní a scaoileann uathu réaltaí eolais. Cuimsíonn an cnuasach seo chomh maith leaganacha Gaeilge de dhánta ón bhFraincis, ón Laidin, agus ón tSean-Ghréigis. Bhailigh sé, chuir sé in eagar, agus chuir sé féin dánta ar fáil do Catullus Gaelach (2010), aistriúchán le filí comhaimseartha de shaothar Catullus go Gaeilge – Gaeilge na hÉireann go príomha, ach le roinnt dánta i nGaeilge na hAlban, i nGaeilge Cheap Breatainn, agus i nGaeilge Mhanann freisin. Ina réamhrá sa leabhar déanann sé ceiliúradh ar thraidisiún ársa a chuir leaganacha den litríocht chlasaiceach ar fáil i nGaeilge sula raibh a leithéid ann in aon teanga labhartha Eorpach eile.
Tá aithne air mar ghníomhaí a bhí lárnach sa ghluaiseacht shóisialta a bhain amach stádas don Ghaeilge mar theanga oifigiúil agus oibre de chuid an Aontais Eorpaigh. Déanfar bailiúchán dá scríbhinní agus dá léirmheasanna a raibh tábhacht leo i gcur i gcrích na haidhme sin a fhoilsiú in aon leabhar amháin níos déanaí i mbliana. I gCeanada bhí sé mar cheannaire ar chomhdháil eagraíochtaí ar éirigh leo stádas mar láthair stairiúil náisiúnta a bhaint amach do Grosse-Île, áit ar cailleadh na mílte Éireannach ar coraintín, go háirithe le linn an Ghorta Mhóir. Déanann ceann dá dhánta comóradh ar eachtraí a tharla ag an oileán sin, agus ar ghníomhú mar eochair an fhaoisimh.
---