---
April and May
---
4th April
Mary Kennelly
You can listen to Mary's reading here.

Mary Kennelly has been involved in arts events in Ireland for many years, including Listowel Writers' Week and the Brendan Kennelly Summer Festival. She was a participant in the Mindfield: Spoken Word section at Electric Picnic 2014, where she performed alongside the Limerick collective The Whitehouse Poets. She has written for publications including The Kerryman, The Sunday Independent and The Sunday Tribune. Originally from County Kerry, she now lives in County Limerick.
In 2004 she published Sunny Spells, Scattered Showers a collection of poetry and paintings with the artist Rebecca Carroll. In 2010 she produced a second collection with the artist Brenda Fitzmaurice entitled From the Stones. Her third collection Catching Bats Takes Patience was published by Liberties Press in 2015.
---
11th April
Ó Bhéal's 9th Anniversary
(450+ nights of Poetry)
celebrates Five Words Volume IX and an open-mic for Only Other Poets' Poetry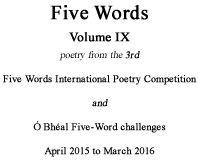 Ó Bhéal's 9th Anniversary event celebrates the launch of Five Words Volume IX – with readings by contributors, shortlistees – and the winner of our 3rd Five Words International Poetry competition, John W. Sexton. A number of the short-listed poets will be reading on the night, including Tamara Miles, Mary Anne Smith and last year's winner, Derek Sellen, as will contributors to the last fifty Five-Word Challenges held at Ó Bhéal. The open-mic is for reading poems written by any poet other than yourself, so bring a couple of your favourites!
Our congratulations to
John W. Sexton
winner of the 3rd Five Words International Poetry Competition
You can listen to John's reading here.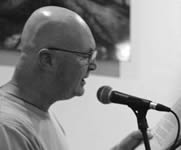 John W. Sexton was born in 1958 and is the author of five poetry collections including, most recently, Petit Mal (Revival Press, 2009) and The Offspring of the Moon (Salmon Poetry, 2013). His sixth collection, Futures Pass, is forthcoming from Salmon. He also created and wrote The Ivory Tower for RTÉ radio, which ran from 1999 to 2002 and comprised 103 half-hour episodes. Two novels based on the characters from this series were published by the O'Brien Press: The Johnny Coffin Diaries and Johnny Coffin School-Dazed, which have been translated into both Italian and Serbian. Under the ironic pseudonym of Sex W. Johnston he has recorded an album with legendary Stranglers frontman, Hugh Cornwell, entitled Sons of Shiva, which has been released on Track Records. He is a past nominee for The Hennessy Literary Award and his poem The Green Owl won the Listowel Poetry Prize 2007. Also in 2007 he was awarded a Patrick and Katherine Kavanagh Fellowship in Poetry.
---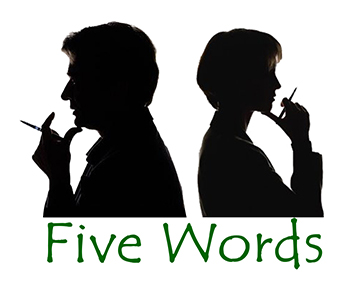 The 4th Five Words International Poetry Competition is open from Tuesday April 12th 2016 (at midday GMT), and runs for 42 weeks until the last week of January 2017. Ths year's judges will be announced shortly. Watch this space …
---
18th April
Ron Carey and Tom Moloney
You can listen to Ron's reading here

Ron Carey was born in Limerick and now lives in Dublin. He has been a prize winner and finalist in many international poetry competitions including, The Bridport Prize, Lightship International Poetry Prize, Cinnamon Press Poetry Awards, Fish International Poetry Prize, Gregory O' Donoghue International Poetry Awards, Hugh O'Flaherty Poetry Award, iYeats Poetry Prize and the Wasafiri New Writing Prize for Poetry. His poems have appeared in New Irish Writing, the Irish Times as well as anthologies and magazines. He was awarded Special Commendation in the Patrick Kavanagh Awards 2015 and received a Masters Degree in Creative Writing at the University of South Wales. His poetry collection DISTANCE has been nominated for the Forward Prize for Best First Collection 2016.
You can listen to Tom's reading here.

Tom Moloney is the author of two poetry collections My Register (Linden Press, 2009) and Killing Time (Revival Press, 2015). He is also the author of a fable novel Getting the Nod from Himself
Tom's poems have been published in numerous poetry magazines and Journals, traditional as well as online. He has read his work on RTE1, on local radio and on film. On nights off from transcribing what his visiting Muse whispers to him, Tom ventures forth to poetry readings, sometimes guest-reading at venues on the Irish poetry circle as well as in England. He is a member of the Irish Haiku Society.
"Although 'after the boom came the recession', his poems hark back nostalgically to 1963, with a passionate innocence almost as defiant as Kavanagh's" – Medbh McGuckian
---
25th April
Ruth O'Callaghan
You can listen to Ruth's reading here.

Ruth O'Callaghan has published seven collections of poetry, has been translated into six languages and is much anthologised. Invited to read throughout Asia, Europe, and the U.S.A., she was awarded a gold medal for poetry at the XXX WCP in Taiwan. The Arts Council (London) sponsored her visit to Mongolia to collaborate with poets and this resulted in a book and a C.D. A reviewer and interviewer her book, Without Skin, comprises interviews with 23 of the most eminent women poets throughout the world has been hailed as an 'important contribution to world literary history.' – (Professor Brant, King's College London).
An international competition adjudicator and editor, she has also been a judge for the Koestler whose awards encourage prisoners to participate in the Arts. She hosts two poetry venues in London – the revenue from these events support three Cold Weather Shelters. As mentor and workshop leader both in the U.K and abroad, she works with experienced poets to enable them to approach their poetry with a new perspective and with novice poets to achieve a first collection.
---
2nd May
Alvy Carragher
You can listen to Alvy's reading here.
Alvy Carragher received a First Class Honours in her MA in Writing from The National University of Ireland Galway, where she focused on poetry. Her first collection will be published with Salmon in June 2016. A pushcart nominee, she has been listed for many prizes including: Over the Edge New Writer of the Year, The Gregory O'Donoghue Award, The Cúirt New Writing Prize, Doire Press International Poetry Competition, and the Irish People's Poetry Prize.
She is a two-time All-Ireland Slam Poetry Finalist, a Slam Sunday Winner, Connaught Slam Champion and a Cúirt Grand Slam Poetry Champion. She has performed at many festivals throughout the country, and even abroad, including: Cúirt International Literary Festival, Edinburgh Fringe Festival, Electric Picnic, Body and Soul, Lingo Spoken Word Festival, and Imagine Waterford Arts Festival. Her poems have featured on RTE's Arena on several occasions. Her work has appeared in various publications such as The Galway Review, Skylight 47, The Irish Times, Bare Hands Poetry, The Boheymth and plenty more.
She was the Poetry Editor for Headstuff.org in 2015, where she designed, edited, managed and wrote the poetry section. She is also an award-winning blogger, and her blog With All the Finesse of a Badger has been archived by the National Library of Ireland.
---
9th May
Ó Bhéal in association with Foras na Gaeilge presents
Nuala Ní Dhomhnaill
You can listen to Nuala's reading here.

Nuala Ní Dhomhnaill was born in 1952 and grew up in the Irish-speaking areas of West Kerry and in Tipperary. She studied English and Irish at University College, Cork in 1969 and became part of a group of Irish language poets who were published in the literary magazine Innti. She now lives in Dublin.
She has published four collections of poems in Irish, An Dealg Droighin (1981), Féar Suaithinseach (1984), Feis (1991) and Cead Aighnis (1998). The Gallery Press has published four collections of her poems, with translations into English: Pharoah's Daughter (translations by thirteen writers, 1990), The Astrakhan Cloak (translations by Paul Muldoon, 1992), The Water Horse (translations by Medbh McGuckian and Eiléan Ní Chuilleanáin, 1999) and The Fifty Minute Mermaid (translations by Paul Muldoon, 2007).
Nuala Ní Dhomhnaill held the Heimbold Chair in Irish Studies at Villanova University in 2001 and has taught at Boston College and New York University. She has received many scholarships, prizes, and bursaries and has also won numerous international awards for works which have been translated into French, German, Polish, Italian, Norwegian, Estonian, Turkish, Japanese and English.
She is a member of Aosdána and was Ireland Professor of Poetry (2001-2004) and the first Professor of Irish (language) Poetry.
---
16th May
The Squat Pen

The Squat Pen presents up-and-coming writers and performers, alongside those more established, bringing together poetry, music and prose. They have been holding regular literary events in Belfast and across Northern Ireland since 2013 and have also appeared at the Belfast Book Festival, the John Hewitt International Summer School and on BBC Radio. Entrance to their events is always free. You'll find a showcase filled with riches, a cornucopia of words and music. The Squat Pen is hosted by poets Ray Givans and Paul Jeffcutt. For more visit The Squat Pen's Facebook page.
You can listen to John's reading here.

John McAllister was born and grew up in Ballymena, Northern Ireland, the location for his "Barlow" series of books (The Station Sergeant and Barlow by the Book) about a police sergeant in Northern Ireland in the 1950s and 60s. John moved to Armagh City in 1974, intending to stay for two years, and is still there. While running his own accountancy business he took time out to read for a Masters in Creative Writing from Trinity College, Dublin. Not knowing how much of an output he needed for a Masters, he produced almost enough new writings to earn a PhD. He has been a member of the writers group in the Seamus Heaney Centre, Queens University, Belfast for many years. He sees himself as a writer of fiction – more specifically crime – but has published in excess of 36 poems.
John loves meeting with people to do readings and to discuss his work. He had read in places as far apart as Boston (Mass) and Florence, Italy. He has appeared on several radio programmes to discuss his work. John has been the Writer in Residence for the ABC Writers Network, Counties Cavan and Meath, County Monaghan Libraries and Castlereagh District Council.
You can listen to Martha's performance here.

Martha McGonigle is a winner of the Ignite Award and author of Ordinary People Extraordinary Stories (Appletree Press 2012). This collective project involved three groups of people, The Belfast Carers, The Arches Carers, and www.dots Cregagh Community Centre. She has had numerous poems published online and in print.
You can listen to Ray's reading here.

Ray Givans was reared in the village of Castlecaulfield, Co.Tyrone. He is a graduate of Queen's University, and The University of Bath where he completed a Master's degree in Education. He has been a teacher of English at secondary schools in Co.Down. He has published four pamphlet-length collections, including two from Lapwing Publications. He was also involved in a poetry/artwork collaboration, Earth Works, with artist Tony Martin, which was published by Subway, Bristol. His first full collection, Tolstoy in Love, was published by Dedalus Press in 2009. This collection was shortlisted for the Strong award for best first collection by an Irish poet for that year. A dual English/Italian version was produced by Kolibris, Bologna.
Ray has been awarded prizes for his poetry in Ireland, Britain, the U.S. and Australia and was the first recipient of the Jack Clemo Memorial prize for poetry. He has been guest editor of Christianity and the Arts, the Chicago based journal. His work was included in Artwords, an anthology of newly emerged artists and poets from Ulster. He is a co-founder and organiser of The Squat Pen and The Squat Pen on Tour poetry and prose readings.
You can listen to Paul's reading here.

Paul Jeffcutt's debut collection of poetry, Latch, was published by Lagan Press in 2010 and was chosen by The Ulster Tatler as their Book of the Month. Paul has been widely published and has won a series of prizes for his poetry in the UK, Ireland and the USA. He also co-hosts The Squat Pen, a regular series of literary events that take place across Northern Ireland.
---
23rd May
Ó Bhéal in association with The Community Foundation for Ireland presents
2016 Commemoration Series (Event 3 of 8)
Eastrogen Rising: a rebel cabaret
You can listen to the entire performance here.

Eastrogen Rising: a rebel cabaret is a show about women of The Easter Rising 1916 – known and unknown – featuring new commissioned music & poetry by Abby Oliviera, BeRn, Catherine Ann Cullen, Cormac Lally, John Cummins & Julie Goo

Abby Oliviera's forays into performance poetry began in 2006 when poet Pamela Brown had some kind of a vision called The Poetry Chicks and set about making the vision a reality. Five mind-blowing, eye-opening and creatively inspirational years followed. These included such personal highlights as being: Belfast Poetry Slam champ 2006, finalist in the BBC4 Slam 2009, being commissioned by Irish author Pat McCabe (of Breakfast on Pluto, The Butcher Boy etc) to take a chapter (named The Half Day) from fellow Irish author Dermot Healey's The Bend for Home and "do something with it." – setting the entire chapter to music by pianist Connor Kelly and performed nearly the entire chapter live on stage to a packed audience. The performance was later featured in the RTE Arts Lives documentary about Healey. She was a finalist in the Glastonbury festival poetry slam 2009, Ulster slam champ 2010, finalist in All-Ireland slam 2010, host of the 'Poetry and Words' venue @ Glastonbury festival 2010, organiser/host of the 2011 All-Ireland Poetry Slam final. 
Poet and singer/songwriter BeRn, calls her stuff 'Frock'; an eloquent mix of folk, punk angst, rock 'n' roll, feminism, ire, laughter and irrepressible spirit. Raw and uplifting, She takes to the stage with a fiery presence offering a heady mix of emotion and rebellion. She has shared stages with Martha Wainwright, Patti Smith, Shane Mc Gowan, Indigo Girls plus many more. To date Bern has recorded 3 albums and is working on her first book of poems. Her poem 12 Money Haiku was published in the Spring 2015 edition of Poetry Bus Magazine and two poems – Tess and soon you won't know me at all were recently featured as 'poems of the week' (July/Aug 2015) in HEADSTUFF.org. She won The Dublin New Year's Festival/Lingo Poetry Slam in Dec 2015. "A real colourful individual with her saucy, unusual, punky, spicy, joyful poems and songs"

Catherine Ann Cullen's third collection, The Other Now, (Dedalus) and her PhD thesis are both due in Autumn 2016. Fingers crossed! Strange Familiar (2013) and A Bone in My Throat (2007) were published by Doghouse, and her two children's books by Little, Brown. She is a judge of the Reclaim the Spirit of 1916 poetry competition.

Cormac Lally is a writer, poet and activist from Tullamore, Co. Offaly now living in west Cork with his film maker partner, Maura and daughter Tessa. He is the current Munster Poetry Slam champion and was the Leinster champion the year before that. In 2013 he started the Scene Of The Rhyme a spoken word night in Lees pub in Tullamore and has curated gigs for festivals all over the country inc. Electric Picnic and Body and Soul (both standing ovations), Castlepalooza, Valentia Isle and others. Since moving to Skibbereen, he now curates and MC's  Under The Hammers, a night of spoken word, comedy and music in the iconic Connollys of Leap. He has self published two books, sold over a thousand and hates writing about himself in the third person. His wedding speech writing and coaching service Be Spoke is how he earns a crust.

John Cummins has been writing for over 20 years and has been performing since early 2010. He has been Leinster Poetry Slam Champion for the past three years and the 2013/2014 All-Ireland Poetry Slam Champion, as well as featured poet at the prestigious Other Voices. John is a regular featured artist at showcase nights around his native Dublin, as well as Galway and Cork. Last year John blew the roof off The Workman's Club with his opening night performance at Lingo, and as the inaugural Lingo Poet Laureate, he captured the festival in the form of verse and shared those wise words with the crowds every night.

Julie Goo is a Cork-born wordsmith and singer. In 2012, she was one of two Cork poets chosen to represent Cork in Coventry and Birmingham for the Annual Twin Cities Exchange. Goo has performed at a whole range of festivals and events over the past few years including: TedX Cork (2013), Winter Warmer Festival, Cork, Lesbian Lives Conference, Brighton (2014), Circus Factory Electric Picnic, Valentia Isle Festival, Indiependence, Live Words, Supporting Panti Bliss (2015), and most recently Connolly's of Leap and The Quarter Block Party (2016). She was Munster Slam Champion in 2012, and has represented Munster in The All Ireland Slam twice. Her slam poetry is socially conscious, politically driven, uplifting and open hearted. Her motto in life is 'I'd try anything twice'.

---
30th May
Daragh Bradish PLUS a short reading from The Café Review
You can listen to Daragh's reading here.

Daragh Bradish was born in Dublin, and spent his formative years in Bray, Co. Wicklow. More recently he has lived part time in Liscannor, Co. Clare. He studied Fine Arts and History in Trinity College. Returning to creative writing in the last seven years, his poems have appeared in Irish, British and European Journals. He runs and coordinates 'Soundings' readings which raise funds for the Dublin Simon Community. Easter in March is his first collection and is published by Liberties Press.
You can listen to Steve's reading here.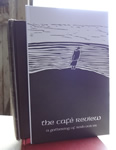 The Café Review, a premier poetry, art, and reviews journal based in Portland, Maine for over 27 years, is making a journey to Ireland in tandem with the publication of a special issue celebrating Irish voices. Steve Luttrell, publishing editor of The Café Review since its founding in 1989, is making a number of appearances at ongoing reading series and special events in Cork, Limerick, Galway, and Dublin. Steve will present a short, ten minute reading from the latest issue at Ó Bhéal.


The Café Review published its first issue celebrating Irish poets in 1997, featuring artwork by Hugh Lorigan and poems by Pat Boran and Theo Dorgan, among many others. This Spring's issue is entitled, "a gathering of Irish voices", and features artwork by Liam and Nonie O'Neill, poetry by Doireann Ní Ghríofa, Brian Kirk, Paula Meehan, Paul Casey, Susan Millar DuMars, and work from many other esteemed contemporary writers.
---