---
June and July
---
6th June
Kate Dempsey
You can listen to Kate's reading here.

Kate Dempsey is from Coventry and has lived in Maynooth, Co Kildare with her family for more than twenty years. Prizes for her writing include The Plough Prize, Cecil Day Lewis Award, shortlisting for the Hennessy New Irish Writing Award for both Poetry and Fiction and two commendations for the Patrick Kavanagh Award. She was nominated for the Forward Prize for a single poem and selected to read for Poetry Ireland Introductions. Her début collection, The Space Between, was published by Doire Press in 2016. She runs the Poetry Divas, a collective of women poets who blur the wobbly boundary between page and stage at events and festivals all over Ireland.
"From the kitchen table to the Periodic Table, from dancing cows to drunken poets, Kate Dempsey puts our loves and lies under a powerful microscope. In poems that sparkle with an indignation tempered with good humour, it is ultimately consoling to know that love conkers (sic) all." – Iggy McGovern
"Kate Dempsey has a distinctive poetic voice, one that is at times humorous and knowing, often tender and frequently brave. In a collection book-ended by love, that voice addresses life in all its frailties and crazy, unexpected strengths in poems that always go beyond mere surface and into 'The Space Between'." – Enda Coyle-Green
---
13th June
Julie Morrissy and Stephen Sexton
You can listen to Julie's reading here.

Julie Morrissy lives in Dublin after spending many years in Canada and the US. In 2015 she was shortlisted for the Melita Hume Poetry Prize in the UK and selected for the Poetry Ireland Introductions Series. She has performed for international audiences and been published widely in Ireland, the UK, Canada and the US, including in Cyphers, The Stinging Fly and Poetry Ireland Review. Her debut pamphlet I Am Where is published by Eyewear and was shortlisted for Best Poetry Pamphlet in the Saboteur Awards 2016. Julie is a Vice Chancellor Research Scholar at University of Ulster, where she is pursuing her PhD In Poetry under the supervision of poet, Kathleen McCracken.
You can listen to Stephen's reading here.


Stephen Sexton lives in Belfast where he is studying at the Seamus Heaney Centre for Poetry. Poems have appeared in Granta, Poetry Ireland, Poetry London, and Best British Poetry 2015. His pamphlet, Oils, published by The Emma Press in 2014 was the Poetry Book Society's Winter Pamphlet Choice.
---
20th June
Anne Tannam
You can listen to Anne's reading here.

Anne Tannam's poems have been published in literary journals and magazines including Poetry Ireland Review, The Moth, The Poetry Bus, Crannóg, Skylight47, Burning Bush 2, Irish Literary Review, Bare Hands Poetry and Boyne Berries. Her first book of poetry Take This Life, was published by WordOnThe Street in 2011. Her second collection is forthcoming with Salmon Poetry in Spring 2017.
A spoken word artist, Anne has performed at Electric Picnic, Blackwater International Poetry Festival and Cúirt. She has been the featured reader at Stanzas, The Sunflower Sessions, The Monday Echo, Dublin Underground Beat and Dublin's Indie Spirit. She is co-founder of the Dublin Writers' Forum. Anne is travelling to India this October to take up a writer's residency as part of the CMI Arts Initiative Programme.
---
27th June
John Hennessy
You can listen to John's reading here.

John Hennessy is the author of two collections, Coney Island Pilgrims and Bridge and Tunnel, and his poems appear in many journals and anthologies, including Best American Poetry 2013, The Believer, Poetry, Poetry Ireland Review, Fulcrum, Harvard Review, The New Republic, The Huffington Post, The Poetry Review (UK), The Wolf, Best New Poets 2005, and The Yale Review. Hennessy went to Princeton University on a Cane Scholarship, and he received graduate degrees from the University of Texas at Austin and the University of Arkansas. In 2007-2008 he held the Resident Fellowship in Poetry at the Amy Clampitt House, and his other honors include the Transatlantic Review Award from the Henfield Foundation and the Elizabeth Matchett Stover Memorial Award from the Southwest Review. Hennessy is the poetry editor of The Common, a print and online magazine based at Amherst College, and teaches at the University of Massachusetts Amherst.
"Hennessy writes with a cinematographer's scope and sweep, with a novelist's gift for telling detail, but his poems never collapse from the weight of what they collect because his language is sinuous, agile and taut, both tough-minded and tender-hearted." –Jacquelyn Pope in Harvard Review
---
4th July
Maggie Harris
You can listen to Maggie's reading here.

Maggie Harris was born in Guyana and after living in Kent for many years, now lives in West Wales. A poet and a prose writer, she's performed in Europe and the Caribbean, her writing influenced by the history and rhythms of the Caribbean as well as her life in the UK, injustice, women's rights, botany and music. Time flows forwards and backwards in her writing and her memoir, Kiskadee Girl was a prizewinner in the Kingston University Life Writing Competition. She's won the Guyana Prize for Literature twice, most recently for Sixty Years of Loving, her last poetry collection, and was Regional Winner of the Commonwealth Short Story Prize 2014. Her short story collection, In Margate by Lunchtime, was longlisted for the Edge Hill Prize. Recent appearances include readings alongside John Agard and Grace Nichols at the Guyana High Commission and now represented by Renaissance One, London's top Spoken Word Agency, she's part of the London is the Place for Me festival at the British Library.
---
11th July
Paul Butterfield and Drucilla Wall
You can listen to Paul's reading here.

Paul Butterfield Jnr… the bi-polar poet… is coming all the way from Limavady… Co.Derry to be with us in his debut performance in Cork. Paul can be quite a controversial poet as his main theme is the disturbia of mental illness and life in general (sex, anger and psychedelic life) but, in all honesty, Paul has an uplifting effect from his words expressing the truth and even he doesn't want it but, maybe laughing might not be so, so far away because, even his poetry might make you giggle from its obscurity.See more about Paul here.
You can listen to Drucilla's reading here.

Drucilla Wall's book of poetry, The Geese at the Gates, Salmon Poetry, received positive reviews from The Irish Times, the Galway Advertiser, Western American Literature, and others. She is co-editing a collection of poetry and essays—Thinking Continental—forthcoming from University of Nebraska Press in 2017. Her second collection of poems is forthcoming from Salmon Poetry in 2017. Individual poems and essays appear in various literary journals, and are anthologized in such books as Red Lamp, Black Piano: The Caca Millis Anthology; People Who Stayed: Southeastern Indian Writing After Removal; and True West: Authenticity and the American West. She holds a Ph.D. in English from University of Nebraska and is Associate Teaching Professor at University of Missouri-St. Louis.
---
18th July
Ó Bhéal in association with The Community Foundation for Ireland presents
2016 Commemoration Series (Event 4 of 8)
Our Proclamation
You can hear the performance here.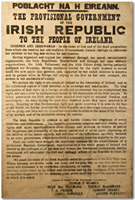 Our Proclamation: In 2016, Cork City Libraries and Cork Arts Office commissioned 4 writers to respond to the centenary of the 1916 Rising and the Proclamation of the Republic: Leanne O'Sullivan, Theo Dorgan, Hugo Hamilton and Doireann Ní Ghríofa. Leanne and Doireann chose to compose a suite of poems and found themselves considering the document itself, as well as broader themes of environmental concerns and linguistic implications. On this occasion they will be joined by experimental sound artist Mick O'Shea. Join us for an evening of music, of poems in both English and Irish, and projections of 1916 footage, as these three much-loved artists share their understanding of what the Proclamation holds for the Ireland of today, and tomorrow.

Leanne O'Sullivan was born in 1983, and comes from the Beara peninsula in West Cork. She received an MA in English from University College, Cork in 2006. The winner of several of Ireland's poetry competitions in her early 20s (including the Seacat, Davoren Hanna and RTE Rattlebag Poetry Slam), she has published three collections, all from Bloodaxe, Waiting for My Clothes (2004), Cailleach: The Hag of Beara (2009), winner of the Rooney Prize for Irish Literature in 2010, and The Mining Road (2013). She was given the Ireland Chair of Poetry Bursary Award in 2009 and the Lawrence O'Shaughnessy Award for Irish Poetry in 2011, and received a UCC Alumni Award in 2012. Her work has been included in various anthologies, including Selina Guinness's The New Irish Poets (Bloodaxe Books, 2004) and Billy Collins's Poetry 180: A Turning Back to Poetry (Random House, 2003). Residencies and festival readings have taken her to France, India, China and America, amongst other locations. She is currently teaching on the MA in Creative Writing at UCC.
 


Doireann Ní Ghríofa is a bilingual writer whose poems and prose regularly appear in literary journals in Ireland and internationally. Among her awards are the Ireland Chair of Poetry Bursary, the Michael Hartnett Award for Poetry and Scotland's Wigtown Award for Gaelic Poetry. Her third book, Clasp (Dedalus Press, 2015) was shortlisted for the 2016 Irish Times Poetry Award. She writes "with tenderness and unflinching curiosity" (Poetry Magazine, Chicago).   www.doireannnighriofa.com

Mick O'Shea lives and works in Cork city and is a member and director of the Cork Artists Collective and The Guesthouse art project www.theguesthouse.ie and has been instrumental in establishing a vibrant and growing sound art scene in Cork city. He has exhibited in UK, Germany, Poland, Lithuania, Austria, Belgium, Finland, Tasmania, USA, China and Japan. All of his works spring from his essential experience in drawing. His medium includes sculpture, drawing, sound and cooking.
In 2003 O'Shea and fellow artist Stephen Brandes and Irene Murphy set up the collaborative practice, The Domestic Godless www.thedomesticgodless.com which, through performative cooking events, explores culinary activity as art practice and tests assumptions about the cultural traditions of food in challenging and often irreverent and absurdist ways. He also works with various sound artists and composers both national and international.

---
25th July
Lorna Shaughnessy
You can listen to Lorna's reading here.

Lorna Shaughnessy was born in Belfast and lives in Co. Galway, Ireland. She has published three poetry collections with Salmon Poetry, Torching the Brown River (2008), Witness Trees (2011) and Anchored (2015). Her work was selected for the Forward Book of Poetry, 2009. She is also a translator of Spanish and South American Poetry. Her most recent translation was of poetry by Galician writer Manuel Rivas, The Disappearance of Snow (Shearsman Press, 2012), which was shortlisted for the UK Poetry Society's 2013 Popescu Prize for translation. She lectures in Spanish and Creative Writing in NUI, Galway.
---
Wednesday 27th July @ 9pm
Ó Bhéal in association with The UCC School of English
presents a special Wednesday evening event for the
International Association for the Study of Irish Literatures
You can listen to the guest readings from:
Benjamin Burns, Rosalin Blue, Charles Clarke, Máirín-Rua Ní Aodha,
Hassan Baker, Rab Urquhart and Julie Goo, right here.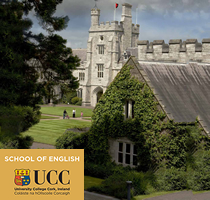 The 2016 IASIL Annual Conference: From the 25th to the 29th July 2016, University College Cork is host to the annual meeting of the International Association for the Study of Irish Literatures. Gathering to discuss the theme of Change, writers and critics address the shaping role of literature in Irish life and consider the question of whether Irish Studies itself needs to change in the face of shifting social realities. Keynote lectures include talks by Prof Jahan Ramazani (University of Virginia), Dr Anne Mulhall (UCD) and Dr Heather Laird (UCC). The conference will feature readings by novelists Rob Doyle and Louise O'Neill; and poets Theo Dorgan, Nuala Ní Dhomhnaill, Louis de Paor and Leanne O'Sullivan. There will be a Q&A with filmmaker Gerry Stembridge (UCC Film Artist in Residence) and a special panel discussion of the creative legacy of Frank O'Connor. 
The five word challenge will begin slightly earlier than usual at 9pm, followed by short readings from local poets and an open-mic session.

For full programme details, please visit the IASIL Annual Conference website.
---