---
June and July
---
4th June
Ross Donlon
You can listen to Ross' reading here.

Ross Donlon's poems have been published widely in Australia, New Zealand and the USA. His work has been broadcast on Radio National's Poetica and community radio. He appears on the CD of a live reading, You Have Been Chosen. Tightrope Horizon (Five Islands Press) which was published in 2003. Shh and other love poems and My Ship were published by Mark Time Books in 2009. Shh has been anthologized in Poems for All Occasions and elsewhere. His latest book, The Blue Dressing Gown and other poems, is published by Profile Poetry.
In 2009 he was awarded the Varuna Writers' House Dorothy Hewett Flagship Fellowship for Poetry. In 2010 Ross was awarded the Wenlock Festival Poetry Prize within the Arvon International Poetry Competition by chief judge, Poet Laureate, Carol Ann Duffy. In 2011 Ross won a second international poetry prize, The Melbourne Poet's Union International Poetry Prize with Midsummer Night, a poem he wrote while in residency in western Norway. He was also shortlisted for the 2011 Bridport Prize, from 8,200 entries.
---
11th June
Pauline Fayne
You can listen to Pauline's reading here.

Pauline Fayne was born in Dublin in 1954. Her poems have been published in a variety of magazines and anthologies in Ireland and have been broadcast on radio stations throughout Europe. Her first three collections Journey (Sheveck Press 1979), Killer of Fishes (Stonebridge Publications 2001) and I'm Fine, Really (Stonebridge Publications 2005) are now out of print. Her New and Selected poems Mowing in the Dark was published by Revival Press in June 2011. An interview and a selection of her poems can be heard on www.podcasts.ie.
---
18th June
Anne Le Marquand Hartigan
You can listen to Anne's reading here.

Anne Le Marquand Hartigan is a poet, playwright, painter, actor/director, short fiction writer and critic. She was born in England, studied painting at the University of Reading, returned to her family home in Co. Louth, Ireland, in the 1960s, where, married to Tim Hartigan they reared their six children. She now lives in Dublin.
Hartigan has published seven collections of poetry, and one non-fiction book to date. Her collections are: Long Tongue (Beaver Row Press, 1982); Return Single (Beaver Row Press, 1986); Now is a Moveable Feast, an award-winning long poem, with drawings by the author, (Salmon Poetry, 1991); Immortal Sins (Salmon Poetry, 1993); Nourishment (Salmon Poetry, 2005); To Keep the Light Burning: Reflections in Times of Loss (Salmon Poetry, 2008) and Unsweet Dreams (Salmon Poetry, 2011). Her non-fiction includes a meditation on writing, Clearing the Space: A Why of Writing (Salmon Poetry, 1996) which was translated into Spanish in 2008.
Hartigan has won many awards for her poetry, plays and visual art including the Open Poetry Award in Listowel Writer's Week, Poetry Athlone Award, Arlen House award, etc. She has had several one-woman and two-women shows of her visual art in Ireland North and South, and in Britain. She has given readings of her work, in person and on radio, in many countries worldwide. Her work is translated into German, Russian, Galician and Spanish.
Her play The Secret Game won the Mobil Prize for playwriting. Her plays Beds and La Corbière, were premiered at the Dublin Theatre Festival in the '80s and Jersey Lilies premiered in Dublin in 1995. Hartigan was commissioned to write a play for Ohio Northern University in 2003. In Other Worlds was performed there, and at the Edinburgh Festival, and in New Zealand. La Corbière was also pick of the fringe in Washington DC's first fringe festival in 2006.
---
25th June
Gerry Boland
You can listen to Gerry's reading here.

Gerry Boland writes poetry and short fiction. He has had poems published in The Stinging Fly, The SHOp, Southword, The Stony Thursday Book, An Crannóg and a number of overseas publications.
His first collection of poems Watching Clouds was published by Doghouse Books in 2011, and the first book in a children's trilogy, A Rather Remarkable Grizzly Bear, was published in the same year by O'Brien Press. Entitled Marco Moves In, it was shortlisted for an Irish Book Award in the Junior Children's category. The second in the series Marco Master of Disguise is due on the shelves in April 2012, and the third Marco Moonwalker is due out in September. He has had two travel books on Dublin published, the most recent of which was Strollers Guide To Dublin (Gill&Macmillan, 1999).
---
2nd July
Cliona O'Connell
You can listen to Cliona's reading here.

Cliona O'Connell grew up in County Wicklow and currently lives in Dublin. Her first collection of poetry White Space was published by Bradshaw Books in Feb 2012, following her winning entry in the 2011 Cork Literary Review Manuscript Competition. She was selected for the 2010 Poetry Ireland Introductions Series and shortlisted for the 2009 Hennessey Literary Awards for Emerging Poetry. She has previously been published in Poetry Ireland Review, Southword, The Stinging Fly, The Sunday Tribune and the Fish Anthology. She is currently studying for an MA in Poetry Studies at Mater Dei Institute, Dublin City University.
… a very Muldoonish use and play with language… These poems use language well and are witty with some striking images. – Jean O'Brien
Cliona O'Connell is a new voice in poetry, a voice both subtle and familiar… she arrests the passing world with an unerring emotional attentiveness. Here is modern, relaxed versecraft, laden with feelings as deep as 'Fado' and wit as sharp as 'Damselfly'. – Thomas McCarthy
---
9th July
Mark Conway
You can listen to Mark's reading here.

Mark Conway's books of poetry are Dreaming Man, Face Down (Dream Horse Press), which won the 2009 American Poetry Journal Book Prize and Any Holy City (Silverfish Review Press), short-listed for the 2007 PEN/Joyce Osterweil Award for Poetry. Individual poems have appeared in such places as The Paris Review, Slate, Ploughshares, The Kenyon Review On-line, Agni, Harvard Review, PBS Newshour and Bomb. He is currently working on a manuscript called Fuse with poems forthcoming in the American Poetry Review, the Academy of American Poets Poem-a-Day series and The Iowa Review.
Conway is the executive director of the Literary Arts Institute of the College of Saint Benedict and Saint John's University in Minnesota where he also teaches creative writing. He has also taught at the Fine Arts Work Center in Provincetown, MA and Writers at Work in Salt Lake City. His poems have been anthologized in several books of contemporary poetry and his critical work included in the Oxford Encyclopedia of American Literature. He has received fellowships at the MacDowell Colony, the Corporation of Yaddo, and the Bread Loaf Writers' Conference.
---
16th July
Anatoly Kudryavitsky
You can listen to Anatoly's reading here.

Anatoly (Anthony) Kudryavitsky was born in 1954 in Moscow of a Polish father and half-Irish mother, who hailed from South Mayo. Educated at Moscow Medical University, he later studied Irish history and cultural heritage. He is living in South Co. Dublin and writing in both English and Russian.
In 2005, Goldsmith Press published his first collection entitled Shadow of Time. His next two collections, books of his English haiku titled Morning at Mount Ring and Capering Moons were published by Doghouse Books in 2007 and 2011 respectively. He also edited an anthology of contemporary Russian poetry in English translation entitled A Night in the Nabokov Hotel (Dedalus Press, 2006). His debut novel, The Case-Book of Inspector Mylls, was published by Zakharov Books (Moscow) in 2008.
Among his other publications are seven collections of his Russian poems, two novellas and a number of short stories. In 2006 he founded the Irish Haiku Society, of which he is chairman. He is also editor of Shamrock Haiku Journal. Among his awards are the Capoliveri Premio Internazionale di Poesia (Italy, 2007) and the Suruga Baika Prize of Excellence (Japan, 2008). His poems appeared in magazines nationally and internationally, and have been translated into twelve languages.
Anthony will also be holding a workshop entitled Haiku Poetry with Anatoly Kudryavitsky from 7.00pm to 8.30pm at Ó Bhéal. For more details click here.
---
23rd July
Ó Bhéal in association with Foras na Gaeilge presents

Áine Ní Ghlinn

You can listen to Áine's reading here.

Children's writer, poet, lecturer and workshop coordinator, Tipperary-born Áine Ní Ghlinn has had eighteen children's books published by various publishers as well as four collections of poetry for adults, including: An Chéim Bhriste (Coiscéim, 1984); Gardín Pharthais (Coiscéim, 1988) and Deora Nár Caoineadh/Unshed Tears (The Dedalus Press/ Coiscéim, 1996). She lives in Dublin.
Ní Ghlinn spent several years working as a journalist & Clár Reachtaire with Raidió na Gaeltachta & RTE and a number of years lecturing in DCU. She has written occasional scripts for TG4's Ros na Rún and now works on creative writing projects in gaelscoileanna in the Dublin area (under a scheme funded by Foras na Gaeilge) as well as lecturing part-time in CICE, Rathmines.
She has received several bursaries from Clár na Leabhar Gaeilge/Foras na Gaeilge and the Arts Council and has won many awards for both poetry and children's books. The most recent include Oireachtas awards for the novels Fuadach, Tromluí and Úbalonga. Her collection of poetry for young readers Brionglóidí was shortlisted for the 2009 Bisto awards and was included on the 2010 iBbY honour list. Her most recent publications are Bronntanais agus Féiríní Eile (a collection of poetry for children, published by Cló Mhaigh Eo, 2010) and Thar an Trasnán (O'Brien Press, 2011).
---
30th July
Ó Bhéal in association with Poetry Ireland presents

Harry Clifton

You can listen to Harry's reading here.

Harry Clifton was born in Dublin in 1952, but has travelled widely in Africa and Asia, as well as more recently in Europe. He won the Patrick Kavanagh award in 1981 and has been the recipient of fellowships in Germany, France, the United States and Australia.
He has published nine collections of poems, including his Selected Poems. They are: The Walls of Carthage (The Gallery Press, 1977); Office of the Salt Merchant (The Gallery Press, 1979); Comparative Lives (The Gallery Press, 1982); The Liberal Cage (The Gallery Press, 1988); The Desert Route – Selected Poems 1973-1988 (The Gallery Press and Bloodaxe Books 1992), which was a London Poetry Book Society Recommendation; Night Train through the Brenner (The Gallery Press, 1999); God in France (Dublin, Metre, 2003); Secular Eden: Paris Notebooks, 1994-2004 (Wake Forest University Press, 2007) and his latest collection from Bloodaxe Books (in Britain) and Wake Forest University Press (in the USA), The Winter Sleep of Captain Lemass (2012).
On the Spine of Italy, his prose study of an Abruzzese mountain community, was published by Macmillan in 1999. A collection of his short fiction Berkeley's Telephone appeared from Lilliput Press in 2000. His collection Secular Eden: Paris Notebooks 1994-2004 won the Irish Times Poetry Now award. He has taught in Bremen and Bordeaux universities, as well as Trinity College and University College Dublin. He returned to Ireland in 2004 and is currently Ireland Professor of Poetry.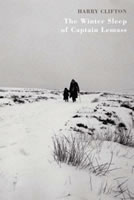 At once a reckoning with a lost political legacy, a meditation on love, marriage and middle age, and a reaching back into foreign ancestry, The Winter Sleep of Captain Lemass is Harry Clifton's fullest and most ambitious attempt so far to bring together, in a single book, the discordant elements of an evolving Ireland, as it discovers itself, through public and private destinies, in the 21st century.
There is so much history in Harry Clifton's poems, so much geography, landscape, cityscape, repeopled precincts of the imagination, so much human drama and comedy; so many people, mythic, unlikely and hauntingly real. And all of it is limned with a masterful formal dexterity and an apparently limitless cultural curiosity – C.K. Williams
His dazzlingly accomplished book is arguably the first great work of Irish poetic post-modernism… His is a universe of aftermaths, hauntings and returns, in which even God…dreams of becoming flesh again… an Irish voice that is utterly contemporary in its restless movement through time and space
– Fintan O'Toole, Irish Times on Secular Eden
---