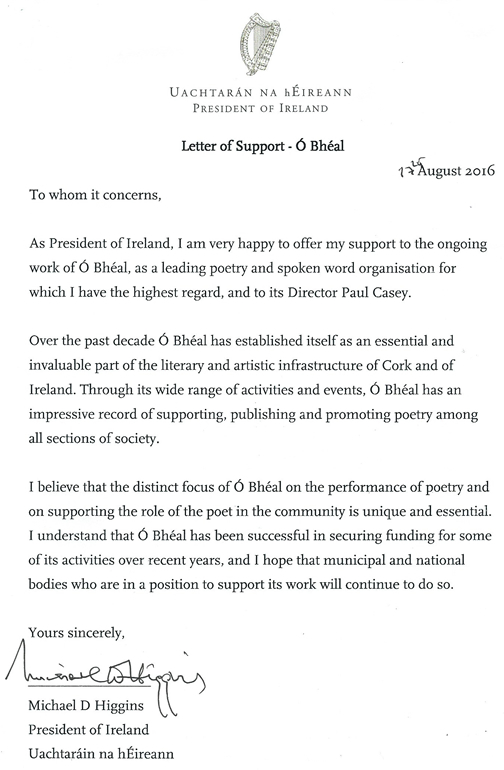 Video by Mary Nagle. For the complete article from Mary, please click and follow this link.
Some years ago before my first collection was published I drove flooded roads south across the midlands to read at the renowned Ó Bhéal. It was well worth the effort for the warmth of the welcome and for the attentive audience. It was a lively gathering of old and new friends, both writers and readers where in the intimacy of a packed pub poetry sparked laughter, tears, quiet and applause.

Last November 2020 in the midst of lockdown I read online at the Ó Bhéal Winter Warmer Festival. It was a wonderful opportunity to read with Mary Jean Chan, a Hong Kong poet based in the UK and Ranjit Hoskote, an Indian poet. Ó Bhéal stands out for its commitment to bringing the best of the world's poets to read with Irish poets. In so doing it widens the audience for Irish poets. I'm grateful for the opportunity it gave me to reach a wider audience and to get to know two poets whose work I admire. The reading led to an invitation to contribute a poem to a forthcoming international anthology.

Ó Bhéal makes a difference – the relationships ignited, the sense of community formed and developed, the discovery of areas of common interest. All of this nurtures creativity and generates opportunities as well as of course increasing the numbers of poetry readers and allowing them to hear favourite and new poets.

– Jane Clarke
Where would poetry in Cork be without Ó Bhéal in the dusky legendary Long Valley, at the crowded secret heart of the city? Sudden fireworks of travelling poets, an avid audience, miraculously unspilled drinks as performers climb over the listeners' knees. It's the essential place.

– Eilean Ni Chuilleanáin
Ó Bhéal has been a wonderful, constant, reliable event in Cork for so long – inclusive, friendly and featuring the best of contemporary poetry whilst also providing an opportunity for new talent to have a platform. People probably don't realise all the hard work, commitment, solid good sense, care, sensitivity and egalitarianism involved in running this kind of event. I do, only because I've run Fiction at the Friary with Danielle McLaughlin for three years. Paul Casey has run Ó Bhéal for THIRTEEN YEARS!!!! It takes so much more time than people realise. I just want to say Kudos to Paul Casey and in my opinion he deserves support, appreciation and gratitude. It's very easy to set things up but not so easy to be consistent long term.

– Madeleine D'Arcy Lane
I am a Scottish poet living in Australia and was lucky enough to be invited to read at the esteemed Ó Bhéal reading series in September 2019––a feather in any poet's cap. This internationally renowned, unique and well attended event is expertly, considerately and kindly run by Paul Casey and includes a brilliant film poetry section, a feature poet, an inclusive, live writing challenge for all attendees and an open mic with some of the best poetry I've heard at any poetry event the world over. Another incredible aspect is that Ó Bhéal gives payment and overnight accommodation to its feature poets––so rare in the poetry world and speaks volumes as to the appreciation, respect and importance of poetry to Ó Bhéal and the dedicated poetry community in Cork. I'm so grateful to Paul Casey for having had this opportunity and for championing not just local, but poets from all over the world.

– Ali Whitelock
Over the years, Ó Bhéal has become such a treasured venue for poets everywhere – both established and emerging – to perform their work in front of admiring and attentive and critical audiences of poetry lovers who themselves contribute so entertainingly to the creative process. I had the privilege of reading from my sixth collection at the Long Valley and was made so very welcome. Having performed readings in many arts venues and festivals in Ireland, Britain and the United States, I have to say that Ó Bhéal is tops with me! I am proud to have been there. Certainly I would rate Ó Bhéal as the best venue in the island of Ireland – largely due to the efforts of Paul and the delightful sense of belonging that all those attending seem to share.

– Joe Neal
Thank you to Paul Casey and all at Ó Bhéal for inviting me to be a featured poet this year (2019). This was my second time reading at Ó Bhéal and it was, yet again, a fantastic experience. The audience were so open and engaging that they made it one of the best reading experiences I have ever had. And to get the opportunity to read in my home county just can't be measured. Thank you, to all concerned.

– Karen O'Connor
It was a huge pleasure to return to Ó Bhéal in 2019. It remains an immaculately directed, welcoming and generously-spirited reading series.

– Christodoulos Makris
I had the great privilege to be featured as guest reader at Ó Bhéal in 2019. I consider that to have been the highlight, to date, of my efforts as a poet. It was an exhilarating experience that left me feeling confident and acclaimed in what I was doing. I know it has done the same for so many others and the Poetry world in Ireland should be eternally grateful that this institution exists and gives a forum for so many writers. It is, simply, a legend.

– Kevin Griffin
Ó Bhéal has a reputation for its unique format and dedicated following, and it did not disappoint. Those I met during and after reading was so warm, generous and inventive. The night has such a great buzz about it because people were not just there to listen, but to create. The people Ó Bhéal attracts and what the organisers have built is rare and I was delighted to get to be a part of it.

– Grace Wilentz
I gave a joint reading with Grace Wilentz at Ó Bhéal in November 2019. It was one of the most enjoyable readings I have done and I was very taken with the community atmosphere and support for poetry and the arts. Paul is a great organizer, communication was always prompt and clear. He met us from the train and accompanied us to a lovely B & B. After the performance we spent some time with the group and were driven back to our accommodation. I felt so appreciated and well looked after. During the reading, the audience was super, very engaged and supportive. The atmosphere was stimulating and inspiring. I was impressed with the variety of poetry, music, visual art and general creativity on offer. I would highly recommend this very unique experience. I love the way members of the community that has grown up around Ó Bhéal, participate in the writing, performing and organising of the event. It's a wonderful community spirit. They also help organise festivals and competitions all year round led by Paul. I very much hope Ó Bhéal continues to thrive and grow. Huge thanks to Paul and all the team for a very nourishing experience.

– Siobhán Daffy
I've had the privilege of performing at Ó Bhéal on several occasions over the years. Without question it is my favourite venue to read at. Dynamic, engaged and filled with enthusiastic listeners, many of who are gifted poets themselves, Ó Bhéal is without doubt a jewel in the crown of Irish writing. With Paul Casey at the helm it continues to be a proving ground for poets and writers of al stripes, both fully formed and emerging.

– Oran Ryan
I recently gave a reading at Ó Bhéal (August 2019). I was very impressed by the range that was offered on the night: starting with the screening of poetry films, then a writing challenge for all who were prepared to take part, my own reading, and a lively open mic session. The audience was energised, engaged and stimulated. A platform was created not only for me, the guest poet – and I very much appreciated the rapt attention I received – but for many other voices; all with plenty to say and their own unique way of saying it.

The atmosphere was welcoming, fun, tolerant and focussed – a successful blend. This is just one of the many activities that Ó Bhéal facilitates for the poets and poetry lovers of Cork. There are also festivals, competitions and publications. This represents a great deal of work and dedication to the cause of poetry. I salute Ó Bhéal and Paul Casey and wish the enterprise well in the future.

– Katie Donovan
Ó Bhéal is a fantastic poetry night – it's very well-organized, and has a great inventive and playful feel, with a warm and enthusiastic crowd. And it's so important that it can support Irish and Scottish Gaelic as it does; it's one of the few nights that regularly brings the Scottish and Irish Gaels together.

– Peter Mackay
Participating in the Coventry-Cork exchange was an extraordinary privilege. Myself and Raef, my fellow exchangee, were made to feel very welcome by Stan and the other members of the Ó Bhéal poetry community. Ó Bhéal had spent a great deal of time and effort organising everything for us, from accommodation to a reception with the Deputy Lord Mayor of Cork (a great poet!). We read at two lively spoken word events, the first in Cork, the second, in Clonakilty. I was taken aback by the fantastic standard of poetry and storytelling in both events and very much enjoyed reading my material. The reception to our work was great, and everyone was interested in our inspirations and craft. I am greatly looking forward to welcoming Cork poets Shaunna and Ben to Coventry in November. I hope that the exchange continues in force for many years to come between our twinned cities. Memories of the exchange will last a lifetime for any poet who has the privilege to participate in it.

– Aysar Ghassan
Always a great buzz. A great variety of poetry. Friendly atmosphere. An intimate setting. Excellent audiences.

Is aoibhinn liom seomra Ó Bhéal in airde staighre i dtigh tabhairne An Ghleann Fada (The Long Valley), láthair ar a bhualann file le file, an file óg leis an saoi; áit a chruthaíonn atmaisféar, fáilte agus éisteacht don bhfile chun bheith ag reacaireacht nó ag léamh a cuid filíochta.

– Cathi Weldon / Ceaití Ní Bheildiúin
I first went to Ó Bhéal in January 2018 as a student looking for a community in my new home of Cork City. I hadn't been sitting on a barstool a hot minute when one of the regular Ó Bhéalers came over and started chatting with me; I felt instantly at home. The space was a safe one where I felt I could try new types of poetry, meet new people and share my feelings about being a young person who had recently moved from Waterford to Cork. Over the next year, I went to a handful of Ó Bhéal's events, where Paul and his team were incredibly supportive of the work I was doing and ever-welcoming in their space. I was honoured when Paul contacted me and asked would I perform for the Pride Edition of Ó Bhéal.

From beginning to end, the event was a really enjoyable and well-organised by the team. Cork City is so fortunate to have Ó Bhéal when many places do not have such unique and diverse environments in their towns and cities. It is incredibly important that the city maintains and supports spaces like Ó Bhéal for the sake of continued intergration, learning and community growth. It allows people of all ages to interact and engage with one another, making for a more well-rounded society while simultaneously giving people confidence not only in their art, but in themselves.

– Alana Daly Mulligan
For readers and audiences, Ó Bhéal must be the best poetry venue in the world, combining intimacy, adventure, and passion for poetry with the considered informality of an Irish pub.

– John Fitzgerald
Ó Bhéal is an essential part of the cultural make up of Cork. It is a beacon for anyone looking to find poetry in Cork, not just for local enthusiasts, but I find myself traveling from Dublin a handful of times during the year to listen to their guest readers. I am always overjoyed to hear new voices added to the mix, because the Ó Bhéal team is so generous and supportive to emerging writers, it has helped many to flourish over the years. I've also been grateful to have been invited to read a couple of times and I know I'll have the pleasure of an engaged audience, in a relaxed setting. I have also worked with them in my capacity as a volunteer for First Fortnight, the professionalism and care they have in amplifying the ethos of this important mental health festival show Ó Bhéal to be an important part of the community and not just the artistic landscape. All this is testimony to the work the team have done over the years, long may it continue!

– Stephen James Smith
I participated in the Ó Bhéal series in Cork in February 2019. It was a wonderful and truly memorable experience from start to finish. It was extremely well organised and professionally run. The night itself had a very warm and welcoming atmosphere. It stood out to me that it was a true hub for sharing creative writing in Cork city and I was honored to be a part of this special night.

– Aoife Reilly
Ó Bhéal's reading series offers a fantastic opportunity, not only to perform and share work but also to meet poets and lovers of poetry in a vibrant and friendly atmosphere. Highlight of the poetry year!

– Mary-Jane Holmes
Joan Newmann and I were invited to read at the Hayloft in Long Valley Bar, and for all the unlikelihood of the journey from Belfast to Cork, we did keep it as a beacon in a summer that was fairly fraught. But when we got to Cork, we saw a lot of Half-Moon Lane because of right-turns/left-turns, and by then we knew that the big poetry happening was up a flight of stairs. The organiser, Paul Casey, was most magnanimous, and said that he would get some people to help carry the wheelchair up. When the time came, Joan felt that the view from the window of the Maldron was all she needed of Cork – so I went alone. To find that this event had been happening every week, and that I was the 617th reader, amazed me. We used to run the Summer Palace Readings in Donegal every fortnight, and that was an incredible commitment, around which you had to build the rest of the month.

To know that every Monday night, you had to be at a certain place at a certain time to open a certain door to facilitate people to what we fear is being subdued out of existence, is a remarkable achievement. Other things that happen which are out-of-the-ordinary are a screening of poetry films and a publication of poems inspired by five given words. It was a poetry happening – A POETRY HAPPENING. And less and less of this kind of crucial venture is permitted to happen. Our verbal lives depend on it. Thank you, Paul.

– Kate Newmann
I would like to say a hearty thanks for the opportunity to read at Ó Bhéal recently. I have read at many events across the world but always look forward to reading here. The events are well planned and organised and allow for engagement with poetry/written word across many levels. There is always something innovative which catches the imagination and I feel I take away a lot of stimulation from being part of such a vibrant event. The audience is one of the best I have read to – focused on the reading, listening intently and, afterwards, eager to engage and talk about the poetry.

There is a high standard of work read in the open mic sessions and I am always struck by the inclusivity of an Ó Bhéal session – everyone is welcomed and listened to, everyone is warmly received and engaged with. One might think this normal for such events but in my experience that is not always the case and the organisers of the series are to be congratulated on creating such an atmosphere where poetry is valued and seriously appreciated but all within a context of what I can only describe as great fun and friendliness. I hope to have an opportunity to read there again but if not I will treasure the memory of my participation.

– Dr Patrick Lodge
Ó Bhéal is an essential literary event, renowned for the warm welcome from Paul Casey and his organising committee, and from the audience. What I love especially, and what might be a unique feature of Ó Bhéal, is the total inclusion, that irresistible, earthy sense of community, where the guest reader and audience all participate in the evening of poetry and chat. Every poet who's attended Ó Bhéal knows it is the place where new friendships are forged and old friendships renewed. I hope Ó Bhéal continues, and to provide poets with one of the most magical and rewarding platforms to read their work.

– Eleanor Hooker
I read at Ó Bhéal recently. I received such a warm welcome. Ó Bhéal is a place where poetry is most definitely cherished, a haven for poets and poetry enthusiasts alike, an all-inclusive venue that has put poetry on the map in Cork and internationally, thanks to the vision and hard work of Paul Casey and all at Ó Bhéal.

– Eibhlís Carcione
I have greatly enjoyed reading at Ó Bhéal over the last years as a winner/shortlisted poet in the annual Five Words Competition and this year (2019) I was very grateful for the opportunity to launch my collection The Other Guernica there. On every occasion I have been impressed by the immense enthusiasm and creativity of those attending. It seems to me that many would not have made such headway in their writing if it had not been for the opportunities of reading to others in the warm, supportive and exuberant atmosphere that Ó Bhéal provides. There is a wide range of ages and a vibrant sense of community that is rare in my experience. All the activities, from spoken word to poem films, surely must contribute greatly to the social and cultural life of the city.

In addition the annual Five Words Competition raises the profile of Cork writing nationally and internationally and, as in my case, brings poets from many different backgrounds to enjoy the open-hearted welcome that is offered. I would recommend a visit to Ó Bhéal to anyone who wants to experience a unique poetry community, to hear excellent work and to be inspired themselves.

– Derek Sellen
Myself and Moya Roddy very much enjoyed our joint reading back in Jan 2019, it was a great evening with the five word challenge and a chance to hear local writers. We even ended up getting our portraits done by Eileen Healy. We were also very happy with the B&B accomodation provided.

– Pete Mullineaux
My participation in the Ó Bhéal reading series in Cork, Ireland, was a delightful and unforgettable experience for me. As a reading series, it is a model for creating maximum impact for both the audience and the reader. Throughout my visit, Paul made me feel at home and helped me understand the significance of being in Cork. The accommodations were comfortable and typical of Cork hospitality. The audience at the event was enthusiastic and participative. Everyone there had a hand in writing a poem that night. My work was well-received, and the questions I answered and conversations I had after the reading showed that many in the audience had a strong interest and understanding of poetry, and that they saw the Ó Bhéal poetry series as a way of continually enriching that understanding.

– George Mario Angel Quintero
Ó Bhéal's reading series in Cork is a vital coven of word hoarders and song makers who, every week, gather for guest poets and whip up a spell-binding open mic. I was grateful to share that space, on the upper floor of a bar (and therefore, closer to the skies) in the city where my O'Sullivan ancestors once lived.

– Philip Metres
Ó Bhéal is a critical cultural resource for Cork City, and truly enriches the cultural landscape of Ireland. From my own experience as a regular attendee, Ó Bhéal empowers writers to advance in their craft and emboldens them to submit their work to competitions and for publication. Ó Bhéal brings internationally recognised authors into Cork and the importance of their influence on aspiring writers cannot be underestimated. It was with great honour that I was invited to perform as a guest poet, after witnessing the talent flown in from all four corners of the globe. Ó Bhéal has been the single-greatest catalyst in my growth as a writer, and for that I am deeply grateful.

– Jim Crickard
I had the pleasure of being the featured poet at Ó Bhéal this year (2019) and was delighted with the reception I got from the audience as well as the warm welcome extended to me by Paul Casey and friends. It is a special venue that deserves every support. As well featured poets having a chance to promote their poetry, less well-known writers get a chance to read and test their work in front of a live audience. Ó Bhéal has stood the test of time. May the road go ever on.

– Terry McDonagh
Ba mhaith liom mo buíochas ó chroí a chur in iúl duit as an gcuireadh a thug tú dom mo chuid filíochta a roinnt libh ansin ag Ó Bhéal i gCorcaigh, i mbliana. Bhain mé taitneamh as an gcraic uilig, idir éisteacht agus aithriseoireacht. Gura fada buan an tacaíocht a thugann sibh dúinne, na cumadóirí!

– Áine Durkin
I had the most pleasurable experience taking part in Ó Bhéal's reading series – I found Paul Casey to be a most gracious host with great respect for the work of poetry, the audience and the poet – I think I read for nearly 30 minutes – and Paul has encouraged the audience to expect and absorb that kind of output – I felt the audience were truly appreciative of the work with a deep hunger and appetite for literary expression – the one-to-one meeting with Paul beforehand was really appreciated – a massive welcome in Cork.

– James Finnegan
I was the featured poet at Ó Bhéal in November 2017, just two weeks after I launched my debut poetry collection. The timing could not have been better! I was delighted to find a full house of enthusiastic poetry lovers of all ages. To get the opportunity to do a half hour reading is rare and a little daunting, but in the particular positive atmosphere that Ó Bhéal engenders it was thoroughly enjoyable.

– Brian Kirk
I run my own poetry club; I've read at poetry events around England, but never encountered the sheer range of experience that Ó Bhéal's reading night provides, from poetry film, to writing challenge, to open mic. The way it looks after its guests is an example to arts organisers everywhere. The enthusiasm and knowledgeability of its audience and the way it spans a wide age range is a precious thing, and one to be supported and cared for.

– John Foggin
The mixture of informality, fun and a serious respect for poetry that you experience at Ó Bhéal, whether as participant or audience member is refreshing. The formula works; long may its alchemy continue, ó bhéal go béal agus ó sheachtain go seachtain.

– Paddy Bushe
Thank you for providing a platform like Ó Bhéal for creative expression and community building. The stellar organization and responsive audience add to the experience for the poet/s chosen to share their work. Wishing Ó Bhéal a long and productive role in supporting good writing and encouraging creativity.

– Panchali Mukherji
I feel very lucky to have read at Ó Bhéal earlier this year. It's a gorgeous and fun evening of poetry. Paul and the whole community of Ó Bhéal are so welcoming. It's evident that the night is an invaluable part of the literary landscape of Cork.

– Alice Kinsella
The life blood of Cork's poetry and spoken word scene flows through the beating heart that is Ó Bhéal. Every monday night, it's packed to the rafters with poets and writers. Like minded souls, in sole pursuit, of soul mates, soul searching and solo poets.

– Cormac Lally
I've had the pleasure of reading at Ó Bhéal 3 times now. And each time I was made to feel right at home by the hospitality and professionalism of Ó Bhéal. Every time the venue has been packed. What Paul has built up over the years is a testimony to his love of the spoken word and his dedication to helping other poets.

– Miceál Kearney
I want to say how impressive the arrangements for the Ó Bhéal reading I gave as guest poet. The event itself also turned out very well, with a good turnout. Marvelous really.

– Greg Delanty
To be a guest speaker at Ó Bhéal was a special event for me. Paul Casey and his team have created a unique space for poetry in Cork. The audience participates in a 5 words competition with inventive and witty spontaneous poetry. The guest speaker is honoured by reading for a receptive and knowledgeable group of people. The night finishes with emerging talent being given an opportunity with the Open-Mic to have their poetry heard and to make a connection with listeners. This is a learning experience for everyone in a warm creative atmosphere. We all go home enriched by it.

– Ita O'Donovan
I feel so fortunate to have been invited to be a guest reader at Ó Bhéal this summer (2018) in Cork, while I was on tour from New York with my new book. My favorite part of the night was the sense of community I felt the second I arrived at the event. It was such a special event and I felt this community was a sort of family — it was beautiful. Paul Casey and his team have really created a fantastic institution and I will always look back fondly on that evening as one of my favorite nights in Cork. The audience was so supportive, inviting, and energetic. I was so happy to be a part of the magic of that evening.

– Leah Umansky
I enjoyed my visit to the Ó Bhéal session in Cork this year (2018), when I was honoured to be featured reader. Paul Casey runs this event with courtesy and efficiency; the poetry films at the start of the evening were a delight, the spoken word empowered by the image. Long may these readings continue.

– Seán Lysaght
An energetic, eclectic, open, welcoming reading series — and always great fun. Does a wonderful job of juxtaposing new voices with the voices of veterans. Admirable.

– Paula Meehan
The Ó Bhéal sessions are incredible: enthusiastic warm audience, well organised and publicised, relaxed but sharp, just brilliant. Can't wait to go again!

– Jessamine O Connor
As a Japanese poet writing through English, I was keen to enjoy this experience and it did not let me down. The audience are an eclectic bunch who are as much participants as they are auditors. I was amazed by the range of nationalities and their ages, all coming together in a cosy room. The MC was wonderfully spontaneous and droll and like everyone else there, he too was a contributor. All told, something really worthwhile is happening here. Ó Bhéal gives poets and wordsmiths valuable and intimate reading opportunities. I thoroughly enjoyed being there.

– Eriko Tsugawa-Madden
I was one of three visiting poets from Santa Barbara, California, on a summer evening, and we were warmly and graciously incorporated into the goings-on of the Ó Bhéal Group. What we noticed was how enthusiastically the attendees took part in both a writing challenge and an open-microphone session. And when it was our turn to read, those gathered were a most attentive audience. The entire evening was expertly planned. The MC was spirited, witty, and self-effacing. And everyone else was as friendly as could be. I would come back not to present but just to belong to such a group.

– Paul Willis
My experience giving a poetry reading at Ó Bhéal in October of 2017 was extraordinary. The crowd supported my efforts by showing genuine interest and participation with smiles, nods, claps, and comments on the reading. I was amazed when, the day after the reading, I was visiting the Blarney Stone and heard a young woman call out in surprise, "Tamara!" I turned, and she and her friend explained they'd been at the poetry reading and enjoyed it so much. What a generous gift to me, those words. I've had the honor of giving two Ó Bhéal readings, the first in April of 2016, and I've never met a more generous group of people. Additionally, I enjoyed hearing other readers — all talented, all supported equally by the audience.

Overall, my visits to Ó Bhéal have been among the most uplifting collective experiences I've had. I hope to return on every possible occasion. I am even putting together a collection of poetry called In a Distant Green Country: Poems for Ó Bhéal, drawn primarily from the poems I've written for the Ó Bhéal Five Word International Poetry Contest. The space itself, the Loft, is cozy and memorable. I've enjoyed watching the poetry films there as well. I hope the venue continues to receive funding and all additional kinds of support in the coming years that are necessary for keeping the program alive and outstanding.

– Tamara Miles
When I present my work in public, as a poet who writes for page rather than performance, I often feel as though I'm leaping from a great height without a safety net. Presenting poems from my debut collection at Ó Bhéal on May 28th (2018) provided as safe a landing place as I could have wished for. It was a hot night and the Long Valley was packed to the rafters with poets, poetry lovers and the odd musician. Despite the heat, and with the Cork summer in full swing outside on Winthrop Street, there wasn't a soul who wasn't completely focussed on the poetry. The environment that night was such that I tried out a new as-yet-unpublished poem from what will hopefully become my second collection, a risk that I would never have taken elsewhere.

What Paul Casey and his cohort have achieved in running Ó Bhéal is to establish one of the most welcoming literary environments I've had the good fortune to encounter. There's no hierarchy or rivalry, no snide side-eyed half-listening, just warm reception, close attention and good craic. I left Cork the next morning after a lovely stroll down Patrick's Hill, with renewed vigour for my artform and the utmost respect for what Paul Casey and Co have achieved. As an alumnus of UCC and a believer in the importance of finding one's tribe, I believe that Ó Bhéal's situation in Cork is a massive boost to the Ireland's literary landscape and it would be money well spent to lend funding to such an essential community

– Liz Quirke
I was delighted and nervous at the same time to get a reading invitation email from Ó Bhéal. The night for the reading all my nerves disappeared as I sat watching the films before the readings in that relaxing atmosphere and wonderful crowd. After the films there was the 5 word challenge which gets everyone else knowing each other and having a good laugh together before the Guest poet reading. I don't know if it was by mere coincidence or pure genius by Paul Casey that I was paired with Eva Bourke a poet I know and have some writing history with which made it a double delight. I thoroughly enjoyed the Ó Bhéal night,

– Nyaradzo Masunda
A warm welcoming atmosphere combining both extempore creativity with more experienced poets, while both receive the same care and attentiveness from all involved. Also an enjoyable, unique event for anyone dropping in.

– Stiofán Ó Cadhla
In an essay published in his Selected Prose Derek Mahon writes about "the poetry nonsense, the vague, instinctual resistance to a world engineered for the maximum 'efficiency', competitive 'growth', 'global excellence' and 'world-class' foolishness of all kinds. This is exactly why poetry is so important, it provides an alternative to the corporate world most of us inhabit now and Ó Bhéal is the perfect refuge for those who escape through poems. There is a sense of resistance in the upstairs room, an unusual thrill in the power of words. As a poet it is reassuring to know there is both an audience and a collection of fellow writers ready to read. Ó Bhéal has become an essential component in Ireland's literary landscape, it is a slice of sanity in an increasingly insane world.

– Matthew Geden
Thank you very much for your kindness and attention to detail during my visit to Ó Bhéal on Monday last. Once again I was delighted with the engagement and response of the audience. It is always a pleasure to read at Ó Bhéal. It was inspiring to see new, young faces amongst those of the old warriors. I look forward to returning to hear them read in the future. With best wishes for continued success.

– Louis Mulcahy
I had the honour and privilege of guest reading at Ó Bhéal in July 2018. The event and the organiser's reputation preceded it. But my expectations were hopelessly inadequate to encompass all that Paul Casey has created in this remarkable series. It is not an event. It is not a community project. It is not a literary showcase. It is not a powerhouse to push writers to be the absolute best they can be. It is an extraordinary coming together of all of these elements and so much more. The well-coordinated publicity and media campaign leading up to my reading are testament to the energy and professionalism that Paul invests in every aspect of Ó Bhéal. These efforts reach out internationally to showcase the might of the Irish arts industry. Travelling from Australia, I was welcomed with both wonderful hospitality and a warmly receptive audience.

It was heart-warming to read to a packed house and truly unique to see so many happily engaged in the writing challenge on the night – the level of the writing produced on the spot in this environment was breathtaking. My books sold out at the event – necessitating a third print run, for which my Irish publisher and I are very grateful! Along with my fellow feature poet from the USA, I know that I take back to Australia impressions of Cork, Ireland and the literary scene there which will continue to flourish and sprout new opportunities for international collaboration. The results are already showing – as Poetry Editor of the Swinburne University (Melbourne) literary journals, I will be publishing poems by several poets met on the night at Ó Bhéal. My deepest gratitude to Paul and his brilliant Ó Bhéal.

– Anne Casey
Reading at Ó Bhéal was both thrilling and enlightening. Having done numerous gigs for very little or no money, travelling for miles to get to a venue and no way of sheltering myself once there, I found Ó Bhéal, under the very capable hands of its host Paul Casey, to be a breath of fresh air.

I was paid, given a place to stay for the night, was situated in the heart of the beautiful Cork City, and was introduced to a host of fascinating new people while performing. The night itself was welcoming, engaging and professionally-run. As a page poet who enjoys reading his work in a public forum as opposed to a spoken-word artist, I found myself received warmly and learned some very necessary lessons in public speaking.

In Ireland, I've found, it's very easy to take for granted the myriad nights set up for the express purpose of nurturing creativity and allowing people in the arts, especially at the grassroots level, to harness their skills as performers and meet like-minded individuals whom they may not have met in other circumstances. But these nights are very important towards keeping local artistry alive – and in my view, Ó Bhéal ranks as one of their best.

– Daniel Wade
I read with Jane Commane at Ó Bhéal's as part of the Coventry/Cork exchange of poets in August of this year. I really had no idea what to expect, but knew of its history and the stellar cast of poets that had come before me. It was one of the most inclusive and enjoyable poetry readings I have ever been to. The poetry films at the beginning were really moving and well made. Then the five-word challenge was a great ice breaker, especially as a featured reader, as you felt you we were part the audience. The night was beautifully hosted by Rosie, and we were looked after fantastically by Paul for the three days we were in Cork. It was a very special night and a very special trip.

– Peter Raynard
Ó Bhéal gu beul. The opportunity to share words, thoughts and friendships through our sister tongues, in a land where our shared histories flourish among the stones and grasses, is always a special experience. And Cork speaks with a radiant warmth that draws the visitor in.

– Aonghas MacNeacail
The Ó Bhéal series of readings is a marvel – a marvel because of its longevity and durability and eclectic and inclusive programming. It has its own special and welcoming atmosphere and has earned its place as a desired destination for so many pilgrim poets, becoming a home place for them and their work and should be cherished as such in Cork and beyond. Ó Bhéal's originator, Paul Casey deserves every plaudit for his indefatigable role as the gate-keeper keeping watch on this well-cultivated poetical space.

– Gerard Smyth
Ó Bhéal is a fabulous event to read at. Full houses, warm audiences and even better really good poets who show up to listen and perform their own work. Great to see such a popular and high quality literature event thriving and top congratulations to Paul and all involved who keep the whole show on the road.

– Sarah Clancy
I already knew and admired Paul Casey as a poet and film maker before my invitation to Ó Bhéal but I welcomed the opportunity to talk with him in detail about how he had managed to make this reading series so successful that it attracted many of the best poets in these islands. The answer was hard work as well as inspiration of course, the fruits of which I was to witness at my event where a large and loyal crowd were involved in a variety of ways beyond merely providing an audience for visitors: the included writing challenges and competitions with feedback, giving people the opportunity to stretch themselves as writers as well as enjoying the wide range of poets Paul organises.

Cork is a city of terrific poets, but Paul has made Ó Bhéal a community institution that challenges writers to raise their game even higher. I took notes with the intention of stealing his ideas when I got home, and did so. I doubt anybody learned as much as I did from my visit but I was very glad to have made it, a truly unique experience of an institution that honours poetry and the great city of Cork. It deserves every support.

– Ian Duhig
This is one of the true poetry loving and poetry appreciation programmes in Ireland. To have kept it going so long is a testament to very hard work, dedication and genuine understanding of poetry readers and writers. I had a great night, and it was a pleasure to see the fun and gusto of the instant composing, reminiscent of the 'Agallamh Beirte' or the old duelling poets of tradition. We could do with more of this.

Everything that mattered was taken care of: I was met, taken to my very central BnB, given coffee, then time to myself, told where to be and when, and after the reading I was paid the agreed sum. The evening was very well supported, the people who came were knowledgeable but two things stood out: the audience varied in age from retired to very young, and Paul Casey encourages others to take turns presenting and introducing the guest. I lectured on an M.A. in Arts Admin for over a decade at NUIGalway, and I would give that rare A to Ó Bhéal for their organisation.

Please give them more funding, they need and deserve it from the Arts Council and Poetry Ireland, and it will reflect well on both organisations. I have seen large festivals , generously funded and staffed, do far less, and less well, with much more money. These people are serious. They are building a base every month and not just saving it all for an annual festival. This is the sort of healthy context for poetry in which any festival would flourish because of the consistency and quality of the work being done.

– Mary O'Malley
Ó Bhéal is a fantastic poetry series. Its range of poets is exciting, heartening and on point. It is well-organised, knowledgeable and professional in its approach and programming.

– Elaine Cosgrove
Ó Bhéal has endured not only due to the high profile guests and emerging writers it attracts, but because it is a stopping place where writers and thinkers may feel safe, supported and buoyed. It has created local and international connections in the literary and arts worlds; friendships and collaborations and much more. The Winter Warmer Festival is a much welcome addition to Cork and I am deeply grateful to have been a guest reader in the Ó Bhéal reading series.

– Sarah Byrne
I arrived at the Ó Bhéal Reading on a hot summer's evening with a busker playing a saxophone in the street below, to find a thriving community of poets already taking their seats and watching the poetry films on a large screen. Grace Wells and I were given a warm welcome by Paul Casey, the co-creator and director, and shown to carefully chosen reserved seats for the guest poets- which meant that we were able to have our own space before the reading to prepare inwardly and outwardly.

Then came the five-word challenge and I was surprised and delighted to see how enthusiastic the poets, of every level, were, and even with that short exercise, I came up with one good line which I will use in future. There was a great turnout for this event and it was a pleasure to read to such an enthusiastic and clued-in audience because they listened so well, and that allowed me to go deeply into the poems and the reading and connect with the people there.

Ó Bhéal has this great mix of social connection, with education as the guest poets are sharing their work and in this convivial atmosphere, it is easy to listen and to learn. I made a lot of new connections as well as having more time to talk to the poets that I do know but often only see in passing. We poets need a home and community, especially in the South East as it is not always easy to get to events in Dublin, time-wise and also financially. Paul Casey facilitates, directs and designs this weekly event with a light, and careful touch. We were able to talk to the other poets afterwards socially and also the audience- so the feedback was invaluable. These Ó Bhéal readings are famous, I have been hearing about them for years, I will certainly be going to more, and I am particularly interested in the way Paul is combining spoken word with film and connecting with an international network of spoken word/poetry and film artists, cutting edge, contemporary work at this time.

– Lani O'Hanlon
I have attended Ó Bhéal regularly for 4 years and had the honor and delight of being invited to read in June 2017. It is a highly organised and much loved Monday evening event and is an asset to Cork City on many levels, especially educational, cultural and financial. It is thanks to the dedication and efficiency of director Paul Casey and is a well respected essential cornerstone in the literary community in Ireland, unmatched by any other poetry event I have attended and attracts worldwide interest and participation. An excellently managed website too!

Guest poets receive generous hospitality and there is a welcoming relaxed atmosphere of mutual respect, encouragement and camaraderie of all ages, nationalities and level of poetic experience. Where else can one hear and meet poets regularly of high calibre such as Paul Muldoon, Paula Meehan? Ó Bhéal also incorporates a varied programme which includes different genres to suit all preferences; Five Word Challenge, Spoken Word poetry, Jazz poetry, poetry film, Irish language speaking poets etc. Long may it continue with the necessary resources required.

– Linda Ibbotson
It's always a pleasure to take part in the Ó Bhéal reading series.

The event itself must be one of the most exciting and varied in the country, involving as it does audience participation and the screening of film-poems.

– Celia de Fréine
As a poet and translator in Ireland I have known for many years of the work of Ó Bhéal under the stewardship of Paul Casey and his team. Ó Bhéal, and now The Winter Warmer Festival, is such an essential part of the literary landscape on the island and abroad. Paul's directorship of the reading series manages to achieve the almost impossible: he herds poets from the unknown names to Paul Muldoon into Cork city; poets reading in Irish, English, German, Galician and many more languages that creates not only an expanded and welcoming network for Irish poets abroad but also brings our own poets to the ears and hearts of the Irish public.

Poetry is not only to be read, alone, at home, but is to be heard and shared in public in reading series like Ó Bhéal who attract the best poets on the island to Cork with their imaginative programming and, just as importantly, with their consistent, week after week, absolute professionalism. Having been invited to read at Ó Bhéal last year, I can only add to the unanimous voice of Irish poets of the standard of welcome, accommodation, treatment, and public that is the Ó Bhéal reading series. Any city across Europe would be proud to have an Ó Bhéal reading series as one of its attractions.

It is an honour to consider myself one of the very many poets who have benefited from Paul's welcome and from the Ó Bhéal welcome. Without it, Irish literary life would be unimaginably dour.

– Keith Payne
Going to Cork to read at O'Bheal was a great experience. Paul was a very gracious host and the event itself was well attended and really interesting. O'Bheal is a fantastic platform for new and established poets and it was great to be a part of it.

– Rachel Coventry
Ó Bhéal is the most important regular poetry event in Ireland. It is a welcoming space for its guest poets and a consistent platform for the appreciation of new poetry.

– Ben Simmons
Dear Paul, and all at Ó Bhéal, I hope you will continue in the great work you are doing on the poetry scene in Cork. I really appreciated your invitation to read, to be listed among all the well established poets, and to have the podcast online. It is not everywhere I have the opportunity to show images with the poems, so I was delighted with that. I loved the fact there there was such a range of ages at the gig, young and old, and such a variety of styles of work at the open mike. I got great feedback on the work, the audience were very attentive. Apart from the reading itself I felt really cared for. The bed and breakfast people were so welcoming. the after session great crack, and the escort back to the B&B above and beyond the call of duty.

– Christine Broe
I've been fortunate to read in a number of venues in several parts of the world, but Ó Bhéal stands out in memory as one of the most inspiring, engaging, and welcoming poetry communities I've been able to be part of, for a (too-brief) spell. What an unforgettable introduction to Cork Ó Bhéal gave me, a first-time visitor, as well. Huge thanks & kudos to Paul Casey and all who come together in the upstairs pub at the end of the alley, to celebrate and value poetry and poets each Monday!

– Shara McCallum
I had the pleasure of being invited to be the guest reader at the Ó Bhéal reading series on the 14th of August, 2017. I was struck by the warm welcome I received and the genuine interest shown by the large audience in the proceedings from start to finish, including the work that I presented on the night. There is a real community and social feel to the event and everyone has the opportunity to participate actively in both the opening 'five words' writing exercise and in the lively and extensive 'open mic' following the guest reading. The organisers are very attentive to the good running of the night as well as to the needs, including the arrangement of accommodation, of visiting guest readers.

I have performed at numerous events all over the country (and indeed further afield) and I would rate the Ó Bhéal event as among the best from all the perspectives mentioned above. I can also vouch that my experience was not just a once-off as I had previously attended Ó Bhéal a few years ago and had formed a similar impression of it then. If anything, it seems to be going from strength to strength and I would certainly recommend it to anyone interested in poetry and live performance.

– Phil Lynch
I recently read at Ó Bhéal in Cork and I must say it was a wonderful experience. The venue was lovely with a great atmosphere. The organisers couldn't do enough to put the readers at their ease. I would definitely go back, if invited!

– Deirdre Grimes
What a great night we had! Ó Bhéal stands out as one of those events Helen (Ivory) and I would be very happy to read again for. There's a real buzz in the room; regulars are pleased to see each other and welcoming to guests. We had a clear sense that there's group of writers, growing together under the wing of Ó Bhéal. We're very honoured to be included on the list of readers there.

– Martin Figura (& Helen Ivory)
I've been to a lot of poetry nights. What singles out Ó Bhéal is that in addition to being a performance space, it also manages to be a creative space and a community. The famous five word challenge encourages people to have fun writing and is a great way for shy performers to cut their teeth. So many great conversations and connections happen at Ó Bhéal and afterwards in the bar, which made me feel like part of a big family. I was invited to perform there as part of the Coventry Cork Poetry exchange – and although I was only there for one night I am still in touch, months later, with some of the creative people I met – poets and artists. We are welcoming two Ó Bhéal regulars to Coventry in the Autumn and plan to steal the five word challenge for that night – so they feel at home and to try to recreate the magic we enjoyed in Cork.

– Andrea Mbarushimana
The Ó Bhéal reading series is a vital support for poets here in Ireland, and to visiting poets from abroad. Paul Casey and the organisers do tireless work to ensure that poets at all levels, from beginners to more established poets, from performance poetry to page poetry, receive a great welcome. A hallmark of the event is the high calibre line up of readers, and the generous room for all comers provided by the open-mic segment of the readings. I wholeheartedly endorse Ó Bhéal as a primary locus of poetry excellence in Ireland, which is all thanks to the dedication of Paul and the committee. I was fortunate enough to be asked to read at the event in 2017, and I can report I was given a great welcome by a very appreciative audience that has clearly been nurtured over many years by the ongoing efforts of Paul & co. Without Ó Bhéal the landscape of Irish poetry would be greatly diminished and very much the poorer.

– John Murphy
Ó Bhéal is a wonderful resource for poetry and poets. I was honoured to read there myself in November 2016, following in the footsteps of Paul Muldoon, Mary O'Donnell, Ian Duhig et al. The stipend helped pay my train fare and I was put up overnight, a necessity for poorly paid poets. The Director Paul Casey and all the audience could not have been more welcoming or attentive, they even bought some books. I couldn't recommend them more.

– Jean O'Brien
I was very much surprised and then honoured to be asked in 2016 by Paul Casey if I would read at Ó Bhéal, a movement and event that I had watched from afar and admired. My experience then, in early 2017, of taking part in this long running poetry event in Cork was fantastic, it will always stand out as a milestone to me in my writing career. The venue and those involved in organising the weekly event have to be praised for their commitment and for their absolute friendliness and welcome to writers from near and far. I don't get to opportunity too often to read outside of my home county. Ó Bhéal was well worth the journey, the acknowledgement, and the memories.

– Michael J. Whelan
I think Ó Bhéal is a unique experience for both writer and audience. First of all, I was genuinely moved by the quality of the listening and the engagement afterwards at my reading, a sense of getting genuine feedback from interested people, most of who were under thirty. In terms of the audience the invitation to participate in the five word challenge was great, as it also turns the audience into an active rather than a passive one and helps them to connect deeply with poetry, which is great! I also want to acknowledge your kindness to me and my husband taking us out afterwards and shooting the breeze with us past the midnight hour.

– Mary Madec
I was delighted to read at Ó Bhéal earlier this year (2017). It is not easy to create conditions that pack a poetry venue week-in week-out, that foster enthusiasm to hear work from both visiting readers and each other, but Ó Bhéal continues to do so. They also manage to make it look easy. I appreciated the professionalism of the organisers, the aplomb of the MC and the welcome and warmth extended by all involved. May Ó Bhéal continue to entertain and, we hope, inspire.

– Ann Leahy
The Ó Bhéal reading series is among the best I have encountered. The audience is enthusiastic to the point of buzzing, the house full, the compere fully resourced and able to involve the audience in a brief writing project of their own for the evening. Reactions after my reading were interested, lively and committed to encountering poetry. A lot of us went on to talk poetry after the event for a couple of hours. I feel all this must be down to very hard work on the part of the organiser/s.

– Claire Crowther
A huge Clap to Ó Bhéal in the Long Valley for a well-run energetic poetry event, and in all ways a brilliant evening. I had an enjoyable time. Well done to Ó Bhéal and Best wishes.

– Amy Barry
Reading at Ó Bhéal in February 2017 was one of the highlights of my year. Director Paul Casey is welcoming, courteous and utterly professional; and the audience – many of whom are writers – warm and attentive. The well-established format for the evening is relaxing and enjoyable. Being met at the station by Paul ensured a stress-free start to the evening, and the provision of comfortable accommodation and a fee was much appreciated. This is a model reading series – long may it continue.

– Amanda Bell
Thanks so much for having me at Ó Bhéal. It's enviable but not surprising that Cork has such energy and appetite for poetry, both in receiving it and also creating it. Ó Bhéal is a power-house: essential in the ecology of Irish poetry. It is a source.

– Maria McManus
Obliging, hospitable, engaging, entertaining, stimulating and rewarding. What more can you squeeze out of a Cork Monday!

– Kevin Barrington
I was delighted to be a guest poet with Aonghas MacNeacail, at Ó Bhéal, in Cork City on Monday 7th August, 2017. This is a weekly series of poetry readings, with film poems, and also an open mic section to the evening, along with a wonderfully enjoyable 'instant poetry competition', as an 'ice-breaker', in which all those attending are welcome to compete, incorporating 5 words that have been thrown into the ring by the folk who are there – very lively! The event was very well attended indeed, and it was heartening to see such a wide age-range among the audience – in fact, a predominance of the younger generation, and everyone so enthusiastic about the making and appreciation of poetry. All expertly and discreetly curated by Ó Bhéal director, Paul Casey, who looked after us, as guests poets – our first time in Cork City – so professionally and attentively. A classy gig! Thank you Ó Bhéal!

– Gerda Stevenson
Ó Bhéal is an amazing poetry event

a packed room getting more than the average poetry night

and a crowd that made it feel like a hometown gig

– Mike Garry
Ó Bhéal is a remarkable phenomenon in Irish literary life: a weekly (weekly!) poetry event that manages to be local and international, friendly and eclectic, and which attracts novices and accomplished writers. The format is entertaining, but — much more than that — it fosters high standards and stimulates innovation as well as simple enthusiasm. Its reputation stands high, and it deserves support.

– John Baylis Post
Ó Bhéal is one of the warmest, friendliest and quirkiest poetry events in Ireland. From the showing of poetry films before the action kicks off with a 5-word poetry contest, the night is filled with surprises and fun. The array of featured poets that appear would not only rival any poetry event in Ireland, but internationally. All of this happens in a casual atmosphere. If one finds themselves in Cork City on a Monday night, this is easily the best thing going on!

– Simon Lewis
I took part in the Ó Bhéal readings as a guest reader on the 15th May 2017. I found the whole experience to be exhilarating and exciting. It is a honour to be chosen to read for half an hour at the start of a reading session. I found the event to be very welcoming and open. The audience was fantastic, the venue was cosy and the organisation was excellent. It was nice to be put up in accommodation and provided with some funding on the day. I would hope to go back again. Long may there be more Ó Bhéal events. If in the future Ó Bhéal wishes to expand I would sincerely hope that the Arts Council would in its wisdom provide enough funding to meet the needs of Ó Bhéal.

– Diarmuid Fitzgerald
Of all the poetry events I've attended in Ireland, Ó Bhéal is probably the best. It's interactive approach and inclusive vibe lead to a fantastic experience. It steers well clear of the boredom that can creep into more pretentious (or just less creatively planned) events, and everything is handled with utmost professionalism.

– Trevor Conway
I´ve read at Ó Bhéal twice now, in 2011 and in 2016. On both occasions I was struck by the efficiency and warm welcome of the organisers, and by the genuine interest in poetry from the audience who troop into the Long Valley week after week to hear both visiting voices, and each other´s in the open mike section. The five-word challenge works really well too. The fact that each guest poet is recorded provides a really useful resource. Could I fault Ó Bhéal in any way? I´m afraid not!

– Maeve O'Sullivan
I had a wonderful time at Ó Bhéal – was met with warmth, enthusiasm and a wonderfully packed and dynamic audience – one of the biggest to which I'd read in recent times. A wonderful experience from start to finish!

– John MacKenna
I attended a number of sessions at Ó Bhéal, once as guest reader, and enjoyed the events very much. I appreciated the stimulation to creative writing provided by the invitation to include in a quickly composed text the 5 words suggested. I found the open mike a valuable opportunity for writers and speakers of poetry to perform their work before an extremely attentive, sympathetic and respectful audience.

I found the great variety both of speakers from the floor and of guest speakers entertaining and enriching. I have also very much enjoyed the addition of film to the evenings. I feel that this expansion of poetry and literature into the wider domain of cinema, which I have only seen in Ó Bhéal, is a very positive and fruitful development.

– Madelaine Nerson Mac Namara
Ó Bhéal in the Long Valley is a wonderful place to read poetry. The word game at the beginning is a great icebreaker, and the team of rotating M.Cs gives a freshness to the evenings. [Their] generosity and enthusiasm creates an atmosphere that is both welcoming for readers and conducive to listening. It is something special.

– Anne Irwin
Ó Bhéal has long been a cornerstone of the poetry community in Ireland. I have attended both as an audience member and as a reader, and the energy of the event is unique and wonderful. I'm looking forward to many more nights of talent and fun at Ó Bhéal in the future!

– Julie Morrissy
Ó Bhéal provides a unique and energetic platform for poetry in Cork City and Munster. It flattens hierarchy and opens up the world of poetry to all who care to explore it. It is non-exclusive, non-elitist and yet extremely dedicated to bringing excellent poetry and an enthusiastic audience together. I am a College Lecturer in Creative Writing at UCC, and was delighted that over the past three years Paul has opened up a space for our students to read their work, giving many of them the opportunity to read in front of an audience for the first time. Ó Bhéal is a vital resource for all poets and poetry lovers, and it's crucial that it's supported in every way possible.

– Leanne O'Sullivan
I read at Ó Bhéal in 2016 and it was a great experience. I am an American poet who was on sabbatical in Belfast and traveled to Cork City to participate. The community Ó Bhéal has built around the series was unlike any other I have seen. The evening featured a range of poets, from novices to experienced, published writers with national reputations and a wide variety of styles, from formal verse to spoken word.

All participants were supportive of each other's work and the energy in the room was truly important. It's the kind of series every community should have. The year I spent in Belfast I read in many towns, cities, and series across Ireland and the UK, but my experience at Ó Bhéal was one of the best. I carry Cork City and its poets with me, and recommend the series to anyone who might be traveling to Cork. Support for this series is important, not only to Cork writers but to the culture of poetry in Ireland.

– Connie Voisine
Ó Bhéal has afforded me the opportunity to express myself as a poet in Cork, just like dozens of other aspiring poets. It is always inclusive and supportive, giving everybody a chance to participate in its events and promotions. It does not have a narrow idea of what poetry should be thus allowing all kinds of variations blossom from Slam Poetry, to Political Rant, to Poetry Film to contemporary lyric poetry of a very high quality. Before Ó Bhéal the poetry scene in Cork was disparate. It has drawn all the strands together. There are several regular Open Mics in Town as well as lots of writing groups. This is due in no small way to Ó Bhéal.

– Colm Scully
My associations with Ó Bhéal go back many years and have always been fruitful and enjoyable. I have guest read there on a number of occasions and it has been an honour for me. The reception from Paul himself and the way in which I was looked after has not been paralleled in my experience elsewhere in the poetry reading circuit. A genuine spirit of mutual respect between poets exists and the atmosphere in the Long Bar on Monday nights is highly conductive to creativity and to the enhancement of performance.

There is a good follow through of these nights by the challenge of new writing inspired by the Five Words competition. Recordings of readings are made and published later on the website. This encourages poets and can be used to improve on future performances as well as giving badly needed promotion of their poetry. Paul Casey's passion for poetry and his promotion of the work of fellow poets is encapsulated in the title of the now renowned poetry event he runs so effectively in Cork. Long may he continue to do so. He deserves the full support of whatever state grants are available.

– Matt Mooney
Congratulations on bringing Ó Bhéal this far. I'd just like to say for me Ó Bhéal has played a key role in my life as a writer. Going to O Ó Bhéal meant there was not only a great platform for my work to be heard but also a safe space among other wonderful people and poets to take risks and test ideas. I believe Ó Bhéal has been a fertile ground for many poets and many whom I know have persisted to the point of publication, driven on by the encouragement and confidence gained through Ó Bhéal.

There have been numerous collaborations and many projects have emanated from meetings of like minds in Ó Bhéal. I have found myself not only writing poetry but also making shortlisted poetry films and performances with another Ó Bhéal poet Colm Scully. This is something I never envisaged myself doing and has brought me great satisfaction. Probably more importantly though (if there is anything more important than writing) is the way Ó Bhéal has enmeshed itself into the fabric of Cork and the community. I arrived in Cork about eight years ago and I can truly say that Ó Bhéal has played a significant role in my settling into a new life and new community. Ó Bhéal has not only spurred me on to write and continue writing but also has helped me make Cork home.

– Conor McManus
I had the privilege of reading at Ó Bhéal in March 2016. And it was a privilege. Guests are treated with courtesy, hospitality and respect. The audience is engaging, appreciative and attentive. I have performed my work extensively throughout Ireland and can confidently say that the Ó Bhéal poetry series was one of my favourites.

Volunteer led initiatives like Ó Bhéal deserve all the support they can get. There is no other way for literary material, poets, writers and the public to engage with one another without a platform such as this.

– Anne Marie Kennedy
Ó Bhéal offered me the opportunity to bring my poetry to Cork, which in turn extended to a Poetry Tour of Ireland. As a Caribbean poet living the UK, this was a tremendous opportunity for me. I was treated with courtesy and welcomed warmly, and in turn was honoured and inspired by the readers and the work that goes on there. I extend my thanks for my welcome and hope that the Arts Council will continue to support this national and international poetry platform.

– Maggie Harris
Ó Bhéal is the best regular poetry night in Cork [and] does an amazing job bringing new and established poets to the city. It provides a great opportunity for poets to share their work with an appreciative audience. The range of poetries is also fantastic – Ó Bhéal is inclusive, embracing everything from the traditional to the experimental. It's a Cork 'institution' that gets better and better each year.

– Sheila Mannix
Ó Bhéal provides a structured, friendly and inclusive environment for those interested in poetry and the spoken word. Every Monday night people can express themselves and listen to participants sharing their work. Other than Irish and English, I have listened to people read in Icelandic, Portuguese, Zulu, German, Jamaican, Patois and French.

Ó Bhéal attracts people who range in age from their late teens to eighties; the weekly guest poets are diverse, engaging, international and often exceptional.

Ó Bhéal provides a fantastically supportive platform for people to read their own work, whether it is for the first time publically, or for the experienced poet/performer to try out new material.

Ó Bhéal has become essential to the literary life of Cork, it screens weekly poetry films, organises annual poetry events and most importantly provides a meeting place. I would thoroughly endorse supporting Ó Bhéal .

– Michael Ray
I was privileged to get the opportunity to read at Ó Bhéal on Monday 30th May. It's great to find a really attentive audience. Next time I'm in Cork I will be calling in. A few days after my reading I posted this on facebook: 'Great city, great people, had a great time reading there.' I can't say any more.

– Daragh Bradish
I really enjoyed performing at Ó Bhéal. It was a very well organised event, the audience were very attentive and seemed to enjoy my performance. After the show I was paid on the nail and whilst I was there I was very well looked after at Parkview Guest House and Paul was a very generous and gracious host. He met me at the airport when I arrived after making a special journey to be there driving from County Kerry and cutting his trip by a few hours. I only wish we had something like this in England or Wales……

– Huw Parsons
The readings at Ó Bhéal allow listeners to hear established poets and also provide a platform for emerging and lesser known poets to present their work. I fit easily into the latter category and the invitation to read at Ó Bhéal was a highlight for me. The warm and welcoming atmosphere makes for a very enjoyable reading (and listening) experience. The weekly poetry nights at Ó Bhéal are a stunning achievement.

– Paul Ó Colmáin
Bhaineas an-taitneamh as mo chuairt go "Ó Bhéal". I dtosach báire is maith liom an t-ainm!

The name indicates a respect for language. I found that to be very much the case and my Gaelic poems were as well-listened to – and hopefully appreciated to some degree – as the ones in English. I loved the way everyone was involved with the opening challenge to come up with a poem there and then, based on some words needed for inclusion. It set the tone. Inclusion. A great reason to visit Cork and feel included in its creative life.

Gura fada buan sibh go léir in "Ó Bhéal".

– Mike Mac Domhnaill
I wish to affirm in the warmest terms the worthy nature of the Ó Bhéal venture in Cork, or elsewhere if such were in prospect. I had the honour to participate at an Ó Bhéal function during the past twelve months. I found them culturally open and welcoming to both Irish Gaelic poets, such as I claim to represent, and English interest poets and literary aficionados of all kinds. They provide a social context for the community and give them the opportunity to develop their particular artistic gifts in a pleasant and undemanding, yet sufficiently challenging, ambience. I have no reluctance in recommending Ó Bhéal for continued support and increasing development from An Chomhairle Ealaíon.

– Liam Prút
I had a great time reading at Ó Bhéal. Thank you for all your support on the night. You are doing great and necessary work for the cultural life of Cork and the wider community. I only hope you invite me back so that I can experience the warmth and friendly atmosphere again. Best of luck with all your endeavours and keep up the good work.

– Ron Carey
Having attended Ó Bhéal on many occasions and been impressed and excited by the work I saw presented there, I was honoured to be included in the Women in the World programme in August. Audiences attend this weekly event with high expectations and a quality of attention is given to work which is wonderful for a writer performer such as myself. Whether as a listener or a reader I find Ó Bhéal to be a place where rapt attention makes magic happen.

– Fióna Bolger
I am an Australian poet who had the great pleasure of reading at Ó Bhéal in 2015. The opportunity to be a part of this prestigious reading was the high point of my visit to Ireland. I was especially impressed by the range and variety of the poetry there, and the opportunity it offered for inter-generational and international conversations between poets and lovers of poetry. Their contribution to the art is truly significant.

– Carmel Macdonald Grahame Ph.D
Reading at Ó Bhéal was one of the highlights of my poetry career. From the first email inviting me to read, to the final goodbye after a wonderful evening of sharing poetry, I was treated to the highest level of professional courtesy and warm hospitality. For both audience and poet alike, Ó Bhéal is an essential part of the Irish poetry landscape.

– Anne Tannam
I read at the Ó Bhéal Monday Poetry Event at the end of July 2016. Despite being in the middle of summer, the event was well attended, reflecting the level of commitment of its organisers, the consistency of good publicity practices, and the enthusiasm of its regular attendees. I could not have been treated better. As I was flying into Cork, I was met at the airport by Paul Casey and brought to the door of my comfortable and friendly lodgings, just a short walk from the venue. Paul informed me that they would be showing 'poetry videos' for an hour before the event, so I went along to take advantage of this. It was a revelation. Apart from getting to see this exciting new art form, some of the young organisers there were extremely well informed about it and gave me lots of useful information.

The event followed the established pattern of a short 'competition' using 5 words suggested by the audience. It was a great warm-up for the evening, and gave me, as a visitor, exposure to some of Cork's emerging poetic voices. The open mic was a pleasure and I received a warm, attentive response to my own reading. There was plenty of time and opportunity to talk about poetry, life and the universe afterwards, when we adjourned to a nearby wine bar to finish off the evening. The Ó Bhéal events are uniquely participatory in my experience, with a lively and engaged atmosphere that is a pleasure to experience.

– Lorna Shaughnessy
Paul Casey invited me to read for thirty-minutes from my book, The Place Where I Left You at Ó Bhéal. I was honored to be a guest reader. The pub was full with standing room only. The audience was quiet and responsive to every poem. This was a most welcoming experience. After I read other poets read their own poems on the Open Mic. I was delighted to see so many young students attending, there were all ages. I read often in Ireland, and I think this is one of the best experiences for poets. It needs to be continued for only through the arts will the world find peace.

– Sandra Ann Winters
I have read at dozens of poetry and "mixed-non-martial-arts" events around the country over the past five years. I have also appeared at the Fringe Festival in Edinburgh. To my mind, Ó Bhéal is amongst the best nights of its type in Ireland and Britain. The altruistic professionalism with which it is run, the courageous commitment to poetry, the camaraderie it fosters, and the respect and hospitality shown to participating artists impressed me greatly. Cork city glitters the brighter for having Paul Casey's wonderful evening in its calendar.

– Sean Ruane
The minute I stepped into the Ó Bhéal weekly readings I knew I was home. The all-inclusive, atmospheric ambience of this event inspired me to write about it in a poem. You can travel 'near & far' but you won't find a better Poetry event than 'Ó Bhéal Weekly Readings and open mic', in The Hay-loft Bar.

– Helen Harrison
Ó Bhéal and director-poet Paul Casey deliver an essential injection of the unusual, the traditional and the innovative in its readings. The readings acknowledge the range of poetry available in Ireland (and sometimes from beyond Ireland). In the midst of this — miraculously — it accommodates its 5-word readings, something which is both enjoyable and incredibly clever in its execution. All the readings are introduced with the kind of professional attention to detail, and respect for the reader, which makes each poet feel that they have arrived in a unique and special poetry haven. Poets are paid a modest fee, and accommodated. All poets appreciate this gesture enormously, while realising that it must be difficult to achieve.

– Mary O'Donnell, poet and fiction-writer.
When the invitation to read at the Ó Bhéal reading series arrived in my inbox I nearly had a fit. It was such an honour to be invited to one of the most popular and well know reading series in the country. I jumped at the chance, especially since I had never been to Cork. The venue was outstanding, such a cool jazzy-vibe bar packed with an energetic, literature craving audience, an experience I have never had at a reading before. Paul gave us a warm welcome, made us feel at home and the night went smooth and beautiful due to the professional set up, an enthusiastic attentive audience and positive vibes helped along by a few delicious pints. The atmosphere blew my socks off and with gigs like this creating platforms for new and established poets, the poetry scene can truly stay alive.

– Stephen Byrne
It was an absolute pleasure being a part of this beautiful night in Cork. They really want to share great poetry with everyone and they do it with beauty. I came the whole way down from the north of Ireland and they showed me so much love and support as a poet and as a person. I love this event and the people!!

– Paul Butterfield
The work that you do at Ó Bhéal is great. Gives poets like myself the opportunity to read in front of seasoned audiences. It was a great evening. May it long continue.

– Pat Galvin
The Ó Bhéal reading series provides a platform for established and emerging poets to give live readings of their work in a venue outside their home area and is a very effective means of expanding their exposure. Ó Bhéal is one of the leading and best-known venues in Munster and is a vital link in the chain for popularising poetry through live performance.

– Seán Ó Roideacháin
As an emerging poet, the opportunity to read at the Ó Bhéal reading series was one of my personal highlights from the past year. What lingers in memory is the warm welcome, the professional set up and appreciative audience, many of whom are writers themselves. I was very impressed by the quality of readings at the open mic, a factor that undoubtedly contributes to the reputation of this event. Another of the benefits of reading at Ó Bhéal is that there's a recording to listen back to; invaluable to readers seeking to improve their practice. As reading platforms go, Ó Bhéal leads the way.

– Evan Cos
I am a South African poet and senior lecturer in Creative Writing at the University of KwaZulu-Natal in South Africa. In October 2014 I had the enormous privilege of being hosted by Ó Bhéal in their reading series in the city of Cork. Ó Bhéal also generously facilitated my guest appearances in Fermoy and at the Dromineer Literary Festival.

The Ó Bhéal project is hugely deserving of support. It not only provides a vital platform for the promotion of contemporary Irish and international poets, but through its workshops, Open Mic sessions and community events actively develops the work of the next generation of writers. Ó Bhéal is an energetic literary resource that fosters poetry in all its multi-faceted aspects. And the egalitarian and open-hearted manner in which it expresses itself in its programmes touched and impressed me deeply.

– Dr Kobus Moolman
Is iontach an tionscnamh é Ó Bhéal agus is maise ar Chorcaigh agus ar an Náisiún é. B'ábhar mór sásaimh dom féín cuireadh a fháil chun bheith páirteach sna himeachtaí. Go maire Ó Bhéal.

– Art Ó Maolfabhail
I really enjoyed reading my poetry at Ó Bhéal. The atmosphere was what, ideally, one would expect for a reading – friendly and relaxed, warm appreciative audience, attentive and understanding. The quality of the open mic readings reflected the sophisticated level of the audience and were a pleasure to experience. All together an experience that will remain in my memory for a long time.

– Arthur Broomfield
Cé gur gníomhaíocht aonaránach é saothrú na filíochta, is mór an chabhair don fhile – ní hea, tá sé riachtanach dó – teacht i láthair an phobail ó am go ham: go gcloisfidh sé é féin, go n-aithneoidh sé os ard cá bhfuil a laigí is cá bhfuil a neart, go bhfeicfidh sé mar a théann sé i bhfeidhm ar dhaoine eile, go bhfaighidh sé amach nó go dtaispeánfar dó cén treo eile inar féidir leis dul …Sin deis a thug Ó Bhéal dom féin, an t-aon dream a thug éisteacht dom le fada.

– Seán Ó Leocháin
I really enjoyed how they change the MC periodically, I thought was a great way to keep the energy fresh. Thankfully the night I read, the MC was as light hearted as my pieces and it created a real dynamic that the audience immediately picked up on. The space is comfortable, respectful and attentive, I felt everyone was focused on my words out of respect for the night. I have also suggested to anyone who is in the arts, written, spoken, painter or dancer, to stop into this reading because it's truly an experience of poetry.

– Trista Hurley-Waxali
I was delighted to get the opportunity to read at Ó Bhéal in November 2014 as my second collection of poetry was published earlier that year. I found the lead up to the event very smooth and every effort was made to facilitate my visit. On the night, the reading was very well organised and attended; there was an excellent atmosphere and the response to my work was very positive. After my reading there was a variety of readers and readings, some with music. Very enjoyable. It was clear to me that this venue is a very valuable platform especially for young new writers and performers. Well done to the organisers for keeping this going for fifty weeks of the year.

– Mary Frances Turley-McGrath
I had the pleasure and privilege of reading […] at Ó Bhéal in October of 2014. I am an American poet of Irish lineage whose recent collection of poems had been published earlier in the year by Salmon Poetry. I have always enjoyed the readings I have done in Ireland over the years and have also known from my friend, the poet Greg Delanty, a Cork Man, that Ó Bhéal was an historic and magical place for a poet to read his work. I could not agree more. The evening was full of camaraderie and enthusiasm, and I was treated very well […]. It was clear that the patrons had a deep affection for the place and for one another. It was memorable in every way and I can only hope that they continue and that I one day will have a chance to be there again. I am grateful […] for what they both do for poets and for the people of Ireland.

– Dr. Daniel Thomas Moran
I would fly all any time from my home on Haida Gwaii, in Canada's wild north Pacific, to read poems again in this warm, welcoming, open-hearted place.

– Susan Musgrave
I wish to give full marks to Ó Bhéal […]. The session that night was wonderful, with an appreciative audience and the very lively Open Mic after, then more talking at a local wine bar. It's great with Ó Bhéal that emerging and established poets are supported alike. Cork's poetry scene deserves all the accolades one hears …

– John Pinschmidt
Reading at Ó Bhéal was a wonderful experience for me. Despite publishing poetry for several years and having a collection due to be published shortly, I am very reluctant to give a reading. Ó Bhéal provides such a warm, vibrant and encouraging environment that it supports both poets that are more hesitant to read as well those who are at home in front of an audience. While I was there, I also had the opportunity to meet other poets whose work I greatly admire and many others who shared their enthusiasm for poetry. Ó Bhéal plays a significant role in keeping poetry alive and well.

– Melissa Diem
There's a buzz about reading at Ó Bhéal. From the quality of attention in the room to the sassiness of the MC-ing, you know that this is one of those places which keeps writers on their toes.

– Jim Maguire
I was guest reader on Monday 13th July 2015 at the Ó Bhéal poetry night in The Long Valley. It was a very pleasant social evening with a great crowd of readers and listeners, in fact one of the most enjoyable poetry nights I have ever taken part in. I do hope that this fantastic Monday evening will continue for a long time. Nights like these are a vital part of our Irish culture.

– Evelyn Bernadette Casey
It was a great pleasure to be invited by Ó Bhéal to read in Cork and I was delighted by the welcome and the enthusiasm […]. Being invited to read is wonderful especially when one is paid and given accommodation as this gives true recognition to us as working poets and makes our words feel valued. Ó Bhéal is unique and a superb support for poetry and poets in Ireland and abroad. I was honoured to have been guest poet at one of the Monday Poetry Readings and Open Mic Nights.

– Vivienne Mckechnie
The Ó Bhéal reading series provided the occasion of my first public poetry reading outside my home town of Galway. It was a welcoming and engaging experience, and clearly offers a vital platform for new and established poets.

– Alan McMonagle
It was a delight to be invited to read at Ó Bhéal in Cork. The venue, above a pub in the heart of the city, is now well established and has been running for almost a decade. The reading had a good crowd, attentive and enthusiastic, and I was made feel completely at home […]. My reading was preceded by an enjoyable poetry competition (using five words, selected by the audience) and followed by an excellent open mic session. Every city should have something like this, a venue with its finger firmly on the pulse. Afterwards, a number of us went to a nearby late-night pub for drinks, great talk and excellent tapas. For me, this was a night to remember, and it brought the city alive. The cherry on top was the room they booked for me in the Parkview B&B, near Patrick's Hill, had a fabulous view over Cork.

– Mark Granier
"…what applies to all my verse, is that it is, as living art should be, made for performance…" – 11th December 1896
– Hopkins writing about the sonnet No Worst, There Is None ….

Having heard about the excellent Ó Bhéal reading series over the years, I was delighted when Paul Casey invited me to read there on the 17th November 2014. There was a full house with a lively, responsive audience including many poets and also people who had just walked in off the street to hear poetry. Lots of people came over to talk to me after my reading including a woman who was visiting Cork from Canada. She said that she had never been at a poetry reading before but that she had loved hearing it live and that she felt more open to reading poetry now.

The evening was well organized and structured, allowing for participation from the floor and writing on the spot as well as the guest poet's reading. I also appreciated the provision of a reading fee, travel expenses and accommodation, all of which is unfortunately relatively rare for poetry readings.

At Ó Bhéal audiences laugh, cry, clap, ponder, question and above all they listen to quality poetry from all over Ireland and abroad. I think it is vital that this distinguished poetry reading series continues to be supported because poets, poetry and the arts in general are revitalized by opportunities to hear poetry read and responded to live. Providing opportunities for listening to poetry is a crucial part of the work of bringing poetry back into the foreground as a popular art form and keeping it there.

– Jane Clarke
I would like to say that the reading I did across with yourselves was one of the best organised and friendliest that I have had the pleasure to do. The audience was informed and responsive and a delight to read for, and the whole trip, together with accommodation you arranged, was ideal for us. Much appreciated overall and good luck with future events. Cork is a stellar poetry spot.

– Helen Burke
I totally loved the experience – the audience was warm and attentive and the venue was great – intimate and very conducive to poetry.

I was really impressed with the whole set-up – the 5 word starter, invited reader and then open-mic – I thought it worked really well.

My Cork reading will definitely go down as one of the most enjoyable – so huge thanks and well done on fostering such a great space for poets and poetry.

– Alyson Hallett
I have read all over Ireland since 2010, when the first of my now-seven collections (Salmon Poetry/Cliffs of Moher and Lapwing/Belfast) appeared. I have read twice with Ó Bhéal, 2011 and this current year 2015. The venue is special; is excellent; I've no suggestions to make on how to improve it. There is one principal organiser, Paul Casey, but the sense one gets is that several people there, out of enthusiasm and dedication, have a hand in working with him to make everything go well, down to technical aspects such as the mp3 recording and down to also the handling of the open mics – to create a sort of artistry-of-the-evening. Open mics are the heart and soul of a poetry evening, as any soloist knows. Ó Bhéal uses devices to prompt, from the start of the evening, well before the soloist goes on, creativity on the part of the audience members : e.g., a short – and I mean s-h-o-r-t (the Ó Bhéal time is quite economically organised) – competition for the best impromtu poem. Then there is graciousness – Paul O'Casey meets one at the train station, there's a short afternoon get-together over coffee, a ride (his auto) to the (excellent) B&B an overnight at which is part of the soloist's fee. The media announcements are excellent, including CultureFox; and the link – gold, to a soloist – to Poetry Ireland. Also, an Ó Bhéal evening has a palpable Cork spirit. Each place in Ireland has its own vibes culturally – yes, there is also of course a national and international aspect to any poetry evening; that's the given – but I mean local traditional vibes. Believe me, for a soloist (myself) such vibes count heavily. About international: most of my poems are, I would say, Irish in inspiration, but poems which were clearly French or Russian or American or Japanese in inspiration went over equally well; were welcomed. I've frankly tried to include something negative here, to give a better sense of verisimilitude to testimony – but there actually is nothing negative. I do wish they could pay a higher fee (great B&B apart) but I've the sense that the 2015 fee is as much can be paid within current means. Both my publishers were delighted I got the 2015 slot – an Ó Bhéal slot is considered a plum.

– Richard W. Halperin
Ó Bhéal has become an Irish institution that has garnered a reputation among poets as a venue with serious poetry chops and a welcome in the inimitable Cork style.

– Alice Lyons
Ó Bhéal is a coveted reading for poets in Ireland. It consistently has a great, listening crowd, is incredibly well-organized, and offers great hospitality to artists. It is the engine of the poetry scene in Cork and a huge privilege to be a part of it.

– Erin Fornoff
If imitation is the best form of recognition and acknowledgment, then Ó Bhéal has a growing number of imitators among assemblages for poetry around Ireland, but the original at the Long Valley […] still towers like an oak above the rest.

– John Ennis
I would like to take this opportunity to thank all who help realise the Ó Bhéal readings every week, throughout the year. It was a great honour for me to be invited down by them, and the reception I got by all was very much appreciated by me. Writing can be a solitary profession, at times, so public events like Ó Bhéal are hugely important as they give you the opportunity as a poet-writer to put your work before the public where you can get immediate feedback.

The fact that you are paid for the effort, and put up, are also deeply rewarding factors. Most of the time you are giving away your work to magazines, without being reimbursed whatsoever. If you are lucky, you might get a complimentary issue. But most of the time you don't even get that, as the cost to do so would be too great for the publication concerned. For these reasons, and many more, I believe that Ó Bhéal are providing a wonderful service to many semi-professional writers in the country and also to the general public who are offered the wonderful opportunity to engage with writers directly in their work.

– Peter O' Neill
Ba ócáid fíor thaitneamhach dom, mar aoí, mo chuid filiochta a léamh ag Ó Bhéal. Bhí sé mar a bheinn ag tabhairt cuairt ar phobal filíochta, a ghlacann páirt ana ghníomhach ins an ócáid. Fuaireas éisteacht oscailte fáiltíúil, agus suim i ndaoine caidreamh a dhéanamh i dtaobh na filíochta. Ba onóir liom é, a bheith mar aoi ag Ó Bhéal.

– Niamh Ní Lochlainn
Bhain mé féin an-tairbhe agus an-taitneamh as mo shaothar a chur i láthair in Ó Bhéal. Tá an suíomh oiriúnach, an lucht féachana eolach lánpháirteach agus tá dea-eagar uirthi mar ócáid. Is eiseamláir atá in Ó Bhéal d'éinne eile a chuimhneodh ar oíche filíochta rialta a reachtáil.

– Marcus Mac Conghail
Ó Bhéal is a unique and innovative space where I found a welcome and also a challenge. A relaxed mixture of listening, composing and reciting makes for an intriguing and productive night, which I found both exciting and validating. Molaim go mór an dásacht agus an fhoscailteacht a bhaineann le Ó Bheal.

– Proinsias Mac a' Bhaird
Performing at Ó Bhéal as part of the Cork-Coventry Poetry Exchange 2014, was a great experience for me. The atmosphere of the group is tight-knit but welcoming, warm and full of attentive listeners and passionate writers. Such gigs are what help poets develop their practice through engagement with a strong poetry community and give them the confidence to keep writing and performing.

– Adam Steiner
I very much enjoyed being part of the Ó Bhéal reading series. Paul was a great host and there was a welcoming and enthusiastic crowd at the event. Great to hear the open mic readers. A lovely place for poetry and poets.

– Moyra Donaldson
Ó Bhéal has been a lynchpin to my development as a poet. It was the first place I spoke my poems in public, the first place I networked with other poets, the first place I heard of the manuscript prize I was subsequently to win. Ó Bhéal miraculously manages to provide a space which is open and welcoming to all-comers, from all places, while fostering an atmosphere where poetry is the business of everyone there. It is still of fundamental importance to my growth as a poet. At the weekly poetry nights and the Winter Warmer Festival I can hear the best of poets speak amazing, thought sparking words which spur me to try harder, to think more widely, to take risks in my own work.

I was privileged to be invited to read at Ó Bhéal last winter and I was impressed by the organisation, planning and hard work which goes into every poetry night. It is not just a venue, it's a hub for anyone interested in poetry in the region, and attracts poets from everywhere in the world. To become part of Ó Bhéal, you do not have to sign up for workshops or be part of any literary group. You just need to walk in off the street – like I did!

– Annette Skade
This high calibre reading event is renowned across Ireland, and for good reason indeed: those who regularly attend the Ó Bhéal readings embody Whitman's great poets/ great audiences dyad, and nowhere else have I read to such wholly engaged listeners … everything a visiting writer hopes for when arriving in a new place is located here: a warm and generous room, populated by ears craned attentively forward.

– Dan Disney
I have been the featured poet at many venues throughout Ireland and Britain but, in my experience, Ó Bhéal is very special. The atmosphere there is always expectant and the audience appreciative and perceptive. It attracts a higher proportion of non-readers than most open mics, indicating that the word is out there that this is a place for true poetry lovers, not just those who want to be heard. Also, unlike a number of other venues, the space is wholly reserved for a dedicated audience, meaning that the readers do not have to shout above the din of a crowded bar, most of whose patrons regard the poetry session as a nuisance.

The standards in both poetry and prose at Ó Bhéal are high and there is a good sprinkling of new, experimental writing in evidence. New writers are always given a warm and supportive welcome. The success of Ó Bhéal is very much down to the verve and dedication of the organisers and it is important for Cork – and indeed for Irish writing – that Ó Bhéal gets all the support that it deserves.

– Mike Gallagher
I read at Ó Bhéal on May 12th 2014, shortly after returning from a week of events and readings in Minnesota for the O Shaughnessy Award 2014. From the time I received the invitation to read – six months earlier – I was impressed by the courtesy, professionalism and trustworthiness of the organization. The B&B was a warm and comfortable place and there was an offer to meet for a coffee in advance of the reading – should I have needed help to find the venue.

As a graduate of UCC, I was familiar with The Long Valley and impressed that Ó Bhéal had chosen such a hospitable, and central location for its activities. It was a lively and interested audience – that included students and visitors from the US and Germany on that particular night as well as a loyal troupe of local writers and readers – some of whom were Creative Writing students. Sue Cosgrave introduced me and did an excellent and efficient job as compere on the night. I was heartened by the response to my work, and the number of people who came up afterwards to give feedback and bought my book. The range of poetry and prose read at the Open Mike session was impressive, a mixture of memoir, short story and poems. It struck me that Ó Bhéal is a vital, eclectic literary community and an essential, inspirational strand of cultural life in Cork City that deserves to be funded and cherished.

– Catherine Phil MacCarthy
I had the pleasure of reading at Ó Bhéal in March 2014. From the hospitality and warm welcome to the crowd of enthusiastic listeners and readers, the whole experience was a jolt in the arm for what can be a frustrating and solitary art. Since that night, I have met again several of the people who were in attendance and seen how even over a period of time a night of poetry can live long in the memory. I would like to thank Paul for his hospitality and warm welcome and the opportunity to read my work to such an enlivened audience. May it continue for many more years and receive all the support it deserves.

– Brendan McCormack
Ó Bhéal is such a unique poetry series, in a great location, wonderfully run and hosted, an asset to all poets and lovers of poetry who are lucky enough to attend or participate in its readings. All this, and it's in Cork! What's not to like? Long may it continue..

– Róisín Tierney
I am happy to provide a testimonial for Ó Bhéal, which is the key weekly poetry event in Cork city. In a city renowned for its poetic activity and for the range and number of practising poets it can boast, Ó Bhéal remains the heart beat of that activity. The audience is in the main made up of younger and aspiring poets and writers, and that is as it should be. But it continues to impress me how many of the city's established poets attend the monday night sessions on a regular basis. This means that the Ó Bhéal sessions are authentically a place where a network of new and established writers come together and it makes Ó Bhéal an incalculably valuable element in the cultural life of the city. Ó Bhéal has been run with grace, generosity and not a little expert calmness for many years now and with a superb guiding presence over each monday night event. The evening is a challenging mix of creativity and poetry showcase and provides the template for how poetry readings should be arranged. The lineup of invited readers is always eclectic, national and international, and ultimately incredibly impressive.

Thank God for Ó Bhéal!

– Graham Allen
I read at Ó Bhéal in October 2013. It was a great night: the tricky word challenge at the beginning that gets everybody involved and quickly scribbling some surprisingly good poems and then a very warm audience for the reading. My only regret is that I was unable to stick around after the event for a late drink and a chat because of a prior engagement. Hopefully there will be a next time …

– Adam White
Ó Bhéal is that most wonderful and rare of events – totally professional and very high quality as well as deeply connected to the local poetry community. In September 2013, we travelled to Ireland to perform at Ó Bhéal and two other venues. The audience was very attentive and appreciative (and there were many fine poets among them). Ó Bhéal seemed to us to be integral to the genuine literary heart of Cork.

– Andy Jackson & Rachael Wenona Guy (Melbourne)
When I visited Ó Bhéal earlier this year I was impressed by the lively and generous community of poets and writers that it was helping to develop. Through its weekly meetings and competitions it encourages established and new writers not only in Ireland but also abroad. There is a wonderful generous spirit at the weekly meetings and it is clearly playing an important role in the artistic life of the area and beyond. It is a vibrant organisation which as a writer across the water I feel fortunate to have found. It deserves to be supported.

– Don Nixon
Ó Bhéal is a pleasure to take in as a spectator and a privelige to partake in as a poet. It is the most warm, hospitable and artist friendly atmosphere I have experienced. Ó Bhéal is an inspiration and the importance of its existence cannot be underestimated.

– Seán Dennehy
Last year I took part in the Ó Bhéal series of readings. It was a great honour to do so. I had not read in this part of the country before. The audience were wonderful and we had an enjoyable night, later we retired to the bar. I strongly recommend the enterprise. Is mise,

– Colette Ní Ghallchóir
I read in the Ó Bhéal reading series this past summer, and I have nothing but praise for the event. It was well organized and well run, and it was a pleasure to be the featured reader. The audience members were all friendly and engaged, and it was a pleasure to hear the poets who took part in the open portion of the reading. Paul was also extremely kind, picking me up at the bus stop on arrival to bring me to my accommodation, and collecting me from same the next day to bring me back to the bus stop and lingering to be sure I caught my bus. I have given numerous poetry readings on two continents, and the reading at Ó Bhéal was easily one of the best experiences I've had. I strongly urge the Arts Council to fund the 2015 series.

– John Menaghan
It was one of my greatest pleasures in poetry to read at an Ó Bhéal evening. It was a challenging event for me because of the calibre of the poets and the literary students in the audience. I was treated with the greatest respect and had to work hard but I enjoyed every minute of my reading there. My accommodation was excellent and I was looked after so very, very well. Just hope I will be invited back to Ó Bhéal.

– Mae Leonard
I was delighted to read at Ó Bhéal and compliment all involved for their fidelity to maintaining this important forum for writers and listeners alike. This is a very well organised, quality event under the stewartship of committed, capable, earnest and resourcesful people. I hope it flourishes for many more years to come.

– Margaret Galvin
I had a great time at Ó Bhéal when I read there in May 2014. I was made to feel extremely welcome by the organisers from the moment I arrived in Cork – nothing was too much trouble for them. The event was very well organised, extremely well attended and the quality and enthusiasm of the open mic participants was second to none. As a poet just starting out with my first pamphlet publication, it was a tremendous confidence boost for me to be invited to read in Ireland and I want to thank Ó Bhéal for giving me this opportunity to meet poets and readers from across the water.

– Kim Moore
I thought this was magic. It was well organised & full of positive energy. As a visiting poet I was treated with friendliness & respect. The was a large attentive audience, a glorious feeling of fraternity & furthermore against the darkness a sense poetry was winning. Any Arts body who doesn't fund these lads is making a huge mistake.

– Brendan Cleary
I am writing in praise of and gratitude for the Ó Bhéal reading series. As a Canadian poet with Irish ancestry and a great love of Irish literature I was thrilled to be invited to the series on my recent book tour. From the moment I landed at the airport and was picked up by my host, I was treated with great courtesy and generosity. I was quite comfortably housed in a local bed and breakfast that exuded Irishness, including framed pictures of Yeats and Joyce on the wall of my bedroom. Paul had also gone to the trouble of setting up a workshop for me wherein I connected with a number of the local Irish poets and had a very good exchange. At the reading I was as delighted to hear the works of the poets who took the mic for the open stage as I was to give my own recital which was very well received. I was happy to sell a goodly number of books and in return acquire books from some of the poets in attendance. Overall this was a very connecting, inspiring and friendly event that did much to exemplify the simpatico spirit between the poetry communities of our two countries. I have kept up connection ever since with some of the participants and hold this evening as being a definite high point in my tour. It's my fond hope to return someday for more of the same but my hope that I might someday return the favour and host an Irish poet here in Toronto is equally strong. I'd like to heartily thank the Arts Council for their wise and generous support of the arts in this way.

I will end by saying that I had a magnificent Irish breakfast the next morning before heading up to Dublin. If there are any questions please feel free to contact me by my e-mail address robertpriest@rogers.com

– Robert Priest
The experience I had reading at Ó Bhéal in Cork has been one of the best to date. the atmosphere and friendliness are second to none I would be only too glad to return and repeat it. It is well run in a relaxed air of competence with a very attentive gathering. I would highly recommend a visit to this event if ever you visit Cork. The team are doing a fine job promoting the arts and helping poets of all ages and genre. Well done, keep up the excellent work.

– Christy O'Donnell
Reading at Ó Bhéal is unlike reading any other venue: there's a high level of enthusiasm, appreciation and discernment among the attendees and the overall sense of conviviality and enjoyment is infectious. Moreover, the open mic readings were among the best I've encountered. Ó Bhéal is an excellent poetry program.

– Paul Kane (USA)
Ó Bhéal has to be one of the best regular poetry events in the country. For me reading there was a highlight of my poetry year. The venue was cosy and welcoming and the audience were true poetry lovers – enthusiastic and knowledgeable. I really enjoyed the layout of the evening starting with the on-the-spot create a poem, then the guest reader and finally the very good open mic. Long may it continue!

– Nicki Griffin
In November 2013 I was kindly invited to read my poems at Ó Bhéal, in the framework of a tour to promote in Britain and Ireland my first book translated into English. I must say it was a very pleasant experience because of the way I was received, the respect with which I was treated and the general attitude of both the organizers and the public who attended my reading. I strongly believe that initiatives such as these must be supported by the enormous contribution they mean to the Irish culture and the possibility offered to foreign authors to come into direct contact with a large audience in Ireland.

– Jorge Fondebrider, Buenos Aires, August 15th 2014
Ó Bhéal offers a wonderful opportunity for poets to encounter a welcoming and appreciative audience in Cork. I had a marvellous time at my reading there, and couldn't recommend it highly enough. It's fantastic to see such a well-attended regular poetry event, and I wish there were more like it.

– Jessica Traynor
Thank you so much for the opportunity to participate in Ó Bhéal's reading series! The audience was wonderfully attentive and engaged. It was a great pleasure to read to such an appreciative group of folks. I had the good fortune to meet the poet who preceded my visit there, Dan Disney, and we both agreed that the Ó Bhéal reading series was top notch — smoothly organized with a fantastic audience. I'd highly recommend it to anyone, whether reader or listener. Thanks, too, for the fun time afterwards. All the best to you!

– June Sylvester Saraceno
I had the pleasure and the honour to read at Ó Bhéal in the Spring of this year – around the time that the city was flooded. I have read at many venues internationally and I can say unequivocally that Ó Bhéal was one of the best occasions I have had. It is difficult to put a finger on exactly why but I would say that the unseen organisation and care that supports a successful reading were second to none. The venue was excellent and a large and enthusiastic crowd attended. The atmosphere was perfect for a poetry reading and the I felt it was the best reading I had given on that irish tour – mostly because of the knowledgeable and focused audience. When I returned to the UK I have bored people rigid with talk of Ó Bhéal and of Cork and I certainly hope to come again. I wish we had something half as good as Ó Bhéal in Yorkshire.

– Patrick Lodge
Ó Bhéal is a place with poetry in the walls, where a spirit of community and inclusiveness reigns.

– Diane Fahey
The touchstone experience of visiting Ireland and Ó Bhéal has enhanced me with a rich and vital awareness of myself and others as a writer that has and will continue to inspire me to craft and weave my words, and I'm sure lead me back to the emerald haven one day maybe soon. The visit to Cork was icing on an amazing 2013 cake that I feel has now become a talisman for me, as I start a fresh adventure in my new role as Poet Laureate for Staffordshire. I would like to express my many thanks to Paul Casey in Ireland and Tony Owen in the UK for the wonderful opportunity of participating in the Coventry – Cork poetry exchange.

– Tom Wyre
Ó Bhéal to poets is like nirvana to Buddhists. This is not a eulogy. Paul Casey knows most poets don't drive, and went out of his way to ensure that my visit to Cork was stress-free. He offered to pick me up from the station, and drop me to the, "poet-friendly", B&B. His expertise, work-ethic, promptness, and reliability, make him a super star in my book. I got fed and watered, and paid, for doing what I like best. I felt most welcome, and as a direct result of reading there, have secured other professional engagements.

– Kate O'Shea
I attended the Ó Bhéal reading series in July (2013) for the first time, when I had the privilege of being one of the guest readers on the night in question. I was really impressed by the event, the organisation around it (including arrangements for accommodation and assistance for guest readers), attention to detail and the attention given to the readers/performers on the night by a full house and a fully engaged audience. In fact, one of the things that impressed me about the night was the way in which the whole audience has the opportunity to be involved in the proceedings by way of an initial writing exercise. Anyone who wishes can then read the results of their work in public and a 'winner' is acclaimed. The readings by the guest writers is followed by an 'open mic' segment which again gives the audience the opportunity to participate.

The event is held in a lovely space and a really welcoming and inclusive environment. I had heard good things about Ó Bhéal before my visit and I have to say that my personal experience only served to enhance the positive impression I already had of it. I would recommend it to anyone interested in reading, writing, performing or simply listening to poetry. There is a nice social aspect to the night for good measure.

– Phil Lynch
I had the pleasure of reading as part of the Ó Bhéal poetry series on October 29th, 2012. The Ó Bhéal poetry nights are highly reputed so it was an honour to be given an invitation to participate in the event. Prior to the night I found that Paul Casey was highly organised in the timing of the invitation, scheduling, requests for my biog and photo, publicity, offer of B&B accommodation and information for the actual night.

I thoroughly enjoyed my visit to the Hayloft. I was treated with great respect in the way I was introduced to the audience and by their attentiveness. I enjoyed the open-mic readings and the results of the 5 word challenge. My night at Ó Bhéal was then followed up by my reading being uploaded on the well maintained web page. The fact that there are 50 readings a year for a willing and participative audience is an extraordinary achievement by all involved in the organisation. I hope the Ó Bhéal readings continue for many years to come.

– Denise Blake
Ó Bhéal has nurtured and sustained an audience for poetry over many years now, with a judicious blend of Open Mic and more formal reading by an established poet. It's a wonderful achievement and it's something I hope and pray will continue to thrive for many years to come.

– Mark Roper and Eric Sweeney
I read as part of the Ó Bhéal reading series in May (2013) and it was a pleasure to do so. The organization was excellent with regard to publicity, communication, venue and accommodation. The audience was receptive and engaged, both as listeners and also, in the well-organized open-mike section of the evening, as writers. A vibrant writing/reading community has grown up around the series, which reminded me of the writing scene in Galway in the late nineteen-eighties and early nineteen- nineties.

We hear quite a lot about audience development. This is an area where it has worked. The fact that an excellent website has been maintained helps greatly. This is an initiative which is really worthy of support and I commend it highly.

– Moya Cannon
It is a pleasure to have this opportunity to support the work you are doing in Ó Bhéal. From the point of view of someone who has read there, it is clear that you have established a strong audience for poetry at the venue. The place was full on the night I read and I don't fool myself by thinking this was unique. There was an obvious enthusiasm for poetry on the night. The participatory nature of the event was striking not only as regards the instant poems but also during the open mike. This makes it a great setting for a poet to present work.

The mixture of local and international poets and of Irish-language and English poets and also the fact that it is a weekly event, confer a particular status on the series. I am sure poets who know about Ó Bhéal look forward to the time when they will be invited to read there, to be able to add their name to the list as it were.

I want to thank you again for inviting me to read. I enjoyed it very much, and, I must say, I learned a few things as well. I wish all the best for Ó Bhéal in future.

– Colm Breathnach
Earlier this Summer (May, 2013) I took part in a literary evening for the Ó Bhéal sessions at the Long Valley in Cork and gave a reading of my poetry from two collections, Empire of Shadows (Salmon, 2012) and Elegies & Epiphanies (Lagan Press, 2005). There was a good attendance at the event, which also included an open mic session. I thoroughly enjoyed the evening, including the impromptu verse writing contest. I believe that such literary events and venues are important to encourage and promote new writing.

– Hugh McFadden
I was delighted and honoured to represent Coventry as part of the Twin City Poetry Exchange 2012. There were many highlights over the five days, not least among them my guest reading at Ó Bhéal in Cork. It was a pleasure to meet and talk with other poets and hear work in a range of styles via the open mic. It was wonderful to meet Cork poets, Conor McManus and Matthew Geden on their exchange visit, to share approaches to our writing and hear their guest readings at Nightblue Fruits in Coventry and The Fizz in Tamworth.

Sincere thanks to Paul Casey for his excellent hosting, behind-the-scenes hard work and organisation; to The Right Honourable John Buttimer, Lord Mayor of Cork, for his warm welcome and patronage.

This opportunity has played an important part in my creative development as a poet and has provided a platform for my writing outside of the UK. My poem Sin É inspired by the exchange visit, was Highly Commended in the Gregory O'Donoghue Poetry Competition 2013.

– Jayne Stanton
To read at Ó Bhéal is an experience of hospitality from the host himself and the usual guest MC. The audience too is a hospitable one that makes the visiting reader welcome. No matter the style or tone of the poems there is a special Ó Bhéal welcome for all poets. It has become a benchmark for poetry readings in Ireland.

– John Saunders
I was a guest of Ó Bhéal on 28th January 2013, a bilingual reading as I really write in Irish but supply translations when I know the audience will not all be fluent in Irish. As Irish language poetry has limited appeal, compared to other genres one regularly hears at festivals/events/readings etc., it was great to get the chance to read at such a well known and popular venue in the city centre.

The atmosphere in Ó Bhéal couldn't be better. I regularly attend the Monday night readings and I am always impressed by the attention given to readings in Irish; even though the English translation follows I always feel, and this was noticeable in my case, that those listening really try and want to understand the Irish version. Also it's a small intimate venue and almost always full – I was pleasantly surprised to see a full house for myself as I'm not all that well known in Cork, having returned six years ago after many years away.

The five word challenge at the beginning is a great idea as it's a 'fun' item and breaks the ice for beginners, as with the open mic after the guest reading it gives a chance to poets who are starting out/may not have published nor have any intention of doing so to read for a local audience. Feedback is very important and I had encouragement re my own work from both organisers, participants and listeners. All in all I was very glad to get the chance to guest at Ó Bhéal and am extremely grateful to them.

– Bernadette Nic an tSaoir
The rumblings among poets are true — giving a reading for Ó Bhéal is something special. I had never been to Cork city before, and I was blown away by Paul Casey's warmth and professionalism and Ó Bhéal's diverse and engaging audience. On the evening I read, a few Canadian tourists happened to drop in and were immediately welcomed into a lively, intelligent, and welcoming literary scene. What a coup for Cork and for Ireland. And for poetry! More Ó Bhéal! More!

– Kimberly Campanello
My first collection of poetry was published by New Island Press and launched at the Listowel Writers Festival in May 2012. I am new to the poetry world and was delighted when Ó Bhéal invited me to read at their venue in Cork in April of this year. As I receive Jobseeker's Allowance, the cost of travelling to venues is prohibitive. It was therefore especially important to have the costs of my journey covered, which Ó Bhéal were only too happy to do. Not only was the hospitality of the highest quality but it was the first venue I had read at, where there were many poets among the audience.

It gave my confidence a great boost, and I made many contacts which enabled me to secure a reading in Galway at Over The Edge in June of this year. From talking to Paul and some of the other poets present I took the plunge into social media and launched my website www.deirdrehines.com a month after returning from Cork. I would love to read at Ó Bhéal again, and wouldn't hesitate to recommend this group to my fellow poets and indeed to all lovers of poetry.

– Deirdre Hines
Reading at Ó Bhéal, was a richly rewarding experience for me. Ó Bhéal is distinguished by it's warm, welcoming, unhurried atmosphere, owing certainly to influence of organiser Paul Casey, a quiet philosopher poet. It is the event this poet wanted to read at.

– Eleanor Hooker
What a great night it was at the Hayloft and how privileged I feel to have been invited to read there! Fantastic to see an event of such quality being so well supported and taking place every week! A real inspiration to poets and poetry lovers everywhere! It should be firmly on the tourist map so that any visitor to the area with an interest in good, accessible live poetry knows where to go on a Monday night!

– Martin Brown
The great success of Ó Bhéal is how it makes poetry accessible, challenging and entertaining. It has achieved this in several ways: by providing a platform for a really broad range of performers, published and unpublished, Irish and International, modern and traditional; by offering a weekly event that is open to all; by the innovative use of the internet and social media to extend the experience beyond the physical audience that attends on a Monday night and by mixing fun and creativity through initiatives such as the "The Five Word Challenge". The success of Ó Bhéal in such a short time is evidenced by the fact that it is effectively a brand, which has become a by-word for quality and professionalism in poetry, and whose reputation stretches well beyond Ireland to anywhere poetry is spoken about.

– Maurice Devitt
I was privileged to be a guest reader at Ó Bhéal and was very impressed by the organisation of the event, the warm welcome I received, accommodation offered as well as a fee for the reading. I have attended many events there and find Ó Bhéal to be one of the best venues in Ireland, possibly the best. There is a five word challenge which everyone present is invited to attempt, and this creates a great atmosphere. The audience is respectfully silent, attentive and responsive to the guest reader, and then there's an open mic. It's a hugely popular event and Cork's thriving poetry community is very lucky to have it. Moreover, the administrators are very good at advertising and promoting the events in advance, and afterwards putting a podcast of the guest readings on the website. Guest readers have included Carol Ann Duffy, the nobel laureate poet in the UK, poets from the States, Australia, Canada and around the world, as well as many of Ireland's most highly regarded poets.

O'Bhéal has recently become affiliated with the independent film festival and are now running a poetry film competition, as well as an international five word challenge competition. Ó Bhéal sends two Cork poets to Coventry on a twinning exchange annually. Guest poets sometimes offer workshops. After almost seven years, fifty weeks a year, the organisation continues to grow from strength to strength, and is now an essential part of Cork's cultural and literary tradition.

I heartily recommend Ó Bhéal as being worthy of your support.

– Afric McGlinchey
As an English poet on my first stay in Ireland, it was an absolute delight to start my Irish experience at Ó Bhéal – a great venue, warm welcome, fantastic atmosphere and varied, good quality open mic.

– Sarah James
Ó Bhéal offers refreshingly classless and wide ranging poetry readings in an exciting hub in the bowels of Cork city. To read there is an exhilarating experience, and the poetic innovations of Paul Casey are to be wondered at and truly admired.

– James Lawless
It is with the greatest respect and enthusiasm that I address this letter of creditation to you which you will be sending to our a wonderful Arts Council without whom we could do very little.

I hope if you don't mind – I would like to copy your idea. It would be a confirmation of our administrative ability to promote Poetry down the country. You made me welcome in Cork City for the first
public Reading of my Poetry and made it so pleasant for an enthusiastic beginner – and the hospitality was indescribable. Just like the White House here in Limerick you have done a great job and you can be proud of your achievement for the Art in Cork County.

The disapointment for me and you I imagine is the fact that our Poetry Nights, done our way every week, are not copied by every other City and Town in Ireland. I celebrated 500 Consecutive Wednesday nights, as you are aware, on the 19th of June 2013. I have applied to the Executive of the Guinness Book of Records to be told what to do for a Record Recording. I wonder would the Minister for Poetry help the Arts Council in this matter? I will have a chat with Jan O'Sullivan. She is very good when it comes to Culture and next year Limerick is the Cultural City of choice.I haven't looked at my Arts Council Account for a long time – I keep on drawing from my Pension to keep the Poetry going.

The best of luck and good poetry to you and thank you for everything.

– Bernard Barney Sheehan
Ó Bhéal has probably captured the real sense of poetry development and reading in Ireland. This is due to the diversity of readers, and to the sense of the venue being established in a manner that suits poetry reading requirements. In comparative terms, I would cite the Poetry Ireland Culture Night series, which only occurs annually, and the Crannóg Series (which is seasonal). Ó Bheal occurs weekly all year, and the poets range in experience through the whole spectrum. I did my readings in July and managed to read a whole Smithereens Press Chapbook and to reprise a Lament that had been performed in Smock Alley Theatre. This performance occurred with the minimal in rehearsal in the venue, but it worked entirely.

The Ó Bhéal audience consists of poets and speakers, so they know why they are going and what they are getting. Many readings and launches would revolve around an invited guest and some short readings, but this series is planned so that everyone who wanted to read did so.

At a personal level I dislike Slam and I am eternally grateful to Paul for inviting me to read, as in my view there is room for all types of poetry. I am concerned with the lyric, the narrative and the lament forms. Its important that all types of poets are comfortable with their platform and can use it to effect.

I hope that the Ó Bhéal series continues and develops. I'd like to see a monthly bookclub or fair also. It's quite tough selling books of poetry. The required infrastructure for platforming Irish Poetry at its best is at Ó Bhéal and I hope it long continues. Thanks to the crew at Ó Bhéal, I'd like to return there sometime with my new books and have another go at it.

– Christine Murray
I have been talking non-stop in Paris and Ireland about the wonderful Ó Bhéal invitation in April. The preparation was meticulous : advertising, posters in pubs or on their doors with my name prominently around Cork City where I was born but grew up in Bantry. The reading room upstairs had a bar,nice lighting, reserved only to the warm crowd of people attending the reading, several of whom were poets. There was a respectful silence, with no noise interference from the downstairs bar. Seating was very comfortable and contributed to a convivial atmosphere. It was also very informative listening to other poets read before and after me. How important it was to me to read some of my poems in Irish with English translations.

The organiser, Paul Casey, in the lead up and on the night was a truly magnificent coordinator, covering my travel expenses with the offer of accomodation and providing a generous fee. Ó Bhéal is truly a poet's paradise.

– Derry O'Sullivan
For Culture night 2012 I headed out of Belfast bound for Cork. It was to be the first Culture night that I would not be reading in Belfast and the occasion was very memorable. Paul Casey had invited me to read having only known me through the literary grapevine and I found him to be very agreeable and great craic altogether. Cork is an amazing place, it was my first time there and I will never forget it. I hope to go back again sometime. It is a city of character and friendliness. While I was there and on the journey there I found myself compelled to write and by the evening of the reading I had four brand new pieces to share with the people of Cork.

The Venue was tiny but it felt very personal, I usually don't use a microphone for such small venues but due to the fact that Paul was recording proceedings I used one on this occasion. I was very comfortable as I read and I chose a mixture of old and new, funny and serious poems and my set lasted about 40 minutes. It was really funny because at one point Paul gestured to me from the back of room that I only had a couple of minutes left and I had no idea time had gone so quickly that is a good indication of how the reading went, I was completely absorbed and time just disappeared! The audience were very attentive and I could tell that they had a true appreciation of my work which thrilled me.

We went out again later that night to enjoy the nightlife of Cork and it was brilliant. All in all I will always recall my time in Cork as having been a wonderful experience. Paul Casey is running a tight ship down that neck of the woods and the wide variety of different types of poets and performers he brings to Cork from Ireland and beyond is a testament to his personal ability to know what his audiences want to hear and to deliver exactly that.

Long Live Ó Bhéal!

– Séamus Fox
Is ósais san fhásach é 'Ó Bhéal' d'fhilí agus do lucht leanúna na filíochta. Filíocht ar fad is ea gach oíche Luain óna 9 a chlog sa Lochta Féir, an Gleann Fada, i gcathair Chorcaí. Buíochas mór ag dul do Paul Casey agus Billy Ramsell as an 'ngníomh reibiliúnach' seo a choinneáil beo ó 2007. Go maire sé an céad!

'Ó Bhéal' is an oasis in the desert for poets and lovers of poetry. Every Monday night after 9 O'Clock is pure poetry in the Hayloft, the Long Valley, Cork city. Eternal gratitude due to Paul Casey and Billy Ramsell for keeping this 'rebel act' alive since 2007. Long may it survive.

– Mícheál Ó Ruairc
I had the privilege to read at the Ó Bhéal series on June 10th this year (2013), which was a wet Monday! Never mind the weather, the attendance was marvelous, as was the welcome and general atmosphere of creative participation.

This series is an absolute jewel,

– David Butler
I just wanted to tell you that, looking over my many 'gigs' in the past year, I conclude that my visit to Ó Bheál was one of the most enjoyable. My flight went without a hitch, and from the moment you met me at the airport, I felt welcome and looked-after. The meal was excellent, the hotel comfortable. The big surprise was the audience, or participants, at the event itself. It is rare in Britain for a poetry event to attract so many men, and it was heartening that so many of them joined in, read a poem, sharing in writing as well as listening to poetry.

You have done something special in Cork. Good luck to you, and long may you flourish.

– Gillian Clarke National Poet for Wales
In January, 2013, I had the great privilege of reading my work at Ó Bhéal's weekly Poetry Event. I found the entire experience to be very positive. Paul Casey and his team did everything possible to ensure that, as the visiting poet, I was treated with courtesy and respect. I also facilitated a workshop which was well attended. The reading event itself was welcoming to all, giving everyone who wanted to share the stage the opportunity to do so. My reading was recorded, a lovely professional touch which I'm proud to have on my credit list. The evening contained a rich and diverse programme and while there is ample provision for the visiting poet slot, there's also the desire to be inclusive. Indeed, the provision of the Open-Mic opportunity guarantees a great mix of writers and poetry. What struck me most was the amount of younger voices coming through thanks to this event. Also, the atmosphere was joyful and life affirming, there was a great sense of warmth, respect and encouragement for fellow poets. This weekly event is part of local and national culture, long may it continue.

– Eileen Casey
I was honored to be a guest at Ó Bhéal's reading series this year, in fact Ó Bhéal were the first organisation to invite me to read my poetry. I was delighted to go down to Cork and thoroughly enjoyed the experience.

There was a unique mix of poetry read during the open mic session, the mc was warm and witty, the 5 word writing competition really added to the night. Ó Bhéal is also unique in posting podcasts of their readings on the internet making them available to a wider audience. It was so well organised – I was invited well in advance of the night, enjoyed a wonderful bed and breakfast provided by Ó Bhéal and treated very warmly by the organisers and their audience.

– Niamh Boyce
I read from my recently published collection The Fragrance of Dust at Ó Bhéal in August 2013. It was a wonderful occasion with a very appreciative and informed audience of about 25, a very good number considering it was a summer bank holiday evening! It struck me as being a very well-run event with lively audience participation in the open mic and competition sections of the evening, both of which showed a high standard of talent. Clearly this is a quality event and venue well worth supporting. Long may it thrive!

– Jim Norton
It was a great pleasure and a privilege to read at Ó Bhéal last November. I hadn't known what to expect having met Paul Casey at the Spring Poetry Festival and volunteered my services. Paul and his team have created something unique. It is a space without hierarchy, a democratic republic where creativity, word and language flourish.

The less experienced writers learn by example, from the guest poet and one another; the guest writer learns humility and awe at what is possible in this sort of permissive space where the contributions of writers of all stripes and none are afforded equal respect. A renewed faith in the creative force, the muscularity, flexibility and music of language, the innate human urge to create, survive and flourish.

– Paula Cunningham
Ó Bhéal is a well-attended, uplifting haven of positivity, poetry and performance. It's a space where the notion of a laid-back, welcoming, community based, literary Ireland is not nostalgia but literally lives and breathes. Ó Bhéal is important.

– Cliona O'Connell
My reading in Cork was most enjoyable. I had a strong sense of entering a tradition and helping to carry it on. What impressed me also is the combination of good quality poetry with a real engagement by the audience. The little writing task at the beginning of the evening is great for getting the imaginative juices flowing and stirs up a bit of fun. The commitment to keeping the way open for poetry is most gratifying to see and I can only commend most heartily Paul Casey and Ó Bhéal's core group of devotees.

Affectionately,

– Hugh O'Donnell
I am an Australian poet who had the pleasure of reading at Ó Bhéal during a reading tour of Ireland and residency at the Tyrone Guthrie Centre in June this year. I was very well looked after by the convenor, Paul Casey, with a payment and pleasant room at a B n B nearby. The venue is run very well indeed with an engaging writing activity for open readers that results in publication for the winners. The room is warm and welcoming and the patrons friendly. I hope it continues for many years to come.

– Ross Donlon
Ó Bhéal belongs in the poetry big leagues — or perhaps the Poetry Premier League.

– Eric Bosse (from his article in World Literature Today)
As an Irish-language poet living in London it was a very valuable and enjoyable opportunity for me to have access to a Cork audience – as 'out of sight is out of mind' is often the case in such circumstances. I have been very impressed by the way in which you have built opportunities for poets writing in the Irish language into your programme, and by the range of poets – overall – that you have built into Ó Bhéal's programme – and also by the structure of the readings, which encourages the participation of local poets via 'from the floor' readings in English and Irish.

Go n-éirí go geal le 'Ó Bhéal'.

– Seán Hutton
I would sincerely recommend that Ó Bhéal continue to receive support in the coming years to enable a continuation of the great service that the organisers give to the people of Cork each Monday night throughout the year. This event is known throughout the country and also internationally, and many famous poets have appeared there, in the past couple of weeks the professor of poetry Harry Clifton gave a brilliant performance.

It would indeed be a sorry state of affairs, if this important cultural event had to be curtailed in any way due to lack of funding. Paul casey and his colleagues put a huge amount of time into insuring that the people of Cork have this event of International stature to look forward to almost every week of the year.

– George Harding
Contemporary! You can't get more contemporary than Ó Bhéal when it comes to a poetry night. The five word challenge gets us on our toes putting a fiery spice into the night. The interplay between audience and poet is one of familiarity, respect and fun. As a 'guest' poet, I found the welcome there all embracing. I so enjoyed the privilege of reading in this wonderful space …

… agus gach éinne ann ag tnúth leis an nGaeilge a chlos! Bhí oíche den scoth againn, le mic oscailte agus idir óg is aosta ag reacaireacht is ag léamh ann.

– Ceaití Ní Bheildiúin
Ó Bhéal is the template for poetry gigs.

– Rody Gorman
On 25th June 2012 I was the guest poet at Ó Bhéal in Cork. Being a Monday night, I was expecting a handful of people might turn up to hear a relatively unknown poet with one poetry collection under his belt and was pleasantly surprised when about forty enthusiastic people came along; to take part in a short writing exercise, to listen to the guest poet, and finally and most enjoyably, to share their own work in a highly entertaining open mic. A great evening, and to think that this takes place every Monday throughout the year. It's a small and beautiful miracle!

– Gerry Boland
The reading at Ó Bhéal which I took part in last year left me with the conviction that poetry is not only relevant but can be shared in a way that is both inclusive, and makes no concessions when it comes to standards of excellence. It was my strong impression that the group was using the guest reader to stimulate and educate itself in a way that was challenging and unusual — not least to the reader. They were producing strong work themselves and were actively using the dynamic produced by the occasion to create an atmosphere that was conducive to thinking and talking about poetry in a way that would stimulate the writing of better work. I would strongly recommend that they are supported.

– Kerry Hardie
I recently participated in Ó Bhéal's reading series. As an emerging poet, I found it very rewarding to read to an audience. For me, it was a very encouaraging experience and I feel that it has added to my development as a writer. As I am based in Cork county, I have also attended some of the Ó Bhéal events as an audience member and I can testify to the fact that these evenings are very well administered as well as entertaining. I hope [… those who do …] will consider renewing the annual funding for this group, which adds to the diversity of entertainment available in Cork city, while also encouraging established and emerging poets alike.

Feictear dom go bhfuil sé rí- thabhachtach chomh maith go gcuirfear oíche míosúil mar seo ar fáil trí mheán na Gaeilge chun tacú le filí na Gaeilge. Guím gach rath ar Ó Bhéal sa todhchaí. Le meas,

– Doireann Ní Ghríofa
I really enjoyed reading at Ó Bhéal. The warmth and generosity of the event coordinators are commendable. The audience mostly consists of young people who like to immerse in poetry. I loved the whole ambience, relaxed, but extremely deep and stimulating. Overall, a great experience.

– Anatoly Kudryavitsky
Ó Bhéal is doing a unique job at promoting poetry in Ireland, long may it continue.

– Shirley McClure
Many thanks again for a most enjoyable night of poetry last spring. It's vitally important to have a well-attended, regular event like yours in Cork City, and I hope that it continues to receive the funding that it requires.

– Fergal Gaynor
It was a memorable experience to read to such an enthusiastic audience and in such a wonderful venue. Ó Bhéal has an atmosphere that is warm, welcoming, uplifting and deeply stimulating. I am grateful to have experienced it and can only envy those who live in Cork and can attend on a regular basis.

– Pauline Fayne
I was invited to read as part of the Ó Bhéal reading series last March. I was impressed by the friendly reception I received & by how the open mic session which follows the main reading promotes emerging talent. In my opinion, the Ó Bhéal reading series is a major force for good in the poetry world, and deserves continued support in the form of funding.

– Patrick Moran
A brief word of praise for the Ó Bhéal Reading series. I participated in July 2012 and was so impressed with the layout and organisation of the evening. Apart from a wonderfully receptive audience I was very taken with the idea of the 5 word challenge where words were taken at random from the audience and then anyone who wished had a short time to come up with a poem that included these words. I thought this was a wonderful way to begin the evening – getting everyone to think creatively before the evening began at all. The standard and variety of poems entered in the challenge was also fascinating. I also loved the idea of the open reading at the end and think you are doing a wonderful job organising the reading series. Well done to you and to whoever else is involved.

– Aine Ní Ghlinn
Thank you for the opportunity to acknowledge officially how much coming to Cork and reading at Ó Bhéal meant to me. In fact it was the first outing of some new poems that will shortly be included in my new collection with Bradshaw Books, Cork. I received some insightful comments not least from yourself that helped give a different sense of the singularity of the work. Living in the Midlands the opportunities to read are rare and so the platform that Ó Bhéal gives is essential in helping poets like myself feel included within the wider lens.

– Mary Melvin Geoghegan
Ó Bhéal's reading series is not only Cork's, but one of Ireland's finest literary events. It is flying the flag of poetic Ireland high above the Lee and has given me one of my favorite audiences and platforms on which to perform. Add to that the endless charm of Paul Casey and the good will of the Cork literary scene and what you have is a complete delight. If Ó Bhéal was a cake I would stuff my face with it.

– Stephen Murray
It is with great pleasure and enthusiasm that I provide a testimonial for Ó Bhéal. As an organization that supports poetry by allowing it to come to life, Ó Bhéal serves as a flourishing and successful example of what this kind of organization can and should be. One can see from the Ó Bhéal web site that its organizers have built a true poetry empire. People are committed to its events and it continues to grow a dedicated audience. The organization has allowed poetry to thrive in an age when many consider it endangered.

What cannot be seen from the outside is the actual community that Ó Bhéal has built. On the night I served as featured reader, the venue was packed with lovers of poetry who had come to share their own work and to hear the work of others. The tone in the room was reverent and interested, but also amazingly warm. It was obvious that these were people who had built relationships with one another based on a love of poetry, and that in this setting, poetry was doing what it should do: bringing people together and creating a shared experience. I was welcomed into that group as if I had been attending for years.

Rarely have I felt so immediately connected with an audience I was reading for. I quickly realized that Ó Bhéal was not just another poetry venue, but was a close-knit family of poetry readers and poetry writers. Here was a group of people who obviously cared for one another and were drawn together by their common literary bond. Ó Bhéal completes a portion of what I believe to be some of the world's most important work; our culture is dependent on a continued examination of ourselves and of the world. Our human connection relies on venues that can bring us together to celebrate and share. Poetry is one of the key arts to provide that. Ó Bhéal is a true force in a city that needs to keep poetry alive. The organization is more than deserving of the support required to allow for its continuance.

– Jennifer Militello
I would have no hesitation in recommending to any poet that they should read at Ó Bhéal — a wonderful way to showcase your poetry to a responsive, attentive and well-informed audience. The whole thing smoothly and professionally run. I had a wonderful time when I was there. If you're ever in Cork, do go, you'll be happy you did.

– Roderick Ford
I thoroughly enjoyed performing my poetry recently, accompanied by musician Sabrina Piggott, at Ó Bhéal. I was hugely impressed by the warm welcome we received, the professionalism of the whole event and by the quality of the other poets at the open mic. I was also impressed by how innovative and creative the whole evening was, with many members of the audience writing and then reading a new piece on that evening, inspired by an exercise led by our host. Having run a poetry evening for many years in England and performed at many others, Ó Bhéal has to rank amongst the very best!

– Siobhan Mac Mahon
I had been told by past participants in the Ó Bhéal reading series that I would have a very enjoyable and rewarding experience in Cork. They were right.

Pre-reading correspondence was efficient and friendly, offering any assistance I might need in finding my accommodation, outlining clearly the schedule for the reading, and the arrangements for payment. The accommodation was a delight and I was particularly impressed by both the owners' hospitality and the tremendous value for money. As to the reading itself, I was impressed by the warm reception I received and the general feeling of camaraderie amongst those who were obviously regular attendees. Perhaps even more impressive, however, was the warm welcome extended to new faces. Indeed, it was a 'new face' who won the opening competition to write a poem incorporating five words selected by audience members — an innovative way of involving everyone in proceedings. The same is true of the open mic session that followed my reading. Ó Bhéal obviously contributes significantly to the literary culture in Cork and its encouragement of an inclusive and friendly atmosphere in which Creative Writers are encouraged is to be commended. I wish it continued success in its endeavours.

– Paul Maddern
I had the privilege of reading at this venue in August 2011. It is a well organised and well run poetry venue. As an important nurturer of poetry and poets in Cork City and County it deserves the support of appropriate funding to continue its very valuable contribution to the Cork's literary life.

– Michael Mc Carthy
I was a reader in the Spring Ó Bhéal series and was particularly impressed with the welcome and the level of support offered for the reading. Paul Casey met me and spent considerable time getting to know me as a writer before I did my reading. I was equally amazed by Jennifer's very generous introduction and the general friendliness of the setting. Afterwards I was invited to sample the nightlife of Cork with the Ó Bhéal gang – I had a real sense of being brought into the heart of what was going on. Overall a very worthwhile journey from Galway where genuine connections were made. I think such connections are very important for writers and build a sense of national identity around writing.

– Mary Madec
My reading at the monthly Ó Bhéal gathering was a highlight of my last trip to Europe. The community was gracious, treating their guest artists extraordinarily well, and I was blown away by the quality of the poetry I heard. The work they're doing is an asset to the greater literary arts world.

– Jennifer Cendaña Armas
Is íontach agus is éachtach an stoirm filíochta a chruthaíonn sibh. Tá súil agam go dtuigfidh na daoine atá i mbun sparáin go bhfaigheann siad craiceann agus luach ar an méid a íocann siad. Thug an oíche a chaitheas libh ana mhisneach dom. An fhilíocht bheo ag léimrigh ó bhéal go béal an seisiún sin. Ba bhreá liom dá mbeadh craobh i mbaile atha cliath, nó dá bhfeadfainn bheith libh níos minicí i gcorcaigh.

– biddy jenkinson
Ó Bhéal is much more than just a poetry reading, it's a well-publicised event that includes a competition for a poem using five random words called out by members of the audience, an open mic of a cracking standard and a guest spot that any poet would be proud to fill. The listeners are attentive and their feedback astute. Paul is unique as an organiser of such events, quietly efficient and inclusive, he makes the magic happen on the night – and publishes the results in good time. Long may Ó Bhéal be music in mouth!

– Catherine Ann Cullen
Despite the weather, it was a great night – great format, lovely crowd and a really generous space to read. I wish Ó Bhéal all the best in the future.

– Olive Broderick
Exemplary organisation and hospitality, attentive audience, engaging writing challenge and vibrant open-mic session, great post-reading vibe – in my experience Ó Bhéal is a top quality reading series in every respect.

– Christodoulos Makris
To one much-travelled troubadour (coming from the Antrim Glens for my Ó Bhéal reading, as it happened, though I'm London-based and have been to festivals and writers' groups all over Britain and Ireland in the year since my New and Selected came out) Ó Bhéal came across as one of the finest and best keepers of the flame of poetry as intellectual challenge, professional performance, communal energy, emotional engagement and sheer enjoyment: a vital focus for so many of the art's aspects and attributes we often lose sight of—and a new marker on my map of poetry places that matter.

– Anne-Marie Fyfe
Having read with 4 poets from Ó Bhéal at a Poetry Event in London, I was immediately struck by their passionate commitment to writing, to messing with categories and to being friendly to other poets! Henceforth I was invited to read in their venue in Cork and it was an extremely rewarding experience, with a bumper audience – quite a shock for a Monday night at ANY poetry reading ANYwhere – a diverse range of readers, complete with a poetry quiz which encouraged beginners to have a go and piles of enthusiasm. In the dark days of a threatening poetry oblivion, it is so refreshing to see and participate in an organisation like this – professional, popular and serious.

– Cherry Smyth – poet and editor of Brand Literary Magazine
Reading at Ó Bhéal is the only time I have had the strong impression of reading to an existing poetic community, to a group of individuals whose continued interest in poetry is evident in their support for the weekly readings and in their participation in the open mike part of the evening. I felt privileged at being invited to contribute my own small wave to the tide of poetry washing into the harbour of Ó Bhéal. Aside from the special atmosphere at the reading itself, the logistical arrangements for travel, meeting the poet on arrival, accommodation and payment are all carried out in a very professional and welcoming manner.

– Philip Cummings
I attended Ó Bhéal in January 2011 to give a reading and lead a writing workshop, and greatly enjoyed the experience. The event was well organised and as a consequence the venue was packed out. The format, which involved the audience creatively and imaginatively in a number of ways, was very successful. The annual programme which presents a huge variety of writers and performers appeals to a wide constituency, going well beyond the fringes of the literary community and on every level is fantastic value for money. Ó Bhéal and Paul Casey deserve our support for providing a quality literary night out. They're an essential part of the Munster literary scene.

– Ian Wild
Two topics here: quality and funding. Quality first: I was glad to have been invited as soloist, and gladder still of the actual experience, once it happened: May 23, 2011. The venue was fine, something not so easy to achieve. No frills; but on the human level, generosity. The open mic session was well organised; it included an improv warm-up session which notched the bar up for the rest of the evening, in terms both of content and of ambiance. Re me, the soloist, the audience's standard of expectation was very high; that means a great deal to a performer. The balance of solist/open mic was well-done. The mp3 taping of the evening – solo and open mic – was thank God unobtrusive; and the result – now on the internet – professional.

There was, about the whole evening, a Cork spirit, quite unique – including its welcome of the rest of the island of Ireland and Internationals. Second topic, funding: I would have wished the organisers had had the means to pay an honorarium of more than 50 euro, as the trainfare Dublin-Cork was more than that – which I well knew when I accepted the engagement because because I love the artistic scene of Cork and am glad to be part of it when I can. Fifty euro clearly that was all the Ó Bhéal 2010- 2011 budget allowed; and the cost of the B&B, covered by O'Bheal, served as payment, too, of course. But the rapport art/remuneration needs adjusting, for artists to break even; and for organisers to break even or a little better than that, so that they can continue.

– Richard Halperin
Ó Bhéal's a top-notch venue. It has a warm club-like atmosphere, is professionally run –and has built up an appreciative, informed and loyal audience for poetry. It was a pleasure to read there.

– Maurice Riordan
I was thrilled with an invitation to read at Ó Bhéal. I had never read there before and Paul Casey emailed me to invite me. He had done his research on my work, which of course is always gratifying – but it shows a committed engaged with contemporary poetry. Everything was very clear from the outset. That is a huge factor in any invitation – the date, the venue, the fee, the accommodations, the length of reading expected to allow for other readers, the MC for the evening, the other poets reading at the Open Mic slot. Again, such an important aspect to preparing for a Reading is to know the time allotted, to know how many others are reading in order to allow for fairness for everyone.

I then spoke with Paul Casey on the telephone to firm the arrangements. I found him so clear, so engaging and I knew by his approach that everything he promised would be in place. You just know that when you speak to him. So I looked forward to the Reading with great pleasure. The Night was indeed most pleasurable. Everything was delivered as promised. Everyone was wonderful – there is a particular atmosphere in the venue; an atmosphere which would be difficult to create even in a comparable venue anywhere in the country. There is an Ó Bhéal family, it seems the best way to put it, and they are consistent in what they do for poetry every week practically. It is an enormous commitment on their part and I couldn't praise Paul and his team strongly enough.

Ó Bhéal is a shining light in Cork City for poetry and for poets in both languages. It is a light which shines throughout the country and perhaps beyond. It was notable the good wishes I received from poets who had read there assuring me that I would love the place and the people just as they had when they had read there.

Guím gach rath is gach beannacht ar Ó Bhéal.

– Rita Kelly
Reading at Ó Bhéal was a lovely experience, the night is always so welcoming and inclusive, and encouraging to new writing. Thanks!

– Kathy D'Arcy
I found Ó Bhéal a very welcoming and inclusive event in a lovely venue. There were top poets and beginning poets there, and the audience were receptive, warm and talented. It is a great outlet for writers of all levels and an integral part of the Irish literary scene. Kudos to Paul Casey who keeps it afloat; it goes from strength to strength each year.

– Nuala Ní Chonchúir
I read at Ó Bhéal in March of 2011. As an American poet visiting Cork City with my Irish co-writer, Geraldine Mills, I didn't have any expectations. The ambiance of the facility added to my positive experience. Paul Casey was an excellent host and the crowd included many regulars whose passion for poetry was evident. I particularly enjoyed the writing exercise and the conversation after the reading with this engaged group. It was definitely one of my favorite readings—in either Ireland or the United States. I also appreciated being put up in local B & B and our visit beforehand with Paul.

– Lisa C. Taylor
Having a debut collection published is an important landmark for any poet who has grafted their work over many years. With the book in hand, launch over, I've often heard writers say something like, so 'what's next?'. The Ó Bhéal readings series in Cork city is so important, in that it gives even those 'unknowns' with their first book out, a chance to headline at the venue. With my debut collection published by Salmon in June 2010, I was delighted to perform at Ó Bhéal to a very appreciative audience. Is is one of just two regular weekly venues for poetry in Munster (other being The White House, Limerick). Also, as well as coming to hear a published (in book form) poet, audience members have the opportunity to take part in the Open Mic. This venue and series must continue long into the future.

– Noel King
Ó Bhéal plays an important role in the cultural life of Cork and is unique in terms of empathy, interaction and involvement between visiting poet and audience. The weekly readings attract an ever-growing number of poetry lovers and are always special events. I found it to be a deeply rewarding experience to read there.

– Enda Coyle-Greene
I wish you every success with your endeavour. It is very important to have nights like these.

– Seosamh O Guairim
Ó Bhéal is an intimate, warm venue for reading poems, in the heart of Cork City. It recalls those venues where poets of my own generation started presenting their work in the late Sixties. Upstairs, above a pub is always a good place to read poems. Its eclectic mix of poetry draws people in from various backgrounds, giving it a broad reach. It has the feel of a place where poetry belongs, with an attentive audience. I read there during the year, was treated with great courtesy, and wish Ó Bhéal (a great name) continuation and endurance.

– Liam Ó Muirthile
Just a quick thanks again for inviting me down to Ó Bhéal. I had a great time and your audience was very receptive and attentive. Hope to see you again soon. Cork is very lucky to have you.

– Kate Dempsey
My first poetry collection was published in 2009 and it was wonderful to get a reading of my work at one of Ó Bhéal's weekly events in Cork. Ó Bhéal provides a great platform for new and established writers alike. The venue is open and welcoming in the heart of Cork City and is obviously much appreciated and supported by those who come to listen and to participate. Thanks Ó Bhéal.

– Patricia Byrne
Ó Bhéal is a unique organisation for poetry, firstly in its intensity in offering 50 professional poetry readings a year, and secondly in its practical encouragement of the composition and reading of new poetry, an integral part of every event. It is therefore a serious training ground for the poets, who write in English, Irish and other languages. Being outwith any educational body, is it a serious example of self-organised quality culture, which involves immigrants, academics, and every other sort of person, old and young, in a city with a literary reputation to keep.

– Meg Bateman
Ó Bhéal is a well organised reading series in Cork. The audience is lively and particpatory. Poets and readers fill the seats. One of the most enjoyable reading series I have been to. Simply put, it's a must on the Irish poetry-reading cicruit.

– Paul Perry
Ó Bhéal provides a vital platform for poets, both well established and less well known, to present their work to a live audience. It also gives people an opportunity to hear poets deliver their own work. It is always a lively and very well organised event and a very important element in the poetic fabric of the country. It's continued support is very important.

– Gerard Hanberry
I cherish the memory of my visit to Ó Bhéal. You have found a formula which works: Competition first, followed by Guest Poet and then open mic. On the night I was with you we had a good quality house, some from quite a distance. I like the harder edge your system gives to the evening; your audience is much more involved in the three-layered session. It was a pleasure also to get feedback from people afterwards – some offering views on my work; others seeking an opinion on theirs. Long may you continue with this relevant work.

– Tommy Frank O'Connor
I was impressed & delighted by the multi-lingual, engaged & engaging audience at my reading as part of the Ó Bhéal series earlier this year. The whole event was well-managed with efficiency & good humour by Paul Casey.

– Maurice Scully
Ó Bhéal: warm, inviting venue. Paul: terrific host. Audience: engaged and friendly. Atmosphere: electric. Altogether, a rare convergence – keep it up!

– Camille Martin
Thank you so much for facilitating a reading of my first full collection Inhaling the Light which I pre-launched at Ó Bhéal earlier this year. Without places like Ó Bhéal, who by the way offer a teriffic venue for poetry, where would poets be given a voice? Best wishes for your continued success.

– Marian O'Rourke
I was the guest poet at Ó Bhéal's weekly reading on the 14th June 2010. It was a lively and well attended event and I was very pleased to meet the Cork writers. Paul Casey looked after my accommodation and expenses and was a most courteous host.

– Maureen Gallagher
Is sampla é Ó bhéal den saghas fóram filíochta gur chóir a bheith forleathan in Éireann ach atá, i ndáiríre, tearc go leor. Tá an t-atmasféar neamhfhoirméalta, uileghabhálach meáite le meas doimhin agus bá leis an fhilíocht á léamh. Gur fada buan é!

Ó bhéal is an example of the type of poetry forum which should exist in many locations in Ireland but which is sadly rare. The informal, inclusive atmosphere is offset by a deep respect for and engagement with the poetry being read. Long may it last!

– Simon Ó Faoláin
I found the Ó Bhéal series excellent in every respect. Paul Casey did a tremendous job of organizing and publicizing the event. I read to an enthusiastic, responsive full-house at the 'Long Valley', a perfect venue. An acquaintance of mine from Cork City, a software editor from McAfee, had never attended a poetry reading. He thoroughly enjoyed himself and said he would most likely attend other readings in the future. I am always pleased when people from the community at large who are necessarily poetry fans attend readings. This kind of outreach helps us poets spread the word of poetry and is good for the general cultural health of the city.

As a visiting Irish-American poet I was impressed with the warm welcome I received and the accommodations the series arranged for me in Cork City.

– Carlos Reyes
I had the great pleasure of reading and giving a writing workshop at Ó Bhéal in April 2010. I was very impressed by the professional and courteous manner with which both events were organised and found the audience for both the reading and the workshop appreciative and responsive. There is clearly a huge appetite for, and engagement with, literary culture in Cork, and Ó Bhéal is leading the pack in developing audiences for literature and promoting the craft of writing.

– Nessa O'Mahony
Ó Bhéal is an oasis. If it dries up … perish the thought!

– Gabriel Rosenstock
The Ó Bhéal reading is one of my favorites in Ireland, with an enthusiastic audience and hosts dedicated to helping make Cork one of the most congenial places to be a writer I've seen.

– Quincy Lehr
Thanks for your hospitality. I had a great time in Ireland, the people were very kind to me. So I hope to come back some time. It was a nice stay in Cork. Success with your poetry and the poetry evenings. Thanks again!

– Rense Sinkgraven
I feel Ó Bhéal is an excellent venture, bringing such a range of poets to Cork, and very necessary. Ireland's second city needs poetry.

– Matthew Sweeney
I was delighted to have been given an opportunity to read at Ó Bhéal in Cork last year. This weekly poetry reading and 'open mike' is the only such event to take place on a regular basis in Cork city, and in the course of its lifetime to date, it has brought a very wide range of interesting writers to the attention of the Cork public. Ó Bhéal fulfils a vital role by bringing poetry to the heart of the city on a weekly basis. It provides encouragement to both established and developing writers in the practice of the craft. It is very well managed, everyone is treated with courtesy and respect, and the atmosphere is very positive. Ó Bhéal provides a life-line for poetry, and for culture more generally, in Cork.

– Mary Noonan
I have read at the Ó Bhéal readings in Cork and found them to be energetic, teeming gatherings of the poetic heartland in Munster. The particular structure of an Ó Bhéal reading — a themed open competition on the night, followed by an invited reader (a published poet) and a completely inclusive open-mike — is one of the most consistently successful, unconscious poetry workshops I've ever seen in operation. The process-based structure of the evening, where poetry and the impulses of poetry, flow back and forth between reader and audience, is something that has to be experienced to truly understand. Its success has to be due to an unwavering, light but disciplined, touch of the Director and MC, Paul Casey. An Ó Bhéal evening is workshop, reading, propaganda, seminar, inclusive encounter, all rolled into one. Each Monday it performs the function of a living, working, ever-changing anthology of Southern poetries.

– Thomas McCarthy
Ó Bhéal fills a role in Cork not served by either of the two pre-existing literary organisations including ourselves, namely the provision of weekly live readings. The Munster Literature Centre pools its resources for readings into two annual literary festivals. We consider Ó Bhéal to be a complimentary organisation to our own. Ó Bhéal insures that poets who do not fit into the festival criteria or are unable to travel to Cork during those festivals are afforded a reading outlet. Ó Bhéal is non-doctrinaire in its literary programming featuring poets from all schools and persuasions. There is a great mix of out-of-town Irish and foreign poets featured. There is also a good mix of established poets like Derek Mahon and others on the cusp of publishing a first book. The workshops which are provided are an excellent resource for the beginning poet.

Ó Bhéal's activities also help to grow the literary audience in Cork which then becomes available for other literary events and festivals. I find the atmosphere of Ó Bhéal always wecoming and the events are well organised, well presented and also well supported by an excellent website with podcasts. We are so impressed with Ó Bhéal and believe their activities are so crucial that we gave them a grant of 1,000 euro this year. With cutbacks next year we do not anticipate being able to repeat this gesture in the immediate future.

Ó Bhéal 's continued existence would be essential to provide a Cork venue for any literature touring scheme. As the literary consultant on the Touring Experiment, I know how rare something as Ó Bhéal actually is.

– Patrick Cotter

Director
The Munster Literature Centre
Cork
I read at Ó Bhéal in July 2009 and discovered the vibrant and colourful Cork poetry scene. Meeting other poets – English and Irish language – was not only enriching but also opened my eyes to a network of poets nationwide. I had previously felt outside of that because I write in Irish but Ó Bhéal provided a genuinely warm welcome and continued support.

– Ailbhe Ní Ghearbhuigh
I am very glad to express my appreciation of the experience of reading at Ó Bhéal last year. I was impressed with your ability to create a lively milieu, with an interested audience, in an authentic Cork pub setting.

– Eiléan Ní Chuilleanáin
Ó Bhéal welcomes all listeners and encourages new readers in a safe atmosphere. Without the efforts made by Paul Casey a fundamental platform to the art of expression would be lost in Cork. Long may they continue to unearth new voices and inspire a new generation of poets, this is what I bore witness to during a wonderful evening there with our hosts.

– Stephen James Smith
I have read at Ó Bhéal and can highly recommend it as a venue for established and aspiring writers.

– Eugene O Connell
Reading poetry at Ó Bhéal proved delightful, and a pleasure: an attentive and participatory audience, followed by an outstanding open-mike session afterwards. It was a welcoming and welcome poetry opportunity and I was delighted to return to my home county for this reading. Many thanks to you and Ó Bhéal – long may you flourish.

– Seamus Cashman
Ó Bhéal has rapidly become one of the most important poetry reading venues in Ireland. It offers regulars the chance to hear some of our finest poets, as well as offering lesser known poets an invaluable opportunity to air their work. Part of its success is the flair and efficiency with which it is organised, and the sense of poetic community it creates. If ever a poetry initiative should be encouraged, this is it!

– Anamaría Crowe Serrano
Ó Bhéal provides the ordinary and extraordinary punters of Cork the opportunity to listen to the poetry of old pros and new rising stars. Ó Bhéal facilitates minds and hearts to expand on a weekly basis. They must be congratulated and financially supported in this ambitious and life-affirming venture. They are a respected port of call among Ireland's poetry sailors.

– Mary Mullen
Ó Bhéal has a great format, interestingly participatory, democratic, stimulating. O Casey engenders a warmly responsive arena for the visiting writer. I'd return with gusto.

– Frank Golden
Ó Bhéal is an important node of communication and debate in the Irish arts- their programme is extensive and creates a platform and unique opportunity for a diverse range of artists to share their work with a diverse audience and also to perform to other poets. As a poet, I have thoroughly enjoyed being associated with their events and found them rewarding for my own work and development.

– Gearóid Mac Lochlainn
I would like to add my recommendation that Ó Bhéal be assisted in their mission to bring poetry to the places others can not reach. I have been a proud participant in their endeavours.

– Gerry Murphy
Performing at Ó Bhéal, I was very impressed by the efficiency with which the event was organised and by the large, enthusiastic attendance. The event is edifying, from the improving, critical thrust of the workshop to the opportunity for both spontaneous and practiced poetic creativity. I believe it performs a great service to the cultural life of Cork.

– Máighréad Medbh
From the 5 Word Challenge which gets everyone writing, to the opportunity for listening to visiting poets (some have one collection behind them, some have fifteen) and the Open Mic segment where everyone gets a chance to stand up and read their new work aloud: it's no surprise that Ó Bhéal can't help but engage a dedicated following.

– Alan Garvey
As an Australian poet I have given poetry readings in many countries including Portugal, Italy the UK, Ireland and Turkey. The Ó Bhéal reading run by Paul Casey is one I highly recommend because of its full and attentive audience, the time given to the guest poet to read which allows full exploration of their work, and for the Open section, which is of the highest quality. I particularly noted the attendance at this reading of young poets, something to be encouraged. Paul Casey is to be commended for his hard work in organising this event and the associated lively and archived website.

– Dr Robyn Rowland AO
Paul Casey and the weekly Ó Bhéal readings are a further essential element for keeping poetry alive in these strapped times. They enable established poets to read before an audience genuinely open to all approaches to contemporary poetry but also, most importantly, allow the audience, comprised of poets as well, to hone their craft and confidence. Thus, Ó Bhéal acts as both a seedbed for the future, a testing ground for tomorrow's generation of Irish poets, and also as a safe harbour for established poets to land their craft and share their trade.

– John W. Sexton
Ó Bhéal is a joyous celebration of poetry. As a focal point for poets across Ireland and particularly those of us in the south-west it is essential. What Ó Bhéal provides is needed now more than ever.

– Joseph Horgan
I've read twice in Ó Bhéal, before and after my book was published. Without venues like Ó Bhéal, and the tireless work Paul does, emerging poets won't be able to develop their trade.

– Miceál Kearney
Thank you for inviting me to read in July, 2009, and for the warm welcome I received. Your venue in The Hayloft, Cork, is intimate and unique, and most conducive to meeting and chatting with audience afterwards. You provide a much-needed, receptive forum for poets and poetry lovers and long may you continue.

– Aidan Murphy
Many thanks for the opportunity to contribute to the Ó Bhéal reading series last October, it was a very enjoyable and rewarding experience and I am looking forward to returning with The White House Poets in November this year. I can testify that Ó Bhéal is run professionally and is, along with Over the Edge and the White House Poetry Revival, a venue where visiting poets are always assured of a courteous welcome from an always appreciative audience.

– Dominic Taylor
Ó Bhéal can only go from strength to strength with the following it has. It was a delight to have been invited to read, and will be a delight if it happens again.

– Neil McCarthy
Ó Bhéal is exactly what is needed to keep poetry and short fiction alive and enjoyable as a living spoken tradition and it is the perfect interface between developing writers, well-known writers and the public.

– Niall Herriott
The Ó Bhéal readings ensure that Cork, one of our major cities, has a vibrant and regular open-mic venue, one of the essentials for encouraging creative writing. It also ensures exposure to the work of guest poets from outside Cork, thereby providing an openness to national contemporary influences. It is an absolutely invaluable asset to Cork's artistic life.

– Eamonn Lynskey
I was a featured poet at Ó Bhéal in February 2008 and it was obvious that Ó Bhéal has become for Cork what The White House readings are for Limerick and Over The Edge and North Beach Poetry Nights are for Galway; it is one of the four pillars of the hugely vibrant oral poetry scene which grew up in Ireland during the last few years of the Celtic Tiger.

– Kevin Higgins
Ó Bhéal has much to be proud of. A fine pedigree of writers who've appeared, and a committed audience which continues to develop and broaden. Besides providing an engaged audience for established writers, Ó Bhéal is engendering a community of new writers, giving them the kind of support and platform which make a fundamental difference to young writers struggling for recognition and direction.

– Grace Wells
Ó Bhéal is an excellent poetry reading; well organised with a large, knowledgeable and very appreciative audience. It was a great pleasure to read my poetry there and I have been singing the praises of Ó Bhéal ever since.

– Martin Daws
I read at Ó Bhéal in March of 2009 in support of my first poetry collection. It was a pleasure from start to finish. The reading was well attended, the audience enthusiastic. The accommodation provided was lovely, and I was surprised to be handed a reader's fee at the end of the night! Ó Bhéal is a professionally run gig I'd recommend to any poet. As one of the organisers of Galway's Over the Edge events, I can further testify that Ó Bhéal is part of a network of readings (the others being Limerick's White House events, Galway's North Beach Poetry Nights, and our own series) that both new and established, visiting and Irish poets make use of. We organisers work well together, to the advantage of poets and audience. Ó Bhéal definitely deserves continued support.

– Susan Millar DuMars
As a much travelled poet, I've had experiences of reading at venues the world over – for good or for ill. Ó Bhéal has always been for me a very good experience – very sociable but with a deep concern for providing a platform for poetry of quality. I can, therefore, heartily endorse the great work done in Cork by Paul Casey and all the Ó Bhéal team.

– Keith Armstrong
Reading at Ó Bhéal was a great experience. The whole evening was incredibly well organised and Paul Casey was very supportive before, during and after the event. The venue was congenial and the audience welcoming. This was my first but I hope not my last reading at Ó Bhéal.

– Anne-Marie Glasheen
Beatha agus slainte go Ó Bhéal mar cheann de na clubanna is fearr agus is leanunai filiochta sa tir, e eagraithe go maith agus lucht leanuna aireach gnothaithe aige – gura fada buan e.

– Dairena Ni Chinneide
Ó Bhéal is a unique venue for an emerging poet to have one's work heard by the people of Cork city and county. You always get a warm reception from their very able organizer Paul Casey, and the prospect of meeting with established poets living or working in the area, like Billy Ramsell, Patrick Cotter, Leanne O'Sullivan, Desmond O'Grady and Matthew Sweeney, is also invaluable. The mix of formal and informal opportunities to hear poetry at a venue such as Ó Bhéal cannot be underestimated; especially in these straitened times.

– Barbara Smith
In 2008 I had the experience of giving a poetry reading at Ó Bhéal. There was a large and enthusiastic audience, and the reading was followed by an unusually lively open mic. I consider Ó Bhéal to be one of the few outstanding poetry reading programs in the country. Paul Casey has done an excellent job of organising and developing it.

– Knute Skinner
Ó Bhéal, with Paul Casey, has provided me and many others writers with a welcome opportunity to read and promote our work in Cork. Ó Bhéal has grown in stature and has established itself as a major event on the literary calendar. We can only hope that it continues to grow and provide a much-needed outlet for the huge number of writers Ireland claims to be proud of.

– Terry McDonagh
I would like to inform you that I have been a Guest Poet at Ó Bhéal in the past year and have never read before such a warm and responsive audience. The evening is split into sections where all those attending are encouraged, if they wish, to perform and read their own work.

The results are quite stunning and produce an exciting and creative evening of poetry. Ó Bhéal is a very special place and congratulations to all those involved who work so hard in booking guest poets week after week, and give such encouragement to new writing!

– Cliff Wedgbury
I read at Ó Bhéal in April and was very impressed by the lively atmosphere. The audience is young and enthusiastic, and the event is creating a focus for young writers in Cork. Its format of workshop, followed by reading, provides a heady mix of debate and celebration from which important new writers may emerge.

– Rosemary Canavan
Knowing him, I know too that whatever projects he undertakes he pursues with vigour and imagination. The reading series he runs in Cork is tremendously popular, especially with young people.

– Derek Mahon
I had a great time reading at Ó Bhéal. It's really well organised but still has a quite relaxed atmosphere. It's inclusive, allowing both new and not so new poets read together, and it was obvious that it's a great boon to writers in Cork. Long may it continue.

– Alan Jude Moore
There is a special buzz for me about reading in Cork as I originally hail from that county. So, when Paul Casey invited me last year to read at one of the Ó Bhéal weekly gatherings, I was in my element (as the phrase goes). The intimacy of the venue and Paul's unobtrusive professionalism, turn these readings into memorable occasions for reader and listener. Long may they last.

– John Liddy
I did not know what to expect when I went to read at Ó Bhéal in April 2009. Open-mic events can be variable in my experience, depending on sound quality, audience numbers, enthusiasm of the poets etc. But Ó Bhéal ticked all the boxes. A great atmosphere in the Hayloft, packed with faces young and old, male and female, a great MC and superbly organised. I felt at home straightaway. It was memorable night – and long may Ó Bhéal continue.

– James Harpur
Paul Casey's Ó Bhéal has become an established event in Cork's city life and culture; bringing poetry to the people and bringing people and poetry together.

– Adam Wyeth
Ó Bhéal is the focal point for Leeside's swirling word art these days
and is the birthplace of many an inspiration and a poem.
It is as well organized and tirelessly promoted
as it is welcoming to the out of town visitor
and when I read there in the depths of last winter I felt I was
slotting in to a thriving and serious community of free minds and open spirits.
Long may it run and please fund it.

– Dave Lordan
Since my book was published in April it feels like I have been doing a reading every week. None of these readings brought me as much pleasure as reading at Ó Bhéal. I'm not sure why exactly this was, but I do know that I felt more at ease than at other readings, more welcome and more comfortable; there was an appreciative yet clearly smart and critical energy in the crowd; the whole evening from start to finish was relaxed and well-run; this gave me a good confidence boost, which is a wonderful thing at poetry readings.

– Michael McKimm
Poetry events like this are important because they are bridges between the past and the future.

– Cllr. Jim Buttimer, Deputy Lord Mayor (and later, Lord Mayor) of Cork City
Lord Mayor's Arts and Culture Award 2013