---
October and November
---
1st October
Louis Mulcahy
You can listen to Louis' reading here.

Louis Mulcahy's poems have been accepted by Poetry Ireland, Stinging Fly, Stony Thursday, Boyne Berries, Sonas and Revival amongst others. Many of them appeared in Idir Chruach is Chuan, and Criathar Meala, Mil na Ceardlainne, Mil ina Slaoda from An Sagart Publishers. He has read his work on Sunday Miscellany RTE1, and on Lyric Radio. He made the shortlist of five in the Competition for a Collection in English at Listowel Writers' Week in 2008 and again in 2010.
His first collection in Irish is being launched at An Fhéile Bheag Filíochta, Ballyferriter, Dingle on Friday 9th. November 2012. In 2004 he was awarded an Honorary Degree by the Senate of the National University of Ireland for his work in his pottery Potadóireacht na Caolóige and his contribution to his community. He is the Director of An Fhéile Bheag Filíochta. He is married to the Tapestry Artist, Lisbeth Mulcahy. He likes making noise.
Tá dánta Louis Mulcahy foilsithe i roinnt duanairí; Poetry Ireland, Stinging Fly, Stony Thursday, Boyne Berries, Sonas agus Revival ina measc. Bhí scata acu in Idir Chruach is Chuan, agus Criathar Meala, Mil na Ceardlainne, Mil ina Slaoda ó fhoilsitheoirí An Sagart. Léadh a véarsaí i Sunday Miscellany RTÉ 1, agus ar Lyric Radió. Bhain sé amach an gearrliosta do chúigear i gcomórtas Bailiúcháin as Béarla i Lios Tuathail i 2008 agus arís i 2010.
Beidh a chéad chnuasach filíochta á sheoladh ag an Fhéile Bheag Filíochta, Baile 'n Fhirtéaraigh ar an 9ú la de Mhí na Samhna 2012. I 2004 bronnadh Céim Óinigh air ó Ollscoil Na hÉireann ar son a obair i bPotadóireacht Na Caolóige. Is eagarthóir é ar an Fhéile Bheag Filíochta. Tá sé pósta leis an Ealaíontóir Táipéis, Lisbeth Mulcahy. Is breá leis a bheith ag déanamh glóir.
---
8th October
Ó Bhéal in association with Foras na Gaeilge presents
Colm Breathnach
You can listen to Colm's reading here.

Colm Breathnach was born in Cork. He attended University College Cork and obtained an M.A in modern Irish under Professor Seán Ó Tuama. He worked for some years as an Irish-language terminologist with the Department of Education and latter as a translator in the Translation Unit of the Oireachtas. He has won the principal poetry prize at the annual Conradh na Gaeilge Oireachtas Literary Festival. In 1999 the Irish-American Cultural Institute presented him with the Butler Literary Award in recognition of his work. Poems of his have been translated into English, Scottish Gaelic, German, Italian, Chinese and Slovenian and his collection An Fear Marbh appeared in a Rumanian edition (Bărbatul fără viaţă, Ars Longa, Iasi, 1999). He has been a writer in residence in China with the Shanghai Writers' Association and in Slovenia.
Colm's poetry collections include: Cantaic an Bhalbháin (Coiscéim, 1991); An Fearann Breac (Coiscéim, 1992); Scáthach (Coiscéim, 1994); Croí agus Carraig (Coiscéim, 1995); An Fear Marbh (Cló Iar-Chonnachta, 1998); Chiaroscuro (Coiscéim, 2006) and 'Dánta' agus dánta eile (Coiscéim, 2011). He has also written a novel, Con Trick 'An Bhalla Bháin' (Cló Iar-Chonnachta, 2009). His prose translations include: Cat agus Luch (Coiscéim, 2000) (A translation of Katz und Maus by Günter Grass in conjunction with Dr. Andrea Nic Thaidhg) and Fortsetzung Folgt / To Be Continued / Leanfar de (The Irish Translators and Interpreters Association, 2002) (Aistriúchán ar Léacht Nobel Günter Grass).
I gCorcaigh a rugadh Colm Breathnach. D'fhreastail sé ar an gColáiste Ollscoile i gCorcaigh áit ar ghnóthaigh sé M.A. sa Nua-Ghaeilge. Chaith sé roinnt blianta ag obair mar théarmeolaí Gaeilge sa Roinn Oideachais agus ina dhiaidh sin mar aistritheoir i Rannóg an Aistriúcháin.
Bhuaigh sé an phríomhdhuais filíochta i gcomórtais liteartha an Oireachtais ceithre huaire agus i 1999 dhein An Foras Cultúrtha Gael-Mheiriceánach Duais an Bhuitléirigh a bhronnadh air mar aitheantas ar a shaothar. Aistríodh dánta leis go Béarla, go Gaeilge na hAlban, go Gearmáinis, go hIodáilis, go Sínis agus go Slóivéinis agus foilsíodh leagan Rómáinise den chnuasach An Fear Marbh (Bărbatul fără viaţă, Ars Longa, Iasi, 1999). Tá tréimhsí caite aige mar scríbhneoir cónaithe le Cumann Scríbhneoirí Shanghai sa tSín agus sa tSlóivéin.
Cnuasaigh Filíochta: Cantaic an Bhalbháin (Coiscéim, 1991); An Fearann Breac (Coiscéim, 1992); Scáthach (Coiscéim, 1994); Croí agus Carraig (Coiscéim, 1995); An Fear Marbh (Cló Iar-Chonnachta, 1998); Chiaroscuro (Coiscéim, 2006); agus 'Dánta' agus dánta eile (Coiscéim, 2011). Úrscéal: Con Trick 'An Bhalla Bháin' (Cló Iar-Chonnachta, 2009). Aistriúcháin Phróis: Cat agus Luch (Coiscéim, 2000)(Aistriúchán i gcomhar leis an Dr. Andrea Nic Thaidhg ar Katz und Maus le Günter Grass) agus Fortsetzung Folgt / To Be Continued / Leanfar de (Cumann Aistritheoirí agus Teangairí na hÉireann, 2002) (Aistriúchán ar Léacht Nobel Günter Grass).
---
15th October
Lillian Allen
You can listen to Lillian's reading here.
A key originator of dub poetry, a highly politicized form of poetry which is sometimes set to music, Lillian Allen opened up the form to engrave feminist content and sensibilities with Juno award winning albums 'Revolutionary Tea Party' (acclaimed by Ms Magazine as a landmark album) and 'Conditions Critical'. Lillian Allen is the godmother of dub poetry in North America and has strong ties to Jamaica's creative pioneer of the spoken and written word, the late Miss Lou (Louise Bennett), and other dub poets around the globe. Lillian was born in Spanish Town, Jamaica, she left that country in 1969, first moving to New York City, where she studied English at the City University of New York. She lived for a time in Kitchener, Ontario, before settling in Toronto
A leading creative writing educator at the prestigious Ontario College of Art, as well as a popular public speaker and performer, Lillian's work is taught in many international universities and colleges. Her workshops are powerful and she works with audiences of all ages. Her collections include Rhythm an' Hardtimes (Domestic Bliss, 1982), The Teeth of the Whirlwind (Black Perspectives, 1984), If You See Truth (Frontline, 1987), Why Me (Well Versed Publications, 1991), Women Do This Every Day (Women's Press, 1993) and Psychic Unrest (1 Insomniac Press, 1999).
Lillian will also be holding a wordshop entitled A Revolutionary Teaparty, from 7.00pm to 8.30pm at Ó Bhéal. For more details click here.
---
22nd October
In anticipation of The Cork Jazz Festival Ó Bhéal presents

Jazz-Poetry Night
with Raven and The Dan Walsh Trio
You can listen to the performance here.
And the videos from the night are here.

(Image: Richie Tyndall) A native San Franciscan, Raven began reading in the Bay Area open mic scene toward the end of the last century, shifting from visual arts/political guerrilla theatre to poetry; he was published in several local magazines and anthologies, amongst them Processed World and Counterpulse. He moved to Ireland in 2005, supporting Saul Williams twice in 2006, featuring for five consecutive years at the Electric Picnic, and performing at Dun Laoghaire Festival of World Cultures, Body and Soul, and a variety of literary festivals around the country.
He has been published in two anthologies in Ireland, won Balcony TV's Best Alternative Performer award in 2008, and co-hosts the monthly spoken word showcase Tongue Box, in Dublin. He occasionally performs with Ambient cellist Claire Fitch; he also performs with the hip hop collective Mixtapes From the Underground (a live, five piece acid jazz band and a line-up of some of Ireland's top MCs); and in that capacity he has performed at the Bray Jazz Festival, and has supported such acts as Robert Glasper Trio, Ms. Dynamite and De La Soul, with the Cork Jazz Festival upcoming this month. The group is expecting an album early next year. His first collection of poetry will also be published by Seven Towers early next year. He is a free verse poet who utilizes a kaleidoscope of imagery and irregular rhyme schemes; his most recent work addresses African American identity politics, his experiences in Ireland and the conflict between the natural and man-made worlds.
The Dan Walsh Trio
with Dan Walsh on Drums, Phill Collins on Piano and David Duffy on the Bass

Dan Walsh is a Cork based drummer, active in the realms of Jazz, Improvised music, funk and more. Currently studying for an MA in drumset performance at Cork School Of Music, Dan also organises and curates Blue Note At The Roundy, Corks only monthly jazz event.



Phill Collins is a Welsh pianist based in Cork whose own trio play compositions drawing on various styles within a traditional jazz trio format. As well as teaching Jazz at Waterford Institute Of Technology, Phill is a regular member or Waterford's Butterfly Band and a familiar face to those who frequent Blue Note At The Roundy.


David Duffy is one of Corks most in demand bassists. As well as being involved in numerous groups such as Soul Driven and The Hard Ground, David is also a founding member of Eat My Noise Productions, a collective which explores the possibilities of interdisciplinary compositional approaches.


The Trio will also play improv to the later open-mic, so bring along your favourite poems!
---
29th October
Denise Blake
You can listen to Denise's reading here.

Denise Blake's second collection How to Spin Without Getting Dizzy is published by Summer Palace Press (June 2010) as was her first collection Take a Deep Breath. She is a regular contributor to Sunday Miscellany RTE radio 1 and her work is included in five Sunday Miscellany anthologies. She read as part in the Poetry Ireland Out to Lunch Series as well as many other readings around the country.
Her translations from Irish poetry into English are widely published. Her work will be included in a collection of translations of Sean O'Riordain's poems edited by Frank Sewell. Denise is on the Poetry Ireland directory for Writers in Schools and facilitates children and adults workshops. Denise is literary curator for Donegal Bay and Bluestacks Festival.
---
5th November
Afric McGlinchey
You can listen to Afric's reading here.

A Hennessy Poetry Award winner, Afric McGlinchey grew up in Ireland and Africa. Her poems have appeared in The SHOp, Southword, Poetry Ireland Review, Northern Liberties Review (USA), Tears in the Fence (UK), Acumen (UK), Magma (UK), The English Leaving Certificate Examinations Book 2012, Dogs Singing anthology and numerous other journals. A Pushcart nominee, she was also highly commended in the Magma, Joy of Sex, and Dromineer poetry competitions in 2012. She is a freelance book editor and reviewer, and tutors poetry online at www.africmcglinchey.com.
Her début poetry collection The lucky star of hidden things was published in 2012 by Salmon. Afric lives in West Cork, Ireland.
Afric McGlinchey writes erotically charged poems with an acute and affecting music. Her poetry seduces and enthrals. – Paul Perry
An exciting and innovative poet, Afric McGlinchey's distinctive imagery reflects a deeply evocative sensitivity to the African landscape. – Leanne O'Sullivan
Afric McGlinchey belongs to an endangered species: she sees the world through the eyes of her soul. – Paul Durcan
'The Lucky Star of Hidden Things is an impressive first collection. Afric McGlinchey is one to watch.' – Jack Little (Ofi Press Literary Magazine)
---
12th November
In association with The Corona Cork Film Festival Ó Bhéal presents
Poetry-Film Night
To view the full programme click here.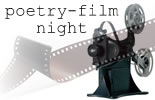 Poetry-Films have become popularised as a genre in their own right over the recent decade, especially by the Zebra Poetry-Film festival in Berlin, a biennial festival dedicated to the form which attracts nearly one thousand poetry-film entries – films that must interpret or be based on a poem. Festivals dedicated to the form have been on the increase around the globe, including in Vancouver, New Delhi and Buenos Aries.
In place of our usual guest poet, we will be screening a two-part selection of thirty poetry-films, chosen from over 500 poetry-films from Ireland and the world. The Five-Word challenge and open-mic will continue as usual.
---
19th November
Paula Cunningham
You can listen to Paula's reading here.

Paula Cunningham was born in Omagh and lives in Belfast. She won the Poetry Business competition in 1999, and a poetry chapbook A Dog Called Chance was published by Smith/Doorstop that year. She has also written drama and short fiction. A short story appeared in David Marcus's Faber 'New Irish Short Stories 2005'. Her poems have been widely published in literary magazines and anthologies including Bloodaxe's The New Irish Poets. In 2011 she won the £5,000 Hippocrates Poetry Prize and was commended in the Edwin Morgan International Poetry Prize. In 2012 Paula received an award from the Arts Council of Northern Ireland. She works part-time as a dentist and has recently finished her first full-length poetry collection.
---
26th November
Ó Bhéal in association with Poetry Ireland presents
Tom Mathews
You can listen to Tom's reading here.

Tom Mathews was born in Dublin in 1952. After working in advertising he studied Fine Art at the National College of Art and Design in Dublin. He has been a freelance cartoonist, writer and critic since 1975. His work appears weekly in The Irish Times and Sunday Independent. He has had thirty one-man shows and his paintings have been exhibited in Living Art, the National Portrait Show and at the RHA. He has illustrated a dozen books, written a novel, Levon, and published three volumes of cartoons. His last book The New Adventures of Keats and Chapman was published in 2008. His hobbies, he says, are "drinking stout and talking too much about James Joyce and Groucho Marx".
Tom's début collection The Owl and the Pussycat (Dedalus, 2009) is his much anticipated debut collection and contains—as the title suggests—a variety of parodies, homages, versions (and subversions), as well as poems which, with a light touch and steady gaze, look into the darker quarters of the human soul.
Tom Mathews has been an institution in Dublin for 30 years — The Irish Times
Is duine an-ghéar, an chliste é — Seán Mac Réamoinn
The estimable Tom Mathews — Fintan O'Toole
Biography courtesy of Dedalus Press.

---
Friday 30th November – 8pm till late

Ó Bhéal in association with Cyprus Avenue presents

The sixth All-Ireland Poetry Slam Championships

followed with a performance by Billy Ramsell and open-mic

The videos from the night are here.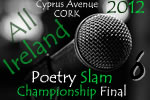 For its first time in Cork, Ó Bhéal will host the All-Ireland Poetry Slam Championship Final at Cork's renowned music venue, Cyprus Avenue. There will be three rounds, with each poem limited to three minutes. Five judges will mark each competitor separately on Performance, Content and Audience Reaction. This year's illustrious judges include poets Matthew Sweeney and Leanne O'Sullivan, writer Madeliene D'Arcy, filmmaker Padraig Trehy and novelist and playwright, Conal Creedon.
Every year in late summer/autumn, regional, open heats occur in Belfast, Derry, Dublin, Galway and Limerick/Cork, from which eight winning poets secure their place in the grand final. The final alternates among these six cities. Two champions emerge from each province and converge to see who of Ireland's top eight performance poets will walk away with the prestigious crown of All Ireland Poetry Slam Champion. One winner each from the Belfast and Derry heats go forward to represent Ulster in the final, whilst two each from the Dublin, Galway and Limerick/Cork heats go forward to represent Leinster, Connacht and Munster.
2012 Competitors
For Connacht – Lisa Allen & Miceál Kearney
For Leinster – John Cummins & Seán Dennehy
For Ulster – Mel Bradley & Peter Francis Fahy
For Munster – Cathal Holden & Fergus Costello
Previous All-Ireland Slam Champions:
2007: Ulster: McHugh's pub Belfast – Brendan Murphy (Connacht)
2008: Munster: White House pub Limerick – Dónal Ó Siodhacháin (Munster)
2009: Connacht: Crane bar Galway – Seamus Fox (Ulster)
2010: Leinster: International bar Dublin – Colm Keegan (Leinster)
2011: Ulster: Sandino's bar Derry – Séamus Barra Ó Súilleabháin (Connacht)


Billy Ramsell was born in Cork, Ireland, in 1977 and educated at the North Monastery and UCC. Complicated Pleasures, his debut collection, was published by the Dedalus Press, Dublin, in 2007. He has been shortlisted for several awards and has been invited to read his work at many festivals and literary events both in Ireland and around the world.


---