What we Do
Cork's monthly poetry event features poetry films, a poetry writing challenge, featured guest poets and an open-mic. Between April 2007 and December 2019 Ó Bhéal was a weekly event and hosted fifty Monday-night events, featuring almost 1,000 accomplished poets from around Ireland and from numerous countries on six continents. In 2020 Ó Bhéal's regular event became a monthly fixture, due to a shortage of sufficient funding. Many of these events have been held in conjunction with other city festivals, including the Cork Jazz Festival, Cork Harbour Festival, Cork Pride Festival, Cork Culture Night, Cork World Book Festival and First Fortnight festival.
Each evening begins with a screening of poetry-films from our competition archive, followed by a poetry writing challenge called
The Five Word Challenge
. This leads up to the main poetry reading, by one or more guest poets from Ireland or abroad and we end the night with an open-mic session. The final weekly event on the 16th of December 2019 marked Ó Bhéal's 640th event. Each November Ó Bhéal presents the
Winter Warmer
Poetry Festival, a weekend of poetry featuring around two dozen poets, some of whom perform to music. The festival also showcases events which fuse poetry with other art forms, including theatre and film.
Ó Bhéal (pr. Oh Vale / O Veil, etc. Irish for 'by word of mouth', or 'from the mouth') creates an original platform for established & non-established poets and provides the public consistent access to contemporary poetry. Many have engaged in creative writing for the first time at Ó Bhéal, and many of these have remained actively writing and/or have seen their works accepted into print. The event is held upstairs in The Hayloft bar, above The Long Valley, one of Cork's favourite and most iconic poetry venues. Ó Bhéal is inclusive of all forms of poetry and adult demographic.
Winter Warmer Festival
Ó Bhéal's Winter Warmer poetry festival (since 2013) aims to present a range of contemporary poets and related art forms (poetry-films, poetry fused with other arts, etc) to public audiences over three days each November. Ó Bhéal undertakes to deliver the festival in truly hybrid fashion, simultaneously in-person and online, so that these events are accessible to anyone, both during and after the festival has taken place.
Filíocht as Gaeilge
Ó Bhéal strongly promotes use of the Irish language wherever possible, presenting at least eight bi-lingual readings in its annual programme, showcasing the best of today's gaelic-speaking poets, Scotland included. These are funded by Foras na Gaeilge and Colmcille. Cuireann Ó Bhéal go mór úsáid na Gaeilge chun cinn nuair is féidir, ag léiriú ocht léitheoireacht dhátheangach ar a laghad ina chlár bliantúil, ag taispeáint an chuid is fearr de na filí labhartha Gaeilge sa lá atá inniu ann, as Albain san áireamh. Maoiníonn Foras na Gaeilge agus Colmcille iad seo.
Beyond the Microphone
Any city benefits from a consistent poetry event (as indeed does any country) and the wider arts sector gains from its presence, encouraging creativity across disciplines. Local poets not only avoid stagnation, but a platform for poetic expression contributes immensely to the mental well-being of the greater community and adds to its creative choices.
Poets from Ó Bhéal often perform as collectives at festivals and events around Cork, Munster and beyond. We integrate annually with the Cork Jazz Festival where we present an improv jazz ensemble, to which poets can read their work. Since 2008 Ó Bhéal has co-facilitated an annual Twin Cities poetry exchange between Cork and Coventry, which involves an exchange of visits by two (or more) poets from each city. A similar exchange with twin San Francisco has been growing impressively since 2016. Aside from guest-poet workshops at Ó Bhéal, we have also provided workshops within disadvantaged areas of the community. Every second year since 2009, Ó Bhéal has hosted the Munster Slam Championships. Ó Bhéal hosted the All-Ireland Poetry Slam Championship in 2012 and 2013 saw the inauguration of the Five Words International Poetry Competition.
Poetry-Film
Since October 2008, with the assistance of the Munster Literature Centre and the Cork Film Centre, Ó Bhéal has been promoting the art of the Poetry-Film and has worked in collaboration with the Goethe Institute and Literaturwerkstatt Berlin to encourage this art-form in Ireland. The 8th of November 2010 saw Ó Bhéal's first poetry-film evening, highlighting some of the world's best poetry-films. Our third poetry-film night on the 12th of November 2012 featured thirty excellent films from Ireland and around the world, as part of the Corona Cork Film Festival programme. Since 2013, Ó Bhéal has been affiliated with the IndieCork Festival of Independent Cinema & Music, to bring you the Ó Bhéal International Poetry-film Competition, screening the shortlist of thirty films and awarding one winner the Ó Bhéal/IndieCork prize for best poetry-film. Shortlisted poetry-films since 2012 are also shown every week at Ó Bhéal, before the event begins. Poetry-film programmes curated by Ó Bhéal have also appeared at Cyclops Poetry-Film Festival in Kiev and at the Clare Island Film Festival.
The Unfinished Book of Poetry
This project was initiated by the Cork City Libraries and Cork City Council for Cork's capital of culture year in 2005, and has seen a new edition produced every April to coincide with the Word Book Festival. In 2012 the city Arts Office offered curation of the project to Ó Bhéal, who have managed the project since the 2013 edition.
Every year, 40-50 teenage writers from five Cork city schools undertake a series of nine poetry workshops, each held by an established vetted poet, in their local library. The poems produced are published in a collection each year, entitled The Unfinished Book of Poetry which is launched by the lord mayor at the Cork World Book Festival, in the city library.
Our work in young audience development hopes to prevent future talent from slipping through the cracks. We aim to provide the next generation of poets with access to an early, strong foundation in creative writing (and thinking!), as well as an introduction to a wide variety of world poets, both traditional and contemporary, all whilst encouraging sustainable and varied reading levels, in the interest of gaining a good head start in the world of ever-expanding and evolving literature.
To view a history of all editions since 2005, please follow this link.
Who we Are
Along with founder Paul Casey, Ó Bhéal's committee includes: Publisher and Poet Billy Ramsell; eMCee and Events organizer Gerry McNamara; Actress, Clown and Poet Rosie O'Regan, Writers and Poets Julie Field, Rab Urquhart, Ciarán MacArtain, Kathy D'Arcy, Stanley Notte, Michelle Delea, Shaunna Lee Lynch, Benjamin Burns, Cédric Bikond and Colm Scully. Many of these compère on Monday nights, as do other regular or visiting poets. A number of other notable individuals have previously served on the Ó Bhéal board.
The website acts as the main organisational hub, offers podcasts from most Ó Bhéal nights and over 1,100 videos of individual poems read/performed at Ó Bhéal and at other festivals across Ireland. Ó Bhéal is regularly advertised via Poetry Ireland, The Irish Times, The Evening Echo, Lyric FM, Radio na Gaeltachta, WhazOn? Cork and a number of online literary hubs.
Ó Bhéal Policies
1. Inclusivity & Diversity
2. Copyright Protections
3. Health & Safety
4. What We Pay & Guest Poet Liaison
5. Cash Handling
6. Board of Management
7. New Partnerships
8. Irish Language
9. Compère Guidelines
10. Return Guests
11. Child Protection Policy
12. Volunteers
13. Artistic Policy
14. Public Engagement
15. Marketing and PR
16. Fundraising and Sponsorship
17. Data Protection Policy & General Data Protection Regulation (GDPR)
18. Safe Driving for Work
19. Outreach
20. Garda Vetting Policy
Funding
On an ongoing (non-for-profit) basis, Ó Bhéal seeks funding assistance, primarily to provide adequate artists' fees, accommodation and some administrative expenses. Funding secured thus far is indeed limited to these, provided via four main sources: Three being the Arts Council's Festivals and Events scheme, Foras na Gaeilge and the Cork City Council, with occasional funding from Poetry Ireland. In 2009 The Munster Literature Centre provided Ó Bhéal with a once-off grant of 1,000 euro. The fourth source is a non-obligational donation jar which is circulated each week and serves to defray additional expenses incurred throughout the year. There is also a donation button on the lower right-hand side of each Ó Bhéal webpage for online contributions, and contributors, should they wish, are published as friends of Ó Bhéal. In 2016 the Community Foundation for Ireland awarded to Ó Bhéal a grant of almost 9,000 euro to host eight Commemorative Events throughout 2016, celebrating the centenary of the 1916 Rising through past and contemporary poetry.
Friends of Ó Bhéal
Much of the equipment needed to video select readings and performances throughout the year is generously provided by the Cork Film Centre.

We are grateful to the following friends of Ó Bhéal, poets and advocates alike, for their generous contributions:
Theo Dorgan
Margaret O'Regan
Lang Leav
Paul Rabinowitz
Brendan Mulcahy
Pamela Ann Campbell
Killian and Maeve Hurley
Jonathan Davidson
Mick Delap
Derek Sellen
Mary O'Donnell
John Buttimer
Derek Mahon
Paddy Bushe
Munster Literature Centre
Oliver Broderick
Jennifer Matthews
Biddy Jenkinson
Mary Kennelly
Pádraig Ó Laighin
Doireann Ní Ghríofa
Eugene Crowley
Louis Mulcahy
Gene FitzGerald
Patricia O'Regan
Robyn Rowland
Richard Halperin
Mary Melvin Geoghegan
Noel King
Eileen Sheehan
John W Sexton
Geraldine Mills
Áine Moynihan
Marion Kleinschmidt
James Cummins
Louis de Paor
National University of Ireland Galway
Union College/Hobart William Smith Colleges Study Abroad in Ireland Program
Dunnes Stores
Bank of Ireland
The Quay Co-op
Homeopathy for Health
The Long Valley Bar
Arc Publications
University College Cork School of English
John Ennis
Stanley Notte
Cónal Creedon
Michael Sheehan
Rosalin Blue
Mags Creedon O'Shea
Kate Dempsey
Liam Prút
Deirdre O'Brien
Linda Ibbotson
Ron Carey
Eibhlís Carcione
Michael O'Donnell (imo. Ron O'Donnell)
John Murphy
Leanne O'Sullivan
Pat Boran
Ita O'Donovan


Lord Mayor's Arts and Culture Award 2013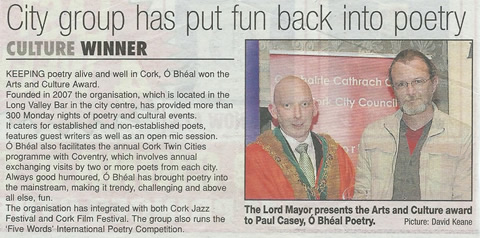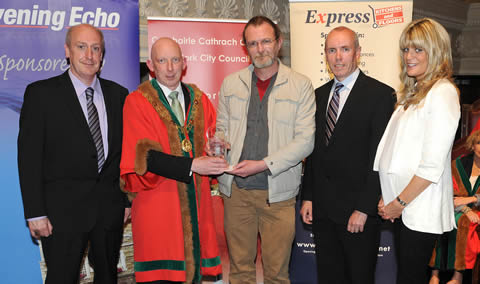 2011 Fundraiser
In September 2011, our first fundraiser at the Metropole, featuring 14 acts of music, poetry and comedy raised 1200 euro, closing the gap in our 2011 budget. Thanks to an enormous show of support from the Cork Arts community, and beyond, our reading series has remained uninterrupted. Performers offered themselves free of charge for the event. Our thanks goes to Áine Duffy, Turcán, W!LD, Andy Wilson, Jo Collins, David Nelligan, Lady Grew, Fionnbarra, One Horse Pony, Cormac O'Caoimh, Niamh Murphy, Tom Campbell and Snatch Comedy. Thank you to all for your crucial support!
Thank you to all who donated raffle prizes for the night: Louis Mulcahy, Lush, Greenes Restaurant, The Farmgate Café, Vibes & Scribes, Waterstones, Doghouse Books, O' Donovans off-licence, Butlers, The Quay Co-op, Priya, Silverwood, The Munster Literature Centre, The Wine Buff, Centra Tower, Tower Pharmacy and Curraheen Park Greyhound Stadium.
Audiences
The audience averaged around 40-45 in number for many years until the widening of the venue space in the summer of 2017, since which we have seen audiences of 50-60 quite regularly, the highest being around 100. There is a great deal of overseas presence, usually with any number of poets / attendees from the USA, UK, across Europe and beyond. It's not atypical to hear three or four languages spoken on the open-mic. Around half the crowd are regulars, and we often meet five to ten new visitors each week. Typically fifty to sixty percent of attendees are active writers and participate during the event. The age and gender demographics are spread evenly, from young school leavers and university students to adults of all ages. Many have a good grasp of Irish, and often travel from across the country to attend.
Since 2020 our audiences have been either completely or partially online. We have been running hybrid events since late 2021, so we simultaneously host in-person audiences and audience participants via zoom, while being streamed (simulcast) via our website's live poetry stage, and via our vimeo, youtube and facebook pages.
Participation
Within our broader audiences, participants at Ó Bhéal include guest poets, open-mic contributors and writers/readers of five word challenge poems. Participant Statistics 2007 – 2022 (for the Reading Series & Winter Warmer festivals) can be viewed via this link.
Monday Reading Series Participants (Click image to view Participant Statistics from 2007 – 2022)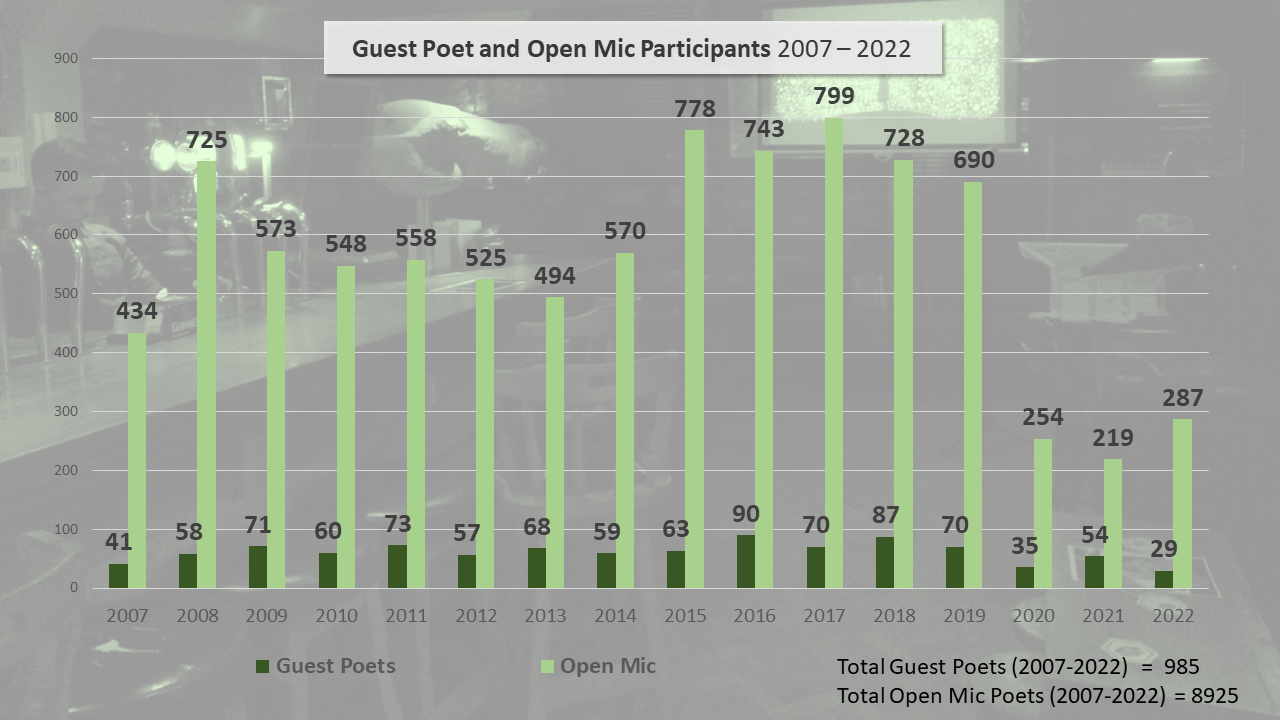 Guests Poets Since 2007
(Ó Bhéal's first 8 weeks had no featured guests)
Each year, Ó Bhéal aims to present a range of established poets and non-established, though usually most will have published to some extent (this is not a prerequisite). We try to host about 70-80% Irish and 20-30% overseas guests. Fortunately there are enough excellent Irish poets to keep us going at this rate indefinitely (should funding prevail) … what did Kavanagh say about a standing army of ten thousand poets? It seems he may have been right … we're just lucky there are a lot of really good ones among us.
So while we do our best to provide a platform for all the capes and tunics of this fine army, we also like to populate the series with a few handfuls of International poets during each year. As of 2023 we have hosted over one thousand writers from dozens of countries and six continents.
11 June 2007 – Gerard Sheehy, Edward O'Dwyer & Noel Harrington
18 June 2007 – Perciphone Petticoat (UK)
25 June 2007 – Adam Wyeth
02 July 2007 – Gina Ferrara & Jonathan Kline (US)
16 July 2007 – Ian Horn (UK)
30 July 2007 – John Liddy
06 August 2007 – Martin Farawell (US)
13 August 2007 – Terry McDonough & Diarmaid Moynihan (US)
20 August 2007 – Perciphone Petticoat (UK)
27 August 2007 – Seven Towers (UK)
10 September 2007 – Seamus Harrington & Mel O'Dea
17 September 2007 – Gerry Murphy & Angelique Everitt
24 September 2007 – Louis de Paor
01 October 2007 – Dimitris Lyacos (Greece)
08 October 2007 – Sandeep Sinha (India)
15 October 2007 – Keith Armstrong & Paul Summers (UK)
22 October 2007 – Mark O'Flynn (AUS)
29 October 2007 – Mags Traenor & Steven Murray (AUS)
05 November 2007 – Billy Ramsell
12 November 2007 – Anamaría Crowe Serrano
19 November 2007 – The Poetry Chicks
26 November 2007 – Alan Garvey
03 December 2007 – Helen Kavanagh Ronan
10 December 2007 – Barbara Smith
17 December 2007 – Buddy Wakefield, Katie Wirsing & Andrea Gibson (US)
2008
07 January 2008 – Teri Murray
14 January 2008 – Jessica Peart
21 January 2008 – Cliff Wedgbury
28 January 2008 – Neil McCarthy
04 February 2008 – Mark Whelan
11 February 2008 – Gearoid Mac Lochlainn
18 February 2008 – Raven (US)
25 February 2008 – Gary King
03 March 2008 – Trish Casey
10 March 2008 – Desmond Swords
17 March 2008 – James Kelly
24 March 2008 – Kevin Higgins
31 March 2008 – Derek Mahon
07 April 2008 – Eugene O'Connell & Matthew Geden
14 April 2008 – Ó Bhéal's 1st Anniversary – Launch of Five Words
21 April 2008 – Miceál Kearney
28 April 2008 – Ian Horn (UK)
05 May 2008 – Fred Johnston
12 May 2008 – Eileen Sheehan
19 May 2008 – John W Sexton
26 May 2008 – Seán Callahan (US) and Randall Maggs (CAN)
02 June 2008 – Colette Nic Aodha
09 June 2008 – Harry Zevenbergen (NL)
16 June 2008 – Tim Wells (UK)
23 June 2008 – Aoife Casby and Celest Augé
30 June 2008 – Dominic Taylor
07 July 2008 – Ronán Ó Snodaigh
14 July 2008 – Desmond O'Grady and John Liddy
21 July 2008 – Matthew Sweeney
28 July 2008 – Niall Herriott
04 August 2008 – Paddy Bushe
11 August 2008 – Dairena Ni Chinnéide
18 August 2008 – Oran Ryan and Ross Hattaway (NZ)
25 August 2008 – Billy Ramsell
01 September 2008 – Knute Skinner (USA)
08 September 2008 – Robyn Rowland (AUS)
15 September 2008 – Leanne O'Sullivan
22 September 2008 – Felicity Heathcote and Seamus Cashman
29 September 2008 – Gabriel FitzMaurice
06 October 2008 – Barbara Smith
13 October 2008 – Aideen Henry
20 October 2008 – Anne-Marie Glasheen (UK)
27 October 2008 – Keith Armstrong and the Honeyfeet (Jazz quintet – UK)
03 November 2008 – Diarmaid Ó Dálaigh and Tony Desmond
10 November 2008 – Mary Noonan and John Mee
17 November 2008 – Jon Morley and Tony Owen (UK)
24 November 2008 – Eiléan Ní Chuilleanáin
01 December 2008 – John Walsh and Miceál Kearney
08 December 2008 – Alan Titley
15 December 2008 – Pat Cotter
2009
05 January 2009 – Dave Lordan
12 January 2009 – PJ Brady & Lisa Marie Johnson
19 January 2009 – Grace Wells (UK)
26 January 2009 – Alan Jude Moore (UK)
02 February 2009 – Macdara Woods
09 February 2009 – Eabhan Ní Shúileabháin, Gwyn Parry and Declan Meade
16 February 2009 – Martin Daws (WALES)
23 February 2009 – Eamonn Lynskey
02 March 2009 – Gréagóir Ó Dúill
09 March 2009 – Susan Millar DuMars and Lorna Shaughnessy
16 March 2009 – Nuala Ní Dhomhnaill
23 March 2009 – Mary Mullen
30 March 2009 – Lothar Luken
06 April 2009 – James Harpur
13 April 2009 – Ó Bhéal's 2nd Birthday & HOW THE LIGHT GETS IN
20 April 2009 – Karen O'Connor
27 April 2009 – Rosemary Canavan
04 May 2009 – Dave Rock AND Stephen James Smith
11 May 2009 – Anamaría Crowe Serrano
18 May 2009 – Thomas McCarthy
25 May 2009 – Janice Fitzpatrick Simmons
01 June 2009 – Gerry Murphy
08 June 2009 – Ger Reidy
15 June 2009 – Frank Golden
22 June 2009 – Jon Morley, Mike McKimm and Tony Owen (UK)
29 June 2009 – Máighréad Medbh
06 July 2009 – Ailbhe Ní Ghearbhuigh
13 July 2009 – Aidan Murphy
20 July 2009 – Frank Dullaghan
27 July 2009 – Frances Cotter
03 August 2009 – Pete Mullineaux
10 August 2009 – Joseph Horgan
17 August 2009 – Áine Uí Fhoghlú
24 August 2009 – Nigel McLoughlin
31 August 2009 – Tommy Frank O'Connor
07 September 2009 – Keith Armstrong (UK) & Rense Sinkgraven (NL)
14 September 2009 – Liz Gallagher
21 September 2009 – Bernadette Cremin (ENG) and Munster Slam Champs
28 September 2009 – Pádraig Mac Fhearghusa
05 October 2009 – Robyn Rowland (AUS)
12 October 2009 – Terry McDonagh
19 October 2009 – Robert Gray and Alison Croggon (AUS)
26 October 2009 – Denisa Mirena Piscu (ROM) / Backra Men (UK)
02 November 2009 – Gabriel Rosenstock
09 November 2009 – Maurice Scully
16 November 2009 – Enda Coyle-Greene
23 November 2009 – Six Whitehouse poets from Limerick
30 November 2009 – Joseph Woods
07 December 2009 – Meg Bateman
14 December 2009 – Gearoid Mac Lochlainn
2010
04 January 2010 – Patricia Byrne
11 January 2010 – Eugene O'Connell
18 January 2010 – Simon Ó Faoláin
25 January 2010 – Chris Agee (US)
01 February 2010 – Matthew Geden (UK)
08 February 2010 – Marian O'Rourke
15 February 2010 – Liam Ó Muirthile
22 February 2010 – Teri Murray
01 March 2010 – Nessa O'Mahony
08 March 2010 – Kate Dempsey (UK)
15 March 2010 – Bríd Ní Mhóráin
22 March 2010 – Paul Grattan (UK)
29 March 2010 – Gerard Hanberry
05 April 2010 – John W Sexton
12 April 2010 – Ó Bhéal's Third Anniversary
19 April 2010 – Cuairt na bhFilí Albanacha
26 April 2010 – Aifric Mac Aodha
03 May 2010 – Vincent Woods
10 May 2010 – Camille Martin (CAN)
17 May 2010 – Richard Tillinghast
24 May 2010 – Carlos Reyes (US)
31 May 2010 – GMC and Bubba Shakespeare
07 June 2010 – Paul Perry
14 June 2010 – Afric McGlinchey AND Maureen Gallagher
21 June 2010 – Noel King
28 June 2010 – Quincy Lehr (US)
05 July 2010 – Anthony Owen and Barry Patterson (UK)
12 July 2010 – John McNamee
19 July 2010 – Elaine Feeney and Dave Lordan
26 July 2010 – Seosamh Ó Guairim
02 August 2010 – Jerome Kiely
09 August 2010 – Kevin Higgins and Susan Millar du Mars
16 August 2010 – Caroline Lynch
23 August 2010 – Maurice Riordan
30 August 2010 – Marcela Sulak (US)
06 September 2010 – Áine Moynihan
13 September 2010 – Celia De Fréine
20 September 2010 – Christodoulos Makris (CYPRUS)
24 September 2010 – Fergus Costello (Cork Culture Night)
27 September 2010 – Patrick Chapman
04 October 2010 – Nell Regan
11 October 2010 – John Corless
18 October 2010 – Roderick Ford
25 October 2010 – Jazz-Poetry Night
01 November 2010 – Jennifer Cendaña Armas (US)
08 November 2010 – Poetry-Film Night
15 November 2010 – Caitríona Ní Chléirchín
22 November 2010 – Maggie O'Dwyer
29 November 2010 – Olive Broderick
06 December 2010 – Biddy Jenkinson
13 December 2010 – Paul Durcan
2011
10 January 2011 – Ian Wild
17 January 2011 – Catherine Ann Cullen
24 January 2011 – Órfhlaith Foyle
31 January 2011 – Pól Ó Muirí
07 February 2011 – Mary Kennelly
14 February 2011 – Gerry Murphy
21 February 2011 – Nuala Ní Chonchúir
28 February 2011 – Cherry Smyth
07 March 2011 – Simone Mansell Broome
14 March 2011 – Ciaran O'Driscoll
21 March 2011 – Geraldine Mills & Lisa C. Taylor
28 March 2011 – Philip Cummings
04 April 2011 – Mary Madec
11 April 2011 – Ó Bhéal's Fourth Anniversary
18 April 2011 – Pat Borthwick
25 April 2011 – Rita Kelly
02 May 2011 – Anne-Marie Fyfe
09 May 2011 – Michael Farry
16 May 2011 – Kathy D'Arcy
23 May 2011 – Richard Halperin
30 May 2011 – Siobhan Mac Mahon & Sabrina Piggott
06 June 2011 – Robyn Rowland & Lynn Saoirse
13 June 2011 – Jennifer Militello
20 June 2011 – MC Mupéad agus Jimmy Penguin
27 June 2011 – Luca Artioli, Andrea Garbin, Fabio Barcellandi, Dave Lordan
04 July 2011 – Bicycles with Umbrellas
11 July 2011 – Ailbhe Darcy
18 July 2011 – Paul Maddern
25 July 2011 – Pádraig Ó Laighin
01 August 2011 – Michael McCarthy
08 August 2011 – Malcolm Dewhirst
15 August 2011 – Aidan Hayes
22 August 2011 – Maeve O'Sullivan
26 August 2011 – Grace Wells
29 August 2011 – Mary Melvin Geoghegan
05 September 2011 – Geraldine Mitchell
12 September 2011 – Rody Gorman
19 September 2011 – Rab Urquhart
23 September 2011 – John Carmody
26 September 2011 – Sarah Clancy
03 October 2011 – Shirley McClure
10 October 2011 – Tom Conaty
17 October 2011 – Seán Hutton
24 October 2011 – The K.F.C. Trio
31 October 2011 – Ten Salmon poets
07 November 2011 – Poetry-Film Night
14 November 2011 – Stephen Murray
21 November 2011 – Tina Pisco
28 November 2011 – Kerry Hardie
05 December 2011 – Doireann Ní Ghríofa
12 December 2011 – Carol Ann Duffy & John Sampson
2012
09 January 2012 – Helena Nolan
16 January 2012 – Daw Harding
23 January 2012 – Louis de Paor
30 January 2012 – Adam Wyeth
06 February 2012 – Liz O'Donoghue
13 February 2012 – Jimmy Cummins
20 February 2012 – Jill Battson
27 February 2012 – Colm Keegan
05 March 2012 – Rita Ann Higgins
12 March 2012 – Peadar O' hUallaigh
19 March 2012 – Patrick Moran
26 March 2012 – Kerrie O'Brien
02 April 2012 – Leeanne Quinn
09 April 2012 – Paul Jeffcutt
16 April 2012 – Ó Bhéal's Fifth Anniversary
23 April 2012 – Fiona Clarke Echlin
30 April 2012 – Sheila Fitzpatrick O'Donnell & Joseph Healy
07 May 2012 – Ceaití Ní Bheildiúin
14 May 2012 – Fergal Gaynor
21 May 2012 – Roger Hudson
28 May 2012 – Séamus Barra Ó Súilleabháin
04 June 2012 – Ross Donlon
11 June 2012 – Pauline Fayne
18 June 2012 – Anne Le Marquand Hartigan
25 June 2012 – Gerry Boland
02 July 2012 – Cliona O'Connell
09 July 2012 – Mark Conway
16 July 2012 – Anatoly Kudryavitsky
23 July 2012 – Áine Ní Ghlinn
30 July 2012 – Harry Clifton
06 August 2012 – Hugh O'Donnell
13 August 2012 – Janet Smith & Jayne Stanton
20 August 2012 – Eleanor Hooker
27 August 2012 – Marie Coveney & John Saunders
03 September 2012 – Kit Fryatt
10 September 2012 – Mícheál Ó hAodha
17 September 2012 – Alex Skovron, Alison Wong and Andy Kissane
21 September 2012 – Séamus Fox
24 September 2012 – Ilya Kaminski
01 October 2012 – Louis Mulcahy
08 October 2012 – Colm Breathnach
15 October 2012 – Lillian Allen
22 October 2012 – Raven and the Dan Walsh Trio
29 October 2012 – Denise Blake
05 November 2012 – Afric McGlinchey
12 November 2012 – Poetry-Film Night
19 November 2012 – Paula Cunningham
26 November 2012 – Tom Mathews
30 November 2012 – All Ireland Slam Championships & Billy Ramsell
03 December 2012 – Diarmuid Johnson
10 December 2012 – Gillian Clarke
2013
07 January 2013 – Eileen Casey
14 January 2013 – Peadar O'Donoghue
21 January 2013 – Winter Issue of Southword – Six Poets
28 January 2013 – Bernadette McIntyre
04 February 2013 – Karl Parkinson
11 February 2013 – Anne Fitzgerald
18 February 2013 – James Lawless
25 February 2013 – Niamh Boyce
04 March 2013 – Cahal Dallat
11 March 2013 – Joe Steve Ó Neachtain
18 March 2013 – Maurice Devitt & Orla Fay
25 March 2013 – Ann Joyce
01 April 2013 – Barney Sheehan
08 April 2013 – Jessie Lendennie
15 April 2013 – Ó Bhéal's Sixth Anniversary
22 April 2013 – Derry O'Sullivan
29 April 2013 – Deirdre Hines
06 May 2013 – Moya Cannon
13 May 2013 – Kate O'Shea and CAH-44
20 May 2013 – Hugh McFadden
27 May 2013 – Diane Fahey & Ali Cobby-Eckermann
03 June 2013 – Máire Dinny Wren
10 June 2013 – David Butler
17 June 2013 – Monica Corish
24 June 2013 – Lisa C. Taylor
01 July 2013 – Philip Lynch & Christine Murray
08 July 2013 – Kimberly Campanello
15 July 2013 – Mícheál Ó Ruairc
22 July 2013 – Sarah James, Tom Wyre and Martin Brown
29 July 2013 – Liam Ryan
05 August 2013 – Jim Norton
12 August 2013 – Mark Roper & Eric Sweeney
19 August 2013 – Proinsias Mac an Bhaird
26 August 2013 – Susan Millar du Mars
02 September 2013 – Paul Kane
09 September 2013 – Munster Slam and Seán Dennehy
16 September 2013 – Michael O'Loughlin
20 September 2013 – Julie Goo and Cathal Holden
23 September 2013 – Michael Hartnett Tribute Night
30 September 2013 – Andy Jackson & Rachel Wenona Guy
07 October 2013 – Adam White
14 October 2013 – Fióna Bolger & Poetry Bus 5 launch
17-20 October 2013 – Ó Bhéal International Poetry-Film Competition
21 October 2013 – Dimitra Xidous & the Gary Baus trio
28 October 2013 – Michael McKimm
04 November 2013 – Bríd Ní Mhóráin, Louis Mulcahy and Ceaití Ní Bheildiúin
11 November 2013 – Jorge Fondebrider
16-20 November 2013 – Winter Warmer Festival (21 poets ++)
18 November 2013 – Maggie Breen
25 November 2013 – Robert Priest
02 December 2013 – Dairena Ní Chinnéide
09 December 2013 – Joseph Horgan & Adrian Boyle
16 December 2013 – Cancelled Event (Seamus Heaney)
2014
13 January 2014 – Mae Leonard
20 January 2014 – Michael Gallagher
27 January 2014 – Annette Skade
03 February 2014 – MA Creative Writing Students from UCC
10 February 2014 – Patrick Lodge
17 February 2014 – Brendan Cleary
24 February 2014 – Máighréad Medbh
03 March 2014 – Brendan McCormack
10 March 2014 – Colette Ní Ghallchóir
17 March 2014 – Christy O'Donnell
24 March 2014 – Jessica Traynor
31 March 2014 – John Ennis
07 April 2014 – Margaret Galvin
14 April 2014 – Don Nixon & Ó Bhéal's Seventh Anniversary
21 April 2014 – Niamh Ní Lochlainn
28 April 2014 – Graham Allen
05 May 2014 – Gerður Kristný
12 May 2014 – Catherine Phil McCarthy
19 May 2014 – Susan Lindsay
26 May 2014 – Kim Moore
02 June 2014 – Marcus Mac Conghail
09 June 2014 – Nicola Griffin
16 June 2014 – Moyra Donaldson
23 June 2014 – Peter O'Neill
30 June 2014 – John Menaghan
07 July 2014 – Adam Steiner & Saleha Begum
14 July 2014 – Roisín Tierney
21 July 2014 – James O'Sullivan
28 July 2014 – Raina J. León
04 August 2014 – Dan Disney
11 August 2014 – June Sylvester Saraceno & Suzanne Roberts
18 August 2014 – Donall Dempsey
25 August 2014 – Trista Hurley-Waxali
01 September 2014 – Seán Ó Leocháin
08 September 2014 – Alyson Hallett
15 September 2014 – John Foulcher & Teresa Bell
19 September 2014 – John Cummins
22 September 2014 – Ed O'Dwyer
29 September 2014 – Kobus Moolman
06 October 2014 – Susan Musgrave
13 October 2014 – Dan Moran & Jean Kavanagh
18-19 October 2014 – Ó Bhéal International Poetry-Film Competition
20 October 2014 – Patrick Cotter & the Mo O'Conor trio
27 October 2014 – Angela T Carr
03 November 2014 – Rita Kelly
10 November 2014 – Mary Frances Turley-McGrath
17 November 2014 – Jane Clarke
21-22 November – Winter Warmer Festival (21 poets ++)
24 November 2014 – Pat Galvin
01 December 2014 – Martín Veiga
08 December 2014 – Bonny Cassidy
15 December 2014 – Liz Lochhead
2015
12 January 2015 – Helen Burke
19 January 2015 – Art Ó Maolfabhail
26 January 2015 – Arthur Broomfield
02 February 2015 – MA Creative Writing Students from UCC
09 February 2015 – Erin Fornoff & Caleb Brennan
16 February 2015 – Martin Dyar
23 February 2015 – Melissa Diem
02 March 2015 – Aifric MacAodha
09 March 2015 – Alan McMonagle
16 March 2015 – Richard Halperin
23 March 2015 – Bernadette Cremin
30 March 2015 – Noel Duffy
06 April 2015 – Jim Maguire
13 April 2015 – Derek Sellen & Ó Bhéal's Eighth Anniversary
20 April 2015 – John Pinschmidt
27 April 2015 – Gabriel FitzMaurice
04 May 2015 – Áine Uí Fhoghlú
11 May 2015 – Rachel Warriner
18 May 2015 – Vivienne McKechnie
25 May 2015 – Noel Monahan
01 June 2015 – Michael Naughten Shanks & Evan Costigan
08 June 2015 – Oran Ryan
15 June 2015 – Mike and Austin Durack
22 June 2015 – Alice Lyons
29 June 2015 – Seán Ó Roideacháin
06 July 2015 – Nell Regan
13 July 2015 – Evelyn Casey
20 July 2015 – Clara Rose Thornton
27 July 2015 – Emily Weitzman & Tom McCarthy
03 August 2015 – Celine McGlynn
10 August 2015 – Mark Granier
17 August 2015 – Adam Rudden
24 August 2015 – Liam Prút
31 August 2015 – Mary O'Donnell
07 September 2015 – Munster Slam Championships with Tina Pisco
14 September 2015 – Carmel Macdonald Grahame
18 September 2015 – Culture Night with Abby Oliveira
21 September 2015 – Brendan Constantine
28 September 2015 – Matt Mooney
05 October 2015 – Sheila Mannix
10-11 October 2015 – 2015 Ó Bhéal International Poetry-Film Competition
12 October 2015 – Breda Wall Ryan
19 October 2015 – Mike Mac Domhnaill
26 October 2015 – Afric McGlinchey, Michael Ray and The Blue Notes
02 November 2015 – Noel King
09 November 2015 – Huw Parsons
16 November 2015 – Jaki McCarrick
20-21 November – 3rd Winter Warmer Festival (22 poets ++)
23 November 2015 – Elaine Gaston
30 November 2015 – Victoria Kennefick & Jennifer Matthews
07 December 2015 – Rozalie Hirs
14 December 2015 – Philippe Beck
2016
11 January 2016 – Colm Scully & Conor McManus
18 January 2016 – Helen Harrison & Marian O'Rourke
25 January 2016 – John McGrath
01 February 2016 – MA Creative Writing Students from UCC
08 February 2016 – Madelaine MacNamara
15 February 2016 – Maeve O'Sullivan
22 February 2016 – John MacKenna
29 Febraury 2016 – Ann Marie Kennedy & Sean Ruane
07 March 2016 – Paul Ó Colmáin
14 March 2016 – Connie Voisine
21 March 2016 – James Arthur
28 March 2016 – Gabriel Rosenstock, Cathal Quinn & Enda Reilly
04 April 2016 – Mary Kennelly
11 April 2016 – John W. Sexton & Ó Bhéal's Ninth Anniversary
18 April 2016 – Ron Carey & Tom Moloney
25 April 2016 – Ruth O'Callaghan
02 May 2016 – Alvy Carragher
09 May 2016 – Nuala Ní Dhomhnaill
16 May 2016 – John McAllister, Martha McGonigle, Ray Givans, & Paul Jeffcutt
23 May 2016 – Abby Oliviera, BeRn, Catherine Ann Cullen, Cormac Lally, John Cummins & Julie Goo
30 May 2016 – Daragh Bradish & Steve Luttrell
06 June 2016 – Kate Dempsey
13 June 2016 – Julie Morrissy & Stephen Sexton
20 June 2016 – Anne Tannam
27 June 2016 – John Hennessy
04 July 2016 – Maggie Harris
11 July 2016 – Paul Butterfield & Drucilla Wall
18 July 2016 – Doireann Ní Ghríofa & Mick O'Shea
25 July 2016 – Lorna Shaughnessy
01 August 2016 – Susan Connolly
08 August 2016 – Anne Irwin & Stephen Byrne
15 August 2016 – Sandra Ann Winters
22 August 2016 – Fióna Bolger, Nita Mishra, Christine Murray, Rosaleen Crowley, & Joanne Quirke
29 August 2016 – Eleanor Rees
05 September 2016 – Elaine Cosgrove & Trevor Conway
12 September 2016 – Christine Broe
16 September 2016 – Temper-Mental MissElayneous
19 September 2016 – Keith Payne
26 September 2016 – Kevin Barrington
03 October 2016 – Rafiq Kathwari
10 October 2016 – Biddy Jenkinson, Thomas McCarthy & Rónán Ó Snodaigh
16 October 2016 – The 4th Ó Bhéal International Poetry-Film Competition
17 October 2016 – Scott Jamison, Stephen Connolly & Manuela Moser
24 October 2016 – Edward O'Dwyer, John W. Sexton & Sandra Ann Winters
31 October 2016 – Sarah Clancy and The Jazz Messengers
07 November 2016 – Paul Muldoon
14 November 2016 – Jean O'Brien
21 November 2016 – Adam Wyeth
25th-26th November – 4th Winter Warmer Festival (22 poets ++)
28 November 2016 – Looking At The Stars
05 December 2016 – Ailbhe Ní Ghearbhuigh, Enda Reilly, Liam Ó Muirthile & Margaret Lonergan
12 December 2016 – Ian Duhig
2017
09 January 2017 – Amy Barry & Ben Simmons
16 January 2017 – Mike Garry
23 January 2017 – Ann Leahy
30 January 2017 – Michael Coady
06 Febuary 2017 – MA Creative Writing Students from UCC
13 February 2017 – Gerard Smyth
20 February 2017 – Séamus Barra Ó Súilleabháin
27 February 2017 – Amanda Bell
06 March 2017 – Claire Crowther
13 March 2017 – Michelle Cahill
20 March 2017 – Michèle Vassal-Ring & Brendan Ring
27 March 2017 – Michael J. Whelan
03 April 2017 – Louis de Paor
10 April 2017 – Ó Bhéal's 10th Anniversary with John Baylis Post
17 April 2017 – Rachel Coventry & Ingrid Casey
24 April 2017 – Martin Figura & Helen Ivory
01 May 2017 – John Murphy
08 May 2017 – Shara McCallum
15 May 2017 – Diarmuid Fitzgerald
22 May 2017 – Mary Madec
29 May 2017 – Sarah J. Sloat
05 June 2017 – Stephanie Conn & Simon Lewis
12 June 2017 – Matthew Caley
19 June 2017 – Jo Slade
26 June 2017 – Linda Ibbotson & Sarah Byrne
03 July 2017 – Maria McManus
10 July 2017 – Didi Jackson & Major Jackson
17 July 2017 – Celia De Fréine
24 July 2017 – Andrea Mbarushimana & Russ Berry
31 July 2017 – Mary O'Malley
07 August 2017 – Gerda Stevenson & Aonghas MacNeacail
14 August 2017 – Phil Lynch
21 August 2017 – Lani O'Hanlon & Grace Wells
28 August 2017 – Deirdre Grimes & John Carew
04 September 2017 – Ailbhe Ní Ghearbhuigh
11 September 2017 – Jane Williams
18 September 2017 – Rodger Hudson
22 September 2017 – Benjamin Burns & Paul McNamara
25 September 2017 – Siobhán Campbell
02 October 2017 – Miceál Kearney
09 October 2017 – Tamara Miles and Karen J. McDonnell
23 October 2017 – Eamonn Lynskey
30 October 2017 – Elaine Feeney & Quango Reinhardt
06 November 2017 – Özgecan Kesici & Panchali Mukherji
13 November 2017 – Theo Dorgan
20 November 2017 – Brian Kirk
27 November 2017 – Jessamine O Connor
04 December 2017 – Stiofán Ó Cadhla
11 December 2017 – Fernando Beltrán
2018
08 January 2018 – Cormac Lally & Julie Goo
15 January 2018 – Doireann Ní Ghríofa
22 January 2018 – Mary O'Donnell, Raina J. León, Chris Murray, Nicola Moffat & Kathy D'Arcy
29 January 2018 – Paula Meehan
05 February 2018 – MA Creative Writing Students from UCC
12 February 2018 – All the Worlds Between
19 February 2018 – Joel Deane
26 February 2018 – Hazel Hogan & Alice Kinsella
5 March 2018 – Louis Mulcahy
12 March 2018 – Patrick Stack
19 March 2018 – John Foggin
26 March 2018 – Eleanor Cummins, Eileen Sheehan and Jessie Lendennie
2 April 2018 – Dairena Ní Chinnéide
9 April 2018 – Brian Turner
16 April 2018 – Ó Bhéal's 11th Anniversary
23 April 2018 – Anamaría Crowe Serrano
30 April 2018 – Ita O'Donovan
7 May 2018 – Sean Lysaght
14 May 2018 – Thomas Dillon Redshaw
21 May 2018 – Rob Barratt
28 May 2018 – Liz Quirke
4 June 2018 – Daniel Wade
11 June 2018 – Carlos Reyes
18 June 2018 – Nithy Kasa and Ciara Ní É
25 June 2018 – Greg Delanty
2 July 2018 – Nathanael O'Reilly and Anne Casey
9 July 2018 – Nyaradzo Masunda and Eva Bourke
16 July 2018 – Leah Umansky
23 July 2018 – David Starkey, Paul Willis and Chryss Yost
30 July 2018 – Mary Dorcey
6 August 2018 – Jane Commane and Peter Raynard
13 August 2018 – David Butler
20 August 2018 – Matthew Geden and Eriko Tsugawa-Madden
27 August 2018 – Meg Bateman and Paddy Bushe
3 September 2018 – Anne-Marie Fyfe presents The Voyage Out
10 September 2018 – Kevin Kiely
17 September 2018 – Borbála Faragó and Eiléan Ní Chuilleanáin
21 September 2018 – Nuala Leonard
24 September 2018 – A Tribute to Matthew Sweeney
1 October 2018 – Mary-Jane Holmes
8 October 2018 – Emmanuel Jakpa and Ismael Ramos
14 October 2018 – The 6th Ó Bhéal International Poetry-Film Competition
15 October 2018 – Julie O'Callaghan
22 October 2018 – Iggy McGovern
29 October 2018 – Sex W. Johnston and Darragh Hennessy
5 November 2018 – Zovi Zoni, Asad Mahmud, Mel White and Ilyana Kuhling
12 November 2018 – Shara Lessley
19 November 2018 – Knute Skinner
26 November 2018 – Eleanor Hooker
3 December 2018 – William Wall
10 December 2018 – Leanne O'Sullivan
2019
7 January 2019 – Stephen James Smith
14 January 2019 – Rachael Hegarty
21 January 2019 – James Finnegan
28 January 2019 – Ceaití Ní Bheildiúin
4 February 2019 – New Creative Writing from UCC
11 February 2019 – John Fitzgerald
18 February 2019 – Karen O'Connor
25 February 2019 – Aoife Reilly
4 March 2019 – George Mario Angel Quintero
11 March 2019 – Pete Mullineaux and Moya Roddy
18 March 2019 – Raina J. León
25 March 2019 – Marcus Mac Conghail
1 April 2019 – Faye Boland
8 April 2019 – Terry McDonagh
15 April 2019 – Ó Bhéal's 12th Anniversary with Mary Anne Smith
22 April 2019 – Majella Kelly
6 May 2019 – Joe Neal
13 May 2019 – Áine Durkin
20 May 2019 – Derek Sellen
27 May 2019 – Philip Metres and Dave Lucas
3 June 2019 – A Tribute to Danny Sheehy – Ómós do Domhnall Mac Síthigh
10 June 2019 – Clodagh Beresford Dunne
17 June 2019 – Anthony Lawrence
24 June 2019 – Kimberly Campanello
1 July 2019 – Niall McDevitt
8 July 2019 – Jessica Traynor
15 July 2019 – Kate Newmann
22 July 2019 – Randolph Healy
29 July 2019 – Jim Crickard & Alana Daly Mulligan
5 August 2019 – Aysar Ghassan and Raef Boylan
12 August 2019 – Patrick Lodge
19 August 2019 – Katie Donovan
26 August 2019 – Eibhlís Carcione and Pàdraig MacAoidh
2 September 2019 – David Toms
9 September 2019 – Alison Whitelock
16 September 2019 – Annemarie Ní Churreáin
20 September 2019 – Beau Williams
23 September 2019 – Michelle O'Sullivan
30 September 2019 – Kevin Griffin
7 October 2019 – Munster Slam & Emmet Kirwan
14 October 2019 – Clare McCotter
21 October 2019 – Christodoulos Makris
28 October 2019 – Alan Titley
4 November 2019 – Maurice Devitt
11 November 2019 – Miriam Gamble
18 November 2019 – Grace Wilentz & Siobhán Daffy
25 November 2019 – Ellen Dillon
2 December 2019 – Umang Kalra
9 December 2019 – Oran Ryan
16 December 2019 – Frank Ormsby

2020
13 January 2020 – Máighréad Medbh
10 February 2020 – Sara Berkeley and New Creative Writing from UCC
9 March 2020 – Fióna Bolger and Moyra Donaldson
13 April 2020 – Derek Sellen, Partridge Boswell
11 May 2020 – Caitríona Ní Chléirchín and Louis de Paor
8 June 2020 – Mick Delap and Alice Lyons
13 July 2020 – Daragh Breen and Jonathan Davidson
10 August 2020 – (Twin Cities) Emilie Lauren Jones and Matt Black
14 September 2020 – Julie Breathnach-Banwait and Nuala Ní Dhomhnaill
18 September 2020 – Chandrika Narayanan-Mohan and Shaunna Lee Lynch
12 October 2020 – Kobus Moolman
9 November 2020 – Nidhi Zak/Aria Eipe, Mícheál McCann & Ashley O'Neal
14 December 2020 – Alice Oswald

2021
11 January 2021 – Geraldine O'Kane and Colin Dardis
8 February 2021 – New Creative Writing from UCC
8 March 2021 – Sandra Yanonne and Laurence McKeown
12 April 2021 – Sinéad McClure, Jill Munro and Laura Theis
10 May 2021 – Dubhán Ó Longáin and Julie Field
14 June 2021 – Theo Dorgan and Lang Leav
12 July 2021 – Bebe Ashley and Tom Moore
9 August 2021 – Twin Skies – poems from Cork and Coventry
13 September 2021 – Colette Nic Aodha and Colm Breathnach
17 September 2021 – Elizabeth McGeown and Jenny Lindsay
11 October 2021 – Neil McCarthy and Dean Browne
8 November 2021 – Tribute to Joseph Sweeney
13 December 2021 – Conor McManus and Leontia Flynn

2022
10 January 2022 – Mark Granier and Massimo Elijah
14 February 2022 – New Creative Writing from UCC
14 March 2022 – DS Maolalai and Jacqueline Saphra
11 April 2022 – Marcella Remund, David W Evans and Peter Arvan Manos
9 May 2022 – Diarmuid Johnson and Róisín Sheehy
13 June 2022 – Amanda Bell and Susan Rich
11 July 2022 – Rosamund Taylor and Richie McCaffery
8 August 2022 – Sujana Crawford and John Bernard
12 September 2022 – Isobel Ní Riain and Áine Uí Fhoghlú
23 September 2022 – Stanley Notte and Dmytro Lazutkin
10 October 2022 – 2022 Munster Poetry Slam with Abby Oliveira
14 November 2022 – Jane Ayres and Maurice Scully
12 December 2022 – Michael Longley

---
Winter Warmer Festival guest poets
2013
15 November 2013 – Seamus Barra Ó Súilleabháin
15 November 2013 – Cal Doyle
15 November 2013 – Marie Coveney
15 November 2013 – Rachel Warriner
15 November 2013 – Cathal Holden
15 November 2013 – Michael Ray
15 November 2013 – oikos
15 November 2013 – Dimitra Xidous
15 November 2013 – Lady Grew
15 November 2013 – Christy Parker
16 November 2013 – Sarah Hayden
16 November 2013 – Alan Titley
16 November 2013 – Robyn Rowland
16 November 2013 – Patrick Cotter
16 November 2013 – James Cummins
16 November 2013 – Conor McManus
16 November 2013 – Julie Field
16 November 2013 – Doireann Ni Ghriofa (with Stephen Moore)
16 November 2013 – Kit Fryatt
16 November 2013 – Raven
16 November 2013 – Anamaría Crowe Serrano
16 November 2013 – Matthew Geden (with Michael O'Callaghan)
2014
21 November 2014 – Eleanor Hooker
21 November 2014 – Eugene O'Connell
21 November 2014 – Fergal Gaynor
21 November 2014 – James Harpur
21 November 2014 – David Toms
21 November 2014 – Mary O'Donnell
21 November 2014 – Snatch Comedy Improv
21 November 2014 – TemperMental MissElayneous
21 November 2014 – Astrid Alben
21 November 2014 – Máighréad Medbh
22 November 2014 – Sawa Le
22 November 2014 – Ciarán MacArtain (with Michael O'Callaghan)
22 November 2014 – Simon Ó Faoláin
22 November 2014 – Christodoulos Makris
22 November 2014 – Eimear Ryan
22 November 2014 – Colm Scully
22 November 2014 – Sarah Clancy
22 November 2014 – Thomas McCarthy
22 November 2014 – Wioletta Greg
22 November 2014 – Ailbhe Ní Ghearbhúigh
22 November 2014 – Louis de Paor
22 November 2014 – Alan Jude Moore
22 November 2014 – Paula Meehan
2015
20 November 2015 – Kim Moore
20 November 2015 – Dean Browne
20 November 2015 – Michelle O'Sullivan
20 November 2015 – Maurice Scully
20 November 2015 – Kobus Moolman
20 November 2015 – Kerry Hardie
20 November 2015 – Nell Ní Chroinín & Marcus Mac Conghail
20 November 2015 – Erin Fornoff
20 November 2015 – Karlis Verdins
20 November 2015 – Aneírin Karadog
21 November 2015 – Dance Poetry with Amy Prendergast
21 November 2015 – Michal Weber
21 November 2015 – John W. Sexton
21 November 2015 – Christine Murray
21 November 2015 – Eileen Sheehan
21 November 2015 – James Byrne
21 November 2015 – Orlagh de Bhaldraithe
21 November 2015 – Lillian Allen
21 November 2015 – Derry O'Sullivan
21 November 2015 – Maram al Masri
21 November 2015 – Theo Dorgan
21 November 2015 – Leanne O'Sullivan
21 November 2015 – John Cummins
2016
25 November 2016 – Seán Dennehy
25 November 2016 – Ross Donlon
25 November 2016 – Annemarie Ní Churreáin
25 November 2016 – Jessica Traynor
25 November 2016 – John Fitzgerald
25 November 2016 – Paula Cunningham
25 November 2016 – Kerrie O'Brien
25 November 2016 – Jos Smith
25 November 2016 – Martín Veiga
25 November 2016 – Emily Cullen
26 November 2016 – Poetry in Performance Art with Francesca Castellano
26 November 2016 – Roisín Kelly
26 November 2016 – Paul McMahon
26 November 2016 – Eibhlís Carcione
26 November 2016 – John Ennis
26 November 2016 – Billy Mills
26 November 2016 – Gerry Hanberry
26 November 2016 – Josep Lluís Aguiló
26 November 2016 – Catherine Walsh
26 November 2016 – Michael Augustin
26 November 2016 – Tara Bergin
26 November 2016 – Raina J. León
26 November 2016 – Elaine Feeney
2017
24 November 2017 – Edward O'Dwyer
24 November 2017 – Niamh Prior
24 November 2017 – Richard Lambert
24 November 2017 – Frank Golden
24 November 2017 – Keith Payne
24 November 2017 – Jennifer Matthews
24 November 2017 – Biddy Jenkinson
24 November 2017 – Brendan Cleary & Ken Marshall
24 November 2017 – Órfhlaith Foyle
24 November 2017- Felispeaks
24 November 2017 – Stephen James Smith
25 November 2017 – Poetry Dance with Inma Pavon
25 November 2017 – George Harding
25 November 2017 – Caitríona Ní Chléirchín
25 November 2017 – James O' Sullivan
25 November 2017 – Mary Noonan
25 November 2017 – Daniel Salgado
25 November 2017 – Rody Gorman
25 November 2017 – Stephen Watts
25 November 2017 – Billy Ramsell
25 November 2017- Adnan Al-Sayegh
25 November 2017 – Stephen Sexton
25 November 2017- Catherine Ann Cullen
25 November 2017 – Sophie Mayer
2018
23 November 2018 – Gerry Murphy
23 November 2018 – Sarah Byrne
23 November 2018 – John Mee
23 November 2018 – Diarmuid O'Dalaigh
23 November 2018 – Simon Ó Faoláin
23 November 2018 – Christopher Whyte
23 November 2018 – Pat Boran
23 November 2018 – Amy Key
23 November 2018 – Celia Parra
23 November 2018 – Amarjit Chandan
23 November 2018 – Alice McCullough
24 Nov 2018 – The Ballad of Reading Gaol (Cathal Quinn, Eanna Hardwicke & Alexandra Conlan)
24 November 2018 – Lani O'Hanlon
24 November 2018 – Graham Allen
24 November 2018 – Grace Wells
24 November 2018 – Conal Creedon
24 November 2018 – Ailbhe Darcy
24 November 2018 – Alberto Masala & Eileen Healy
24 November 2018 – Doireann Ní Ghríofa
24 November 2018 – Iain Galbraith
24 November 2018 – Mara Bergman
24 November 2018 – Kit Fan
24 November 2018 – Colette Bryce
24 November 2018 – Lucy English
2019
22 Nov 2019 – Máire Ní Chéileachair, Con O'Drisceoil & Johnny McCarthy
22 November 2019 – Ciara Ní É
22 November 2019 – Philip Wilson
22 November 2019 – Claudia Larose-Bell, Marie Craven & Matt Hetherington
22 November 2019 – Amanda Bell
22 November 2019 – Gabriel Rosenstock
22 November 2019 – Danielle McLaughlin
22 November 2019 – Dourga
22 November 2019 – Zsuzsa Csobánka
22 November 2019 – Richard Hawtree
22 November 2019 – Kimberly Reyes
23 November 2019 – Afric McGlinchey
23 November 2019 – Francis Jones
23 November 2019 – Ciaran O'Driscoll
23 November 2019 – Louis Mulcahy
23 November 2019 – Aifric MacAodha
23 November 2019 – Anne Frater
23 November 2019 – Trevor Joyce
23 November 2019 – Jackie Wills
23 November 2019 – Liz Berry
23 November 2019 – Yolanda Castaño
23 November 2019 – Cormac Lally
23 November 2019 – Michelle Delea

2020
26 Nov 2020 – Andrew Gavin; John Hess; Dáirine Ní Mheadhra
26 November 2020 – Chiamaka Enyi-Amadi
26 November 2020 – Siobhán Ní Dhomhnaill
26 November 2020 – Karthika Naïr
26 November 2020 – Julie Morrissy
26 November 2020 – Musawenkosi Khanyile
26 November 2020 – Ellen Hinsey
26 November 2020 – Alba Cid
26 November 2020 – Brian Kirk
26 November 2020 – Susan Musgrave
27 Nov 2020 – Linda Buckley; Daire Halpin; John Hess; Dáirine Ní Mheadhra
27 November 2020 – Natalya O'Flaherty
27 November 2020 – Mike Garry
27 November 2020 – David Wheatley
27 November 2020 – Jean Boase-Beier
27 November 2020 – Mary O'Malley
27 November 2020 – Sinéad Morrissey
27 November 2020 – Rachael Hegarty
27 November 2020 – John McCullough
27 November 2020 – Chris Mansell
28 Nov 2020 – Asmae Ourkiya, Celine Thrane, Nqobizitha Vella, Sananda Mukhopadhyaya and Susanne Araya, Joanna Dukkipati
28 Nov 2020 – John Kinsella, Gavan Ring, John Hess, Dáirine Ní Mheadhra
28 November 2020 – Jane Clarke
28 November 2020 – Ranjit Hoskote
28 November 2020 – Mary Jean Chan
28 November 2020 – Tongo Eisen-Martin
28 November 2020 – Jacob Polley
28 November 2020 – Imtiaz Dharker
28 November 2020 – James O'Leary
28 November 2020 – Nuar Alsadir
28 November 2020 – Robert Sullivan
29 Nov 2020 – Jonathan Nangle, Daire Halpin, John Hess, Dáirine Ní Mheadhra
29 November 2020 – Deborah Moffatt
29 November 2020 – Niall O'Gallagher
29 November 2020 – Ceaití Ní Bhéildiúin
29 November 2020 – Jo Burns
29 November 2020 – William Wall
29 November 2020 – Dunya Mikhail
29 November 2020 – Florencia Milito
29 November 2020 – Proinsias Mac a' Bhaird
29 November 2020 – Iman Mersal

2021
26 November 2021 – Lorna Shaughnessy and Max Hafler
26 November 2021 – Nóirín Ní Riain
26 November 2021 – Rita Kelly
26 November 2021 – Antony Rowland
26 November 2021 – Anna T. Szabó
26 November 2021 – Eòghan Stiùbhart
26 November 2021 – Alan Titley
26 November 2021 – Marcas Mac An Tuairner
26 November 2021 – Gabeba Baderoon
26 November 2021 – James Cagney
26 November 2021 – Victoria Kennefick
27 Nov 2021 – Cinthya Torrez Quispe, Claudia Maria Zedda, Tina Pisco, Dr. Lekha Menon Margassery, Nqobizitha Vella, Cecilia Gamez, Anja Bakker and Joanna Dukkipati
27 November 2021 – Nóirín Ní Riain
27 November 2021 – Máire Dinny Wren
27 November 2021 – Piotr Florczyk
27 November 2021 – Greg Delanty
27 November 2021 – Isobel O'Hare
27 November 2021 – MK Chavez
27 November 2021 – Maurice Riordan
28 Nov 2021 – Dave Ward, Yolanda Castaño and Paul Casey
28 Nov 2021 – Bene Sebuyange, Lucía Aldao, Julie Goo, Natalie Linh Bolderston, George Harding, Eleanor Rees, Emma Pedreira and Molly Twomey

2022
25 November 2022 – Fiona Kelleher
25 November 2022 – Mícheál Ó hAodha
25 November 2022 – Marion F. Morrison
25 November 2022 – Maoilios Caimbeul
25 November 2022 – Yairen Jerez Columbié
25 November 2022 – Forrest Gander
25 November 2022 – Catherine Foley
25 November 2022 – Isaac Xubín
25 November 2022 – Allie Rigby
25 November 2022 – Jennie Feldman
26 Nov 2022 – Eleanor Rees, Matthew Geden, Greg Quiery and Mary Noonan
26 November 2022 – Jeff Cottrill, Catherine Badin, S'phongo, Róisín Leggett Bohan, Antonio Di Mare, Máire Stephens, Brendan Duffin, Ségolène, Pam Campbell and Jason J Fisher
26 November 2022 – Pippa Little
26 November 2022 – Karla Brundage
26 November 2022 – Scott McKendry
26 November 2022 – Marcus Mac Conghail
26 November 2022 – Joelle Taylor
26 November 2022 – Moyra Donaldson
27 Nov 2022 – All-Ireland Poetry Slam Championship Finalists: Marian Lovett, Margaret Kilcoyne, Marguerite Quinlan, Claire Cormican, Niall O'Mianain, Helen Hastings, Leon Dunne, Barry Currivan, Cormack Fitzgerald, Jim Crickard, Lauren McNamara and Ciarán MacArtain

---