---
October and November
---
6th October
Barbara Smith
You can listen to Barbara's reading here.

Barbara Smith lives in Dundalk, dividing her time between raising six children and teaching Creative Writing. She has just completed an MA in Creative Writing at Queen's University, Belfast. In 2007, her debut collection Kairos was published by Doghouse Books and she was an award winner in the Féile Filíochta International Poetry Competition. Barbara was recently asked to represent County Louth for Poetry Ireland's inaugural All-Ireland Poetry Day, on October 2nd.
---
13th October
Aideen Henry
You can listen to Aideen's reading here.

Aideen Henry is a native of Galway and has had poems published in West 47, THE SHOp, Southword, Stony Thursday Book, Crannog and the Cuirt Journal. She has completed the MA in Writing at NUI, Galway and her one act play, Pervert, won Best Production at the Muscailt Festival in February 2008.
Aideen is working on her first collection of poetry.
---
20th October
Ó Bhéal in association with Bradshaw Books presents the launch of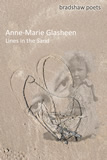 Lines in the Sand
the debut collection from the Cork Literary Review Manuscript Competition 2007 winner
Anne-Marie Glasheen
You can listen to Anne-Marie's reading here.

Anne-Marie Glasheen – photographic artist, poet and literary translator; Belgian father, English mother, she graduated with a B.A. (Hons) from Lancaster University in 1969. A past chair of the Translators Association, she has translated fiction, non-fiction, plays, poetry and art history books. In 1998 she won the annual literary translation prize awarded by the Communauté française de Belgique. She has coordinated cultural exchange programmes and festivals, given public readings, lectures, broadcasts, run workshops and written articles. Her poetry has been published in the UK and abroad and translated into French, Irish, Portuguese and Serbian.
Hailing from a literary background, Anne-Marie felt the need, in 2002, to find expression in a new vocabulary that did not necessarily have recourse to language as such. Always a keen photographer, the digital camera and computer have allowed her to translate the reality of the captured image into the unreality or 'surreality' of the manipulated image. Many of these 'visions' are inextricably linked in subject and form to the themes and symbology at the heart of her poetry. She regards her images as 'visual poems' and often combines images and words (in English and French, to reflect her dual heritage) when creating her photographic montages. Her work has been widely exhibited and is in private collections in France, Germany, Ireland, New Zealand and the UK.
---
27th October
Ó Bhéal in association with The Cork Jazz Festival presents
Keith Armstrong and The Honeyfeet
You can see the performance on video here.

Keith Armstrong was born in Heaton, Newcastle upon Tyne, where he has worked as a community development worker, poet, librarian and publisher. He now resides in the seaside town of Whitley Bay, is coordinator of the Northern Voices creative writing and community publishing project which specialises in recording the experiences of people in the North East of England.
Keith often works and travels with folk-musicians from North East England, and he has written the lyrics for an album, Bleeding Sketches, by folk-rock band The Whisky Priests, with whom he has toured extensively in The Netherlands. He has also visited the European Parliament in Strasbourg to perform his poetry with musicians Pete Challoner and Ian Carr. He has recently inspired songs by Jez Lowe and by Joseph Porter of Blyth Power.
Keith will be reciting a series of 'jazz poems' to the rhythms of The Honeyfeet.


The Honeyfeet are a jazz trio who hail from Manchester. Alabaster de Plume (saxophone) is also a solo artist and poet (see http://www.myspace.com/alabasterdeplume) and has performed both music and poetry at numerous festivals and venues including at Ó Bhéal in 2007. Samuel J 'Double Bass' Buckley and Rick Warren (harmonica) are also members of a band called Ernies Rhythm Section (see http://www.myspace.com/onlyforthepleasure).
---
3rd November
Diarmaid Ó Dálaigh
You can listen to Diarmaid's reading here.

Diarmaid Ó Dálaigh was born in Co.Wicklow and moved to Cork in his early twenties, where he went on to become a naturalised Corkman. He has travelled in North Africa and Europe, and has been writing and performing poetry for years.
He cites as a major influence Seamus Creagh, the traditional fiddler from Sliabh Luachra.


---
10th November
Mary Noonan and John Mee
You can listen to Mary's reading here.

Mary Noonan has been writing poetry in a sustained way since 2003, when she took part in a workshop led by Cork poet Gregory O'Donoghue. Her poems have been published in THE SHOp, Cyphers, Southword, The Stony Thursday Book and The Cork Literary Review. Her work was featured in the Winter 2006/07 issue of The Stinging Fly. In April 2007, she was invited to take part in the Poetry Ireland Introductions series of readings, held in the Print Gallery, Temple Bar. In November 2007 she was one of three poets mentored by Matthew Sweeney during his residency at the Munster Literature Centre. In May 2008, Mary was the guest poet at the Inishboffin Arts Festival.
You can listen to John's reading here.

John Mee was born in Canada in 1965. He works in University College Cork. He published his first poem in 1991 and has since published in various Irish and English poetry outlets, including the Rialto, Poetry on the Buses in London, THE SHOp, Cyphers, Southword and the Cork Literary Review. In 2007, John was selected by the Munster Literature Centre to be mentored by Matthew Sweeney in the course of that poet's residency at the Centre.
---
17th November
Ó Bhéal in association with Cork City Council presents a Twin Cities Celebration with
Coventry Poets Jonathan Morley and Tony Owen
You can listen to Jonathan's reading here.

Jonathan Morley runs The Heaventree Press in Coventry and is a PhD researcher in Caribbean literature at the University of Warwick. His current and forthcoming books are a new edition of Sir Walter Ralegh's Discoverie of Guiana (1596), the Collected Early Poems of Derek Walcott, and Geminar, an anthology of younger British poets in Portuguese translation. His first collection of poems, Backra Man, will be published in November by Perdika Press.
Praise for Backra Man: 'An extraordinary, powerful set of poems, with flashes of brilliance and disturbing, dark currents of perverse and righteous emotions. I love the homage to Beckett, Harrison, Hill and Plath. I also love the visceral tone and the visceral complexity, which say to the reader 'follow, or fuck off'.' – David Dabydeen
Jasmine curlicues
thin arms against the sky
wafting
to the evening's ear
sweet gulps of liqueurs
cointreau crème-de-menthe
– from Duskfall by Jonathan Morley
You can listen to Cork poets reading six of Tony's poems here.

Antony Owen is from Coventry, England and is the Commercial Manager for Coventry Rugby Club. He has been writing poetry for ten years and his first collection will be published by Heaventree in 2009.
Owen's work performs a delicate balancing act between open, honest lyricism and more experimental forms. His uncompromising sexual and political content has led to him being banned from most US poem-ranker websites, but the shock tactics are deepened and made significant by his fluency with complex, finely wrought images and by the sense of a necessary bleakness, reminiscent of the Mersey Beat poets and their French forebears.
At the end of the road
where the cold wind
is stolen by the kebab shop
my pockets turned green
and Tchaikovsky brought my wife
vibrating out of my pocket
in a chariot of light.
– from Prelude to an Infidelity by Antony Owen
---
24th November
Ó Bhéal in association with Poetry Ireland presents
Eiléan Ní Chuilleanáin
You can listen to Eiléan's reading here.

Cork-born Eiléan Ní Chuilleanáin was educated in Cork and Oxford and is a member of Aosdána. She is Associate Professor of English, Dean of the Faculty of Arts (Letters) and a Fellow of Trinity College Dublin, where she now lives.
Eiléan has published eight collections of poetry: Acts and Monuments (1972), Site of Ambush (1975), The Second Voyage (1977, 1986), The Rose Geranium (1981), The Magdalene Sermon (1989), The Brazen Serpent (1994), The Girl Who Married the Reindeer (The Gallery Press, 2001/Wake Forest, 2002) and Selected Poems (London, Faber and Faber, 2008).
She won the Patrick Kavanagh Award for Acts and Monuments in 1973. The Magdalene Sermon was short-listed for The Irish Times-Aer Lingus Award in 1990 and was nominated for the European Literature Prize in 1992. The Irish-American Cultural Institute awarded her the O'Shaughnessy Prize for Poetry in 1992. She is a co-founder of the literary review Cyphers, along with Leland Bardwell, Pearse Hutchinson and Eiléan's husband, poet Macdara Woods.
"Eiléan Ní Chuilleanáin employes a poetic point of view that is displaced, unspecified, and often enigmatic; her poetry resonates with ancient rites and presences from a spiritual otherworld."
– Citation for the O'Shaughnessy Award of the Irish-American Cultural Institute, 1992
'There is something second sighted, as it were, about Eiléan Ní Chuilleanáin's work, by which I don't mean that she has any prophetic afflatus, more that her poems see things anew, in a rinsed and dreamstruck light. They are at once as plain as an anecdote told on the doorstep and as haunting as a soothsayer's greetings.'
– Seamus Heaney
'The beauty of this book is that it consolidates the high purpose of Ní Chuilleanáin's career, it quests forward on a continuous, sophisticated, moral journey.'
– Thomas McCarthy, Cork Literary Review
---