8th Ó Bhéal Five Words International Poetry Competition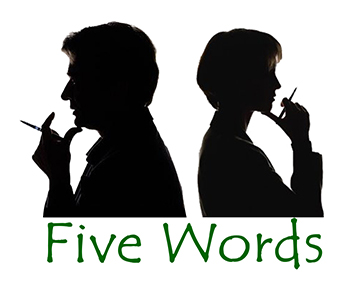 January 19th – 26th 2021
nest clear stitch shadow spring
---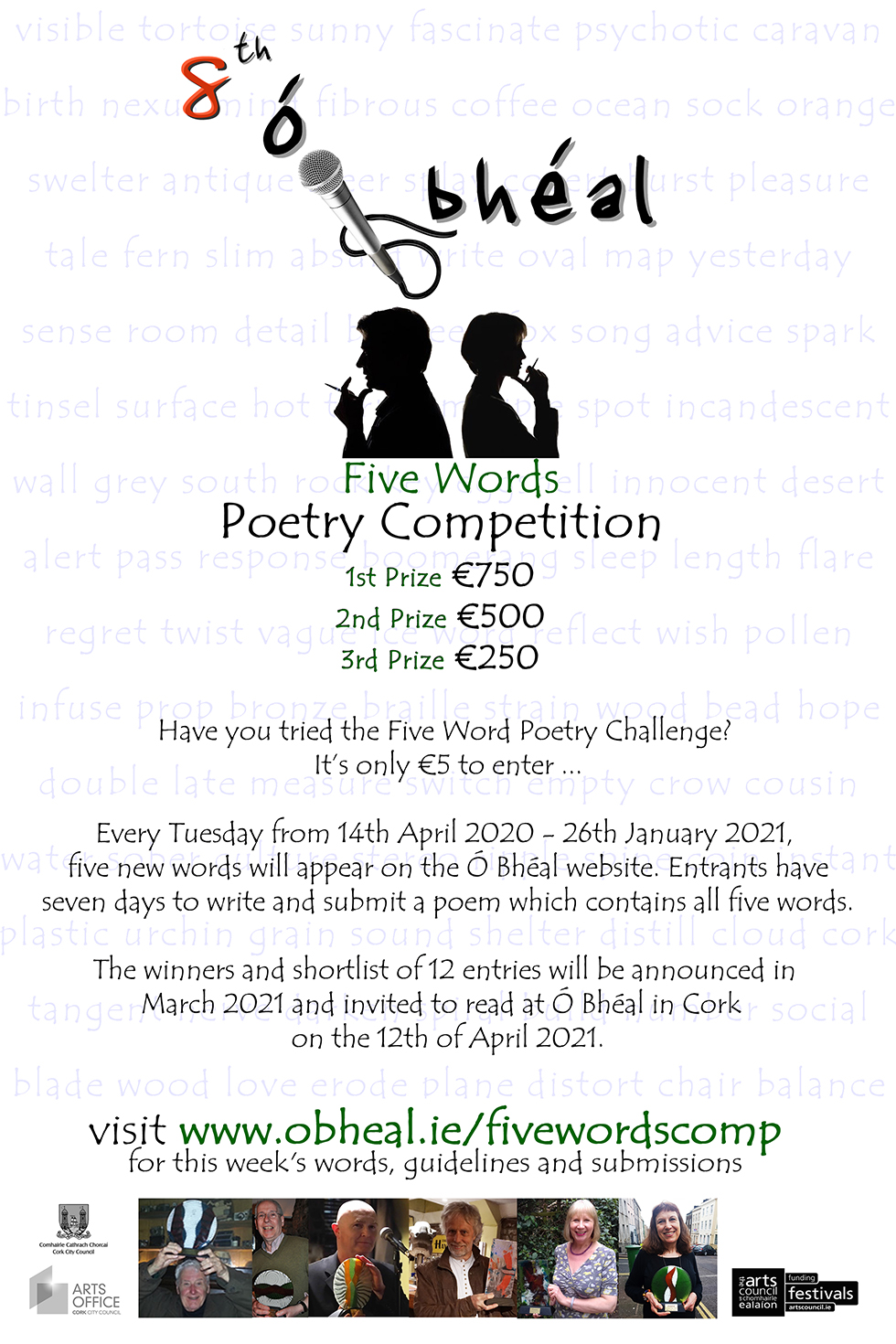 ---
Competition Overview
The 2020/2021 (8th) competition runs for 41 weeks.
Every Tuesday at midday (UTC) from 14th April 2020 – 26th January 2021, five words are posted on this competition page. Entrants will have one week to compose and submit one or more poems which include all five words given for that week.
---
Prize
A prize of 750 euros will be awarded to the winner, plus 500 euros for second place and 250 euros for third place. These three, if available will be invited to read at Ó Bhéal's fourteenth anniversary event, on Monday the 12th of April 2021. Should we be able to host a physical event at that time, then an additional travel fee of 100 euro plus B&B accommodation will be provided for this. The overall winner also receives a physical award, hand-crafted by acclaimed glass artist (and poet) Michael Ray.
The shortlisted poems and winning entry will also be published in Five Words Vol XIV – the next annual anthology of five word poems, to be launched at the same event. A shortlist of twelve poems including the overall winner will be announced by the first week of March 2021.
The 2020/21 judge is Grace Wells.
The five words offered each week for the 8th Five Words competition (2020-21) are sourced from Ó Bhéal's eighth year of live Monday evening Five Word Challenges (held during 2014-15). A small, varied selection of additional words are also used due to deletion of duplicates, colloquialisms, etc.
---
Submission Guidelines
Entry is open to all countries. Poems cannot exceed 50 lines in length (including line breaks), and must include all five words listed during this week. A modicum of poetic license is acceptable. As long as the original spelling is intact within your syntax, you're welcome to pluralise, join or even split the word to form two adjoining words. Poems should be newly written, during the relevant 7-day period. There is no limit to quantity of entries, although each payment and submission should be made separately.

NB** Entrants should be at least 18 years of age at the date of submission.
Entries to be sent no later than 12pm on the relevant Tuesday.

Submissions carry a 5 euro entrance fee.

Payment should be made via this paypal button before continuing.
Once payment is made, please copy your poem into the completed submission form (one poem per form), and email to
or by post (postmarked by Tuesday at latest) to:
Ó Bhéal
Five Words Poetry Competition
c/o Civic Trust House
50 Popes Quay
Cork
Ireland
For postal entries, please print out and complete the submission form, and post together with your attached poem (on which nothing other than the title and poem appear).
Email entries should only be sent via the above email address, not via the submissions [at] obheal [dot] ie email link on the home page, which is only for non-competition entries, written and performed live during each Monday evening event from words derived randomly by the audience.
Best of Luck!
---
---
Five Words Anthology PDFs
---
---
7th Five Words Competition

Results, announced 29th February 2020
---
---
Judges: Afric McGlinchey and Michael Ray
Betty Fox is Skipping
by Derek Sellen (England) winner
Evolution
by Cliona O'Connell (Ireland) highly commended
Automaton
by Rosemary Norman (England) highly commended
Father's Day
by Janice Bethany (USA)
Wise and Luminous
by Ada Volynska (Ukraine)
Smoke Flares, Pyro Prayers
by Lucy Holme (Ireland)
The Boat Crane
by Sharon Phillips (England)
6am. River. Girl.
by Fiona Ritchie Walker (England/Scotland)
To Paint Death as The
Mountain Pine Beetle
by Michele Ring (France)
Bottled Lines,
Excellent Spirits
by Ada Volynska (Ukraine)
A Small Bee Came to
Rest Upon My Hand
by Margaret McCarthy (Ireland)
La Rue des Touettes
by David W Evans (Jersey)
---
---
6th Five Words Competition

Results, announced 3rd March 2019
---
---
Judges: Bernadette McCarthy and Matthew Geden
Monolith

by

Mary Anne Smith

(England) winner
The Idea of Snow

by

by Jenny Pollak (Australia) highly commended
My grandmother goes
to the temple

by

Sophia Li (USA) highly commended
The Lyric Impulse

by

Steve Xerri (England) highly commended
Omens

by

Joan Gooding (England)
Detachment

by

Geraldine McCarthy (Ireland)
Peckham Flaneur

by

Giles Constable (England)
La Llorona /
Weeping Woman

by

Derek Sellen (England)
What you woke to

by

Steve Xerri (England)
Karst Landscape

by

Gillian Laker (England)
Vardo

by

Jill Munro (England)
Nexus

by

Tamara Miles (USA)
---
---
5th Five Words Competition

Results, announced 7th March 2018
---
---
Judges: Kathy D'Arcy and Rab Urquhart
Ptarmigan

by

Jill Munro

(England) winner
Among Starlings

by

Margaret McCarthy (Ireland) highly commended
A Dream of my Dead Grandmother
in the Modern Art Museum

by

Derek Sellen (England) highly commended
Disciplining the Modern Satyr

by

Mary-Jane Holmes (England)
Nothing To See

by

Giles Constable (England)
How We Are

by

Ted O'Regan (Ireland)
Writing for the Ó Bhéal
Open-Mic

by

Jim Crickard (Ireland)
Amber

by

Ted O'Regan (Ireland)
Reindeer Moss

by

Tamara Miles (U.S.A.)
Every Sunday Ever

by

Kirsten Irving (England)
Centenary

by

Ted O'Regan (Ireland)
My Mother's Birthplace

by

Tamara Miles (U.S.A.)
---
---
4th Five Words Competition

Results, announced 5th March 2017
---
---
Judges: Afric McGlinchey and John W. Sexton
Identifications

by

John Baylis Post

(Ireland) winner
Milk

by

Siobhan Campbell (Ireland) highly commended
The Safety

by

Tamara Miles (U.S.A.) highly commended
Eve

by

Siobhan Campbell (Ireland)
LOVELOCKS

by

Jane Boxall (U.S.A.)
Only Connected

by

Margaret McCarthy (Ireland)
Perspective

by

Ted O'Regan (Ireland)
THE ZOMBIE-MAKER

by

Derek Sellen (England)
Minor Deities

by

Tamara Miles (U.S.A.)
A fickle god

by

Margaret McCarthy (Ireland)
STITCHES

by

Jane Boxall (U.S.A.)
The Buttonhole

by

John D. Kelly (Northern Ireland)
Click here to view a pdf of Five Words Vol X
---
---
3rd Five Words Competition

Results, announced 28th February 2016
---
---
Judges: Marie Coveney and Colm Scully
The Dancehall on the Summit of the Bloodiest Head of the Twenty Six Headed Giant

by

John W. Sexton

(Ireland) winner
Tuesday on a Fulcrum

by

Beth Somerford (England) highly commended
Commuter

by

Janet Lees (England) highly commended
The Night of the Nightjar

by

Mary Anne Smith (England)
Tribes

by

Pam Szadowski (England)
An awful hush

by

Jenny Pollak (Australia)
Chinese Zodiac:
Year of the Fire Monkey

by

Tamara Miles (formerly Gantt) (U.S.A.)
An unread novella in a
charity shop

by

Janet Lees (England)
Igloo

by

Shirley Bell (England)
Ragwort

by

Derek Sellen (England)
A Coin in the Soft Machine

by

John W.Sexton (Ireland)
Sky, an Open Window

by

Tamara Miles (formerly Gantt) (U.S.A.)
Click here to view a pdf of Five Words Vol IX
---
---
2nd Five Words Competition

Results, announced 1st March 2015
---
---
Judges: Billy Ramsell and Jennifer Matthews
Survivor

by

Derek Sellen

(England) winner
Sonnet in B Major

by

Afric McGlinchey (Ireland) highly commended
Home Cooking

by

Adannaya Igwe (UK) highly commended
Saved

by

Liz Smith (England)
Breakfast

by

Sheena Blackhall (Scotland)
At the Hair Clinic

by

Derek Sellen (England)
The Snooze Button

by

Margaret Mc Carthy (Ireland)
The Sectioning

by

Bernadette McCarthy (Ireland)
I Coin a Line

by

Mary Fahy (Ireland)
The Stereogram

by

Anthony Scott (England)
Black Mountain Rebel

by

Tess Sheridan Adams (Ireland)
False North

by

John W. Sexton (Ireland)
Click here to view a pdf of Five Words Vol VIII
---
---
1st Five Words Competition

Results, announced 1st March 2014
---
---
Judges: Cal Doyle and Paul Casey
Old Maps and Books

by

Don Nixon (England)
Fado in a Lisbon Bar

by

Don Nixon

(England) winner
Gipsy Girl

by

Eithne Reynolds (Ireland)
The Magician's Hat

by

Linda Mills (USA)
Matinée Idol

by

Richard Hawtree (Ireland)
Postcard

by

Joy Howard (England)
A boy of six thousand parts

by

Janet Lees (England) highly commended
Palimpsest

by

Janet Lees (England)
Frozen moment

by

Afric McGlinchey (Ireland) highly commended
Life on Mars

by

Colm Scully (Ireland)
The Choice

by

Tom Dredge (Ireland)
At the Banquet

by

Máire Wren (Ireland)
Click here to view a pdf of Five Words Vol VII
---
---
Awards
by glass artist
Michael Ray
---
---
Inaugural competition winner Don Nixon (R.I.P. 2014), with glass artist (and poet) Michael Ray
---
---