September 21st, 2021 at 1:14 pm
Posted by pc in
Uncategorized
Twin Cities Poetry Exchange
9th & 19th August 2021
Ó Bhéal in association with Cork City Council, Coventry City Council
and Here Comes Everyone
presents a Cork-Coventry Twin Cities Celebration with the launch of a new anthology
Twin Skies – poems from Cork and Coventry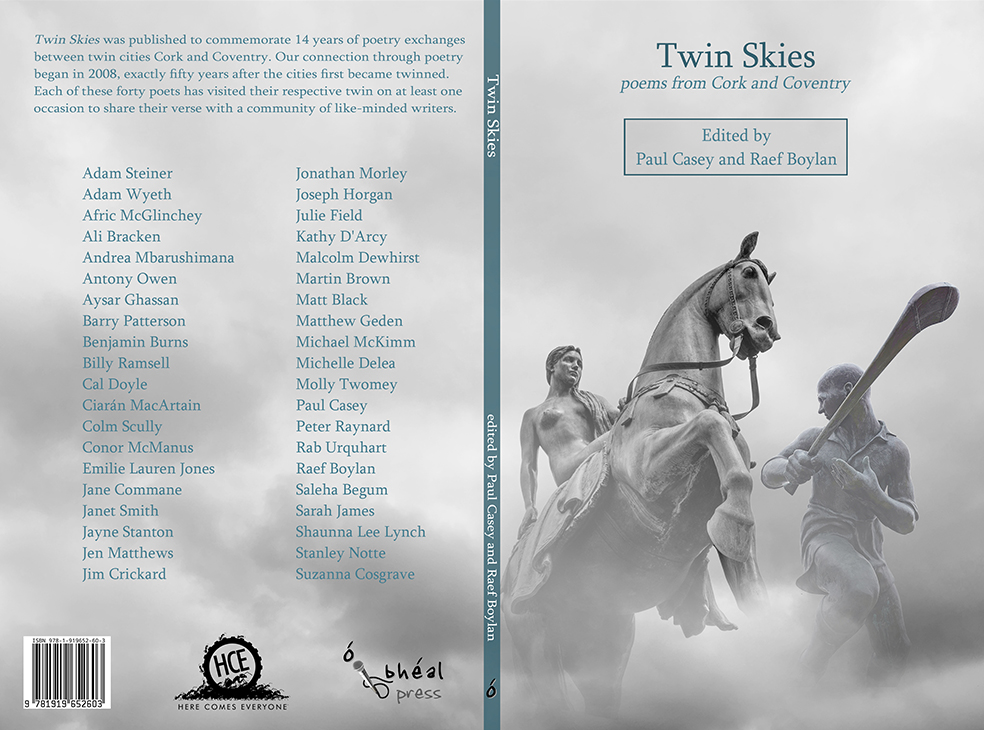 You can view the free digital version at this link.

You can listen to the poets' collective reading here.
Twin Skies celebrates 14 years of poetry interplay between the cities of Cork and Coventry. The 40 poets whose work appears here have each visited their respective twin city on at least one occasion to share their well-crafted words and experiences. Poets included in the anthology read across two online events, at Ó Bhéal on the 9th August and at Fire & Dust in Coventry on the 19th of August.
The anthology is published on the occasion of Coventry's designation as UK City of Culture 2021. Cork was designated as City of Culture in 2005, a cultural touchstone from which Ó Bhéal eventually emerged as an institution dedicated to the promotion and well-being of poetry and poets, an entity well-matched by its experienced Coventry counterparts.
Since 2009 Ó Bhéal has co-facilitated this exchange hand in hand with an impressive succession of invested partners in Coventry (which along with Stalingrad was the world's first twin city – and Cork's first twin). These selfless cultural ambassadors include: John Morley of Heaventree Press (& Night Blue Fruit); Antony Owen; Adam Steiner of Silhouette Press; and Raef Boylan, editor of Here Comes Everyone and event organiser of Fire & Dust.
Our thanks go to the city councils of Cork and Coventry for their ongoing support, as we continue to drive and develop our invaluable relationship for its benefits to poets and writing communities from both cities. Since 2008, the exchanges have been documented across a series of collective reviews by the participating poets, which can be viewed on the Ó Bhéal website at www.obheal.ie.


You can watch a video of the event here
No comments yet.
RSS feed for comments on this post. TrackBack URI
Sorry, the comment form is closed at this time.