October 8th, 2013 at 5:26 pm
Posted by pc in
Uncategorized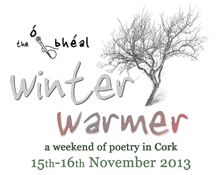 15th – 16th November 2013
the Ó Bhéal Winter Warmer Festival to be held at
Sample Studios Amphitheatre (Sullivan's Quay, Cork)
Ó Bhéal is proud to announce it's first Winter Warmer Festival, a weekend of poetry featuring twenty-one poets, four of whom will be performing to music.
oikos will present a live installation incorporating poetry, influenced by butoh and body-weather practices. There's also a preview screening of Seamus Murphy's excellent new poetry film Snake: Poetry of Afghanistan's Women (the world première of which follows in December), as well as a closed-mic for ten local poets.


Free Admission to all events

For the complete programme click here

Videos of the festival performances are available here.
No comments yet.
RSS feed for comments on this post. TrackBack URI
Sorry, the comment form is closed at this time.