October 8th, 2013 at 5:26 pm
Posted by pc in
Uncategorized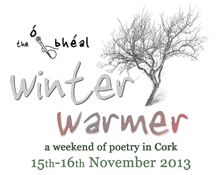 15th – 16th November 2013
the Ó Bhéal Winter Warmer Festival held at
Sample Studios Amphitheatre (Sullivan's Quay, Cork)
---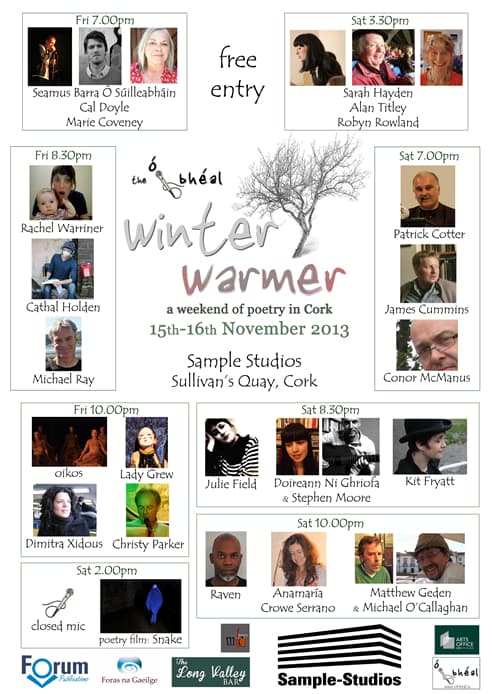 ---
You can view the Festival Videos here.
Ó Bhéal is proud to announce it's first Winter Warmer Festival, a weekend of poetry featuring twenty-one poets, four of whom will be performing to music.
oikos will present a live installation incorporating poetry, influenced by butoh and body-weather practices. There's also a preview screening of Seamus Murphy's excellent new poetry film Snake: Poetry of Afghanistan's Women (the world première of which follows in December), as well as a closed-mic for ten local poets.


Free Admission to all events.

Made possible with financial support from Forum Publications, Foras na Gaeilge, The Long Valley Bar and Cork City Council.

Videos of the festival performances are here.
---
---
Programme
---
---
Friday 15th November
---
7.00pm – 8.00pm

Seamus Barra Ó Súilleabháin | Cal Doyle | Marie Coveney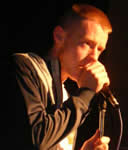 Seamus Barra Ó Súilleabháin has published poetry in Feasta, An Gael and Comhar, and haiku with haigo buachallán buí in the Shamrock Journal and THE SHOp. His current chapbook Loitríocht was funded by a secret branch of TG4 hoping to create dissent among Irish speakers to gain publicity for their latest documentary. More about Séamus at www.seamusbarra.blogspot.com.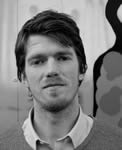 Cal Doyle was born in Cork in 1983. His work has appeared in a number magazines and journals, both in print and online. Most recently his poems have appeared in Pendline and The Penny Dreadful. He has reviewed both poetry and short fiction for Southword and works as the poetry editor for The Weary Blues, the online outlet for the Cork based imprint New Binary Press.

He has read at a number of literary events and festivals around the country, the most recent being at The Ash Sessions in Dublin and at the Cork International Short Story Festival. Cal has read as part of Poetry Ireland's Introductions Series in the Irish Writers' Centre. He has completed his work on a debut pamphlet of poetry Control / Alternate / Delete, which is currently in limbo — much like himself, as he divides his time between Cork and Dublin.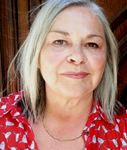 Marie Coveney was born in Co. Cork and studied in the Crawford College of Art. Her work has been published in Poetry Ireland Review, The Shop, The Stony Thursday Book and Southword Online. Twenty-one of her poems were published in Measuring: Dedalus New Writers 1 (Dedalus Press, 2012). Twenty-one of her poems were published in Measuring: Dedalus New Writers 1 (Dedalus Press, 2012).

In 2008 Coveney won the Listowel Single Poem prize and received a special merit in the Dromineer Festival in 2010. She was shortlisted for the Patrick Kavanagh Award in 2010, the Listowel Collection Competition 2011 and the Cork Literary Manuscript 2011. Her poem British Queens was published in the Sunday Business Post,March 2011, having been featured in BBC1 TV Spotlight program filmed at Ó Bhéal, Cork. In September 2013 she was shortlisted for the Bridport Prize UK.
---
8.30pm – 9.30pm

Rachel Warriner | Cathal Holden | Michael Ray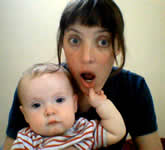 Rachel Warriner is a poet based in Cork City. Her works include the three-part simultaneous poem Primary (Default, 2009), the psychogeographic photo/text work Detritus (Dusie/Default, 2010), the poems of the high-speed anti-IMF protest Eleven Days (RunAmok, 2011) and her recent book length examination of amateur operatics Fine Lament (Critical Documents 2012).

Her work has appeared in Cleaves, Dusie, Hi Zero, Poetry Salzburg Review, International Egg, Poultry Review and Default. She is also involved in organising the annual SoundEye Poetry Festival, co-runs small presses DEFAULT and RunAmok and edits the blog returntoDEFAULT.wordpress.com.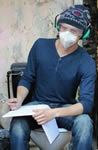 Cathal Holden is a young poet and musician from the Dingle Peninsula with an innovative style. He combines elements of hip hop with performance poetry and draws from a broad range of inspirations, from Saul Williams to Kahlil Gibran and from Dahl to Dali. A lyrical storyteller, his work is bound together by the underlying theme of magic. He won the 2012 Munster Slam championships.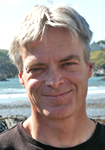 Michael Ray is a glass artist living in West Cork. His poems have appeared in The Moth, Asylum, The Irish Independent, The Shop, Cyphers, Magma and Ambit. In 2012 he was shortlisted for the Cúirt New Writing Poetry Prize, won second prize in the Fish poetry competition and was highly commended in the Francis Ledwidge poetry award. In 2013 he was shortlisted for the Hennessy literary award.
---
10.00pm – 11.00pm

oikos | Lady Grew | Dimitra Xidous | Christy Parker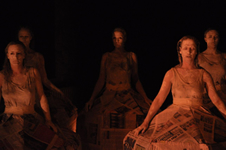 oikos first came together to create inner skin, a sight specific, live installation performance piece for Home Festival Cork 2013. Since then they have continued to train and explore developing work together. oikos have been influenced by, and experimented with butoh, body/weather and authentic movement practices, along with notions of the shadow aspects of self, the beauty of light, sculptural costume and very slow movement. They are delighted with this opportunity to involve poetry, to combine it with these explored elements. The poem with its title are being written….it's about writing, about holding words in your hands…..about paper and books. Its about slow movement, shadow and light…about being caught in time…..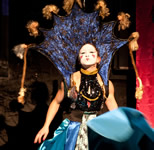 Lady Grew: Kate McGrew made the move from Southern Ohio to New York to Cork in 2008 and quickly gained notoriety as "Lady Grew" the pole-dancing MC, writing lyrics for producers and performing, recording, and making music videos all over Ireland, in the UK, Berlin, and New York. Prince Kong produced her EP Bass Bully on Dublin label Ghetto Quietly in 2010. Her new EP Put Tha PInk Up was recorded at Lionheart Studios in West Cork and launched during Cork's HOME Festival in April. Grew puts out tracks on vinyl and as digital downloads available at www.ladygrew.com. Lady Grew just finished a successful run of her musical- Sweet Pang Is Innocent – at the Edinburgh Fringe Festival in August. The show – a feminist defense of things raunchy – combines her skills as rapper/singer, actress, and pole-dancer with the addition of the role of the Judge being played by a local DJ in each town. Come get courted.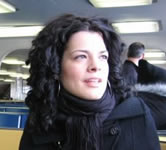 Dimitra Xidous is a writer and poet whose work has appeared in literary journals in the US, Canada and Ireland, including Bare Hands Poetry, Burning Bush II, Bywords Quarterly Journal, The Dalhousie Review, Penduline, The Poetry Bus, Room, The Weary Blues, and wordlegs. Her poetry has been included in the Bare Hands Anthology (2012), and the Words and Wonders: A Guelph-area Anthology (2001). She was a joint runner-up at the inaugural Heart in Mouth Competition (2013) and her poem The Cactus Army was long-listed for the Montreal International Poetry Prize (2011). Her poetry has been featured on RTE Arena, and she has performed at a number of spoken word nights around Dublin, including Nighthawks and The Monday Echo. Most recently, she read at the Dalkey Book Festival, as part of The Stinging Fly Showcase. She has work forthcoming in Boyne Berries, and the New Planet Cabaret Anthology (edited by Dave Lordan, New Island Books).

Dimitra also runs a monthly arts showcase at Nick's Coffee Company called The Ash Sessions. Originally from Ottawa, Canada, she currently lives in Dublin, Ireland.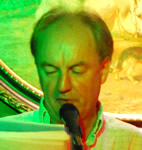 Christy Parker is a freelance journalist, living in Youghal, Co, Cork. He began writing poetry relatively late in life in tandem with weekly open-mic sessions in a local bar some 10 years ago. He self-published a collection of these regular performance-motivated works in 2007, in an illustrated collection called Don't Step in the Poems. He regularly attends and reads at Ó Bhéal's Monday sessions in Cork.

Christy's work tends towards the comedic and reflects everyday occurrences in a story-telling formula. Less frequently yet consistently, he will also pen serious verses, which are likely to address the more serious emotional side of people's regular situations. Christy believes that poetry and verse, when "orated concisely and with conviction, has the potential to capture an audience in ways that the written word cannot possibly attain.".

---
---
Saturday 16th November
---
2.00pm – 3.00pm

Closed Mic | Snake (Poetry Film)

A Closed Mic will feature ten local poets who perform regularly at the Ó Bhéal open-mic on Mondays.

---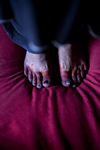 Snake: Poetry of Afghanistan's Women (14:11) A film by Seamus Murphy
Landays are two-line poems from Afghanistan; the word landay meaning short, poisonous snake. The poetry comes from mostly illiterate Pashtun women leading isolated lives in rural areas.

In couplets of 22 syllables, they anonymously cover taboo subjects; love, loss, exile, sex, drones, the Taliban, the weakness of men, being sold to old men, America. Reading them opens up the hidden world of Pashtun women. On two trips in 2012 poet/writer Eliza Griswold and photographer/fimmaker Seamus Murphy went in search of landays in cities, villages and refugee camps in the provinces of Kabul, Parwan, Helmand and Nangrahar. These will be the voices of truth and protest most at risk in the country's future. The commentary in the film is the only relevant one; the voice of the women's poetry.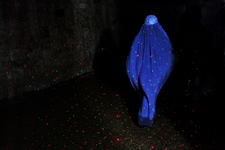 Photographer Seamus Murphy grew up in Ireland and lives in London. For over two decades, he has photographed extensively in Europe, the Middle East, Asia, Africa and Latin America. He has won seven World Press Photo Awards. His photography from Afghanistan, which he began in 1994, chronicles the tumultuous life of the Afghan people and won him the World Understanding Award (POYi). This has been published in A Darkness Visible: Afghanistan (Saqi Books, 2008) and has been exhibited internationally.
---
3.30pm – 4.30pm

Sarah Hayden | Alan Titley | Robyn Rowland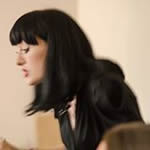 Sarah Hayden is Irish Research Council Government of Ireland Postdoctoral Fellow in the School of English at University College Cork. A co-organizer of the SoundEye and Avant festivals in Cork, she is involved with RunAmok and Return to DEFAULT. She is currently editing her monograph on Loy and translating the Dada poetry of Céline Arnauld. Her first chapbook, Exteroceptive, was published by Wild Honey Press in 2013 and her second, System Without Issue, is forthcoming this year from Oystercatcher.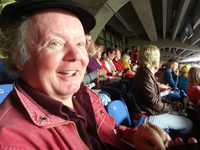 Alan Titley: "Author and scholar. A goodly number of books, fiction, drama, research, and even some poetry. Columnist with The Irish Times. Written and presented some films. Not too many goals, as played left full back most of the time". (LinkedIn Profile)

Alan grew up in Cork and was the head of the Irish Department at St. Patrick's College in Drumconda, Dublin from 1981 until appointed Professor of Modern Irish at University College Cork in 2006. Among his several novels and collections are the short story collection, Focrici agus Scéalta Eile, and the essay collection, Beyond the Knacker's Yard. His work has been translated into several languages. His young people's novel, Amach, won the 2004 Bisto Prize. Titley has also written many stage plays that have been produced in Ireland and abroad, including Godot Turns Up (1990, Abbey/ Peacock), as well as radio plays which have been broadcast on RTE and the BBC. His resume includes Oireachtas prizes for works in the Irish language, the Butler Prize of the Irish-American Cultural Institute, the Pater Prize for International Radio Drama, the Stewart Parker award for drama, and the Eilis Dillon Award for Children's Literature. Additionally, he has won prizes in the Listowel Writers' Week and Francis McManus literary competitions. He has also served as an adjudicator for The Irish Times Literary Prize, chairman of the Irish Language Award, and Gaelic Editor of Books Ireland. (courtesy of the Munster Literature Centre)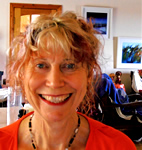 Dr Robyn Rowland AO has published nine books, six of poetry, most recently Seasons of doubt & burning. New & Selected Poems (2010) representing 40 years of poetry. Her poetry has recently appeared in Being Human, ed. Neil Astley, (Bloodaxe Books, UK, 2011). Silence & its tongues (2006) was shortlisted for the 2007 ACT Judith Wright Poetry Prize. Robyn is winner of poetry prizes, including the Writing Spirit Poetry Award, Ireland 2010.

Robyn has created two CD's: Off the tongue and Silver Leaving – Poems & Harp with Irish harpist Lynn Saoirse. She has read her poetry in Portugal, Ireland, UK, USA, Greece, India, Austria, Bosnia, Serbia, Turkey & Italy, where, along with Canada, Spain and Japan she has been published. She is an Honorary Fellow, School of Culture and Communication, University of Melbourne, Australia and a member of the National Advisory Council for Australia Poetry Ltd. Robyn curated and presented the Poetry & Conversation Series for the Geelong Library Corporation, 2010-2012.
---
7.00pm – 8.00pm

Patrick Cotter | James Cummins | Conor McManus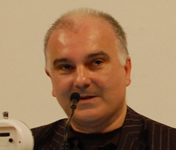 Patrick Cotter was born in Cork where he still lives and works. He has published many chapbooks, the collections Perplexed Skin (Arlen 2008) and Making Music (Three Spires 2009) and the verse novella A Misogynist's Blue Nightmare (Raven Arts 1990). He blogs on anti-laureate.blogspot.ie. Substantial selections of his work have been translated and published in Croatian, Estonian, Macedonian and Scandinavian languages. He has given readings at festivals all across Europe, North America and Asia. www.patrickcotter.ie
"The best of Cotter's writing is solid poetry, intensely imagist, and speaks deeply and sincerely to real and universal human concerns." – World Literature Today
"All the more refreshing, then, to find a poet working within the "village" of contemporary poets but in a voice all his own; one which is unfashionable in the best sense." – Fiona Sampson, The Irish Times

"Cotter is an adroit and knowing artist" – -Thomas McCarthy, Poetry Ireland Review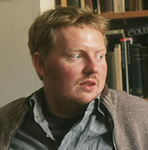 Cork poet James Cummins love miniatures. miniature villages, miniature trains, miniature bottles. you name it, if they made it smaller he loves them – because they make him feel like a giant. This piece of information has nothing what so ever to do with the fact that as a child his nickname was 'small fry', which he always assumed had something to do with having a similar boyish smile to that of Stephen Fry because why would anyone want to tease someone else about being short. he also writes poems, organizes stuff, edits things and plays computer games.

His books include speaking off centre (livestock editions), Warbler (DEFAULT), origins of process (Wild Honey Press) and FLASH / BANG (Veer). He co-runs small presses DEFAULT and RunAmok with Rachel Warriner and co-organises the annual Soundeye poetry festival and Avant.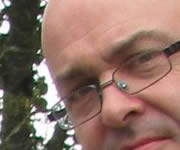 Conor McManus has had work published in the Moth, Crannog, Stinging Fly, Force Ten and the Linnets Wings. He has read his stuff on RTE radios Arts programme Arena, in the U.K. and at the Electric Picnic. In 2009 He won a bursary to the Tyrone Guthrie centre. He has been shortlisted for the Fish short story competition twice and has numerous other rejections. Currently, he is working on four books simultaneously and getting nowhere. Consequently, he's despondent.

---
8.30pm – 9.30pm

Julie Field | Doireann Ni Ghriofa (with Stephen Moore) | Kit Fryatt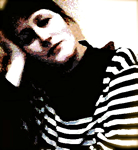 Julie Field (a.k.a. Julie Goo) is a Cork-born performance poet, singer, and songwriter who writes and performs in both English and Irish (Gaelic). Having been involved in theatre for most of her life, she performs her socially concious, poltically driven poetry with ease and grace. Julie studied at University College Cork for many years, where she completed an MPhil in modern Irish, and also taught. She performs regularly around Ireland, and is currently completing training to teach primary school children. Julie was crowned Munster Slam Champion in September 2013, and will compete in the All-Ireland Slam Championships in December. Julie has also been chosen to represent Cork in the annual twin-cities poetry exchange with Coventry in November 2013.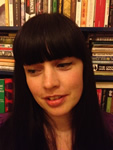 Doireann Ní Ghríofa's poems have appeared in literary journals in Ireland and internationally, in France, Australia, Mexico, USA, Scotland and England. Her Irish language collections Résheoid and Dúlasair are both published by Coiscéim. The Arts Council of Ireland has twice awarded her literature bursaries (2011 and 2013). In 2012, she was a winner of Wigtown Gaelic poetry contest, Scotland. Her poems have been shortlisted for the Jonathan Swift Award and for Comórtas Uí Néill, both in 2011 and 2012. She was selected for the Poetry Ireland Introductions Series. Her short collection of poems in English Ouroboros was recently longlisted for The Venture Award (UK). Earlier this year Doireann was nominated for a Pushcart Prize. www.doireannnighriofa.com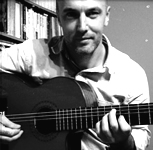 Stephen Moore is a Cork-based guitarist who enjoys exploring different musical styles and the spaces that lie between them. Stephen will be accompanying Doireann on guitar during her reading.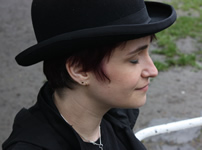 Kit Fryatt was born in 1978 in Tehran, and grew up in Singapore, Turkey and England. She moved to Ireland in 1999. In 2008 she set up Wurm im apfel with Dylan Harris, and from 2010 organised Wurm events solo. In 2009 she won the Stinging Fly prize for the poem Ghastlymake. She performed at Electric Picnic in 2011 and 2012, as part of Peep Anatomy at the Edinburgh festival in 2013, and at many other events in Ireland, Britain and elsewhere. Her most recent book is The Co. Durham Miner's Granddaughter's Farewell to the Harlan County Miner's Grandson (Knives Forks and Spoons, 2013.) wurmimapfel.net/about-kit-fryatt

Photo by Andrej Kapor.

---
10.00pm – 11.00pm

Raven | Anamaría Crowe Serrano | Matthew Geden (with Michael O'Callaghan)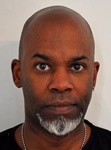 Raven was born in San Francisco, 1965. Raised on the edge of America, within earshot of the ocean, in a house full of books, music and politics. He studied film, graphic design and painting in college, was called away from studies by the responsibilities of young parenthood — and an uncontrollable fear of institutions. He worked intermittently as a graphic designer, cinematographer, and at whatever jobs he had to in order to make a living. In the gaps, he joined the next generation of activists, applying his skills as an artist – including writing — to creative protest, guerilla theatre.

He has been writing poetry since a child – a means of translating the world, distilling chaos to essences he could digest. He found inspiration in the Beats, the radical black poets of the 60's and 70's, hip hop. In the early 90's, started reading publicly at open mics and getting published in local anthologies, small-press magazines. Raven moved to Ireland in 2005, and moved from reading to performing, getting the opportunity to support Saul Williams twice during his 2006 tour, perform yearly at the Electric Picnic, as well as in Wales and England. He has been published in two anthologies in Ireland, won Balcony TV's Best Alternative Performer award in 2008, and currently co-host and perform at the monthly spoken word showcase Tongue Box, in Dublin. In the past year he has been incorporating live music and soundscapes into his work, and a book and cd are in the works.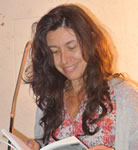 Anamaría Crowe Serrano considers herself lucky to be able to work as a translator of literature, which allows her to indulge in the two things she loves: literature and languages. Mainly, she translates poetry from Italian and Spanish into English, although lately she has been working on fiction, too. Some of her translations include Daniela Raimondi's Selected Poems (Gradiva, 2013), an online book of Spanish authors for the Instituto Cervantes, called Biblioteca Literaria 2013 (Instituto Cervantes Dublín, 2013), Antonella Zagaroli's Mindskin (Chelsea Editions, 2012), Annamaria Ferramosca's Other Signs, Other Circles (Chelsea Editions, 2009), Elsa Cross' Selected Poems (Shearsman, 2009) and Valerio Magrelli's Instructions on How to Read a Newspaper (Chelsea Editions, 2007), a collaborative translation. The list goes on.

Anamaría doesn't have time to play sports any more, but makes up for it with high-octane activities, like teaching Spanish to teenage boys, and watching her kids throw themselves off cliffs and play with explosives. When that all gets too much, she writes poetry. In the past few years she has been involved in several collaborative projects, including one called JAM, with Jennifer Matthews, which will soon be published by Seven Towers. Other publications include one columbus leap (corrupt press, 2011) and Femispheres (Shearsman, 2008). She is the translations editor of COLONY magazine, the latest literary magazine to come out of Ireland. In Dublin, she has taken part in several "Upstart" projects to shake up the city in artistic ways.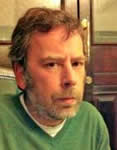 Matthew Geden was born and brought up in the English Midlands, moving to Kinsale in 1990. He has published poems, articles and reviews in numerous journals and anthologies throughout Ireland and abroad. His first collection Swimming to Albania came out in 2009, and last year The Place Inside was published by Dedalus Press.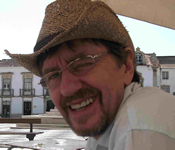 Michael O'Callaghan is a graduate of UCC, where he studied English Literature and Economic Geography. While a student he joined UCC Choral Society, UCC Medieval Choir and later sang with Madrigal '75 when they won the Grand Prix de Publique at Montreaux International Festival. He was a founding member of the Irish Youth Orchestra, and went on to play trombone with the RTE Concert Orchestra and La Spiritata Brass Quintet.

In 1979 he returned to UCC to complete his studies on the 18th Century English poet Christopher Smart and worked for a time as as a post-graduate tutor. His musical interests migrated meanwhile from classical to jazz. He played jazz trombone with Marco Petrassi, Paul O'Donnell, Dukes of Jazz and various Jazz ensembles. At age 33 he adopted the Keyboards and today plays various styles with a special love for Irish Traditional music. Michael will be accompanying Matthew on piano during his reading.
---
---
---
No comments yet.
RSS feed for comments on this post. TrackBack URI
Sorry, the comment form is closed at this time.