20th – 21st November 2015
the
Ó Bhéal Winter Warmer Festival

@
Sample Studios Amphitheatre
(Sullivan's Quay, Cork)
---
---
You can view the Festival Videos here.
We're pleased to announce Ó Bhéal's third Winter Warmer festival weekend. Over twenty-two poets will read/perform over two days. The festival also features poetry-films, dance-poetry, poetry set to various music, including sean-nós and a closed-mic for ten regular Ó Bhéal poets.
Free Admission to all events (donations gratefully accepted)


Sponsored by The Long Valley Bar, Dunnes Stores, Rising Sons Breweries, Forum Publications, Foras na Gaeilge, Cork City Council, Poetry Ireland, UCC School of English, Arc Publications, The Quay-Co-op and Café Paradiso.
---
Programme
---
---
Friday 20th November
---
7.00pm – 8.00pm

Kim Moore | Dean Browne | Michelle O'Sullivan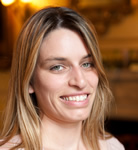 Kim Moore's first full-length collection The Art of Falling was published by Seren in 2015. Her first pamphlet If We Could Speak Like Wolves won the 2012 Poetry Business Pamphlet Competition and was named in The Independent as a Book of the Year. She won an Eric Gregory Award in 2010 and a Northern Writers Award in 2014. She works part-time as a peripatetic brass teacher in Cumbria and plays trumpet in a nine-piece soul band called The Soul Survivors.
ó
Dean Browne is from Tipperary. His poetry has previously appeared in Crannóg, The Shop, The Penny Dreadful, Poetry, and elsewhere. He holds a BA degree from University College Cork in English Literature and Philosophy, and lives in Cork. Here he has delivered a number of public readings, most recently at the Cork Spring Poetry Festival, 2015
ó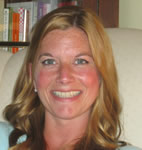 Michelle O'Sullivan lives in Mayo. Her first collection The Blue End of Stars (The Gallery Press, 2012) won the Strong/Shine Award for best first Irish collection. Her second collection The Flower and the Frozen Sea (The Gallery Press, 2015) has just been published and is a Poetry Book Society Recommendation.
---
8.30pm – 9.30pm

Maurice Scully | Kobus Moolman | Kerry Hardie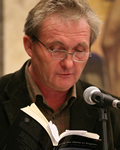 Maurice Scully published his first book of poems, Love Poems and Others, in 1981, when he was also editing the journal The Beau and organising poetry events in Dublin. In the 1980s, he began the project that would eventually be titled Things That Happen, publishing the first volume, Five Freedoms of Movement, in 1987. A revised edition of this book was published in 2002 by etruscan books. Throughout the 1990s, he published chapbooks and pamphlets containing work which would eventually be gathered as the second volume of Things That Happen: Livelihood (Wild Honey Press, 2004). Sonata (Reality Street) and, a coda Tig (Shearsman), completed 'the set' in 2006. The title Things That Happen, a late addition – for many years, Scully's working title was Livelihood: the set – alludes distantly to Paul Celan's Bremen Prize acceptance speech. Celan spoke of the effects of the Holocaust upon language: 'It passed through and gave back no words for that which happened; yet it passed through all this happening.'
ó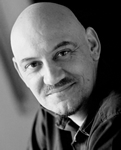 Kobus Moolman is an award-winning poet and playwright, educator and editor. He teaches creative writing in the Department of English at the University of KwaZulu-Natal. He is regarded as one of South Africa's leading lyric poets. He has published seven collections of poetry: Time like Stone (winner of the 2001 Ingrid Jonker Prize), Feet of the Sky, Separating the Seas, (winner of the 2010 South African Literary Award for Poetry), Anatomy (winner of the 2009 DALRO Prize), Light and After, Left Over, (shortlisted for the Glenna Luschei Prize for African Poetry), and his most recent, A Book of Rooms. He has also published two collections of his award-winning plays, Blind Voices (2007) and Full Circle (2007).
He was the editor of the literary journal, Fidelities, from 1995 until 2007. In 2010 he edited and published, Tilling the Hard Soil: poetry, prose and art by South African Writers with Disabilities. In 2013, he was the Mellon Writer in Residence, courtesy of Rhodes University in Grahamstown. At the end of 2013 he was awarded the Sol Plaatje European Union poetry award. He holds a PhD in Creative Writing from the University of KwaZulu-Natal.
For more about Kobus, visit: www.kobusmoolman.com.
ó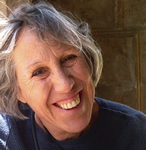 Kerry Hardie has published six collections of poetry with the Gallery Press. A Selected Poems was jointly published by the Gallery Press and Bloodaxe in 2011. Her newest collection, The Zebra Stood in The Night, was published by Bloodaxe Books in October 2014 and was shortlisted for the Irish Times/Poetry Now Award. She has also published two novels is currently working on a third. Her drama for voice and music [with Olivia O'Leary and David Power] will be broadcast by RTE on the 1st of November. She is a member of Aosdana.

---
10.00pm – 11.15pm

Nell Ní Chroinín & Marcus Mac Conghail


Erin Fornoff | Karlis Verdins | Aneírin Karadog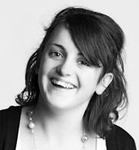 Nell Ní Chroinín is originally from An Choill Mhór, in the Irish-speaking town of Béal Átha an Ghaorthaidh. Her interest in sean-nós singing arose after attending her first Oireachtas na Gaeilge event when she was ten years old. In her own words, "It was a result of the Oireachtas that I was given a chance to meet with some of the greatest singers, dancers, poets, composers and characters who have now passed on". As a teenager, she won prestigious sean-nós singing prizes, in particular winning in her age category at the Fleadh Cheoil na hÉireann in 2005 and 2006.
In 2008, Ní Chróinín won a medal at the Oireachtas na Gaeilge competition, second place amongst the female singers under 35, and returned in 2010 to win first place in the same category. In 2014, Nell won Corn Uí Riada and was both the youngest person ever to win it and the first person from Seán Ó Riada's home place of Múscraí to win it.

Marcus Mac Conghail
M'ainm mo shloinne,
bíonn sé ráite is scrite mícheart ag gach duine.
So here it goes Marcus : sucraM.
Ní Mark atá ann – giorraigh é is giorród tú.
Ní gá é a 'ghaelú' le 'a' in áit an 'u'.
Ní dhéanfaidh Marco ná Marius ná Marconium an chúis.
(Bhíodh Marcuisín orm ach táim kinda ró-mhór dó sin anois.)
And then it's mac conghail. Ní ma conghail ná mac conghaile.
Ní mcconghail atá ann
– there's a space between the mac and the rest
so you can have a rest
before you carry on.
Ní mac congáil atá ann ná ma congal
and remember to head
for the last syllable
for your emphasis
só if you said mac con-ÍOL or mac con-AOIL I'd settle for that –
making the tubular triphthong bells ring individually tight.
Yea, mac conghail, an fear a chuirfeadh tú de dhroim an tsaoil.
An fear a shataileodh tú mar a shataleoinn deargadaoil.
Mac conghail Mac conghail, a scríobhfadh dán dhuit
that would make you feel, for the first time for the last time
and all the times in between
And before you ask what it is in English
a question which is liable to give me gonorrhoea
My slave name is macgonigal.
ó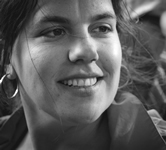 Erin Fornoff, a native of the Appalachian mountains of North Carolina, is an American poet based in Dublin. She has performed her poems at major music festivals such as Glastonbury and across Ireland at Electric Picnic and dozens of others including Cheltenham, Strokestown, and dozens of others.
Erin has been featured at many spoken word nights, including Farmleigh House's New Voices alongside Hozier and Hollie McNish, Tongue Fu at Cuirt Festival, Culture Vultures, Brownbread Mixtape, Over the Edge, and many others across the country. Her essays have been published in The Irish Times, and her poetry in The Stinging Fly, Cyphers, Skylight 47, Icarus, New Planet Cabaret, and many others. She recently released a chapbook of spoken word poems, Folk Heroes, from Stewed Rhubarb Press. In 2013 he won the StAnza Digital Slam and won third prize in the Strokestown International Poetry Award. She won First Prize for Poetry in The Cellar Door, and was Highly Commended for the Over the Edge New Writer of the Year. She was selected for the 2014 Poetry Ireland Introductions Series. In 2015 she attended Breadloaf Writer's Conference and was awarded an Arts Council Literature Bursary for fiction. She is Co-Director for Lingo, Ireland's first spoken word festival, which sold out in its first year.
ó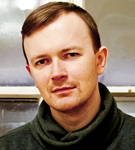 Part funded by the Latvian Literature Center
Kārlis Vērdiņš
was born in 1979 in Riga. He has published four books of poetry:
Ledlauži
(Icebreakers, 2001),
Biezpiens ar krējumu
(Cottage Cheese with Sour Cream, 2004),
Burtiņu zupa
(Alphabet Soup, for children, 2007) and
Es
(I, 2008). He is a renowned critic, with an MA in Cultural Theory and a PhD in Philology, and has published many essays on literature as well as translations of European and American poets (including T.S. Eliot, Konstantin Biebl, Georg Trakl, Joseph Brodsky, Walt Whitman, Charles Simic), and has also written libretti and song lyrics, including texts for Gabriel Jackson's Adonis Images for soprano and piano. Since 2007, he has been working at the Institute of Literature, Folklore and Art of the University of Latvia. His own poetry has been translated in many languages, including collections in Russian, Polish and Czech, and appears in the Arc anthologies
A Fine Line
(2004) and
Six Latvian Poets
(2011). His dissertation
The Social and Political Dimensions of the Latvian Prose Poem
was published by Pisa University Press in 2010.
ó
Photo By Luned Aaron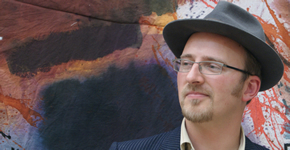 Aneirin Karadog
was born in Llanelwy and raised in the valleys of South Wales. The son of a Welsh father and a Breton mother, he speaks five languages – Welsh, Breton, French, Spanish and English – and writes poetry in the strict Welsh meter called Cynghanedd and in free verse. He was a member of Hip-Hop outfits
Y Diwygiad
and
Genod Droog
.
Aneirin won the National Urdd Eisteddfod Chair in the Millennium Centre, 2005. His first volume of poetry O Annwn i Geltia won the Wales Book of the Year Welsh Language Poetry Category in 2013. In 2014 he toured with the unique take on Dylan Thomas' life in America, that was Dylan Live/Dylan ar Daith. He was Bardd Plant Cymru (Children's Poet of Wales) 2013-2015."
---
---
Saturday 21st November
---
1.00pm – 3.00pm

Poetry Films | Dance Poetry with Amy Prendergast | Closed Mic
A short, 15-minute selection of poetry-films, including the winner of the 2015 Ó Bhéal Poetry-Film Competition. The 2015 Ó Bhéal judges announced this year's winner as Cheryl Gross (USA) for her film In the Circus of You.

These will be followed by the RTE-commissioned, 24-minute documentary Litreacha Abhaile: Letters Home (Irish with English subtitles) about the life and poetry of Derry O'Sullivan, exploring the peculiar circumstances of his exile in Paris since the late 1960's and why he writes only in Irish.
ó
A solo performance made of movement, music and the magic of T.S. Eliot's words. Developed and informed by
Amy Prendergast
's practice of Butoh, Authentic Movement, and the physical theatre work of Jerzy Grotowski, as well as her research into presence, organic movement, sounding and vibrations. With the support of The Cork School of Music Drama Department and The Firkin Crane.
Photo by John Cronin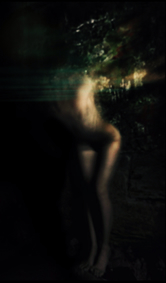 'At the Still Point of The Turning World'
…human kind
Cannot bear very much reality…
What might have been and what has been
Point to one end, which is always present…
Except for the point, the still point,
There would be no dance, and there is only the dance…
Woven in the weakness of the changing body….
Turning shadow into transient beauty….
…Words move
– T. S. Eliot
Amy Prendergast lectures in Drama and the Recorder at CIT Cork School of Music. A qualified drama-therapist she is employed by the Cork County VEC to work with groups in the Mental Health and Disabilities sectors. She holds a first class honours BA (& subsequent MA) degree in Drama & Theatre Studies from Trinity College Dublin, an MA in Drama & Movement Therapy from Central School of Speech and Drama, London, an MA in Music Performance from CIT Cork School of Music, and an MA in Contemporary Dance Performance from University of Limerick. She has also studied Bharata Natyam and yoga in India and Butoh and Kabuki in Japan.

Past performances include: Following the Velvet Gentleman (Curtis Auditorium, CSM with Brian Connor and Hugh Murray, Cork); Resilience (Firkin Crane, Cork); Resistance (Firkin Crane, Cork); Shadow Fall (Theatre Development Centre with OIKOS, Cork); Medea and Me (Theatre Development Centre with OIKOS, Cork); Skin (HOME Festival, with OIKOS, Cork); Life in the Venue (Everyman Theatre Cork, with Clinic Media); Dreams (Gala Concert: CIT CSM with SoundOut & Enable Ireland); Human (Imagine Arts Festival with Enda Gallery, Waterford); No Teadance' (Feile na Laoch with John O'Brien); Absence and Loss & Flatpack (University of Limerick with Nigel Rolfe). She has also worked with choreographers Nerida Mattheia, Banana Peel, Folded Productions, Inma Moya Pavon & Carlos Cortes.

ó

A Closed Mic will feature ten poets who appear regularly at the Ó Bhéal open-mic on Mondays, including Michael Sheehan, Seán Bent, Philip Spillane, Shane Vaughan, Roisín Kelly, Jude O'Neill, Michele Delea, Charles Clarke and Lizzy Foley.

---
3.30pm – 4.30pm

Michal Weber & Friends | John W. Sexton | Christine Murray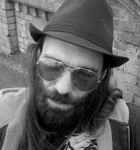 Michal Weber was born close to the South-Eastern coast of the Baltic Sea. He has been playing Jaw Harp for nearly 20 years. His journey with electronic music started when he discovered more about the nature of sound, thanks to the jaw harp. Then he only had to listen to the 1960's albums of Gershon Kingsley and Jean Jaques Perrey, grandfathers of the synthesizer and electronic music, and that was it… Also, he's involved in projects including jaw harp, synths and poetry (soundscapes and spoken word), with poetry (among others) from: Charles Baudelaire, R.D. Laing, Robert Lee Frost, Zbigniew Herbert, Wislawa Szymborska. Simultaneously, he's working on an experiment containing his own writing. "The Jaw Harp is an ancient instrument and, if played properly, Nature itself sings through it. That's why jaw harp sounds good with almost every genre or style".

ó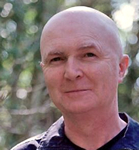 John W. Sexton was born in 1958 and is the author of five poetry collections, the most recent being Petit Mal (Revival Press, 2009) and The Offspring of the Moon (Salmon Poetry, 2013). His sixth collection, Futures Pass, is forthcoming from Salmon. Two novels for children have been published by the O'Brien Press: The Johnny Coffin Diaries and Johnny Coffin School-Dazed, which have been translated into Italian and Serbian. Under the ironic pseudonym of Sex W. Johnston he has recorded an album with legendary Stranglers frontman, Hugh Cornwell, entitled Sons Of Shiva, which has been released on Track Records. He is a past nominee for The Hennessy Literary Award and his poem The Green Owl won the Listowel Poetry Prize 2007. Also in 2007 he was awarded a Patrick and Katherine Kavanagh Fellowship in Poetry. Recent poetry has appeared in The Irish Times, The Edinburgh Review, The Ogham Stone and The Stony Thursday Book 2015.
ó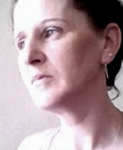 Christine Murray
is a graduate of Art History and English Literature (UCD, Belfield, Dublin 4). She is a City and Guilds qualified restoration stonecutter (OPW). Her chapbook
Three Red Things
was published by Smithereens Press in June 2013. A collection of poems
Cycles
was published by Lapwing Press in Autumn 2013. A dark tale
The Blind
was published by Oneiros Books late in 2013. Her second book-length poem
She
was published in Spring 2014 (Oneiros Books). A chapbook
Signature
was published in March 2014 by Bone Orchard Press.
---
7.00pm – 8.00pm

Eileen Sheehan | James Byrne | Orlagh de Bhaldraithe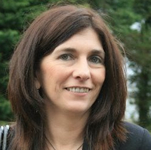 Eileen Sheehan is from Scartaglin, now living in Killarney, County Kerry. Her collections are Song of the Midnight Fox and Down the Sunlit Hall (Doghouse Books). Anthology publications include The Poetry of Sex (Ed Sophie Hannah/ Penguin/ Viking); The Watchful Heart: A New Generation of Irish Poets (Ed Joan McBreen/Salmon Poetry), and TEXT: A Transition Year English Reader (Ed Niall MacMonagle/ Celtic Press). She has worked as Poet in Residence with Limerick County Council Arts Office. Her third collection, The Narrow Place of Souls, is forthcoming.
ó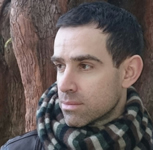 James Byrne is a poet, editor, translator and Lecturer in Creative Writing at Edge Hill University. Blood / Sugar was published by Arc Publications in 2009 and in the same year he co-edited a seminal anthology of poets under 35 entitled Voice Recognition: 21 Poets for the 21st Century (Bloodaxe Books). In 2012 he also co-edited Bones Will Crow: 15 Contemporary Burmese Poets, published by Arc, the first anthology of Burmese poetry ever to be published in the West. Byrne is Editor of The Wolf, an internationally-renowned poetry magazine. He won the Treci Trg Poetry Festival prize in Serbia and his Selected Poems: The Vanishing House was published in Belgrade in 2009. His collection White Coins was published by Arc in 2015.
Now living in Liverpool, he graduated from New York University with an MFA, and is an NYU Stein Fellow ('Extraordinary International Scholar'). In 2011 he was the Poet in Residence at Clare Hall, University of Cambridge. Byrne's poems have been translated into several languages, including Arabic, Burmese and Chinese and he is the International Editor for Arc Publications.
ó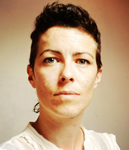 Orlagh de Bhaldraithe, whether performing to thousands as a bawdy street singing incantress with legendary street theatre compay Macnas, or howlin' Janis blues at the low moon Sunday evening crossroads hoedown, she is a powerful performer with a unique voice.
As musical Director for Macnas Theatre Company she has written the musical narrative for nine outdoor street spectacle shows, including the opening of the Dublin Absolute Fringe Festival 2001/2012. She was a founding member of Galway's notorious cow-punk misfits The Timbertramps. As a solo artist she has toured extensively. She has recently begun to venture into the arena of performance poetry and was a finalist at the Cuirt poetry grand slam 2015.
---
8.30pm – 9.30pm

Lillian Allen | Derry O'Sullivan | Maram al Masri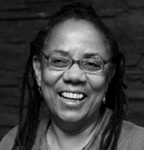 Lillian Allen is a Creative Writing Professor at the Ontario College of Art & Design University in Toronto. She is an award winning and internationally renowned poet. Professor Allen has pioneered and specialized in dub poetry, a new genre of English Literature which is a highly politicized form of poetry preferring a black aesthetic and specific cultural codification. Allen is responsible for opening up the form to insist and engrave feminist content and sensibilities. Professor Allen's work in poetry, theatre, fiction, non-fiction, writing for children, and experimental writing forms has been extensively published, performed, and recorded. See more at lillianallen.ca

ó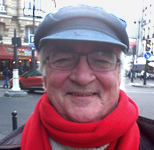 Derry O'Sullivan, reading in Irish, English and French, is from Bantry, Co.Cork and now lives in Paris, France where he teaches at the ISEP engineering school. He was awarded The Times Stephen Spender Prize 2012 for Kaarina Hollo's English translation of his Irish-language poem Marbhghin 1943, the prize being open to all the languages in the world and to poems from every period of history (previous winners were Victor Hugo, Dante, Ovid, and Rilke). He was the first living poet to be present at the awards ceremony.
His poetry collections in the Irish language are: Cá bhfuil do Iudás? (Dublin, Coiscéim, 1987) – winner of four Oireachtas Literary prizes and the Seán Ó Ríordáin Memorial Prize; Cá bhfuil Tiarna Talún l'Univers? (Dublin, Coiscéim, 1994); An Lá go dTáinig Siad (Dublin, Coiscéim, 2005), a long poem about the Nazi occupation of Paris, and An bhfuil cead agam dul amach, más é do thoil é? (Dublin, Coiscéim, 2009). He has participated in literary festivals in Ireland, France, the US and Canada and his work has been published in numerous literary reviews and anthologies.
O'Sullivan's poems have been translated into English and French and several of them can be consulted in Harvard University Library. His work appears in English translation in The King's English (Paris, First Impressions, 1987). En Mal de Fleurs (Québec, Lèvres Urbaines 30 1988) is a suite of poems written directly in French.
ó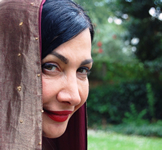 Maram al Masri is from Lattakia in Syria, now settled in Paris. She studied English Literature at Damascus University before starting publishing her poetry in Arab magazines in the 1970s. Today she is considered one of the most acknowledged, influential and captivating feminine voices of her generation and to date her work has been translated into eleven languages, including French, German, English, Italian, Spanish, Serbian, Corsican and Turkish.
In addition to numerous poems published in literary journals, several Arab anthologies and various international anthologies, she has published three collections of poems, the first of which, I Threaten You with a White Dove, appeared in 1987. Her second collection, A Red Cherry on a White-tiled Floor, followed ten years later in 1997 and was published in French translation by Éditions PHA in 2003. It was also translated into English by Khaled Mattawa and published in a bilingual edition in 2004 by Bloodaxe Books. In 2007, the publishing house Al Manar released her third collection, I Look at You, a book that was initially published in Beirut and which was awarded the Prix de la Poésie de la SGDL.
Maram al-Masri has participated in many international festivals of poetry in France and abroad, including the first-ever Arab author event at the Dublin Writers Festival, 2004. She is the recipient of a number of prestigious literary prizes, including the Adonis Prize of the Lebanese Cultural Forum for the best creative work in Arabic in 1998, the Premio Citta di Calopezzati for the section Poesie de la Mediterranée, the Prix d'Automne 2007 of the Société des gens de letters, and Il Fiore d'Argento 2015 for cultural excellence.
---
10.00pm – 11.00pm

Theo Dorgan | Leanne O'Sullivan | John Cummins
Photo By Pat Boran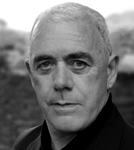 Theo Dorgan is a poet who is also a novelist, non-fiction prose writer, editor, translator, broadcaster, librettist and documentary scriptwriter. He has published five books of poetry. His most recent collections are Greek (2012) and Nine Bright Shiners (2014), both published by Dedalus Press.
His two prose accounts of crossing the Atlantic under sail, Sailing for Home and Time On the Ocean: A Voyage from Cape Horn to Cape Town, won wide acclaim, as has his first novel, Making Way (New Island Books, 2013)
His work has been widely translated: two full collections have been published in Italian and a selected poems in French. In Spanish, La Hija de Safo was published by Ediciones Hiperion, Madrid, in 2001. He is the editor of, among other titles, Foundation Stone, Notes Towards a Constitution for a 21st Century Republic (New Island Books 2013), Irish Poetry Since Kavanagh, A Book of Uncommon Prayer, What We Found There, Watching the River Flow and, with Gene Lambert, Leabhar Mór na hÉireann/The Great Book of Ireland, an unique manuscript volume on vellum.
Awarded the O'Shaughnessy Prize for Poetry in 2010, he is the 2015 winner of the Irish Times Poetry Now Award for the best book of poetry published in 2014. He is a member of Aosdána.
ó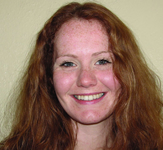 Leanne O'Sullivan was born in 1983, and comes from the Beara peninsula in West Cork. She received an MA in English from University College, Cork in 2006. The winner of several of Ireland's poetry competitions in her early 20s (including the Seacat, Davoren Hanna and RTE Rattlebag Poetry Slam), she has published three collections, all from Bloodaxe, Waiting for My Clothes (2004), Cailleach: The Hag of Beara (2009), winner of the Rooney Prize for Irish Literature in 2010, and The Mining Road (2013). She was given the Ireland Chair of Poetry Bursary Award in 2009 and the Lawrence O'Shaughnessy Award for Irish Poetry in 2011, and received a UCC Alumni Award in 2012. She teaches on the MA in Creative Writing at UCC.

ó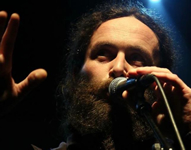 John Cummins
has been writing for over 20 years and performing since early 2010. He has been Leinster Poetry Slam Champion for the past three years and the 2013/2014 All-Ireland Poetry Slam Champion. John is often a featured artist at showcase nights around his native Dublin as well as Galway and Cork. He has performed at festivals across the country, including Electric Picnic, Indiependence, and Knockanstockan. He contributes regularly to the arts show Arena on RTE Radio 1. He loves the spoken and written word and cannot wait to stop talking in the third…
---

---
---