Cork-Coventry Twin Cities Poetry Exchange
August and November 2022
[L-R] Sujana Crawford, John Bernard, Dean Browne and Victoria Kennefick


with photos and reviews
from Coventry: Sujana Crawford and John Bernard
from Cork: Dean Browne and Victoria Kennefick
In August 2022 Ó Bhéal and Here Comes Everyone resumed our in-person twin cities exchange. Sujana Crawford and John Bernard were invited to Cork for readings at Ó Bhéal and DeBarra's Spoken Word, along with a visit to the Lord Mayor's chambers, while Dean Browne and Victoria Kennefick represented Cork for a reciprocal visit and were hosted for two readings in Coventry during early November, also with a visit to the Lord Mayor, hosted by Ó Bhéal's partner Here Comes Everyone / Fire & Dust. Reviews, images and links from each poet follow.
---
---
Sujana Crawford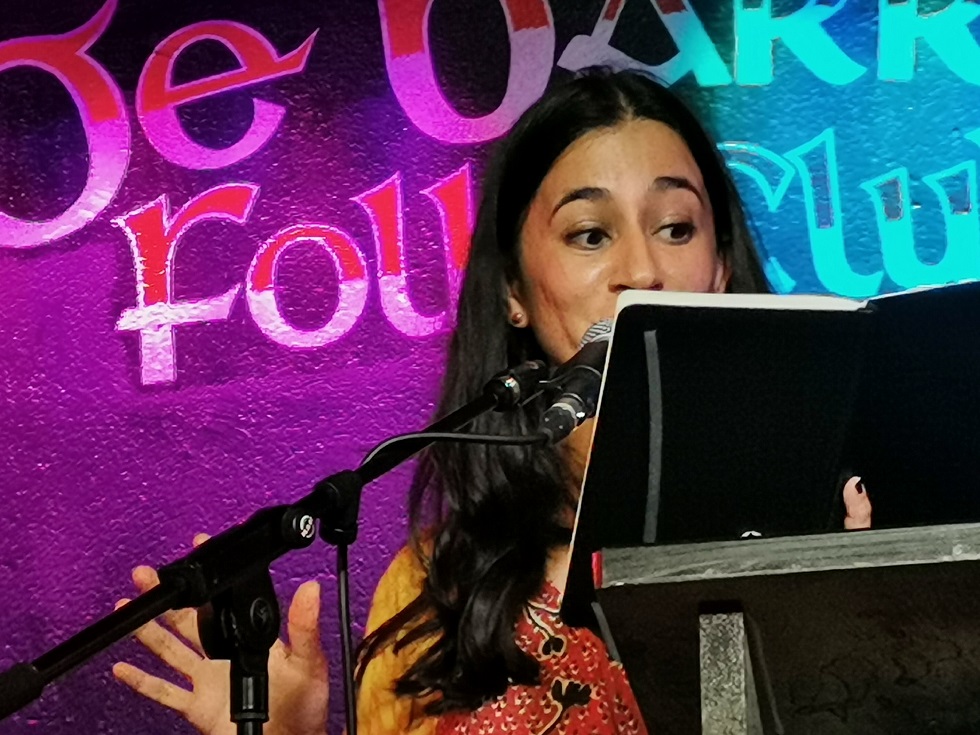 I knew my visit to Cork was going to be an adventure. To begin with, it was scheduled for August during the school holidays. This meant thinking through childcare arrangements and keeping fingers and toes crossed that everything'd go to plan. Then, the only viable flights from Birmingham to Cork were the early morning ones. If you've been paying attention to the news or if you've flown out of Birmingham airport since the pandemic 'ended,' you will know that they're not joking when they tell you to arrive three hours early! And finally, of course, I was going to Ireland, where even daily banter seems to be steeped in poetry, as a poet!! What were the chances?! But there I was, excited and raring to go!
And an adventure it was. The warmth and generosity of the people we met, the poetry we shared and listened to, and the conversations we had, left me feeling nourished and inspired. My few days in Cork I will always remember with love and fondness.
Day 1
As expected, the day started early but before we knew it, we were in Cork, warmly received by Paul. The rolling hills instantly made me feel at ease – having grownup in Kathmandu, this is something I miss dearly in the midlands. Paul was generous with his knowledge about the history of the city and once there, it was easy to imagine snaking canals everywhere.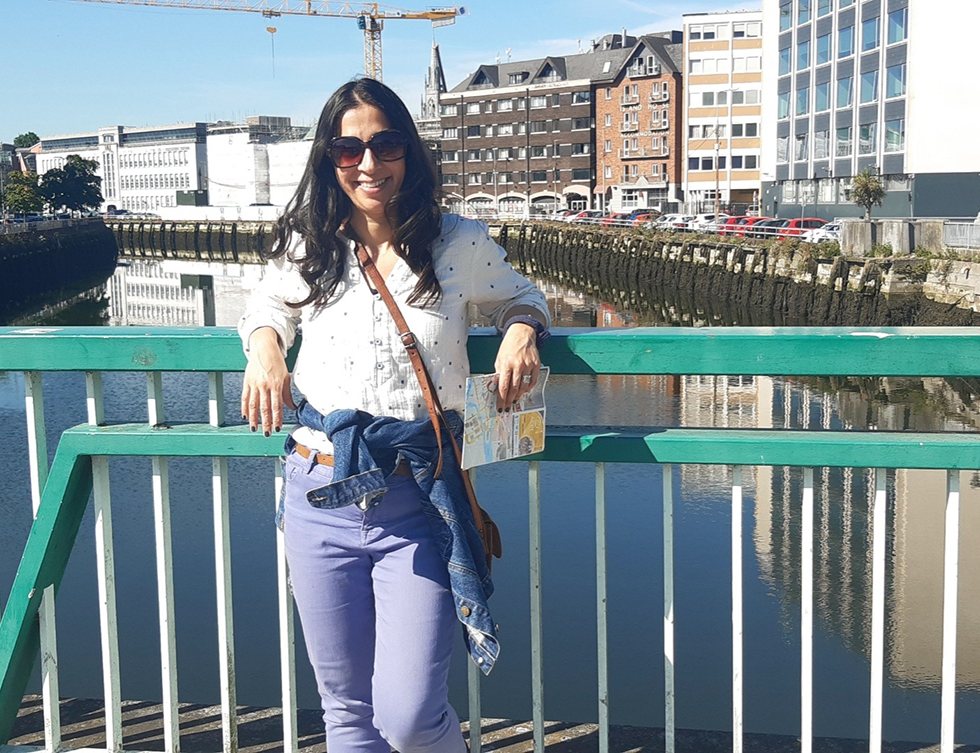 After a warm cuppa and chat about the poetry scene in Ireland, poetry films and life in general, Paul dropped us at our stunning hotel with a map marked with all the important landmarks. It was turning out to be a gloriously sunny day so within minutes, we were exploring the premises of University College Cork, looking for Ogham Stones. We didn't find the stones that day (the building was shut for the day) but going around in circles within the University premises did mean we got to see a lot of it, and this made me want to be a student all over again.
We then decided to head back to the centre for some grub. The city was fully awake and buzzing by this point. We had some delicious lunch, after which John sensibly headed back to the hotel to get some rest and I headed to the Crawford museum (how could I resist given its name?). Looking through the beautiful and thought provoking exhibits, I found myself reflecting on my own creative practice – which can be an interesting experience at any time, but especially when you have had less than four hours of sleep!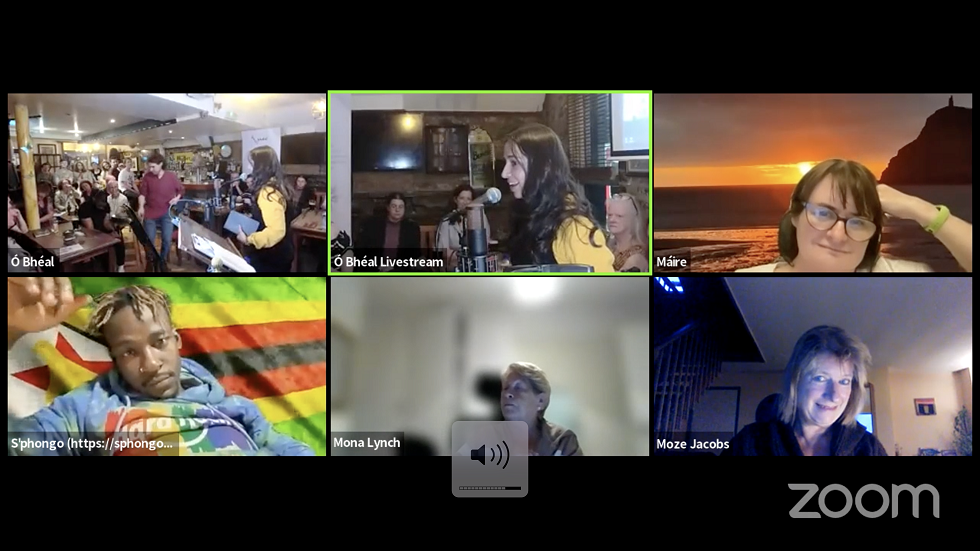 The main aim of the trip and also what remains the highlight of my visit, happened that evening. John and I represented Coventry at Ó Bhéal. I had a terrible cough which I was very worried about, and the bartender at the pub downstairs did a wonderful job supplying me with endless cups of hot water, lemon and honey! The poetry people came up with during 5 word challenge blew me away and that is a muscle I would like to strengthen further. I thoroughly enjoyed sharing my work that evening as the audience were so engaging and their own work varied and brilliant. The event being hybrid, it was wonderful to see some familiar faces on the screen from Coventry too.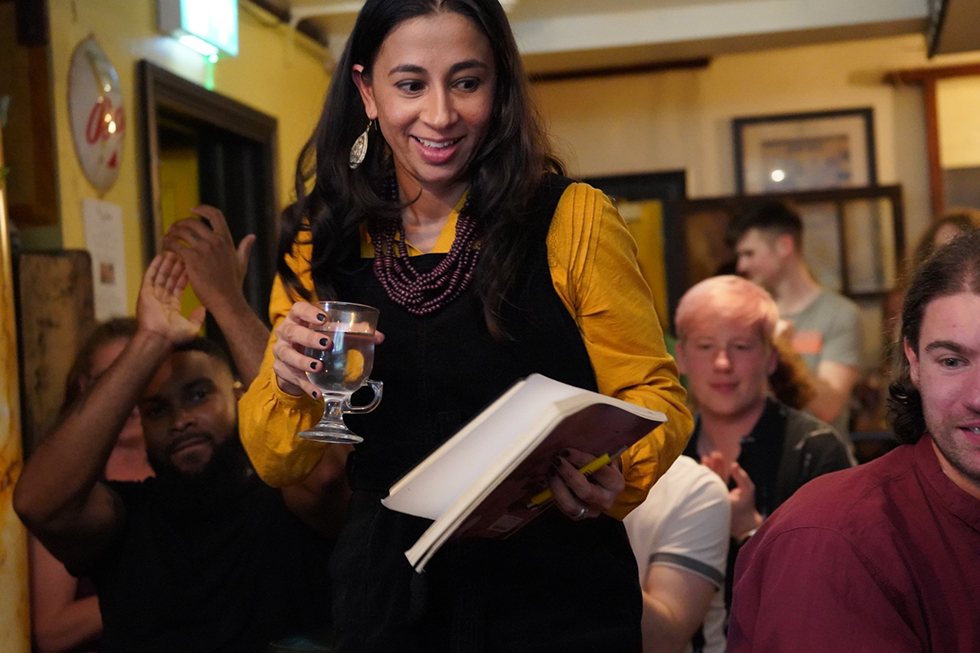 Then of course came a customary visit to the Mayne's wine bar for more drinks and banter. Here, we met folks who had moved to Cork from the midlands, women who had fought for women's reproductive rights in Ireland as well as extremely talented musicians and artists. Despite having hardly slept, I didn't want the night to end and thankfully, it didn't until the wee hours!
You can watch a video of the Ó Bhéal event here
Day 2
The next day was another glorious day and despite being exhausted and wanting to have a lie in (a rare treat these days), greedy to see more of the city, I woke relatively early and went for a walk before our visit to the City Office. From Deputy Lord Mayor Cllr. Dan Boyle we learned more about the city's global outlook and plans around housing, among other things as well as Cork's connection to Coventry and other cities across Europe.
This was followed by a scrumptious lunch at The Market, before heading to Clonakilty for the next round of readings. On the drive out, I remember seeing the sign that said Department of Sculpture (National Sculpture Factory), and that pretty much sums up just how much Ireland appreciates its Arts – I don't think there are many cities in the world that'll have a department dedicated just to sculpture!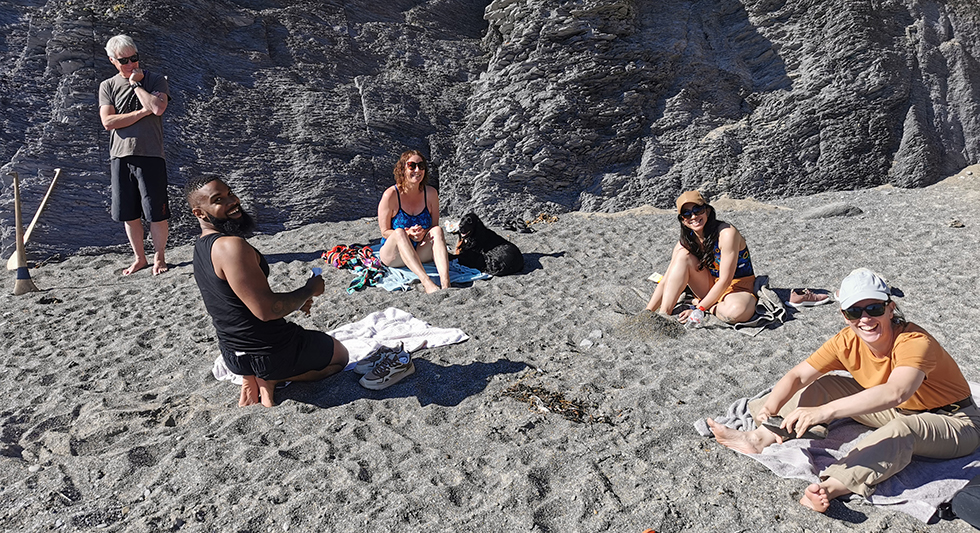 At Clonakilty, we were warmly received by Afric and her partner Michael. Having just the night before read a poem about having never done wild swimming before, here I had no excuse but to take a plunge into the Irish Sea. Despite my nervousness, I found myself enjoying myself. After some honest and open heart-to-heart (what is it about the Irish water, air and ways of communicating that people are enabled to open up really quickly?) We then had to move swiftly to the poetry venue.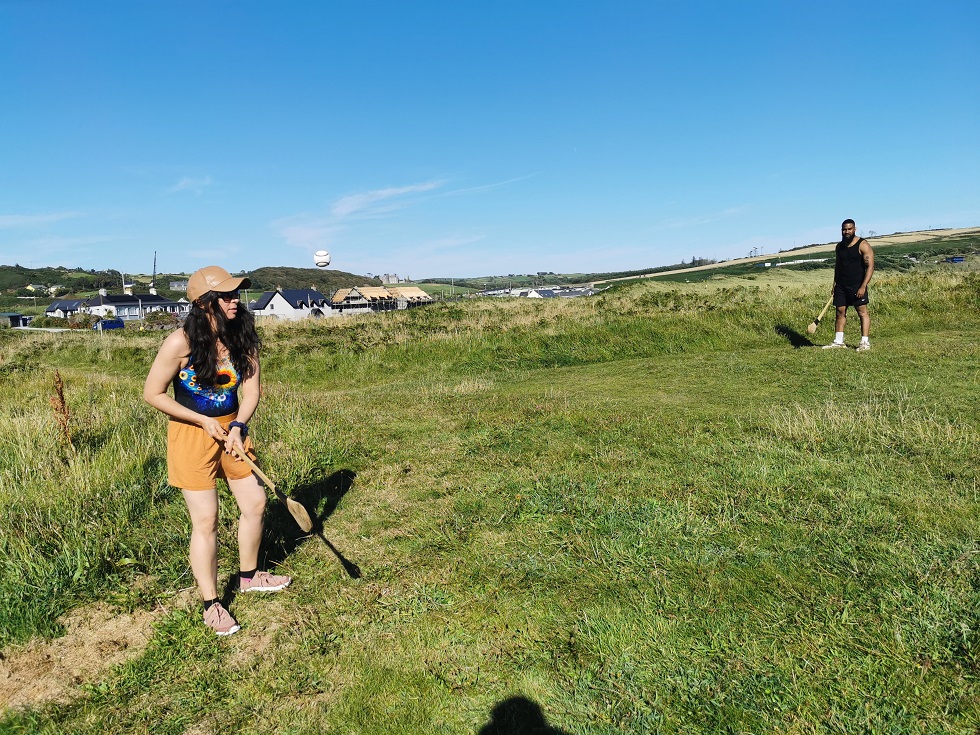 At DeBarra's, to my surprise and delight, I was introduced to a fellow Nepali. Never in my readings outside of Nepal had I ever had a Nepali person in the audience! Needless to say, I swiftly replanned my set, fitting in more poems about home! It was a really beautiful evening, made all the more special by getting to talk about Nepal in Nepali! What were the chances!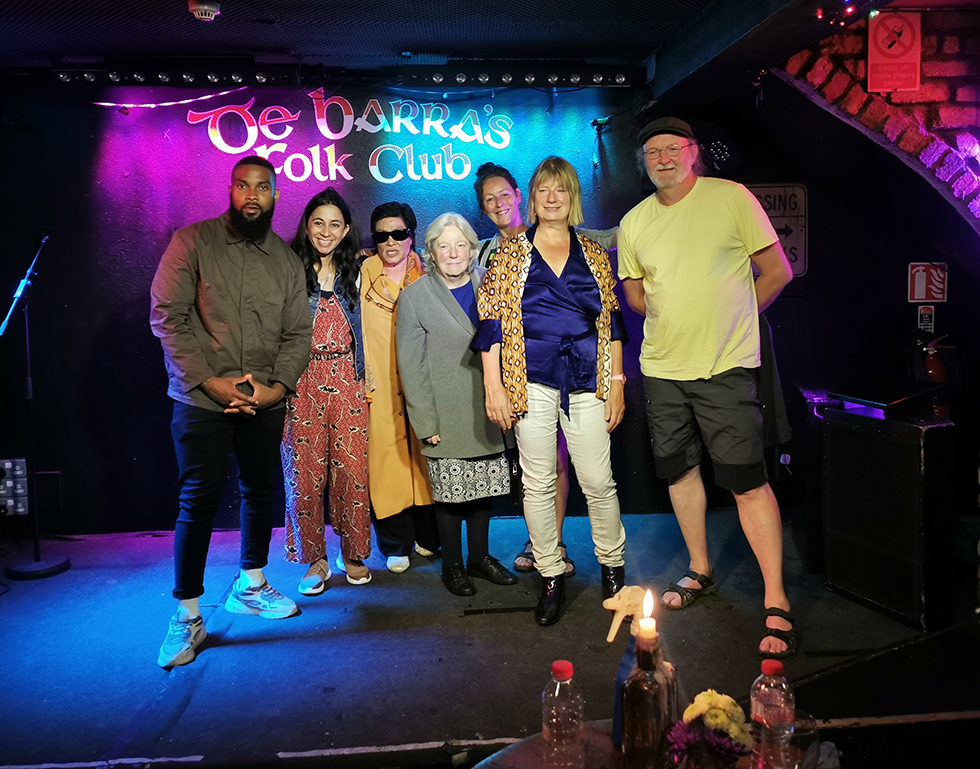 It was another late night but all in all, instead of feeling exhausted, I felt nourished and inspired. I was sad to say goodbye to Cork and its amazing people the next morning, but left knowing it would not be my last visit there.
You can watch Sujana being interviewed here by Moze Jacobs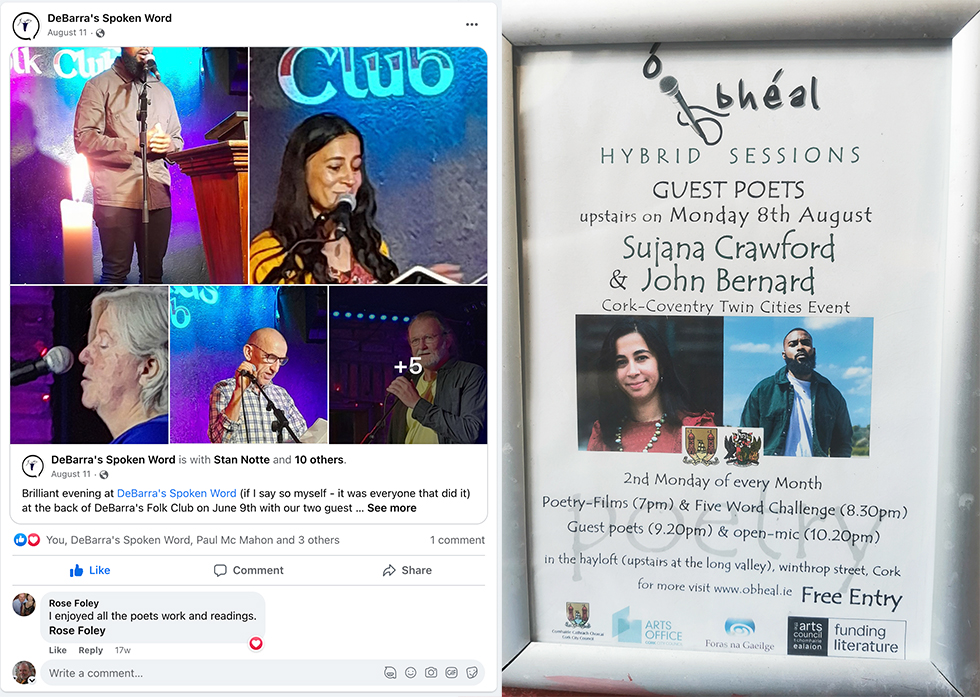 ---
---
John Bernard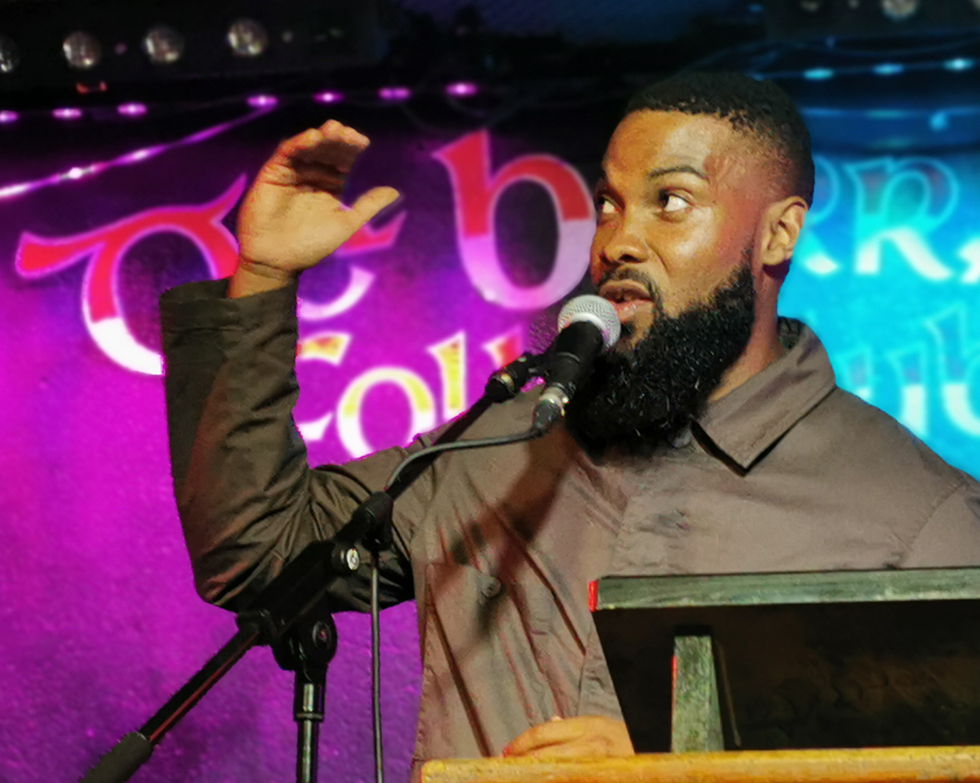 When Raef told me about the idea of travelling to Ireland for the Twin Cities poetry exchange, I was very excited. It was an emphatic yes from me as I have always wanted to visit Ireland. The journey started in the early hours of the morning; our flight was at 06:15am which meant we had to get to the airport for at least 04:00am. I picked up Sujuna and we made our way to Birmingham airport. Before boarding the flight, we had to take a picture by the plane to commemorate the moment! Paul picked us up from the airport and we went to a nice coffee shop before going to our accommodation. I was extremely exhausted at this point and just remember falling asleep on one of the sofas at the Bed & Breakfast as we were waiting for our rooms to be ready. After a much-needed nap, me and Sujana went around the city. I loved how cosy and welcoming Cork was; everyone was so friendly. I really liked that each corner of the central part had someone busking. We went to visit Paul at Ó Bhéal and watched him set up as we prepared for the evening ahead.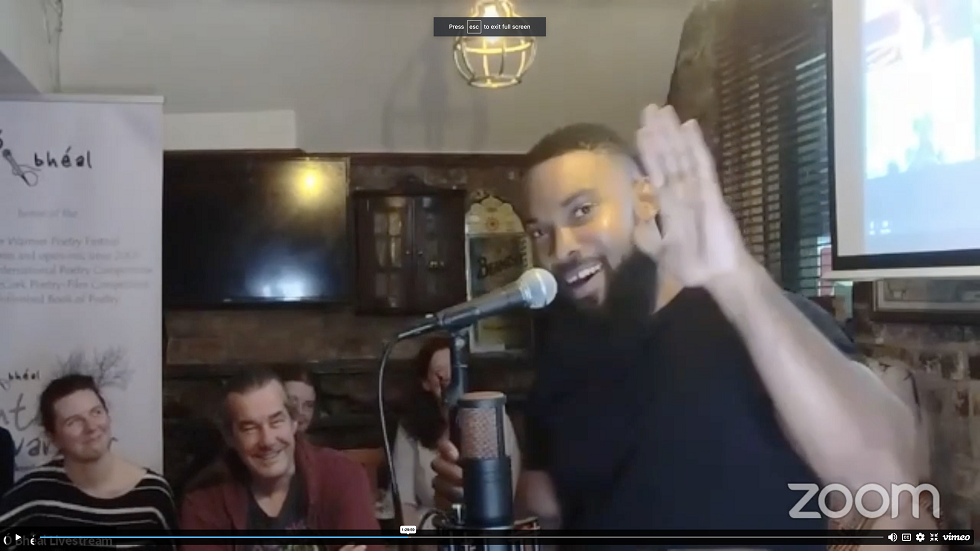 Our first reading was at Ó Bhéal which started at 7pm with poetry films and then this was followed by the five-word challenge. Stan Notte was the host with the most, such an incredible mc! It was great to hear and meet the local poets who were all headliners to me – each poet had their own individual style and charisma. The poems we heard spoke of the struggles that the locals were going through such as the rise of rent prices, inequality– the type of issues that we in the Midlands are all too familiar with. Me and Sujuna shared our poems, and it was well received, everyone was very supportive! We went to a pub after the event, and we had a great time getting to know the local poets that came to Ó Bhéal.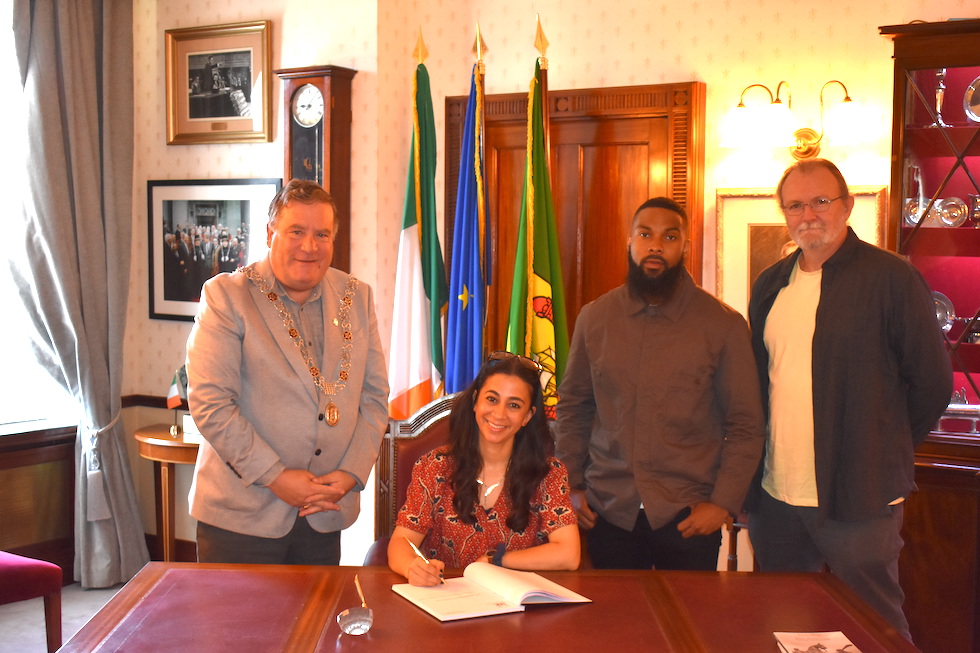 Around Tuesday midday we went to visit the deputy mayor at the Lord Mayor's chambers inside the City Hall. Subsequently, we went around Cork city and then had lunch at the Farm Gate in the English market with Paul and Colm. After lunch we got ready and then made our way out towards Clonakilty in West Cork. The weather was great, we ended up going to the beach for a swim and then a brief attempt at hurling. Paul's friends who lived near the beach were kind enough to let us spend time at their home and we were able to freshen up and prepare for the second reading at DeBarra's. We ended up staying at DeBarra's till late, talking about politics and poetry.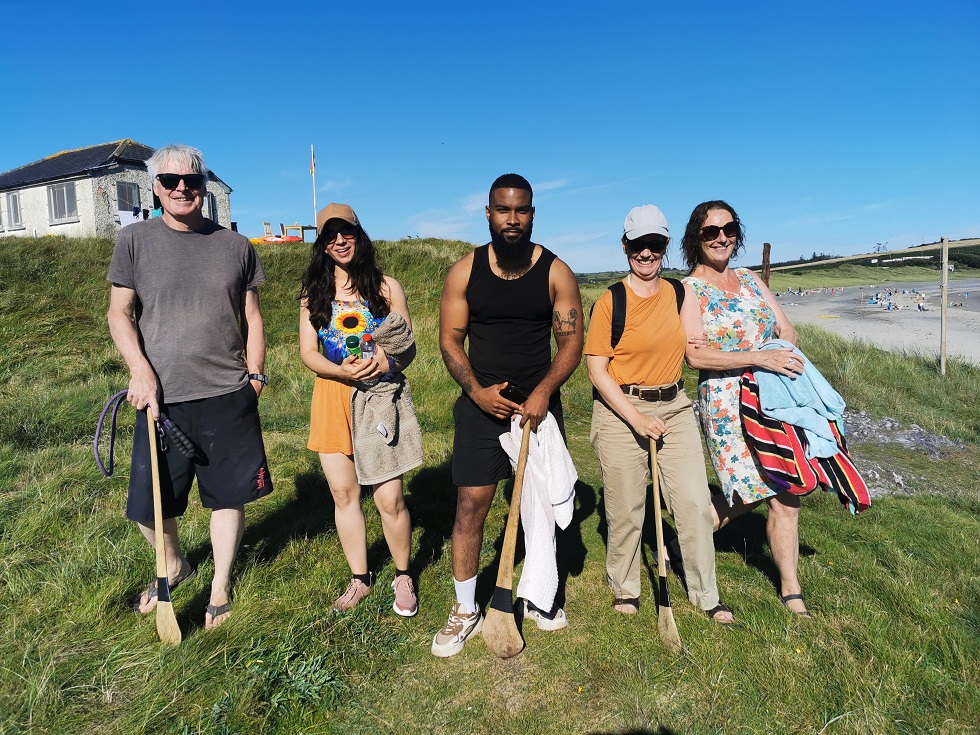 You can watch John being interviewed here by Moze Jacobs
Cork is such a wonderful city with so much history, both me and Sujuna had a great experience and were sad to say goodbye. This is definitely one of those memorable experiences that I will cherish and be proud of to say that I was part of the Twin cities Coventry- Cork poetry exchange.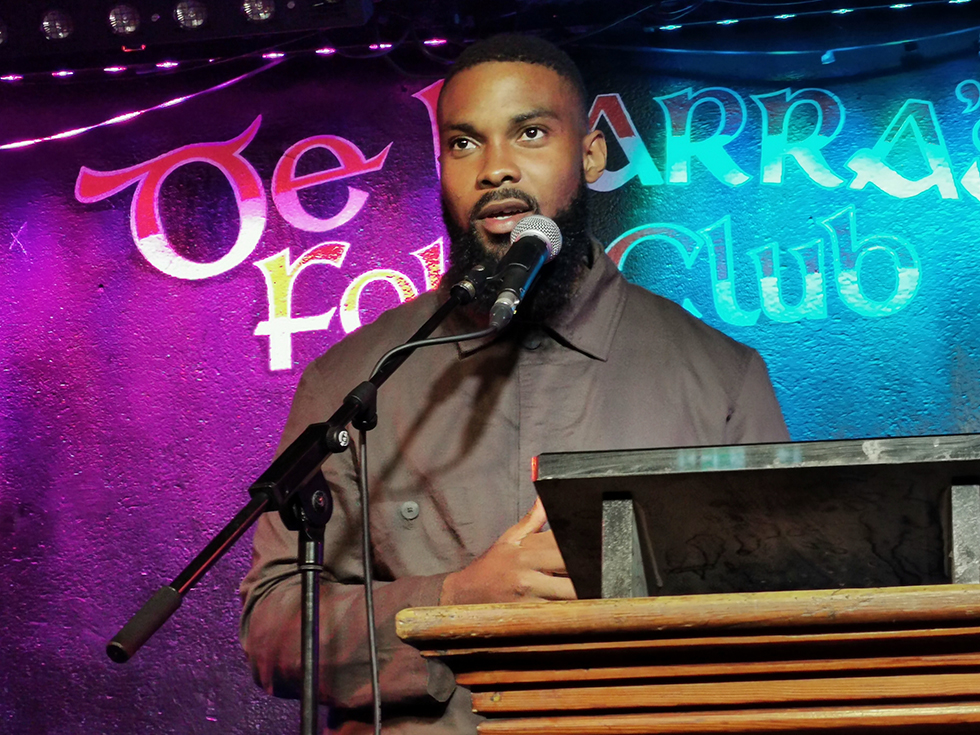 ---
---
Dean Browne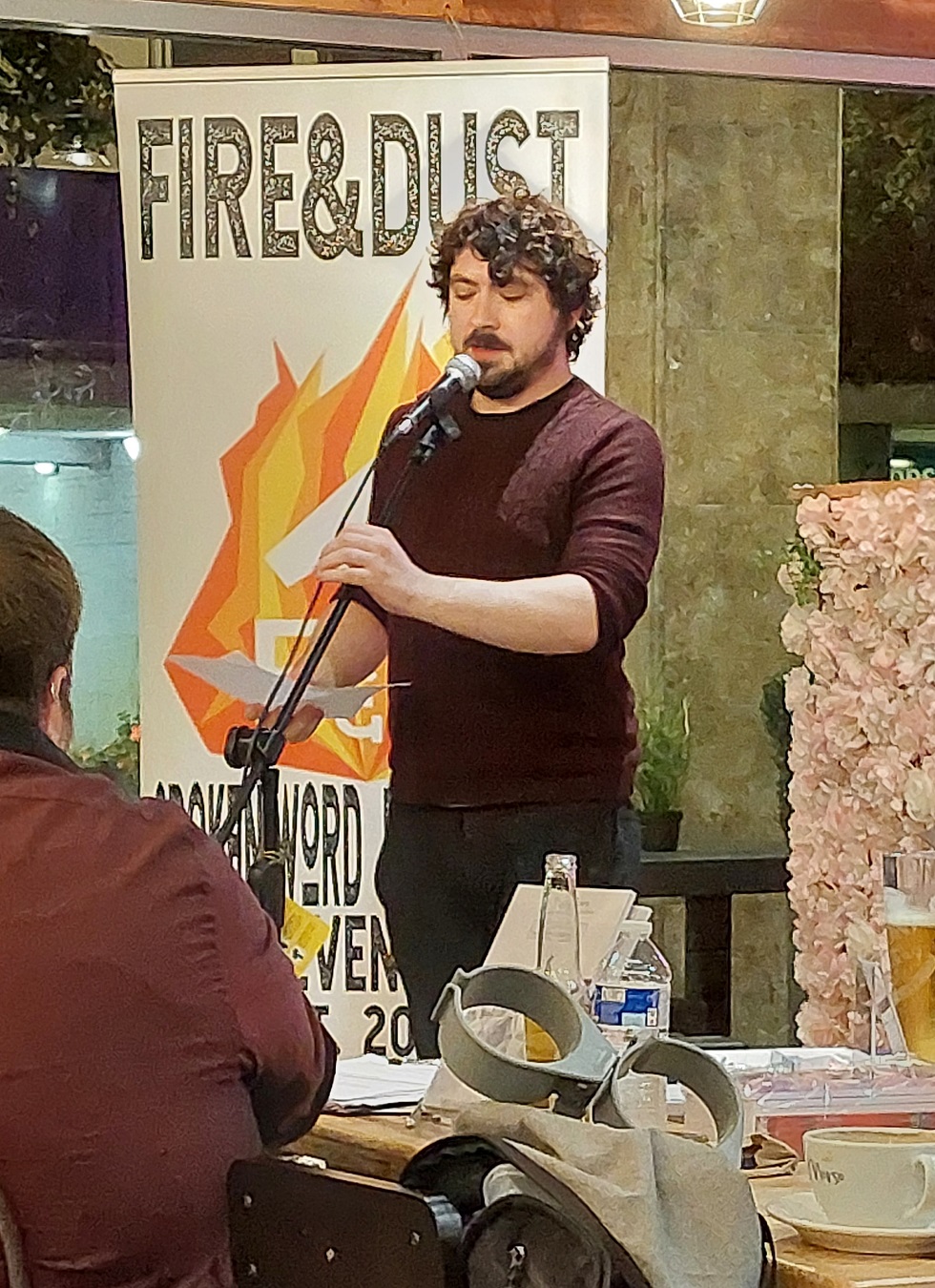 There is an elephant in the prince's bedroom, camera principis. This Latin phrase and the elephant in question are carved on the arch above the door of Coventry's council house, where we were taken to have coffee with the Lord Mayor. The motif was repeated variously through the historic building, with its wide spiral stairs and vaulted ceilings, the paneling of which was salvaged from fallen trees in the Forest of Arden. Nobody really knows the provenance of the elephant; one theory is it was chosen by an artist as emblematic of firmness and strength. It's doubtful that there were once elephants in Coventry, though there is a baby with butterfly wings who rides a leopard through a murky forest bacchanal.
I'll get to the baby.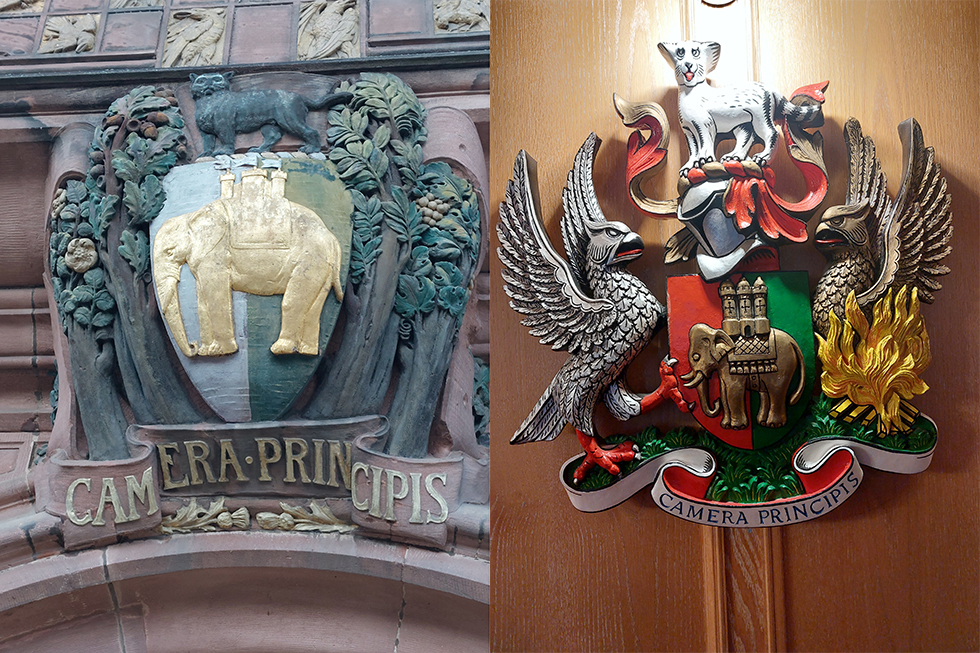 The Lord Mayor was generous with his time, jovial and informed. The council house resides in a more historic, cobbled quarter of the city, in sharp relief to the more beige and brutalist architectural tastes predominating post-war. (Parts of Coventry felt still very much under construction: a whole market arcade we passed through won't be there soon, slated as it is for demolition. I wondered where the traders would be resettled.) It was enjoyable to faff about in the markedly older part while Raef, our kind and accommodating guide, accompanied by Coventry poet Sujana Crawford, explained this and that to myself and Victoria. Banked yellow crunchy leaves between the gravestones, the wintry November light, grey squirrels that bounded forwards one twitch at a time, their tails lagging with a narcotic flourish. In the Golden Cross, a Tudor-style tavern that's the oldest pub in Coventry, we had a beer; a floorboard creaked all the way from 1583. This place underwent renovations in the 19th century, its beams repurposed timber from the original St Michael's cathedral bell tower. (Featured was a 'dragon beam', a diagonal beam that allowed the jettied upper floors to go around a corner.)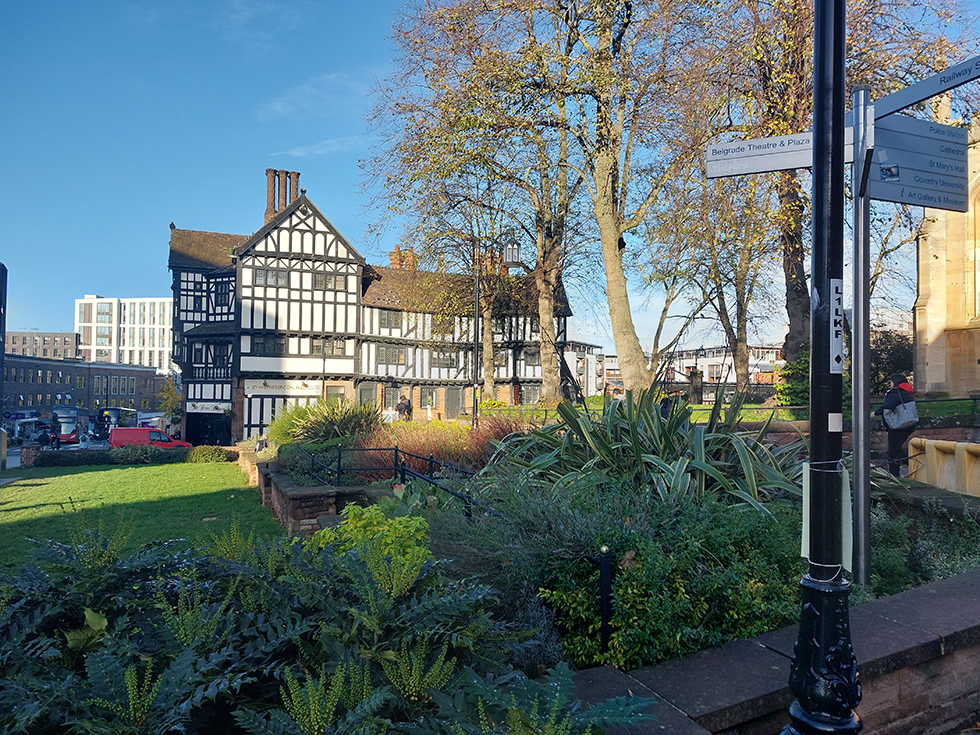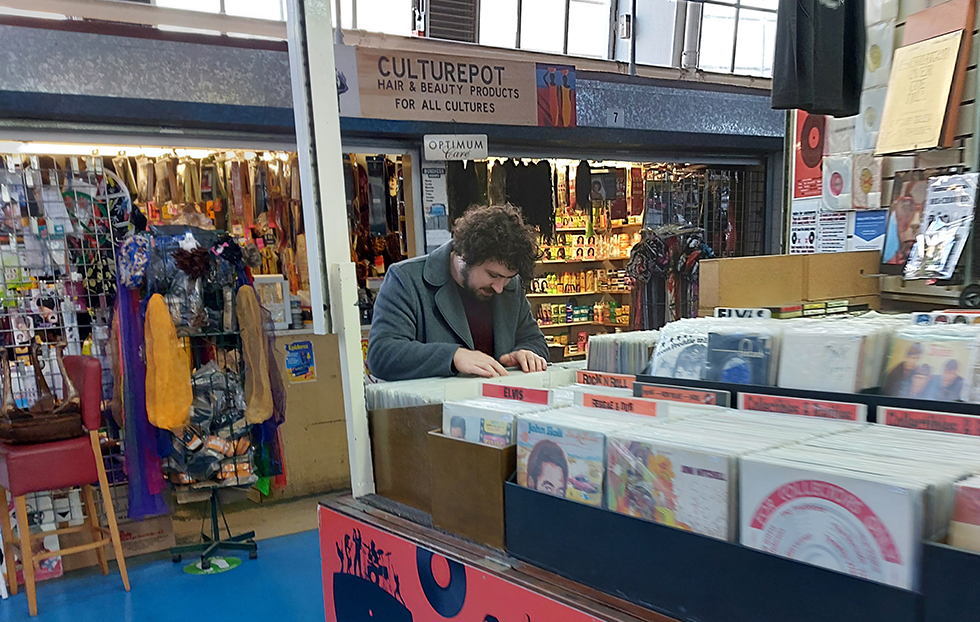 I have a bloodhound's nose for books and in an Oxfam aptly found myself holding a first edition of Coventry-born Philip Larkin's The Whitsun Weddings. I also picked up an antiquarian monograph on Palaeozoic Fishes published in 1939 (don't ask). One year after this fellow J.A. Moy-Thomas published the book, St Michael's Cathedral, built in the 14th and 15th centuries, was firebombed in the Blitz; the red sandstone husk remains. Peregrine falcons are known to hang out around the tower, which you can climb for a fee. Complementing it is the New Cathedral designed by Sir Basil Spence and constructed the 50s and 60s, an extraordinary feat. St Michael does battle with Satan in sculpture outside. Inside I was struck by the absence of a nave encouraging a direct undeviating route to God. Instead, I was confronted with an open space, which appealed to my feline imagination ('a poem is about something the way a cat is about a house'). Saints were levitating spectres etched in glass. And at the head of the Cathedral above the altar there was no conventional iconography of the crucified Christ but what could never be unseen as a man emerging from a pupa; William Blake would have liked it.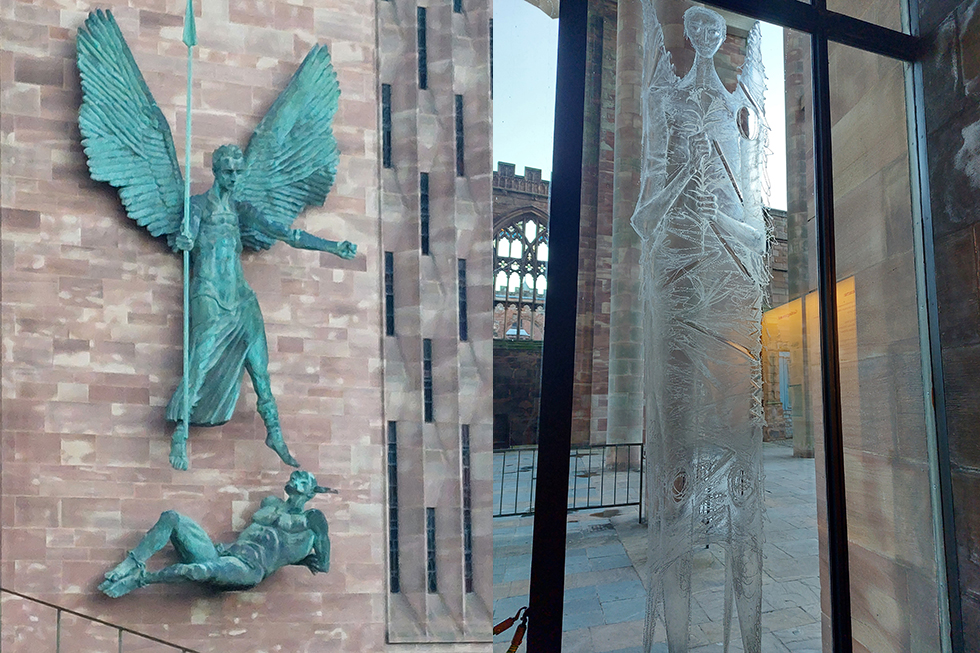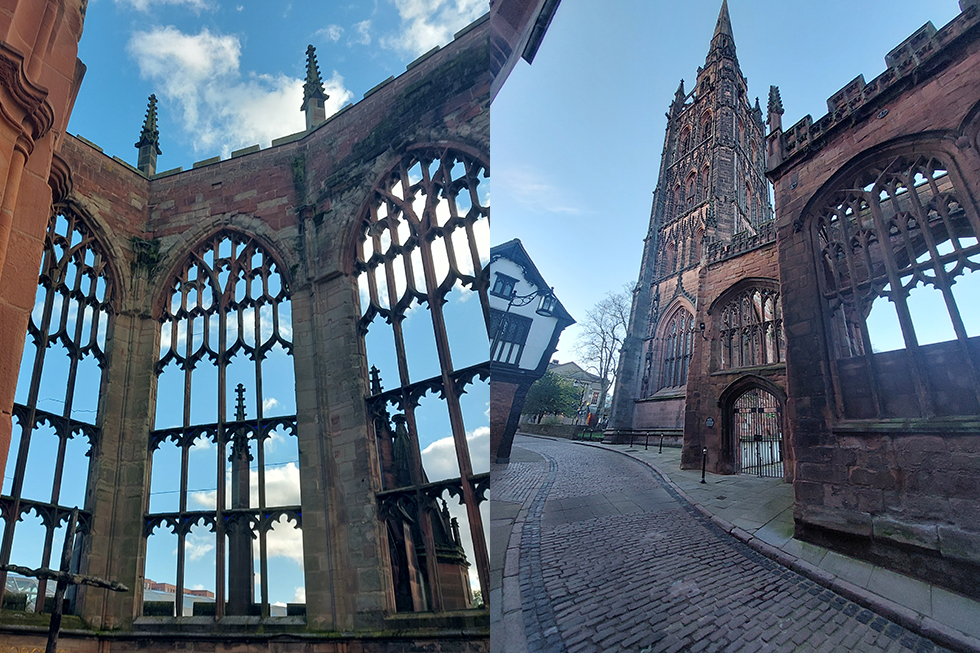 Our first night in Coventry, after a delirious all-nighter of travel, we were driven by Emily Lauren Jones, Coventry poet laureate, in pouring rain to the Royal Oak. The following night we read in Café Morso. These readings were a pleasure to give, and I enjoyed meeting some interesting people, such as the poet who worked as a cemetery florist and was due next day to dig a grave; this brought a singular slant to his poems on the open mic set afterwards. Victoria was an extremely convivial travel and reading companion through all of this, too, and I was glad of the hearty laughs and stimulating conversation.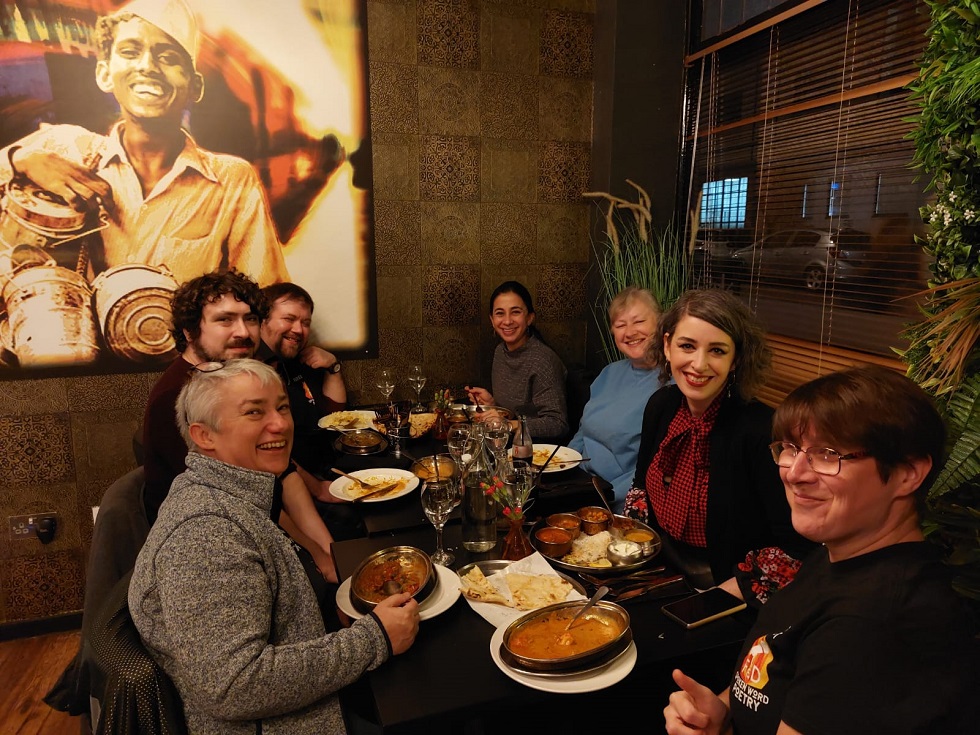 Our last day brought us to the Herbert Gallery, where that baby comes in: a painting there called Bacchus and Ariadne by Luca Giordano done in the style of Titian. There were numerous worthy depictions of Lady Godiva, a sort of presiding spirit over Coventry, but it's that baby I keep thinking of. The Oxfam also held an old Observer's Book of Butterflies; perhaps I'll try pin down the butterfly baby before the colours blur. Peacock? Tortoiseshell? Thanks Coventry for being a delightfully strange place.
---
---
Victoria Kennefick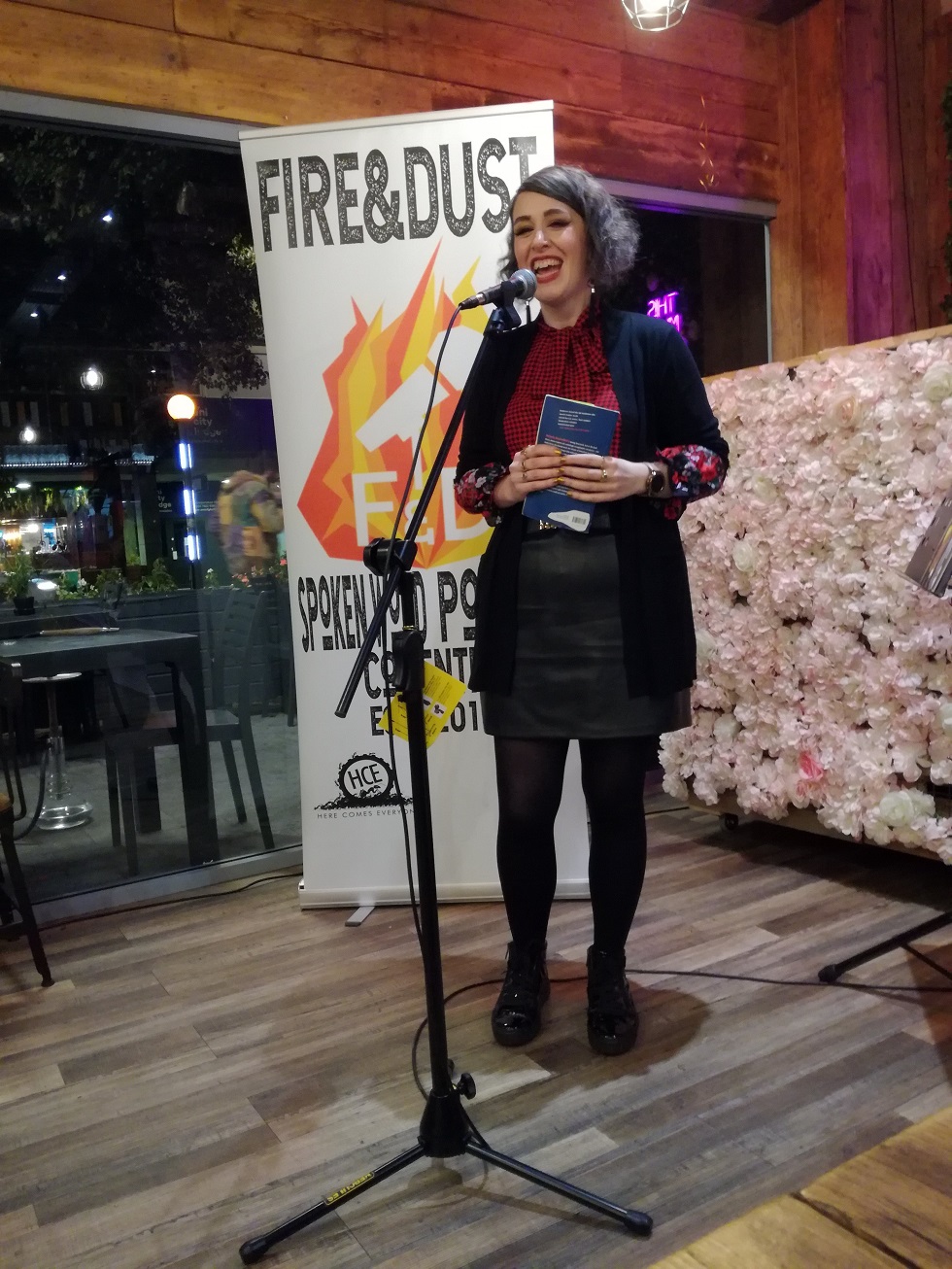 I had heard about Coventry's glorious cathedral long before I had the opportunity to visit as an exchange poet representing Cork in November 2022, but I had also heard about their lively and exciting poetry scene which seemed to mirror our own community in Cork – twin cities in more ways than one.
I left to travel from Tralee to Dublin Airport at 1am on Tuesday November 2, and though I did not relish the trip in the dark and cold, I was delighted to meet up with my fellow traveller, Dean Browne, in Terminal 2. We shared numerous coffees and looked forward to our UK adventure. Once we arrived in Coventry, a short train ride from Birmingham Airport, we were met by our very gracious and welcoming hosts Raef Boylan and Andrea Mbarushimana who took us to our hotel. Though weary from our travels we were excited to get to know our new surroundings so dumped our bags and followed Raef as we explored the city on foot.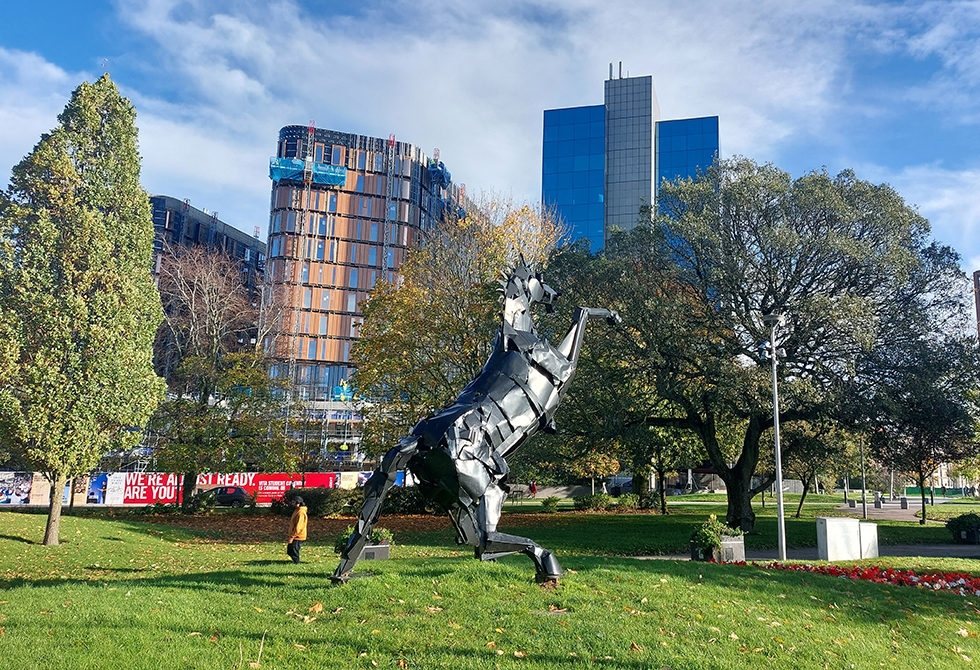 My first impressions were of a very busy, vibrant city that has survived many hardships, the monuments to its tenacity are everywhere in the mishmash of different building styles and in its interesting layout. It makes for a fascinating visual experience, the highlight of which for me was a trip to the vast and very colourful indoor market which stocks everything you can imagine from tropical fruit to vinyl albums, from toy trains to antiques. Raef told us that the whole city centre is due to be renovated in the next few months so when we next visit it will be much-changed, I hope the charm and unique qualities of this market, and the independent spirit of the traders and artists in the area, are maintained.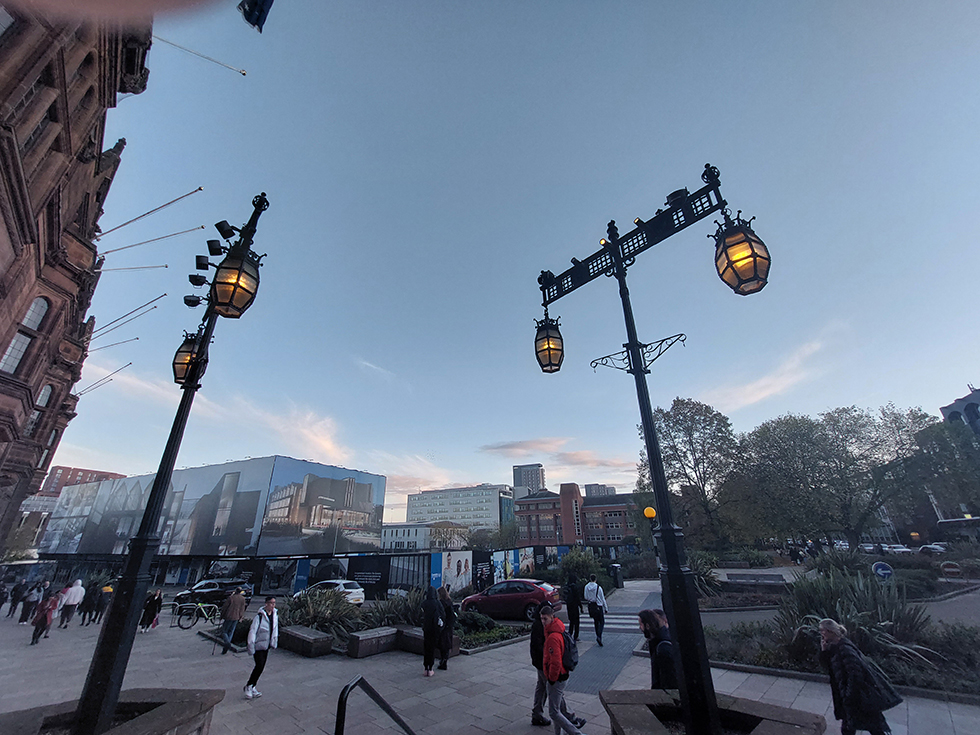 After a bite to eat and a great chat with Raef, Dean and I bravely made our way back to our hotel unchaperoned (we found it without a misstep!) to freshen up and to prepare for our reading in The Royal Oak in Earlsdon. It was a dark and stormy night but the effervescent Poet Laureate of Coventry, the city's first, Emilie Lauren Jones, picked us up and brought us to the venue. Dean and I were reading first, followed by a Q and A and then an open mic. Emilie welcomed us with a brilliant poem that she had written on an online course I gave for the Arvon Foundation. I found it so moving and joyful to listen to her perform. Her poem was electric! It was such a treat to hear Dean read from his magnificent pamphlet too, Kitchens At Night (Smith|Doorstop, 2022) and he shared some new work too which was wonderful. The open mic was also a revelation – we heard from fascinating Coventry poets about gravedigging, ancient English customs and lost love. After a dangerously good veggie burger and fries we called it a night and I slept soundly and deeply on one of the most comfortable mattresses I have ever had the good fortune to encounter!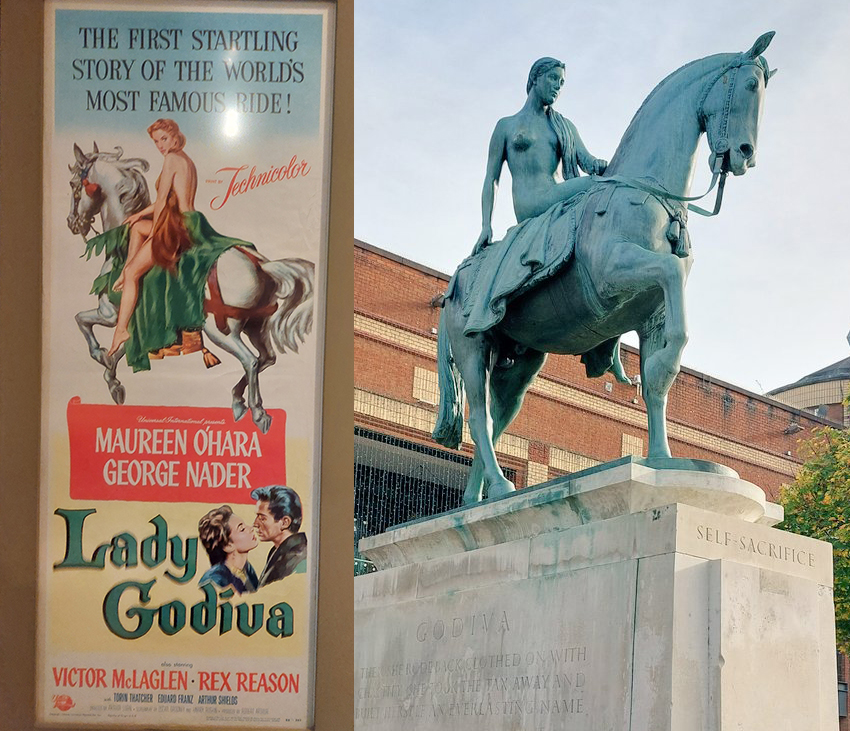 The next day was bright and crisp, the perfect conditions for getting to know Coventry even better. After some solo wandering, we all met outside Coventry's famous clock just in time to see it do its magic. You'll know that Coventry is the famed spot where Lady Godiva embarked on her naked horse ride, the clock, and the impressive statue beneath it, commemorate that infamous journey. Raef took us on a very welcome tour of the best independent coffee shops, and given the early winter vibes, we sampled all manner of cinnamon infused delights.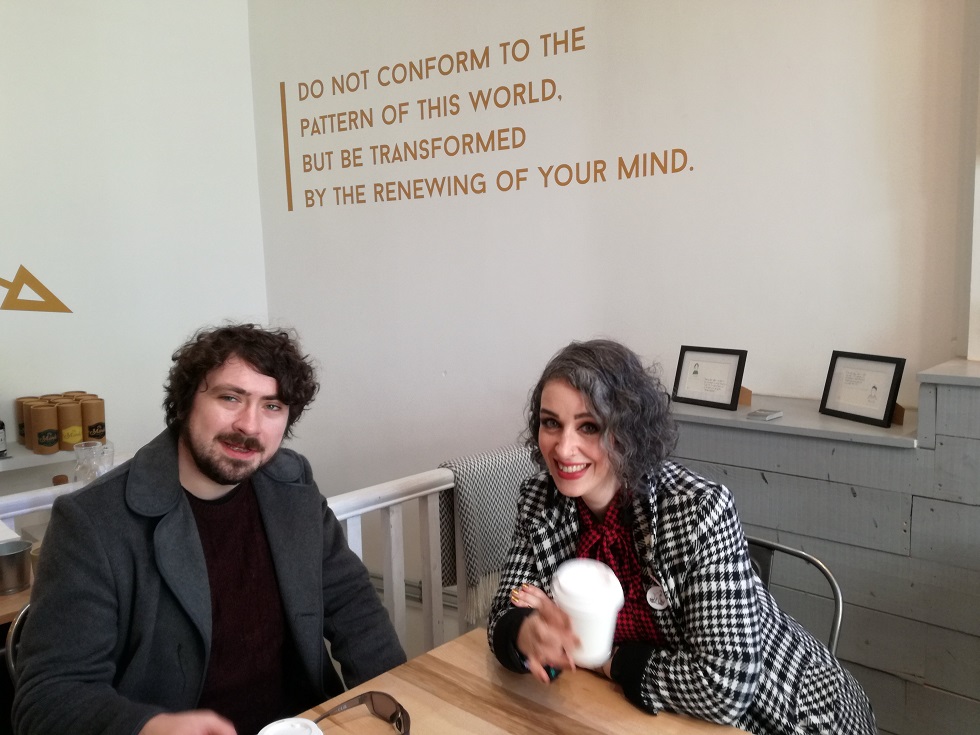 Then it was off to meet the Lord Mayor, Kevin Maton, in the very impressive Council House on Earl Street. We were joined by Raef and our Coventry poetry twin, Sujana Crawford, who had visited Cork with John Bernard in August. Lord Mayor Maton was extremely generous with his time, his expertise and with his biscuits! He showed us around the various wood-lined chambers of the beautiful Council House, the wood originates from the Forest of Arden. Coventry's rather wonderful coat of arms was in evidence in so many different guises and we were told that the city's motto is puzzlingly, 'The Prince's Chamber' referring possibly to the fact that the city was Edward, the Black Prince's, chamber. The crest features a cat which represents vigilance and an elephant for strength. The tour gave us a very thorough and fascinating sense of the varied and dramatic history of Coventry and all the changes it has experienced over time.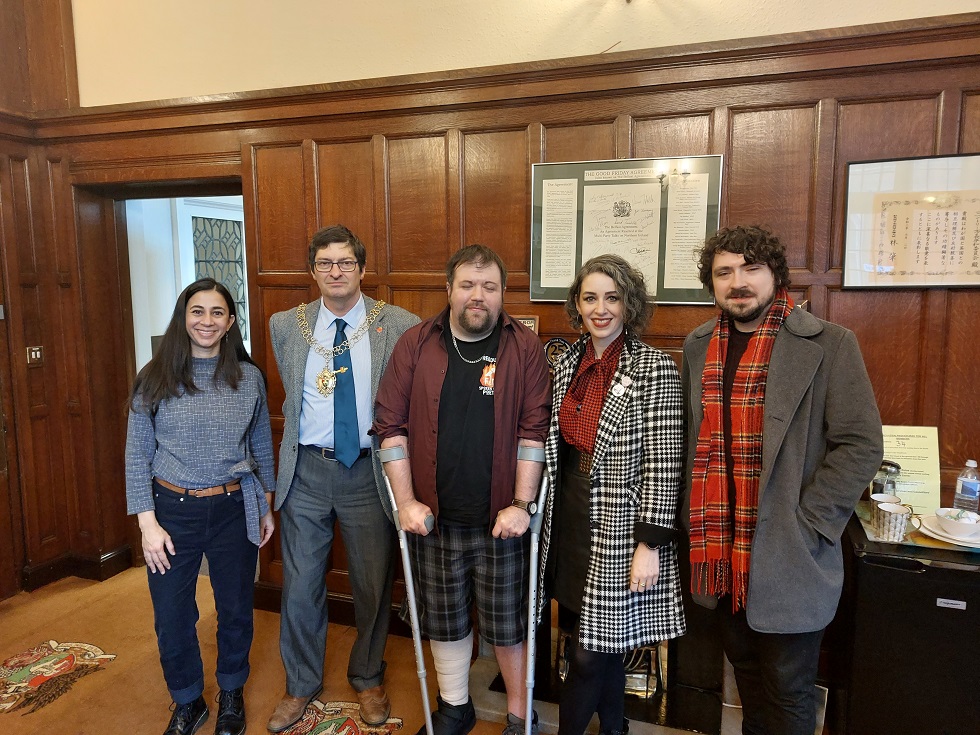 We took some time to freshen up and then we were off to a very delicious Indian meal at My Dhabba with Raef, Andrea, Sujana, Ann Atkins, who runs the poetry night Fire & Dust with Raef, and Fire & Dust resident photographer, Tracy Morris. It was one of the best meals I've ever had with warm and entertaining company to boot. And did I mention it was my birthday?
Fire & Dust in a Spoken Word poetry night that is held on the first Thursday of the month in the very cool Morso café. Each month, there is a mixture of readings from guest poets, Fire & Dust regulars and new poets who are new to Coventry, to poetry, or both! It was such an honour to be a guest poet from Cork along with Dean. The café was at capacity and the crowd was so warm and receptive. Raef and Ann treated us so beautifully, and once my reading was done, I had the opportunity once more to listen to Dean's brilliant, witty, moving, and innovative work. He read from some more new poems which got a wonderful reception from the crowd.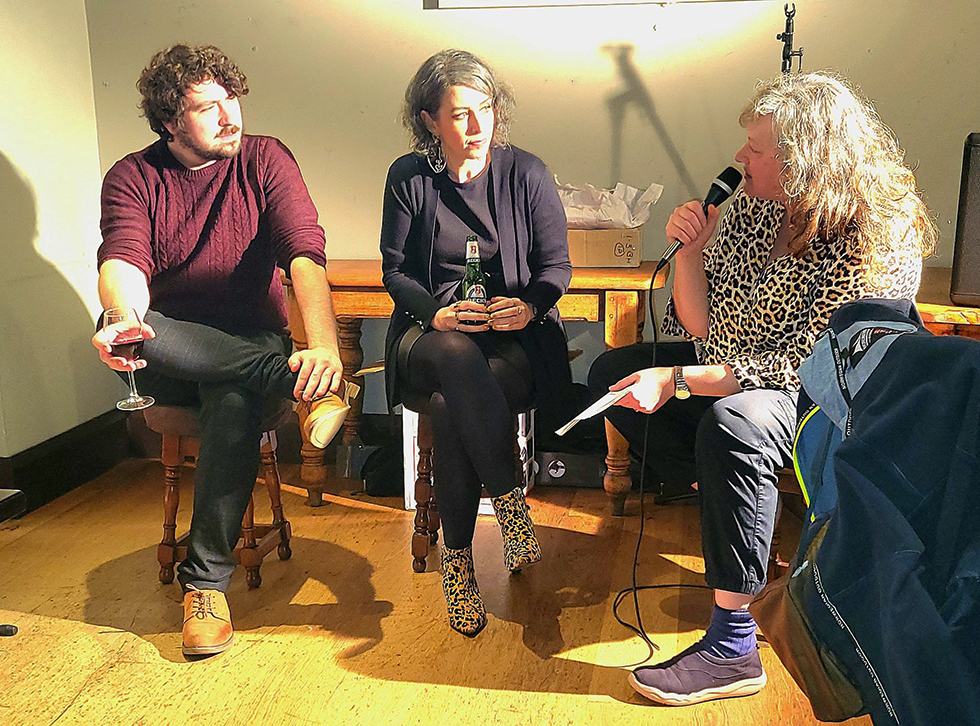 The open mic was so life-affirming and diverse. Very seasoned regulars wowed with new work, students from Coventry University read for the second time having attended the last event, and poets who never shared work before were met with applause and support. It was such an inclusive, welcoming, and exciting group of poets with so many different perspectives, experiences, and backgrounds, I felt so motivated and inspired by their work and their enthusiasm. Afterwards we chatted to the poets and audience members, had some delicious cake and a very kind gentleman presented me with a sketch he did of me while I was reading – amazing!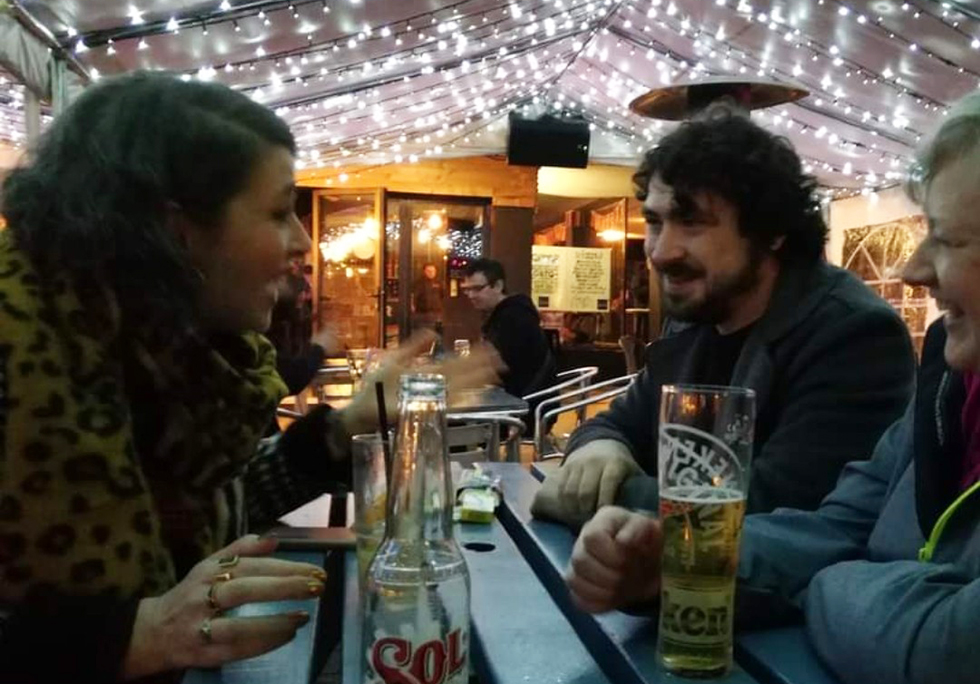 To top off the night, a few of us went to The Yard Bar in Coventry Market which was having a drag Karaoke night. We entered to the strains of Alice Cooper's 'Poison' which is my little one's favourite song right now! It felt like a sign. I had some mocktails while the others went for stronger stuff, and we laughed and sang along in the icy November air in the beer garden. We were having so much fun I didn't notice I could no longer feel my hands! We headed for the hotel in the early hours and a very hot cup of tea before bed.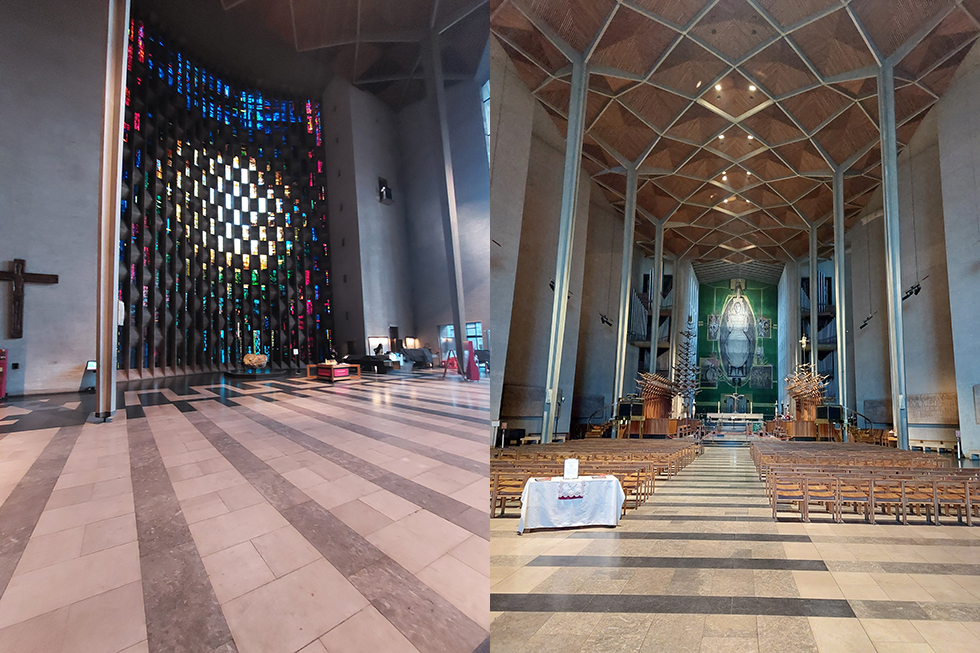 The next day was ours to explore before we headed back to Cork that evening. Raef and Andrea very generously showed us around some more of Coventry's famous sites including the cathedral and the Herbert Art Gallery. Coventry Cathedral was everything I hoped it would be, and more. We had been skirting around it since we arrived in Coventry, I could see it in the distance reaching into the air, and I saw its spine stretch beside us as we made our way to our audience with the Lord Mayor. Finally, I was held within its two chambers – the ribs of the old Cathedral attached with such vision and brilliance by the architect, Sir Basil Spence, to the new expansive, welcoming, and breath-taking Cathedral. It was a very moving experience, standing in the bombed-out ruins and seeing how the congregation at Coventry have made something truly beautiful and meaningful here.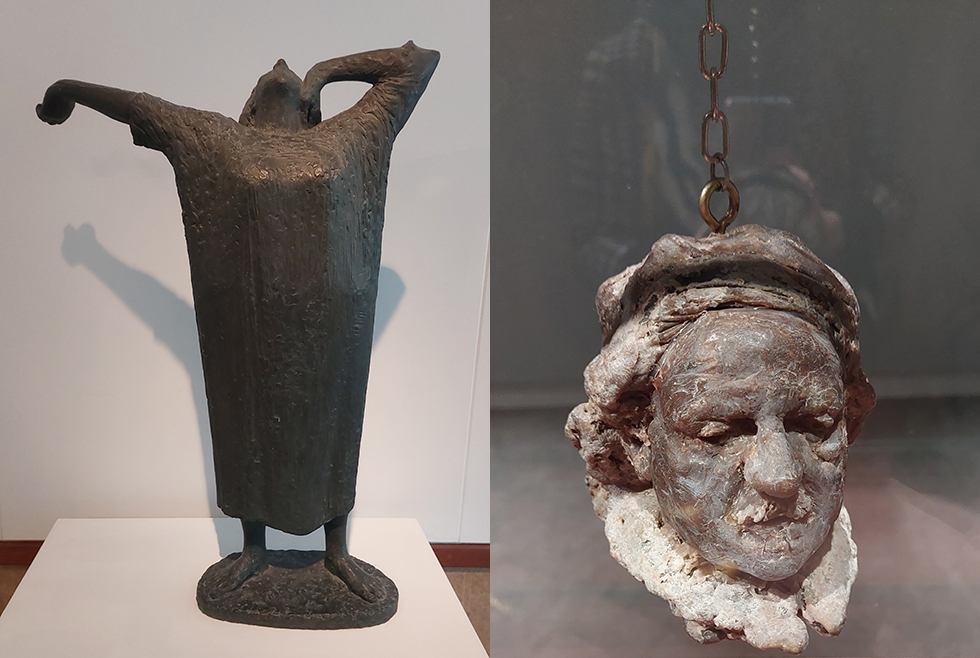 The Herbert Art Gallery was next on the agenda and just next to the Cathedral – Coventry is a delightfully walkable city. There was so much to explore there – the highlight for me was the Ali Cherri, If you prick us, do we not bleed? exhibition (which rather wonderfully can be viewed online here: culturespacecoventry.com/ali-cherri). Lebanese artist Cherri presents a series of mixed media, sculptural installations which consider how histories of trauma can be explored through a response to museum and gallery collections. Developed during a recent residency at the National Gallery, the artworks respond to five paintings that were vandalised while on display, and how these attacks were perceived and described. It is an astonishing visual experience, stunning in every respect. I was riveted and have already started to write about the pieces.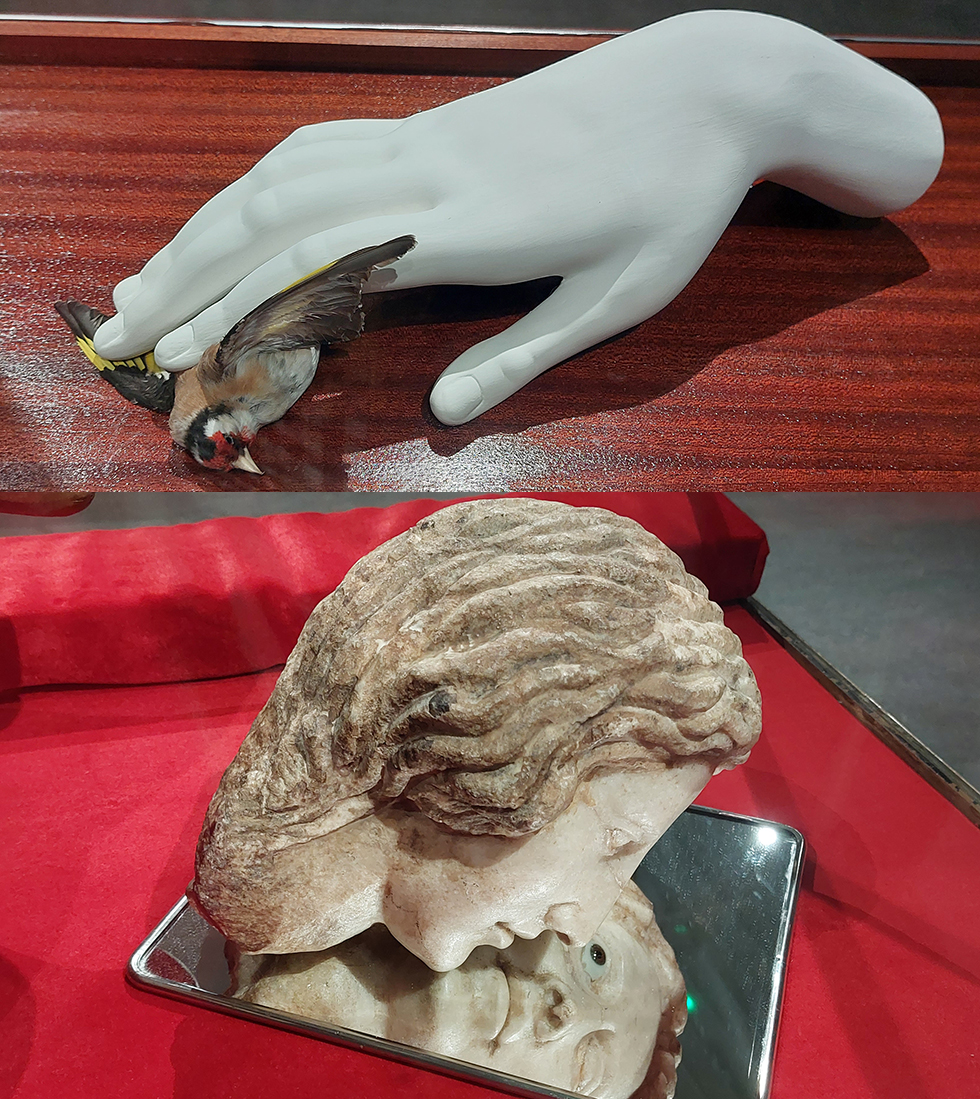 Then we shared a parting glass in Golden Cross, Coventry's oldest pub and one of the longest-established alcohol-serving venues in England. We toasted our hosts, our trip, poetry, and each other. It was a beautiful evening, the edges of the clouds tinged golden, and as we were very kindly deposited at the airport by our hosts, I felt a real sense of connection with Coventry through poetry and through our shared resilience, adaptability, and humour. It was an unforgettable trip, made even more so by the great company and brilliant talents of Dean who was an ideal travelling companion. I look forward to visiting Coventry again, much changed in structure perhaps but still the same in heart.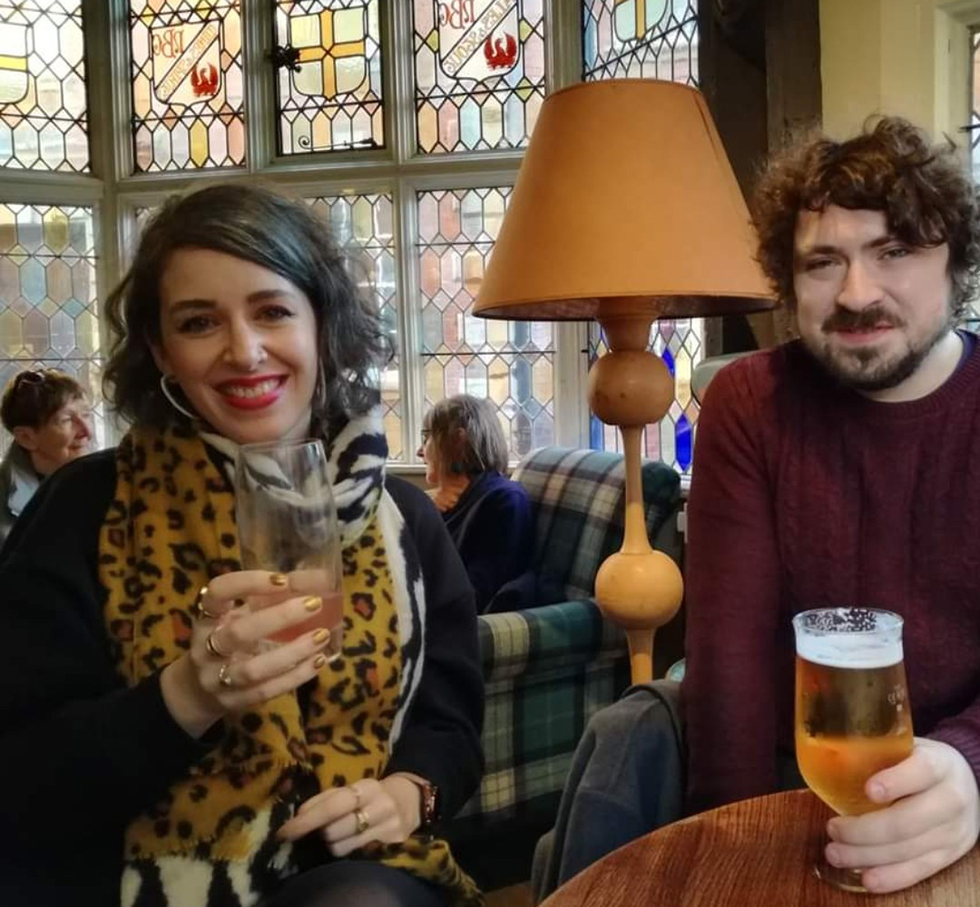 Thank you to Paul at Ó Bhéal and Cork City Council for the invitation and support. Thank you to Raef, Andrea, Ann, Emilie, Aysar, Lord Mayor of Coventry, Coventry City Council, Fire & Dust and all the poets of Coventry for the welcome and the words.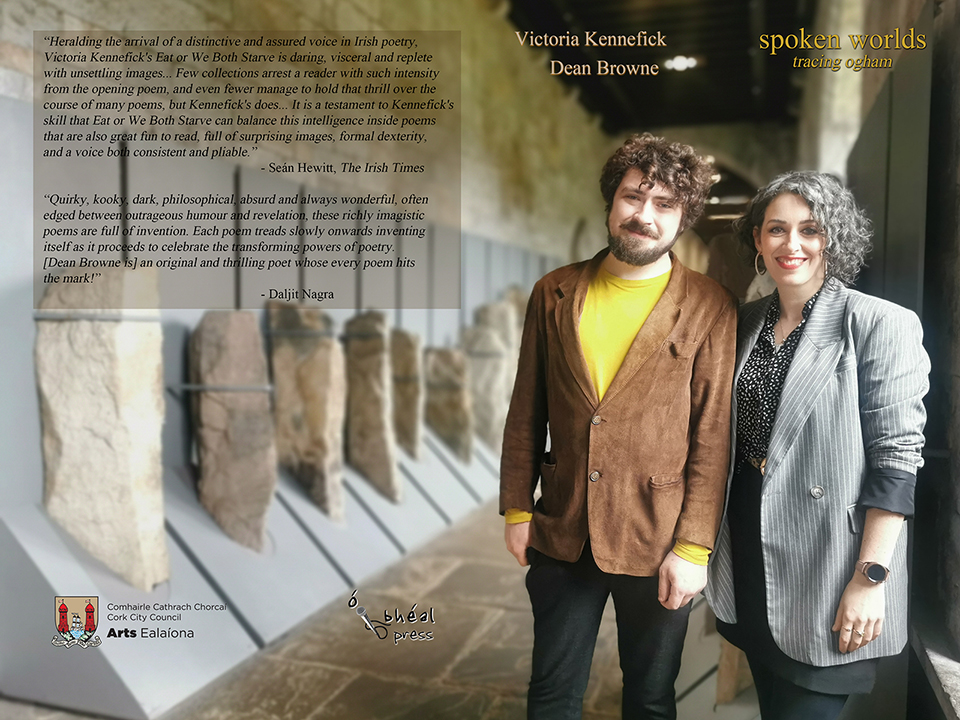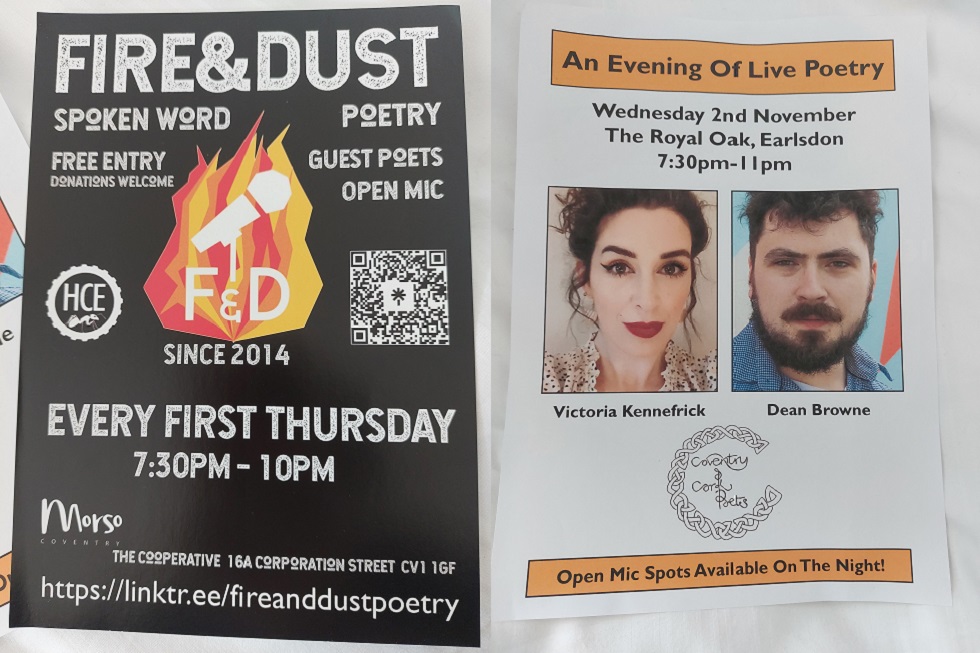 ---
---