[L-R] Adam Steiner, Saleha Begum, Adam Wyeth, Kathy D'Arcy and Cal Doyle

Twin Cities
Poetry Exchange
with photos and reviews from

Cork and Coventry poets
July and November 2014
[L-R] Saleha Begum and Adam Steiner at Béal na Bláth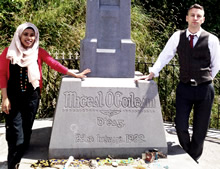 This year's Cork-Coventry Twin Cities poetry exchange welcomed five new and talented voices. Representing Coventry were two exciting young poets: Adam Steiner and Saleha Begum, while Cork returned with three well-known local poets: Adam Wyeth; Kathy D'Arcy and Cal Doyle. Over three days in July the Coventry poets gave readings at Ó Bhéal, the West Cork Literary Festival and at the Whitehouse in Limerick. They visited Lord Mayor Cllr. Mary Shields at City Hall and travelled through counties Cork, Kerry and Limerick, making various detours to visit historical monuments and rare curiosities like The Time Traveller's Bookshop in Skibbereen. In November the Cork poets gave readings at The Big Comfy Bookshop in Coventry and also in Burton-on-Trent, visited Lord Mayor of Coventry Hazel Noonan who accompanied them on a tour of the old Cathedral ruins. They were interviewed live by Kate Hills on Hillz FM Radio and also visited Stratford and Birmingham.
"I am finishing now and I say this; I cannot think of a better place to bring this state visit to a close than among the Irish community; with the Irish of Britain active for 40 years with groups like the St. Patricks Club, Leamington Spa, the Coventry Irish Society, the Coventry County Association and the Coventry Cork Poets." – President Michael D Higgins at the Guild House, Coventry, April 2014
Reflections from the poets follow:
---
---
Adam Steiner
Adam lines up with an ancient lay line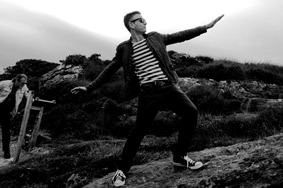 For a burgeoning young poet, nothing is more terrifying, or exciting, than a great opportunity. In this instance, an invitation from local poet, Antony Owen, and Paul Casey, of Ó Bhéal, to travel to Ireland as part of the Cork-Coventry Twin Cities poetry exchange 2014, to do a short tour of poetry readings, taking in one of the legendary (weekly) Ó Bhéal poetry readings in Cork, West Cork Literary Festival in beautiful Bantry and the equally legendary White House pub in Limerick.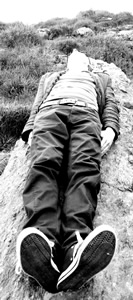 Having only a few gigs under my belt I rehearsed what material I had, destroyed anything that seemed unworthy of a free poetry trip amongst seasoned writers and artists and along with fellow Midlands poet, Saleha Begum, who I already knew to be a subtly emotive performer and troublemaker, hopped on an Aer Lingus flight in July, 2014.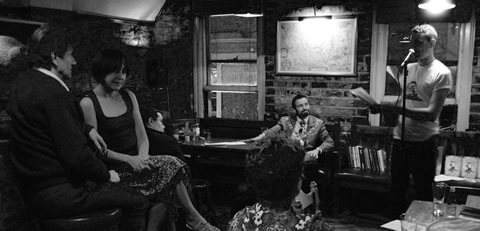 We performed at the aforementioned venues to great aplomb among a variety of fellow poets. One of the most rewarding aspects of the trip was meeting other people who are equally passionate readers and writers of poetry; everywhere we went there was an existing audience and poetry community eager to listen to and support us.
Welcome to Cork!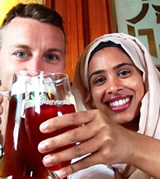 The trip inspired greater confidence in me to write more poetry and seek out more poetry events to perform at. This has spurred me on to focus my work towards publishing more fiction and aiming towards having a pamphlet or full poetry collection published. The Cork-Coventry poetry exchange 2014 has encouraged me to help support the event as best I can, so future generations can benefit from the experience also.
Shannonside with two dockworkers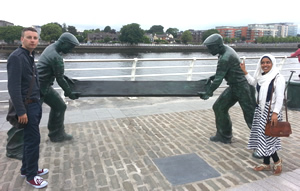 ---
Saleha Begum
Saleha at the Whitehouse in Limerick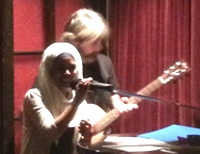 Every journey, every experience is filled with anticipation. I had no expectations, neither did I know that Ireland is under the European Union, note to myself, I must plan and research before I embark on new journeys. However the intelligent Mr Steiner, the other poet in the exchange, was much more organized. Perhaps also slightly smarter and seems to store most relevant and likely irrelevant information and long theses like a high capacity USB. I must add that he is a brilliant person and fantastic poet and I thoroughly enjoyed his company and friendship. Then I would like to mention Paul Casey, a respected and ridiculously humble poet who I am deeply inspired by and thankful for running the twin city exchange along with Antony Owen from Coventry. It is one of those life changing opportunities that must continue, which highlights the beauty and essence of each city whilst bringing people together. I could write a poem for every person that I met, from the absolutely beautiful, classy and inspiring Lady Mayor, who is strong, passionate and heartfelt and an incredible role model to women and young girls, to the lovely man who gave us directions at 2.30am whilst praising his city.
Kenmare Stone Circle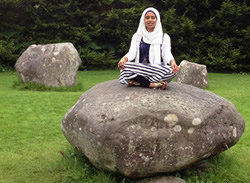 Amongst the Corkonians and of course also the other cities we visited, I did not once feel out of place, we were greeted with love, friendship and sincerity. The first poetry night at Ó Bhéal, astounded me by the quality and appetite of words and literature displayed by the competitors for the five words and open mike. It was quite clear of the rich heritage Ireland holds in terms of the arts. I believe a city without art becomes mechanical and void of a beating heart. The inquisitive mind allows change as opposed to stagnation. Ireland like its twin sister, Coventry is ever changing and building bridges between communities and eccentric minds. Imagine having conversations about politics, religion, whilst discussing mental health and strategies and interventions that may help to move our society forward. All this at 2am at a lovely venue not far from Ó Bhéal. Not to mention with such 'passionate intensity', forgiveness and openness. We all laughed and hugged after.
Bantry Bay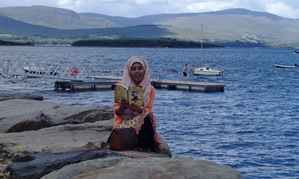 The second day, we went to Bantry Festival, a day filled with events, poetry readings and having the chance to meet award winning authors and buying signed copies. Again I could a write an ode to Bantry and the amazing people I met as with our 3rd destination to Limerick. It truly was an education as well as making great friendships.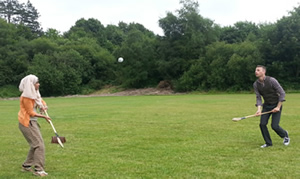 However I will mention and seek to answer an important question a lovely fella asked at the poetry reading in Limerick. He asked, 'Have Muslims shot themselves in the foot?', referring to 9/11 and other acts of terrorism. In no way did I feel offended, as uncomfortable as it may be, we must ask questions, it calls for dialogue. So I will try to answer, Firstly sensationalism, propaganda and fear mongering in the media only seeks to separate people and give the illusion that we at war against one another, it does not seek to dispel stereotypes but most often paints people and groups with a single brush.
At City Hall with Lord Mayor Cllr. Mary Shields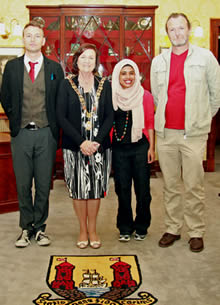 Secondly there are many theories that argue to who was actually behind 9/11 and different governments funding war and terrorist groups. However I am not here to discuss politics and conspiracy theories, but more importantly I want to share my journey of Ireland with you. For me it was not just a physical journey but a metaphysical and spiritual journey. It was a time and still now that I have been questioning everything, as Descartes said, "if you would be a real seeker after truth, it is necessary that at least once in your life you doubt, as far as possible, all things". Similarly my father of knowledge, who is Rumi has taught me to forget about reputation, to throw away conventional living and I believe through poetry we are able to find the path to authenticity. Through simply allowing ourselves to be vulnerable, through the power of words and dialogue, we make connections and break away from stereotypes. Further, we find solutions and rather the answers to our existential questions, whether we belong here, there or somewhere else. All I know and have discovered is that I must belong here, amongst the poets, the artist, the lovers and the totally crazy, insane and un-conventional people. I know that I exist because I have experienced love and connection and continue to do so. As cliché as it may sound; it is not the place but the people that make the place. That is spirituality and perhaps poetry itself is religion.
Windy Gap, Co.Kerry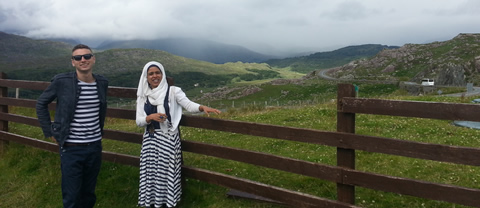 Thank you to each and every person that I met, and had the pleasure of speaking to and most importantly thank you for this opportunity.

---
Adam Wyeth
Adam reading at The Big Comfy Bookshop in Coventry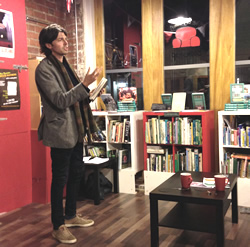 The Cork-Coventry exchange was a wonderful experience. During our time we had two readings and a radio interview. Anthony our host in Coventry was friendly and very helpful and we got to meet many poets there. We also got to meet the Mayor who gave us a brilliant tour of the council building and the cathedral, which was really interesting.



Trying on a costume at the Royal Shakespeare Theatre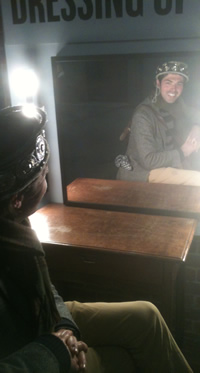 I think the exchange is a brilliant idea and opens doors to a wider relationship between poets and audience. The exchange is a great way of creating a long and lasting relationship between Cork and Coventry and the more it goes on the bigger it will get, allowing other opportunities to be explored. Both places are big university cities, for example and I'm sure there is room to explore the exchange in this capacity.





The Council House displays Coventry's Coat of Arms: the 'chamber' of Edward, the Black Prince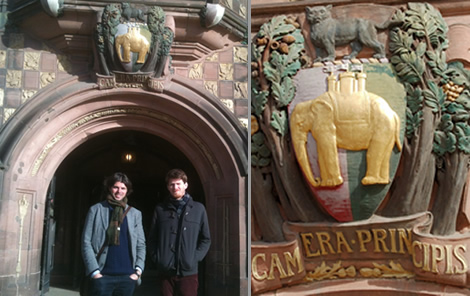 ---
Kathy D'Arcy
Ecce Homo in the cathedral ruins

Cal, Adam and I arrived into a drizzly Coventry at around 6pm and were reading in The Big Comfy Bookshop by 8, along with a crazy mix of performance and page poets from the Coventry poetry scene. The following day we met the lovely lord mayor of Coventry Hazel Noonan, who walked with us through the incredible ruins of Coventry Cathedral, destroyed along with most of the city in the Second World War, and that evening we were off to our second reading, in Burton-on-Trent, home of many amazing ales…Next day we were interviewed on Hillz fm radio, then bunked off to Stratford-on-Avon to see Shakespeare's birthplace and Much Ado About Nothing, and the following day we spent in Birmingham – mostly in its beautiful library – before flying back to Ireland.
A tour of the ruins with Lord Mayor Hazel Noonan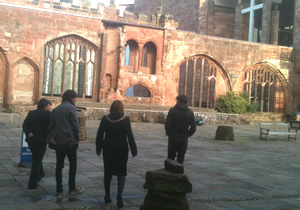 I had only ever been to England once before – for a one-day poetry conference in London – and had never been anywhere like Coventry before. Even the countryside was different, but most fascinating was the phoenix-like sense of the city and its inhabitants, the constant reminders in art, architecture and conversation of its total destruction and aesthetically problematic rebuilding.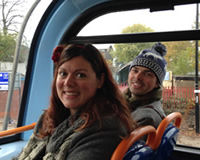 Coventry is twinned with some of the most war-devastated cities in the world, and its new cathedral is full of symbols of peace and co-operation, some constructed from war debris. Its poetry as we experienced it seemed edgy and transient – the poetry of a population relentlessly aware of impermanence. It was a privilege to be able to experience this and to share my work in this unique place.
---
Cal Doyle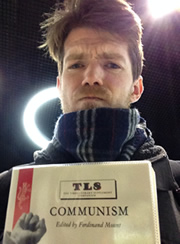 The first reading in Coventry took place in The Big Comfy Bookshop in Fargo Village, a short walk from our hotel. The place was pretty cool, comfy chairs, new and second-hand books, coffee, wine … Our guide, Antony Owen, opened the evening and gave Kathy D'Arcy, Adam Wyeth and myself some fairly generous introductions before we read in between what was a very impressive line-up of poets who took to the open mike. Well, except for Adam Steiner who fluffed his lines mid-poem … nah, he was great! (Sorry Adam …) Leanne, Lesley … too many names to mention really. The whole Fargo Village set-up was pretty DIY in the political sense, lots of independent spaces for various arts organisations, committees and groups to use. Community is the only word that can do the place justice. We were pretty much fresh off the plane before we had to read. Then we went for pints. Then I forget.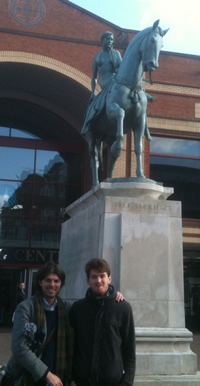 We had a date with the mayor the next morning who showed us around the city hall and the Cathedral. If I learned anything on my trip to Coventry, it is this: the city was flattened in the Second World War. The scars of the war can be seen in the Cathedral and they are also carried inside the city's inhabitants. That Coventry is known as the city of reconciliation comes as no surprise considering the circumstances. Again, the word community springs to mind.
My timeline becomes a little frazzled from this point onwards: but we definitely went to Burton on Trent. We definitely took the scenic route. The reading was in an upstairs room in a pub, which was fantastic. Again, there were many wonderful people and poems – too many names to mention here. I could say the word community again, but I won't, because that was all about ALE. Oh. My. Adam Wyeth did myself and Kathy a wonderful service by introducing us to the variety of elixirs available on tap in Burton. Adam, if you are reading this: thank you.
Outside the birthplace of William Shakespeare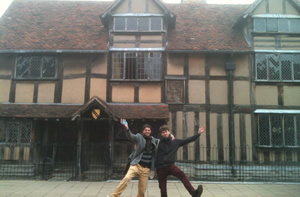 The next day we took to the airwaves of a local community radio station and paid a visit to see the Bard in Stratford-upon-Avon. It was all amazing. Before we left we visited Birmingham and the wonderful museums and libraries and the three or four days were literally planes, trains and automobiles, and it was amazing. Huge thanks to Paul Casey for organising the trip, to Antony Owen in Coventry and to Kathy and Adam for being superb travel companions. Long may the exchanges continue.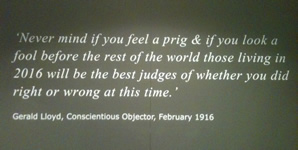 Quote from a war dissenter in Birmingham library
---
---