[L-R] Malcolm Dewhirst, Afric McGlinchey, Colm Scully and Jennifer Matthews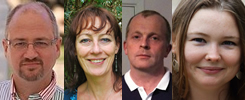 Twin Cities
Poetry Exchange
with photos and reviews from
Cork and Coventry poets
August and November 2011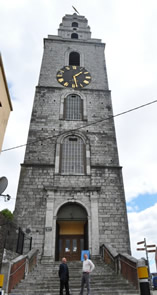 The successful annual exchange between Cork and Coventry has been taking great strides forward, with poet Malcolm Dewhirst performing at Ó Bhéal and Limerick's Whitehouse in early August, including excursions in Cork city, Cobh and Lough Gur. Malcolm has been inspired to write a number of poems about his visit. The return trip during the first week of November featured three Cork poets, Jennifer Matthews, Colm Scully and Afric McGlinchey, who gave readings in Coventry and Polesworth, were taken along the Polesworth poetry trail and performed on HillzFM Radio – and a lot more … reviews follow from each of the poets.
You can also read Gary Longden's reviews of both events at Night Blue Fruit and The Fizz right here.
---
Malcolm Dewhirst
Malcolm reading at Ó Bhéal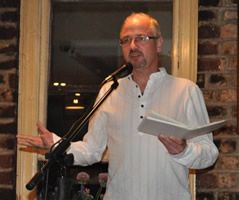 It was a great pleasure and honour to be part of the Coventry Cork Literature exchange this year. I was grateful for the opportunity to come over and share my poetry with you all in Cork. I was glad to be able to return the favour when Afric, Colm and Jennifer came over to the UK. I thank you all for your welcome and for your hospitality, for showing me around such an inspiring part of Ireland and introducing me to the delights of the City especially the English Market Cafe,
Malcolm meets the Navigator in Cobh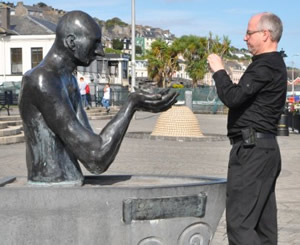 Lough Gur and Cobh, all of which were reflected in the three poems I was inspired to write about my visit. The audience at O'Bheal was very receptive and encouraging it was a real and rare pleasure for me to spend so much time just talking about poetry. Thank you for all your hard work in making the exchange such a wonderful experience. Afric, Colm and Jennifer were excellent ambassdors for the exchange and proved very popular with the audiences over here in Coventry and at Polesworth.
A lesson in Cork history from the Honorable Lord Mayor of Cork, Terry Shannon, who also won the Five Word challenge at Ó Bhéal during Malcolm's visit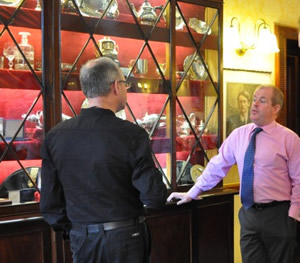 The readings in Polesworth over these last two years, have proved to be very inspiring to the local poetry community who are really fired up with enthusiasm for the whole exchange programme and I can see many are already taking themes expressed in the three poets poems of this year to create some new pieces. I really love it when that happens.
I hope this exchange continues long into the future and that I can play part in it, Cork Poets are always welcome to read at THE FIZZ in Polesworth and I will reserve a spot for next years visitors. Thank you all again.
Malcolm Dewhirst
Malcolm's full review of the Cork poet's visit to Coventry can be read on his blog here.
---
Afric McGlinchey
Afric reading at Night Blue Fruit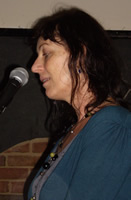 Thanks so much to Paul Casey, Tony Owen and Mal Dewhirst for creating the Cork-Coventry Poetry Exchange with the support of the Cork City Council and Coventry Council's Twinning Committees. What's wonderful about it is that it's an opportunity to meet fellow poets from across the water, share poems and learn more about each other's history and culture. We also got to know each other a little better. Jennifer, Colm and I had loads of free time together, over a pint, over a meal, wandering about the old and new cathedrals, and exploring Shakespeare's Stratford-Upon-Avon, which added immeasurably to the trip. On arrival, Tony Owen took us to Night Blue Fruit, where we were given a really warm welcome. The charismatic Gary Langdon took notes as we read, and followed up the evening with a review in the local paper – for both our readings! Mal Dewhirst read his evocative Cork poems, written after his visit to Cork.
[L-R Colm Scully, Kay Forrest, Jon Morley, Jen Matthews, Tony Owen, Afric McGlinchey and Malcolm Dewhirst at Night Blue Fruit]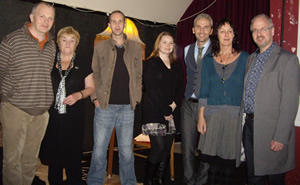 The challenge is on now to reciprocate with Coventry poems! On Thursday, Mal and Tony accompanied us to meet the Mayor. It being Peace month, he was wearing a poppy, which prompted conversation about the war. He told us how his home had been bombed during the war, the roof lifted off and the back wall blown out. He also described his recent visit to Ireland, where he tasted oysters for the first time. We talked about Coventry's Lady Godiva – the mayor was, in fact, born in Godiva Street, and had spent many happy hours running around naked in it himself! Mal then drove us to Polesworth, along the poetry trail he had created with the help of Council funding. Poems have been set into stone, wood and marble and placed by the cemetery, the river, in the street, where people can come upon them. Mal treated us to typical English fare in The Red Lion before taking us to the Tithe Barn for our second reading. What a lovely audience. They asked us for an encore!
[Two hours of poetry and talk on HillzFM]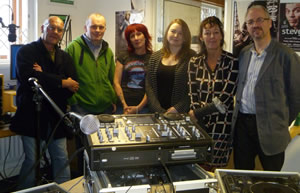 On Friday, our hour on Hillz FM radio with the wonderful Essex girl, Kate Hills, complete with brazen red hair and self-tattooed arm, turned into two hours when her next guest failed to arrive, giving us time to discuss Peace week, the Mayan calendar, potential apocalypse, politics, gods and tokoloshes. It's not only the Irish who can talk! Now to roll out a few Coventry poems for Mal – where to begin!
Afric McGlinchey
---
Colm Scully
The Coventry Stone
Colm at Night Blue Fruit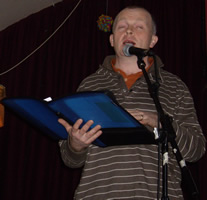 What a great trip we had to Coventry. Arriving late on Tuesday we took our supper in the nearby Burger King (it was Afric's first visit to one). That fortified us well for the 1st Reading at "Night Blue Fruit" with Tony, in front of an appreciative audience including the Chairperson of the Coventry Irish Society.
Next day off to Stratford on Avon on a free day with Cornish pasties and Bacon Rolls. That night we dined India style at 'Tumeric Gold' cooling the spices with some Bitter and English cider. On Wednesday it was all go with the Lord Mayor at 2 in his salubrious officies, telling us of his Irish Heritage. Then on to Polesworth with Mal to study the old abbey where Drayton, Donne and Johnson poesied by the fireplace, and around the wonderful Poetry trail in the Town. Finishing with an exquisite Bangers and Mash at the Red Lion in Atherston (by a mile my favourite meal of the trip). Then onto The Fizz reading at the Old Tithe barn. Hearing some really top quality stuff from all across Mercia.
Colm gets a taste of life Tudor-style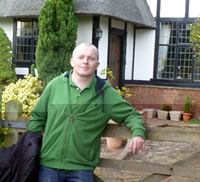 Friday was a busy day with a one hour stint with Kate the DJ on Hillz FM turning into a two hour programme, allowing us all our chance to chill and liberate our thoughts on the airwaves. It being Jen's special day we hit " Cosmo" for our first Chinese of the trip. A fantastic all you can eat buffet near the Cathedral. The girls just seemed to nibble but I could not stop myself getting up for more and more. We finished off on Sponde street quenching our thirst after all our tiring readings and relaxing with lashings of Hob Goblin Real Ale and Merlot.
And as for the Coventry Stone. I asked my brother had he ever heard of it. He mused knowledgeably, saying he was sure he had, what was it exactly again? I rubbed my belly with satisfaction and, pointing to it, explained. There it is, it's the stone I put on during my trip to Coventry.
Regards
Colm Scully
---
Jennifer Matthews
Jen reading at Night Blue Fruit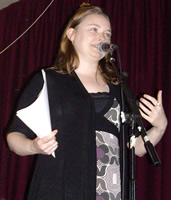 Poems in Conversation
Lately I've been looking at poems as moments in a conversation. The beginning, middle and end of a poem is harder to define than in fiction. They are not as strictly self-contained. Questions are asked and left open; statements wait for responses. The concentration of image and metaphor demands the reader make their own associations to complete the experience. Poems want the reader not only to listen, but to actively think and respond.
The beauty of twinning, as in the relationship between Cork and Coventry, is that it is showing up to a conversation. It is believing you have something important to say, and it is believing your interlocutor, your twin, has something crucial to tell you as well.
[L-R Tony, Colm, Jen, the Lord Mayor of Coventry Councillor Keiran Mulhall and Afric]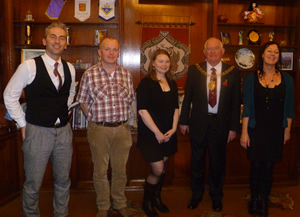 At the poetry nights in Coventry and Polesworth, and during the radio interview in Hillfields, moments of synchronicity abounded. Recurring concerns in our own work, and in the work of the poets we met, centred around the state of the economy and the victimisation of those without power. Following from this were questions of love, how to nurture someone, how to bring power back to the hopeless. Like any intense talk with friends, when concerns are shared, you leave with a feeling of comfort and validation–and more importantly, a re-ignited desire to keep fighting, to keep writing.
I admire Tony Owen and Mal Dewhirst for their continual, humble devotion to their own art and their nurturing of others' poetry. There is power in their insistence that poetry has a literal place in the community. Under Mal's influence, sculptures displaying poems have been placed next to rivers and on the walls of butcher shops. Tony continues to fight to get poetry into schools and cathedrals.
The other midlands poets we met were quiet heroes in their own rights. I met a beautiful Canadian who attended poetry nights with her English mother-in-law, the two women being sources of support to each other. I met a mayor with a grá for all things artistic–he sings in choirs, opens buildings for open mic nights and helped make the dream of the poetry trail a reality. I met a woman broadcasting her passion for peace, poetry and reconciliation over the airwaves of her local community. I met a man who spent many of his own evenings travelling around the midlands and beyond to arts events, blogging about them in great detail to help spread the word and support the artistic community. Every one of them gave me a little boost to keep going.
[Kate Hills and Jennifer Matthews on the airwaves]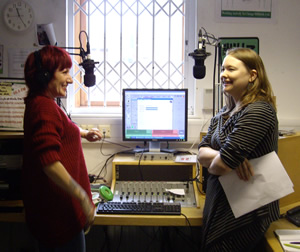 My admiration, of course, extends to my fellow poet-travellers Afric McGlinchey and Colm Scully. They were warm company, and kept me laughing next to pub fires and under church spires. More importantly, their talent inspired, entertained and made me want to keep writing so that I can continue to stay in this conversation of poetry with them.
I'm also grateful to Paul Casey, Ó Bhéal Open Mic Night, and the city councils of Cork and Coventry for continuing to support the twinning project.
Jennifer Matthews
---
Malcolm sizes up Christy Ring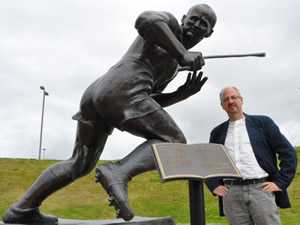 A big thanks goes to Tony Owen and Malcolm Dewhirst this year, as well as to all involved in the exchange. Thanks is also due to both the Cork and Coventry City Councils for their ongoing support.
The annual Coventry-Cork poetry exchange is made possible by the The Cork City Council's Twinning Committee. Coventry and Stalingrad were the world's first twin cities, while Coventry became Cork's first twin city in 1958. Cork's other five twins are Swansea, Rennes, Cologne, San Francisco and Shanghai.
---
Cork and Coventry City Council coats of arms