Twin Cities Poetry Exchange
August and November 2020

with photos and reviews from Cork and Coventry poets
Emilie Lauren Jones, Matt Black, Jim Crickard and Molly Twomey

In August 2020 Ó Bhéal welcomed Coventry poets Emilie Lauren Jones and Matt Black via virtual means to Cork, for online readings at Ó Bhéal and DeBarra's Spoken Word and a zoom visit to the Lord Mayor's chambers. Jim Crickard and Molly Twomey represented Cork for a reciprocal visit, being sent (digitally) to Coventry for two readings in November. Reviews, images and links from each poet follow.
A video of the event featuring Emily's and Matt's readings can be viewed via our facebook channel.

A zoom interview of the Cork poets by Kate Hills of Hillz FM can be watched here.

A review of the 2020 exchange from our Coventry partners via HCE Magazine can be viewed here.

An interview with Molly Twomey by HCE Magazine can be viewed here.
---
---
Emilie Lauren Jones
You can listen to Emilie's Ó Bhéal reading here.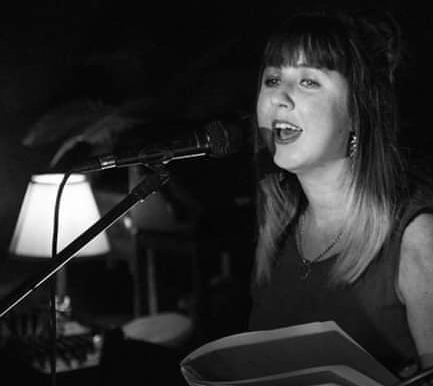 Being part of the 2020 Poetry Exchange was a fantastic experience and it was a pleasure to perform at two wonderful evenings. Our virtual visit began with a Zoom meet-up with our fellow exchange poets, it was lovely to chat about the poetry that inspired us and what the local poetry communities are like.
Our first evening was spent at the brilliant Ó Bheál – a fun and lively evening that had attracted poets from across the globe. I particularly enjoyed taking part in the legendary 5 word challenge, a really unique way of beginning a poetry event, which consisted of us attempting to fit words including pig, shoehorn and moon into a piece of writing! Many of us have found it a very different experience performing to an online audience as opposed to standing up in front of a room full of people but the positive comments came flooding in via the online chat as soon as we uttered the first syllables and I certainly found myself feeding off the audience's enthusiasm. And if that wasn't exciting enough, there was, of course, the 'after-party' where our conversations carried on late into the night.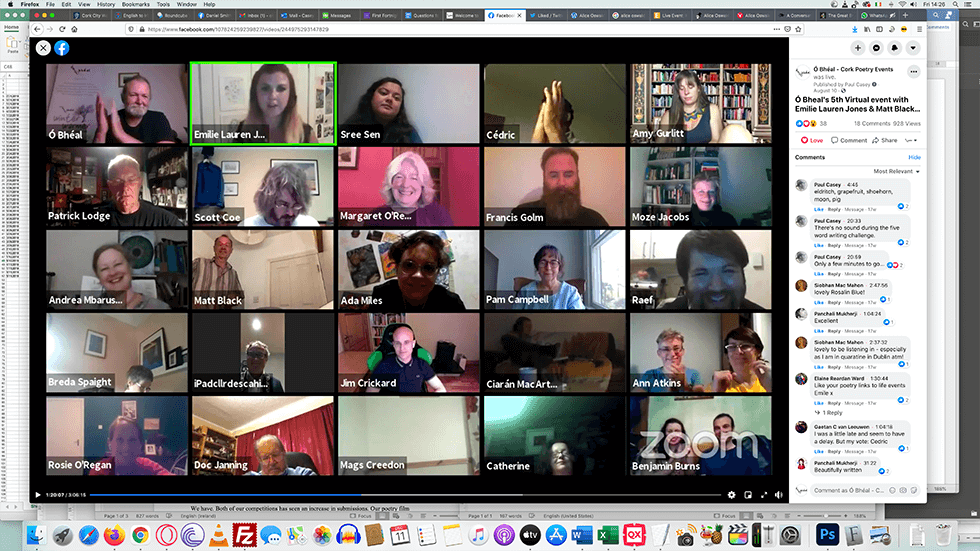 We spent our final virtual evening in Clonakilty for the Psoken Wrod poetry evening, a more intimate evening and equally as enjoyable as the first. It was great to see some familiar faces from the first event as well as being introduced to some new ones. Once again, the audience were so supportive and it was great to perform some different poems as well as some which had gone down particularly well the first time around. On both these nights Matt and I shared the stage with an array of hugely talented artists and performers. There was a fantastic range of styles and themes but all of the poems were of an incredible standard. It has been wonderful to stay in touch with several people via Facebook and to see all the wonderful things you are taking part in.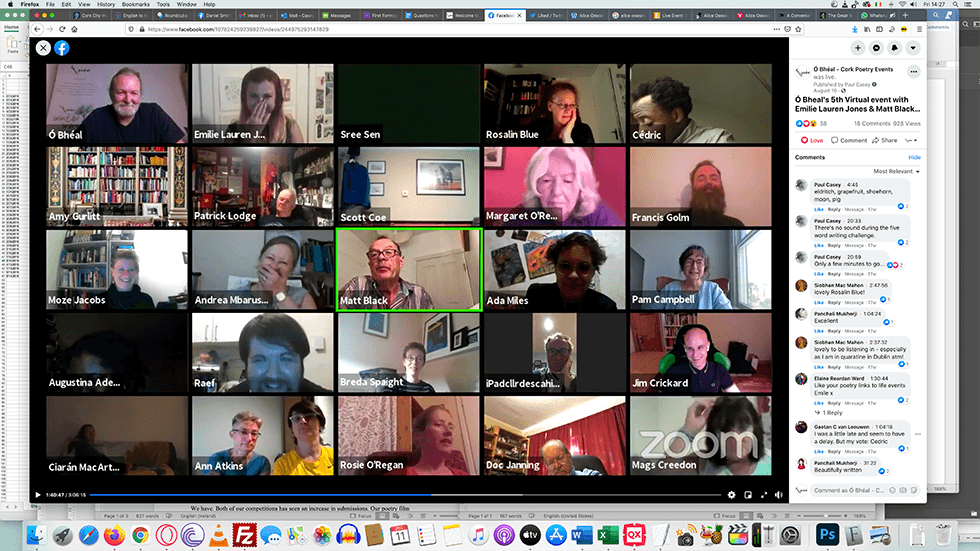 One of the biggest highlights for me personally was meeting so many new poetry friends. The many people we met, along with our wonderful visit to the Lord Mayors office, made me feel like I had really been on a trip to Ireland. I learnt so much about the people, traditions, history and landscape, which for a proper geek like me was just brilliant! It has also hugely increased my desire to complete a 'real' visit in the future. Thank you for welcoming us into your community and for a truly memorable experience.
---
---
Matt Black
You can listen to Matt's Ó Bhéal reading here.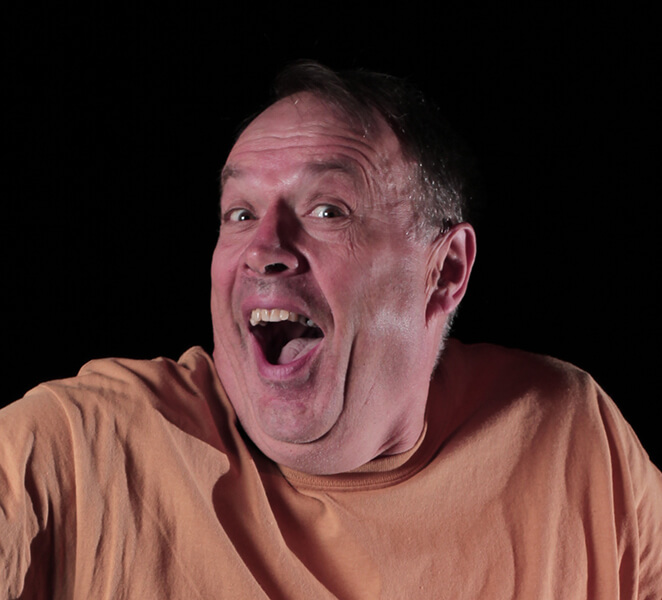 and then Cork, a light
despite the omni-shambles of
between the headlines and
cut into the thrust towards
your voices, clear, gentle
and your faces, smiling, concerned
soulscapes in Zoom rooms, watching
each other's muddle, struggle,
across the mystery of dividing sea
uniting Cork and Coventry
my world, our world, yours,
work-ache, love-ache, back-ache,
tooth-ache, Covid-ache
halved by sharing,
made more bearable by
revealed, less invisible through
exchange of poets,
words in order of
an act of faith, thrown into
the fall-out of war, between
and famine, your history when
and ours, because
soft lilting tones, understand,
smile, look for peace, where
dolphins in the bay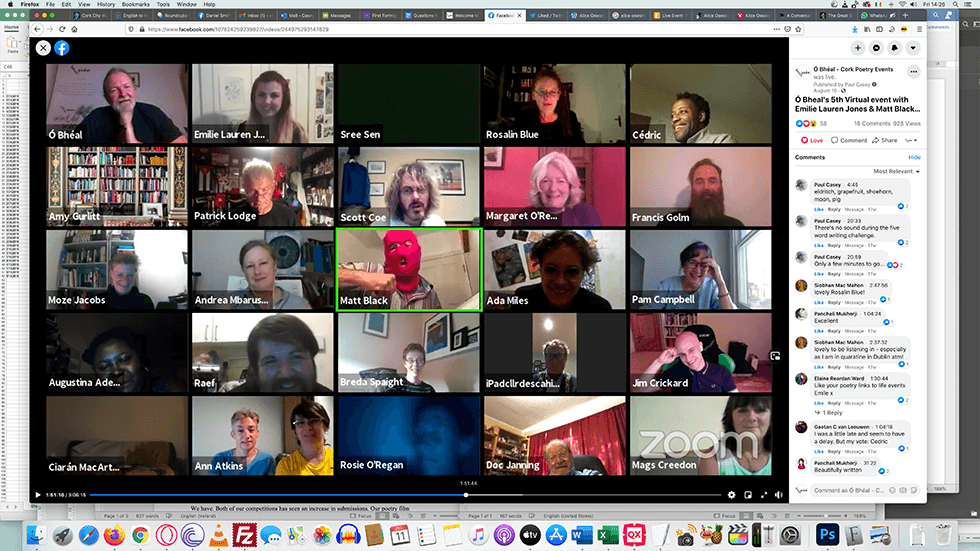 ---
---
Jim Crickard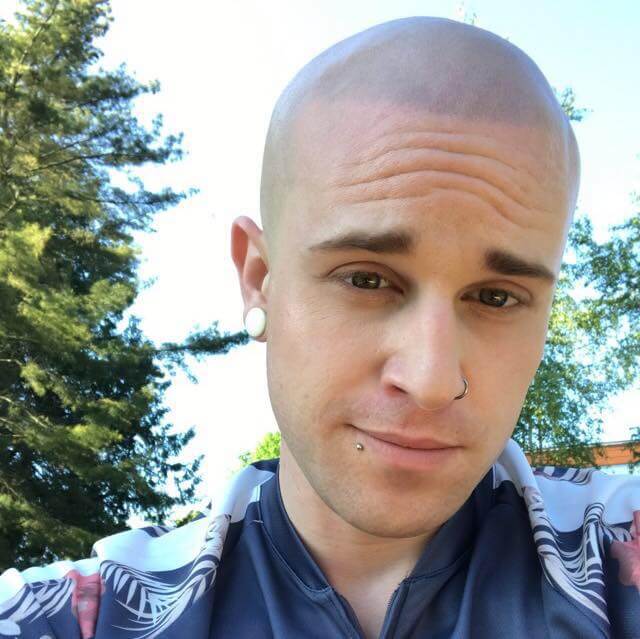 I write this from the roof-top of the Holy Trinity in Coventry. I came here for inspiration to recall the recent poetry exchange. It's quite beautiful up here! Trees pixelate when I turn to them. The cloudy blue sky is creased above my head into a perfect parcel, like the inside of a panettone box.
I teleport to the city centre and find myself standing in the middle of traffic. A blue double-decker is about to knock me down, but I ignore it and spin around in circles to admire the architecture. Tudor-era buildings, massive Brutalist towers, and perhaps the biggest IKEA I've ever seen. People watch me from the pedestrian crossing, their faces have all been redacted. As I saunter down the street, I catch my reflection in a shop window and realise that I am a Google-Maps van.
For the first time since it's inception, the Cork-Coventry Poetry Exchange was moved online. After seven months of social-distancing, following the news every night, and the highlight of my week being a trip to Supervalu, this poetry exchange was an oasis of culture, laughter and likeminded souls. We did a monkey-bars of links from one Zoom to another. A grid of smiling faces. Their bedrooms, their kitchens, their bookshelves. Cats making surprise-appearances. Everyone getting excited and trying to talk at once.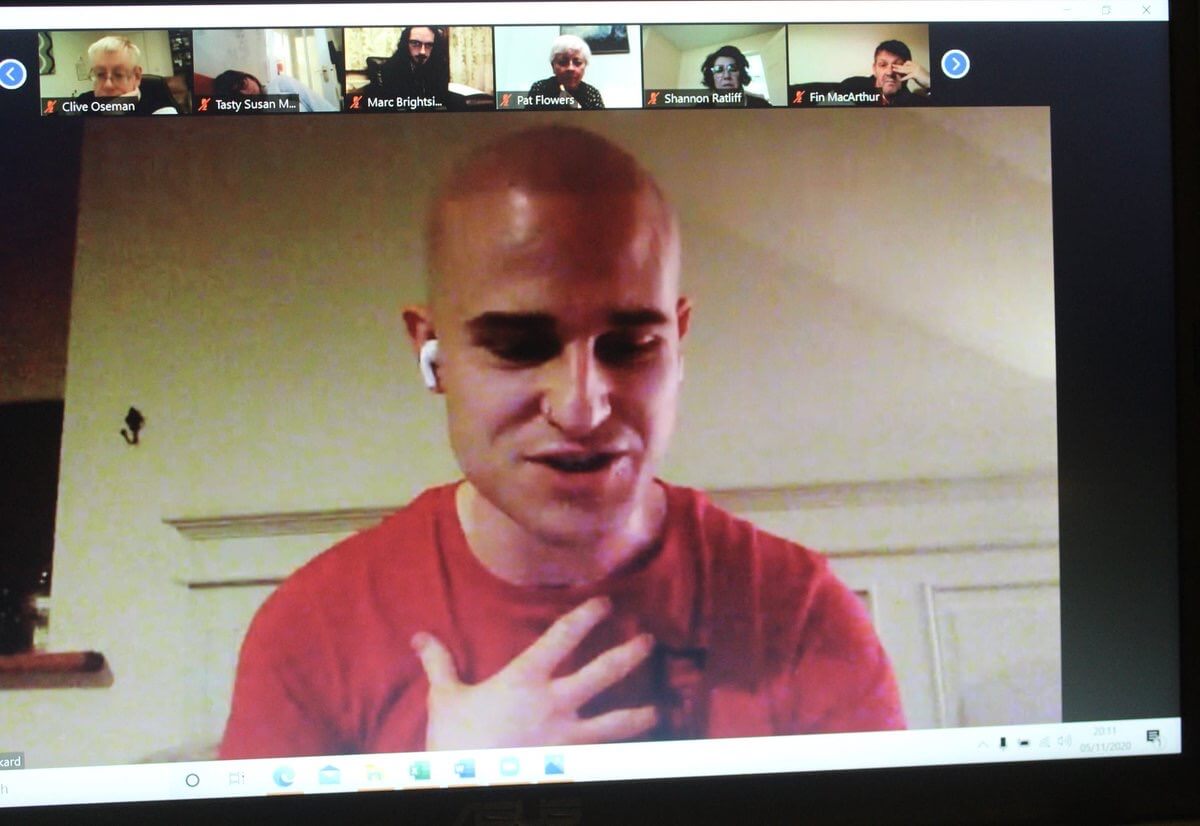 The first meeting was with Kate Hills from Hillz FM, a local radio chat show in Coventry. Kate is a fabulous host with a nice haircut. We were invited to talk about ourselves in a way that doesn't arise often in day-to-day conversation. I was inspired by Molly's openness about struggles when she was younger, and how poetry helped her get through those times. When I was asked the same question, I shared about coming out as a teenager and how I gravitated towards journaling. Looking back now, it's like something steered me towards the page one evening. An intuitive need for expression that pulled a copybook out of the multipacks we'd bought for school. I haven't had a fountain of inspiration throughout lockdown, and I'd lost touch with the personal reasons that people start writing. This interview really helped me to connect with that. Kate invited us to read two poems each on air. We both received such sincere feedback from her and I came away from the interview floating.
Later that night was our first performance, which was at the Peace Poetry event. It had been months since I'd been asked to perform so I was really excited, I also wanted everything to be perfect. I walked around the house with my laptop looking for the best lighting (so my chrome-dome doesn't absorb so much light it becomes a solar panel). I found the best lighting at the kitchen table but had to remove an ornate, porcelain dish from the wall behind me. When my mom asked me why, I replied that I was "set-dressing."
Before the evening kicked off, there was friendly chit-chat among the attendees. Zoom is funny for socialising, it only allows one person to talk at a time. It reminds me of that episode in Absolutely Fabulous where they're at a spiritual retreat and can only talk if they are holding the "talking-stick." It makes me nervous to converse with more than forty people at once, so I socialised the way a cat would, by sitting in their company and listening happily. When it kicked off, the open-mic was filled with funny, profound, observant poets reading their work from the UK, Ireland, the USA, and one poet from the Philippines (where it was 3:00AM at the time). As everyone performed, the audience were posting wonderful thoughtful comments, which is something I like about performing on Zoom. You can actively participate as the performer is on screen without disrupting them. It wouldn't really work in a live environment, unless we used flash cards I suppose.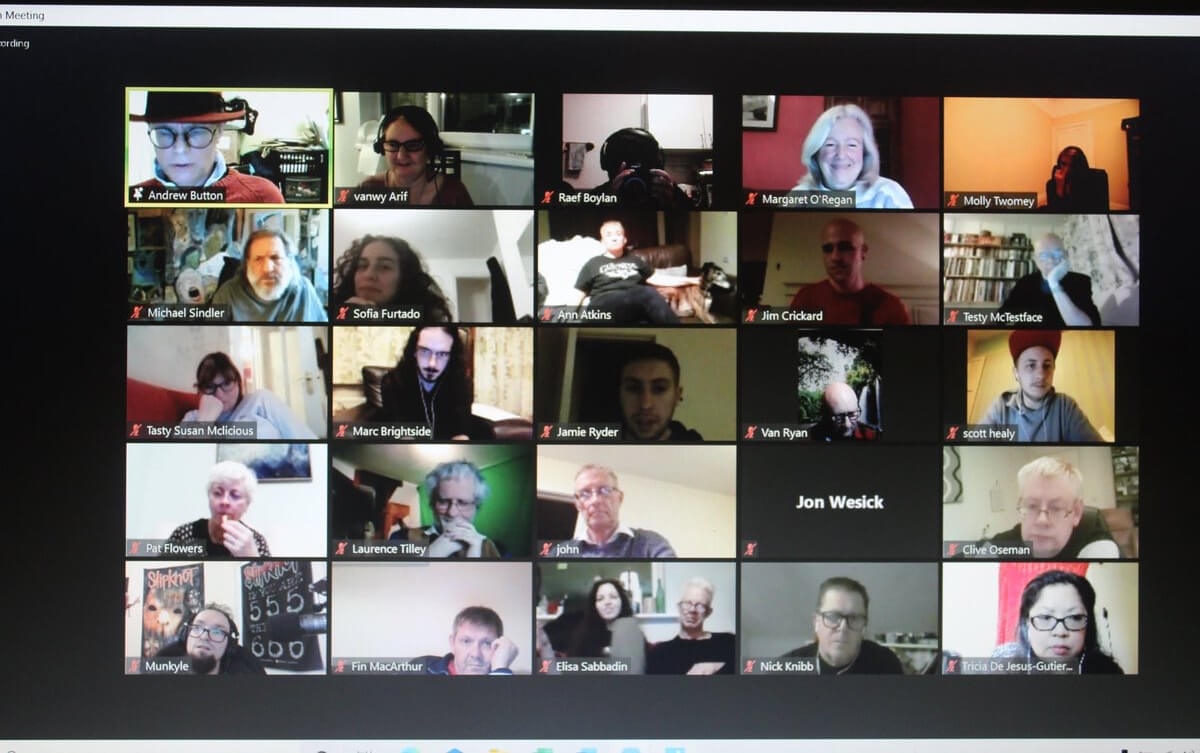 When it was my turn to read, panic set in because I felt like I was bombing hard. I couldn't hear anyone laughing at my punchlines because the audience were all on mute. I flipped the screen to self-view and performed like I was performing to the mirror. It helped to relax me immensely. I received really nice comments from everyone and, again, found myself floating. One of last year's Cork-Coventry Exchange poets, Aysar Ghassan, came on the mic to do a Q&A. It was a fabulous gig and I thoroughly enjoyed it. A similarity I observed between the poetry-scene in Cork and Coventry: wonderfully engaged people that do not steer away from any topic of conversation.
I stuck around until midnight in a "Zoom After Party" with a few committed individuals: Emilie, Raef, another Emily, Ann, Tracy, and Susan. They say the night is for poets and madmen… After several hours of poetry, we'd all grown into the evening. It was like the frame of my laptop screen dissolved and we'd all arrived back to someone's house after the gig. We traded stories, talked about writing, politics, and sustaining ourselves through lockdown. After sorting out all of the world's problems, we moved on to more profound discussion: Strictly Come Dancing and The Great British Bake-Off. It was a lot of fun and I slept so well that night.
The next day we had a meeting with the Lord Mayor of Coventry, Ann Lucas. When I arrived, I was struck by luxury of her office. Mahogany desk. A domineering leather chair. The opulence turned out to be a background-filter of 10 Downing Street. Ann had a fabulous sense of humour and was very welcoming. We talked about Fungi the dolphin, who had only gone missing. How she once ordered a Bailey's Porridge from the breakfast menu of the Cork B&B: Garnish House. How, in the same place, her husband ate one layer of his full-Irish breakfast, only to find another layer beneath. We talked about poetry and she seemed genuinely curious and interested. A busy woman, had another meeting to get to, but I really enjoyed meeting her.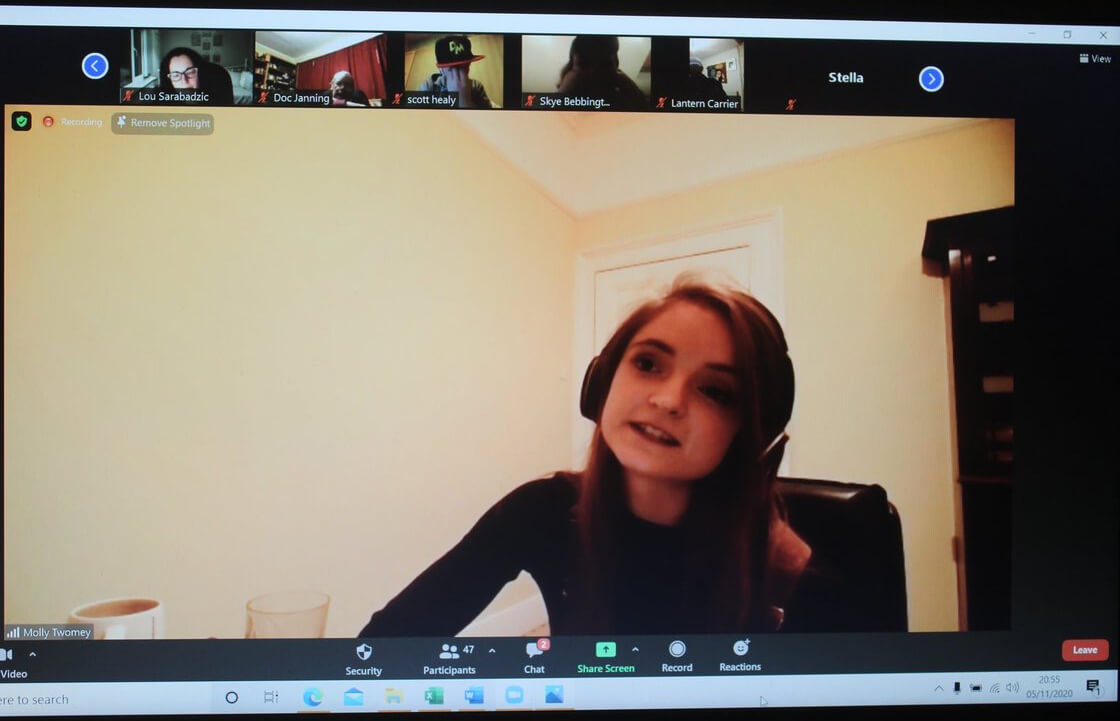 Later that evening we had the final part of the trip, the Fire & Dust poetry gig. I had a lot of fun performing here, and I really enjoyed the performances from the other poets too. There were some familiar faces from the Ó Bhéal Online Events (which have been running since the beginning of lockdown). When I first joined the room, I noticed that my name was changed to "Testy McTestface." It seemed that everyone else had also been christened "Testy McTestface." Raef was playing around with Zoom when setting up the room, but it was an entertaining accident. Every five seconds someone would ask why their name was changed, and then five people would try explaining at the same time how to change it. Some kept it the way it was, and we'd see nice comments from the many faces of Testy McTestface.
When I began performing the second time around, I went straight on to self-view. I didn't feel the panic that I was bombing and really enjoyed the performance. There's a psychological comfort to it when the crowd is completely silent. Having said that, when lockdown ends, I won't be bringing a vanity mirror to poetry readings. I'm grateful for the experience and feel connected with the Coventry poetry scene, although I haven't physically been there. It rekindled the feeling of being among other writers, and what a privilege it is to share your work and connect with others doing the same.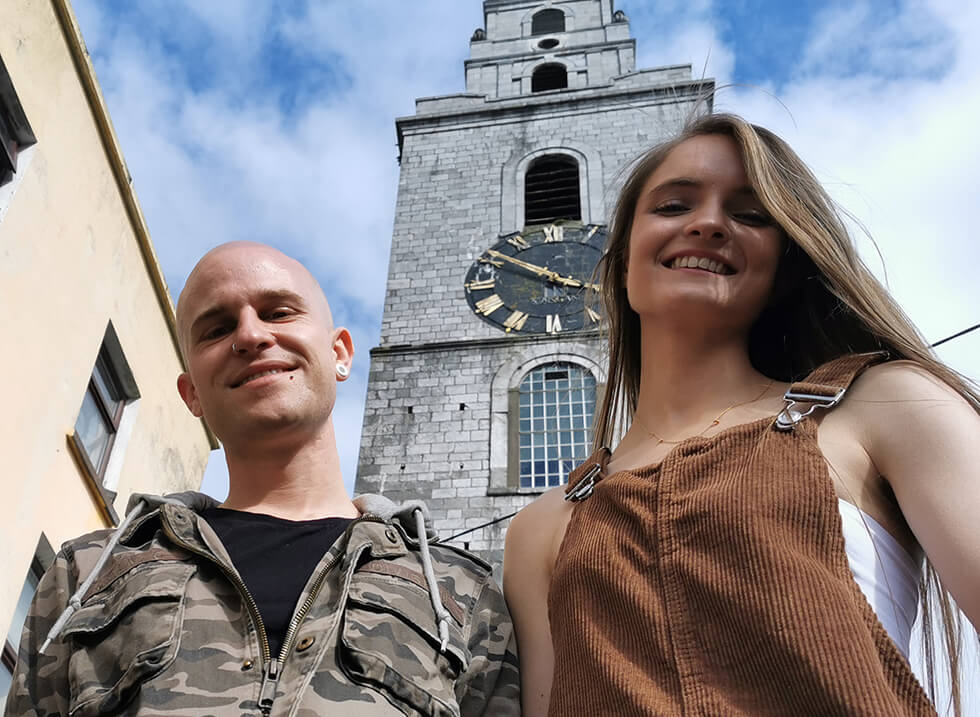 ---
---
Molly Twomey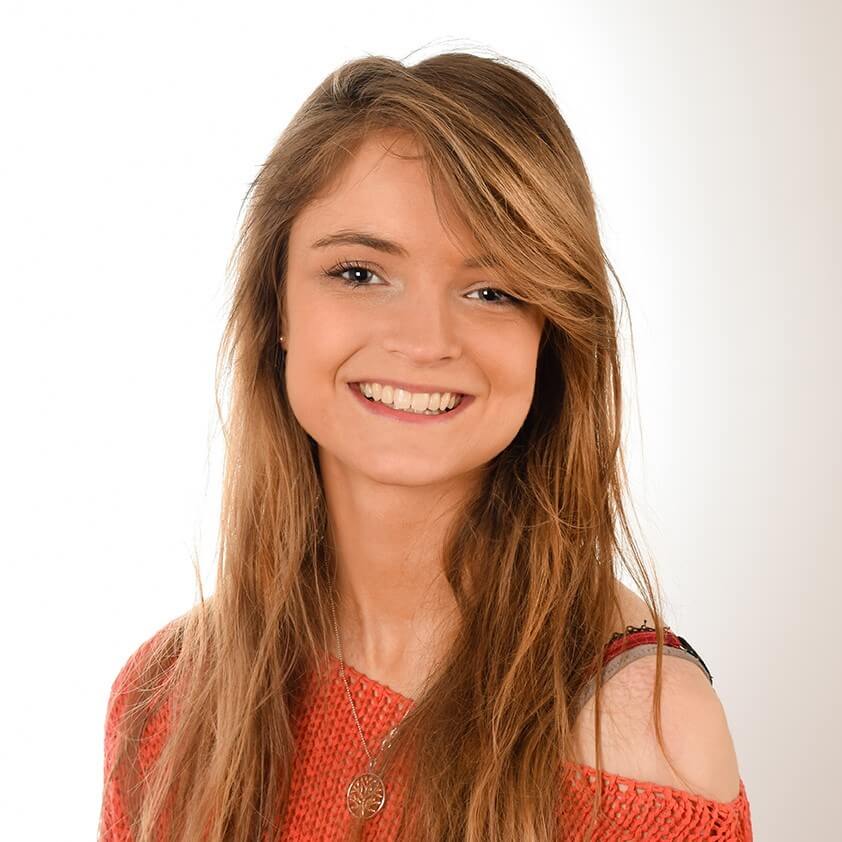 It's the middle of March, pitch dark, I'm home from work and just want to sleep for a week, then I get an email from Paul Casey. He asks if I want to go to Coventry to represent Cork as part of the twin cities exchange— I forget about the tea I have poured, and my pasta goes soggy on the ring. I have never been to England, bar an airport-wait in Stansted, so my mind fills with Yorkshire puddings, red brick buildings and I am quickly typing yes yes yes.





I soon learn that Coventry is where Shakespeare grew up, and where Larkin said his childhood was 'unspent.' I feel a heaviness in my heart on discovering that it was destroyed by a Blitz in 1940, and that 176 people lost their lives. I brace myself to see the ruins of the cathedral and to hear stories of ancestors who were caught in the flames.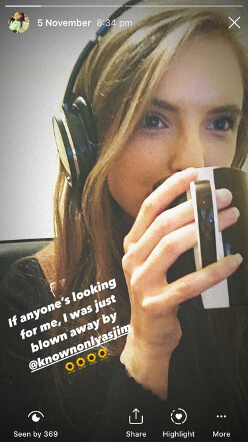 Instead of Coventry, due to the coronavirus, I find myself in my father's office putting a blanket over my legs and mascara on for the first time in weeks. Jim Crickard, the other poet taking part in the exchange, and I have an interview with Kate Hills from Hillz FM. My stomach sickens with nerves as I chew down my nails, but Kate comes on laughing about her inexperience with tech, and Jim's familiar smile reminds me of Ó Bhéal. We speak of how we discovered poetry and how it has been our saving grace. I keep thinking of the words of Theo Dorgan, Cork poet, that you don't 'make a living from poetry, you make a life.' We talk about how hard it can be to scrimp for rent or groceries, yet none of us would change the path we have taken, just the height of the trees that are always holding apples out of our reach.
As this year is the 80th anniversary of the Blitz, the Coventry-Cork Peace Poetry event is even more significant. I am in a new dress and doc martens, cleaning lipstick off my teeth and rehearsing poems over and over, downing way too much coffee. I have no need for the nervous shaking as people log-on and greet each other's pets by name and throughout the event, continuously send messages like 'WOW,' and 'AMAZING.' I see my friends Niamh, Mike, and Stan, and my parents as if I have taken them to Coventry in my suitcase. It is an honour to be in this space, to fight a different kind of war by staying inside with our notebooks and our cans of beer.



I'm at home practising my poems for the final event, Fire & Dust, when I get an email from Raef asking if I'm okay and, 'no worries if you can't make it.' I frown and look through my inbox, thinking that the meeting with the mayor isn't until 6:30. I wouldn't miss an event like that. But I see 5:30 on my screen and frantically try to enter the Microsoft Teams meeting. Raef messages to say it is over, but not to worry, that it was short, and nobody could see each other due to a technical error. I think he is just being nice, and I am the worst visiting poet ever to have existed. I resolve that I must, someday, go to Coventry to bring the mayor my apologies and Baileys for her porridge, which she raves about having first tasted it in a B & B in Cork.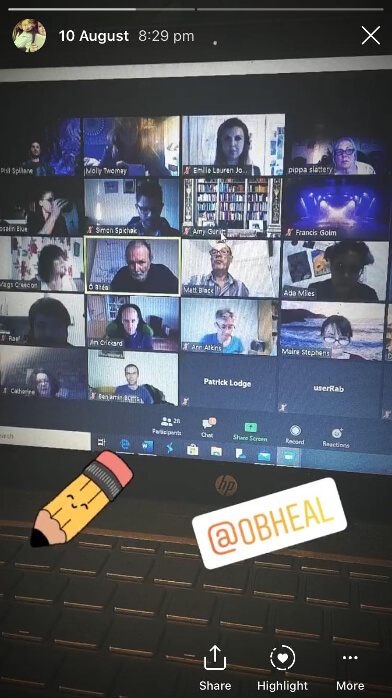 Raef does such an incredible job hosting Fire & Dust that I forget I am in an old office with an empty can of coke and a broken heater. With fewer nerves than before, I am mesmerised by Jim's poems.
I am following the words with my finger as he reads, and feeling gratitude for Paul Casey who published our chapbook, Spoken Worlds: Southern Syllables, in October. Though I have seen him read regularly on Mondays in Ó Bhéal, it is so much more special to have the poems in front of me, to see the years of dedication, life experience, and care that went into forming his work. But Jim is also a kind, compassionate man, who doesn't know how talented he is, and I wish that I was there to squeeze his hand and tell him in person.
I read my poems and two seconds later, my computer crashes. There must be some Zoom God looking down on me who is protecting my ego as all of the comments have disappeared.
I will never know if the people at Fire & Dust liked my poems. Yet tweets, likes, or comments are not why we write and gather, honouring the craft is what matters, or as Cork poet, Thomas McCarthy, says in his poem, 'Daedalus the Maker,' 'to lay art anonymously at earth's altar.'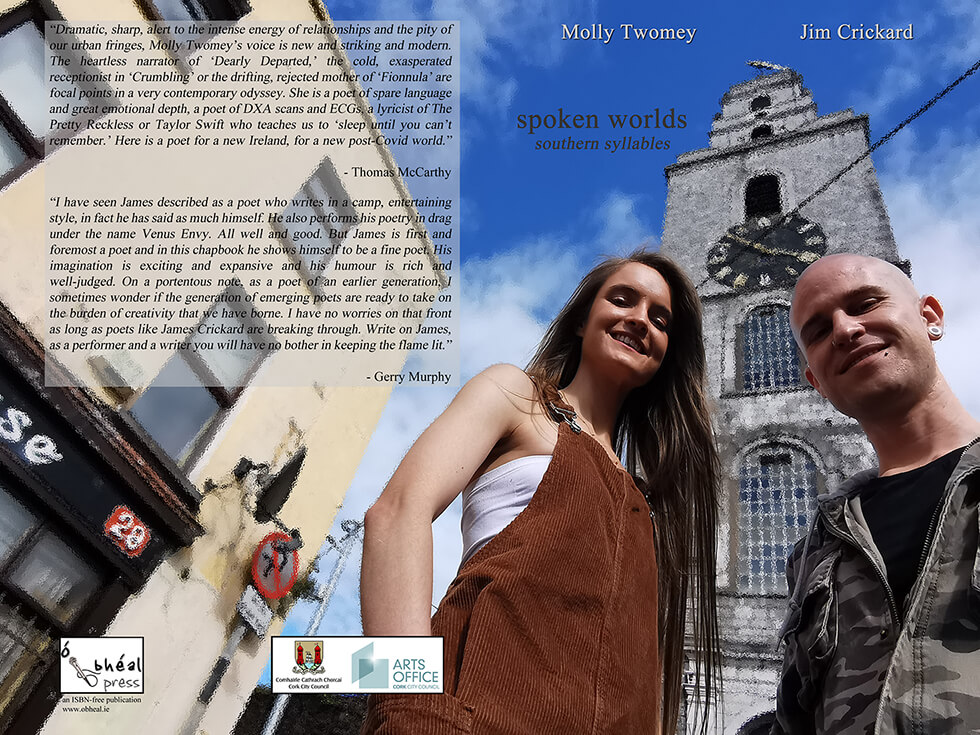 A chapbook of poetry by Molly and Jim, spoken worlds – southern syllables was published for the occasion. It's available in pdf ebook format at this link.
---
---