Twin Cities
Poetry Exchange
with reviews, mp3s and poetry from
Cork and Coventry poets
May and June 2009
This year's Cork-Coventry twin-cities poetry exchange turned out to be far more exciting and fruitful than any of the participants had imagined …
[L-R] Jon Morley, Billy Ramsell, Tony Owen, Jen Matthews, Lady
Mayoress Caron Matchet, Lord Mayor Andy Matchet and Paul Casey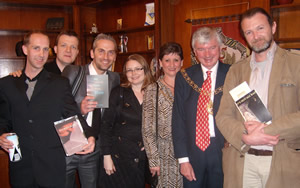 Thanks primarily to the collaborative initiative and poetic spirit of Heaventree Press' Jonathan Morley and Anthony Owen, the first leg began on the 13th of May when Jen Matthews, Billy Ramsell and myself flew over to read at the Coventry International Festival of Literature. Soon after arriving we were invited to meet Coventry's Lord Mayor Andy Matchet and Lady Mayoress Caron Matchet in their chambers, where we shared poetry, discussed funding opportunities for the twin-cities initiative and exchanged gifts.
The birthplace and childhood home of William Shakespeare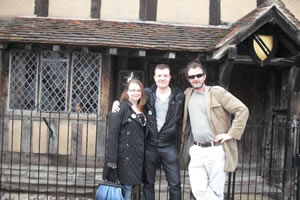 After visiting a number of popular Coventry venues, we were taken to see William Shakespeare's home in nearby Stratford, via the enormous grounds of Kenilworth Castle and its pristine Elizabethan gardens. The main readings were held at the fabulous Belgrade Theatre, sharing the programme with a host of excellent poets from around England. Jen and Billy both read on the first night of the festival, and on the second night, three new Heaventree Press collections by Anthony Owen, Mike McKimm and myself were launched by Jon Morley. These were followed on subsequent evenings by readings at The Four Ps and then at a Palestinian dinner in Coventry's famous Habibi restaurant, where we entertained politician Clare Short among other distinguished guests. The Coventry-Irish Society have since promised further readings to Cork poets in the future.
At Blackrock Castle – [L-R] Joanne and Tony Owen, Zac Lamdin, Mike McKimm and Jon Morley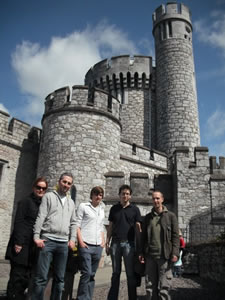 Thanks to the generous support of the Cork City Council, we were able to design a poetry-packed return visit for three Coventry poets, Heaventree's Jonathan Morley, Anthony Owen and Michael McKimm, and with a bit of collaborative imagination and supplementing of resources, were able to offer our visitors and two of their partners a ten-day poetry tour of Ireland. Instead of spending a large amount of the funding to pay for accommodation, poets from Ó Bhéal offered to host the visitors in their own residences so that we could hire a van to take the best of Coventry's poetic talent on a tour of the South West, Dublin and Belfast. We began with a visit to Lord Mayor Dara Murphy in his chambers where he was presented with letters from the Coventry-Irish Society and then exchanged gifts and discussed the benefits of the exchange.
[L-R] Joanne and Tony Owen, Lord Mayor Cllr. Dara Murphy, Rosie O'Regan and Paul Casey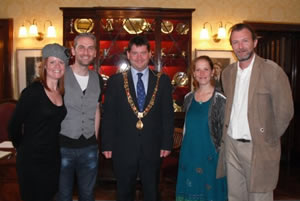 Both the Lord Mayor and Deputy Lord Mayor offered high praise for the efforts made to strengthen the relationship between the cities and have indicated their wishes that we continue to do so. Deputy Lord Mayor Jim Buttimer attended the Cork event and gave a very warm and welcoming speech which you can listen to here: [audio:Deputy Lord Mayor John Buttimer.mp3]
Paul,
Just a quick note to say thank you for the welcome you and your fellow poets gave me the other night at the Twin Cities Celebration at Ó Bhéal. I really enjoyed the night and the poetry was interesting and challenging.
Thanks again
Cllr John Buttimer
Tony Owen chats with Desmond O'Grady outside the Spaniard in Kinsale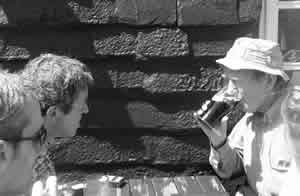 As the other poets have elaborated on the tour of Ireland further along in this review, here's a brief synopsis: In Kinsale the poets spent an afternoon with legendary wordsmith Desmond O'Grady and in Allihies, West Cork they were treated to readings by Theo Dorgan and Paula Meehan. In Waterville, Co.Kerry all three guests read as part of the Féile na Gréine solstice arts festival, with the kind and generous courtesy of hosts Fíona and Paddy Bushe. There we visited a number of ancient monuments including the Eightercua standing stone alignment. Then we returned to Cork for the guest readings at Ó Bhéal.
[L-R] Jon Morley, Jen Matthews, Paul Casey, Tony Owen, Mike McKimm and Billy Ramsell at Cassidy's

The next evening we went on to a Seven Towers event in Cassidy's, Dublin hosted by Sarah Lundbergh and finely emceed by poet Eamonn Lynskey, where three Cork poets and three Coventry poets were the main guests. A visit to the Book of Kells just had to be made the next morning. Finally the troupe went on to a reading organised by the Seamus Heaney Centre at Queen's University (thanks to Miriam Gamble and Mike McKimm) which you can listen to here: [audio:Queens.mp3]
Mike, Paul, Miriam Gamble, Tony and Jon after reading at Queen's University, Belfast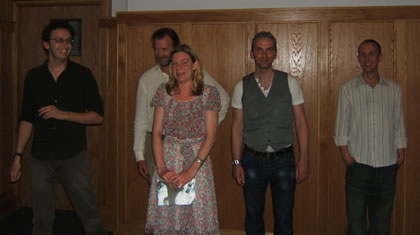 You can imagine the sense of a perfect ending to the tour when we were invited to attend Michael Longley's surprise 70th birthday party, where the visitors met with poets Seamus Heaney, Medbh McGuckian, John Montague, Ciaran Carson, Dermot Healy and many other masters of the word.
Cork poet-actress Rosie O'Regan also joined the tour, inspiring two poems (beneath) and the Coventry visitors were accompanied by Joanne Owen and Zachary Lamdin who have been kind enough to send additional photographs and reviews of this important series of events. The tour of Ireland inspired poems from five of the participating poets (seven of which are within this review).
---
Jon Morley
Jon Morley at the Coventry International Festival of Literature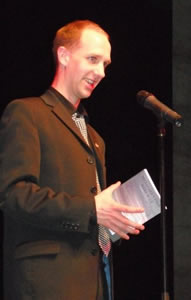 Dear Paul,
What can I add to the poem that will go any way towards expressing the gratitude and delight inspired in me by the last ten days' road-trip around Ireland under your auspices and those of O Bhéal? To participate in the poetry exchange and experience the Irish hospitality and enthusiasm for the spoken and written word, as well as to take part in traditional activities such as hurling, Gaelic-speaking and stone circle worship, to see the wonderful scenery of West Cork and the timeless imagery in the Book of Kells, and finally to meet Seamus Heaney, all in one week, was an absolutely life-affirming experience.
Our group collectively must have written perhaps ten new poems during the trip – a not insignificant result for people normally too busy with the minutiae of life to concentrate on the all-important task of artistic creation – and in addition the repeated event format of shared readings with yourself, Billy Ramsell, Jennifer Matthews, Michael McKimm and Antony Owen has encouraged the closer study of other young poets' work and performance styles, deepening my understanding of the different possibilities of the poetic voice.
Joanne Owen and Jon Morley at Charles Fort, Kinsale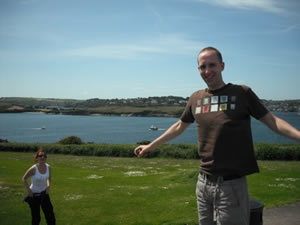 It is imperative to continue the Cork-Coventry poetry exchange, in order that the cultural fabric of our two cities and the individual development of our writers may be further strengthened. In the words of your Deputy Lord Mayor during his speech at the Ó Bhéal open mic night, 'Poetry events like this are important because they are bridges between the past and the future.' The Heaventree Press will do all we can to build more such bridges, by organising further events for Cork poets and seeking financial support from our local bodies.
Waterville Lake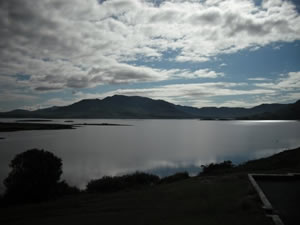 In the short term, we have arranged a reading in Coventry on July 8th where the new poems created on the trip will be presented alongside a selection of Michael Longley's work. Please do send new work by yourself, Rosie, Billy and Jennifer for this occasion. Members of the Coventry Irish Society have agreed to attend, with a view to inviting Cork poets to participate in the Cultural Festival they are organising this September.
Yours, in the spirit of international friendship,
Jonathan Morley
Editorial Director, The Heaventree Press,
Coventry, UK


WE ARE WHAT WE ARE by Jonathan Morley
Coventry-Cork Poetry Exchange, June 2009
I named for you all the wild flowers of the Burren
I had seen in one day:
? Michael Longley
Circling round the heel of Ireland in our cotton-blue van,
Kinsale Allihies Waterville each place brimming
with poets and painters and wine. Wild fuchsia splattering
cherry along the hedgerows like midsummer sacrifice
by lichened wind-leaning old men in the galláin, the million
snaky spires of foxgloves and any grasped handful
of grasses a bouquet of silver-green and lilac.
The perfumery of the lanes, careless with birdsong
and the armistice at night, bearded moths blotting at the lamp like snow.
Each of us a glutton of beauty, committing to notebooks
a lexicon glimpsed in cloudscapes and coastline; the hurling
on a beach like mercury, the wheat-skinned colleens, the stained-glass
bullets in Kells' peacock book, the sculpted pints of black
all set down in the treasury of memory. So what are you doing here?
We're poets, over from England, we've been touring the Republic,
we've done readings in Cork, Co. Kerry, Dublin, then here, our last night.
Scribes congregating in a hot room, the cries of recognition
unlike the build-up on the Shankill and the Falls
with new murals and the tricolour on damp, brown walls
and Longley overwhelmed, kissing men on the lips: 'My old friend!'
Our generation? We were gifted, we worked hard, and we had
luck. Unseen his Yin has entered and stands discreetly
in the crowd, the alert monkish boy still visible beneath
his lightning hair, inquisitive spectacles and grin
and when the queue disperses and like saints they finally embrace,
generous protestant and skinny catholic? we hustle for beer,
my aimless brotherhood whose faces, voices now pass
through the mind in benevolent procession. Back home
the beans want lacing, and the raspberry, and the blackbirds
have left their nest in the haw, a frail curragh. The top
of Che's head has been bulldozed away for some plastic frontage.
Bugles of buddleia tumescent suddenly in the streets.

ROADKILL by Jonathan Morley
A boy with a straight arm and a good throw
lobbing a pebble over the tour bus on the Shankill ?

You can listen to Jon's reading at Ó Bhéal here:[audio:Guest Reading – Jon Morley2.mp3]
---
Jennifer Matthews on Coventry
Jen and Billy on stage at the Belgrade Theatre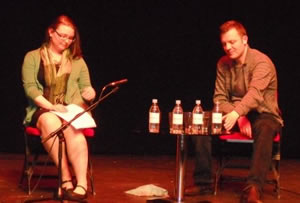 I'm just back from the Heaventree Festival where I had the pleasure of meeting passionate people who have made poetry their lives. I was lucky enough to get the invite from Paul Casey to participate in a new writers showcase, and my first reaction was, 'Really? Do you think I'm ready?' No matter what, where or how much I publish I am eternally convinced that each instance is either a fluke or a lapse in judgement of the editor. The trip to Heaventree helped me build evidence contrary to my internal critic. It gave me was a sense of validation, that in some way I wasn't wasting my time in pursuit of the thing I love.
Out in Cov: [L-R] John, Tony, Jo, Billy, Jen and Paul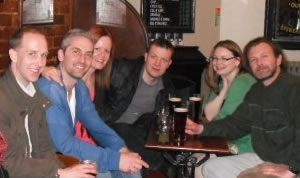 We arrived Wednesday and relaxed with a meal in a pub, and the organisers met us to explain the venues, schedules and accommodation. I learned that my reading that night would be in a rather large theatre, and that people from small presses and magazines would be in attendance. Through most of the conversation I was doing complex equations to figure out exactly how much dutch courage had to be drunk without leaving me drooling and incomprehensible on stage. Luckily I got the sums right, and I was assured by Paul and Billy that I did fine. I even had a nice chat with a couple of girls afterwards who complimented me on a couple of my poems, leaving me feeling I'd made some kind of a connection. Billy Ramsell's was after me, and he engaged the crowd deftly in his reading (as usual). He was one of the few, if not the only, that night to get an audible reaction and well deserved it was. Saying the poems without a page as he does, with skilful delivery, creates a personal connection for listeners.
Shakespeare's Fool in Stratford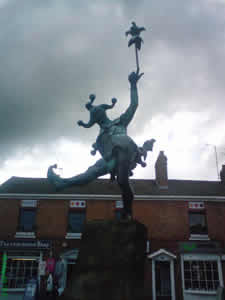 The next night was Paul's launch of 'It's Not All Bad', along with two other excellent poets- Michael McKimm and Tony Owen. The Belgrade Theatre was a great venue for Paul's long poem. Something about the place let us relax into it, taking the verse in waves and letting the meaning slowly build as we listened. We moved on to a pub afterward (where else?) and chatted over mead (sweet), pork scratchings (disgusting) and copious amounts of great local ale.
Jen gives it socks at The Four P's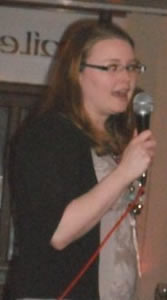 Spending five days with Jon Morley and Tony Owen, the organisers of the festival, was intense and educational. The amount of work the two of them put into the week was incredible. They had to simultaneously be marketers, managers, politicians, readers, businessmen and poets with little time to sit back and enjoy their work, much less sleep! But somehow they made the experience incredible for us, being welcoming and passionate about the current and future twinning between our two cities. For the encouragement, poetry, inspiration, comfy bed and great conversation I am utterly grateful. Not so much for the pork scratchings. To each her own!
At some point during the trip Tony Owen mentioned to me that Coventry's symbol was the phoenix, having risen from the ashes after being largely destroyed during World War Two. Now, I'm not going drama queen on you, and won't claim anything so grandiose in my own experience. However, this trip was transformative for me in a quiet, reassuring way as a gentle nudging to persist, to write. Exactly the push a new writer needs.
---
Mike McKimm on Ireland
Mike reading at the launch of his new collection Still this Need at the Belgrade Theatre in Coventry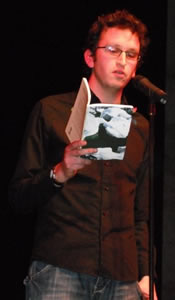 I recently took part in the Coventry-Cork Twin Cities Poetry Exchange, a truly wonderful experience, through which myself and Coventry-poets Antony Owen and Jonathan Morley had the honour to read not only in Cork, but Waterville, Dublin and Belfast. This was an amazing week, completely unforgettable, jam packed with breathtaking landscape, great cultural exchange – the seafood, the games of hurling on the beach, the perfect Murphy's – and the nurturing of what I hope will be life-long friendships, all a compliment to our main reason for being there: to read our poetry and to sample the literature of Ireland, which we did in abundance, and which has left me invigorated and inspired.
I'll start with the big thanks: to Paul Casey, firstly for inviting us to read in Cork, and then for organising what became the most wonderful week, for driving us out to west Cork and Kerry, for organising superb accommodation (for which we didn't have to pay a penny); for his patience and the sheer pleasure he took in showing us his part of Ireland. Paul Casey is a true gentleman and an immense asset to poetry and to Cork. I hope that more exchanges between Cork and Coventry and beyond can happen in the future and that more poets and artists can benefit from the perfect hospitality shown to us by our host.
Kenmare River [L-R] Mike, Tony, Jo and Jon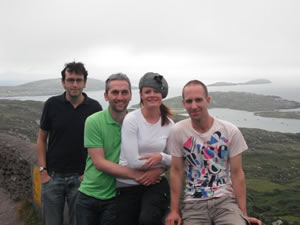 Thanks to The Heaventree Press for organising things from the Coventry end and for suggesting me as someone to take part in this trip; thanks to Jonathan Morley and Antony Owen for not only the sharing of poetry and ideas but the strengthening of our friendships; and to Rosie O'Regan, Joanne Owen, and Zac Lamdin for their good humour and great spirits – fellow-poets all.
There is so much to talk about from this trip, but I will just draw attention to a few highlights for now.
The Skelligs from Waterville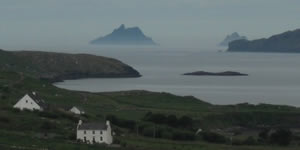 I loved the festival at Waterville – not only a great slice of successful English/Irish twinning, but a moving, provoking experience for myself personally, having had little experience of Gaelic growing up in Antrim and therefore having always felt distant from that culture (perhaps there is an opportunity for some Ulster/Munster cross-border funding! ?). It was great to meet all the poets there. It felt like an utterly different vibe from poetry-gatherings I have attended in the past, and nestled there by the Skelligs and the peaceful water it did feel entirely 'other' – yet I will never forget how welcoming everyone was, and how strange it seems to think that we were only there for one night. We became so involved in all that was happening there and carried the good mood with us for the rest of the week (and not just the O'Searcaigh debates!). Cheers for arranging our readings there.
[L-R] Paul, Mike, Jon and Tony at the Féile na Gréine Festival in Waterville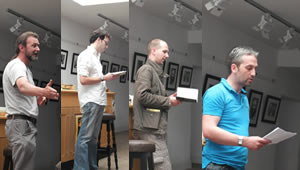 I read regularly in the UK, mostly in London, and since my book was published in April it feels like I have been doing a reading every week. None of these readings brought me as much pleasure as reading at Ó Bhéal. I'm not sure why exactly this was, but I do know that I felt more at ease than at other readings, more welcome and more comfortable; there was an appreciative yet clearly smart and critical energy in the crowd; the whole evening from start to finish was relaxed and well-run; this gave me a good confidence boost, which is a wonderful thing at poetry readings. Thanks to Jennifer Matthews for her most professional MCing on the night.
Hurling in Allihies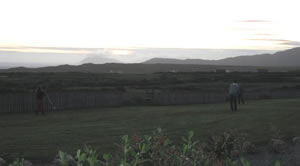 Ultimately this was an incredibly moving journey for me, as I think it was for all involved. To be given the surprise of the long, thrilling drive through the mountains of west Cork and Kerry, with the water stretching still and blue below as the mini-bus clung to the swerving roads, is something I will never forget. The scenery was truly breathtaking and I feel like I am waiting for the magic of that experience to settle into me, to find its settled place in my mind. There is something too, waiting to settle, in the noise made, and the tension felt through my wrists, arms, entire body, when (after many attempts) the hurling bat connected with the ball and knocked it straight and far. I quickly wrote a poem placed in Allihies, Co. Cork, but I feel, without a doubt, that there are many more poems that I will write about this experience in the west of Ireland; there are few times in my life that this happens, that something tingles in the stomach, sheer creativity working away in me. For that Paul, above all, I give you thanks.
Michael McKimm
London
1st July 2009
You can listen to Mike's reading at Ó Bhéal here:[audio:Guest Reading – Mike McKimm.mp3]
---
Billy Ramsell on Coventry
The Old Coventry Cathedral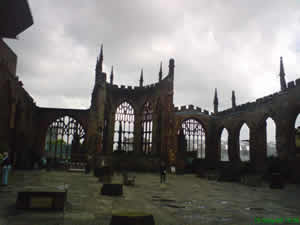 Coventry is a city with a perhaps deserved reputation for unloveliness. This is famously due to the Luftwaffe, but also to the orthodoxies that dominated 1950's architecture and urban planning. Yet scattered here and there are remnants of the medieval city that once was: an old inn, a bit of wall, the town hall where the lord mayor treated me to a can of Carling. These fragments are happened upon suddenly, with surprise. They remind us that Coventry, like Canterbury or York, is at bottom an old-style English cathedral city. Between the ring road and cathedral there are many charms.
Billy reading at the Belgrade Theatre, Coventry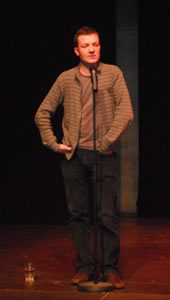 It is a welcoming place and it was a pleasure to be welcomed there again, to meet old friends and new and to read my poems at the beautiful Belgrade theatre. (Named, I was reliably informed, in honour of Grand Marshall Tito, who provided the city with emergency aid in the wake of the afore-mentioned bombing).
It was also a pleasure to welcome the three Coventry-based poets to Cork and to hear them read at the Long Valley, surely the hub of Cork literary culture. It was also really nice that the Deputy Lord Mayor John Buttimer made an appearance, and even read a poem trí mhéan na Gaeilge. I hope this exchange continues next year and beyond, with different poets but with the same spirit of openness and camaraderie.
---
Anthony Owen
Tony surveys the Kenmare River on the Cork-Kerry border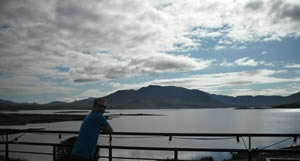 Dear Paul
My friend and fellow poet Jon Morley has so eloquently reflected on the trip and what I too feel.
The developing relationship between the Cork-Coventry twin city project has gathered so much momentum in the past year bringing culture and joy to everyone involved and I hope you are assisted every step of the way to help continue and develop Ireland's proud tradition of writers.
So far IN JUST 9 MONTHS our exchange has seen writers from Cork help represent the 2008 Coventry Godiva Festival & The 2009 Coventry International Festival Of Literature plus Coventry poets in Nov 2008 flying to Cork and now June 2009 where we were priveleged to tour Ireland with Ó Bhéal.
Tony reading from his new collection My father's Eyes Were Blue at the Belgrade Theatre in Coventry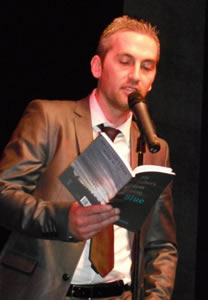 The Coventry Irish Society who represent the estimated 30,000 Irish people living in Coventry (10% of our population) have just endorsed the poetry links between Heaventree Press in Coventry and Ó Bhéal in Cork which will soon be communicated to them, so a significant presence of literature will be felt from the tireless efforts from both sides in bringing the proud tradition of literature and culture to both cities. As a writer published by Heaventree Press – the Coventry side of this twinning project I feel rather bad that due to a lack of funding and support from our side we were not able to offer you the standards you offered us, even the basic accommodation, and transfer costs were all self financed and we hope that future exchanges to Coventry we can secure funding.
To put in into perspective these poetry exchanges between both our cities are not only a pivotal cultural link but also by way of inspiration help poets create history by writing contemporary poetry leaving a legacy that would not be possible without the exchanges.
It was great to go with you to meet Lord Mayor Cllr Dara Murphy who seemed enamoured by what we are trying to achieve and to see the Deputy Mayor attend the open mic session at the Long Valley where he spoke passionately of the importance of literature and of events such as yours.
Dapper!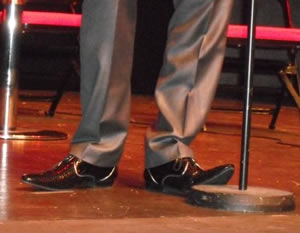 As a poet, culture lover and citizen of the twin city project I hope many more poets can experience the amazing and inspirational journey that led to a destination of emotive poetry and poets alike – we even met Seamus Heaney & Michael Longley.
As someone who had learning difficulties at School and has evolved into a critically acclaimed poet I would not have been able to do this without open Mic sessions through Heaventree Press and the twin city project of Coventry & Cork.
For those of you interested the smallest nutshell of the trip included;
Feile na Greine Solstice Arts Festival in Kerry
Cork: Reading at Long Valley
Kinsale: Meeting with legendary Irish poet Desmond O'Grady
Allihies: Poetry reading from Theo Dorgan & Paula Meehan
Reading at Cassidy's Dublin
Reading at Seamus Heaney Centre, Queens University Belfast.
Attendance of Michael Longley's 70th Birthday of which Seamus Heaney attended.
Tony, Jon and Mike reading at Ó Bhéal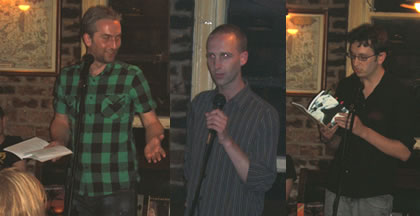 Of all the poems myself, Jon Morley, Michael McKimm & yourself have written it is poignant to me that Ireland really wrote them from its painstaking beauty, warmth and people.
Here is a poem in dedication to event organisers Paul Casey of Ó Bhéal and Jon Morley of Heaventree Press
The Blue Mouth Of Allihies by Anthony Owen
From a stitch of road
clouds morphed mammal shapes
sailing west where the Lir Swans wait,
into a copper sea where a crescent moon
cuts them into silver children.
My eyes like French fishermen nets
gauze the moment like a fist of wildflowers.
Here a man's hand is stronger than
a mallet of bronze age wind,
all because I wanted to mine you heather.
Still as the gulf stream Kestrel
death twitched, hare eyed and kicking
the fox stabbed its mouth red
and the silver children sank in to sand
imprinting shadows of adults on the kelp.
Once again on behalf of Joanne and I thank you for a life changing and unforgettable experience, you are a credit to both poetry and the Arts !

You can listen to Tony's reading at Ó Bhéal here:[audio:Guest Reading – Anthony Owen.mp3]
---
Rose O'Regan
Rosie in Kinsale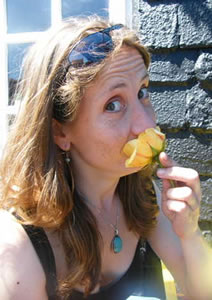 Into Green by Rosie O'Regan
We went hurling through the days
Dive driving into green
The straight to winding roads
Freckled fuchsia red
Mountain sculpture, like dragons
With pine forest spines
Lazing on the horizon
The sun brilliant
We stop for a Murphy's
(No Beamish in these parts)
Into the heart of the kingdom
Your eyes my aphrodisiac




Eightercua by Rosie O'Regan
Whole changing skylines
Coloured cloud in light landscape
From this stone circle
Mountains spiral out
To the horizon floating
Peaks about the moon
In this ancient point
This panoramic centre
Like a tree rooted
Sense the world whirling
Her dervish dance in nature
With love expanding
Spiralling outward
And into one another
To heavenly heights
Eightercua, Waterville, Co.Kerry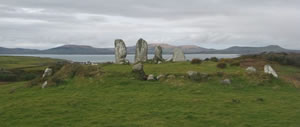 ---
Zachary Lamdin on Ireland
At The Spaniard in Kinsale [L-R] Jon, Tony, Mike and Zac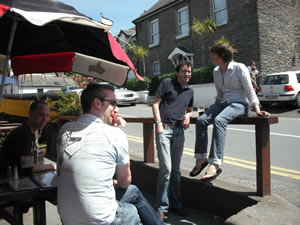 I am not a poet, nor am I from Coventry, so I feel doubly lucky that I had the opportunity to piggy-back along on the Ó Bhéal Cork-Coventry poetry tour of Ireland. The tour, part of the Cork-Coventry poetry exchange project being promoted by Ó Bhéal in Cork and Heaventree Press in Coventry, showcased Irish and British poets at readings in Cork, Waterville, Dublin and Belfast. In my capacity as a mere passenger on this tour, but also as someone who has been an observer of the UK's, and particularly London's, poetry scene in recent years, I would like to take this opportunity to feed-back on this project.
The twinning project – and this tour in particularly – is a striking opportunity for poets (and non-poets!) to hear a range of different poetic voices and share their writing and their opinions from across divergent traditions. Cross-pollination is a necessity to any artist who wants their work to grow, as it is to any city, region or country that wants its artistic and cultural life to grow. It often starts with small connections, but it can grow into so much more. I saw first-hand how this process started for the individual poets on the tour, and look forward to seeing what these connections grow into, for the poets, but also for Cork and for Coventry.
Allihies Sunset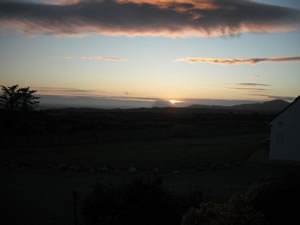 I have said before that I am not a poet, and as such I do not feel equipped to describe the hugely moving experience of the poetry tour itself – that is perhaps best left to the poets themselves! Indeed, it can be read in the poems which are already being written by them as a direct response to the trip, and I have no doubt that there will be more to follow as the experience matures in their memories. For myself, I can say that to be given this unique perspective on the landscape of Ireland – both literal and literary – was an immense privilege. The hospitality and welcome with which we were received everywhere that we went was overwhelming, not least the great care and trouble which Paul Casey took to plan and carry out this well-oiled and truly worthwhile tour. He personally deserves great praise for making what happened happen.
I will leave it at that, except to reiterate my thanks and appreciation to Paul Casey, Ó Bhéal and Heaventree Press, Cork city, and everyone else who offered us hospitality along the way. I hope many more poets can be afforded similar opportunities in the future.
---
Paul Casey
On stage at the Belgrade Theatre, Coventry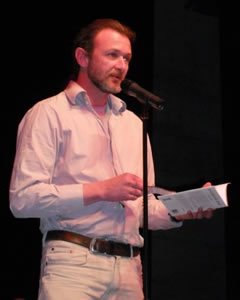 I've been absolutely delighted to take part in such a vibrant and diverse exchange programme with Coventry over the past two years, and now that we're set for the long haul, we'll be inviting new poets each year to represent Cork in Coventry. The friendships made and experiences have been invaluable. A huge, hearty Thank You to everyone involved and I look forward to what 2010 has in store.
At the end of the tour, I found myself with a free afternoon in Belfast, and decided to visit a few nature spots and breathe in some of that Northern ambrosia …

Just Between Rivers by Paul Casey
for the Northern Poets
Some say we're cultures apart
Cork and Belfast
Offer your shadow a glimpse of the sun
Spiral outwards
from the center of Giant's Ring
Meet an oak. Stop to breathe
Lagan valley stillness
A Summer conversation with a capstone
from the wide rim
One brown butterfly
lands, its wings open
a pair of burnt orange eyes
powdering fire onto the earth
Turn under shade
In a slow, corkscrew release
from excess gravity
Head for Holywood
Drive up in County Down
To peel for a red squirrel in the forest park
From high up on a clearing above the lough
Where South Antrim hills tease like an accent
A shrill of grasshopper stops
as warmer thermals
mate with branches
that string bass to birdsong
Float over the warm south summit
and down the cushion pathway where
an ageing, leveled beech pulls
a full mushroom tongue
Welcomes you with mushroom eyes
With raised mushroom eyebrows
Nose squashed to the side
I know where the red squirrels are
Here passes loss
For what was never written
For all the times you swear
You'll remember that line
You won't forget that line
You won't forget that line
Closed eyes sway
to tides of stillness
Breathe deep silent years, dead fears
of sparks, mistaken gestures
Setting the city ablaze
Blistering
That diatonic accent
That brother or sister in song
I've been collecting bunches
of Northern Hellos today
Houuw Arr Yew
they say here
Isn't the Cork accent amazing?
We're just mad about the Cork accent.
Funny you say that. So do we. About yours.
Sure
haven't we been singing the news
since day dot? Lilting up and down
being the bards we've always been
The aul' wink.
The Dubs are onto us sure.
What do you think?
Yooor accent is much nicer than ours,
You say. Tell this to an audience
of ear-prickled holly, eye-level fern, of nosing oaks
Choirs of buttercups, foxgloves, Ulster daisies and
what seems a dying Douglas fir, sides split from laughing
To horse hair shed along the dung-scented slí
Into forest where wings fluster
an undergrowth of tangled solitudes
Even here poisons coalesce
on the tips of tongues
Toxin-dark imaginings lighter in the half-
digestion of messianic antidotes
inside beings that have done this before
and won
Pendulum down to a high stream
Cool water tickles the stones
Polish off the 65p Centra Good to Go
Fill the bottle from this crystal
Lagan stream
And drink
Thoughts collect in rapid blue
The naked majesty of mature elms
A half-lit green petal sky
Useful shapes in deadwood
The reunion invitation
of a natural amphitheater
Oh to be a faerie
among the lazing ferns,
the startled leaves where
nature knows no grudge
Composing on, conducting
the selfless gift of life-force
Death almost invisible
Death barely there
Finish more of the liquid
that has quenched the owners
of great distilleries
with this drunkenness
This free bathuisce
Uisce batha mor
Surely more invigorating
than any golden intoxication
Zen it back to Belfast
Flags flicker in the sun
-bright streets. For a moment lost in Lagan-land
Unfinished skyscrapers spin past the Albert clock
Beneath, Béal Feirste no longer whispers dún do bhéal
Skirt around near Ormeau bridge
Ease over to the Golden mile
to pick some more hellos
some smiles
Giant's Ring, near Belfast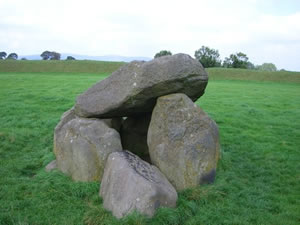 ---