[L-R] Shaunna Lee Lynch, Benjamin Burns, Aysar Ghassan and Raef Boylan

Twin Cities
Poetry Exchange
with photos and reviews from

Cork and Coventry poets
August and November 2019
In August 2019 Ó Bhéal welcomed Coventry poets Aysar Ghassan and Raef Boylan to Cork, then Cork poets Shaunna Lee Lynch and Benjamin Burns were sent (ceremoniously!) to Coventry, for two readings in November. Reviews from each poet follow:
---
---
Benjamin Burns
I had a wonderful time in Coventry, and came away from the trip feeling inspired, re-energised, and with a sense of inner warmth, having felt a genuine connection with the city and the people we met.
Wednesday
I was both enchanted and amused by the Starlings who greeted us on arrival at Birmingham airport. They hopped cheekily about on the tables outside, arguing vociferously with each other over scraps of food, their purple and green coats sparkling in the grey November light. One Starling even landed on a woman's handbag to peek inside. Coventry poets Raef and Aysar met us at the airport and we set out on a driving tour of Coventry and it's surrounds, with Aysar providing a hilarious running commentary in his role as driver and guide. We then lunched at the nearby town of Leamington before whizzing off to Hillz FM for an interview on local radio.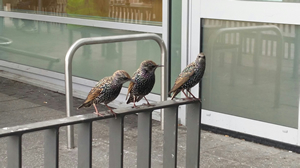 Katie at Hillz FM was such a lovely, warm presence who made us feel comfortable and welcome. She led a short discussion about our relationship with poetry and the nature of the Coventry–Cork poetry exchange, and Shaunna and I both read a couple of poems each. After a short rest in the hotel it was time for our first performance, at The Royal Oak in Earlsdon. It was in a cosy back room, with a nice-sized crowd of people gathered together to read and listen. It was fun to perform a few new pieces, but also to reach back to older poems and weave them into a set together. I was delighted with how well we were received. There were also some excellent performances on the open mic. Matt Black's 'Voting for Godot in a Box', performed from inside a cardboard box, was really outside the box! Raef Boylan's poem with accompanying flashcards, aptly titled 'P o e t r y', also stood out as particularly inventive, marrying performance poetry with a playful visual element. After the poetry event we went across the road to Wetherspoons and spent an enjoyable couple of hours talking and laughing.
Thursday
After a much appreciated avocado on toast breakfast we met Raef and walked into town. Raef was an excellent guide to the city and we had a lovely time in his company. By the graveyard near the Cathedral we saw a man feeding squirrels nuts, and he asked us if we'd like to have some nuts to feed them with. I took him up on the offer excitedly! I was amazed by the feeling of the squirrel's tiny clawed fingers on my hand, and how gentle he/she was taking the nuts into his/her mouth. It was a lovely moment.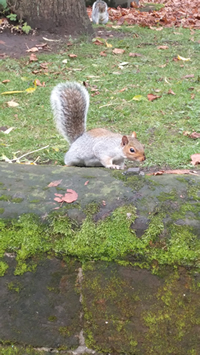 I found the city centre quite charming. It has the feeling of a large University campus, surrounded by giant buildings in the modern glass style, but made interesting by the occasional old fashioned building. Coventry Cathedral is a stunning piece of architecture, but also a sad reminder of the blitz which destroyed much of the city. As we were walking I spotted a stencil of Delia Derbyshire on the wall. Delia Derbyshire is a huge influence on me as a musician, and I hadn't realised she was from Coventry! The profound, playful, and inventive abstract-electronic music she was making in the 60s is still ahead of its time now. Of course I had to have my photo taken with this stencil of my hero!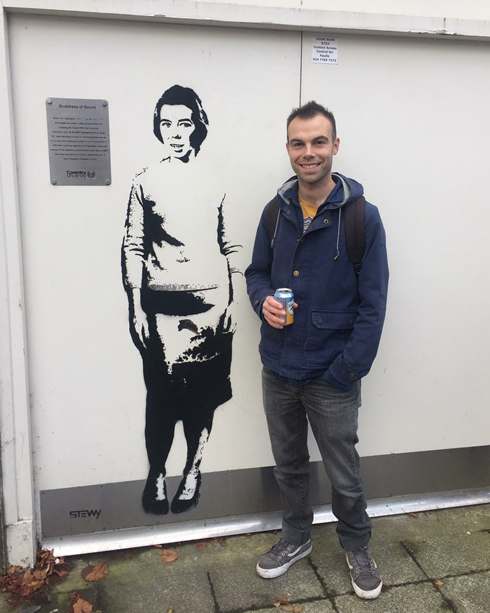 In FarGo Village I headed straight for the record store and asked the man at the counter if he had any Delia Derbyshire. Sure enough he had a whole wall of records, cds and books. I bought a copy of 'The Delian Mode/Blue Veils, Golden Sands', and also a compilation album of sounds from the BBC Radiophonic Workshop. FarGo Village is an artistically repurposed industrial space, with little shops selling books, comics, records, vintage clothes, jewellery, plants, and art. Shaunna and I both loved FarGo Village. It also has a large communal central area, and the whole space has a wonderful homely artsy feeling.
We had a delicious vegan lunch in a little café called The Pod. The Pod is a local authority mental health service, who have an allotment where they grow the food served in the café, and a small exhibition space. Over lunch we talked to Raef about Here Comes Everyone, a magazine of poetry, short fiction and art of which he is the lead editor. It was great to get some insight into the workings of a literary journal, and the way in which it can be run democratically by an impassioned group of people. As we were leaving we bumped into a friend of Raef's who is involved in running a zine library in FarGo. She asked us if we'd like to see it, so we hopped back for a look! There was a wealth of zines faced outwards on the shelves, including Ciarán MacArtain and Stan Notte's chapbook from the 2017 poetry exchange. As the day progressed it was wonderful for us both to get a sense of the interconnectedness of the artistic community in Coventry.
We then left for our appointment to meet the Lord Mayor at the Council House. Arriving slightly ahead of time we had a look in St. Mary's Guildhall, where there was a wonderful little statue of three musicians in the courtyard. A woman came out and told us there was an exhibition on and asked us if we'd like to view it. In a stone-flagged room slightly below ground level were a number of artworks around the theme of 'air and archive'. The exhibition was part of the Coventry Biennial 2019. I was particularly impressed by a sculptural sound-art piece by Tully Arnot entitled Exhalations. A number of glass bottles of different sizes were arranged in a circle, with wires running to a computer fan positioned on the top of each bottle. The fans were sent instructions as to when to blow, creating a beautiful and spooky music as the frequencies wobbled off each other and echoed through the space.
It was wonderful to meet the Lord Mayor of Coventry Linda Bingham and her husband, the Mayor's consort. They were a very friendly couple who were interested in discussing poetry, the role of Lord Mayor, their recent visit to Russia, and Coventry's rich history. After coffee they gave us a tour of the Council House and St. Mary's Guildhall, a beautiful Medieval building which previously served as the Council House. We saw the room where Mary Queen of Scots was imprisoned, and the stage where Shakespeare once stood, with the Coventry Tapestry behind it. We exchanged gifts with the Lord Mayor, leaving a copy of our poetry chapbook, as well as a copy of A Journey Called Home (poems and stories of the new Corkonians).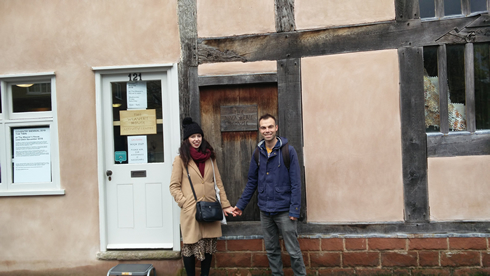 We met up with Raef's friend for dinner before heading back to Fargo for Fire and Dust in the Big Comfy Bookshop. The venue is excellent, and as comfy as it sounds. The room was packed, and it's every poet's dream to perform to a full bookshop! I was a little tired at this performance, but although I wasn't as energised as the night before I still felt it went quite well. Aysar was the emcee for the evening, and after we'd read he held a short interview with both of us. It was nice to feel like a star. I was impressed by the standard and variety of the poetry on the open mic, particularly one person's sad and erotic love poem to an Octopus. We spent the rest of the evening with Aysar, Raef and a few others and had a great time!
Friday
On our last day Shaunna had to fly back early to compete in the All-Ireland Poetry Slam, which she went on to win! I walked with her to the train station to say goodbye, and then went into town for breakfast. I found a place called Playwrights, where I could sit outside and enjoy the crisp morning. I had a number of things I wanted to fit in to my last day. I went to look at the art galleries in The Herbert Museum. I visited the Coventry Music Museum and, (no offence to Two-Tone), skipped past everything else to the Delia Derbyshire section, where they had an assorted collection of her equipment and possessions, including her tape machine, and the beautiful green lamp she used to record Blue Veils and Golden Sands. The weather closed in. I walked out to the Canal Basin, the barges and old boathouses felt quiet, sad and beautiful in the rain. I got lost in a second-hand bookshop, so filled with books it was a squeeze fitting between the aisles. I met Raef at the train station to say our goodbyes, navigated the train station and security, then fell asleep on the aeroplane home.
---
Aysar Ghassan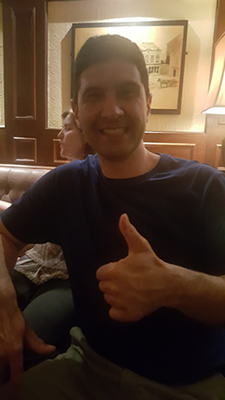 The flight from Birmingham to Cork International airport took no time at all and Raef and I were very excited to be landing and looking forward to the adventure. Stan kindly picked us up from the airport and we chatted about poetry and politics all the way back to Cork. We'd met Stan two years before, when he travelled to Coventry to take part in the exchange so it was wonderful to catch up. Ó Bhéal had organised everything for us, including accommodation, so all we had to do was relax and enjoy ourselves.
Cork is a beautiful city which straddles a wide river, it's quite hilly in parts and Stan told us that the weather is very changeable—you can experience a number of seasons in one day! Our first reading was at Ó Bhéal's regular night in Cork city centre. Stan hosted with his enigmatic style and it was amazing to hear local poets of all ages get up and do their thing with such panache. It was particularly interesting to compare poems written and read by Irish writers to the style of poetry we're more used to back in The Midlands. The poems we got to hear painted extraordinary pictures and I was anxious to find out how our efforts would go down. There was nothing to worry about though as the audience was very generous and supportive. The conversations about poetry and life in general continued into the small hours and the atmosphere was festival-like.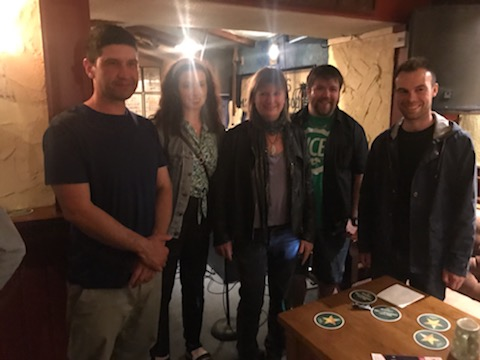 On the second day, we toured around Cork city centre with Stan, Ben and Shaunna. Ben and Shaunna would be representing Cork in the return leg of the exchange in Coventry in November, so it was great to get to know them a little better. We bought lunch in the famous English Market and ate alfresco at Bishop Lucey Park. We were honoured to have a reception at City Hall with Dan Boyle, the Deputy Lord Major of Cork. We'd heard him read poetry the night before and were very impressed!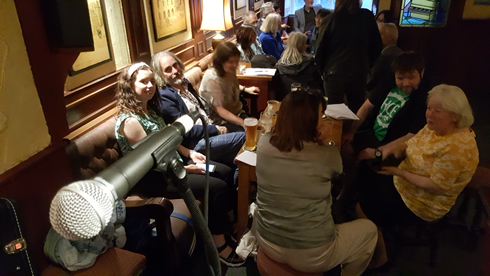 On our last day, Raef and I went to the Crawford Art Gallery in Cork city centre before meeting Stan for the final time in a local bar. It was sad to be saying goodbye, but an honour to have been part of the Cork-Coventry poetry exchange. I hope it endures for many years to come so poets from the two cities can continue to form friendships and wonderful memories linked to this very special art form.
---
Shaunna Lee Lynch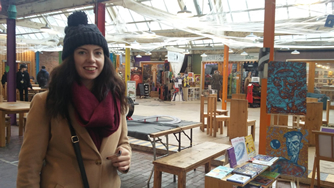 On Wednesday the 6th of November we flew from Dublin to Birmingham where we were greeted in the airport by our hosts Raef Boylan, Aysar Ghassan and an impressive number of starlings that live on the rooftops of the airport waiting to snatch the crumbs from hungry travellers eating at the outside area. Aysar and Raef drove us around Coventry and a nearby village filling us in on Coventry's rich history and the recent developments there such as the influx of students and mass construction of student housing due to the university's popularity.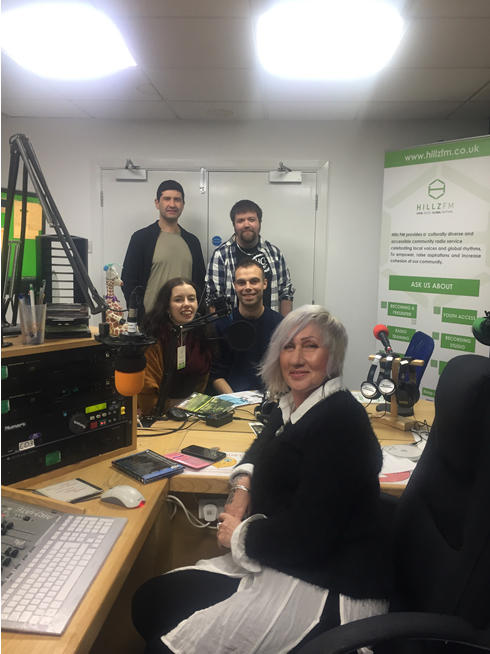 After our tour around we went to visit radio host Kate Hill on Hillz FM. Kate is a wonderfully warm and cheerful woman and it was an absolute pleasure speaking with her on the radio. She has an obvious passion for arts, poetry and a great fondness for the Coventry-Cork exchange. We got to read a couple of our poems on the radio and have a chat about our work.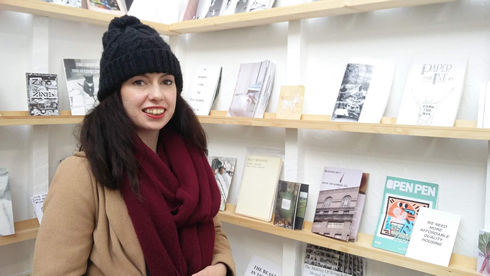 We had just enough time to take our bags back to our accommodation when it was time to set off again to The Royal Oak for our performance. We were warmly greeted by everyone there. I liked the format of their evening as the Open-Mic was on first and then the guest poets. This was a nice shift as most events I've been to in Ireland have the guest poets first then the open mic. It allowed us to hear everyone else's work first and ease into the night. Our readings went very well and the audience were very receptive and complimentary afterwards. We got to chat with everyone and were warmly welcomed into their poetry community.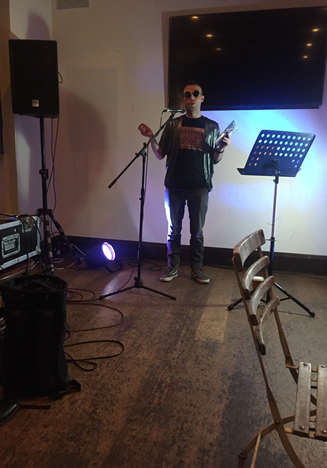 The next morning Raef came to meet us and we did a walking tour around the city. We walked along the 14th century shops in the medieval corner and were astounded at the architecture. We then moved on to an area where there is an old graveyard attached to a church. There were squirrels scurrying around the headstones and trees gleefully. A man was feeding them nuts and offered us some to feed them. I was too scared so acted as the excited camera person as the squirrel came and nibbled the nuts from Ben's hand.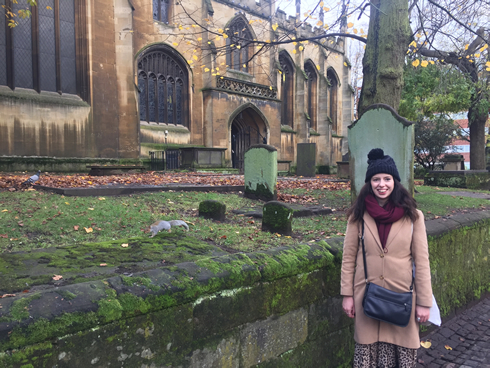 Following that we went to the ruins of the old cathedral. The graveyard and cathedral were beautifully gothic and looked very cinematic. Raef was a great tour guide and gave us the full history throughout the town. One of my favourite places we went to was FarGo village, an artistically re-purposed industrial space that houses an eclectic mix of bookshops, collector's shops, artisan foods and different eccentric businesses. It also houses The Big Comfy Bookshop, a wonderful second hand bookshop where we would perform later that night. I really liked FarGo village as it had beautiful street art murals on the outside, the space just beamed with creativity and seemed like a great place for people to come together. They also had a zine library which a very nice lady named Michelle showed us around. We got to have a look at lots of zines and we even came across the books of some previous Cork-Coventry exchangers so we donated ours as well.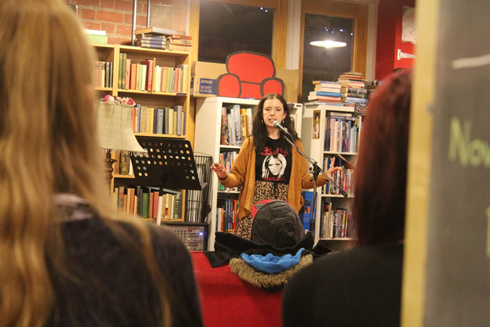 We then went to a really nice vegan café not too far from there for hearty and delicious food before setting off to meet the Lord Mayor. It was a pleasure getting to meet the Lord Mayor of Coventry, Linda Bigham and her consort Kerry. They were so kind, friendly and great conversationists. They showed us all around the Council House (equivalent to our City Hall), showing us the chambers and art work and then to St. Mary's Guildhall. There was an event on in the actual hall but we got to look down from the balcony to see the famous 15th century tapestry. What was most exciting for me was, as the Lord Mayor explained, a lot of scholars have evidence to believe Shakespeare would have once performed on that stage. I got goosebumps!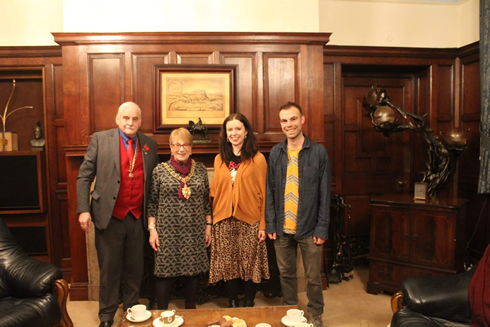 Then they took us into a small room off of the room that previously was suspected to be where Mary Queen of Scots was detained during the six week period that she was held captive in Coventry in the winter of 1569-70. It was like a dungeon or something from a movie. There was something haunting and magical about being in these rooms that housed so much history. We then gave the Lord Mayor and her consort copies of A Journey Called Home, Ó Bhéal's Five Words anthology and my and Ben's chapbook spoken worlds: paper incantations. They were so nice to show us around and tell us about everything in so much detail, they were also genuinely very interested in my and Ben's writing and work. It was a very memorable experience.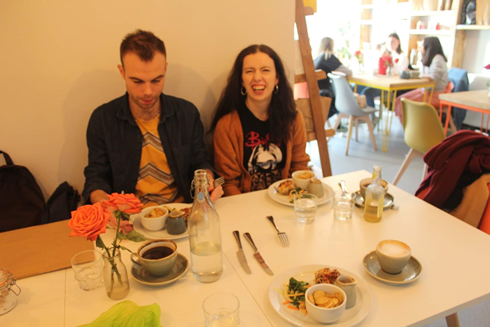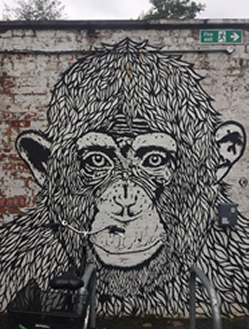 After our tour of the city hall, we went to the Big Comfy Bookshop for the Fire & Dust event. It's a great event they have there in such a wonderful space. It's a dream of mine to have a second hand bookshop/arts space and it was inspiring getting to spend time there. We did our readings and then there was an open mic. We got to see some familiar faces from the night before and meet some new people, some had travelled from quite far away to come and read their work. There was a great energy and concentration in the space, it's obviously a much-loved event in Coventry. I had a great time on our trip and found it very educational. Raef and Aysar and everyone we met there went above and beyond to make us feel welcome and I'd definitely like to return to Coventry again. I'm really honoured to have been given the opportunity to travel to Coventry and perform as well as to have some of my work published as part of the spoken worlds series. It's a great opportunity for Cork poets to integrate with the poetry community in our twin city and get our work out there in Cork too, via the chapbook.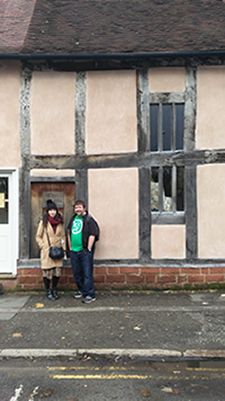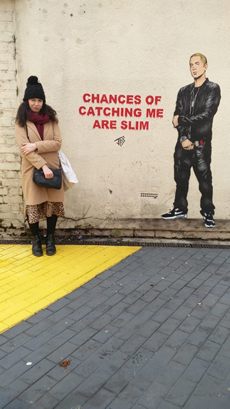 ---
Raef Boylan
Statio Bene Fide Carinis: A Safe Harbour for Ships (and Poets!)
This trip to Cork was not only my first time being invited abroad to share poetry, it was the first time I'd been abroad in seventeen years. Having never flown as an adult, I spent weeks fretting about airport security and my carry-on luggage being half an inch too tall – but thanks to patient guidance from friends/family/fellow poet Aysar, made it onto the plane with no major mishaps. As we drifted over the coastline and towards Cork, I stared with greedy appreciation out of the plane windows at the patchwork of lush greenery below. Shamefully, despite one side of my family being Dubliners (Blackpitts and Goatstown), this would be my first time setting foot on Irish soil.
Stan Notte kindly met us outside Cork airport. It was nice to see a familiar face straight away; we'd met Stan when he and Ciarán MacArtain came over to Coventry for the 2017 exchange. He immediately tried to get us arrested in a coffee place, by two solid-looking Garda officers drinking at the counter (just kidding; we were introduced as visiting poets, and they good-humouredly posed for a photo).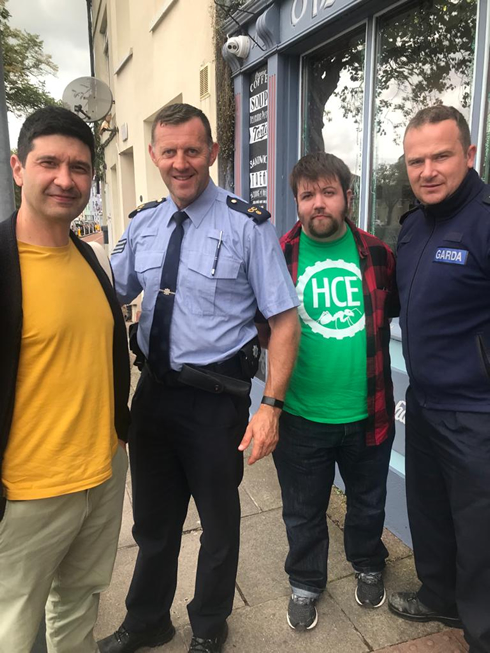 On the way to Handlebars B&B, our home base for the three days, Stan gave us a brief tour of his city, filling us in with some history and pointing out interesting landmarks. I was surprised by how strongly central Cork put me in mind of continental Europe (how I picture it, at least); the numerous coffee bars with outdoor seating, the lovely River Lee running through the middle, and how the main drag branches off into bustling side-streets. It was also warm and sunny, although threatening rain – which would remain the erratic pattern for our whole stay. We got really lucky with the weather.
That first night we were due to headline at the legendary Ó Bhéal weekly poetry event in The Long Valley pub. Before we headed out, I did a final run-through in my room. For a few years I'd helped out on the Coventry side of the twin city exchange, and to now be one of the poets participating was an honour that churned up excitement and nerves. In light of this opportunity, everything in my massive folder of poetry had suddenly seemed badly in need of rewrites. Back in Coventry, I'd roped in some friends to mentor me and be a kick up the arse for tackling the editing process. My aim was a solid 20-minute set for Cork: poems that I was confident performing, and as thematically representative of my work as possible.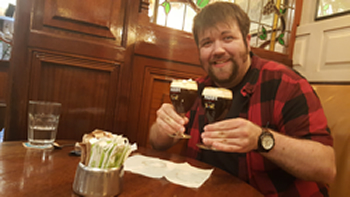 Between my crappy map-reading skills and Aysar's phone GPS telling us fibs, we "explored the city centre" on our way to the venue, ending up slightly off track. One of the best things about Cork was how many friendly people we encountered. We risked asking some nearby drinkers for directions, and it was cool to witness their reactions: they weren't going to the event themselves, but everyone seemed to know about, and be proud of, Ó Bhéal!
We made it in time for me to try my first pint of Beamish while drinking in poetry films projected on the big screen – a brilliant variety of visual styles, poetic styles and nationalities. Like any poetry event out there, Ó Bhéal has its own vibe and traditions, managing to pack in a commendable range of activities: poetry videos, word challenges, headliners and a busy open mic. Stan was compering in Paul Casey's absence, and did a grand job of steering everyone through. It was impressive what people managed to come up with in only five minutes' thinking time, and that almost the whole room took turns to read for the Five Words Challenge. The Deputy Lord Mayor of Cork, Dan Boyle, was in attendance for the twin city celebration – and he, too, wrote and recited something. This shows the level of respect given to poetry as an art form in Cork: even politicians are keen to get involved. By this point, I was looking forward to the open mic and hearing more poetry from this clearly talented group.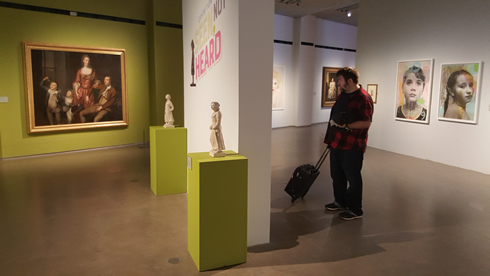 The crowd were great listeners, and gave supportive and encouraging responses to both myself and Aysar. I was proud to be representing Coventry alongside Aysar, having been a fan of his writing and performances since the first time I heard him at a gig. Other poets in the room then wowed us again, with a diverse round of open mic poetry.
I admire how the Ó Bhéal gig happens weekly and attendees treat it as a social thing; their proper night out. After The Long Valley closed at midnight, I didn't expect we'd get a chance to hang out with the open mic poets. I figured everyone would disperse home, since it was Monday night, and the end of a bank holiday weekend. But we moved onto Mayne's, a 120-year-old apothecary turned into a pharmacy-themed bar. Nothing beats having a drink in good company…beneath an interesting wall display of old cameras and pill bottles. We talked with some of the Ó Bhéal regulars – writing, music and the impact of Brexit were three of the biggest topics – for several hours. A few shared with me their links to Coventry – such as Cliff, who gave us copies of a poem he'd written about a Coventry relative who fought in WWII; Margaret, who wanted to recommend Cov's Fire & Dust nights to her niece, who has recently moved to the city; and Rab Urquhart, who went over as part of the twin cities exchange a few years prior. It was nice to connect with poets on these personal levels. Mayne's was also a good opportunity to get to know Ben Burns and Shaunna Lee Lynch a little better, before they come to the UK. They both read at Ó Bhéal, and I'm looking forward to hearing more of their work in November. These conversations definitely felt like a cultural exchange: an opportunity to share interesting facts about each other's cities, and reflect on our similarities and differences.
On Tuesday 6th, the main To-Do events were visiting Cork's City Hall (along with Stan and Shaunna) to meet with the Deputy Lord Mayor, and a second poetry gig in Clonakilty. At City Hall, Dan Boyle gave us a tour of the chambers and then we sat with him for coffee and a chat. Kind of surreal, in such a ceremonial setting. We hit on some political topics of talk, exposing my ignorance about basic facts (at one point I took a guess and wildly underestimated my city's population at 60,000!), and also covered poetry and music, and Coventry's 2-Tone music museum.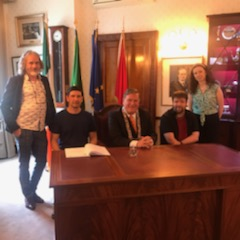 After we left City Hall, Stan and Shaunna took us to Cork's famous English Market for lunch (for me: a Cork Boi from O'Flynn's Gourmet Sausage stall). Everyone back in Coventry had told me the market was a must-see tourist attraction, and it was great to wander around such a lively area – and stand at the fishmongers stall where Conor's mum in The Offenders works. Afterwards, we checked out the cinema and gallery inside Triskel Arts Centre, a refurbished church. I love it when communities reclaim space like this, but was surprised it had been allowed (I've since learnt that churches can be deconsecrated, so that all makes sense now!).
Gig #2 was Psoken Wrod and, unusually, the venue was not DeBarra's Folk Club. Instead, we'd be performing in Shanley's pub. Clonakilty is a pretty town; its high street is all independent shops, interspersed with hanging flower baskets. We sat in the peaceful smoking garden at Shanley's, waiting for the gig to start. I've done one-off gigs in pubs before, and was a bit apprehensive about regulars turning up for a drink, not expecting or wanting to find a bunch of poets hogging the stage at their local. But in the end, it was a solid turnout, and some people even dragged bar stools to the other side of the room where they could see the stage! A few familiar faces from the Ó Bhéal gig were there, which was reassuring – if they were happy to hear us twice, I figured we were doing an okay job.
One special feature of Psoken Wrod is host Moze's live on-stage interview with the guest poets. I'd been dreading this bit – every Irish poet we'd met was an entertaining talker, something I am sadly not – but it turned out fine: Moze kept it short and informal. Then, just like at Ó Bhéal, the quality of the open mic performances was really high. As well as readings and spoken word, the gig featured story-tellers and collaborations between musicians and poets. A really fun and memorable night.
That third and final day came around too soon. Wednesday 7th was more chilled out, as our flight was in the evening, which meant time to grab a few souvenirs and explore the city without worrying about getting lost (as long as we didn't get TOO lost). It was weirdly emotional seeing the name 'Boylan' on key-rings and fridge magnets – this never happens in the UK! We ended up at Crawford Art Gallery. This is coming from someone who doesn't easily 'get' visual art and normally finds galleries a bit awkward: I'm glad we went there, the exhibitions were staggeringly good. And then we nipped into Le Chateau Bar, lured in by a sign outside saying it was home of the "Best Irish Coffee". (I accidentally ordered two, and recommend this 'error' to all customers.) Stan met us there and then kindly drove us to the airport.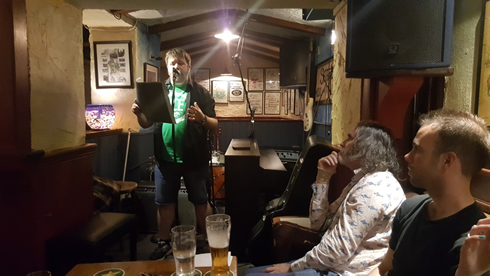 Big thanks to Adam Steiner and Paul Casey for the time and effort to keep this exchange going (and the Councils for their support), to Stan for looking after us so well – and also all the brilliant, friendly people we met and spent time with. We were made to feel really welcome by everyone in Cork and Clonakilty. I had a great time at both gigs, and could see they brought together lovely people who might not otherwise have met. Likewise, Coventry is home to a wide range of talented writers, so let's hope we can achieve a poetry scene just as impressive and sustainable over the coming years. This trip was an amazing experience, and I'm chuffed to have been part of it.
Raef Boylan
CORK CITY
Imagine a soundtrack
of poetry; helpful
(chirrup) crossing-lights (chirrup)
to pedestrians, traffic, each other
through the (chirrup) night;
warm introductions, the craic
as Tullamore Dew meets ice,
meets coffee, meets lips; poetry,
the feet that beat the street
a little faster, livelier, powered by
buskers – multicultural music gigs
on the corner of every walkway;
poetry, the most talented of talkers –
a people unafraid of passion, politics;
laughter, poetry; riverflow conducting
rhythmic swigs of the Beamish, the Murphy's;
silent break; tacet ghosts of boats
passing down residential streets,
poetry; affront as Englishman orders
a Guinness, comedic quips, clink
of glasses, poetry; a city humming
with potential, with poetry; poetry.
Poetry.
Did I mention the poetry?
It bridges the Irish Sea;
voices of two cities intertwined
in a chorus, forever
turning up
and tuning up
the words.
---