[L-R] Tom Wyre, Sarah James, Martin Brown, Julie Field and Rab Urquhart

Twin Cities
Poetry Exchange
with photos and reviews from

Cork and Coventry poets
July and November 2013
[L-R] Martin Brown, Sarah James and Tom Wyre at the Norman Keep near Cobh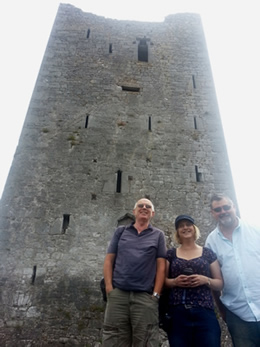 Thanks to the City Councils of Cork and Coventry, the 2013 Cork-Coventry Poetry Twinning exchange saw five poets travel from their respective twin cities to share their work. Representing Coventry were Tom Wyre, Sarah James and Martin Brown, and for Cork, Julie Field and Rab Urquhart. The Coventry poets visited for three days in July and gave readings at Ó Bhéal and at the Whitehouse in Limerick. They visited Lord Mayor Cllr. Catherine Clancy at City Hall and made daily excursions to Spike Island, the Old Head of Kinsale, Blarney Castle, Lough Gur and Cobh, while during a reciprocal three-day visit the Cork contingency gave readings at Playwrights Café in Coventry, the King's Head in Litchfield and at the Old Crown in Birmingham, visited Lord Mayor Cllr. Gary Crookes and were interviewed live on Hillz FM Radio. Reflections from each of the poets follow:
---
---
Tom Wyre
Tom and Sarah brave a shower on Spike Island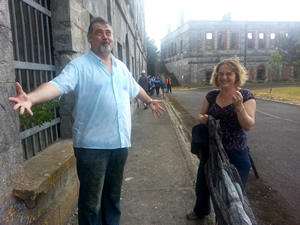 Ireland has many names. A breath-taking land steeped in mystery along with misty mountains, trees that sway and dance in roaming winds to whisper the enchanting words Poblacht na hÉireann, Éire, Erin, Banba, Fodla and Hibernia. To me, a humble poet it is known affectionately as "The Emerald Isle". It is not only the magic of the landscape that canvasses its majesty, but maybe more importantly it was and still is the warmth of the people's welcome to myself and my fellow Coventry-Cork exchange poets, Sarah James and Martin Brown, as we landed one near-foggy morning at Cork airport back in July of 2013. It now seems a life time ago with a life time of memories and friends made in the blink of an eye.
[L-R] Martin, Tom, Lord Mayor Cllr. Catherine Clancy, Sarah and Paul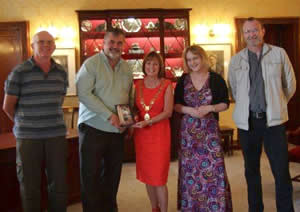 We were greeted by our superb and amiable host, friend and poet Paul Casey for the start of our three day adventure. To recant all of the wonderful tales and experiences packed and squeezed within 72 hours would take words way beyond this review, but needless to say a great time was had by all.
The first night at Ó Bhéal performing in The Long Valley was a nervous but heart-warming joy, as I performed a powerful set in front of much of the cream of local poets and literary aficionados, journalists from the Cork Echo and honoured guest Cllr. Catherine Clancy the Lord Mayor of Cork. It was a fantastic experience to meet and greet so many brilliant poets and members of an appreciative audience who have since become friends. Listening to those voices contribute to the "open mic" added poignancy to the experience and added to my feeling of privilege to be a guest poet.
Blarney Castle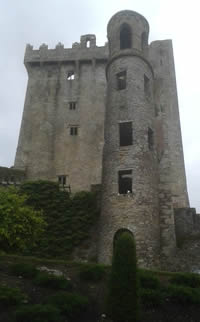 The following days which now almost seem like a dream included tours with wonderful highlights to Cobh and its magnificent cathedral, Spike Ireland and its prison fort, wondrous Kinsale, an official meeting with the Lord Mayor of Cork, Blarney Castle, Lough Gur and spiritual Grange stone circle that culminated in a rapturous finale and further poetry guest performance at The White House, Limerick.
The touchstone experience of visiting Ireland has enhanced me with a rich and vital awareness of myself and others as a writer. It has and will continue to inspire me to craft and weave my words and I'm sure will lead me back to the emerald haven one day soon. The visit to Cork was icing on an amazing 2013 cake that I feel has now become a talisman for me, as I start a fresh adventure in my new role as Poet Laureate for Staffordshire.
Grange Stone Circle, Lough Gur

---
Sarah James
Lord Mayor Cllr. Catherine Clancy and Sarah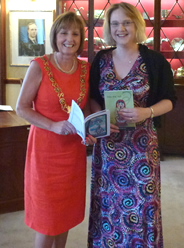 Dear Cork,
And so, let's start at the beginning of this Coventry-Cork Ó Bhéal twin city poets exchange. That is, on the plane at Birmingham Airport with one of life's synchronicities, which on this occasion takes the form of an elderly Irishman from Coventry who had emigrated to England as a young man. He was now travelling back to Cork with his daughter and grown-up grandchildren to revisit their origins.(Here the inkling of inspiration for a first poem, entitled Last Call, Gate 40 for now.)
Our first day: settling in at Parkview B&B and exploring Cork. I still find it impossible to pin down all my first impressions of Ireland's island, this city of water, historic buildings, shops, statues and viewpoints. Amazing!
Sarah's Five Word Challenge poem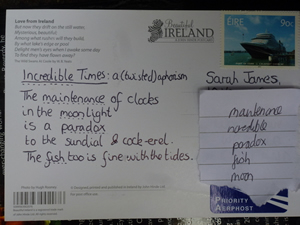 Then the first night's guest reading at the fantastic Ó Bhéal . Against a strange background excitement about the Duchess's baby, yawn, the delights of poetry, Bulmers and chat. Not forgetting the impromptu five-word, five-minute poetry challenge, which I was too chicken to read aloud but, instead, posted to myself as a spontaneous, cheap, souvenir.
Sarah and Tom explore an old house on the Old Head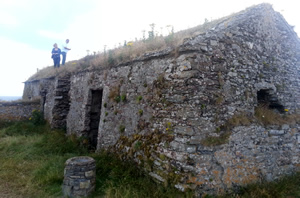 Tuesday's sightseeing started with a trip to Cobh (originally Cove in Irish, then Queenstown to commemorate Queen Victoria's visit then again Cobh as a Gaelicisation of the English word cove, even though this word is unusual in its having no semantic meaning in Irish), the cathedral, then a ferry trip across to Spike Island. Highlight of Tuesday though, was visiting Kinsale and the Old Head of Kinsale. Not only did the beautiful coastal scenery and relative peace and tranquility of these tick all my usual like boxes, but the moody skies and stone ruins reminded me atmospherically, albeit at great real geographical distance, of Ted Hughes and Fay Godwin's wonderful Remains of Elmet. This specific trip was, for me, the pinnacle of a visit richly seeped in history as well as poetry.
Lord Mayor Cllr. Catherine Clancy with Sarah signing the visitor's book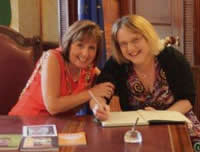 So, on to Wednesday: our official visit to Cork City's Lord Mayor, Catherine Clancy. That afternoon saw me kissing the Blarney Stone (can you tell from the length of this piece?!), The Grange Stone Circles, grass and thistles fluttering with dragonflies, before heading onto Limerick for our reading at The White House. This was not only another wonderful venue but memorable too for the great character of our host there, Barney Sheehan. By this stage, another two draft poems in my notebook.
A damselfly at Lough Gur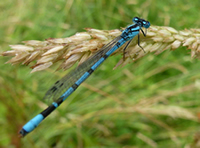 Then, sadly, the final morning of our trip and the chance for a last-minute exploration of another side of the city. This included the Firkin Crane, where I was delighted to find three amazing films by dancer in residence Laura Murphy, including the particularly beautiful and mesmerising 'Assembling Moments'. (For me, dancing can be a kind of poetry of body and movement, the grace of it beautifully captured by this film in particular.)
A glimpse back towards the mainland from the Old Head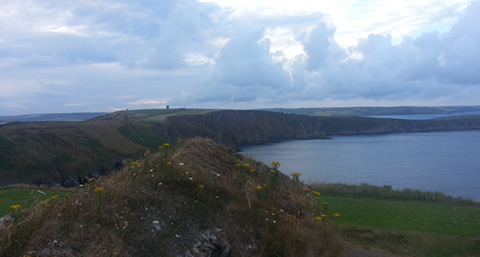 Then, a quick climb of the Shannon Bell Tower for its stunning views of the city and a chance to both play and touch the actual bells. All these memorable moments edged also by delightful late nights of Bulmer, poetry chat and inspiration, even on the flight home, where my fifth and final proto-poem started to flex its shape.
With warmest memories,
Sarah
You can see Sarah's complete review on her blog here.
---
Martin Brown
Tom, Sarah and Martin at the Old Head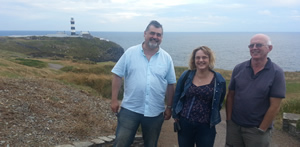 Coventry to Cork
and back again
in 57 lines of Doggerel
We fled English heat, escaped by plane,
Landed in Cork and were welcomed by rain,
And Paul, of course, our guide and much more;
That first afternoon we were free to explore
Round a lively city, and give a wide berth
To blather (even here!) about the royal sodding birth.
Then at night, to the Hayloft, to do our first spot
The welcome was warm and the poetry was hot!
We had until midnight to listen and spout,
'til the gaffer abruptly chucked us all out,
So we ambled nearby, imbibing the crack,
Until the wee hours, and then wandered back
To our fine B&B, in the friendly dark,
The splendid Park View (but where was the park?)
A Spike Island Tour Guide pays tribute to Cork's defences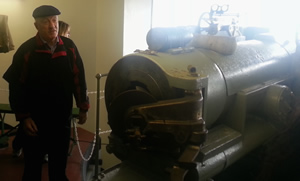 Next day, with Paul, to merrily rove
(Which luckily happens to rhyme with Cobh)
And on to Spike Island, for many a tale
Then off to the countryside round Kinsale.
And to the Old Head, with its gated defences,
– we sneaked inside, with cunning pretences,
To find stunning views on green ancient land,
Wild beauty and history, hand-in-hand.
Now all sadly sealed from public view,
A playground for golfers, the rich pampered few.
While Wednesday's weather struggled to stay fair
We sat for a chat with the new Lady Mayor.
Then off, via Blarney, a tourist trap castle,
Where Americans patiently put up with the hassle
To pay for the honour of kissing a stone,
(That chunk of bunk I left well alone-
A joke is a joke, but to pay just to touch
A stone with your lips is, I think, a bit much).
The wedge tomb at Lough Gur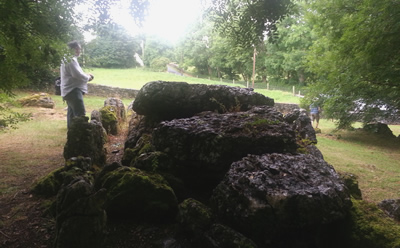 Then off to Lough Gur, the real McCoy,
Some unfathomable stones to ponder with joy,
After a guide had stopped to explain
The background and all, in the pouring rain.
And on to The White House for another great time,
As it's in Limerick, I'll alter the rhyme:
There's many a young bud come to leaf,
And an ego or two come to grief
At the open mike
You can do what you like,
But you'd better be good, or be brief!
500 sessions there, (more than that now)
Barney and Tom, each take a bow!
Motif of the ancient Lighthouse at the Old Head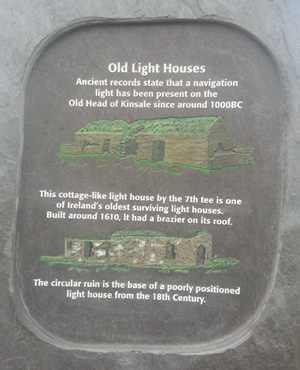 Back again late, but that was just fine,
Up the next morning, and still finding time
For another big breakfast and a last chance to roam
Before the prop plane to carry us home.
I've covered most things, are there things that I missed?
Maybe one or two people got slightly pissed.
Imagine the scandal! How folk would talk!
"Poet admitted being drunk in Cork!"
I hope that you gather from the gist of this rhyme,
We had, non-stop, a fabulous time.
Great people, great places, great poetry and all,
And a great big thanks to our Corkian guide Paul!
– Martin Brown, July 2013
The Lighthouse at the Old Head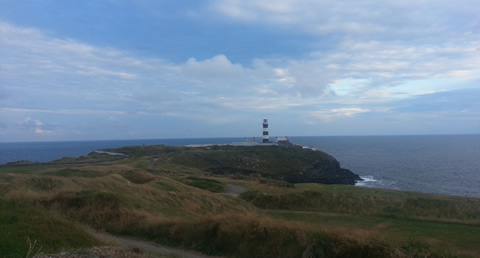 ---
Julie Field (aka. Julie Goo)
Julie and Rab at Playwrights Café, Coventry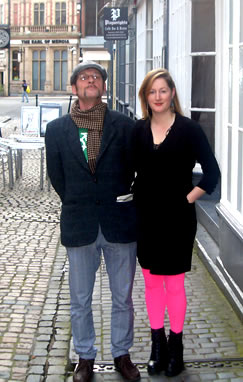 Myself and Rab Urquhart spent just three nights in Coventry, yet we did so much it seems like we spent much longer there. It was my first time visiting Coventry, and I was very impressed by the venue and eclectic mix of people who greeted us at our reading at Playwrights Café Bar and Bistro. (Check us out in the photo looking all sophisticated). It was a wonderful surprise to see so many familiar faces, as many of the Coventry poets who I had met in Cork over the years were present. It was a real treat to hear them and many others perform. The literary links between Cork and Coventry were evident and inspiring. Mal Dewhirst spoke of Cobh and The English Market in his poems.
The following morning, as myself and Rab presented ourselves at the Lord Mayors' office for a meeting in his private chambers, I felt both proud and unsure. Proud of the fact that my poetic rants had led me there, and a bit uneasy as I felt like someone walking into a garda station about to confess to a crime. The Lord Mayor did make us feel welcome however, and I was grateful for the fun sized British history lesson he gave me, which was badly needed.
The Old and New Cathedrals of Coventry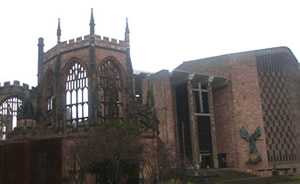 The readings at Lichfield and Birmingham were very enjoyable. I was touched by the warmth of the Lichfield poets, and their efforts to welcome and entertain us. The Guinness there was pretty fantastic too I must say. I was blown away by the spoken word talent which met us in Birmingham, and I do hope to see these poets in Cork some time.
Which one's Julie?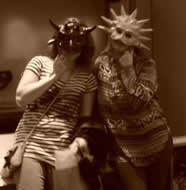 There are many people to thank. I am grateful to Ó Bhéal, Paul Casey and those who funded the trip as well as to those who came and listened to our words. Tony, Gary and Kris really went out of their way to make us feel welcome. Thanks to all of the Cork / Coventry poets who came to the readings, especially to Tom Wyre who made it to all three! The twinning is an enriching and worthwhile cultural link, and I hope to see it develop and strengthen over the coming years.


---
Rab Urquhart
Rab at the Old Cathedral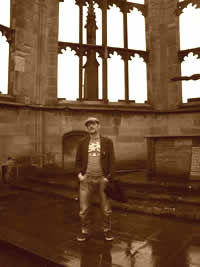 Cork / Coventry cultural exchange
an appreciation
I haven't visited England in over 15 years but initial impressions proved positive, apart from a preponderance of uniforms in Birmingham airport and station, occasioned, I later discovered, by preparations for Remembrance Day. I was particularly taken with the cable car connecting these hubs, an elegant transport solution. Arriving into a dark, wet, Coventry evening, we opted for a cab and were whisked to our city-centre high-rise hotel. After finding our feet we found some food and showered, chic, and replete, off with us to our first reading.
Night Blue Fruit, held in Playwrights café and compèred by Tony Owen was as warm and welcoming a forum as we could have hoped for. With the Lord and Lady Mayor and a representative of the Irish in Coventry present, a busy and varied poetry event ensued. Comparisons may be odious but in searching for a comparison to my experience of this event I leant towards the White House in Limerick, i.e. slightly chaotic in a sure-footed sort of way.
Next morning, 9.50 am, waiting in the queue at Starbucks in Lady Godiva square. I get my coffee and head for an outside table to twin caffeine with nicotine. "What are you doing?" asks Julie, "we've the Mayor to meet at ten." "Grand" says I, "I'll bring my coffee."
Julie and Rab at the Old Cathedral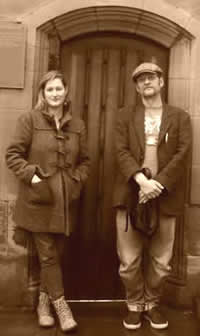 We present ourselves to the reception desk in city chambers; "we're here to see the Mayor." "The Mayor? Do you have an appointment?" We assure the receptionist that we do indeed have an appointment and that we are poets from Cork. "Poets from Cork," she smiles and reaches for a phone. Moments later we are joined by a fit looking 60ish gent of military cut who leads us up stairs and through corridors to the Mayor's office where we are welcomed by the man himself. He makes us comfortable, inquires as to whether we'd like tea or coffee and, spotting my Starbucks cup, informs me that I didn't have to bring my own; cuts to local government may be severe but Coventry city council can still afford a cup of coffee for it's guests. The Mayor may be a Tory but he seems, to me, a decent skin.
We do the Cathedral and the Museum in the afternoon and begin preparations for our impending evening adventure in Litchfield. Entrain, extrain, entrain, extrain, and it's Litchfield at 8 o'clock on a wet Wednesday evening, we're supposed to be at the gig at 7.30 but…. Hopping a cab we're at the Kings Head in 5, slightly breathless we introduce ourselves "yes, hi, sorry we're late……".
The midlands, middle England, we're here and the people are middle class and middle aged and white and friendly. They've written a group poem telling the history of Litchfield which they perform for us and I'm particularly pleased by an image of the shade of Samuel Johnston having a conversation with a statue of the captain of the Titanic; said statue having ended up in Litchfield after banishment from Belfast.
A Norton Racer in the Coventry Motor Museum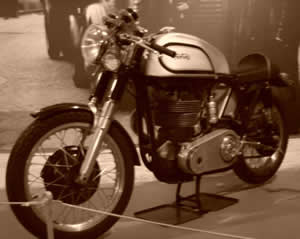 After the reading Tony spins us back to Cov and we do a drive-by to see Kenilworth castle floodlit. No joy, the lights are out but thanks for the thought and for looking after us Tony. It's Thursday so it must be Birmingham but I'm still in Coventry checking out the motor museum. There are some seriously daycent motors in here but I'm more at home with motorcycles and there's one gorgeous Norton café racer that I'd love to have a go offa but, even after I explain that I'm a cultural ambassador from Cork, the museum staff won't let me. I take this on the chin and go outside to sit in some rare Autumnal sunshine. 'Coventry city centre is a bit of a misnomer because Coventry doesn't have a centre and the ring road seems to fence the city out.' Done meditating and we're off to Brum early, we eat, meet Gary Longden, and are guided to the Old Crown pub, the centre of the Irish community in Birmingham, the ones that drink anyway. It's probably the oldest pub in the universe, with bits of it dating from the 10th century, the beer tastes fresh enough tho' and we have a lively night. I fall in with a Glaswegian who's lived in Brom for 35 years; I remark that she hasn't lost her accent and she replies that you only lose your accent if you want to.
The Poetry venue at Lichfield

Friday. What? Already? Today we are being interviewed on Hillz FM, Coventry local radio. So we go and we are and they are nice to us and it's a really pleasant experience all round, with cups of tea and everything. I'd go on Hillz FM again, definitely.
Special thanks are due to Tony Owen for spinning us all around the gaf, to Kris Connolly for the authentic Coventry Asian caff experience: lamb curry, rice, nan, and mango lassi for less than a fiver! To Tom Wyre for being the poetry stalwart that he is, and to all round nice fellah Gary Longden. I also enjoyed meeting Mal Dewhurst and appreciated his ear. I do think the cultural exchange programme is a good idea, I met lots of interesting, intelligent, and attractive people and I hope they did to.
---
Julie and Rab's Chapbook, printed for the occasion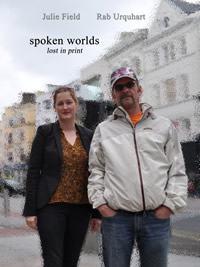 ---