The spirit of Raftery alive and well in Kiltimagh
31 May to 3 June 2007
The 'In Sight of Raftery' festival in Kiltimagh this weekend drew poets from all around the country, and further afield. Local poet Terry Mcdonagh presented the intimate event, now in its third year, with a fine array of readings and performances throughout three venues, Lil Fordes, Kitty McGreals and The Electric Mouse. Being there for only two nights of the five days, I managed to catch the main events and thoroughly enjoyed listening to the poetry of Louis de Paor, Collette nic Aodha, Ger Reidy, Rab Wilson and of course Terry himself, to mention but a few. The Kiltimagh crowd made everyone feel more than at home, and even treated poets to complimentary accommodation when no space was left available in the hotels or B&Bs. I'd recommend next year's event to anyone who has a weekend free to visit Mayo in early June.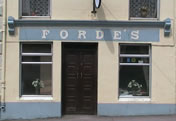 The highlight of the event was the late Saturday night slam at the Electric Mouse which drew 14 performers from every corner of the island. The five who made it through to the final round were Chelley McLear (Belfast) and Gordon Hewitt (Derry) who shared first prize, Rab Wilson (Scotland) who came third, as well as Denise Heneghan and Mags Traenor (both from Galway) who were joint fourth.
A big thanks to Terry for a really entertaining weekend and to the Kiltimagh natives for their cosy welcome. With more plans for expansion, the 'In Sight of Raftery' festival promises to grow into an even more popular poetry event and I've made plans to be back next year.
Video clips of performances
Round 1
Chelley McLear – Friends Reunited

Colette Nic Aodha – People who Matter & Ode to Noel

Denise Heneghan – Tarantula & Dear Sir

Miceal Kearney – Knock Knock & Ctrl Alt Del

Mike Igoe – Paragon of Animals & Death upon a Stage

Paul Hannan – Generation Fagan & He Whom We Deem Scape

Rab Wilson – The Pied Piper of Auchinleck

Round 2
Chelley McLear – Silence is Deadly

Rab Wilson – Unacceptable Language & Blues for Harold

Denise Heneghan – A Medley

Final Round
Chelley McLear – Ringing the Changes

Rab Wilson – Big Willie's Wham Bammer