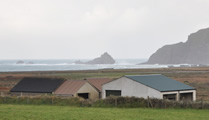 Féile Bheag Filíochta
6-8 November 2009
It marked another magical excursion into the north Kerry gaeltacht as ten poets from Ó Bhéal and as many from Limerick and Tralee descended on Ballyferriter's little poetry festival. Due to rapid expansion and popularity since it began a few years ago, the festival committee are now calling for a new name for this annual event.
This year featured workshops and a reading by Waterville-based Paddy Bushe as well as a lecture on local history by Dr. Deirdre Nic Mhathúna. After settling into the local cuisine on Saturday evening, we were welcomed by Máirín Feirtéar (the last living descendant of Piaras Feirtéar) and Domhnall MacSithigh, in the theatre at Tigh ui Chatháin. After a short reading by Paddy Bushe, Máirín and Domhnall then chaired the yearly open-mic, which is for me the festival highlight, giving stage to a variety of quality poets, chiefly from across Munster.
As per last year, the next morning we found ourselves once again comfortably gathered in Dingle, packed into Diseart chapel and bathing under the magnificent stained-glass windows of Harry Clarke. Firstly we were treated to an excerpt and dramatisation from Noel Ó Briain's translation of Cúirt an Méan-Oíche (The Midnight Court), played out by Noel and Áine Moynihan. This was followed by readings from all the poets present from Limerick's Whitehouse, Cork's Ó Bhéal, Tralee's Doghouse and local poets, chaired by Bríd Ní Mhórain, Billy Ramsell and Bertha McCullagh.
The festival closed over a well-deserved breakfast at the Garden Café where much talk was given to next year's return to Ballyferriter. A big thanks is due to the Féile Bheag Filíochta committee for organising this event, which holds a uniquely special place on Munster's annual poetry landscape. Make it next year if you can!
---
Here are the videos from the Sunday Morning
---
Cúirt an Meán-Oíche / The Midnight Court – Introduction

---
Cúirt an Meán-Oíche / The Midnight Court – Extract of dramatisation

---
Pádraig Ó Fiannachta

---
Pádraig Ó Fiannachta

---
Teri Murray

---
Teri Murray

---
Marian O'Rourke

---
Sheila Fitzpatrick O'Donnell

---
Domhnall MacSíthigh

---
Donal O'Flynn

---
Daw Harding

---
Áine Moynihan

---
Colm Scully

---
Louis Mulcahy

---
Noel King

---
Ceaití Ní Bheidiúin

---
Paddy Doyle

---
Simon Ó Faoláin

---
Sue Cosgrave

---
Paddy Bushe

---
Simon Ó Faoláin

---
Noel Ó Briain

---
Billy Ramsell

---
Bríd Ní Mhóráin

---
An Féile Bheag Filíochta
Paul Casey
Ó Bhéal
The Long Valley Bar
Winthrop Street
Cork.
2 12 09
Dear Paul,
At a recent meeting of the Committee of an Fhéile Bheag Filíochta gratitude was expressed for your part in making such a success of this year's Festival by publicising the event so well at the Ó Bhéal meetings.
The presence and contributions by you and Rosie and all the Cork contingent were central to the achievement of the Festival aims.
We hope to have you all back again next year.
Again many, many thanks for your support
Best regards,
Louis Mulcahy
Ar son Coiste Fhéile Bheag Filíochta:
Máirín Feirtéar; Bríd Ní Mhóráin; Ceatí Ní Bheildiúin; Domhnall MacSithigh; Louis Mulcahy.