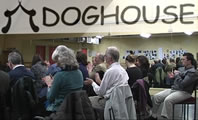 DOGHOUSE books
presents
Joseph Horgan, Áine Moynihan,
Gréagóir O Dúill and Eileen Sheehan
7 November 2008
On Friday evening at Siamsa Tíre in Tralee, poetry enthusiasts gathered to enjoy four poets who have each had collections published by Noel King and DOGHOUSE books in 2008. Since its inception in 2003 this successful Kerry house has established a number of highly regarded poets and has since become Munster's primary publishing vessel for individual collections.
For more on DOGHOUSE visit their website at www.doghousebooks.ie.
"But a full set of DOGHOUSE books, in time they will be
collectors' items" – Gabriel Fitzmaurice
---
Videos of the Evening
---
Joseph Horgan
from Slipping Letters Beneath the Sea

Like Skin

The Act

Coat

Imperial Road

Muntz Street

All the Young Love Affairs

Swift

When the Irish Went to England to Have Children

The Hunter

After Reading Michael Hartnett

Asbestos Dreams
---
Áine Moynihan
from Canals of Memory

Out of Reach

Mother Goddess

Veil

Shark

Cúramaí Caillí / Witch-Work

Uisce faoi Thalamh

After the Fall
---
Gréagóir O Dúill
from New Room Windows

New Room Windows

Shangri La

The Language Shift

Providence, R.I.

Glider

Herds and Fences

Rollercoaster
---
Eileen Sheehan
from Down the Sunlit Hall

Living in the Surreal with Alois

Spéirbhean

Lady in White

his former occupation

Reidy's Bog

In This New Town From Song of the Midnight Fox

Brassicas
---