Ó Bhéal's 10th International Poetry-Film Competition


Sunday 27th November 2022

11.30am and 1.00pm

*** FREE & ONLINE ***
All shortlisted films will be screened at the
10th
Winter Warmer festival
, Nano Nagle Place, Cork while being streamed live via our website festival stage, Vimeo, Facebook and YouTube channels.
30
films were chosen from 173
submissions
received from 100 filmmakers in 33 countries. The 2022 shortlist represents
17
countries:
Australia, Belgium, Canada, England, Germany, Ireland, Isle of Man, Northern Ireland, Philippines, Portugal, South Africa, The Netherlands, Ukraine, UK, USA, Wales
and
Zimbabwe
.
This year's judges Colm Scully and Paul Casey, selected one winner to receive the Ó Bhéal award for best poetry-film, designed by glass artist Michael Ray. The winner was announced directly after the shortlist screenings at Ó Bhéal's 2022 Winter Warmer festival.
Our warm congratulations to Jelle Meys from Belgium, for his winning entry:

La luna asoma (The moon appears).
---
---
---
Competition Shortlist – Screening A (1.00:10)

Sunday 27th November @ 11.30pm
---
---
---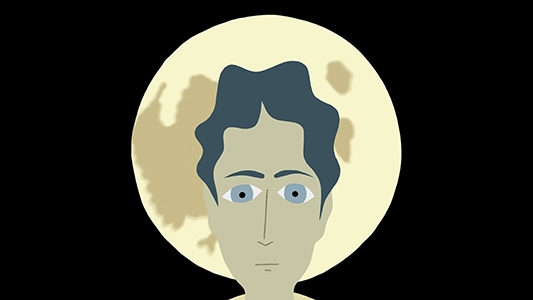 La luna asoma (The moon appears) (3:37)
Poem: La luna asoma (The moon appears)
by Federico García Lorca
Synopsis – An animated interpretation of the mysterious poem 'La luna asoma' by the Spanish poet Federico García Lorca.
Director: Jelle Meys (Belgium)
Jelle Meys (°1986) is a freelance illustrator and graphic designer, as well as a visual arts teacher, working and living in Sint-Niklaas, Belgium. He got his degree of 'Master in visual arts: graphic design and illustration' in 2009 at School of arts Ghent, in 2010 he also got his teacher's degree there. In 2017 he started taking the film and animation course at the art academy in his home town Sint-Niklaas. Since finishing his work on 'La luna asoma', he started working on a new ambitious animation project under the work title of 'Sally', a comical story about a man and his unique relationship with a cactus.

---
---
3:45 a.m. (5:37)
Poem: 3:45 a.m.
by Ok Melnikova
Synopsis – 3:45 a.m. – this is the time when our heroes – Alisa and Bohdan dream of building a strong family and a common future. They promise each other that when they wake up in the morning, everything will be different. But the warm problems they got into make them repeat the same mistakes of sick relationships that lead to exhaustion. But having lived through another difficult emotional day, they have hope for revival, all that remains is to take the right steps.
Directors: Anastasia Korniienko and Anna Kaliakina (Ukraine)
Anastasia Korniienko and Anna Kaliakina studied together at the Kharkiv State Academy of Culture (2018-2022), Nastya studyied to be a director and Anna was studyied to be a cameraman. There they met and became friends and started shooting work together. Since their graduation, they still continue to make films together and promote Ukrainian cinema to a new level.

---
---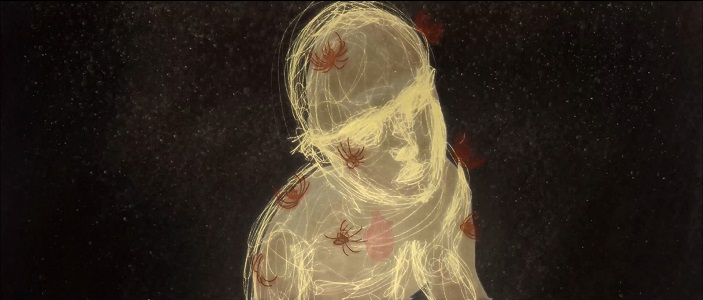 Gravura / Essence (1:59)
Poem: Os Mortos / The Dead
by Sophia de Mello Breyner
Synopsis – This adaptation follows the perpetual cycle of the immaterial abyss, the faceless human remains walking hungrily for our bodies, wanting to taste once more the true essence of life.
Directors: Marta Ribeiro, Tiago Pimenta and Alice do Carmo (Portugal)
Marta França Ribeiro was born in Porto, Portugal. She finished high school at Escola Artística de Soares dos Reis, specializing in Multimedia, where she made her first short film "Hotaru", winner of the STUFFit Student Film Festival in the Senior Animation Category, and more recently, Cinedita, Shorts Festival of Arganil. She has recently graduated from the Moving Image (Animation) course at the University of Algarve.
Tiago Pimenta recently graduated from the Moving Image (Animation) course at the University of Algarve in Portugal. With a particular interest in special effects and in the field of 3D.
Alice do Carmo recently graduated the Moving Image (Animation) course at the University of Algarve in Portugal. She has experience in the field of video clips and is interested in several areas of animation, particularly Stop-Motion.


---
---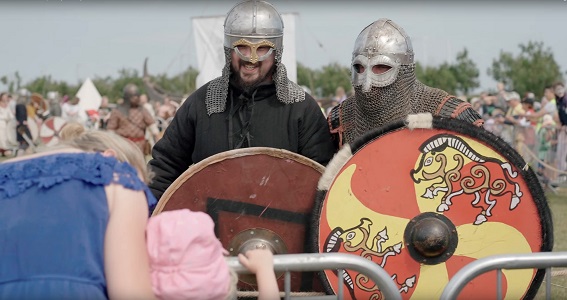 Out of the Blue (5:48)
Poem: Out of the Blue
by Pat Boran
Synopsis – Out of the Blue is a poem about unexpected arrivals and their often enduring influence.
Director: Pat Boran (Ireland)
Pat Boran is a poet, broadcaster and editor who has published a dozen books of poetry and prose, and whose poetry films have been shown at festivals in more than 20 countries.


---
---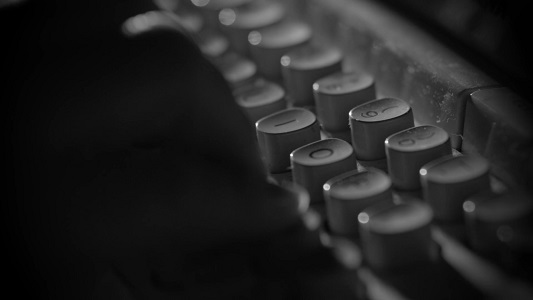 One Art (5:21)
Poem: One Art
by Elizabeth Bishop
Synopsis – An extract adapted from the feature film Elizabeth Bishop and the Art of Losing, 2022 directed by John D. Scott.
Director: John D. Scott (USA / Canada)
John D. Scott is a filmmaker and Associate Professor and the program director for the Documentary Studies and Production degree at Ithaca College. Elizabeth Bishop and the Art of Losing is his second feature-length project. Scott's ten-year journey making Elizabeth Bishop and the Art of Losing started with his fascination with Bishop's multi-continent search for home after leaving Nova Scotia, and her ultimately victorious struggle to be open and vulnerable in her work. Scott's films have won multiple awards and glowing reviews in national press including the New York Times and The Globe and Mail. He has directed many short films that have played internationally in over twenty countries and one critically acclaimed feature-length documentary Scouts Are Cancelled purchased by The Documentary Channel (2008-11). He is originally from Nova Scotia and considers himself a Maritimer.

---
---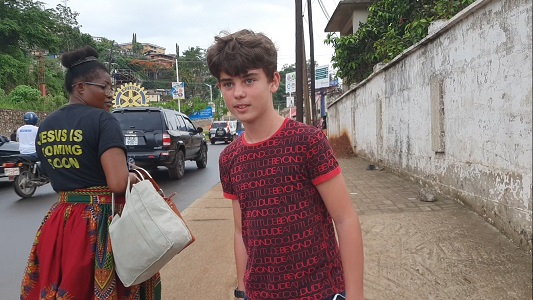 Thru Hell (2:17)
Poem: Thru Hell
by S'phongo
Synopsis – Thru Hell explores how all human interaction has the potential of being hell when it is not nurtured from a place of love. It is a reminder that we are all similar, and that hurtful intentions, no matter what their source is, can hurt the same. Most importantly, they can be survived.
Director: S'phongo (Zimbabwe)
A village boy with a dream, S'phongo is a published author and spoken word artist from south-east Zimbabwe. With two slam champion titles three years into his career as an artist, S'phongo has appeared on stages in Zambia, Sierra Leone, Italy, Ivory Coast and Zimbabwe. One of his poems has been published on poetrypotion.com (South Africa). He currently works as the Operations Director for VAfrica, a youth media organisation in Sierra Leone and as the senior Technical Officer at LitFest Harare.



---
---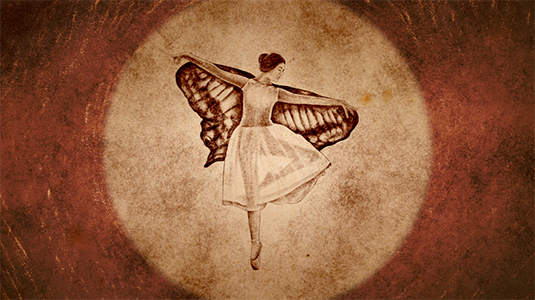 Miramis (2:26)
Poem: Miramis
by Angie Siveria
Synopsis – Many people have had a cookie iron jar in their childhood that contained the most secret treasures: old family photos, figurines, stickers, video tapes and secret memories. How many boxes does it take to keep all your memorabilia? Is it possible to save a loved one from the war in such box and take them to a safe place? Angie Siveria's poem is a reflection on the ongoing war in Ukraine, her childhood in Donetsk, which is now temporarily occupied. This poetry film is about how people want to save their childhood and everything/everyone connected with it, to take it with them to a safe place. The animated video was created as the official music video for Oskar Schuster's piece "Miramis".
Directors: Angie Siveria & Oskar Schuster (Germany)
Angie Siveria is an illustrator, designer, filmmaker and essayist. She was born in Donetsk, grew up in Mykolaiv, lived in Kyiv and currently lives in Berlin. Angie has participated and won prizes at the following international film and video festivals: CYCLOP (2012-2015), ZEBRA Poetry Film Festival (Berlin, Germany, 2013, 2016), MOLODIST (Kyiv, Ukraine, 2015), the 4th Ó Bhéal Poetry-Film Competition (Cork, Ireland, 2015), International poetry festival «Liberated Words» (Bath Spa University, Bath, United Kingdom, 2015), X International festival of amateur, student and non-professional film "KINOKIMMERIYA 2015" (1st and 3rd place, Kherson, Ukraine, 2015), Rabbit Heart Poetry Film Festival (New England, USA, 2016), Roma Poetry Film Festival "DoctorClip" (Roma, Italy, 2015), book trailer competition "Book fashion" (Kyiv, Ukraine, 2018), Kamianets-Podilsky International Film Festival "BRUKIVKA" (Kamianets-Podilsky, Ukraine, 2022) etc.
Oskar Schuster is a German composer and artist, living in Berlin. His songs without words evoke a fairytale-world, strange and surreal. A world full of blurry images of the past; of childhood memories and characters from children's books; of clicking and ticking clocks and ever-looping music boxes, of far-away-lands, far-away-seas, far-away-skies, far-away-everythings. At times reminiscent of Yann Tiersen's Amélie, his music is still very distinct, arising from a mixture of various influences including experimental electronic music (Aphex Twin, Pogo), the minimalist folk-pop of Beirut, the ethereal and mystical sounds of Sigur Rós as well as classical piano music by Robert Schumann and Frédéric Chopin.


---
---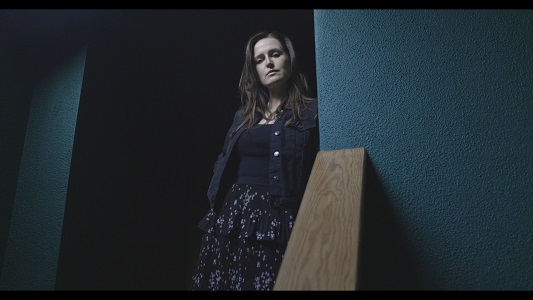 This is not a confessional poem (5:17)
Poem: This is not a confessional poem
by Paula Meehan
Synopsis – Irish actress Clare Dunne performs Paula Meehan's poem. This film is the final installment in the 2021 Coole Park Poetry Series, a set of 10 films of celebrated Irish poems performed by 11 acclaimed actors, curated by Colm Tóibín and produced with Galway's Druid theatre company.
Director: Matthew Thompson (Ireland / USA)
Matthew Thompson is an Irish photographer and filmmaker. His films have been exhibited in Dublin and Galway, Ireland, and New York City and Los Angeles, USA. His portrait of Andrew Hozier-Byrne was shortlisted for the Zurich Portrait Award 2020. In 2015, his film collaboration with Broadstone Films, "New Horizons," represented Ireland in the Architectural Biennale, Shenzhen, China. His personal work primarily concentrates on how conditioning influences perception and has been exhibited in New York, Paris, London, Shenzhen, Helsinki, Belfast, and Dublin. Matthew holds a Masters of Fine Art Photography from the University of Ulster, Belfast, and a Bachelor of Design degree from The National College of Art & Design, Dublin.


---
---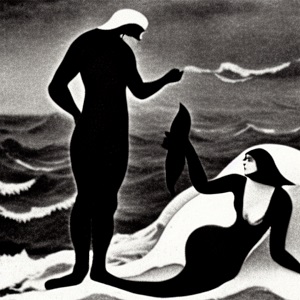 Selkie (4:34)
Poem: Selkie
by Ian Duhig & Jackie Morris
Synopsis – The folkloric figure of the selkie is an ancient one in these islands and of a mythic family that goes back to Ovid's Metamorphoses and beyond – tales of creatures that slip in and out of human form, asking questions about the animal within us, that we partially left behind and, sometimes, may return to completely.

Director: Marry Waterson (England)
Marry Waterson is an English film-maker, singer-songwriter & member of the celebrated Waterson Family musical dynasty. Waterson works with a diverse array of media within word, poetry, song and live audio visual disciplines in collaboration with charities and award-winning artists including Marc Almond and Karine Polwart. Her organic approach layers textures from a palette of both analog and digital, hand painted 16mm cine film, found footage, scanner art, digital images and stop motion.


---
---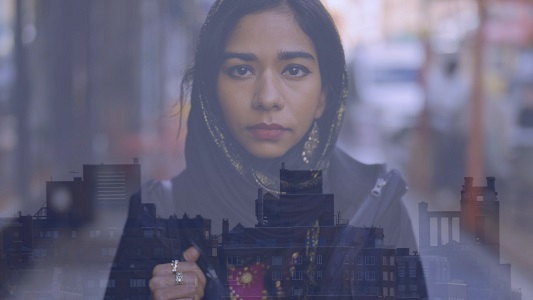 Ghazal for the Diaspora (2:40)
Poem: Ghazal for the Diaspora
by Faisal Mohyuddin
Synopsis – Poet Adeeba Shahid Talukder performs Faisal Mohyuddin's poem "Ghazal for the Diaspora." Produced with 92nd Street Y.
Director: Eric Felipe-Barkin (USA)
Eric Felipe-Barkin is a Cuban-American filmmaker, writer, and artist from South Florida. His work has been published by The New York Times, NowThis, the Ford Foundation, and Duke University Press. He is the founder of the production company Filmerico and created the Lincoln Project's flagship show The Breakdown in the run-up to the 2020 U.S. election. He holds a BFA with honors in Art Semiotics from Brown University and an MFA in fiction writing from Columbia University. He is currently at work on a very secretive podcast that he would be all too happy to tell you about if really pressed.

---
---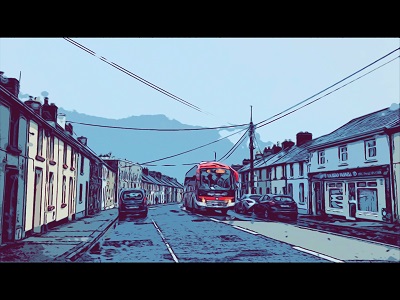 For the Rockin' Bus Driver (2:43)
Poem: For the Rockin' Bus Driver
by Cormac Culkeen
Synopsis – A prose poem about riding on the Dunmore to Galway City bus route in the early 2000's and the interesting bus driver that drove the nightly routes.
Directors: Mary Tighe and Cormac Culkeen (Ireland)
Mary Tighe began creating poetry films as a lockdown project in 2020 using Cormac Culkeen's poems releasing on the YouTube Channel 'Lab for Words'.
Cormac Culkeen is a writer of poetry, fiction and short stories who lives in Galway, Ireland. He returned to university full time as a mature student in 2018, completing a BA Connect in Creative Writing in NUI Galway and starting an MA in Writing in September 2022. His written work has been published in The Burning Bush, Skylight 47, The Wild Word, Sonder Magazine, Causeway Magazine, Bindweed Magazine and the Galway Advertiser's Vox Galvia New Writing page. Cormac's first collection of poetry, The Boy with the Radio, was published in May 2022 by Beir Bua Press.

---
---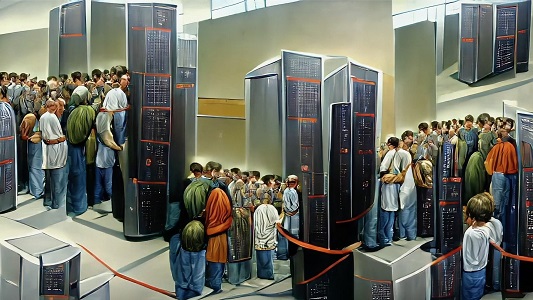 Queueing for the Supercomputer (2:35)
Poem: Queueing for the Supercomputer
by Eoghan Totten
Synopsis – A nonsense poem addressed to a supercomputer. The speaker meditates on the implicit power of having remote access to such a machine at the touch of a button. Unable to come to terms with the relentless tracts of data produced by the machine, as well as the massive amount of electricity used to power it, the poem takes a sinister turn into an apocalyptic world, where data warehouses drink entire rivers 'to their lees' and fibre optic cables morph into tentacles, and sink the world 'like jellyfish deep into the sea'.
Director: Glenn Marshall (Northern Ireland)
Glenn Marshall's professional career in computer animation spans over 20 years, seeing him utilize experimental CGI, generative and AI technologies to pursue a philosophical vision of tomorrow's digital art. He is a recipient of the Major Individual Award from the Arts Council of Northern Ireland, their highest recognition given to leading artists in the country, and also a two-time Prix Ars Electronica winner, a Lumen Prize finalist, and has collaborated with Peter Gabriel and Tangerine Dream on music videos and concert visuals.

---
---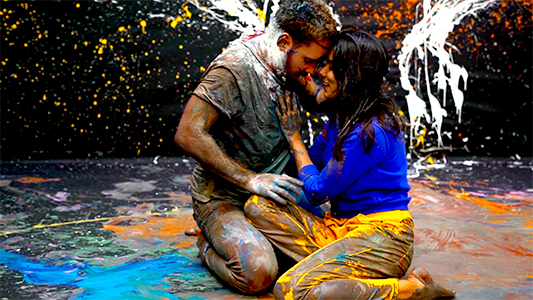 Borne (9:00)
Poem: Borne
by James E. Kenward
Synopsis – A failing dancer's unchecked ego brings him nothing but pain until he falls for a powerful woman who turns his hands into brushes, his blood into paint, and he dances a magic carpet that can fly them wherever they wish.

Director: James E. Kenward (Germany)
James E. Kenward wrote and played several characters for the BBC's Sony Academy Award nominated show A Series of Psychotic Episodes and he wrote and played the lead role of poetic narrator Skinner for Streets, A New Kind of Musical, which toured the London stages. James worked as an MC in night clubs internationally, before moving into poetry with his solo show Big Truths in Little Things. James' first poetry collection Talking to Tomatoes will be published in 2023 and features the poem Borne on which the film is based. Borne is James' directorial debut.

---
---
There's a certain Slant of light (5:00)
Poem: There's a certain Slant of light
by Emily Dickinson
Synopsis – Leaves, shadows, and landscape reveal the words of Emily Dickinson's poem, accompanied by the notes of Schoenberg and sounds of a winter garden.
Director: Susan McCann (USA)
Susan McCann is a visual artist currently living in New Orleans. Her recent work takes inspiration from poetry and our connections to the landscape; expressed through mediums ranging from drawing and printmaking to video and animation.

---
---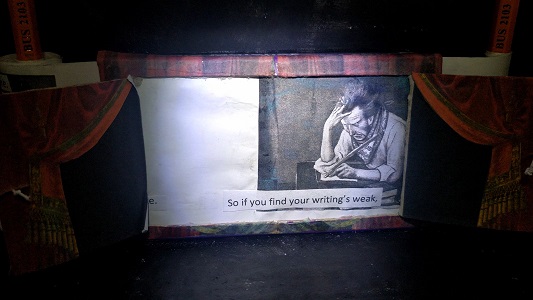 Writing Advice (1:16)
Poem: Writing Advice
by Brian Mackenwells
Synopsis – A pencil-powered matchbox theatre outlines the risk of using sub-par pencils
Director: Brian Mackenwells (Ireland)
Brian Mackenwells is an Irish writer living in Oxford. Despite being quite tired, he has written for the BBC about pencils, told stories on stage about not getting sick in zero gravity, performed standup about strange superheroes, and co-wrote an audio drama every month for five years. His poems have been published in The Dirigible Balloon and the Caterpillar, and his Irish-language film-poem 'Cur Síos' was chosen for the 'Irish Selection' category at the 2021 Ó Bhéal Irish poetry festival.


---
---
---
Competition Shortlist – Screening B (1:00:14)

Sunday 27th November @ 1.00pm
---
---
---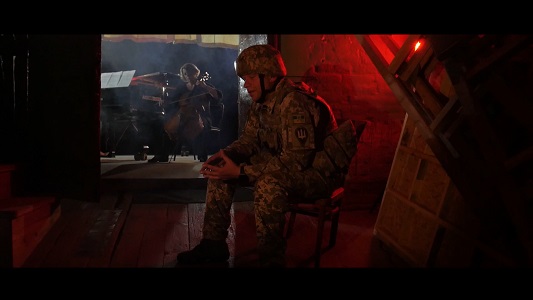 Confession of an unknown soldier (2:24)
Poem: Mom, I was killed in Irpen
by Golovetsky Vasyl
Synopsis – The hero of the film is an unknown soldier who has died in the war. He fantasizes about what his life and his mother's life would have been like had he survived. In his confession to his mother, he wants to meet her, but since this is impossible, he asks her to come to his grave.

Director: Avramenko Petro (Ukraine)
Honored Artist of Ukraine Petro Mykhailovych Avramenko is a director, actor of theater and cinema. He graduated from Kyiv National University of Theater, Film and Television. Karpenko-Kary, majoring in theater theater, and from the Kyiv National Academy of Management of Culture and Arts with a degree in "theater director". He directed and was host of a satirical and entertaining program on Radio Liberty, directed and acted in the children's SD radio book "Radio Nanny". He won the Ivan Franko Prize in the field of information activities and has a distinction of merits in the III degree from the city of Kiev.

---
---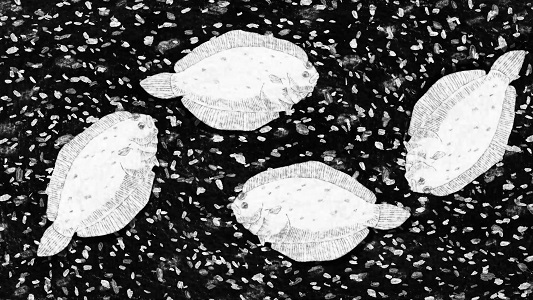 Transparant van die Tongvis – Transparency of the Sole (3:50)
Poem: Transparant van die Tongvis
by Antjie Krog
Synopsis – A poetry-film about adaptation for the sake of survival. The poet uses the Sole (flatfish) as a metaphor: The fish transforms into a grotesque distortion of fish to survive in the ever-hostile environment on the food-chain. Likewise, her children must transform to survive in a complicated social environment.
Director: Diek Grobler (South Africa / The Netherlands)
Diek Grobler lives and works in Pretoria, South Africa. He trained as a visual artist and has been working with animation for 20 years. His films for children have won awards at KROK, Hiroshima, Tindirindis and Teheran. Since 2009 he has focuses in his personal work on animated poetry-film. His poetry-films have been shortlisted for Ó Bhéal's Poetry Film Competition, the Weimar Poetry-Film award and the Poetry Film Live award.

---
---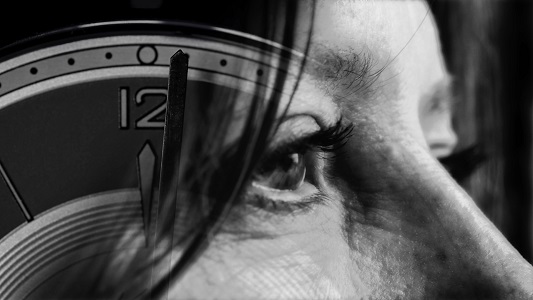 Iktsuarpok (3:12)
Poem: Iktsuarpok
by Nora Nadjarian
Synopsis – Iktsuarpok is an Inuit word, meaning the impatient excitement for a visit that makes you look out the window countless times in the hope of seeing your guest arrive.
Director: Marius Grose (UK)
Marius Grose began his career in television post-production in 1983. He worked as a tape operator and assistant editor in Bristol and London for the BBC and ITV networks. Marius has cut programmes for all the major broadcasters in the UK as well USA companies such as National Geographic and Discovery. He has worked on programmes that range from wildlife documentaries, factual entertainment shows, current affairs such as Channel 4's Dispatches, and feature films. In 2002 Marius was nominated for the Royal Television Society's feature picture editor of the year award in recognition of his creative storytelling.


---
---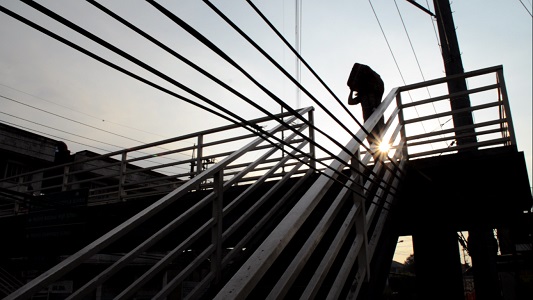 But More Often (3:10)
Poem: Kung Hindi Man (But More Often)
by Richard Soriano Legaspi
Synopsis – A poetic film about living and believing, a performance art documented as a form of conceptual presentation that aims to motivate a better understanding about the self in relation with society's issues, diverse concept of migration, and the philosophical reflections about time and space through the concept of Michel Foucault.
Director: Richard Soriano Legaspi (Philippines)
Legaspi is an inter-discplinary artist and was a filmmaking fellow at the prestigious Asian Film Academy in Busan, South Korea. In 2013, he received the UNESCO Laureate scholarship and eventually became a resident artist of the Università delle Idee – Italy. He was part Plague 2020: Covid Anthology poetry book in 2020. He was one of the competitive grant winners of the NCCA Values Short Film Festival and one of the international fellows of Tech Tales: Films about digital rights in the Asia-Pacific. In Australia he was a Student Auditor at the 14th NAFF (Network of Asian Fantastic Films). He is a Master Session and FDCP CreatePH Script writing development grantee in cooperation with Tatino Films and worked in France for a full-length narrative 'The Legend of the Wild Rose Mallow". His mini-docu "Small Steps" recently won a Special Mention Award in Kota Kinabalu International Film Festival.
---
---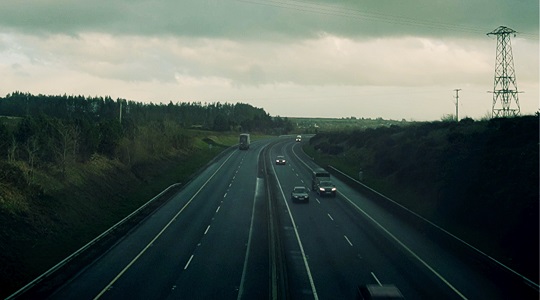 The Dunkettle Roundabout (3:28)
Poem: The Dunkettle Roundabout
by Phil Spillane
Synopsis – The Dunkettle Roundabout is the interchange road between Cork City and Dublin. This poem responds to the dominance of motorways, how it disrupts nature and culture.
Director: Philip Spillane (Ireland)
Phil Spillane is a poet, musician and writer from Ireland. He has performed his works in Cork, Dublin and Lisbon. Throughout 2021 he curated an online event, The LockedOut Collection: a video of poetry-film and music from various artists worldwide hosted on YouTube. He just finished a Masters in Creative Writing at University Limerick and was recently published in the Ogham Stone 2022. Today he's working on an arts show with musician Lucas Pérez titled Trippin'Magic.


---
---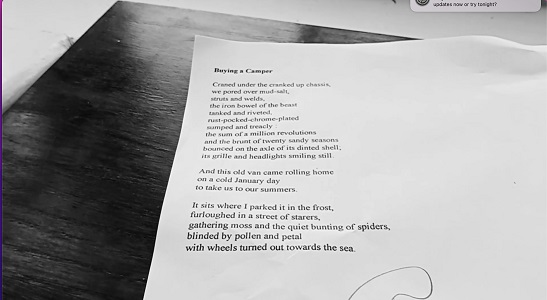 Buying a Camper (1:25)
Poem: Buying a Camper
by Nicholas McGaughey
Synopsis – Having bought a camper and studied its undercarriage in great detail, the purchaser is aware of all the great times and summers that this van has been part of. But because of the pandemic it has been left in a nervous street….although its wheels face out towards the sea….

Director: Nicholas McGaughey (Wales)
Nicholas McGaughey is a Welsh television actor and voice actor, also a published writer of poetry and short fiction. He is a Literature Wales mentee and his work appears in Poetry Wales, The Ogham Stone, Ink Sweat and Tears, Prole and The Poetry Archive, among others. 'Buying A Camper' was first published in the Beyond The Storm anthology (Write Out Loud, 2020). He lives in Wales and is a grandfather.


---
---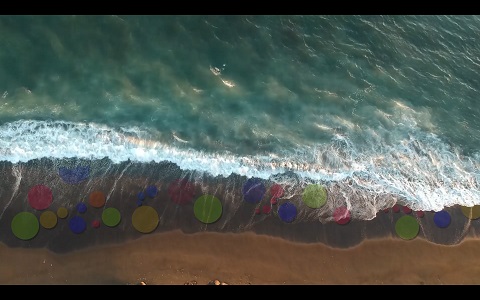 Strata (3:35)
Poem: Strata
by Jack Cooper
Synopsis – "Strata" was inspired by deep time: the sharp perspective it gives to human suffering and joy, comforting in its reminder that all things are temporary.
The film is heavily influenced by the art of Thomas Downing (1928-1985) and the 'spot paintings' of Damien Hirst (1965-). The polka dot style made famous in their works is replicated in our film: the childlike geometric simplicity is a reflection of the fundamental primitivity of life, of "feeding and breeding". Consistent with these themes of simplicity and crudeness, the film does not use music, choosing instead to rely on the natural sounds of the world around us: waves crashing on a sandy shore, and the whistling wind. The use of multiple readers is a deliberate reference to the poem's themes of reproduction and replication.

Director: Alexander Jones (UK)
Alexander Jones is a civil servant, based in London, United Kingdom. An untrained amateur artist, Strata is his first film, produced in conjunction with friend and long-time collaborator, Jack Cooper.

---
---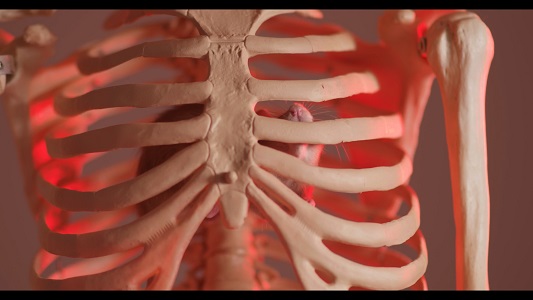 Rodent (2:20)
Poem: Rodent
by Luke Morgan
Synopsis – From the collection Beast (Arlen House, 2022), Rodent is a poem about the author's heart condition. Join Tig the rat for a light-hearted exploration of the poet coming to terms with the pesky pet in his chest.
Director: Luke Morgan (Ireland)
Based in Galway Ireland, Luke Morgan's films have been shown around the world – from USA to Japan, from South Africa to Dublin. He has won awards for his work, most notably "Best Short" at Garden Route Film Festival in 2021, and "Best Director" at the Worcester Film Festival in 2021 among others. His work has previously been shortlisted by Ó Bhéal, including "Connemara Illuminated" in 2019 and "Light Throwing Light On Nothing By Itself" in 2021. In addition to movies, Luke is a published poet and is available at lukemorgan.ie.

---
---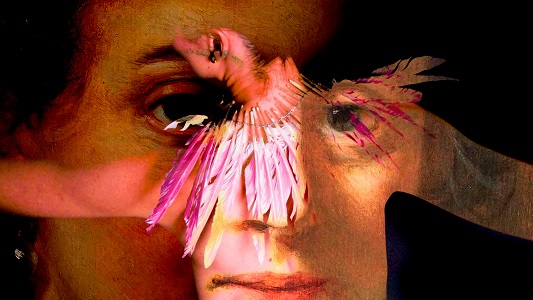 Because Goddess is Never Enough (10:00)
Poem: Because Goddess is Never Enough
by Rosie Garland
Synopsis – Who was Tilly Losch? Dancer, artist, choreographer, lover, wife, muse …Tilly was an Austrian dancer who worked with prominent, and cutting-edge, choreographers and artists from the West End to Hollywood. She was also a choreographer in her own right, who later turned to painting. The film investigates the elusive and fragmentary nature of Tilly's life, evoking the spirit of the 1920s–40s when she was at the peak of her fame.
The film is about self-worth, the authentic self, and the credibility of creative women – Losch was someone who was at times exploited yet determined to maintain a path of her own making despite the obstacles that were very much present in her era. The parallels of Losch and the way women are STILL portrayed in the 21st century through the lens of the media and by society, forms a powerful and thought-provoking statement about female identity.

Director: Jane Glennie (UK)
Jane Glennie makes poetry films that have screened at festivals across the world, featured on www.shondaland.com and at the Southbank Centre. They have received distinctions and awards at Weimar Poetry Film Competition (Germany), Oxford Brookes Poetry Film Competition (UK), Rabbit Heart Poetry Film Festival (USA), and Poole Poetry Film Competition (UK).
---
---
Someone was Always dying somewhere (4:07)
Poem: Someone was Always dying somewhere
by Howie Good
Synopsis – Death and loss are never the same. The poem is based on phrases from Duane Swierczynski's novel Fun and Games (Mullholland Books) and Donald Ray Pollock's novel The Devil All the Time (Doubleday)
Director: Marc Neys (Belgium)
Marc Neys is a Belgian composer and video artist with more than 400 videopoems and numerous festival selections and screenings to his name. Over the last few years he has focused more on his music, and released 4 CDs

---
---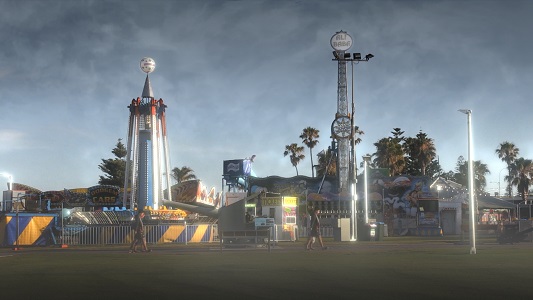 The Life We Live Is Not Life Itself (8:45)
Poem: Η ζωή που ζούμε δεν είναι η Ζωή
(The Life We Live Is Not Life Itself)
by Tasos Sagris
Synopsis – Tasos Sagris's poem, with its haunting soundtrack by Whodoes, offers us an extended exploration of lives lived in parallel, at cross-purposes, in and out of love, around the world, from the innocence of children to the wisdom of elders.
Director: Ian Gibbins (Australia)
Ian Gibbins is a widely-published poet, video artist and electronic musician living on Kaurna land in Adelaide, South Australia. He has four books of poetry and his videos have been shown to acclaim around the world in festivals, galleries, installations, and public art programs. Until he retired in 2014, Ian was an internationally recognised neuroscientist and Professor of Anatomy.

---
---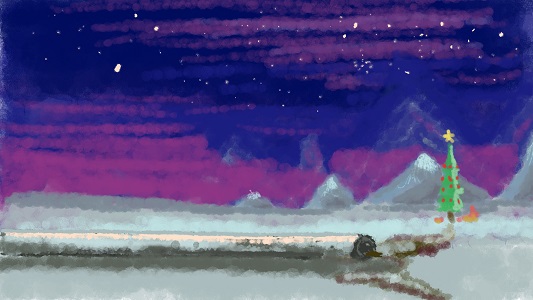 Merry (1:27)
Poem: Merry
by Fiona Tinwei Lam
Synopsis – A cozily sinister short animated film about holidays, consumerism, plastic pollution and the climate crisis. The last part of a trio of plastic pollution-themed poetry videos.

Directors: Fiona Tinwei Lam, Lara Renaud and Quinn Kelly (Canada / USA)
Vancouver's 6th Poet Laureate, Fiona Tinwei Lam has published three collections of poetry and a children's book. Her poems have been featured in Best Canadian Poetry and thrice with BC's Poetry in Transit, as well as in award-winning poetry videos made in collaboration with filmmakers that have screened worldwide. Shortlisted for the City of Vancouver Book Prize and other awards, her work has been included in over 40 anthologies.
Co-director Lara Renaud is a multidisciplinary student artist, studying to receive her BFA in animated arts at Pacific Northwest College of Art. She was born in Aurora, Illinois, moved to Portland Oregon, and has spent time studying art in upstate New York. She creates based on her own experiences; and attempts to capture the essence of the climate crisis, mental illness, and other social/political issues.
Co-director Quinn Kelly was born in Vancouver, Canada. He is currently a student filmmaker working toward his BFA at Pacific Northwest College of Art. He specializes in animation, comics, editing, and sound production.

---
---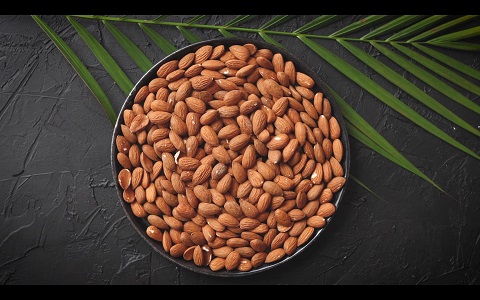 Immigrants Open Shops (5:01)
Poem: Immigrants Open Shops
by Sarah Wimbush
Synopsis – The truth about the world economy: immigrants open shops.
Director: Pat Boran (Ireland)
Pat Boran is a poet, broadcaster and editor who has published a dozen books of poetry and prose, and whose poetry films have been shown at festivals in more than 20 countries.

---
---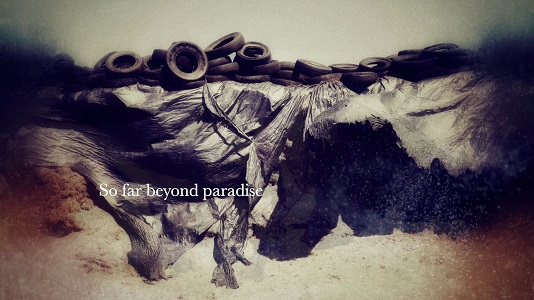 Descent (4:45)
Poem: Descent
by Janet Lees
Synopsis – Coco Chanel reportedly said, 'A woman who doesn't wear perfume has no future'. When I read this quote I was moved to make a poem entirely from perfume brand names (with the occasional linking word). The word 'descent' is an anagram of 'scented'. The film poem explores the descent of so-called civilised societies from innocence and freedom to worship of the machine; the slavery of consumerism, in which designer brands are afforded the status of holy icons.
Director: Janet Lees (Isle of Man)
Janet Lees is a lens-based artist and poet. Her films have been selected for many festivals and screenings, including the Aesthetica Art Prize, the International Vidoepoetry Festival, and the Zebra Poetry Film Festival. In 2021 she won the Ó Bhéal Poetry-Film competition. Her art photography has been exhibited around the world and her poetry is widely published and anthologised. She has had two books published: House of water, a collection of her poems and art photographs, and A bag of sky, the winning collection in the Frosted Fire Firsts prize hosted by the UK's Cheltenham Poetry Festival.

---
---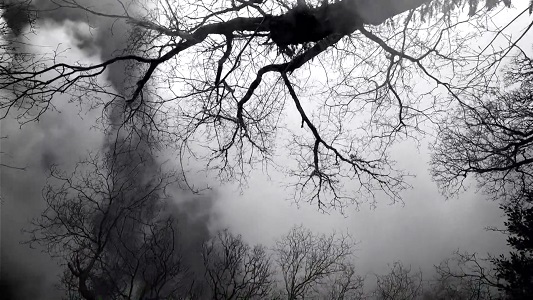 Forest Earth (2:45)
Poem: Forest Earth
by David Ian Bickley
Synopsis – David has been working on ideas around this project since the early '80's — that of the dreaming spirit of the forest, an entity beyond both our perception and what we imagine might be the perception of the forest.
Director: David Ian Bickley (Ireland)
Anglo Irish artist, filmmaker and musician David Bickley (b. 1961) audio visual works/ installations are abstracted, largely process led adventures mainly on themes of nature/ landscape but also with points of reference to mythology and symbolism. They rely heavily on texture and mood and tend to sacrifice the topographical in an attempt to capture the spirit of the places depicted using memory or feeling.

---
---
---
---