Ó Bhéal's 9th International Poetry-Film Competition


Sunday 28th November 2021

12pm and 1.15pm

*** FREE & ONLINE ***
These shortlisted films were viewed by a live audience at the
9th
Winter Warmer festival
, Nano Nagle Place, Cork and also streamed live via our website, Vimeo, Facebook and YouTube channels.
30
films were chosen from 184
submissions
received from 122 filmmakers in 32 countries. The 2021 shortlist represents
13
countries:
Canada, Ireland, Isle of Man, Italy, Japan, Mexico, Perú, Romania, Spain, Sweden, The Netherlands, UK
and the
USA
.
This year's judges Paula Kehoe and Paul Casey, selected one winner to receive the Ó Bhéal award for best poetry-film, designed by glass artist Michael Ray. The winner was announced directly after the shortlist screenings at Ó Bhéal's 2021 Winter Warmer festival.
Our warm congratulations to Janet Lees from The Isle of Man, for her winning entry:

What I fear most is becoming "a poet".
---
---
---
Competition Shortlist – Screening A (55:09)

Sunday 28th November @ 12.00pm
---
---
---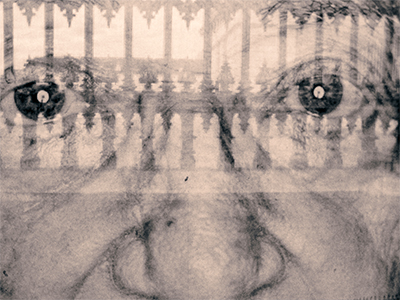 Stitch (2:40)
Poem: Stitch
by Caroline Rumley
Synopsis – The English word "stitch" has many meanings.
Director: Caroline Rumley (USA)
Caroline Rumley is an American filmmaker from the South who combines solo-shot film, found and archival footage, text, and sound to illuminate a personal or public experience. Her films have screened internationally at varied venues, from Melbourne's Biennial of Video Art to the New Orleans Film Festival to Berlin's Zebra Poetry Film Fest to Sundance.

---
---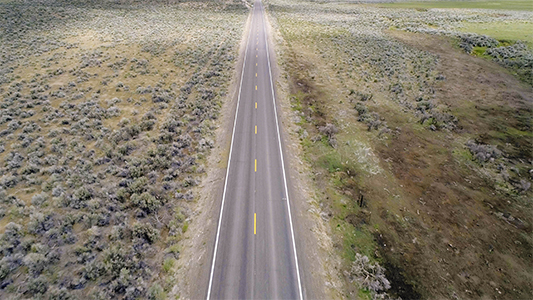 Song of the Open Road (4:00)
Poem: Song of the Open Road
by Walt Whitman
Synopsis – Filmed and edited inside of one week in May 2021, at Elko County, Nevada, USA, this setting of excerpts from the famous Walt Whitman poem manifests as a paean to travel, after over a year of Open Roads being left nearly empty. It alternates between majestic aerial views of the American West, and alleys of a small rural town whose muralists reflect the West's cultural diversity and migration.
Director: H. Paul Moon (USA)
H. PAUL MOON (zenviolence.com) is a filmmaker whose works include short and feature-length documentaries, screened to audiences and awarded at over two hundred film festivals worldwide. He teaches editing at Docs In Progress and George Mason University, and manages a network of online communities at focuspulling.com and docofilm.com that keep pace with new camera technologies and documentary news.


---
---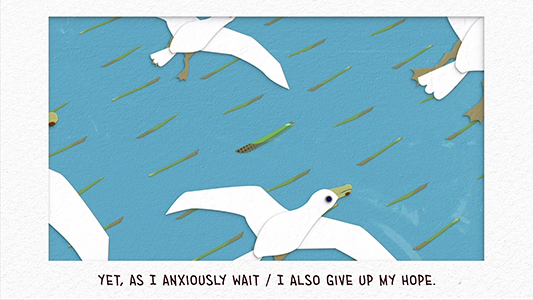 I Am Soil Breaking Off (3:26)
Poem: I Am Soil Breaking Off / Soy Tierra Desgajándome
by Paloma Sierra
Synopsis – A metaphor about national identity and migration as a mangrove seed and its journey.
Director: Paloma Sierra (USA)
Paloma Sierra is a Puerto Rican writer. Emerging Poet Laureate of Allegheny County 2020-2021, Paloma has presented her work with Project Y, Theatre Now New York, Poetic Theater Productions, and Nuyorican Poets Cafe. Her poetry, and translations are published in Bridge: The Bluffton University Journal, Persephone's Daughters and Sampsonia Way. Paloma is an MFA Dramatic Writing candidate at Carnegie Mellon.

---
---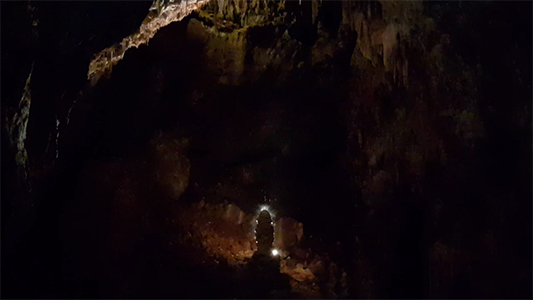 The Darkness (5:45)
Poem: The Darkness
by Curtis Brown
Synopsis – I did not come here, this place came to me…
Director: Curtis Brown (UK)
Curtis Brown is a creative based in London. He tells tales using various media, and loves the fact that poetry permeates them all.


---
---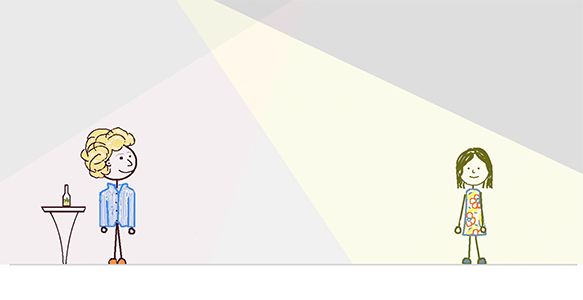 Yesterday's Wardrobe (2:18)
Poem: Yesterday's Wardrobe
by Colm Scully
Synopsis – A guy tells his story through his old wardrobe.
Director: Colm Scully (Ireland)
Colm Scully is a poet and poetry film maker from Cork, Ireland. He has had poetry films selected for festivals in America, UK, Greece, India and Ireland.


---
---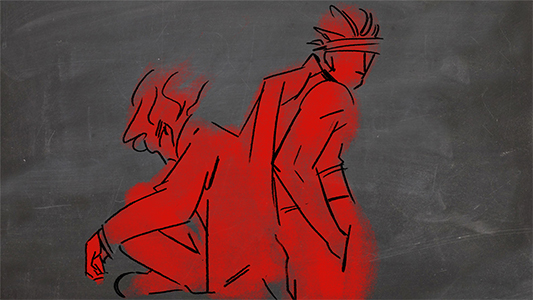 Be Nice To Them (2:33)
Poem: Be Nice To Them
by Kirsten Irving
Synopsis – 'Be Nice To Them' is a poem taken from a longer sequence called RUN, a tribute to the cult Japanese novel and movie Battle Royale. A class of schoolchildren is sent to an island to play a deadly game. In this poem we meet the two most dangerous players – two older boys the rest of the class have never met before. Both boys have a history with the Battle Royale, and both are formidable opponents.
Directors: Noriko Ishibe and Kirsten Irving (Japan / UK)
Noriko Ishibe is a Japanese-born filmmaker and animator who has a tendency to draw on their own personal experiences, developing these ideas by using various experimental methods. Noriko adopts an illustration style that is quite traditional, but maintains an interest in various approaches that guarantee versatility and no limitations. She graduated with a BA (Hons) Animation from the University for the Creative Arts, Farnham in 2016. http://norikoishibe.com
Kirsten Irving is a Lincolnshire-born, London-based poet and voiceover, and one half of the team behind collaborative press Sidekick Books. Her work has won the Live Canon International Poetry Prize, been published by Salt and Happenstance, and been thrown out of a helicopter. She has taught courses on feedback and world folklore for the Poetry School, and her second collection, Hot Cockalorum, will be published by Guillemot in 2022 and her poems Lorum Ipsum and The Ear Fields will be released as singles by Culture Recordings later this year. www.kirstenirving.com / @kofthetriffids


---
---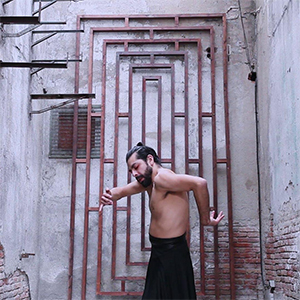 Las Hermanas del Desorden: Incantation (4:46)
Poem: Incantation
by Mad Pirvan
Synopsis – 'Incantation' is a love spell that quickly turns into a curse. Poetry as an experience returns to its ritualistic origin, in which they seek an experiential identification of the viewer with the dramatic conflict. In a lynchian nightmare reminiscent of techno paganism, the spellbound twists in a choreography that mixes elements of butoh with flamenco until he is consumed by the incantation.
Director: Mad Pirvan (Romania / Spain)
Mad Pirvan is a Romanian multidisciplinary artist, based in London. She is the artistic director and co-founder of The Bloody Poets and produced a series of mixed arts events in England and Spain such as In the midst of rhyme, Re: Naissance and Drama Queers. Her first audio-visual work as a director is 'Incantation'/ Hechizo which has been featured in various international festivals.
---
---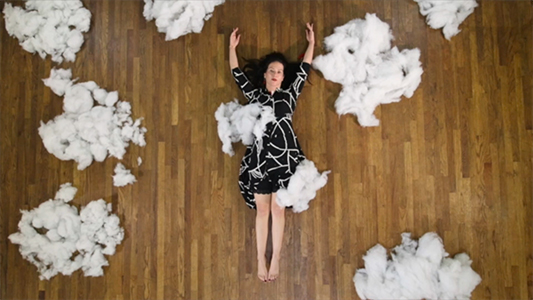 Somewhere in the Sky (1:25)
Poem: Somewhere in the Sky
by Ellyn Maybe
Synopsis – "Somewhere in the Sky" is a collaboration between a poet, a dancer, an accordionist and an animator. Written in the wake of the US Capitol riots in Jan 2021, it explores the absurdity of our present moment through a series of unanswerable questions.
Director: Aaron Kierbel (USA)
Aaron Kierbel is a filmmaker, musician and educator living in Oakland, CA. With absolutely nothing to do during the summer of the global pandemic in 2020, he decided to teach himself how to do stop motion filmmaking. Since then he has created several short films that explore topics ranging from structural racism to screen addiction to the proper technique for shaving with a pencil eraser. Recently, his debut film The Acrobat was selected to be shown at the Florida Animation Festival and he was awarded a filmmaking grant by the World Media Literacy Forum to create a short film for the "Media Literacy and the Future of Justice" conference (2021).


---
---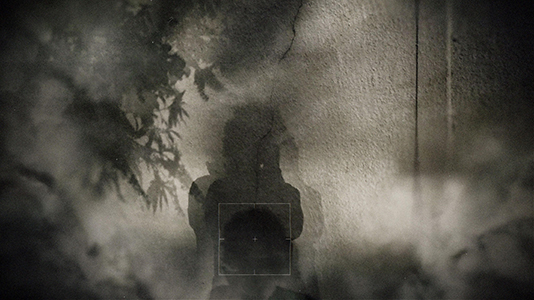 What I fear most is becoming "a poet" (6:10)
Poem: What I fear most is becoming "a poet"
by Katerina Gogou
Synopsis – Katerina Gogou (1949-1993) was Greece's greatest modern anarchist poetess. Her poems have become synonymous with the radical culture of Greece and with Exarcheia, the Athens neighbourhood known as the anarchist quarter. Born into the Nazi occupation of Greece, she lived through the years of far right military junta oppression and the country's resurgent anarchist movement in the 1980s. An activist herself, she became a prophet of the movement and her poems anthems for it. She died of an overdose on 3 October 1993. This poetry film was produced by the Institute for Experimenal Arts and commissioned by the art platform filmpoetry.org, as part of the Digital Culture Programme, Ministry of Culture / Greece.

Director: Janet Lees (Isle of Man)
Janet Lees is an artist, poet and poetry filmmaker. Her film-based work has been selected for many festivals and screenings, including the Zebra Poetry Film Festival, the International Videopoetry Festival and the Aesthetica Art Prize. As an artist she has exhibited in group shows around the world. She represented the Isle of Man at the Festival Interceltique in France, with a full-scale solo exhibition of art photography, experimental film and poetry. Janet's poetry is widely published and anthologised. She has had two books published: House of water, a collection of her poems and art photographs, and A bag of sky, the winning collection in the Frosted Fire Firsts prize hosted by the UK's Cheltenham Poetry Festival.


---
---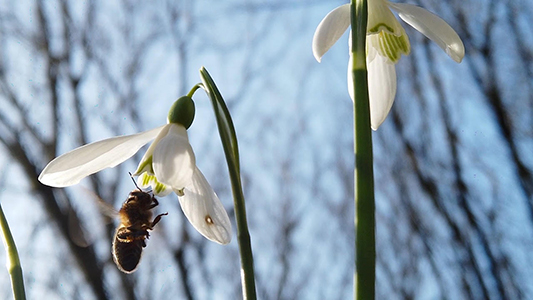 Banaís Ríghí, the High King Speaks (5:38)
Poem: Banaís Ríghí, the High King Speaks
by Grace Wells
Synopsis – 'Banaís Ríghí, the High King Speaks' is an environmental poetry-film exploring the potential relationship that humanity could have with the natural world. The piece takes inspiration from the ancient High Kings of Ireland whose sovereignty depended on their marriage to the land, the Earth Goddess herself. In both the poem and the film, Grace Wells explores what it might mean to draw closer to the earth, and live from within a sacred marriage to nature.
Director: Grace Wells (Ireland)
After leaving school Grace Wells became a production runner, working in London's film and television industry, and ultimately becoming a freelance producer of pop-videos and TV commercials. In 1991 she moved away from film to write, and came to live in rural Ireland. She is published both as a children's author with The O'Brien Press, and as a poet with Dedalus Press, Dublin. As the global environmental crisis worsened, Wells' writing moved more deeply into eco-poetics. Nature and spirit-of-place have been key themes in her award-winning work. Restricted from audience engagement by the 2020 pandemic, Wells turned her focus back to film, and began creating environmental poetry-films. She has recently been commissioned by The Source Arts Centre, to create a sequence of eco-poetry films following the theme of the Celtic Year and its relevance to environmental collapse.


---
---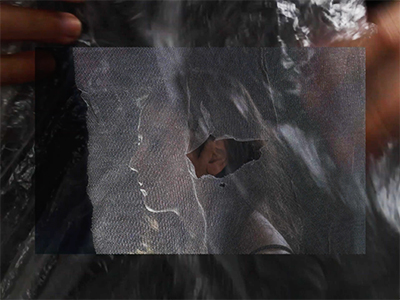 Barbed Song (4:51)
Poem: Barbed Song / Canción de púas
by Abril Iberico Mevius
Synopsis – There is a world of sounds and another of silence. Without headphones, silence wraps me in a blanket of spikes, and with headphones the noise haunts me. Where do I belong if I can partially hear?
Director: Abril Iberico Mevius (Perú)
Abril Iberico Mevius is a photographer and filmmaker from Perú. She just graduated from Communication at the Universidad de Lima and currently works as a professor assistant at her university. She has presented her photographs in local and virtual exhibitions in the last couple of years and has won the second place for best short film at the Corto de Boleto Festival in 2017 and 2020 with two short films that show the realities of different women. She's currently interested in representing people with hearing disabilities with her art.

---
---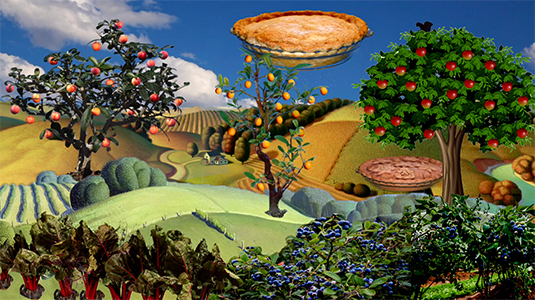 Legacy (2:03)
Poem: Legacy
by Fiona Tinwei Lam
Synopsis – Legacy, in collaboration with poet Fiona Tinwei Lam and based on her poem, creates a memory space, using symbolic objects, evocative tableaux, and a variety of digital effects, to concretize the wisdom that comes with temporal and emotional distance, creating a fanciful, wry, and occasionally bittersweet postmortem of a relationship that founders on the rocks of cross cultural differences.
Directors: Pamela Falkenberg and Jack Cochran (USA)
Jack Cochran and Pamela Falkenberg reunited about seven years ago, and now make personal films together under the name Outlier Moving Pictures. They like to experiment, so their body of work is somewhat disparate and hard to categorize. Some of eclectic interests include collage, found footage, and repurposing; the film essay and film poetry; image capturing and post-production techniques that reveal what cannot be seen with the eyes alone (e.g., high shutter speeds, moving cameras, infrared photography, green screen and digital layering); landscapes and the ways humans mark them; human rights/social justice; and postmodern melodrama.

---
---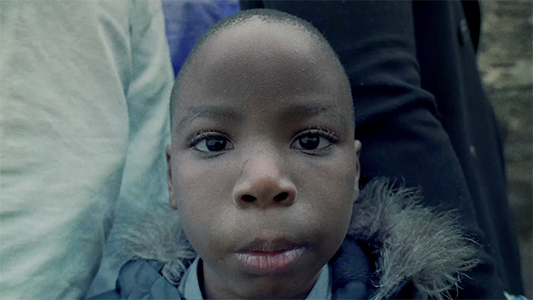 As I Rise (4:11)
Poem: As I Rise
by Friday Junior Osemwekhae & Obinna Nnebue
Synopsis – This poetry film is an international creative collaboration commissioned for Africa Day Cork 2021, to celebrate African men and their journey of adaptation, overcoming and growth. The first poet, Friday Junior Osemwekhae, who also produced the original soundtrack, writes about the relationship between him and his Father while growing up in Cork, Ireland from his early teens to his thirties. The second poet Obinna Nnebue writes about the metaphorical strength and beauty of being an African man and the heritage they have, while reflecting about the significance of what was and is, the resonating impact this currently has in its modern manifestation with an emphasis on self awareness, appreciation and legacy.

Director: Angela Ify Mojekwu-Egbera (Ireland)
Angela Ify Mojekwu-Egbera is a social impact driver, filmmaker based in Cork Ireland. Graduated with a distinction in business administration from Cork Institute of Technology. She went to work as founder and head of business at GEP studios, a film production company based in Ireland and Nigeria. She has produced several movies including the globally acclaimed Children of Mud which tells the story of homeless children in Africa. The movie screened at the American Black Film Festival in 2018, received nominations at Raindance Film Festival, Africa Rising International Film Festival and got six nominations from Africa Magic Viewers choice awards. Angela understands how powerful story telling is and why it is important to tell African stories, she is passionate about effecting socio-economic development through film making.

---
---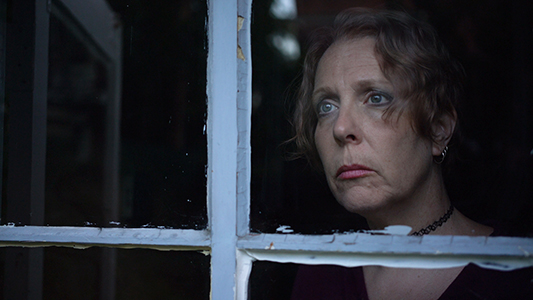 The Atoms of Reality (3:59)
Poem: The Atoms of Reality / Les atomes du réel
by Marco Joubert
Synopsis – It was like a dream, filled with grave perfumes, with limpidity and sensuous chimes. A misplaced device in a turbid instant where the mechanisms of humility ring out. A crack obscurely revealing the entrails of nothingness. The memory of surfaces hit by translucent instruments. A well where the atoms of reality loudly dissolve. It was like a dream, filled with grave perfumes.
The Atoms of Reality is an attempt at creating a wordless poem. Though at the root of it lies an original text, the written poem is not disclosed in the final work, becoming instead the invisible scaffold informing and structuring the shape and texture of the audiovisual fabric.
Director: Marco Joubert (Canada)
Marco Joubert is a self-taught Canadian filmmaker and video artist, with a background in architecture and visual arts. His audiovisual practice, characterized by its formal rigor, tends toward the development of a personal language, situated at the crossroads of cinema, video art and poetry.

---
---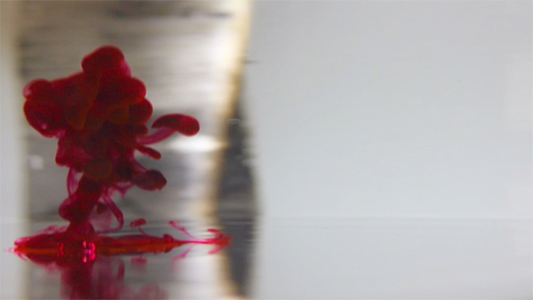 Scamaill (1:34)
Poem: Scamaill
by Dairena Ní Chinnéide
Synopsis – Dairena Ní Chinnéide recites her poem Scamaill to accompanying music by Rónán Ó Snodaigh. The abstract film uses light, water and ink to provide a visual accompaniment. The hand written words of the poem allow the view to be drawn into the poem.
Director: Eoghan Mac Giolla Bhríde (Ireland)
Eoghan Mac Giolla Bhríde is a short story writer and scriptwriter who has directed a number of short films and documentaries. John Doherty – Ar Leirg na Gaoithe, a film that explores the legacy of the great Donegal fiddle player was awarded the Celtic Film Festival Best Arts Documentary in 2013. The poetry film Ar Sruth Líonta – was his contribution to the Earagail Arts Festival 2020 and is available to watch on https://youtu.be/x9MCbyeV19A. He cowrote the films Silence and Song of Granite with Pat Collins for Harvest Films.
---
---
---
Competition Shortlist – Screening B (55:31)

Sunday 28th November @ 13.15pm
---
---
---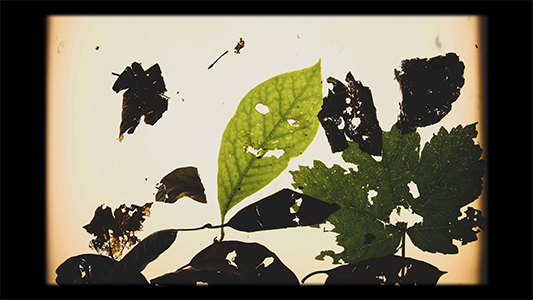 Four Attempts At Making A Human – (not) after the Popol Vuh (4:34)
Poem: Four Attempts At Making A Human – (not) after the Popol Vuh
by Dylan Brennan
Synopsis – Popol Vuh is an ancient Guatemalan/Maya text. It is the origin story of the Maya people. In it, the Gods make several attempts at creating humans using a variety of materials: from mud or clay to wood and corn. However, each of these substances prove unsuccessful until they try to make humans out of corn. Finally they succeed.

Director: Jonathan Brennan (Ireland / Mexico)
Jonathan Brennan (1978) is an artist living and working in Belfast since 2012. Originally from Dublin, he lived in Brussels, Belgium from 2003-12 where he studied painting at the École des Arts d'Anderlecht. He previously studied History of Art & Architecture (and Spanish) at Dublin University, Trinity College Dublin and has a MSc in Multimedia Systems. Jonathan works with various visual media such as printmaking, painting, video and photography. Digital technology can sometimes play a role in the process of creating his works. He is preoccupied by the relationship between digital and traditional techniques, and the values we impose on them.
---
---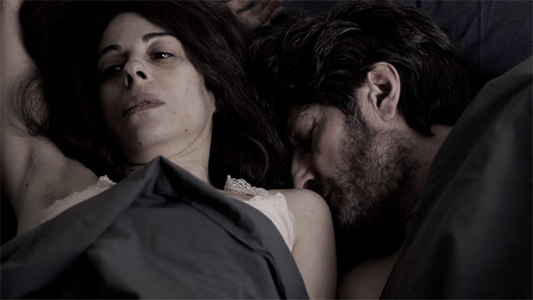 Los caballos están tristes /
The horses are so sad (3:41)
Poem: Los caballos están tristes
by Eduardo Yagüe (trns. by Jean Morris)
Synopsis – Love is imperfect and sometimes so sad that sadness spreads all over the city… The horses are so sad is based on a short dialogue line from the film Our Time by Mexican filmmaker Carlos Reygadas. It's Eduardo's first poetry film with one of his poems since 2012.
Director: Eduardo Yagüe (Spain)
Eduardo Yagüe is interested in mixing genres in his videos, searching the limits and interactions of poetic and cine-matographic languages. His works are characterized by the roles of actors, expressive landscapes, delicate interiors and the choice of poems from prominent international poets. Eduardo has been making videopoems and poetry short films for almost a decade. His works have been awarded in international videopoetry competitions and screened at festivals, museums and universities around the world.
---
---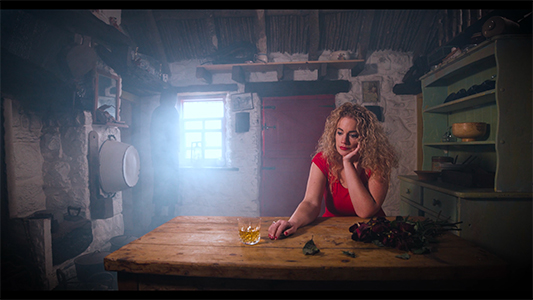 Light Throwing Light On Nothing But Itself (2:10)
Poem: Light Throwing Light On Nothing But Itself
by Michael Martin
Synopsis – A man looks at an enigmatic photograph and imagines the life behind the woman who is pictured.
Directors: Luke Morgan and Michael Martin (Ireland / USA)
Michael Martin is the author of Extended Remark: Poems From A Moravian Parking Lot (Portals Press). For decades his poetry has been published widely in literary magazines, including Poetry Ireland Review, the Moth, American Journal of Poetry, Skylight 47, Carolina Quarterly and Berkeley Poetry Review. He lives in Raleigh, North Carolina, where he is putting the finishing touches to a new poetry manuscript.
Morgan Creative's films have been screened at film festivals around the world. Their debut feature film, Sooner or Later, is available to watch on Amazon Prime in all territories. A short film The Butterfly Love Song won numerous awards, including "Best Irish Short" at the Offline Film Festival, and "Best International Short" at the Garden Route Festival in South Africa. They live and work in Galway, Ireland.

---
---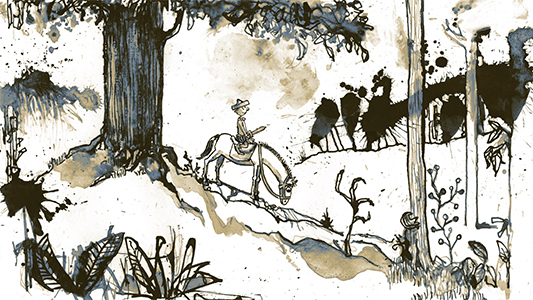 Jabberwocky (2:15)
Poem: Jabberwocky
by Lewis Carroll
Synopsis – A brave boy goes hunting for the Jabberwock despite the warning of the old man. When the monster is beaten, it still looks like the story will end badly. Jabberwocky is a poem filled with nonsense words that don't mean anything, but, miraculously, you understand exactly what the story is about.
Director: Sjaak Rood (The Netherlands)
Sjaak Rood (the Netherlands, 1962) has made drawings all his life. He can't help inventing stories, likes theatre and silly music, and has a thing for technical stuff, especially when it is related to theatre, music or computers. In animation all these things come together. He was Artist in Residence at the Netherlands Institute for Animation Film in Tilburg from 2009 – 2011. Since then he has made animated shorts that are shown at festivals all over the world, winning several prizes.


---
---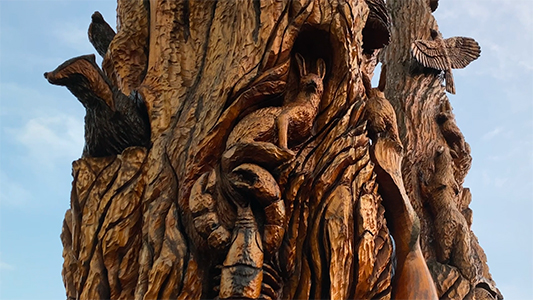 Building the Ark (5:35)
Poem: Building the Ark
by Pat Boran
Synopsis – Reflecting on the Bible story of Noah and the animals, Building the Ark considers how, in times of great change, even stories we've known all our lives can have new things to tell us. The film was shot and edited on iPhone/iPad.
Director: Pat Boran (Ireland)
Pat Boran is a poet and writer with many books in print. His latest collection of poems is Then Again (Dedalus Press, 2019). He is a member of Aosdána.


---
---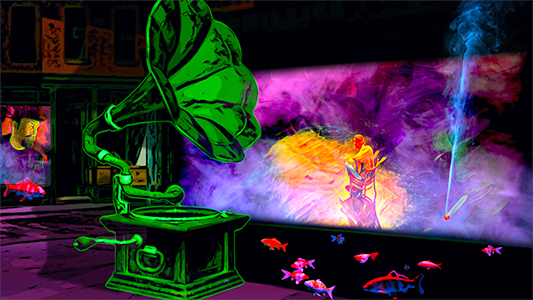 requiem for a spoken word (3:16)
Poem: requiem for a spoken word
by Marc Zegans
Synopsis – The ephemeral life pondered of a single word spoken during a poetry reading. Does that word find new life in memory? Or, does it die a tragic death in thin air? An Ode for all who take the stage and breathe life into text with Spoken Word Performance.

Director: Jim Hall (USA)
Jim Hall's love of film began when he bought his first camera in the 1970s. Later, that love matured as a projectionist growing up in his hometown of Pocatello, Idaho. His love of poetry began upon reading Langston Hughes and Edna St. Vincent Millay. He's been marrying words to pictures and sound ever since he made that first splice with an Elmo 912 Sound Editor (Super 8). Later, he remembers manually rewinding two reels of videotape, so that the third Sony deck could record what was then a Giant Leap in technology. All of this, so that we could tell a story without ink. 21 Emmys, 2 Peabody Awards and a National Commendation from the NAACP highlight a career in television that concluded some time ago. Today, he's a documentary and experimental filmmaker, still struggling with the delicate and fiery marriage of words to pictures and sound…



---
---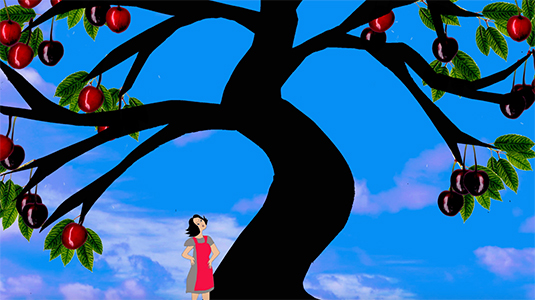 The Cherry Tree (1:49)
Poem: The Cherry Tree
by Vicki Feaver
Synopsis – The poet reckons with time and ageing as she reflects on her relationship with a tree.
Director: Suzie Hanna (UK)
Animator Suzie Hanna was born in Norfolk in 1953 and educated at Sheffield Poytechnic and Norwich School of Art & Design, with an MPhil from APU. She is Chair of Animation Education at Norwich University of the Arts, and has specialised in making poetry animation for diverse audiences since 2001. Her films have been selected for, and won prizes at, numerous film festivals. Her work has also been screened on TV and in art exhibitions, with commissions for international conferences and multi-disciplinary VJ performances. She collaborates with poets, musicians and academics, and has a responsive mixed-media approach to translating poetics into audio-visual screen representation. www.suziehanna.com


---
---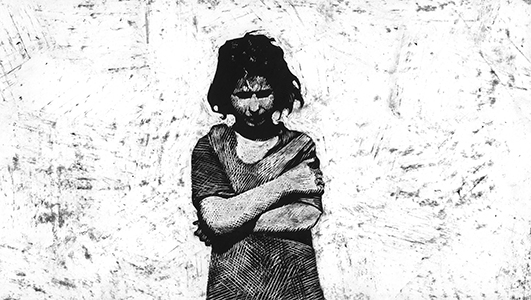 The Infinite / L'infinito (2:00)
Poem: L'infinito (The Infinite)
by Giacomo Leopardi
Synopsis – Animation inspired by the poem.
Director: Simone Massi (Italy)
Simone Massi was born in Pergola (Italy) in the month of May. As a fiercely independent animator, he has conceived and realized a dozen small animation films that have been shown in 60 Countries on 5 Continents and have collected over 250 awards.


---
---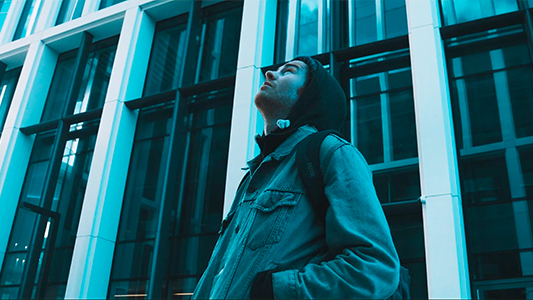 The Manifestation of a Situation (9:27)
Poem: The Manifestation of a Situation
by Ciarán MacArtain
Synopsis – The poem takes the ongoing housing crisis in Ireland as its point of departure.
Director: Felix Castaldo (Ireland)
The Rain Company is a Cork based video production company formed in 2017 by Felix Castaldo and Michael Casey. Specialising in film, music video production and commercial content, both Felix and Michael have extensive experience in the Irish film and photography industries, striving to create content that is creatively forward thinking.
---
---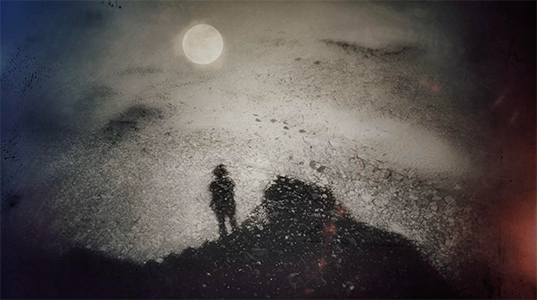 The answering voice (5:38)
Poem: The answering voice
by Janet Lees
Synopsis – A film about possibilities rather than probabilities, authentic hope vs hopium, in the Anthropocene. This film was commissioned by Culture Vannin, the Manx Heritage Foundation, as part of the 'Island Utopias' project: a journey in art, music and film imagining what a better future might look like.
Director: Janet Lees (Isle of Man)
Janet Lees is an artist, poet and poetry filmmaker. Her film-based work has been selected for many festivals and screenings, including the Zebra Poetry Film Festival, the International Videopoetry Festival and the Aesthetica Art Prize. As an artist she has exhibited in group shows around the world. She represented the Isle of Man at the Festival Interceltique in France, with a full-scale solo exhibition of art photography, experimental film and poetry. Janet's poetry is widely published and anthologised. She has had two books published: House of water, a collection of her poems and art photographs, and A bag of sky, the winning collection in the Frosted Fire Firsts prize hosted by the UK's Cheltenham Poetry Festival.


---
---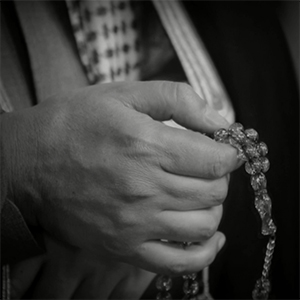 Excuses (1:17)
Poem: Excuses
by Mark C. Hewitt
Synopsis – Excuses is one of a collection of eight micro filmpoems (plus two variations) all of less than 90 seconds duration. Using found footage, the pieces typically have a retro noir quality and are highly surrealistic in their feel and construction. The overarching title, Les Coffrets (meaning little boxes), relates to a poem sequence of the same name and description, for which the films offer a visual counterpart.
Directors: Mark C. Hewitt and Matt Parsons (UK)
Mark C. Hewitt is a writer, theatremaker and stage director. He has worked frequently on socially engaged projects with marginalised individuals, including Diving into the Wreck, a multimedia production developed with addicts in recovery; and Penned Up, a strand of literature festivals in prisons, recognised nationally in The Big Issue's list of 'Top 100 Changemakers of 2020'. (www.mchblank.co.uk)
Matt Parsons spent several years working in sound engineering and video editing before taking an MA in Fine Art at Goldsmiths in London. Since completing his MA he has worked in a variety of media, often using video in conjunction with model making, installation, drawings and text. (www.mattparsons.org)

---
---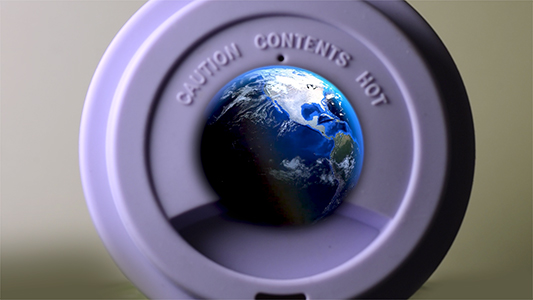 The Zone (1:59)
Poem: The Zone
by Caleb Parkin
Synopsis – The Zone is a high-octane take on the climate crisis, patriarchy and toxic overwork.

Directors: Marius Grose & Caleb Parkin (UK)
Marius Grose began his career in television post-production in 1983. He worked as a tape operator and assistant editor in Bristol and London for the BBC and ITV networks. Marius has cut programmes for all the major broadcasters in the UK as well USA companies such as National Geographic and Discovery. He has worked on programmes that range from wildlife documentaries, factual entertainment shows, current affairs such as Channel 4's Dispatches, and feature films. In 2002 Marius was nominated for the Royal Television Society's feature picture editor of the year award in recognition of his creative storytelling.
Caleb Parkin is a freelance poet, performer, facilitator, educator and filmmaker, based in Bristol. He previously worked in TV, radio & print media, and is currently studying for an MSc in Creative Writing for Therapeutic Purposes. His work has appeared in online and print journals, planetaria, schools, museums, computer shops, wildlife events, festivals and beyond. His work can be found at couldbethemoon.co.uk/where/publication/ and www.word-rocket.co.uk.


---
---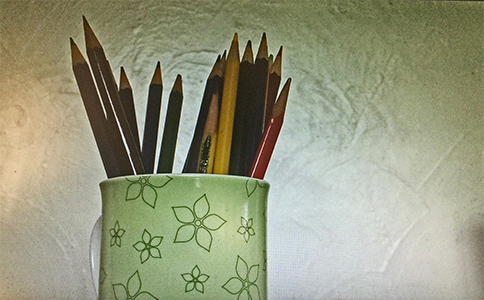 The Pencil Sharpener (2:16)
Poem: The Pencil Sharpener
by Sarah Wimbush
Synopsis – The Pencil Sharpener is an affectionate portrait of a father.
Director: Frank Wimbush (England)
Frank is a hobby filmmaker who began exploring the poetry film genre while in isolation during the first Lockdown. This was partly to keep himself busy and partly to share a distanced adventure with his poet daughter, Sarah Wimbush.

---
---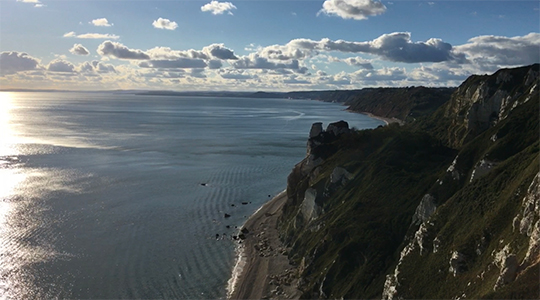 Disorderlily (5:25)
Poem: Disorderlily
by Charles Putschkin
Synopsis – Disorderlily is a film-poem-letter set in Bristol, East Devon and West Dorset. It is narrated by a protagonist who is struggling with loneliness and a lack of meaningful human connections in times of lockdown. Disorderlily first appeared in The Babel Tower Notice Board, an online Bristol-based journal for experimental literary arts.
Director: Charles Putschkin (UK / Sweden)
Charles Putschkin is a Swedish-Polish maker of visual poetry, sound poetry, short films and a podcast. His work has been featured in The Babel Tower Notice Board, Permeable Barrier, Beir Bua, and the Stanford LiQ Project, and is forthcoming in Atticus Review and Mercurius Magazine. He lives in Bristol, UK.


---
---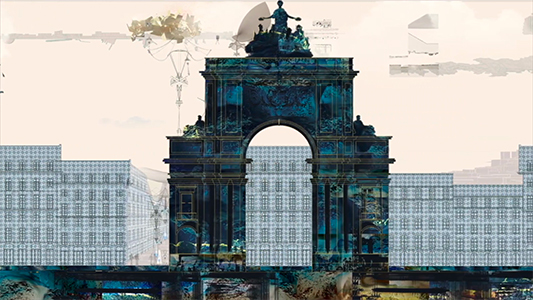 Lón (4:09)
Poem: Lón
by Michelle Delea
Synopsis – A cross-cultural collaboration between Cork poet Michelle Delea and Lisbon sound artist and musician Shaka's Lo-fi Experience (Joaquim de Brito). Co-produced between Lisbon and Cork, this multi-lingual short film brings together animation, poetry and sound art.
Director: Ciarán MacArtain (Ireland)
Ciarán McArtain is a theatre-maker and poet from Cork. He is a member of The Crossover, which was initiated in early 2018 and has successfully been staged in Dali & Gala (Marina Industrial Park), Dali CORK, The Kino as part of First Fortnight Festival, and at Hazelwood Stage, Electric Picnic. Each event is unique and devised entirely by a new ensemble. The group is motivated by cross-cultural collaboration and creating interactive performance based work.
---
---
---
---