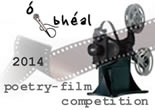 18th and 19th October 2014
In partnership with the


Festival of Independent Cinema
presents the 2nd
Ó Bhéal International Poetry-Film Competition
The competition shortlist of thirty films which follows, will be screened in two parts, at the Smurfit Theatre in The Firkin Crane, Cork. These have been chosen from over eighty submissions of poetry films completed in the last two years, from twelve countries – Ireland, England, Canada, USA, Ukraine, Netherlands, Belgium, Sweden, Lebanon, Isle of Man and Macedonia/Croatia. The Ó Bhéal panel of judges will select one overall winner, who will receive the IndieCork festival award for best poetry film, at the awards ceremony. This year's judges are Paul Casey, Stephen O'Riordan, Rosie O'Regan and Rab Urquhart.
Tickets to each event are €5.50 (€5.00 unwaged)
Winner announced 19th Oct 2014: Congratulations goes to Marleen van der Werf from the Netherlands, whose poetry-film Wadland has won the IndieCork Festival prize for best poetry-film, in the 2nd Ó Bhéal International Poetry Film Competition.

---
---
Competition Shortlist – Screening A (51:31)

Saturday 18th October @ 6pm – Smurfit Theatre, Firkin Crane
---
---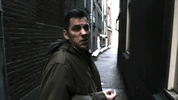 Again and again (2:36)
Poem: Again and again by Igor Andreevski
Synopsis – The concept of protest as a social tool for change has died. The new times have incorporated protest as a tool of governance, not change. Solidarity in this individualistic world has lost its meaning. As the widely accepted philosophy of Ayn Rand says, only the individual with its selfish drive is a viable option for change. Groups of people are becoming weapons for the resourceful individual, or other entities. We are all like children in love with ourselves. Sitting like junkies with our mirrors adoring and overanalyzing our lives. But this time no-one will die for our sins…
Director: Igor Andreevski (Netherlands/Macedonia/Croatia)
Igor Andreevski was born in Skopje, Macedonia where he finished his formal education and began his career. He has edited several feature films and numerous shorts. His work and life took him to Holland where he concentrated on directing and producing his own films. In the last couple of years he directed four short films that were presented in several international film festivals. His short feature All my love won the Viewer's Award in the Green Shorts Film Festival.

---
---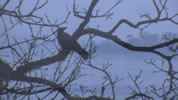 Crow (3:21)
Poem: Crow by Conor McManus
Synopsis – An examination of human desolation through natural metaphor.
Directors: Colm Scully and Conor McManus (Ireland)
Conor McManus, from Leitrim, has had short stories and poems published in journals and anthologies including, The Moth, Crannog, Stinging Fly, Force 10 and The Shakings of the Bag. Colm Scully, from Cork, has been published in journals including, Cyphers, Poetry Bus, Stony Thursday Book, Burning Bush 2 and Abridged. Colm was the winner of the Cúirt New Writing Prize 2014 and was selected for the Poetry Ireland Introductory Series 2014. Both have read at events and festivals in Ireland and the UK, and this is their second collaboration on a poetry-film.

---
---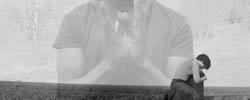 Forgotten Memory (7:24)
Poem: Forgotten Memory by Siobhan Mac Mahon
Synopsis – Forgotten Memory is a lament for the 'Broken body of the earth' in a multi-lingual tapestry of languages, including dance, music, signing and a call to 'Dream a new world into being'. The film reflects the rich and beautiful diversity of the many cultures in our world, united in honouring our earth in their own languages. It has been a joyful and collaborative project, created by bringing together artists and poet/translators from many different countries and cultures, who call us to remember and celebrate 'The deep well of our belonging/ The Holy Mystery of our lives'. Each artist/poet/translator brings their own interpretation to the original poem, by Irish poet Siobhan Mac Mahon. The many languages include: Akan – Twi, Arabic, Bangladeshi, English, Hebrew, Mandarin, Patois , Punjabi, Russian, Mandarin, Spanish and Somalian as well as dance, music and British sign language.
Directors: Marcus Lee (England) and Siobhan Mac Mahon (Ireland)
Marcus Lee is a British filmmaker originating from Bradford, England. After making a number of short films with friends as a hobby, he turned professional by launching Reel Street Films in 2007, creating short films and documentaries for the private and public sector. He then made his feature film debut in 2012 with Together, a psychological drama about an estranged couple who meet each other again through unexpected circumstances.
Forgotten Memory is Siobhan Mac Mahon's first poetry film – and has been a joyful collaboration with other Artists and poet/translators from many different countries and cultures, who have united in both a lament for 'The broken body of our earth' and in a call to 'Dream a new world into being'.
---
---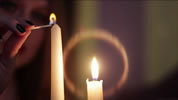 Honey I'm Home (1:03)
Poem: Honey I'm Home by Helen Clare
Synopsis – A young woman reminisces about about her mother.
Director: Joseph Stacey (England)
Joseph Stacey is a Manchester based actor and director who has developed films with Filmonik, the Manchester cell of the international Kino movement. He has made and screened films at Kino cells throughout Europe and fully embraces the motto 'do well with nothing, better with a little but do it now!'

---
---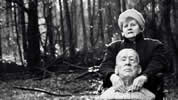 (If) Grief (were) Briefly (to) Disappear (4:20)
Poem: (If) Grief (were) Briefly (to) Disappear by Stevie Ronnie
Synopsis – Remembering people after they're gone.
Director: Swoon (aka Marc Neys) (Belgium)
Swoon (AKA Marc Neys) (°1968, Essen, Belgium) is an artist who works in a variety of media; he's a video-artist / soundscape-constructor. Swoon's work has been featured at film festivals all over the world and since October 2013 he is also video-editor for the online magazine Awkword PaperCut.
---
---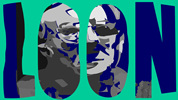 I Love The Internet (1:54)
Warning: Film contains strobing effects.
Poem: I Love The Internet by Kevin Barrington

Synopsis – A paean to digidelia.
Director: Bruce Ryder (Ireland)
Bruce Ryder is an Irish artist and animator living in Wicklow.
---
---
Keepsake (2:17)
Poem: Keepsake by Elizabeth Johnston
Synopsis – The poem was inspired by Elizabeth's grandmother's photos of her time in the DP Camp after WWII and was written several years ago. It is a combination of live action and stop motion animation.
Director: Elizabeth Johnston (Canada)
Since receiving her MFA in film and video, Elizabeth Johnston has been teaching screenwriting for over 20 years. This is her first video poem.
---
---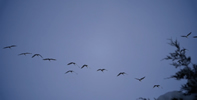 Migrations (4:21)
Poem: Migrations by Dave Richardson
Synopsis – Sandhill cranes migrate with the seasons, a son gets bored with life and heads down south and a man contemplates the animal spirits that inhabit everything around him.
Director: Dave Richardson (USA)
Dave Richardson is an Assistant Professor of Graphic Design at Eastern Illinois University, in Charleston, Illinois, USA, where he teaches interactive and motion design in the Department of Art. His Masters of Fine Art is from Indiana University, Bloomington, Indiana, and his print and motion design and film-poem work has been exhibited in solo and group shows across the United States, Canada, and the UK. He divides his creative work between personal and collaborative literary projects and client-based graphic design.
Recent presentations include speaking on simplifying the complexities of interactive design at the University and College Designers Association in Chattanooga, TN, and on integrating digital media into traditional 2D art foundation courses. His site is rockyhillstudio.com

---
---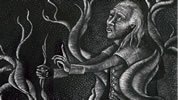 On A White Horse (3:57)
Poem: On A White Horse by Mike Galsworthy
Synopsis – We all know that environmental destruction and climate change can bring catastrophe for humanity, but why aren't the leaders of industry responding? Maybe they're caught in the habit of just making money? Or maybe they think that their money will protect them and their families while the poor suffer? However, if catastrophe does hit hard (with famine, disease, mass migration, floods), then the money of the rich will be of no use as everyone is in jeopardy struggling to survive.
Directors: Mike Galsworthy and Corinne Weidmann (England)
Mike Galsworthy is a scientist and a poet. His work in science has spanned genetics, animal behaviour, hospitals and health, and science policy. He is a performance poet on the London circuit and has been invited to perform at many events. Corinne Weidmann is a Swiss artist and graphic designer who has done work for the likes of Quicksilver and Red Bull. You can see some of her artwork at www.iunatinta.com
---
---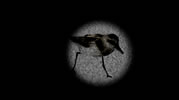 Sandpiper (3:35)
Poem: Sandpiper by Elizabeth Bishop
Synopsis – Sandpiper was written by Bishop in 1965. She has explicitly compared herself to the sandpiper and their connected quests to gain insight via careful observation. This film playfully evokes the sandpiper's worldview and some of the spirit of the poem's searching motif using images and sounds. It will be integrated into a larger documentary project I'm working on called Elizabeth Bishop and the Art of Losing.
Director: John D. Scott (Canada/USA)
John D. Scott has won multiple awards and has received glowing reviews as an independent filmmaker. He has directed many well-travelled short films and one critically acclaimed feature-length documentary on poet John Stiles called Scouts Are Cancelled (2007). He is currently developing a long-form documentary on poet Elizabeth Bishop.
More at www.magpieproductions.com
---
---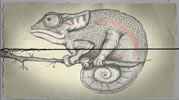 Spell Against Impermanence (1:23)
Poem: Spell Against Impermanence by Kim Addonizio
Synopsis – Using tattoo imagery, Kim Addonizio's poem is an incantation that calls out a few demons and asks in the end to "slide the needle deeper in".
Director: Cheryl Gross (USA)
Born and raised in Brooklyn, New York, Cheryl Gross is a visual artist, writer and motion-graphic artist living and working in the New York / Jersey City area. She is a professor at Pratt Institute, Brooklyn, NY and Bloomfield College, Bloomfield, NJ.
---
---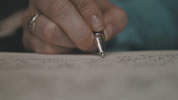 Steps (1:36)
Poem: Steps by Sorcha Ní Mhealláin
Synopsis – Steps is an exploration of how we integrate our emotions into our own worlds and environments and choose the experiences that shape us. The powerful scenery reminds us that we are always invited to fulfil our part in the world.
Director: Rory Kane (Ireland)
Rory Kane comes from the countryside of Co. Derry and his early love for art and music led him to integrate the two in a start up company making wedding videos. Recently, he has moved from this area into more artistic projects and is building a creative profile.

---
---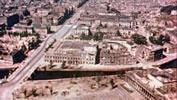 The Celebration (8:52)
Poem: The Details by Ghayath Almadhoun
Synopsis – The poem is written about Damascus. With never-before seen footage from Berlin, taken in July 1945, forty-five days after the war. There is no difference between destruction and destruction.
Directors: Ghayath Almadhoun and Marie Silkeberg (Sweden)
Ghayath Almadhoun is a Palestinian poet born 1979 in Damascus, Syria. Since 2008 he has been living in Stockholm, Sweden. He studied Arabic literary studies at Damascus University. He has worked as a journalist since 1999, writing cultural articles, book and theater reviews for various Arabic-language magazines and newspapers such as Al-Hayat and Al-Quds al-Arabi (London) and Annahar (Beirut). He founded in 2006, together with the Syrian poet Lukman Derky, The House of Poetry in Damascus, where several international poets appeared together with Syrian poets.
Marie Silkeberg was born in 1961 in Denmark and now lives in Stockholm, Sweden. She is a poet, translator, and professor in Literary Composition at the University of Gothenburg, Sweden. Her books of poetry include Sockenplan, säger hon (Alberg Bonniers förlag, 2003), 23:23 (Alberg Bonniers förlag, 2006) and Material (Albert Bonniers förlag, 2010). She has translated numerous writers from English, French and Danish, including Marguerite Duras, Inger Christensen, Susan Howe, Rosmarie Waldrop and Patti Smith. She has been working with sound/text compositions and videofilms with various composers and filmmakers. Her poetry films (together with Ghayath Almadhoun) include Ödeläggelse IV Stockholm – Gaza (2009), The City (2012) and Your Memory is My Freedom (2012).
---
---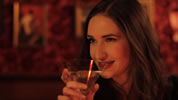 The Elephant is Contagious (3:34)
Poem: The Elephant is Contagious by Eabha Rose
Synopsis – This film tells the tale of a territorial battle between two love rivals at a polite and outwardly formal gathering.
Director: Simon O'Neill (Ireland)
Simon O'Neill is a writer, copywriter and filmmaker based in Dublin. He has written many commercials for TV, radio & web in a career that has included stints working in London, Dublin & Dubai. He also worked as a contributing writer for RTE Television's Naked Camera (IFTA, Best Entertainment Programme, 2007) and scriptwriter for the 9th & 10th Annual Irish Film & Television Awards (2012 & 2013). He is currently working on a number of feature scripts.

---
---

When We Two Parted (1:26)
Poem: When We Two Parted by Lord Byron
Synopsis – A reading of Lord Byron's poem of romantic regret, coupled with imagery from an early 1970's B-movie (now in the public domain), depicting an unhappy lesbian affair.
Director: Othniel Smith (England)
Othniel Smith is a writer whose work has included several plays and short stories for BBC Radio, eight episodes of the CBBC series The Story Of Tracy Beaker, and the Kindle exclusive novellas Sons Of Nervous Lovers and The True Srory Of My Alien Abductions: By Adrian Longton. He has made several poetry films in conjunction with The Poetry Storehouse.


---
---
Competition Shortlist – Screening B (50:06)

Sunday 19th October @ 4pm – Smurfit Theatre, Firkin Crane
---
---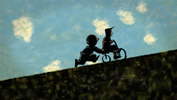 Common Side Effects (2:12)
Poem: Common Side Effects by Nathan Filer and Matthew Homes
Synopsis – After a tragic accident a boy loses his brother. He is dealing with his feelings of guilt by writing about his life.
Director: Udo Prinsen (Netherlands)
Udo Prinsen (Doetinchem, The Netherlands, 1974) graduated cum laude from the animation department of the Higher School of Arts in Utrecht, the Netherlands (1995 – 1999). During the practical part of his studies, an internship at Rocketship Animation Ltd. in Vancouver, Canada, he learned many tricks of the trade of animation. He started his career as an animator at the TV department of Valkieser Solutions, creating idents and leaders for TV networks and shows and always kept creating his own concepts for films. In 2000 Prinsen moved to England for The Bristol Animation Course, which was set up by Aardman Animations, the creators of Wallace & Gromit and Chicken Run. He spent a year in England working for Phew TV!/BBC Education.
Back in The Netherlands, Prinsen created his label Carambolas and teamed up with several producers creating title sequences for feature films, short films, concepts and animated sequences for theatre plays, documentaries, educational films as well as organizing independent productions. His latest film Audition was created with the musical help of Eric Vloeimans and Martin Fondse. This short is now traveling the world to many festivals and has won several awards.
---
---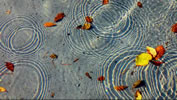 everything is poetry (1:35)
Poem: everything is poetry by Janet Lees
Synopsis – A film of light and water on water, overlaid with a poem and music by Moby, kindly licensed by mobygratis.com, this poetry film is about the nature of beauty that can be found in being present.
Director: Janet Lees (Isle of Man)
Janet Lees is a poet and artist with an interest in multidisciplinary digital work. She has had collaborative poetry films selected for international prizes and festivals including the Aesthetica Art Prize, the Neo Art Prize and the Ó Bhéal International Poetry Film Competition 2013. Her poetry has been published in journals including Magma, Poetry News and The Missing Slate and she has been anthologised, most recently via the Lightship International Literary Prize. Janet was one of 72 Commonwealth nation poets to feature in the BBC Radio Poetry Postcards project and has recently been commissioned, along with a visual artist, to create public art for the Isle of Man.
---
---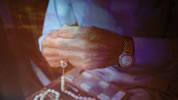 I'm an Arab (6:42 )
Poem: I'm an Arab by Sami Moukaddem
Synopsis – The author acknowledges the traps of nationalism, religion and culture early on in the political dichotomy of Western/Arab politics and the divisions implied. As the poem develops, the author sheds these divisions, invites the reader to transcend these divisions and recognises humanity's oneness in how we reflect one another. Evolution is slow; we have to be nice about it as we evolve.
Director: Sami Moukaddem (Lebanon/Ireland)
Originally from Lebanon, Sami has been in Ireland for the past 29 years. He is by profession a Counselling Psychologist with a Masters in Psychology from Trinity College. He has self published two novels; composed, produced, and released four CDs under his own name. He released a documentary How we can solve the Palestinian Israeli Problem (96 mins), available for free viewing on the web. He has also released nine music videos under "Azizi bin Habeebi", and three interviews. He is currently planning a feature-length documentary on depression (a happy one).
---
---

Inhabit (4:36)
Poem: Inhabit by Timothy David Orme
Synopsis – Inhabit is a short film that investigates language and perception vis-a-vis the word and the image.
Director: Timothy David Orme (USA)
Timothy David Orme is a writer and filmmaker. His short films have shown at large and small festivals and art galleries all over the world. He is the author of Oponearth (BlazeVOX 2013) and Catalogue of Burnt Text (BlazeVOX 2009) as well as two chapbooks, most recently the first chapter of his novel Reflummuxology: Or, A Navel Inverse (Alice Blue Books 2012). His poetry and essays have appeared in Word For/Word, Little Red Leaves, Interim, Colorado Review and Diagram, among others.
For more about Tim, visit www.timothydavidorme.com
---
---

Je tombe (2:58)
Poem: Je tombe by Luba Avy
Synopsis – When the powerful tide of love covers you it is impossible to resist, impossible to stay on your feet. Magic and miracles happen ubiquitously. All the nature and secret powers of the universe are in conspiracy with you. You fall … and magic fractal worlds absorbs you.
Directors: Elena Semak and Svitlana Reinish (Ukraine)
Elena Semak (1986) and Svitlana Reinish (1987) are artists in collaboration from Kiev, Ukraine, who graduated from The Academy of Fine Arts in Kiev. Now they work with computer graphics, video, animation and blended media projects. Together they have directed a few videos and animations. They participated in a Vienna interactive project Creative facades where they used Tagtool software for creating real-time animation; as vj-artists they also performed in the exhibition ART KYIV Contemporary 2013. Their art installations and performances have also been represented in the contemporary art festival GogolFest in Kiev, for several years. Svitlana Reinish is a winner of the Cyclops Poetry Film Festival award in Kiev. Her videopoem Starina took the first place in 2011. A video work New time by Elena Semak, won a Special Prize in this festival in 2012. Svitlana also in her solo creativity works with video, has vj-ed in different culture events and produced video clips for Ukrainian's music collectives. Elena Semak works with computer graphics, 3d technologies, creates animation and street art.
---
---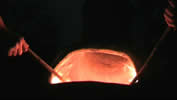 Office Building At Night (4:21)
Poem: Office Building At Night by Tim Cumming
Synopsis – A line from one of Raymond Chandler's thrillers Farewell My Lovely, in the film version starring Dick Powell, inspired the start of this poem. Shelley's Ozymandias inspired the end, and time gave me the middle, worked on through the winter and spring of 2014, taking for its model Richard Seifert's 1972 Brutalist Kings Reach Tower by Blackfriars Bridge, where I worked for a number of years at a west-facing window on the ninth floor in the Programmes Department of the TV Times. The soundtrack includes field recordings from Novi Sad, Posnan, Rue Git de Coeur in Paris, and Soho, and the fire was lit in a pot belly stove sometime in 2007. Editing and sound was done in 2014.
Director: Tim Cumming (England)
Tim Cumming produced, wrote and narrated the acclaimed Hawkwind DO Not panic documentary for the BBC, which has since been shown at a major festival of music films at the Danish Film Institute. He has published seven collections since 1991, and his film poems have been shown at the South Bank, and festivals in Antwerp, Sebia, Argentina, Vancoucer and at Port Eliot Festival.
---
---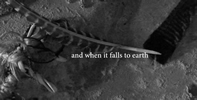 On a Prophet (1:57)
Poem: On a Prophet by Kathleen Roberts
Synopsis – A woman, seemingly tormented by the lasting images of seeing her brother die, believes she can become immortal by fasting and studying. She takes refuge in a garage, creating her own talismans.
Director: Dave Richardson (USA)
Dave Richardson is an Assistant Professor of Graphic Design at Eastern Illinois University, in Charleston, Illinois, USA, where he teaches interactive and motion design in the Department of Art. His Masters of Fine Art is from Indiana University, Bloomington, Indiana, and his print and motion design and film-poem work has been exhibited in solo and group shows across the United States, Canada and the UK. He divides his creative work between personal and collaborative literary projects and client-based graphic design.
Recent presentations include speaking on simplifying the complexities of interactive design at the University and College Designers Association in Chattanooga, TN, and on integrating digital media into traditional 2D art foundation courses. His site is rockyhillstudio.com

---
---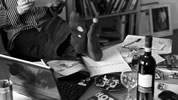 Portrait (1:30)
Poem: Portrait by Olaf Tyaransen
Synopsis – Portrait is a brief meditation on two of the biggest dangers facing a journalist with literary aspirations – alcohol and procrastination. It opens as he has just written the first two pages of a book that he hopes "will make her proud and them jealous." It ends years later with him regretfully throwing them away, having never completed the work.
Director: Mick Quinn (Ireland)
Mick Quinn has been a stills photographer for 25 years. In 2008 Mick began the transition to making films. He now shoots TV commercials, music videos and corporate videos. He intends to make a feature film as soon as possible. Portrait is his 3rd poetry film collaboration with Olaf Tyaransen.
---
---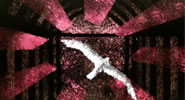 Proem (To Brooklyn Bridge) (3:18)
Poem: Proem (To Brooklyn Bridge) by Harold Hart Crane
Synopsis – This short film illustrates and interprets Hart Crane's Proem To Brooklyn Bridge (1930) using a direct animated stencil technique reflecting graphic styles of the period, the evocative voice of Tennessee Williams (a great admirer of Hart Crane's work) and original sound design. This is an interdisciplinary contribution to research into cultural representations of literature and literary figures through animation and sound design, underpinned by study of Hart Crane's creative process and his use of metaphor.
Director: Suzie Hanna (England)
Professor Suzie Hanna teaches at Norwich University of the Arts. She is an animator working with mixed media across analogue and digital interfaces, who collaborates with other academics and artists, and whose research interests include animation, poetry, puppetry and sound design. She has made numerous short films all of which have been commissioned, selected for International festival screenings, TV broadcast or exhibited in curated shows. She contributes to journals, books and conferences, and has led several innovative projects including animated online International student collaborations and digital exhibitions of art and poetry on Europe's largest public HiDef screen.
Recent animations include a book trailer Spells for American poet Annie Finch, Letter to the World, commissioned by the Emily Dickinson International Society, she animated theatrical scenery for a production of The Tinderbox, an animated Madonna figure for a 30 foot high projection commissioned by Norwich Cathedral, The Girl who would be God, commissioned for a Sylvia Plath Conference at Oxford University and Man-Moth Merz for screening at poet the Elizabeth Bishop centenary celebrations in Nova Scotia.
---
---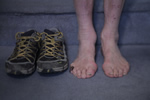 Racing Time (3:09)
Poem: Racing Time by Chris Woods
Synopsis – An elderly runner traverses across rough terrain in extreme weather conditions, struggling with the elements, the landscape and ultimately with time itself.
Directors: Adele Myers and Ra Page (England)
Adele Myers is Manchester based and has exhibited a variety of interactive video works in Manchester UK, New York and Bulgaria. Her recent film work include a collection of poem films that have been screening in film festivals in the UK including Kendal Mountain Film Festival, Cumbria, BAFTA Market – London. Her European festival screenings include; Zebra Poem Film Festival in Berlin, Posiefestival in Oslo and Tarp in Vilnius. This year she was selected to create a poem film for the Filmpoem commission for the poem society's National Poetry prize. Her film Birdfall, based on one of the commended poems of the same title by Danica Ognjenovic, was premiered at the Felix Poetry Festival, Antwerp and also was screened in National Poetry at The Southbank Centre's The Royal Festival Hall, London.
She is also founder and Artistic Director of Bokeh Yeah! In Manchester. A DSLR Video Academy that offers production training sessions, provides film challenges, screenings, networking and film career development opportunities for filmmakers. Working closely with local publishers there have been 13 newly created poem films made by members of the group so far. There are plans to tour these films and run more challenges in the future.
More at: www.facebook.com/BokehYeah
Ra Page is the founder and Managing Editor of Comma Press, an independent UK publishing house specialising in short fiction. He is also coordinator of Literature Northwest, a support agency for independent publishers in the region, and runs Comma Film, an on-going film adaptation project that regularly commissions filmmakers and animators to adapt short literary texts (poems and short stories). He read Physics and Philosophy at Ballliol and then took an MA in English at the University of Manchester. He is co-editor of The New Uncanny (winner of the Shirley Jackson Award, 2008) and editor of Litmus: Short Stories from Modern Science, voted one of 2011's books of the year by The Observer. He has presented papers at numerous conferences across the UK and mainland Europe. He has previously worked as a journalist and has been a producer, co-writer and co-director on a number of short film projects.
---
---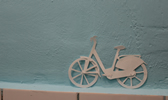 Right of Way (1:12)
Poem: Voorrang by Silvie Wolff
Synopsis – In traffic (and in life) some people don't care about Right of Way.
Director: Silvie Wolff (Netherlands)
Silvie studied writing at the Utrecht School of the Arts. She has also taken courses in filmmaking, editing and in different forms of animation. A year ago, with the help of a friend, Silvie decided to turn some of her poems into short animations. Right of Way is the first one in a series of animated poems.
---
---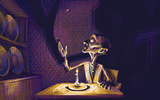 The Moth (1:26)
Poem: The Moth by Matthew Porter
Synopsis – In a remote dwelling a solitary man contemplates the company of a neighbourly moth.
Director: Matthew Porter (Ireland)
Matthew Porter is a freelance animator. He graduated from IADT in 2013 with a first in Animation.
---
---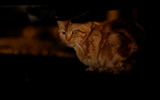 They Terrify Me (2:14)
Poem: Those women searching for cats, they terrify me by Kevin Barrington
Synopsis – A passionate, quirky, scream of terror about growing old.
Director: Conor Horgan (Ireland)
Conor Horgan trained as a photographer before moving into writing and directing film. He is currently in production on The Queen of Ireland, a documentary film about Panti Bliss, Ireland's greatest drag queen and accidental archivist.
---
---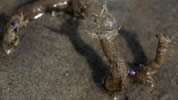 Wadland (9:19)

WINNER
Poem: Wadland by Marleen van der Werf
Synopsis – Wadland is a poetic wildlife documentary about the life in the sand of a tidal plain, and the search for a lost childhood memory.
Director: Marleen van der Werf (Netherlands)
After finishing her Masters in Biology and Philosophy at the University of Amsterdam, Marleen van der Werf specialized in filming nature.
www.marleenvanderwerf.com
---
---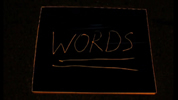 Words (5:37)
Poems: Various Poems by Honorata Chorąży-Przybysz, Jacek Raputa and Paweł Lysak
Synopsis – The movie is an artistic interpretation of the poets' work about the life of immigrants, their loss and gain, their reality and dreams, their wanted and unwanted stories. Words is also a short story about homesickness and life in-between.
Director: Maciej Piatek (England)
Maciej Piątek is a Polish video artist based in the UK. He started his adventure with movie making while preparing a short film Dictator, for a mobile phone movie competition Take it and Make it – a part of Off Plus Camera 2009, Cracow, Poland, where he reached the final 10. Since then he has been involved in many projects including producing music videos for various local music bands and emerging International musicians.


---
---
---
---