Review:
Salerno Letteratura Festival
(June 15th-23rd, 2019) – Salerno, Italy
hosted by Associazione Duna di Sale
[L-R] Paul Casey, Julie Field, Kathy D'Arcy, Luke Field, Stanley Notte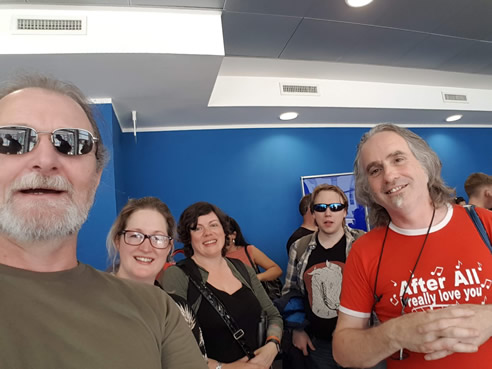 In June 2019, Ó Bhéal representatives Paul Casey, Julie Field, Stanley Notte, Luke Field and Kathy D'Arcy spent a week on the Amalfi Coast to take part in the
Salerno Letteratura Festival
, for the final exchange of our 2017-2019 Erasmus+ grant, with Ó Bhéal's four ECIC European literary festival partners.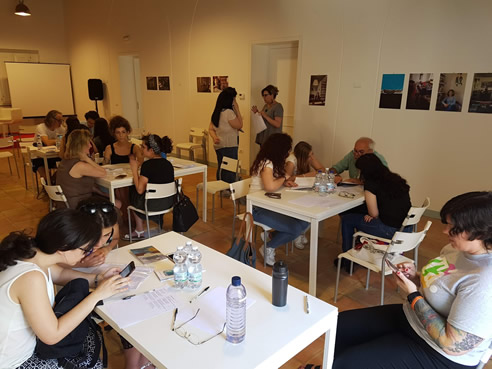 The poets were treated to translation workshops in collboration with the linguistics department of the University of Salerno under professor Linda Barone, which saw two poems from each writer translated into Italian, followed by a collective reading at the festival.
Here follows a collective review with photos from the Cork contingency:
---
---
Stanley Notte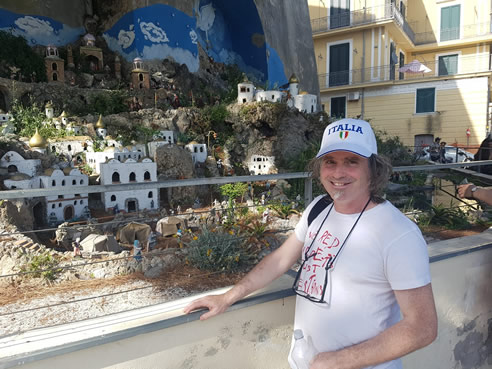 From start to finish the trip was an extraordinary pleasure. Paul, as always, had everything – flights, accommodation (which was excellent), transfers and itinerary – impeccably arranged for the Ó Bhéal group. And that is always a good start.
But when you add a beautiful city steeped in history, gorgeous venues for festival events, a fantastic translation experience and an extraordinarily helpful organising committee to that good start…well the result is Absolutely Fabulous!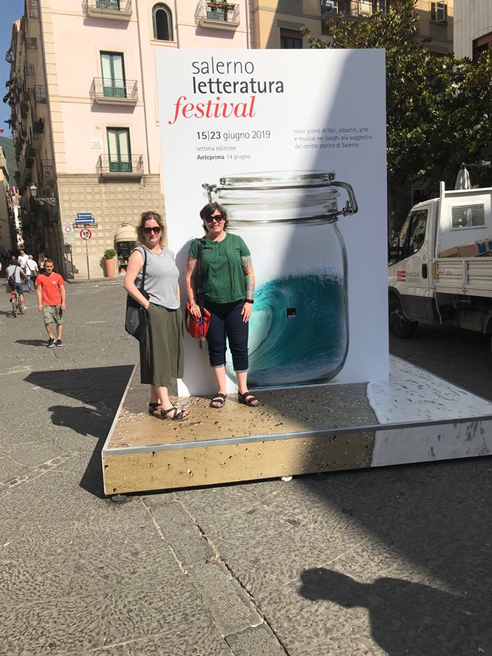 I have to say that Marco, Daria and their extended crew gave a master class in how to host visitors. Nothing was too much trouble, their lines of communication were superb, and while I'm sure there were moments when they were under pressure, that pressure was never translated to us, and all seemed streamlined from an organisational point of view.
Professor Linda Barone with her linguistics students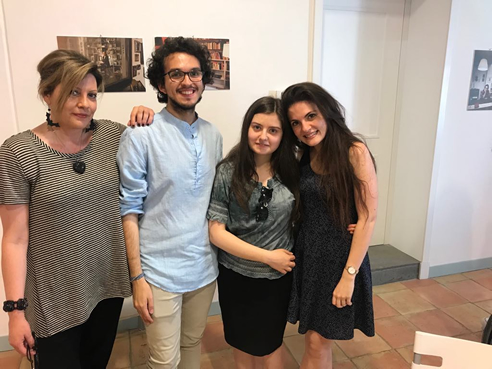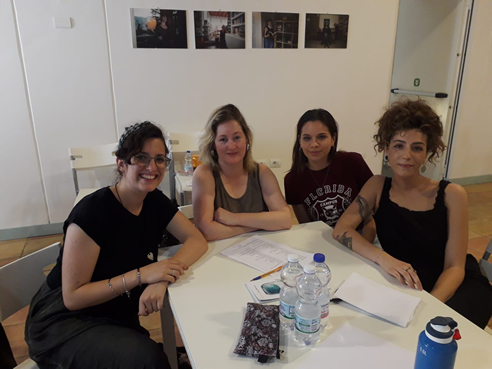 Hence the steering meeting went very smoothly. As did the translation lab meetings and associated event. And everything else as well. The committee are helped by access to a host of wonderful venues. But beautiful venues don't make a festival. They must be utilised correctfully, indeed with taste and love and care, and an eye for what works best in each space.
I'm not sure who came up with the idea of the translation lab, but whoever did please take a bow, and accept a standing ovation on such an inspirational moment.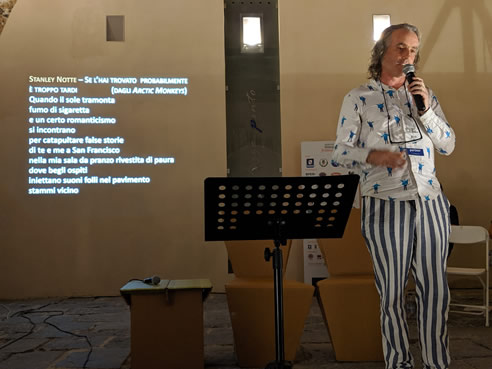 It was incredible to witness the enthusiasm, excitement and work ethic the students displayed in both Lab sessions and on the night of the event. And having worked on public speaking with young people in the past, I am keenly aware of the positive impact being involved that event will have on their confidence – which is a fantastic gift for any young adult.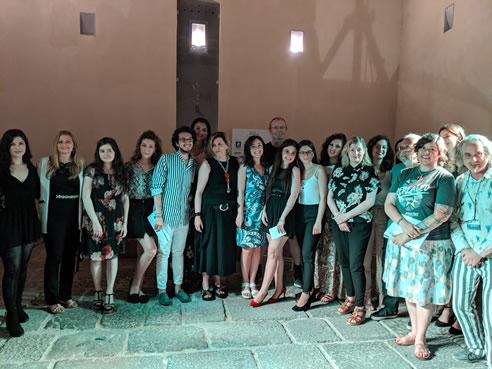 In addition to all the great festival stuff and local activities our group managed a day in Pompeii, which was such a joy it is hard to find words for it. I love historical sites, and Pompei is almost mythical. So to be there and soak in the atmosphere was simply amazing, and a day that I have talked about a lot since returning.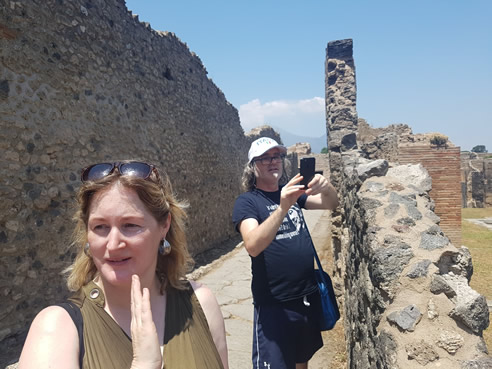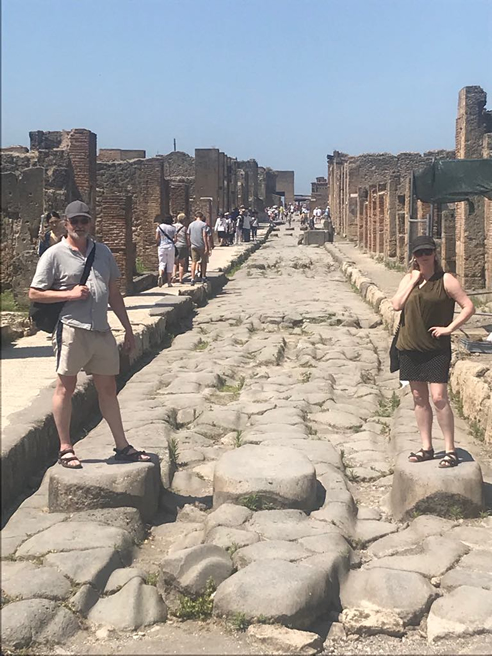 I will finish with a very predictable statement. Italian food, wine and coffee are exceptional (and that from a man who doesn't drink wine or coffee – seriously, I don't. At least when not in Italy!). But such fine delicacies were simply a delicious topping on our trip.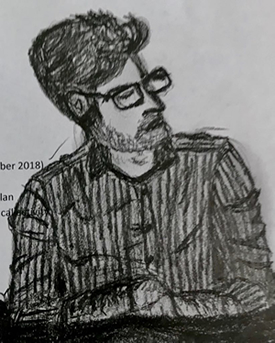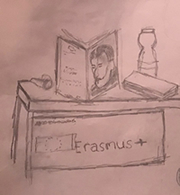 So thank you Salerno, and all involved in both the 2019 Festival and Erasmus project. It was an amazing experience to share time with you, and immerse myself in what you do, and where you do it. Here's to the next time!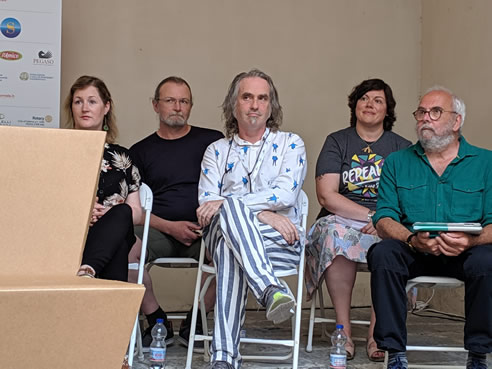 There will be a next time won't there?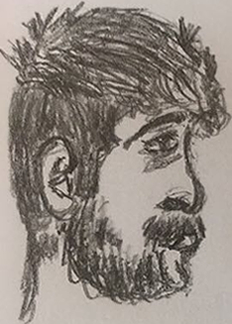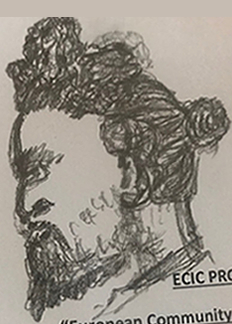 ---
---
Kathy D'Arcy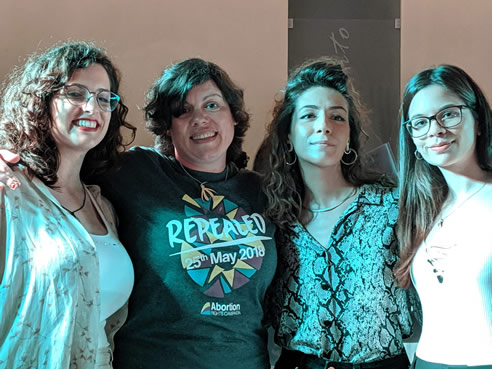 We flew into this beautiful city late on Saturday night, still managing to find amazing pizza in a little place nearby. We then spent Sunday exploring the city and figuring out the extensive festival programme and its many impressive venues.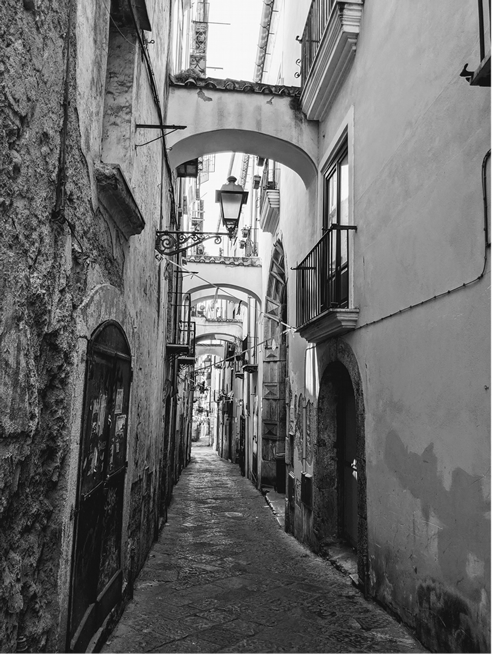 The city is perched on the wild hills that tumble down to the Amalfi coast. It was my first time in Italy, and just a few days previously the Italian government had passed legislation making it illegal to rescue migrants from the sea. During our first day I was busy helping some friends at home organise a protest about the treatment of refugees in our own country, and later on I was able to meet some Italian pro-choice activists, exchange messages of solidarity and forge international links that would not have been possible without this trip. It feels like using creativity to try to speak out about what's happening in the world is growing more and more important every day.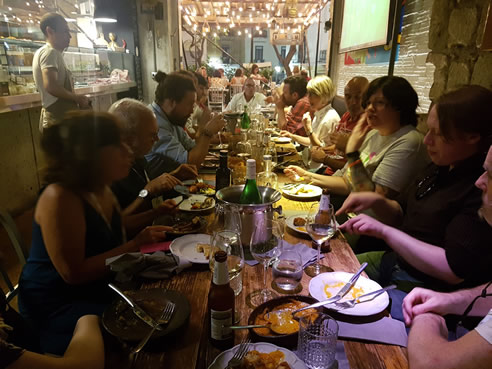 On Monday we attended the steering group meeting, where discussions about what has been achieved during the partnership were rich and inspiring. Later, the partners met for dinner and a Fado singing event involving the Portuguese and Italian groups. The singing filled the ancient courtyard of Saint Matthew's cathedral – one of the many amazing locations given to the festival by the city.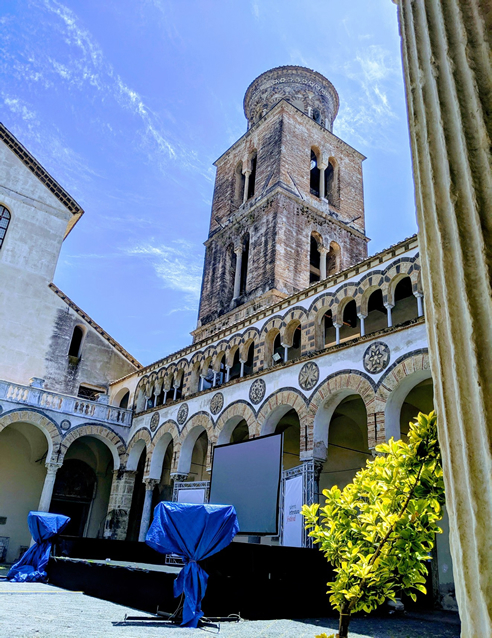 On Tuesday we had our first translation lab, where we met the groups of Salernian students who have been working to translate our poetry into Italian. The students had obviously put a lot of work and thought into the translations, and it was a real privilege to be able to work with them to create new, Italian iterations of our work – as well as to discuss the philosophy and controversy around poetry in translation.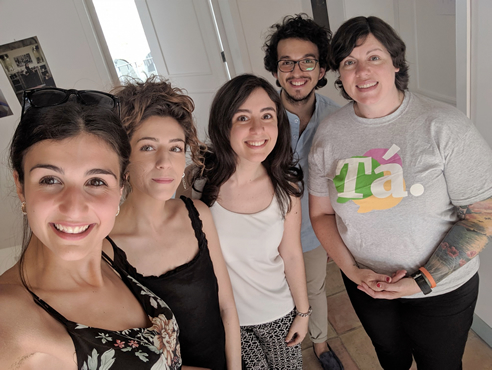 On Wednesday we met the groups again for final reviews and a rehearsal of the performance, and on Thursday we read together with them in front of an impressive audience in the ancient Arco Catalano.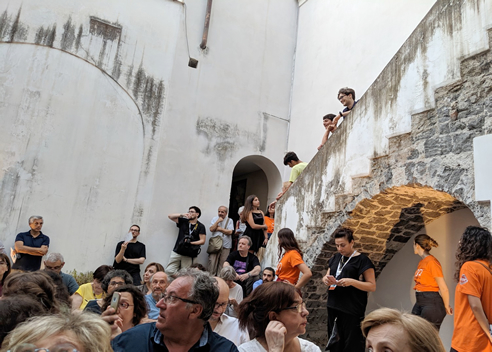 We each read our work, and then the students read their translations. For me, it was amazing to hear how different the tones of my pieces could be in another language, and to discover how many brilliantly grotesque-sounding verbs there are in Italian to describe rending, tearing, and destruction. Doing this work with the student translators has been a highlight of my writing life, and I am hoping to be able to read the Italian translations at future events.


**********Click for a video of Kathy's reading**********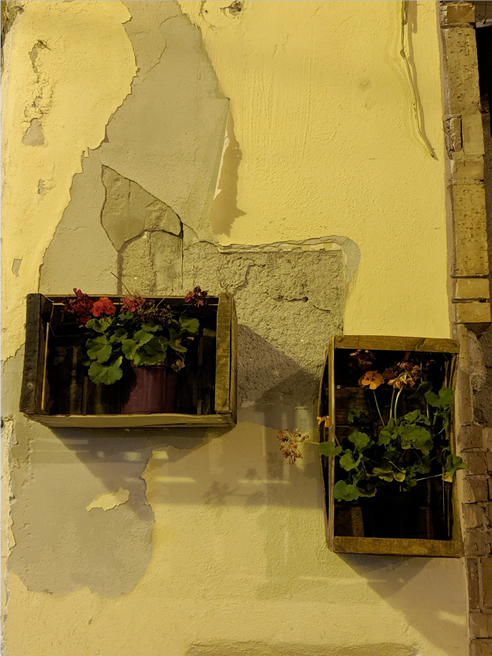 On the evening of the reading, it seemed like the whole city was full of the partner groups, that people we knew and had worked with were around every corner. Attending and participating in the festival, and participating in the other festivals across Europe with these groups, has been a privilege. It has shown me what is possible when small groups of people come together across different countries to co-operate, and what is possible when your creative horizons are suddenly blown open.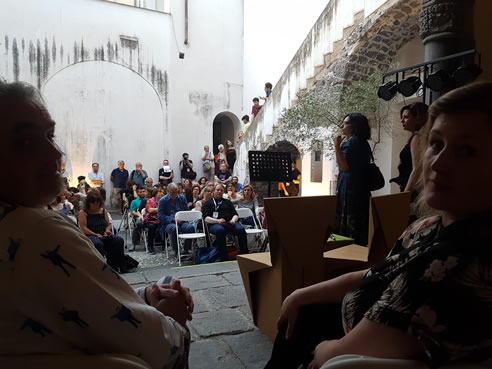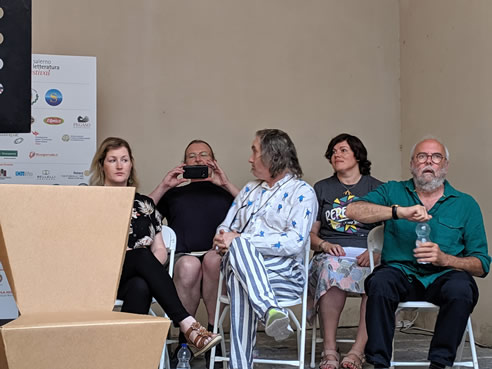 ---
---
Julie Field
Saluting Salerno
We are 5. We are poets, friends, strangers, lovers, and cousins. We are 5.
The hot midnight Napoli air greets us. It whispers a personal warning that my fair skin will sizzle and mosquitoes will feast on my scent. I am Cork's sacrificial poet to Salerno Letteratura Festival. Let the fun begin.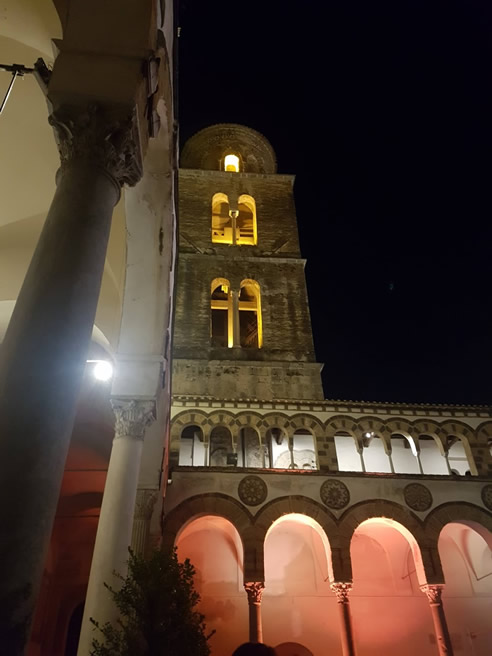 A sleepy town is the perfect canvas for a celebration of poems. Cork poets wriggle their giddy way through corkscrew streets. The stone, a sandy tone, and random statues of Mary remind us of home. But we are most certainly in Salerno.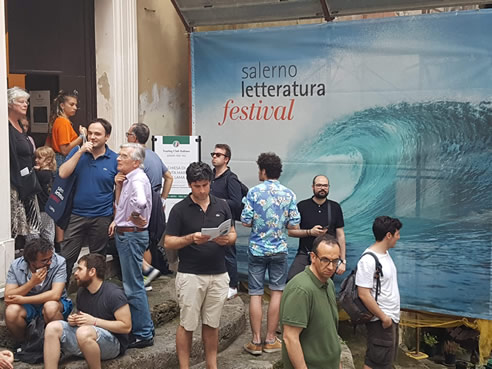 Marco's Italian lilt conducts the group with professionalism, and genuine charm. Steering meetings give us the opportunity to reflect, share, and connect with sparkly eyed poets from other European lands.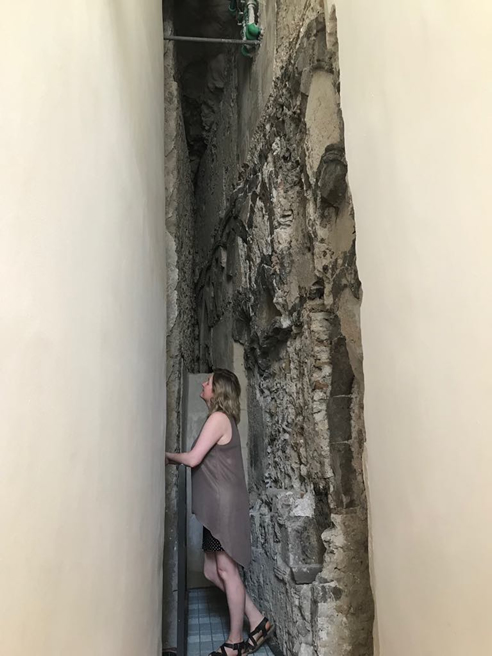 Daria greets us with a smile and local knowledge at each venue. Sweet Jesus, the venues! We are most certainly not in Cork! Chiesa Dell'Addolorata, Duomo, Palazzo Fruscione, Arco Catalano, and many more. Italy, you are blessed with devine architecture, and the understanding of how to honour it. Each structure encasing a wave of words, ideas, dreams, and hard work.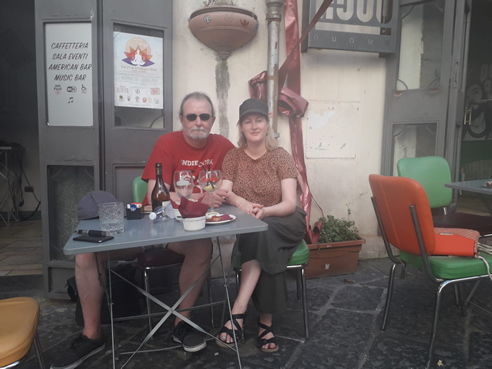 Let me take a moment to acknowledge the food. Sweet Jesus, the food. An orchestra of taste; pillows of pasta melting in my mouth, vegetables as fresh as cut grass, heavenly sauces, gelato that you would sell your mother for, and coffee that deserves your time and attention. The wine, the wine. I'll leave that to another time. That is another story in itself. Salerno, you pride yourself in your regal palate. I bow to you.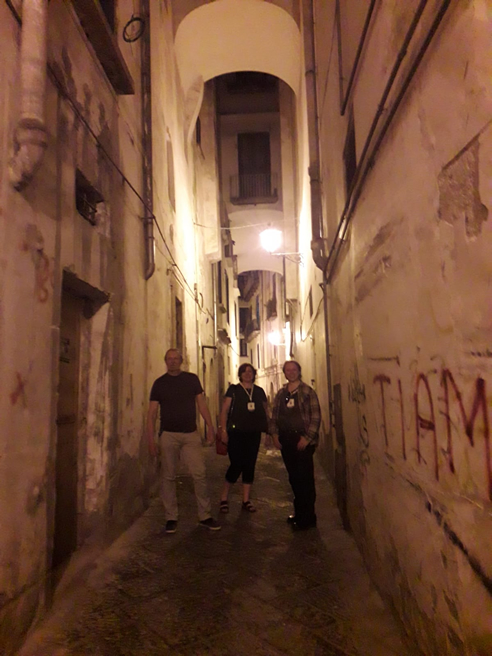 And I take my hat off to the group of students who worked so diligently, intelligently, and with such sensitivity at the translation labs. What a treat to witness our poems take on a new form, a new life in Italian. Our poems are in safe hands, and we thank you.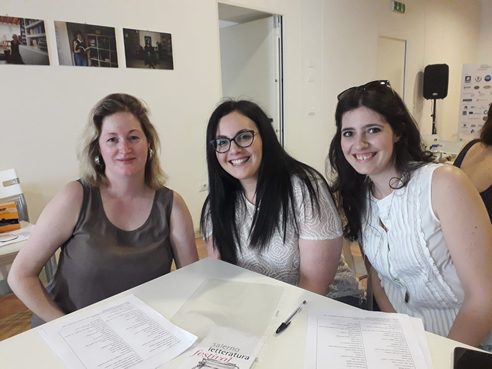 Congratulations Salerno Letteratura Festival for showcasing your appreciation of the arts, your home, and your heart. We are enriched. We are grateful. We are 5.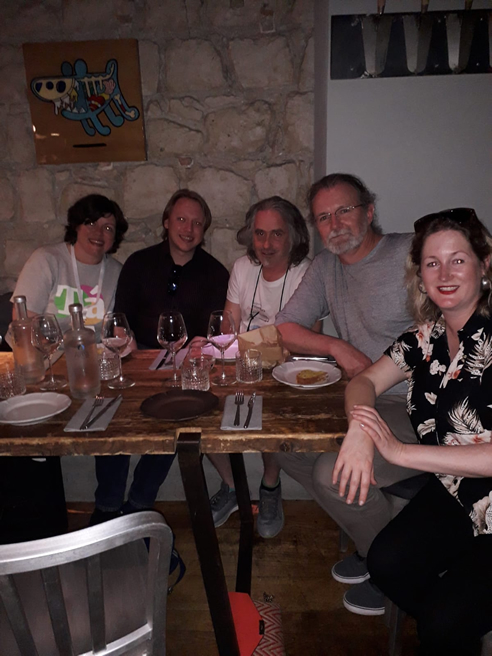 ---
---
Paul Casey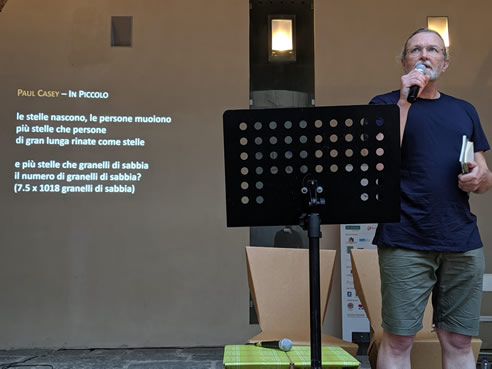 I was thrilled with our summer week in Salerno. Our five-festival strong ECIC group really came into its own during this final exchange of our 2017-2019 Erasmus+ grant, with all the partners proving to be well on target to complete all project objectives in good time and fine form. The relationships built up over the past two years have proved expansive and invaluable in many respects: technically, artistically, linguistically and productively. A strong sense of progression and quality international teamwork has emerged from the project and I was delighted to learn that my eagerness to embark on a second chapter with these talented players was a sentiment shared by the other partners. During the two-year project, 14 Cork poets travelled and took part in our partner festivals, providing valuable international exposure and multifarious learning opportunities. In turn, over 20 representatives from our partner festivals descended upon the 2018 Winter Warmer festival in Cork, dramatically broadening its scope and content.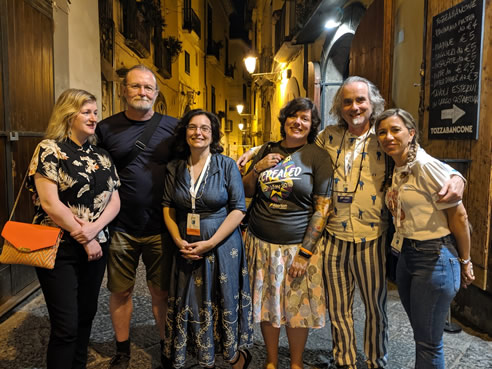 I was asked to write a poem about the Salerno Letteratura Festival (the most significant of its kind in southern Italy) while taking part in their most recent edition with a few fellow Corkonian poets. The poem was translated by Barbara Cangiano and included in this article (eng version below) by Erminia Pellecchia – published in Il Mattino di Salerno (Sunday 23rd June 2019).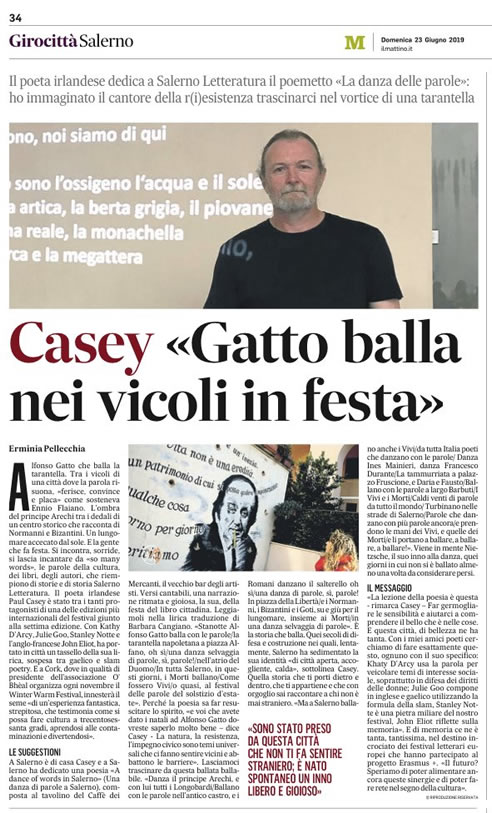 It's rarer than rare for me to finish a poem in less than 24 hours, but sometimes it really does 'write itself' when the setting is especially conducive. The original poem is at the end of this post. I left the translated version in situ.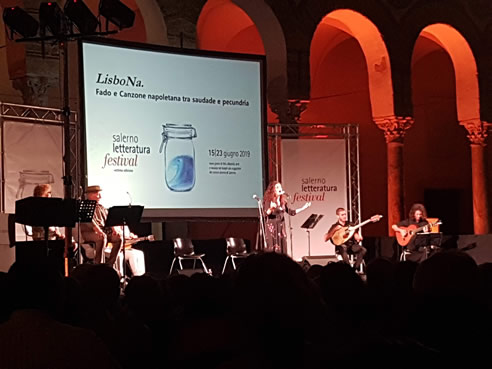 Salerno produced one of the foremost Italian poets of the 20th century, Alfonso Gatto (1909-1976), who remains largely unknown within the English speaking world. He championed hermetic poetry (where the suggestive power of sound is as important as the meaning of the words), which Gatto saw as a 'quest for a "natural absoluteness"'. He was a dissident communist and an outspoken anti-fascist throughout and after WWII, a poet of resistance, of liberty and of love, he often wrote about victims and the survivors who were affected most.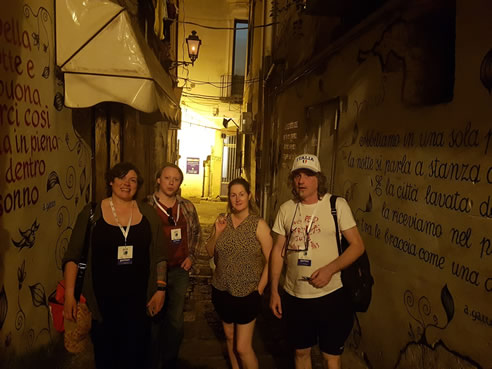 Here's the translated article, followed by the poem in English:
– – – – – –
Casey [Gatto dances in the Festive Streets]
by Erminia Pellechia
The Irish poet dedicates a poem to Salerno Literature [A Dance of Words in Salerno]: I imagined a singer of resistance drawing us into the vortex of a tarantella (local trad. Dance)
Alfonso Gatto dancing the tarantella. In the alleys of a city where words resound "wound, persuade and placate", as Ennio Flaiano claimed. The shadow of Prince Arechi among the labyrinths of an historic center that tells of Normans and Byzantines. A waterfront blinded by the sun. And people being festive. He meets, smiles, allows himself to be enchanted by [so many words], the words of culture, of books, of authors, which filled the Salerno Literature festival with stories and history. Irish poet Paul Casey was among the many featured guests of one of the most international editions of the festival. Along with poets Kathy D'Arcy, Julie Goo, Stan Notte and the Anglo-French John Eliot, he brought a number of his lyrics to the city which he recited while suspended between Irish Gaelic and spoken word poetry. And in Cork, where, as director of the Ó Bhéal association, he organizes the Winter Warmer Festival each November, where he grafts the seeds of [a fantastical experience, one which knows how to present culture at three hundred and sixty degrees while being inclusive and open to having fun].
As Casey is quite familiar with Salerno (this being his third visit) he dedicated a poem to the city "Una Danza di Parole in Salerno" (A Dance of Words in Salerno), composed at a coffee table of Caffè dei Mercanti, the old artists' bar. With singable verses, it's a rhythmic and joyful narrative of the city's literature festival. Let's explore it here in lyrical translation (by Barbara Cangiano).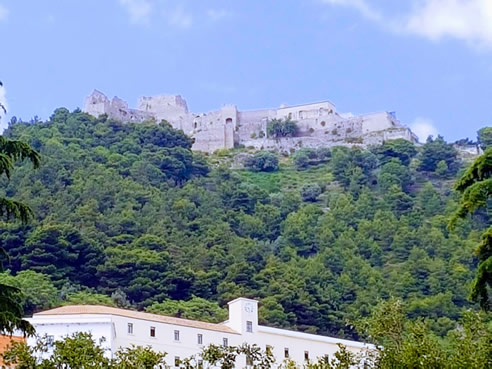 Una Danza di Parole in Salerno (traduzione di Barbara Cangiano)
Stanotte Alfonso Gatto balla con le parole
la tarantella napoletana a piazza Alfano, oh sì
una danza selvaggia di parole, sì, parole! nell'atrio del Duomo
In tutta Salerno, in questi giorni, i Morti ballano, come fossero
Vivi o quasi, al festival delle parole del solstizio d'estate.
Danza il principe Arechi, e con lui tutti i Longobardi
Ballano con le parole nell'antico castro, e i Romani danzano il salterello oh sì
una danza di parole, sì, parole! In piazza della Libertà
e i Normanni, i Bizantini e i Goti, su e giù per il lungomare, insieme ai Morti
in una danza selvaggia di parole.
Ma a Salerno ballano anche i Vivi
da tutta Italia poeti che danzano con le parole
Danza Ines Mainieri, danza Francesco Durante
La tammurriata a palazzo Fruscione, e Daria e Fausto
Ballano con le parole a largo Barbuti, I Vivi e i Morti
Caldi venti di parole da tutto il mondo
Turbinano nelle strade di Salerno
Parole che danzano con più parole ancora
e pren-dono le mani dei Vivi, e quelle dei Morti
e li portano a ballare, a ballare, a ballare!.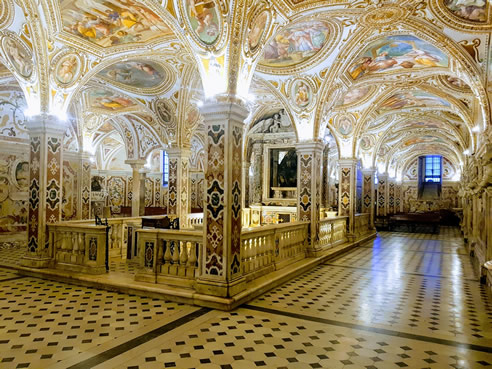 Because poetry can rescuscitate the spirit, "and you who gave birth to Alfonso Gatto should know this very well" – says Casey – "Nature, resistance, civic commitment are universal issues which make us feel closer and break down barriers". Let us be carried away by this danceable ballad.
It is a story that dances. Those centuries of defence and construction in which Salerno slowly settled its identity "of an open, welcoming, warm city", emphasizes Casey. That story that you carry inside and leave behind you, that belongs to you and which you can proudly tell to those who are never foreigners.
Nietzsche's Dance-Song comes to mind, those days when you have not danced at least once just to lose yourself completely.
"The lesson of poetry is this" – points out Casey – "to sprout sensibilities and help us to understand the beauty that is in all things. And this city has so much beauty. With my poet friends we try to do exactly this, each in their own unique way".
Kathy D'Arcy uses poetry to convey issues of social interest, especially in defense of women's rights; Julie Goo composes in English and Irish Gaelic using the genre of spoken word; Stanley Notte is a milestone of our festival; John Eliot reflects on memory. And there is a lot of memory, a huge amount, in the crossed destiny of the European literary festivals that have participated in this Erasmus+ project.
"The future? We hope to be able to nurture these synergies again and to be able to do so in the name of culture".
– Il Mattino di Salerno (Sunday 23rd June 2019)
– – – End of Article – – –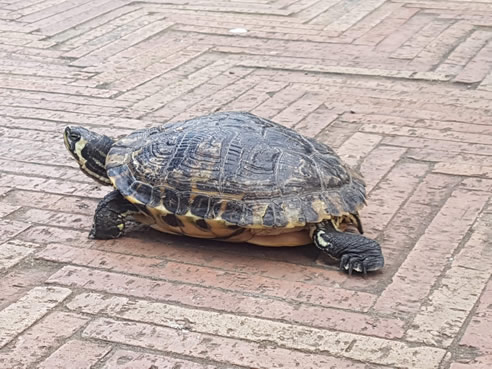 A Dance of Words in Salerno by Paul Casey
Tonight Alfonso Gatto is dancing Tarantella Napoletana
with words in the Piazza Alfano, yes wildly, dancing
around the Atrio del Duomo with words, yes words!
All through Salernum this week the Dead are dancing,
Almost alive in the summer solstice festival of words
Duke Arechi is dancing, all the Longobardi are dancing
with words in Castrum Salerno, the Romans dance
Saltarello with words in Piazza Della Libertà too
Yes the Normans, the Byzantines and Goths, all along
the Lungomare, the Dead dance deliriously with words
Even the living are dancing with words in Salerno,
Poets from all over Italy, dancing Pizzica with words
Ines Mainieri is dancing, Francesco Durante is dancing
Tammuriata in Palazzo Fruscione, Daria and Fausto dance
with words in Largo Barbuti. Both the Living and the Dead.
Winds of words from around the world
swirl all through the warm streets of Salerno
Words dance and dance and more words dance
They take the hands of the Living, the hands
of the Dead – to dance to dance to dance!
– – – – –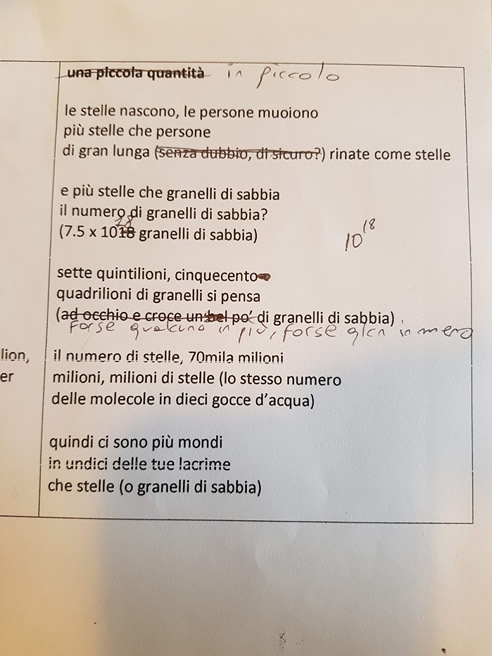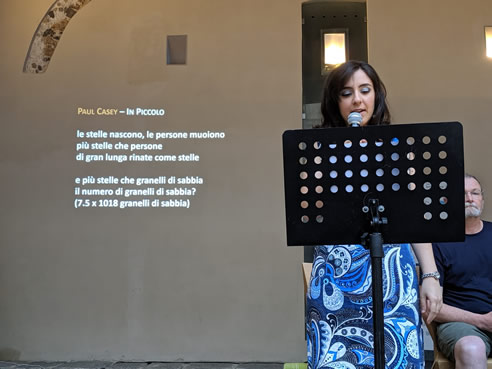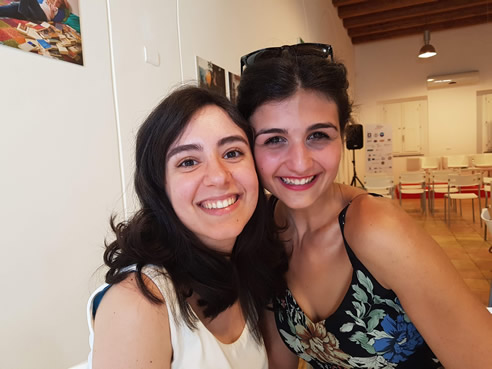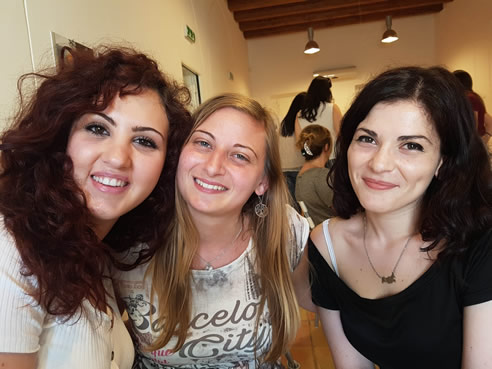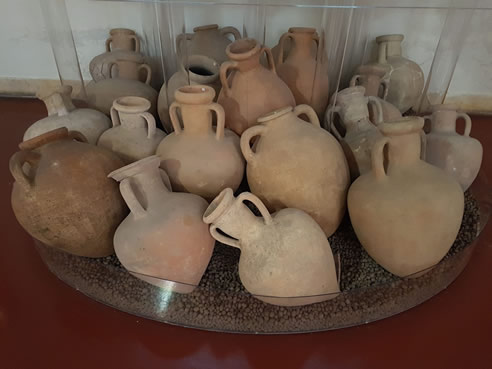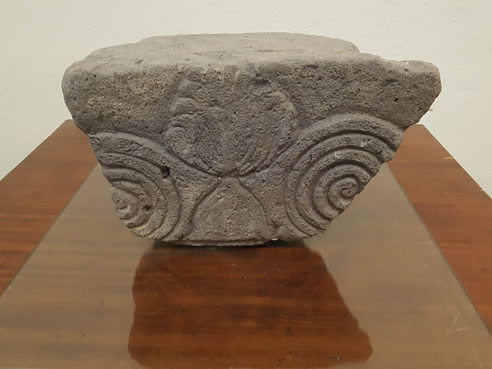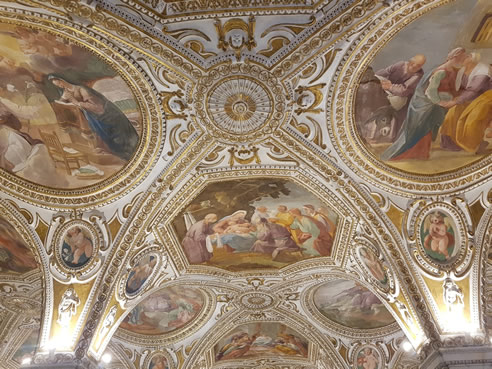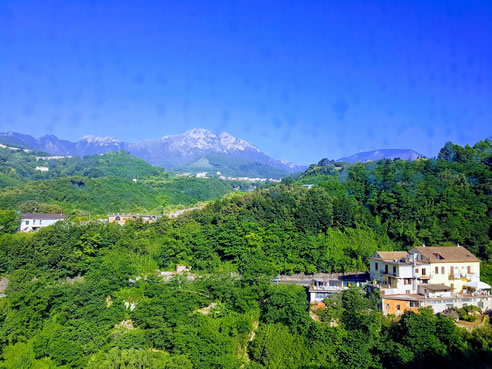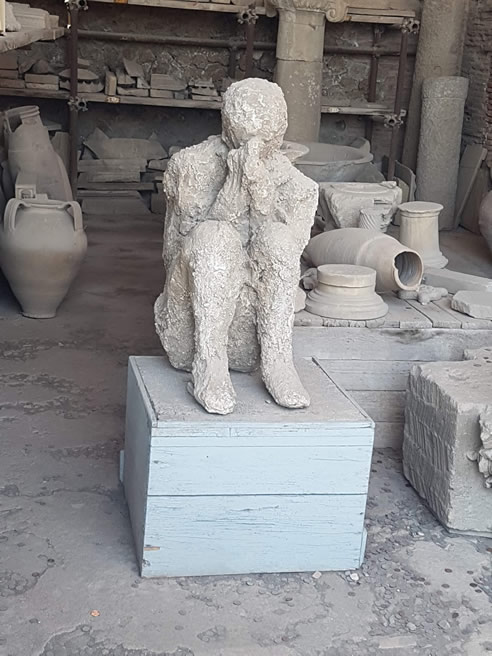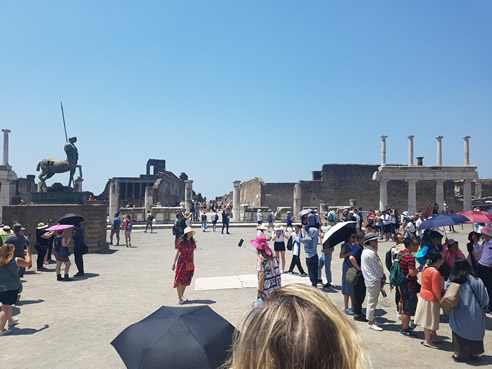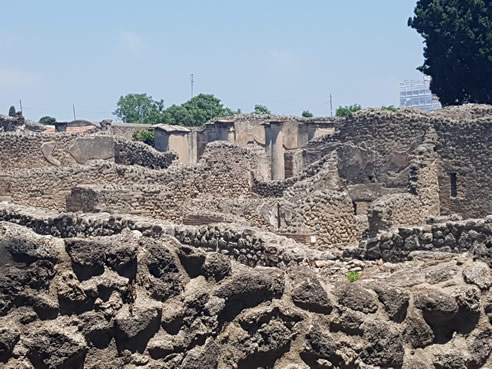 ---
---