Review: Festival dos Eidos
(August 22nd-26th 2018) – Parada do Courel, Galicia, Spain
hosted by Fundación Uxío Novoneyra
---
[L-R] Bernadette Gallagher, Ciarán MacArtain, Rosie O'Regan, Paul Casey, Michael O'Callaghan, Suzanna Cosgrave and Kathy D'Arcy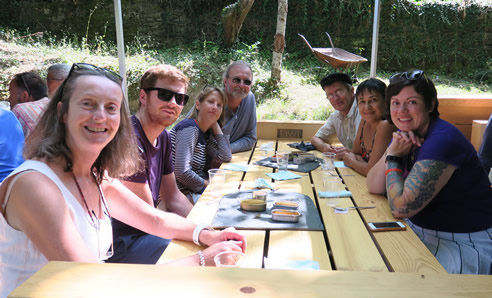 In August 2018, Ó Bhéal poets & artists Bernadette Gallagher, Ciarán MacArtain, Kathy D'Arcy, Rosie O'Regan, Sue Cosgrave, Michael O'Callaghan and Paul Casey were guests in Parada do Courel in a remote, yet renowned part of the Galician mountains to take part in
Festival dos Eidos
, for the 3rd of five exchanges held with Ó Bhéal's European literary festival partners.
Here follows a collective review with a mix of photos from the Cork contingency: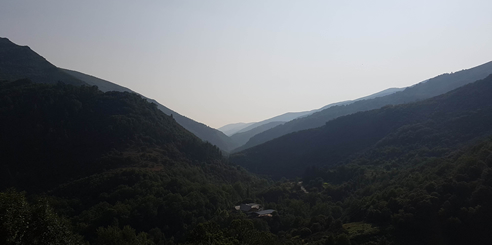 ---
---
Bernadette Gallagher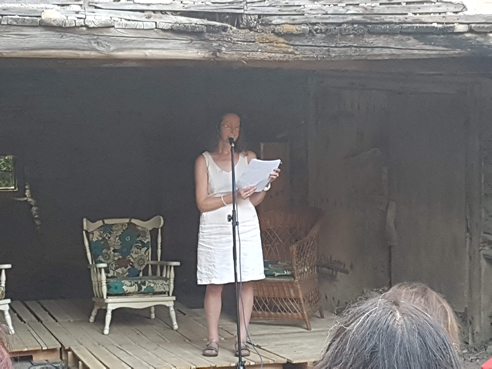 Festival dos Eidos
Festival dos Eidos takes place over 5 days towards the end of August in Parada, a mountain village in the Serra do Courel, in Galicia, an autonomous region of Spain. It is approximately a 3 hour drive or 35 hour walk from Santiago de Compostela! The festival is in honour of the life and work of the poet Uxío Novoneyra and is centred around his homeplace. In Of Stubborn Dreams Uxío explains Os Eidos as '….places we carry inside us. Sometimes I've heard say that eidos are those spots or fields attached to the house or close to it; I'd add to this that an eido is that place where a person can feel good because it makes room for you, it's there for you.' It was there for me and I think for anyone who visits these fields.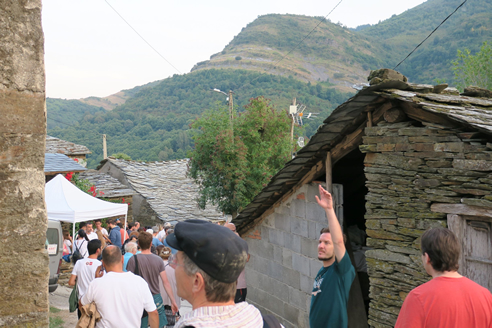 I was sitting in a friend's house in wildest Connemara about to return home after a short holiday when I received a text from Paul Casey asking if I would be available to join a group from Ó Bhéal to attend the Festival dos Eidos. The idea of travelling to another wild place was welcome. I was invited to give a reading of my own poems along with other poets from Ó Bhéal.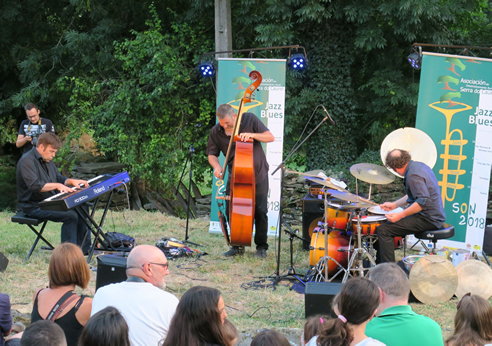 Thanks to Uxío Novoneyra Jr, Arturio, Oscar, Miguel and Ana and all of the team responsible for Festival dos Eidos. Festival dos Eidos is one of five festivals, along with Ó Bhéal Winter Warmer, Salerno, Madeira and Voulmentin whose organisers formed the European Community of Inclusive Cultures (ECIC). In 2016, ECIC was awarded an Erasmus+ grant to fund a two-year programme of workshops, learning activities and exchanges of best practice in curating literary festivals between the five partners.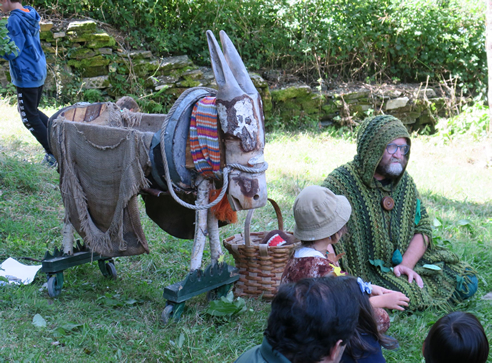 I enjoyed meeting people from the (ECIC) and this was a learning experience – hearing the stories of the local people in Voulmentin, France who lived through the war, stories from Funchal, Madeira and Salerno about refugees being invited to join in activities including poetry film production. From Cork, Paul Casey, Ó Bhéal presented a wonderful selection of poetry films from across the globe.

Attending the steering team meetings was beneficial as I got a good understanding to the background and future plans of the ECIC, the five literature festivals in Salerno, Madeira, Voulmentin, Parada and the Winter Warmer Festival in November where Ó Bhéal will welcome our European partners to Cork.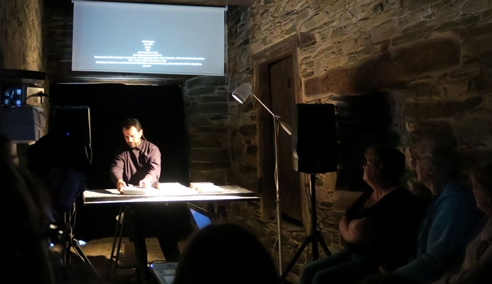 A highlight of the Festival dos Eidos for me was the dance by Hisako Horikawa from Japan. I was mesmerised by her solo dance in the forest and how she managed to incorporate an uninvited appearance by a dog and later with the tinkling of cow bells on their way home to be milked.

Another delight was the food prepared by a team of joyous and hard-working men and women. I quickly adjusted to having toast and coffee in the morning, a nutritious lunch and dinner at Galician time. Tinned fish was beautifully presented and my favourite was white tuna which I have as yet failed to find since my return to Cork.

I was rarely tired in Galicia and I think this may be due to the wonderful mountain air.

There were documentaries and seminars including one on crowdfunding, an excellent documentary by Celia Parra on poetry films, by Carlos Lorenzo on the new generation of Galician poets and a theatrical show extraordinaire by Fantoches Baj – based on the words of Uxío Novoneyra.



The festival took place in Parada with a few exceptions – a visit to the forge Ferrería de Locay where Diana and Antonio gave us an informed tour, nearby we enjoyed daily swims in Rio Lor and a jazz concert by SUMMRÁ in Paderne. On Friday morning in Parada we had two delightful walks – one with Xosé Manuel Blanco, a specialist in plants and Xabier Vázquez Pumariño, on ornithology.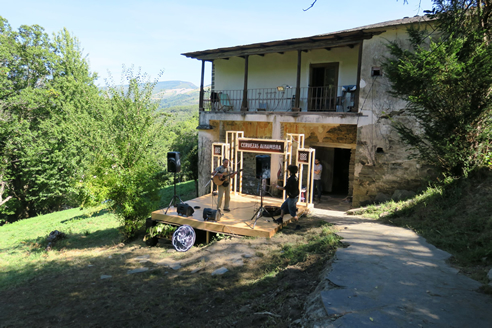 All musical tastes were catered for – from bagpipes (one set is 200 years old) played by Galician musician, Marco Foxo, DJ, house music, jazz to the finale by the guitarist, singer songwriter Nacho Martínez.

For those events where translations were not available I let the sounds of the Galician words waft over me. This was particularly striking for the poetry readings by Marco Paone, Celia Parra, Branca Novoneyra, Olga Novo, Teresa Moure, Olalla Coniña and Xiana Arias. Hearing our own poets from Ó Bhéal was also a delight. A wonderful storyteller – Anxo Moure – for children and adults had us all smiling. An unexpected outcome from listening to Galego is a fresh appreciation of my own language. Ba mhaith liom Gaeilge a labhairt níos minic.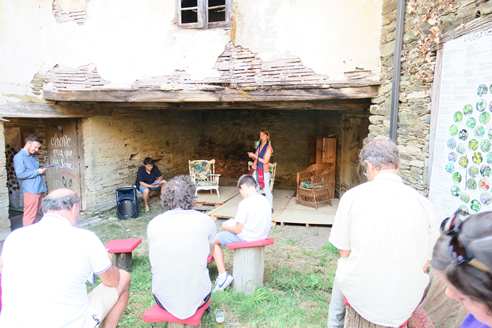 At breakfast on the last day of the festival I met a woman who spoke in Galego. She communicated in a way that allowed me to understand – she speaking Galego and I in English. Only later I discover she is the linguist and writer Teresa Moure.

Then, on my flight home I happen to be sitting beside a young Galician woman who was returning to Ireland to her work in Galway. I told her about the festival and my experiences. It seemed like such a coincidence to meet this fellow traveller who knew so much about the poetry of Uxío Novoneyra and about Teresa Moure. As my friend, the painter, Tadhg McSweeney, who died on 29th August, said 'there is no such thing as coincidence'.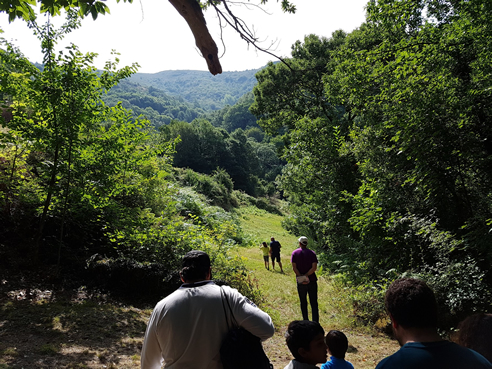 Before travelling to Galicia I wanted to read some of the poetry of Uxío Novonyera and was grateful to find a translation by Patrick Loughnane of 'Pasa o sol lene' and an extract from a translation by Erín Moure of Of Stubborn Dreams. I have since read a number of his other poems and two books translated by Erin Moure: a biography, Distance of the Wolf by Antón Lopo, and Of Stubborn Dreams, The Poetics of Uxío Novoneyra.

During a lull at the festival I took a stroll down below the house amidst the forest and wrote the following poem: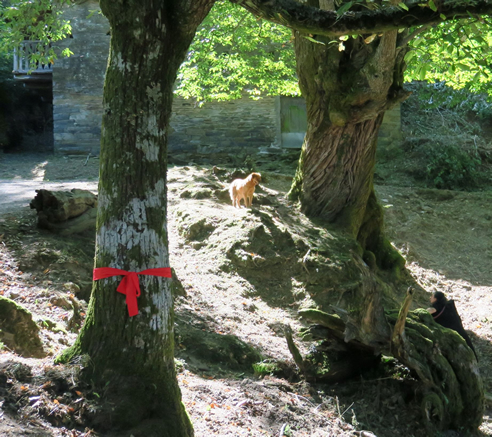 The Dry Earth
I sit, perched on a stone and listen
to grasshoppers, flies, creaking trees.
The sun high over the mountain beyond,
a pathway to my right, spink of rock at my back
two paths to my left – one downhill, the other up
from whence I came.
Red bricks in a heap, purple heather, briars,
oak trees tall – straight, seedlings
finding their way.
Leaves dried to brown lie beside me
clear blue sky, pieces of stone, marbled, hot
to the touch.
Grass gone to seed.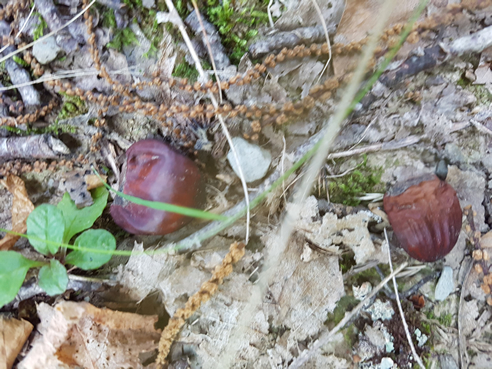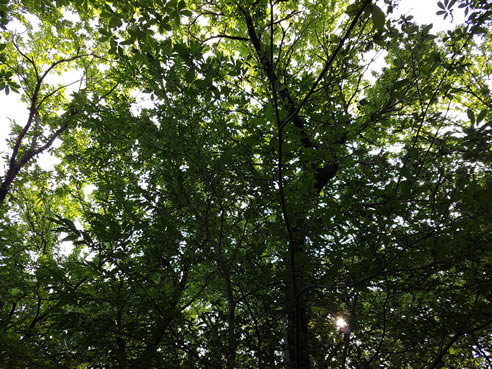 ---
---
Ciarán MacArtain


Poets aren't really associated with being "stuck for words" but it is definitely difficult to describe our time in Galicia in any language. What language would but appropriate anyway? Some hybrid of Galego, Irish, Portuguese, Italian, French, English and Spanish? For the lack of an alternative, I'll have a go in English…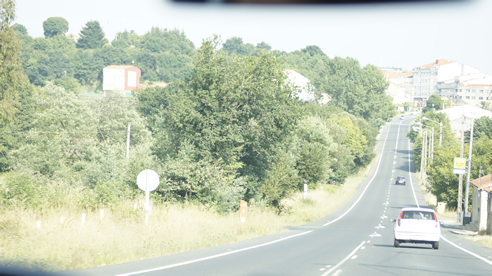 The time was an absolute joy. There was a definite sense throughout the week of the relationship between each partner really developing. These relationships were established at previous festivals in Medeira and Voulmentin and this, the third festival in the cycle, gave great opportunity for these relationships further flourish. The festival is set deep in the mountains of Courel and is hosted by the wonderful Foundacion de Uxio Novoneyra. We really couldn't speak highly enough about the organisers here. The attitude of everyone around was so kind. This warmth really settled the group in to the festival.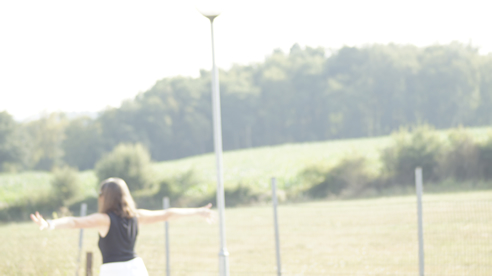 The scenery was something to behold. Forests stretching out over the mountains, constant changes in height between where you stood and where you could see, tiny villages in grand expanses. The forests are still home to Bears, Wolves and Wild Boar, the last of which we were treated to as a meal after taking in a memorable performance by Galician jazz act Sumbra. The range of languages spoken around the table was a pleasure to hear.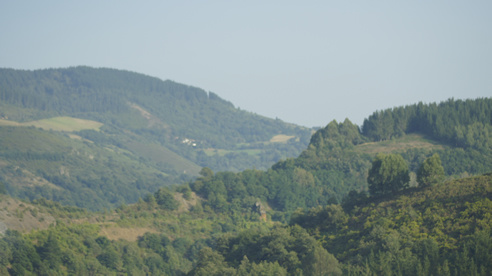 We performed the following evening. It was a real honour to share words in such a space. Really beautiful setting to perform in. Its very interesting to hear the work of Cork poets read to an international crowd. It allows you to hear it in a new context. We were satisfied that we represented Cork and Obheal well with our readings, left it all out there anyway…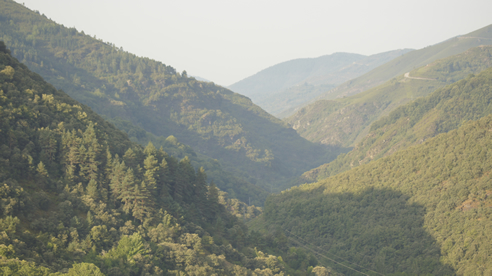 There was so much to appreciate about the whole balance of the programme. Really interesting, beautifully represented material of all shapes, sizes, mediums and sounds. The atmosphere around playful and relaxed…The food! Oh don't even talk to us about the food. Man… (imagine the little hand gesture signaling "BRAVISSIMO!")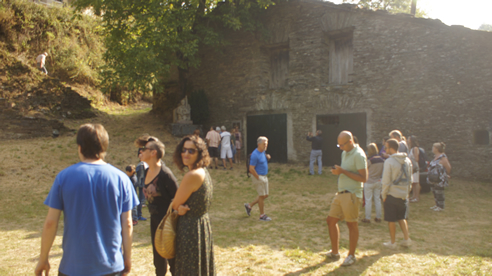 Each of our days in the mountains was punctuated by a swim in the river; a solid routine of getting a little coffee, knocking it and swimming in this fresh clear water out of the mountain. The current was dead strong and the temperature real low but it was welcome refreshment and good exercise.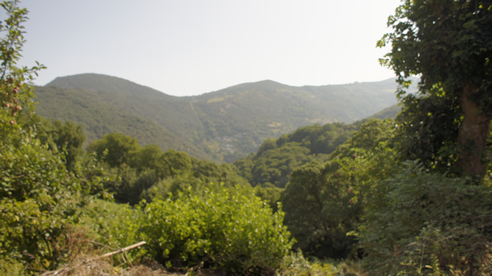 Music became more and more present in the festival by the weekend. An increase in crowd came with the weekend too. The pleasant atmosphere only swelled. We all got a good dance in before it was through.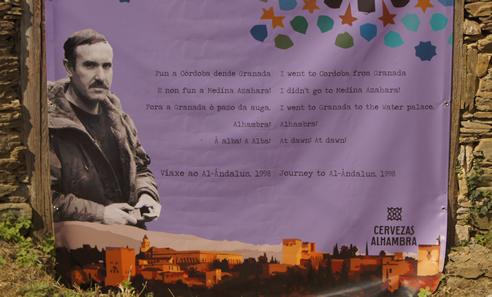 We saw a wonderful dance performance by Hisako Horikawa on Sunday. We'd been taught all about the forests earlier in the week and it was nice to be back among the trees as the festival came to an end for this year. I'd been asked to film the performance and it was a special piece to capture. Afterwards, we ate lunch together and parted. What a really special coming together of people; an honour to be a part of.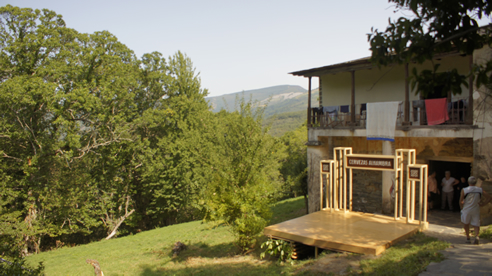 It was a beautiful drive out of the mountains. We'd a nice time chilling in Santiago before flying out, caught a bit of the cathedral and took in the pleasant atmosphere of the city. It was a nice chance to reflect on the week that had past. Each day was so full of cultural activity and new connections.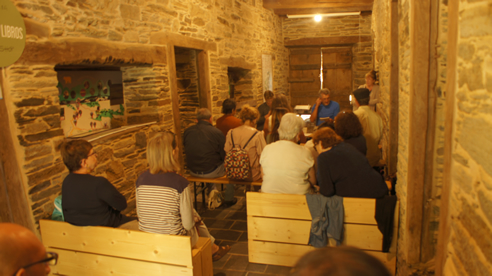 So thankful to everyone who facilitated this experience for us. The support from home and from Europe. It was a very nourishing experience.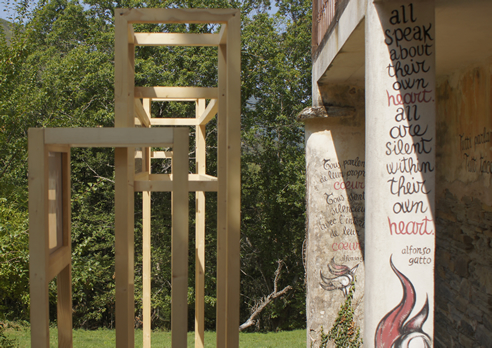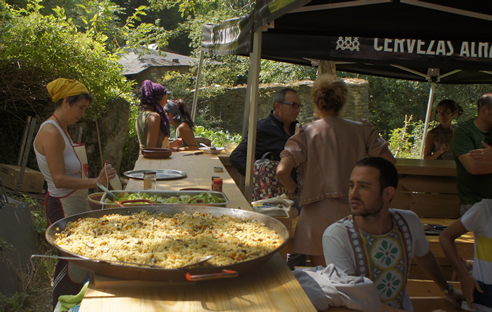 ---
---
Rosie O'Regan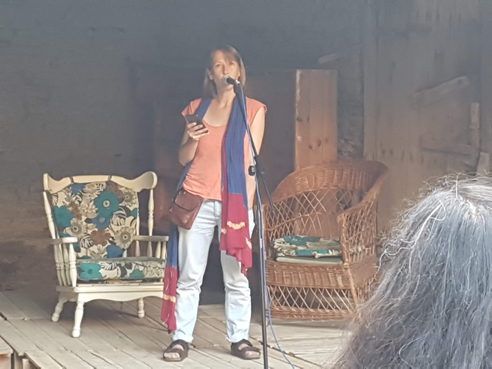 The time spent at Festival Dos Eidos in beautiful Seoane De Caurel was a real retreat away with other artists. It was wonderful to be part of the Ó Bhéal delegation, to reconnect with our ECIC partners and see how relationships deepen with time. Communication has become more natural, for all our many languages.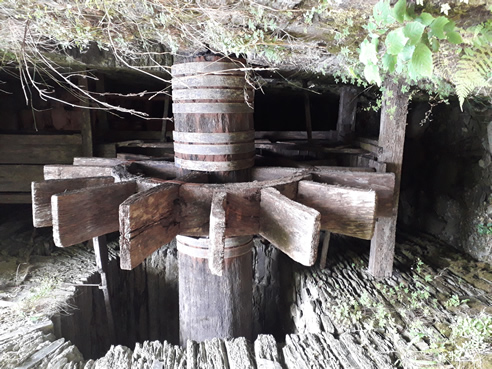 To be able to share experience and perspectives while immersed in art and culture is simply, brilliant. Interesting to see that the festivals are quite different from one another, each one nestled within a distinct environment and community, and each one faced with a different set of challenges, shared challenges too.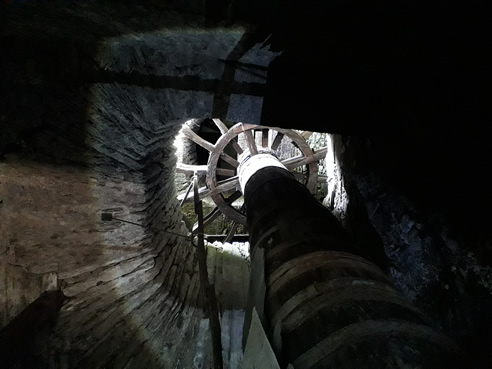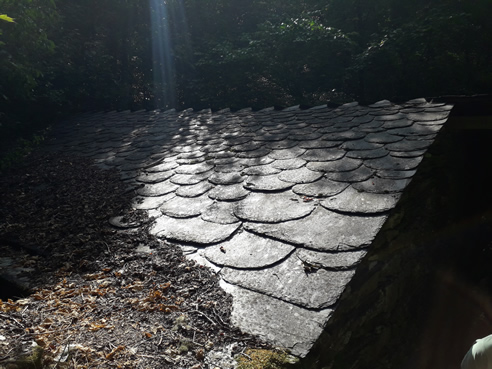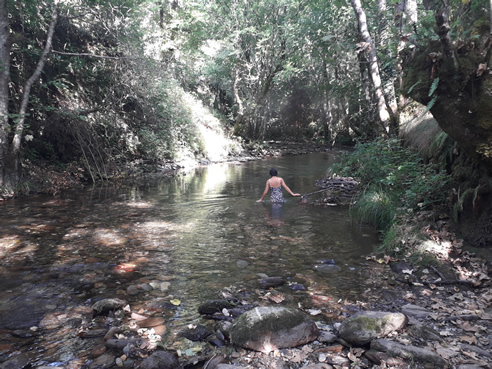 I found it inspiring to hear how our ECIC partners address issues around inclusion and audience development. The Italian program which encourages and empowers young people to get involved, and the French, cross-generational, storytelling project and their inclusion of artists with disabilities, were both very insightful.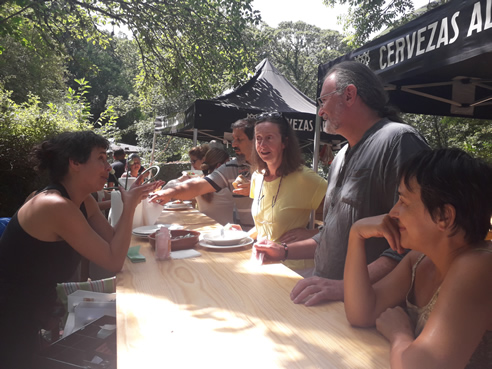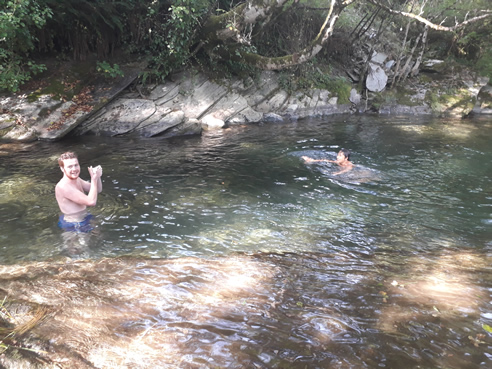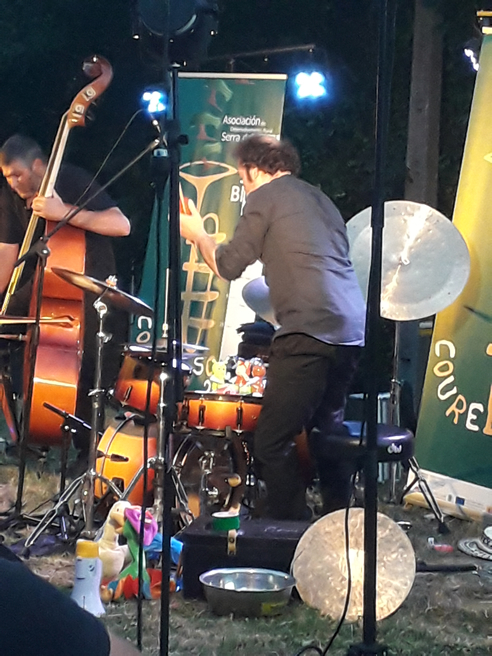 At Festival Dos Eidos, not only were we immersed in art and culture, but also in breathtaking nature. Tree covered mountaineous hills, sweet-chestnut groves, valleys of green, mint and mallow, all the wild herbs, a river running crystal clear with ice cool pools to dive into, exhilarating (delicious galician coffee just a stroll across a field), stunning vistas in every direction.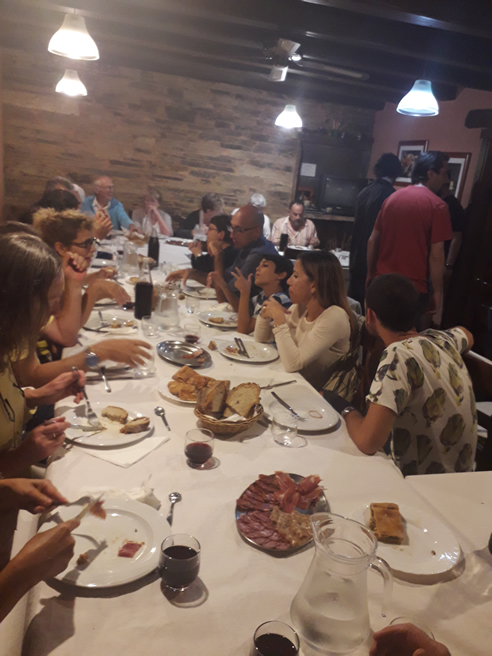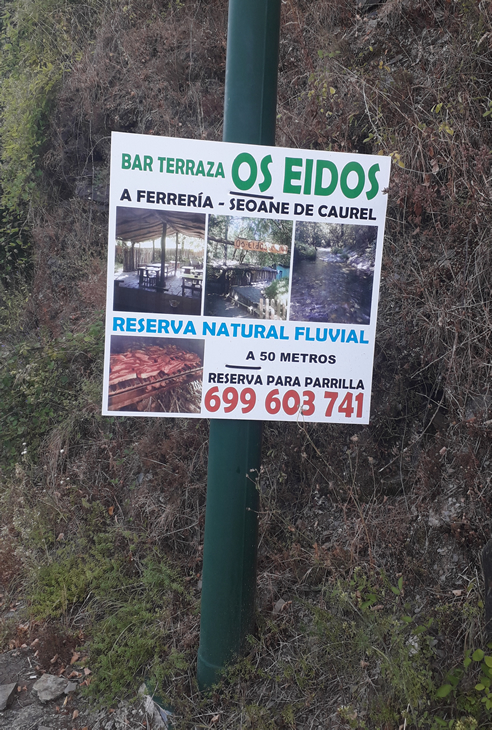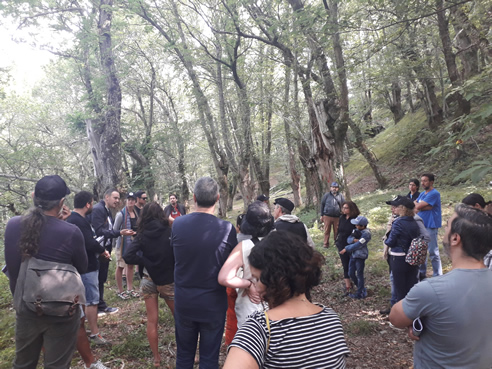 For this festival goer, Seoane De Caurel was an idylic location.There was a real sense of being somewhere remote and rural while being connected to a much wider creative community. The festival program was engaging, offering a variety of enjoyable and provoking art experiences.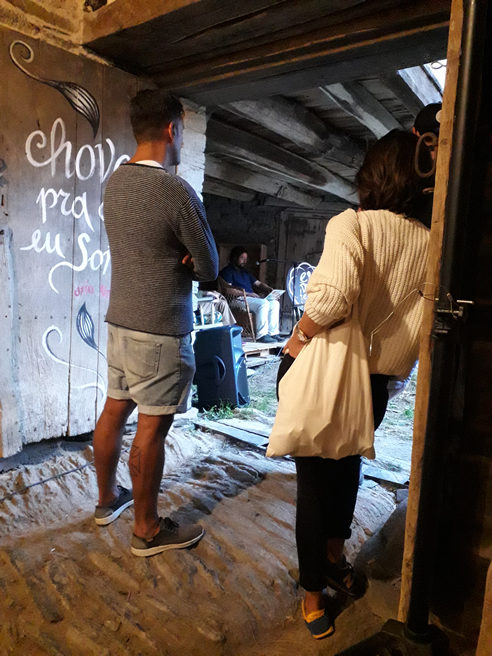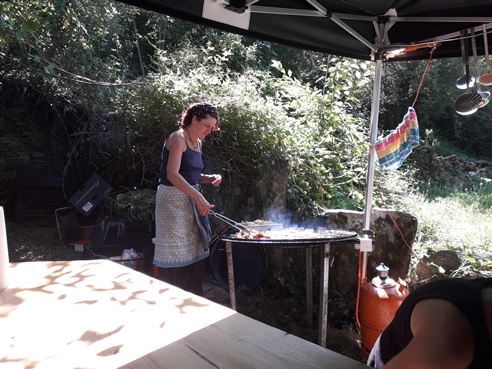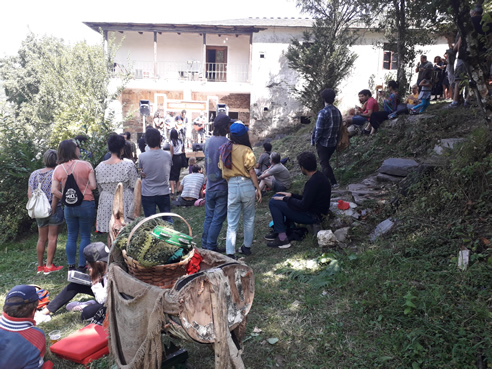 Poetry is very much at the core of this festival, the main venue being the Fundación Uxío Novoneyra and it was amazing to see how the legacy of poet Uxío Novoneyra has evolved into a festival that embraces many other art forms and activities, from traditional to contemporary music, jazz, object theatre, Japanese dance, guided nature walks and not to mention, the rustic and innovative culinary delights of the area. All in all it was a thoroughly enjoyable festival.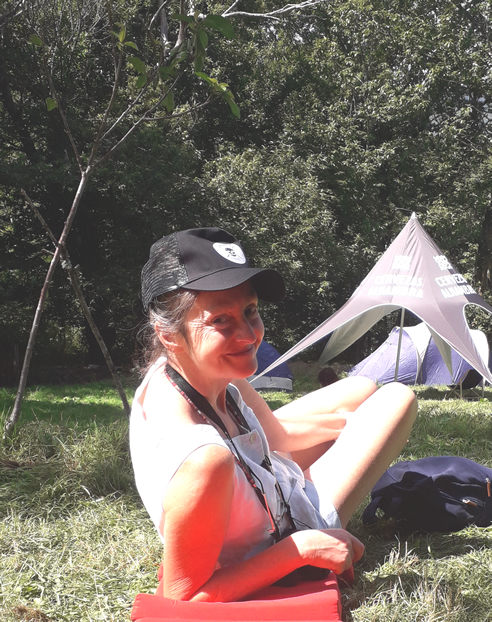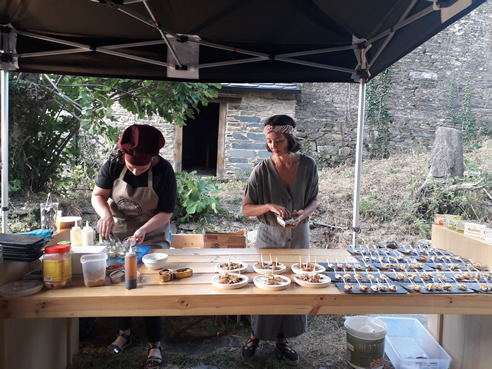 ---
---
Michael O'Callaghan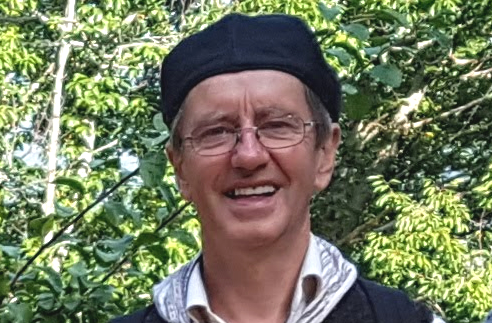 The Festival dos Eidos in the Courel Mountains of Galicia centred on the hillside village of Parada, home of the Uxio Novoneyra Foundation. Poets from France, Madeira, Ireland, Italy and Spain alongside musicians from Galicia gathered there.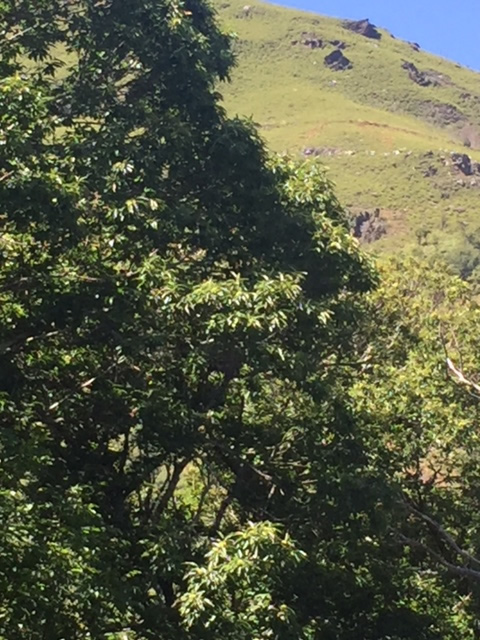 A variety of field trips were presented by experts on local history, ecology, fauna and flora. The first was a guided tour of the old river Mill Forge where raw ore was once gathered and forged into fine steel. Its history was set in the landscape of natural resources, water power and human ingenuity. The verb 'to forge' became in my mind a key-word for the organization of the festival, in which human resources were gathered and worked together, bringing out the best in the participants and creating a unique and memorable event.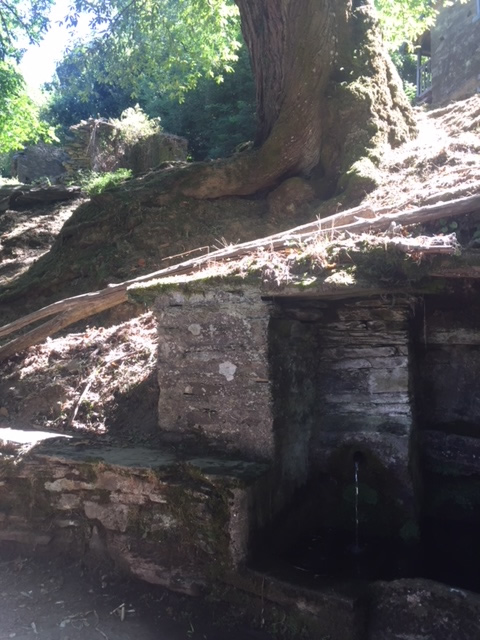 The spirit of Gallician poet Uxio Novoneyra , the values he espoused in his life and poetry began to permeate the festival. We experienced the rooms, the pathways and mountains he frequented. References were made to his contemporaries and their times. Lines from his poetry were quoted. A gallery of 1970s fotographs by Fedrico Cabezon of local people working in the mountain pastures ('Os Eidos') provided visual context. The director of the Foundation, his son Uxio, engaged with everyone with his warm and supportive contact. I felt continuity with the values his father cherished: those of friendship, simplicity, and connection with the natural world.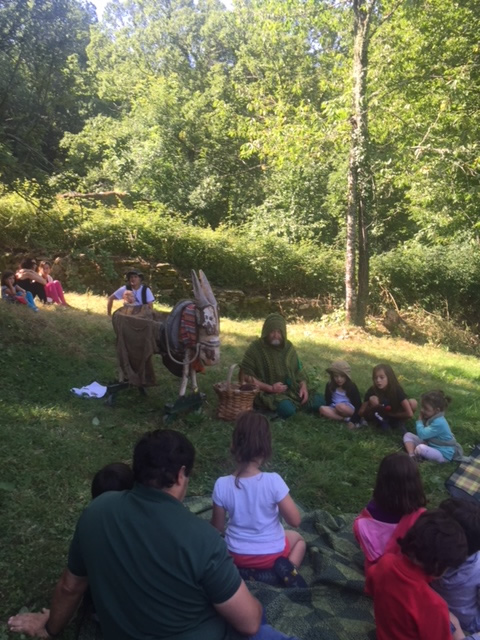 Under the canopy of giant chestnut trees Xose Blanco introduced us to the ecology of the forest, its strength and its fragility. The next morning – there in the biodiversity epi-centre of W. Europe – we learned more of its fauna and birdlife. We listened in silence to hear distant birdsong almost lost amidst mountain streams and the sounds of the forest.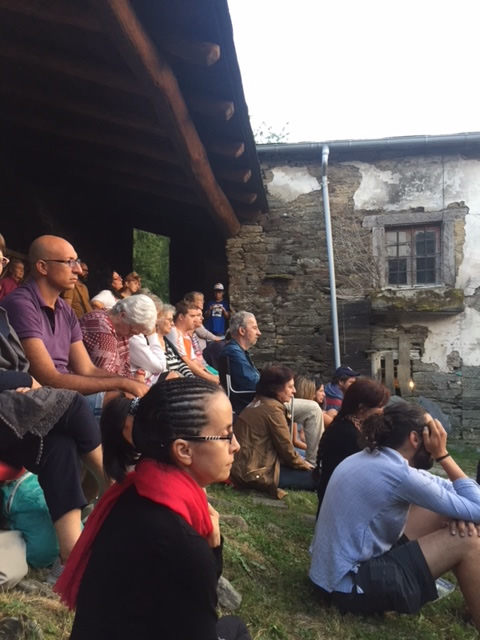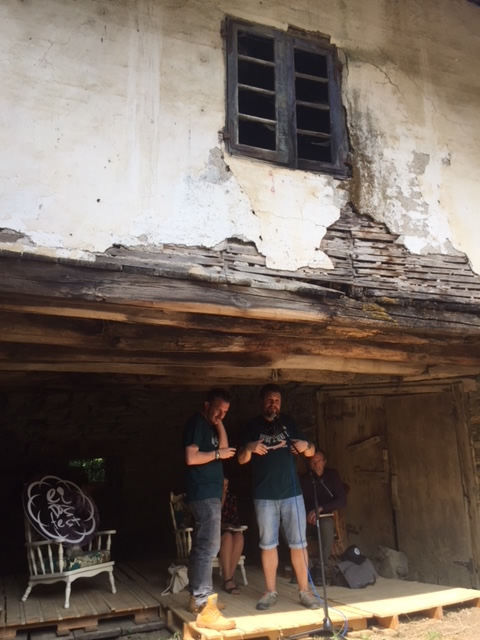 Each day the festival partners met to discuss and share ideas around crowdfunding, website creation, film-poetry or festival management. Each afternoon in the natural amphitheatre of the cobbled farmyard various poets gave recitals. Each evening the soft clang of cow-bells was heard as the fawn-brown cattle meandered home for milking. The setting was idyllic.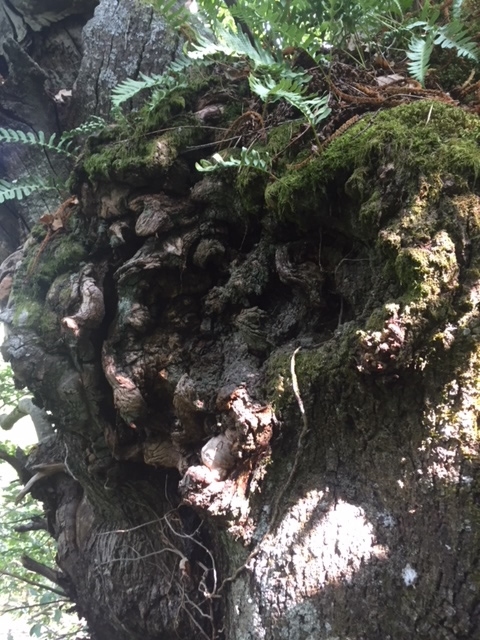 I welcomed the prepared translations. Yet strangely I was happy to understand hardly a word when the Galician women – Olga, Teresa, Olalla and Xiana – took to the stage. I listened unhindered to the poetic rhythms and the mellifluous flow of a language which to my ears sounded like a forest flute or a flowing stream. The gentle water carves the rock. Poetry, passion and place fused together in my mind.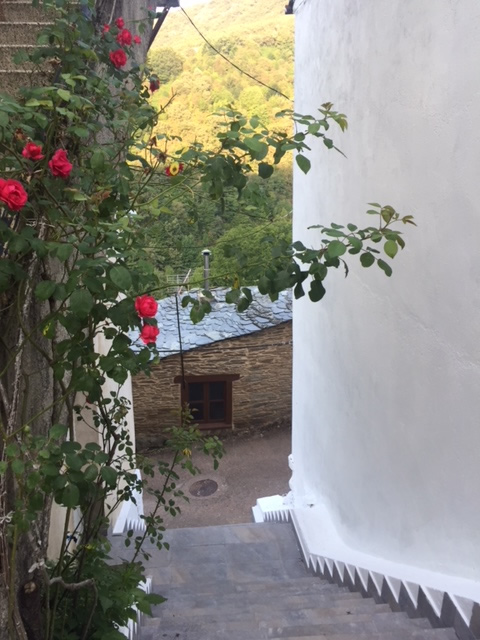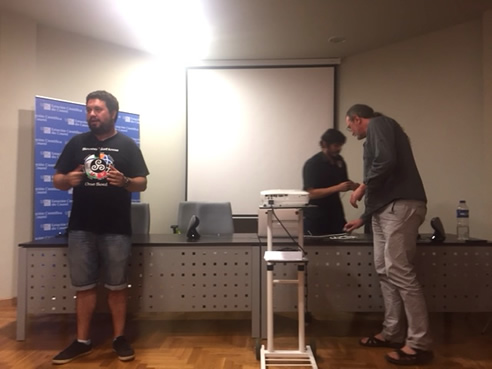 Linking these events, a full schedule of regional musicians complemented the festival with a range from avant-garde to folk-rock to electro-trad. One professional act followed another, until the final (Sunday) performance by Nacho Martinez, a street guitarist from Ourence whose gravel voice and passionate renditions of Galician favourites well pleased his audience.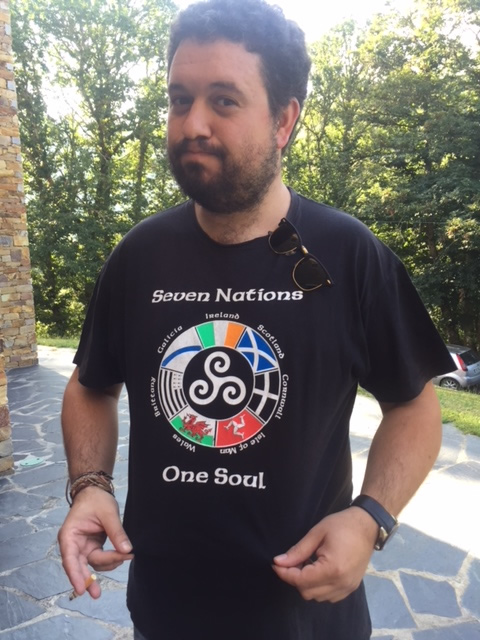 Some decades earlier Uxio Novoneyra's 'Os Eidos' poems had linked the mountains to the city and touched a common nerve of identity and place that ran deeper than social currents or political divides. Now the city linked once again with the mountains in a common culture of the heart.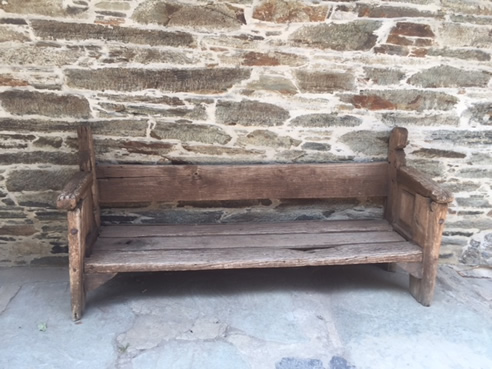 These festival componants were merged and layerd like fine steel. Added to this was the daily enjoyment of good food, home-cooked in the open air by the joyful band of free-spirited women and their companions, shared on the communal benches with local beer and wines and the inter-national buzz of conversation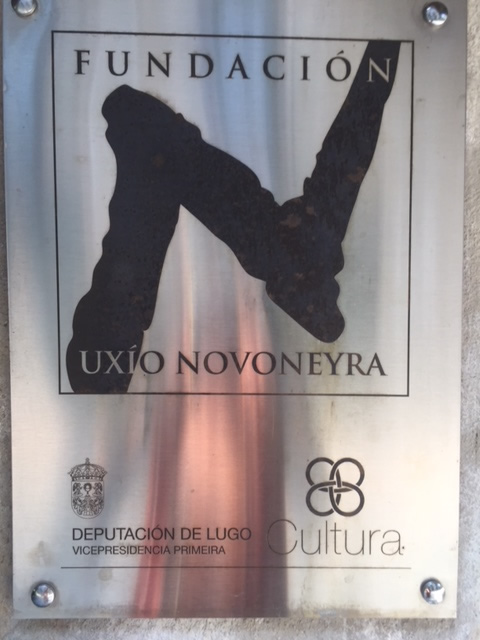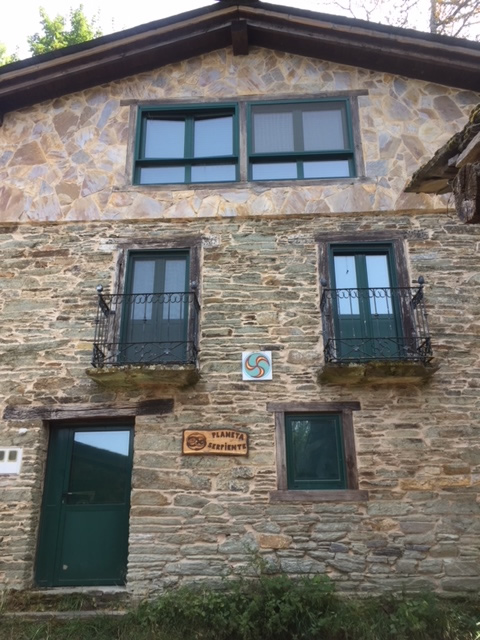 The final morning arrived. A hundred people gathered alongside a slope in the nearby woodland clearing and waited the arrival renowned Japanese dancer Hisako Horikawa. A respectful silence descended as we waited and the sound of streams and distant birdsong again occupied the space. It seemed an age before Hisako emerged, like some old bent woman gathering berries, almost a part of the forest. With Japanese stylized movements she interacted and merged among the trees, conveying a sense of awe, bewilderment, and grief, as if her forest was about to be lost forever.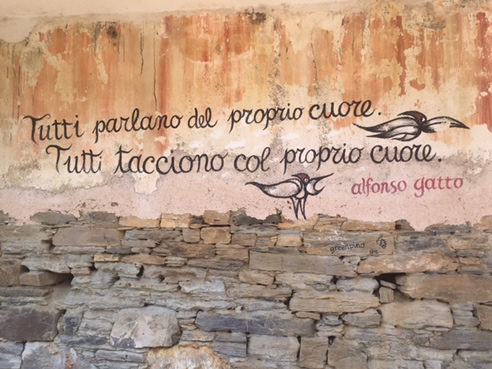 The audience was spellbound. The cattle passing on the track above paused and fixed their gaze only on Hisako and remained silent. The dogs sat in silence and watched from a distance. Uxio Novoneyra poems had kindled an awareness of these primary elements, and Hisako through each meaningful movement and occasional whelp or cry awakened feelings of deep connection and loss, there among the last-remaining groves of Europe's native forest.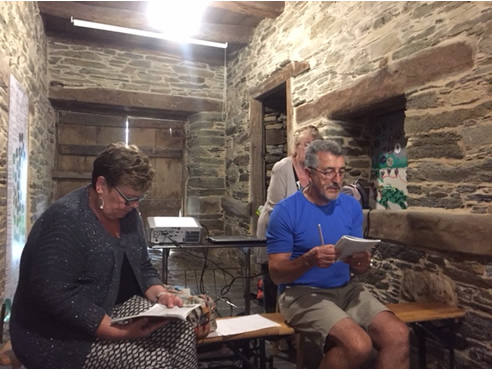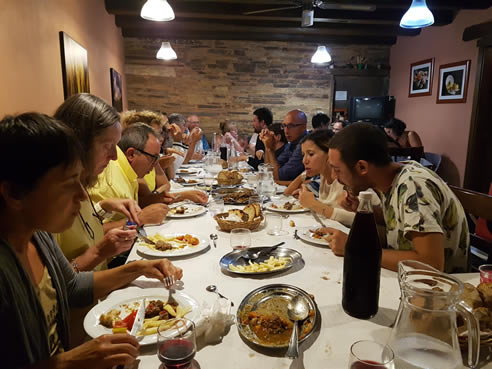 It was time to depart, to return to France, Ireland, Italy, Madeira or further afield. My parting impression was of the little children gathered around story teller Anxo Moure on a grassy slope. One child had put on a green 'tree' dress while the others came to hug her in turn.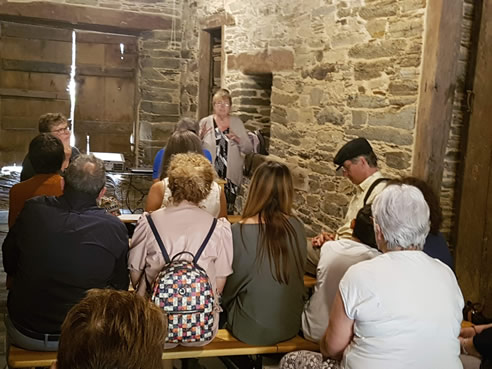 *Os Eidos = mountain pasture-fields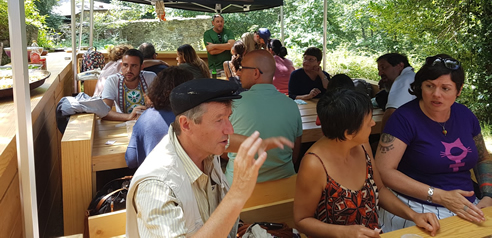 ---
---
Kathy D'Arcy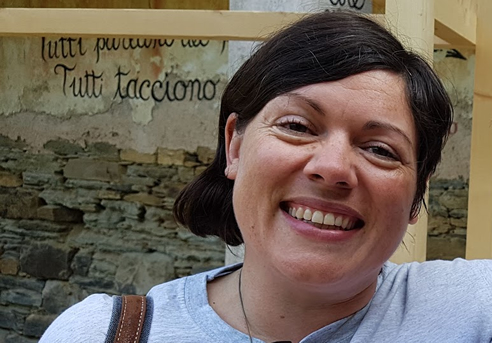 The spectacular drive through the Galician mountains to the Fundación Uxío Novoneyra set the scene for this uniquely beautiful festival. Having spent some time walking the Camino de Santiago, which runs through the nearby villages, I found it wonderful to explore another side to Galicia.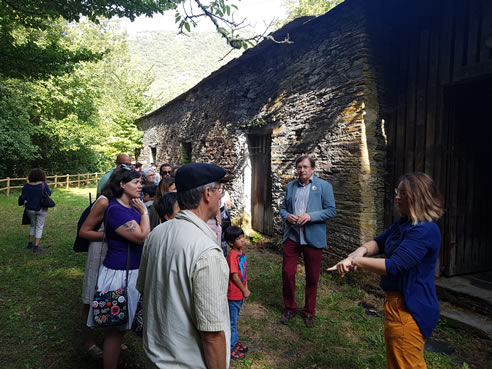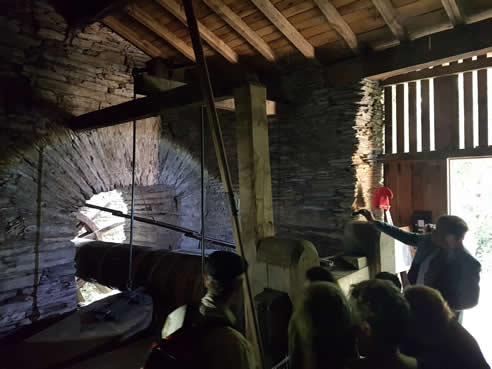 The poet's house, where the Fundación is situated, is a traditional stone building in a tiny village on the edge of an ancient chestnut forest, and Novoneyra's identity as a poet of nature and the natural world influenced every aspect of the programme. His words even appeared on the walls of the house, beautifully decorated.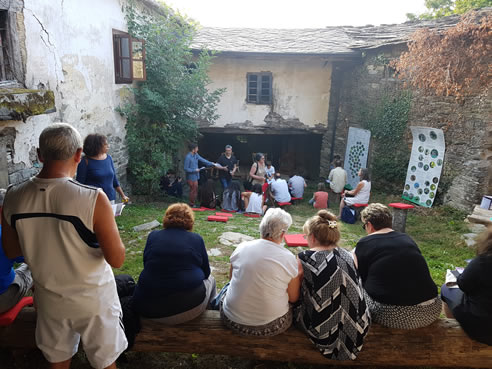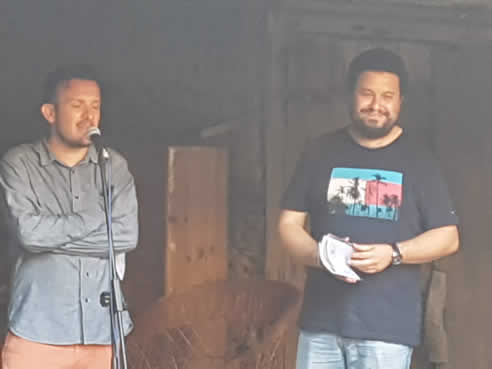 There were tours of the forest to learn about how it has been created and maintained since neolithic times, and our meals were prepared from fresh produce at wooden tables out in the open every day. We woke to the huge, silent mountains all around. Even the internet couldn't really intrude.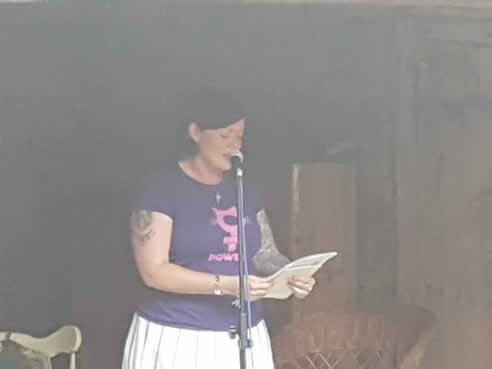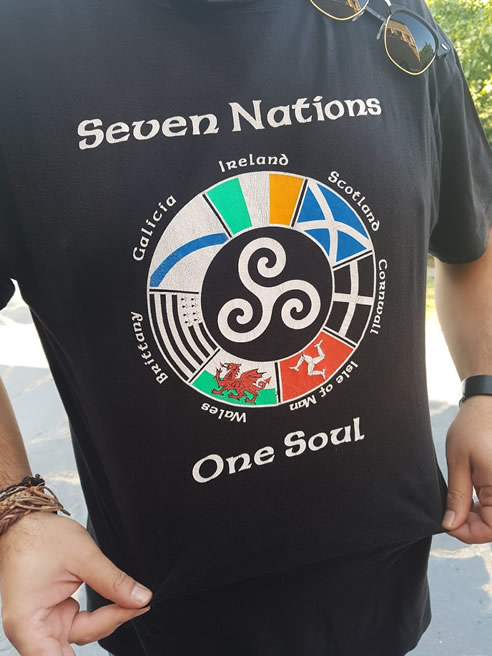 Poetry was, as Novoneyra's son Uxío pronounced repeatedly, the focus of the festival. It was read in various languages in the hilly back garden, where audience members from five European countries sat on wooden blocks and listened. The selection of poetry films which Ó Bhéal brought included Spanish, Portuguese, French and Italian entries, and the festival programme included translations of poems by all of the readers. It was especially enlightening to hear the different cadences of the Galician and Spanish languages interacting, and to let words wash over you and experience their music if not their literal meanings.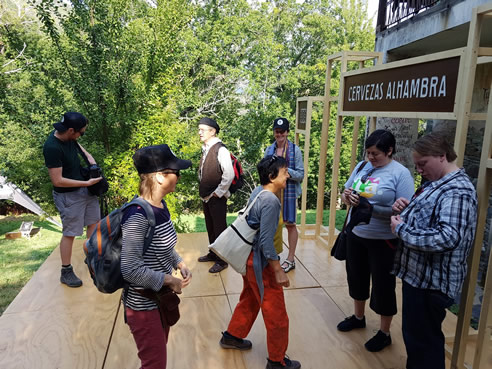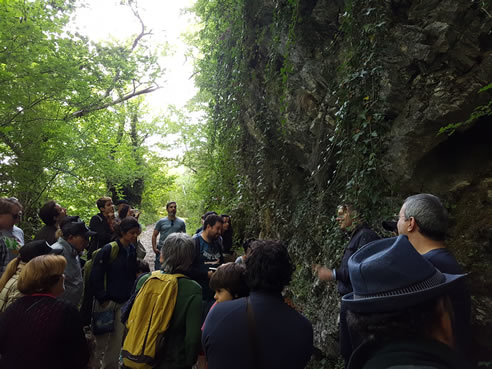 Above all, this festival was to me a celebration of Galician culture and of life in these beautiful mountains. There was a sense that we were all on a little adventure together, which was heightened by the fact that everyone spent the evenings sitting in the gardens of the house together, talking and sharing ideas.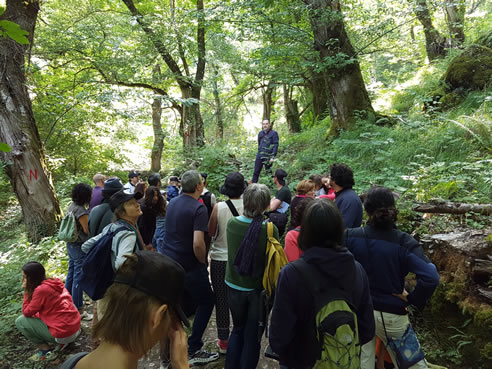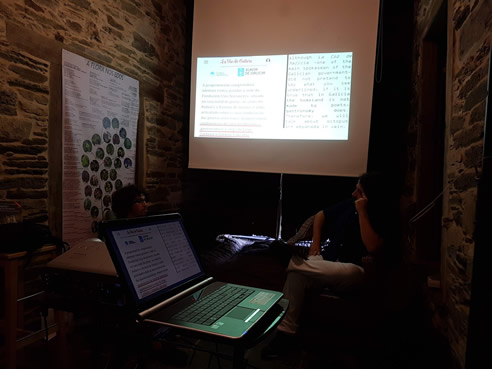 The perched isolation, and the close co-operation it necessitates. The whole festival seemed to be a kind of lived experience of Novoneyra's poetry, as though we were able to get inside it and actually inhabit it, and the poet himself seemed very present throughout.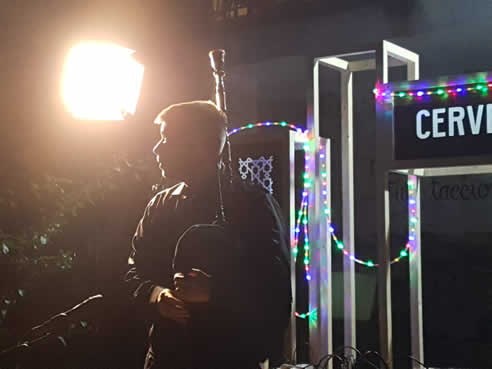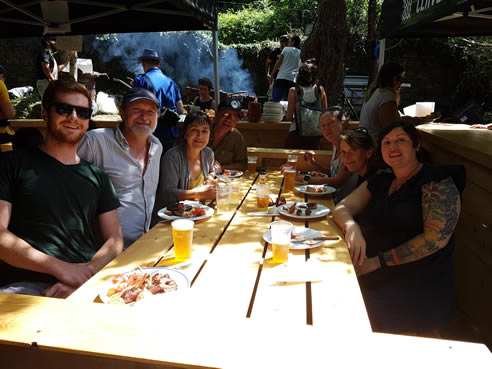 ---
---
Suzanna Cosgrave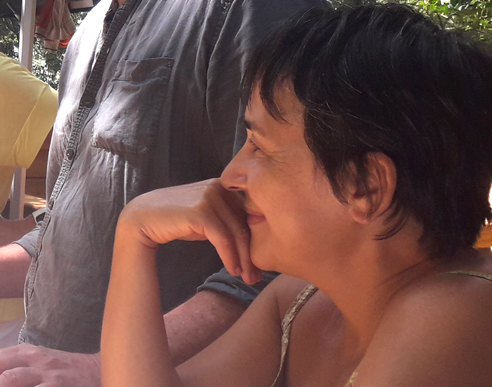 "Feed on memory! Go to the Courel hear Earth speak
in the Devesa da Rogueira
sip the waters and inhale the scent of primeval forest
then go to the high pass at Lucenza where the silence roars."

Uxio Novoneyra. From Wanderings and Detours from the Way of St. James and Other Routes

—and we did.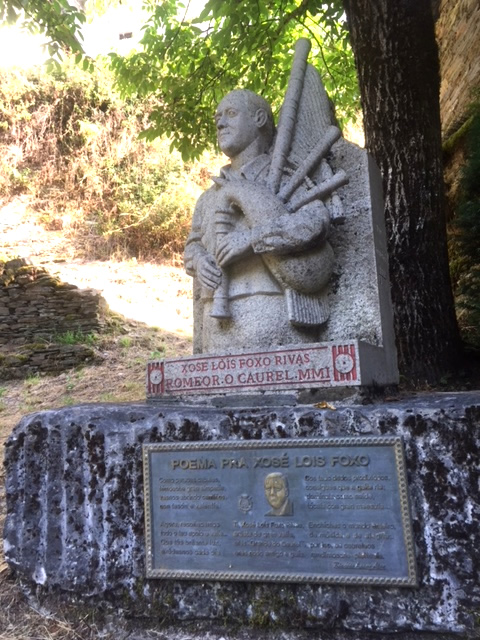 After a long day of wanderings and detours – as if the spirit of Uxio Novoneyra presided playfully over our journey – we left the main Ourense thoroughfare to negotiate the bends of a narrow rural road. As we skirted a lush forested valley, patched here and there with green fields, it was the trees – imperceptibly at first – that heralded the change: orderly pine plantations gradually giving way to their deciduous mates, young trees these, their rebellious seed undoing man's colonizing efforts. Then, just as gradually, older trees, with pedigree, their roots supping on the faint memory of the eternal forest of their forebears presided over the landscape, and finally, the Rio Lor, the Golden River, guided us to the heart of the Courel and to the warm welcome of friends, poets and the free spirits that inhabit this remote corner of Galicia.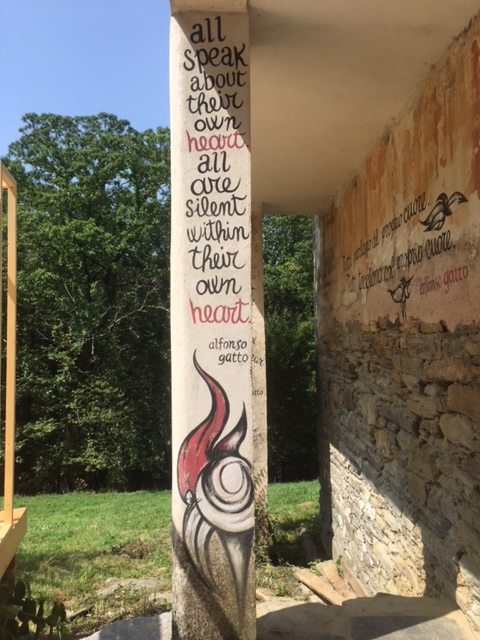 That first evening we watched the sun set over the Eidos, the Uplands the festival is named for. Parada, the home village of the poet Uxio Novoneyra, his forebears and descendants, is also home to the Foundation named after him. A wooden stage fronted the broad entrance of what used to be the animal pens beneath the living quarters. The fine stone craftsmanship of generations was in full evidence; the schist walls and black slate roofs and floors grounded life here. Though weathered, the stone was durable, and if not as eternal as the forest that surrounded the village, it complimented and embellished nature rather than challenged her.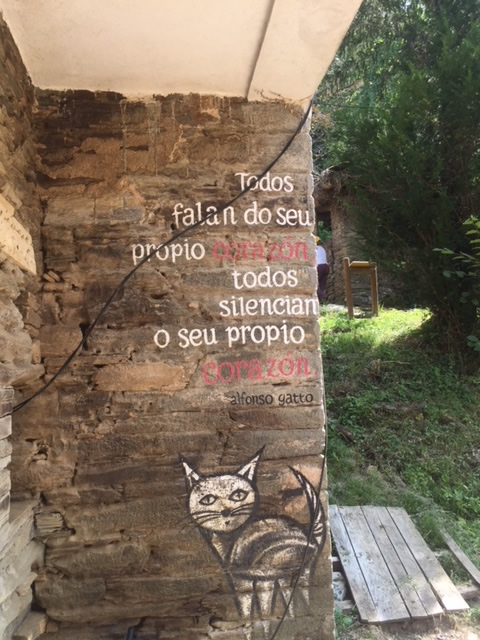 It was good to see our Erasmus partners that night, assembled at a fine long table laden with food and wine. Touching base and networking was in full flow.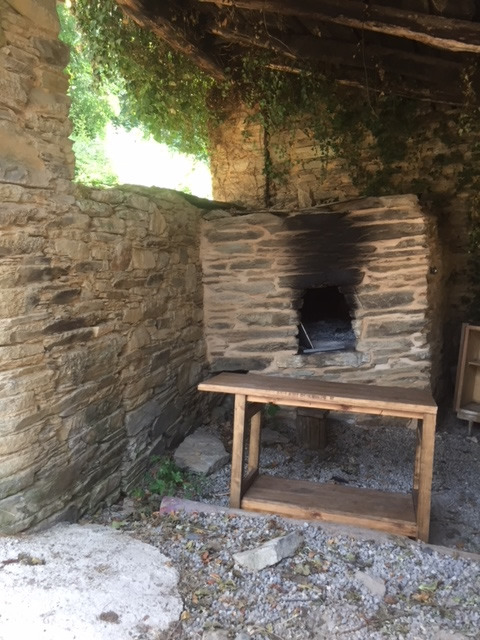 No one could have been kinder than our festival hosts; Uxio, Oscar and Miguel made sure we were well settled in our very ample and comfortable accommodation in the nearby village of Seoane do Courel before guiding us to a local night spot. That first night ended with music, laughter and a first sampling of fiery local liquids. Good indeed.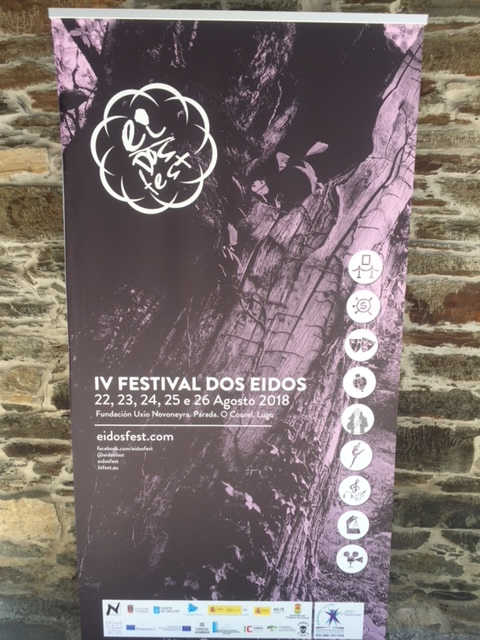 Our first activity brought a smile to my face: wordsmiths go to the forge, how apt? The Ferreiro, or the Forge is located on the banks of the River Lor. It's a Napoleonic wars affair although iron ore, gold and silver have been extracted in the Courel since Roman times and beyond. This too was a schist construction, and the initial impression was of an oversized farmhouse until we penetrated the gloomy interior and came face to face with the largest bellows I've ever encountered. It was salutary for forgers of ephemeral creations to confront the reality of human ingenuity displayed here, the terminology of forging metals such a frequent metaphor in the creation of poetry.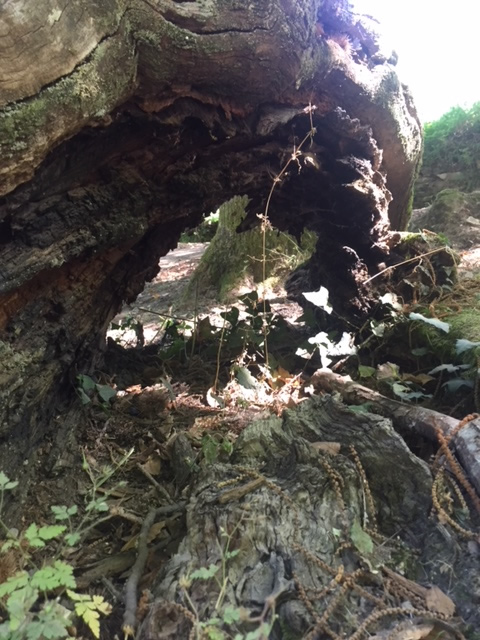 The grounds of the Forge play annual host to the Galician Bagpipe festival, and indeed, they contain a statue dedicated to the most revered bagpipe musician of recent times.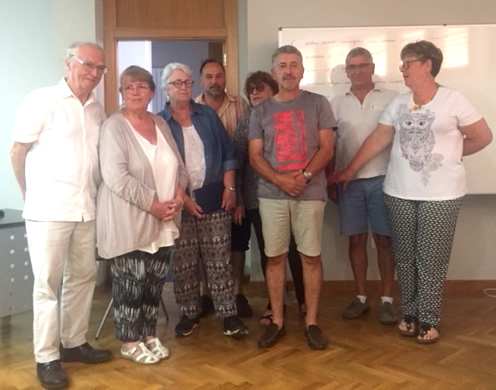 The Erasmus partner presentations were spread over two mornings and were engaging and interesting. Our French counterparts read extracts from an anthology of wartime recollections and presented a very interesting film collage of their most recent festival. Our Italian partners' presentation was equally informative, and I was roped in for some impromptu translation (with some liberties taken) for the Madeira presentation. Our own poetry films were very well received.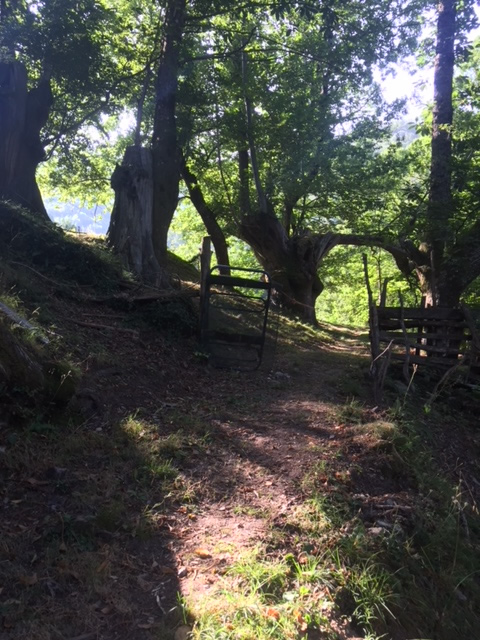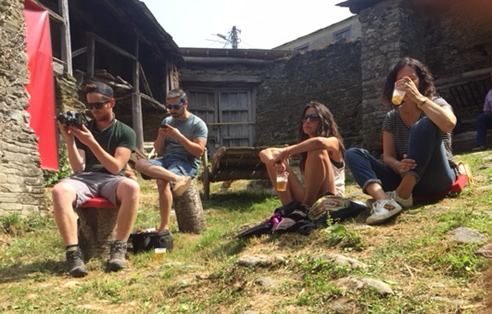 Jorge Linheira and German Labrador's discussion was riveting, not so much for the subject (imperfectly understood by me due to the rapid-fire animated flow between them) but to the beauty of the language. Celia Parra's poetry film video was excellent. I highly recommend it to anyone interested in creating poetry films. I look forward to watching it again at the Winter Warmer festival later this year.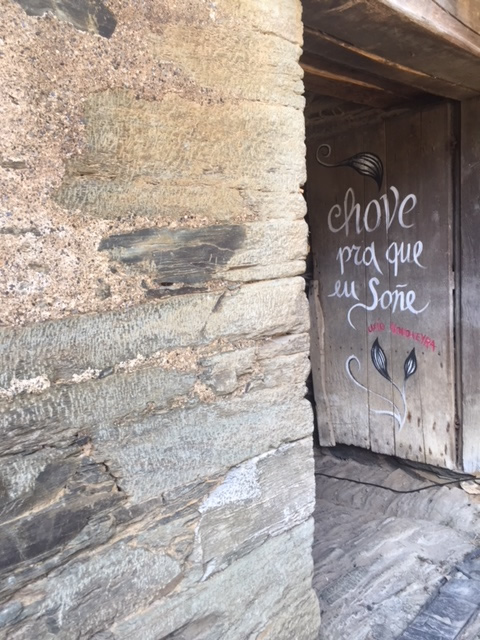 The final reading by Olga Novo, Teresa Moure, Olalla Cocina and Xiana Arias, assisted by handy translations in the programme were engrossing and the setting inside the old stable yard provided the perfect framework for the poems where the past and the present were so intricately woven together.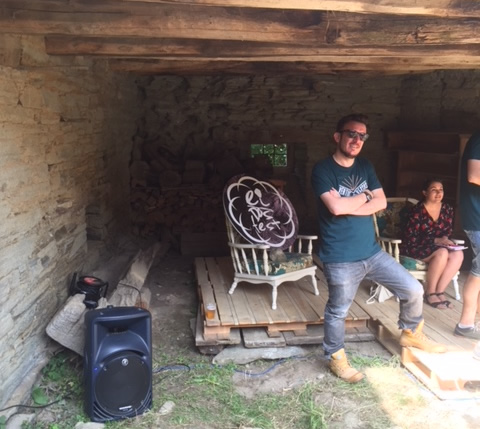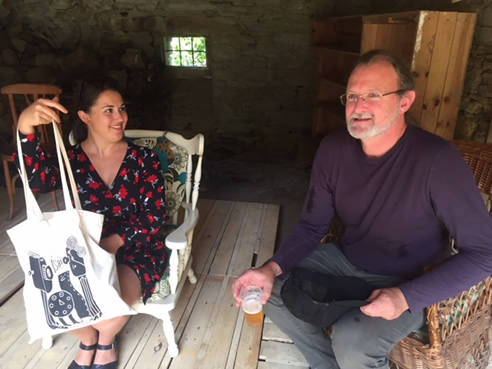 We also had ample time to immerse ourselves in nature. Two guided walks around this epicenter of European biodiversity and Hisako Horikawa's dance performance that gave tongue, form and motion to trees, earth and wind. And of course, our swims in the Lor River, a daily baptism in temperatures of 10 degrees Celsius, not something for the fainthearted, but who could resist the temptation to swim, salmon-like, against a strong current in a crystal-clear pool beneath a canopy of chestnut trees? Certainly not this motley crew of poets from Ireland!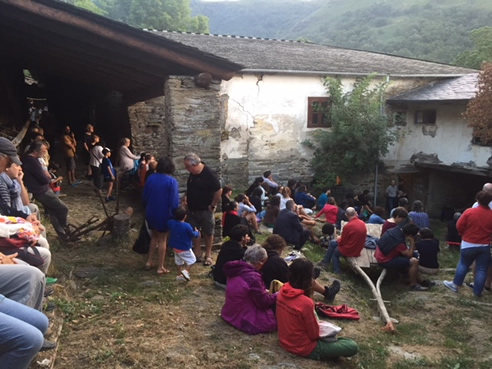 And the music: we were spoiled for good music. From SUMRRA Jazz performed in the neighbouring village of Paderne, to traditional Bagpipes with a modern undertone, to modern trad electronic, and the soulful concert by Nacho, a final note of sadness as we bade farewell to our friends and the Courel.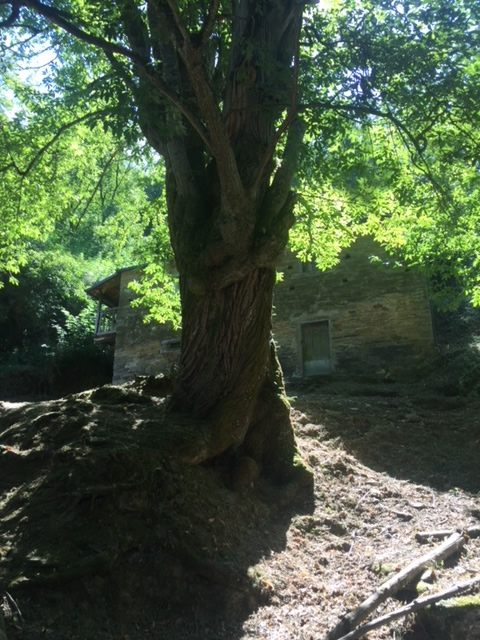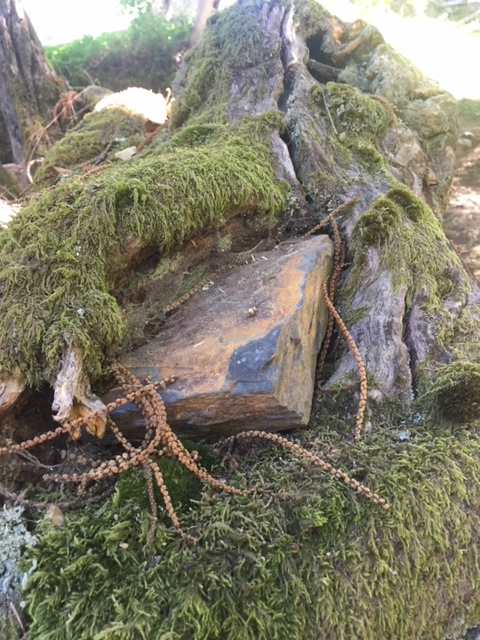 ---
---
Paul Casey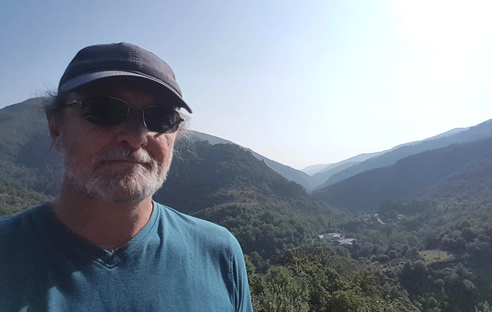 Our third ECIC excursion was a deeply rewarding undertaking. The ECIC partners all brought valuable and interesting presentations to the festival, whilst our professional relationships continued to deepen as we learnt more from each others' valuable work as festival organisers.






Being nestled in the remote, greenest of green Galician mountains, a rebel enclave that not only captured hundreds of Napoleon's troops, but then used them to build a forge for weapons to defeat the emperor, in a place where bears, boars and wolves shelter among the ancient chestnuts, oak and beech, where ice cold streams pulsate with song, where eucalyptus has not yet breached the natural wilderness.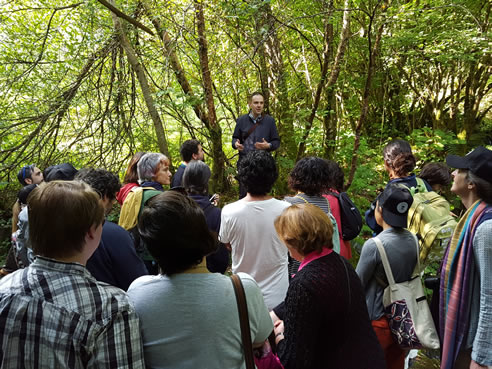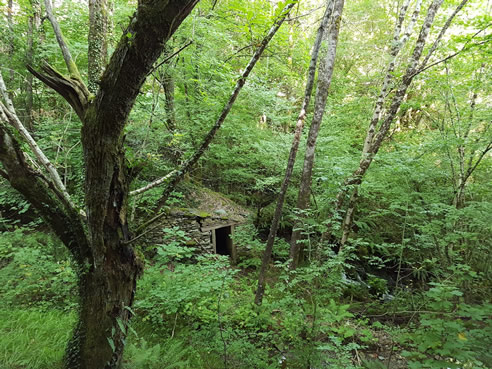 We seemed to wake into a kind of paleolithic, proto-European time capsule, reality where where all external worlds can do nothing but melt beneath the costant overload of sensory delights. An idyllic location for poetic inspiration, or the re-ignition of one's humanity, while feeling naturally at home amongst all the incredibly-talented artists and contributors, with most of the local community involved in some way.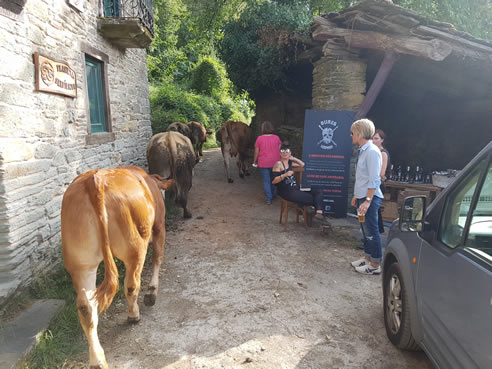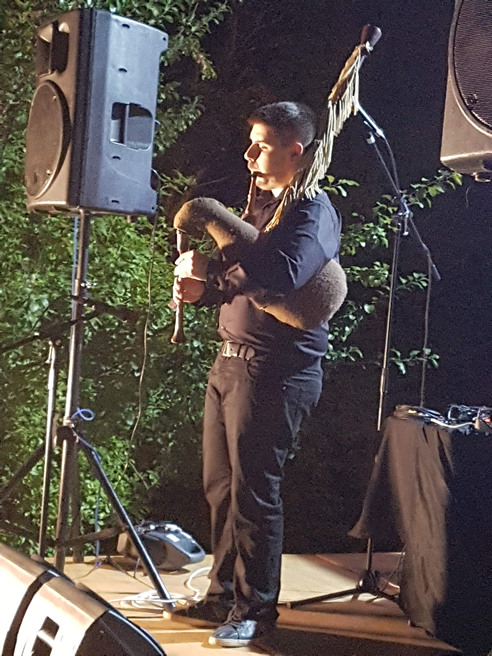 If ever you need a reminder of just how over-complicated we make our lives, spend a bit of time in this corner of paradise. We're already looking forward to our final excursion to Salerno, Italy in June 2019.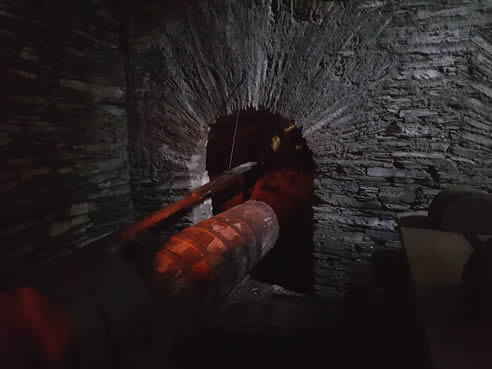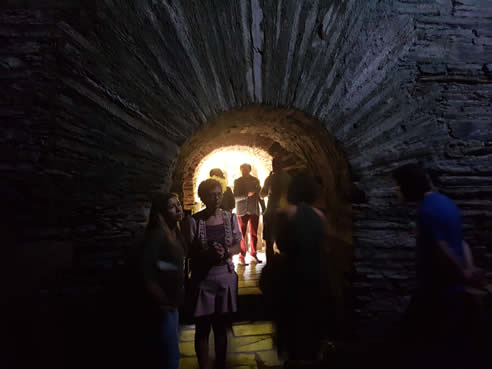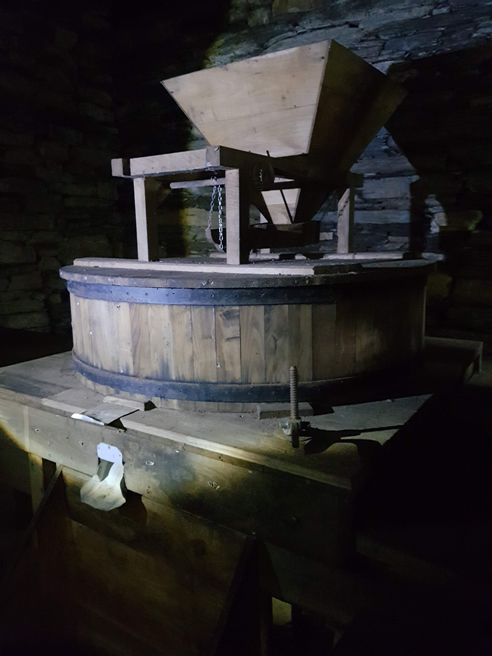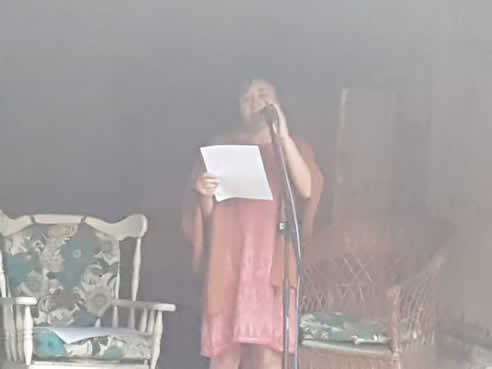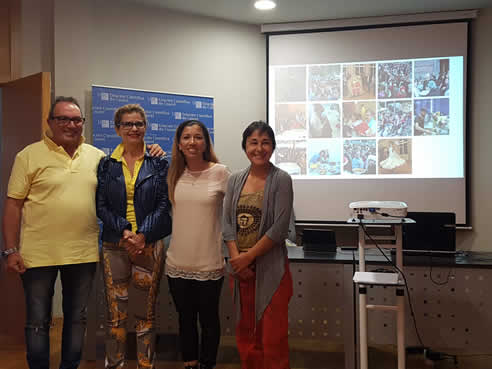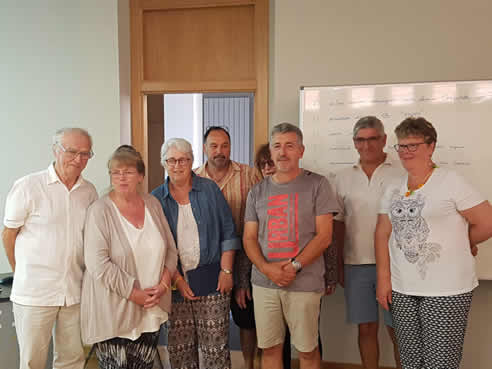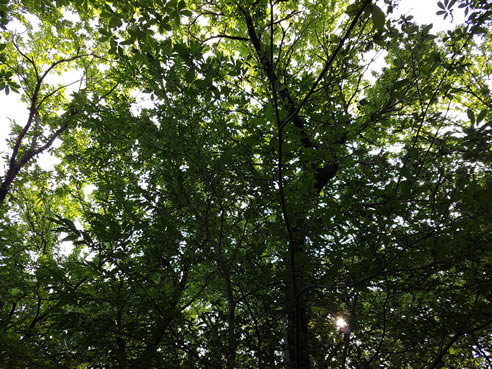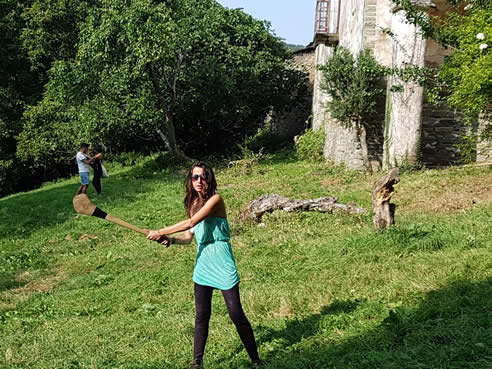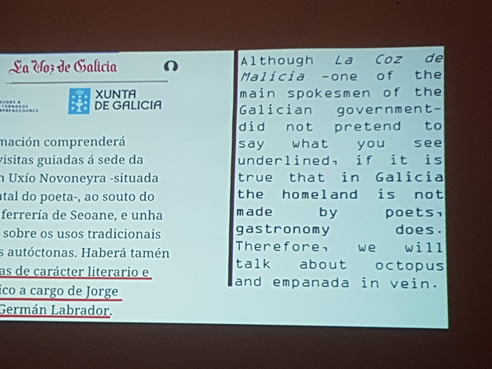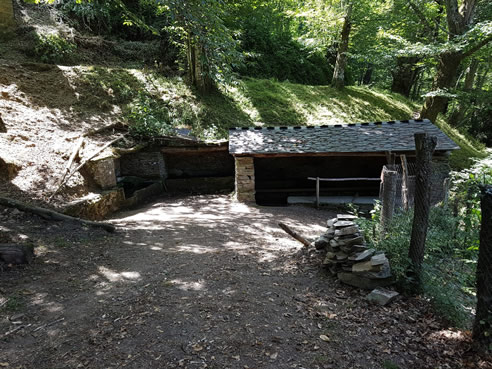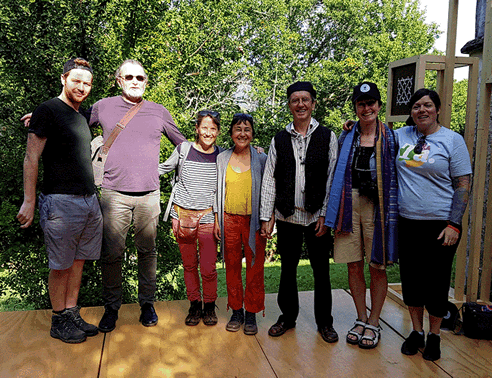 ---
---