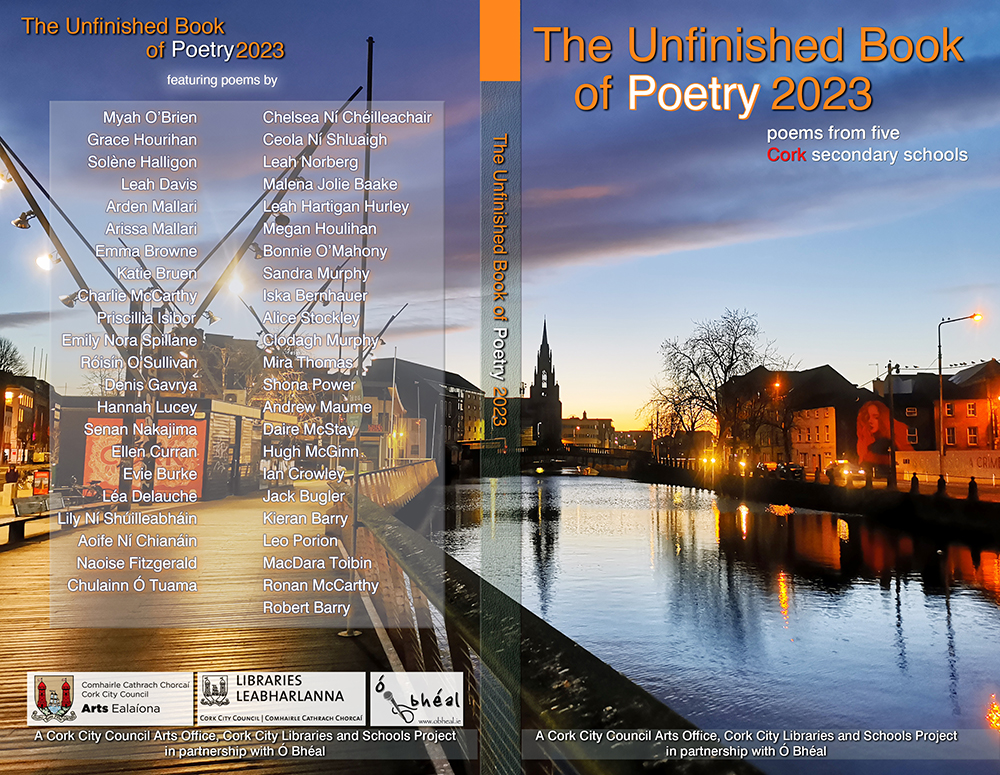 The following poems have been selected from twelve poets published in The Unfinished Book of Poetry 2023, and are being displayed in Cork City Library's Poetry in the Parks project during the summer, via installations in Marina Park, Fitzgerald's Park, Tramore Valley Park, Ballincollig Regional Park, Gerry O'Sullivan Park and the Blarney Sanctuary Walkway. The displays are part of the 2023 Cruinniú na nÓg festival. Audio recordings of the twelve poets reading these poems are also accessible via QR code.
---
from Regina Mundi College

(installed at Tramore Valley Park)
Sick Heat
by
Arden Mallari
You, a celestial body,
a strawberry blonde tipped with frost,
and burnt number sprinkled on ivory cheeks
you matched the ice glazed over evergreen leaves like its waxy coating.
You, reckoning force, the foundation of my refuge,
your jarring thaw is an enigma,
it's cooked my beasts into caves as they now stay in stone
from an internal clock wrong,
our failed soul instinct.
The perfect vessel turned sour,
a grand piano for a concerto
you cannot play.
You are the grout under my feet
in between the tiles of my bathroom floor
I'll hurt everyone by moving out –
the dust mites bearing witness.
I want everything back,
braving contusion for a ticket home
trusting this time
saving this hour late.

---
from Regina Mundi College

(installed at Tramore Valley Park)
Sonnet of Expectation
by
Arissa Mallari
By the cradle and mobile I'll stay here waiting
The sun and birds I promised you are waiting too
Find the light and look from me for the last time
A big warm house on sticks with an even greater nose.
Fulfill me for these final hours and listen with me
Let the movement ache and try to remember it for next time.
I often wonder if this is passing through you like it is me,
And if you can see my thoughts of our fate, delights and origins.
No matter how many walks I take from the front room to the kitchen,
Then to your room again, it will never fail to get me.
That I know you're what I've waited for my whole life, and I haven't even heard you speak.
You have wrung me dry time and again, and I'll ask if I was really made for this.
Even if this water house breaks in half, bright pink as you are,
You'll wait for me too.

---
from Ballincollig Community School

(installed at Ballincollig Regional Park)
Maybe One Day
by
Léa Delauche
Maybe one day I'll be enough
And I won't disappoint anymore
Maybe one day I'll get better
I'll train hard and I'll get tough,
I'll be serious, I won't laugh
And maybe one day I'll be enough.
I'll take no break and for that matter,
I won't sleep much either,
I'll do all that to get better.
I tried my best for so long now,
Trained and trained but nothing changed.
Will I ever be enough?
I say "my best" but I feel like,
I never even gave that much,
I promise you I'll get better.
"I can do more" I tell myself.
But when the time comes it all goes wrong.
And for me to be enough,
First I need to get better.

---
from Ballincollig Community School


(installed at Ballincollig Regional Park)
The Old Farm Yard & Two Haiku
by
Senan Nakajima
Dull, dry mud
Smell of slurry stings your senses
A creaking fence
Then cattle simultaneously turning
Brown, big eyes
Just like the burren they call home
…
Hidden in rockpools
Red spotted crab hides
From lurking shadow above
…
Calming sea sound breeze
Sand stuck under your finger nails
Sailing boats dot the sea
---
from Ballincollig Community School


(installed at Gerry O'Sullivan Park)
Hot Air Balloon Stuck In The Sky
by
Prescillia Isibor
The sun is shining,
The weather is cool.
Everything seems to be going well,
But in the sky there is a stuck air balloon!
The people are terrified.
"What should we do now?"
There's nothing left to do,
But to hope that it will come down.

---
from Coláiste Dabhéid

(installed at Marina Park)
Gorm, Pink & Dearg
by
Aoife Ní Chianáin
Ceapann daoine go bhfuil gorm brónach
Ach cuir i gcás go bhfuil sé dóchasach.
Cuir i gcás go bhfuil sé lán de ghrá
Nó lán de mhí-ádh.
Cad faoi dearfach
Nó faoi déistineach?


…
Pink like barbies or childhood bedrooms, pink like bubblegum or pretty nail
polish
Pink like nostalgia
Pink to make the boys wink
…
Nuair a fhéachann daoine dearg
An mbíonn fearg orthu
An smaoiníonn said faoin dainséar
Nó an mbraitheann said saor?

---
from Coláiste Dabhéid

(installed at Marina Park)
An glas, bán agus oráiste
by
Ceola Ní Shluaigh
An glas agus an oráiste ach cad faoi an bán?
Idir an dá cheann eile,
é ag scaipeadh fola agus deora,
daoine agus cairde.
Cad faoi an glas nach féidir teagmháil leis an oráiste?
Cad is brí leis an mbán
i mo chroí go hiomlán?
Táim leis an mbán ach is cuid den ghlas mé.
Ba mhaith liom seasamh ar son an bháin
i gcomhar leis an nglas.

---
from St Patrick's College

(installed at Blarney Sanctuary Walkway)
Ballycotton Lighthouse
by
Malena Jolie Baake
Big cliff, sharp edges, water splashing.
Big waves, blue and white, stone breaking through.
A dark shadow over the cliffs,
yes up, look up, up on the hill.
The top of the lighthouse,
a shadow over it, the sun in its back.
The tops of houses spying down at me.
A blue sky, grey clouds, light.
A storm is coming.
I am leaving home.
I am leaving my city, leaving my comfort.
I'm looking up, scared and small like a mouse.
The last thing I will see before I am gone
The Ballycotton lighthouse.

---
from St Patrick's College

(installed at Blarney Sanctuary Walkway)
My Grandmother
by
Mira Thomas
She is cutting the raw cabbage,
Quickly, in her own rhythm.
She puts the seasoned dead meat into the big leaves
And rolls the wrinkly leaves
With her wrinkly fingers.
She isn't even looking at what she's doing,
Maybe it's her thousandth time,
Her skilfull fingertips feeling the cold meat.
Her eyes staring through the window
As if she's not in the kitchen but
Somewhere in her memories.
And I realise
How much I love my grandmother.

---
from Presentation Brothers College

(installed at Fitzgerald's Park)
Oil
by
Ian Crowley
Pitch black, the darkness surrounds me.
Suddenly, the earth starts to shake,
I can feel my whole body being squeezed.
Like dust under a vacuum I'm sucked up
Up through pipes and forced into barrels
I'm not used to the sun, its rays cut me into colours
Apparently I'm useful now
I'm glad to be important, it wasn't like that for millennia
Now I am high in the air
Without me nothing would get done
People spent a lot of money to entice me,
Push me out of my shell.
Now they're saying I'm dangerous
That my very use is reckless

---
from Presentation Brothers College

(installed at Fitzgerald's Park)
Fly Dear
by
Ronan McCarthy
After the painting by Cristina Bernazzani
Fly dear!
Fly dear!
You can do it!
Fly dear!
Fly dear!
You can do it!
I've raised four ducks and twenty geese
But you're the only bird I'll ever meet
Who once old enough to leave the nest
Didn't stretch their wings
Puff out their chest
And fly!
Don't you get tired of sitting around,
Sleeping all day, pecking on the ground?
Come now dear chicken, if you really try
One of these days you'll surely fly!

---
from Presentation Brothers College

(installed at Gerry O'Sullivan Park)
Early this morning
by
Andrew Maume
I flew to the moon
As I travelled up
my rockets started to boom
Suddenly we were out of the Earth
and into the dark, black space
After four more hours
we had won the space race
When we landed I got to meet
that man on the moon
I was happy as could be like a kid with a balloon
We had finished our mission
I was sad it was over
But I will be happy forever.

---

The eBook version is available (free) via the following links:
Unfinished Book of Poetry 2023 (High Resolution 20MB)
Unfinished Book of Poetry 2023 (Medium Resolution 7.5MB)
Foreword
The seasons turn and time goes by and yet somethings are almost a given, a high point in the year. So it is with The Unfinished Book of Poetry 2023, now this extraordinary anthology is the 19th edition in the series, and once more is also published as an eBook. The world post Covid has settled back into a new normality and yet the interest in this creative ongoing project has never waned and grows and continues to blossom.
The Unfinished Book features new poems from young writers across the city. This year's edition showcases 45 young voices, representing five schools. The breadth of the work in this anthology showcases a vibrant contribution throughout with a wide variety of subject and style. The finished product is, as ever, thanks to the careful and attentive work of the five assisting writers. Each component of this process is important but without them this project would not have the impact it continues to enjoy. They have the happy effect of bringing out the talent of the students, and giving them the skills and confidence to express themselves in these, their collected works.
Thanks, and Congratulations to all of the young writers involved and their assisting writers:
• Regina Mundi College with poet Niamh Prior in Douglas Library;
• Ballincollig Community School led by poet Matthew Geden at the school;
• Coláiste Dabhéid chúram Colm Ó Ceallacháin, i Leabharlann na Cathrach;
• St Patrick's College with poet Lani O'Hanlon in Mayfield Library; and
• Presentation Brothers College with Paul Casey at the school.
As many of you know this was an innovative project in 2005, when the first Unfinished Book of Poetry was published. It has led to something unique that has a resonance with the younger writers. As it continues to prosper I warmly welcome this latest volume and I hope you enjoy it.
Special thanks to the assisting Authors and especially Paul Casey of Ó Bhéal for editing and curating the work.
David O'Brien
Cork City Librarian