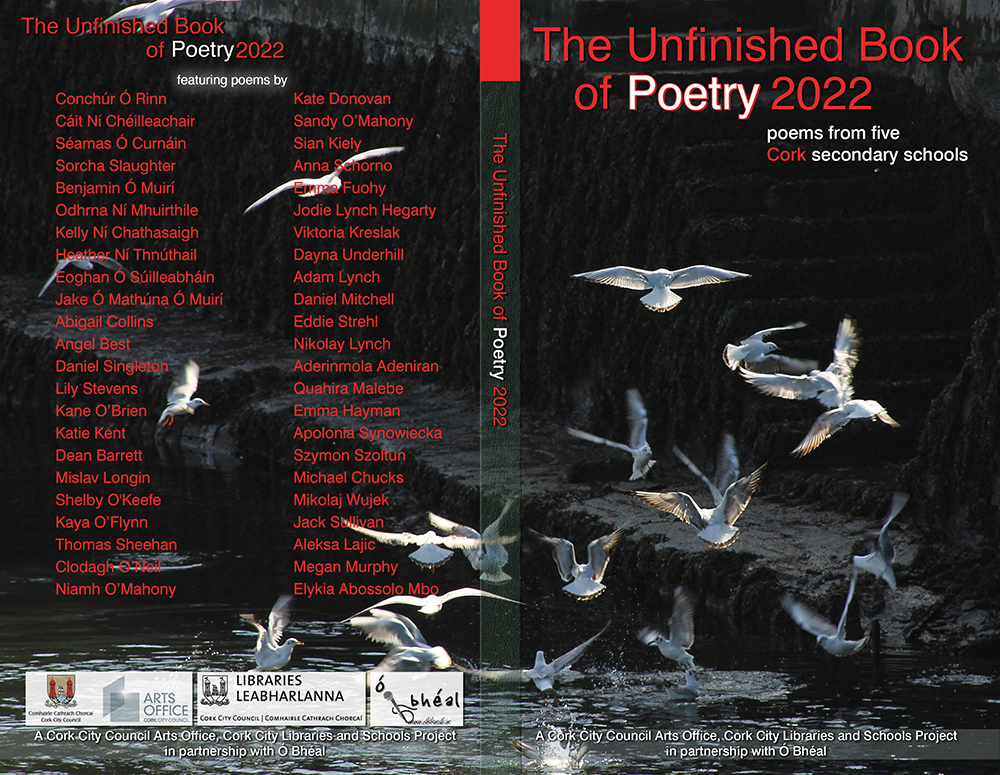 The poems here are selected from six poets published in The Unfinished Book of Poetry 2022. They will be displayed in Cork City Library's Poetry in the Parks project during the summer, with readings and installations being launched at Fitzgerald's Park, Tramore Valley Park and Ballincollig Regional Park, on the 11th June 2022 (12pm).
The poems will be displayed alongside those of their tutors, Dean Browne, Colm Ó Ceallacháin, John W. Sexton and Paul Casey. This launch is part of the 2022 Cruinniú na nÓg festival. Audio recordings of the six poets reading these poems are also accessible via QR code.
---
from Gaelcholáiste Mhuire AG
(installed at Fitzgerald's Park)
Cúig Haiku
by
Séamas Ó Curnáin
The moon shines at dawn
Bats flapping their wings,
waiting for twilight.
Scamaill sa spéir
daoine sa teach
leadrán ar theilifís.
As sweet as ice cream
on a scorching summer day
children run and play.
Cailín ag suí cois uaighe
Crobhaing bhláthanna ina lámh
Deoir ag sleamhnú síos.
Ice melts to nothing
The leaves return again
Everything changes yet remains.

Séamas Ó Curnáin

---
from St Aloysius School
(installed at Fitzgerald's Park)
Beach Day
by
Sandy O'Mahony
On a long summer day
Blueberry sea, tide going out
Grass still like a statue
Sand in shoes, bags and towels,
Long walks in the dunes,
Bugs, butterflies as you walk by
Hearing the waves crashing against the sand
Forgetting reality, enjoying the warm wind

---
from Mayfield Community School
(installed at Tramore Valley Park)
Mother
by
Lily Stevens
My best friend, she is always
Optimistic. Though
Tough when she needs to be. She's my
Hero and I'm
Elated she's mine, the most
Reliable person in my world.



Ukraine by Lily Stevens

Under fire
Kyiv is brave.
Russia
Attacks
Incessantly. We
Never
Ever, learn.

Lily Stevens

---
from Coláiste Chríost Rí
(installed at Tramore Valley Park)
Colour
by
Nikolay Lynch
What is red? The stop sign is red,
To stop people going to their death bed.
What is yellow? The sun is yellow,
Keeping you warm.
What is pink? A rose is pink
Which makes the girls wink.
What is blue? The sea is blue,
Where sea creatures swim through.
What is black? Our front door is black
Which is located at the end of a cul-de-sac

Nikolay Lynch

---
from Bishopstown Community School
(installed at Ballincollig Regional Park)
Mullet
by
Szymon Szoltun
A mullet. A muscle.
A living, breathing muscle.
A wild fish full of life.
A beast full of might.
Just like us or what we attempt to be.
The drive to be.
Even if some think we say mother instead of mullet.
We let ourselves loose to be stronger.

and



Not You. Me. by Elykia Abossolo Mbo

I'm different. I'm black.
I'm really skinny,
just like a skeleton.
I'm socially awkward
and I'm into colourful clothing.
I love dancing.
I don't think I enjoy anything
that could be called normal.


The eBook version of The Unfinished Book of Poetry 2022 is available (free) via the following links:

Unfinished Book of Poetry 2022 (High Resolution 18MB)

Unfinished Book of Poetry 2022 (Medium Resolution 10MB)
Foreword
The Unfinished Book of Poetry 2022 is the 18th edition in the series, and the third edition to be published as an eBook. This publication is an exciting departure for Cork City Libraries, even though it is happening now because of the Covid-19 emergency. It's the first time in three years that we have been able to hold workshops in person as well as hold a physical launch in the city library. With restrictions coming to an end, there posed a variety of challenges for venue space, with some schools opting for school space, others for their local library and some keeping to the digital confines of Zoom. It's a testament to the interest in this wonderful ongoing project that the show did go on and continues to blossom.
The Unfinished Book features new poems from young writers across the city. This year's edition showcases 46 young voices, representing five schools. The breadth of the work in this anthology showcases a strong standard throughout with a wide variety of subject and style. The finished product is thanks to the careful and attentive work of the five assisting writers without whom this project would not have the impact it continues to enjoy and to the talent of the students.
Congratulations to all of the young writers involved: na daltaί as Gaelcholáiste Mhuire AG chúram Colm Ó Ceallacháin, i Leabharlann na Linne Duibhe; the pupils from Mayfield Community School led by Paul Casey via Zoom; the pupils from St Aloysius School with Dean Browne in The City Library; the pupils from Coláiste Chríost Rí led by Paul Casey at the school; and the pupils from Bishopstown Community School with John W. Sexton in Bishopstown Library and at the school.
An innovative project in 2005, when the first Unfinished Book of Poetry was published, has led to something unique that has a resonance with the younger writers. It continues to grow, and I welcome this latest volume and hope you enjoy it. Special thanks to the assisting Authors and especially Paul Casey of Ó Bhéal for editing and curating the work and bringing it all together.
David O'Brien
Cork City Librarian