December 11th, 2020 at 1:48 pm
Posted by pc in
Uncategorized
8th Ó Bhéal Poetry-Film Competition Winners Announced
29th November 2020
We are thrilled to announce the winning entry in Ó Bhéal's 8th International Poetry-Film Competition – Noho Mai.
Our warm congratulations to creators Peta-Maria Tunui, Waitahi Aniwaniwa McGee, Shania Bailey-Edmonds, Jesse-Ana Harris, Lilián Pallares and Charles Olsen from New Zealand, Spain and Colombia.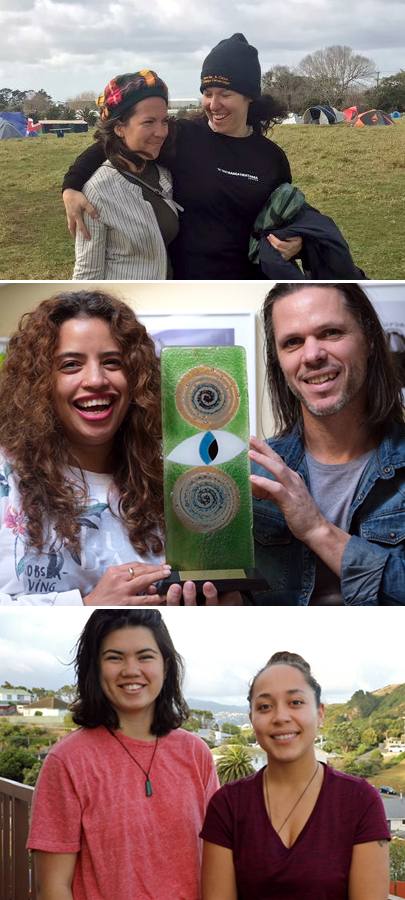 'Symbolized in the bird's flight, a group of Māori, Pākehā and Colombian creatives explore life's journey, the longing to return to the nest, and the life-giving connection with our ancestors.'
Noho Mai's creators receive the Ó Bhéal award for best poetry-film, designed by glass artist Michael Ray. The shortlisted films were streamed online at the Winter Warmer festival, available to view on the competition page here across two screenings, or via vimeo.com/obheal.
38 films were chosen from 288 submissions received from 181 filmmakers in 49 countries. The shortlist represents 14 countries: Argentina, Australia, Belarus, Canada, England, Ireland, Isle of Man, Israel, Netherlands, New Zealand, Scotland, Sierra Leone, Spain & the USA.
This year's judges Dareina Ní Chinnéide and Paul Casey, selected one entry to receive the Ó Bhéal award for best poetry-film, designed by glass artist Michael Ray. The winners were announced directly after the shortlist screenings.
Judges Comments:
"And so, I was drawn into this beautifully filmed, beautiful soundscape, delivered with a natural ease, the first time I watched all the wonderful poetry films submitted to this competition. The sparse lines of the poem ran along the wind of the film with powerful imagery. Strong but subtle. Neither the text, nor the image in the frame, collided – but fused together. The visual elements I was looking for were right there. The text of the poem was powering the vision in this beautiful language, I could not help but respond warmly to this film. It was a huge challenge to choose one overall winner in such a feast of poetry films, one which shone. This one did it for me. Congratulations all." – Dairena Ní Chinnéide
"An absolutely stunning film. The finely wrought dance of words, visuals, music, pace and the dreamlike cadences of the Māori language. Noho Mai delivered everything I look for in a poetry film. A moving, beautiful poem and universal, timeless core of meaning which speaks also to our particularly detached and disconnected times. The filmmaking is a testament to the power of collaborative vision, crafted through the generous talents of six visual artists from New Zealand, Colombia and Spain. I would encourage any and all to relish this gleaming and worthy winner. An exquisite poetry film. – Paul Casey
Click on CC for subtitles
Submissions will open for the 9th Ó Bhéal Poetry-Film Competition from May 2021, at this link.
No comments yet.
RSS feed for comments on this post. TrackBack URI
Sorry, the comment form is closed at this time.