August 18th, 2010 at 10:55 am
Posted by pc in
Ópen minds in Poetry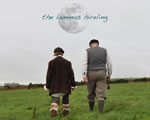 Cork poetry-film goes to Berlin
The 5th International Zebra Poetry Film Festival, held biennially in Berlin, is to screen the Irish poetry-film, The Lammas Hireling in October. It is the largest and most significant festival of its kind, so the email was particularly sweet.


The Lammas Hireling from Paul Casey on Vimeo.
Congratulations!
From a choice of about 1000 entries the programme commission has selected your film to be part of the film programme of the 5th ZEBRA Poetry Film Festival. We would therefore be happy to welcome you to the festival from 14th – 17th October 2010 here in Berlin.
And so goes the email of the year. On a zero budget, creating the film version of Ian Duhig's award winning poem The Lammas Hireling, adapted for the screen with poet Sam Thomas, took the best part of eight months of near full-time beg, borrow and pray tactics, in order to be realised. Made by Paul Casey with the help of poets from Ó Bhéal, the ten minute film has a primary cast of two Corkonians, Geoff Daykin and Rosie O'Regan, who play the Farmer and the Hireling/Departed Wife, as well as a small flock of Cork poets who volunteered their natural skills at being extras. Most of the work and many of the locations and props were kindly donated by a long list of supporters from Cork and Antrim. The score reinterprets McCauley's 'The Aul Lammas Fair' exquisitely rendered by Santiago Philharmonic Orchestra violinista Macarena Ferrer, and score engineer Carl Hammond.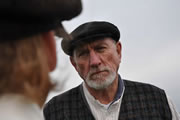 The film was shot mostly in various parts of County Cork while the framing scenery was captured on the Northern coast of Ireland, around the Glens of Antrim and Ballycastle (plus a day on Rathlin island). Ireland's nearest point to the Scottish Mull of Kintyre features in some of the time lapse sequences in the film, which was made entirely from still images taken with a Nikon D90. Completed in June 2010, The Lammas Hireling has been entered into at least a dozen other film festivals and has also been accepted for two literature festivals. This post will be updated with screening info as it becomes available.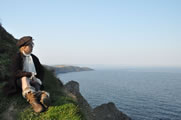 Do I sense the rise of the poetry-film? Hopefully this new fusion of art forms will catch on more. It really is an avant-garde dance of 21st century digital technology with the timeless steps of poetry, which must surely be the freshest and most innovative combination of creative forces that can be experienced today. Whilst not quite the same as learning another poet's poem off by heart, it's a deeply rewarding experience, as is the festival in Berlin, showing the best from across the globe. See you there!
Screenings
Zebra Poetry-Film Festival, Babylon Theatre, Berlin – 16th October 2010
Clones Film Festival (in competition), Monaghan – 24th October 2010
Ó Bhéal Poetry-Film Night, Cork – 8th November 2010
Foyle Film Festival (in competition), Derry – 27th November 2010
Cork Spring Literary Festival, Metropole Hotel, Cork, February 2011
Corona Cork Film Festival, Gate Cinema Cork – 8th November 2011
Sadho Poetry Film Festival, New Delhi – 12th November 2011
StAnza Poetry Festival, Edinburgh – 14th to 18th March 2012
Cork Underground Film Festival – 15th August 2012
Visible Verse Festival, Vancouver – 13th October 2012

No comments yet.
RSS feed for comments on this post. TrackBack URI
Leave a comment
You must be logged in to post a comment.