January 24th, 2016 at 3:32 pm
Posted by pc in
Uncategorized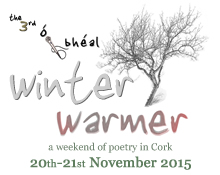 Winter Warmer Videos 2015
20th-21st November
The 3rd Winter Warmer festival at Sample Studios was a great success, with a superb line-up of local and International poets from three continents. We have 33 videos for you to view, one from each guest poet's reading/performance at the festival (in order of appearance), including poems from the closed-mic session.
All the videos are here
(or on the Ó Bhéal Youtube channel).
No comments yet.
RSS feed for comments on this post. TrackBack URI
Leave a comment
You must be logged in to post a comment.